How Much Does It Actually Cost to Set Up a WordPress Website?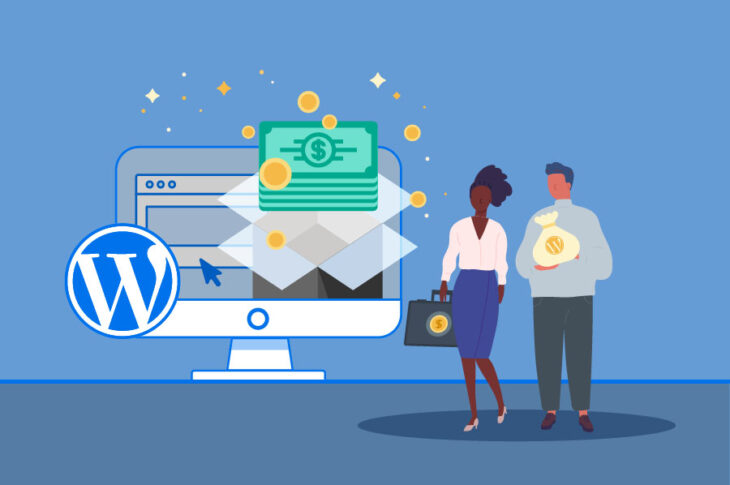 WordPress software is free — and open-source at that. Anyone can go to WordPress.org and download the latest version in order to manage, post, and publish on the web. This is a huge part of why WordPress now powers over 30% of the entire internet!
But if WordPress is free, you may be wondering, then why do WordPress websites cost money?
Excellent question!
Think about WordPress as a state-of-the-art kitchen that lets you cook up any number of interesting dishes. Even if you own a gorgeous kitchen, you'd still need a house to put it in. You'd also need an address so people could come over. And you might want to paint the kitchen cobalt blue and add an over-the-top neon yellow backsplash — no judgment.
OK, a little judgment.
The point is, WordPress can't operate on its own. To get a fully functional website, you'll need to spend money on a few other essentials, such as WordPress hosting, a domain name, and a WordPress theme.
Just as with the kitchen example, there's no one true way to build your WordPress website. Depending on your preferences, the costs can range from less than $100 per year all the way up to thousands of dollars. But no matter your budget, there's a solution out there that will meet your needs.
In this article, we'll explain what you need to build a site and why. Then we'll answer the following questions (feel free to skip ahead to the section that most applies to your website goals):
Finally, we'll talk about ways you can keep hosting costs low, so you don't overpay to set up the perfect site. Ready to get started? Let's talk $$$.
How Much Does a WordPress Site Cost?
Starting at just $2.59/mo, our Shared Hosting plans gives you everything you need to thrive online.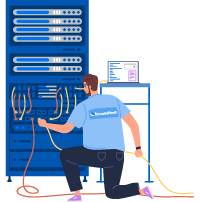 What Does It Take to Build a WordPress Website? (8 Key Steps)
A WordPress website can be up and running in a matter of seconds. However, depending on your end goal and the host you choose, certain elements may be more time-consuming than others. To help you prepare ahead of time, we've put a list together of eight key steps for building your new site. 
Step 1: Choose a Domain
Naming your site after your business might seem like the most logical approach when choosing a domain name. There are some other factors to consider, however, before you sign off on your site's name.
We'll cover domain costs in detail later on, but names can range from free to more than $1,000, depending on what you want. Fortunately, we offer many options when it comes to domain names.

You can choose from a wide variety of Top Level Domains (TLDs), including premium domains like .inc, .io, .tech, and .shop. With over 400 options, we're pretty sure you'll be able to find something to fit your website.
Most of all, it's essential to remember that picking a memorable name can help with promoting your business or website later on. You'll want to strike the right balance of professionalism and branding. Since so many domain names end in.com, for example, it might be worth your time to explore other TLDs. 
Step 2: Pick Out a Hosting Plan
Of course, many hosting plans come with a free domain name. That's how we approach it here at DreamHost Getting your domain and hosting from the same place can save you time and make managing your site easier in the long run.
When you review your options for web hosting, you'll want to keep in mind a few essential criteria, such as: 
Included software.

If you need one-click installation options or pre-installed e-commerce features, make sure to review what extras your chosen host offers. 

Provided security.

Keeping your plugins and other software up-to-date is crucial for site security. If you know you'd rather have those tasks handled by a

managed host

, you'll want to be sure that is an offered service. 

Available support.

Running an

e-commerce store

can sometimes mean your site has to run smoothly through all time zones, so your tech support should too. 

Scheduled backups.

In case the worst-case scenario does happen, it is a good idea to review your host's

backup and restore protocols

.
Regardless of your final decision, your hosting provider is your site's partner. So it's wise to review your options carefully before making a choice.
Step 3: Decide on a Content Management System (CMS)
Here at DreamHost, we are pretty vocal about our love of WordPress. As a Content Management System (CMS), it is highly flexible and easy to use. Built on open-source programming, WordPress is always free to download and install.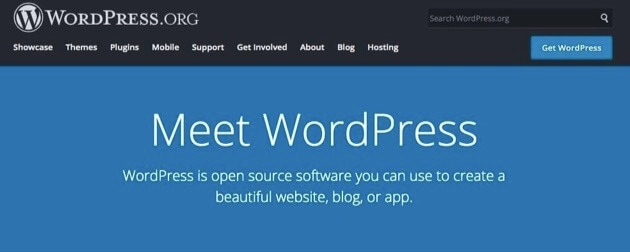 It's important to assess your needs and pre-existing skills, however. There are several popular CMSs on the market, and none is perfect for every application.
It's also vital to understand the difference between a CMS and a website builder before making your final decision. WordPress comes with a user-friendly interface backed by a sophisticated MySQL database, which means both beginners and experts can easily build amazing websites. Website builders can serve the basic needs of small sites, but struggle when it comes to providing more complex functionality.
Step 4: Select a WordPress Theme to Fit Your Goals
If you've already established your site's brand and niche, you'll be better able to choose a WordPress theme. That's because WordPress themes come in many shapes and specialties.
Keep in mind, however, that themes are pretty easy to customize. So if you like the base offering of a particular theme, but you want a different color palette, you can probably make that change. That's why it's a good idea to read through a theme's features and functionalities before you pick one. 
Often, you can also start out with the free version of a theme to give it a test drive before upgrading for more features. Premium themes can range from $20 to over $100. Reading reviews for the themes you like and checking out other information, such as when the latest update was made, are key ways to make sure your decision is one you can live with long-term.
Step 5: Purchase a Secure Sockets Layer Certificate
We don't mess around when it comes to website security. Many of our plans come with a SSL certificate pre-installed. This certificate adds a critical "s" to your web address.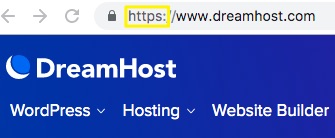 An SSL certificate lets your visitors know that any data they share with your site, such as payment information, will go through a secure connection. You can purchase these certificates through third-party services, as well as through your web host. 
Step 6: Install and Manage Useful Plugins
Plugins often become an essential part of your website's maintenance and core functionality. These are packets of code that "plug in" to your WordPress platform to extend and enhance its features and options. 
If you're setting up an online shop, for example, many e-commerce plugins can help you coordinate digital payments, keep track of inventory, or connect to other services you'd like to use. Additionally, there are many plugins available for streamlining your workflow, enhancing your site's security, driving conversions, and much more.
Step 7: Set Up and Customize E-Commerce Features
Once you've chosen and customized your theme, added some useful plugins, and secured your site, you can make sure your online store is ready to roll. If you're using WooCommerce, the most popular e-commerce plugin for WordPress, getting started is easy.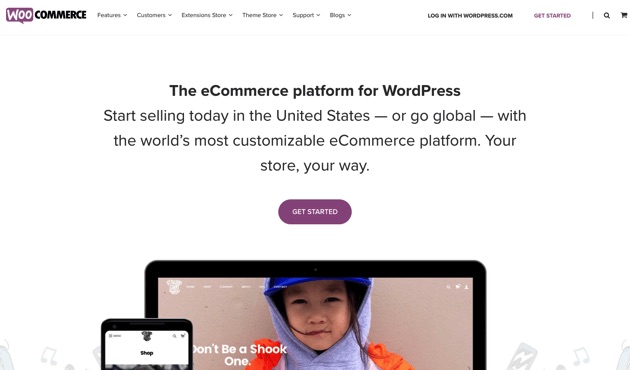 You can also check with your hosting service to see if any e-commerce tools come pre-installed. 
If not, WooCommerce is a free plugin available in the WordPress Plugin Directory and has many optional premium add-ons. 
Step 8: Be Strategic and Honest About Your Time and Resources 
Building your website can take a while. It's best to prepare and plan for the appropriate amount of time, so you aren't rushed during the process. Setting up yourself and your team for success means being realistic about your resources. 
Therefore, give yourself time to plan out what you want and decide on the tools you'll use. Gathering feedback on your ideas prior to beginning development can also help you avoid roadblocks later on.
Can I Build a Free WordPress Website?
"I don't mind limited functionality as long as it's free."
When you just need to get a site up and you're not picky about its functionality, there's no price point like free. You can visit WordPress.com and set up a blog in minutes for no money down.
This is perfect for the person who wants a bare-bones blog, but this option does come with some significant drawbacks:
A unique

domain name

isn't included, so your URL will end with .wordpress.com.

Since you're sharing the free resources with all of WordPress.com's other users, you have a very limited amount of bandwidth and storage space.

You can't have a custom blog design.

WordPress.com will place ads on your site that you can't remove unless you upgrade to a paid account.
As they say, there's no such thing as a free lunch. But if you're willing to go with the flow and don't mind the limitations, a $0 WordPress blog might be what you're looking for.
| | |
| --- | --- |
| Free WordPress Website Costs | |
| WordPress.com | Free |
| Domain Name | Not included |
| Basic WordPress Theme | Free |
| TOTAL | $0/year |
How Much Does it Cost to Build a Budget WordPress Website?
"I don't want to spend a lot of money."
Perhaps you're starting a site for the first time and just want to test the waters. Or maybe your blog is purely for fun, and you don't want to put too much money into a hobby. In this situation, you'll want to cover the basics but not much else. Here's what you'll need.
Unlimited Shared Hosting: $47.40/year
This is one of the most affordable hosting services. When you buy shared hosting, your site lives on a server with a group of other customers' websites, and everyone shares the price. With a 100 percent uptime guarantee and 24/7 support, DreamHost shared hosting is ideal for customers with one or even a handful of small websites, like blogs or portfolios.
You can get our Unlimited Shared plan for $11.95 a month, but the best deal comes when you lock in for three years of hosting at a time ($3.95/mo)!. Most importantly, shared hosting comes with a one-step WordPress setup, so there's no tech know-how necessary.
Domain Name: Free with Annual Hosting Plan
Hosting gives your website a place to live, and a domain name is the address people use to find that space. It's the URL people type into their browser to find the site. Registering a domain name can cost anywhere from $10 to thousands depending on demand, but when you purchase an Unlimited Shared hosting plan, you get a domain name included for free.
WordPress Theme: Free from the WordPress Theme Directory
Once you have a home and an address, it's time for the fun part — decorating the place! When it comes to how your website looks, WordPress offers a lot of free options.
You can browse the WordPress Theme Directory to find different looks for your site, and search more specifically by features like color, number of columns, and customizable elements. Better yet, every theme in the directory has been specially vetted by WordPress for quality control.
| | |
| --- | --- |
| Budget WordPress Website Costs | |
| Unlimited Shared Plan (3-year term) | $47.40/year |
| Domain Name | Free |
| WordPress Theme | Free |
| TOTAL | $47.40/year |
Get Content Delivered Straight to Your Inbox
Subscribe to our blog and receive great content just like this delivered straight to your inbox.
How Much Does It Cost to Build a Mid-Range WordPress Website?
"I'm willing to pay a little more for a few great features."
If you run a small business website or a popular blog, you might want to consider bumping yourself up to the next price tier for improved customization and features.
DreamPress: $203.40/year
If you're looking for a premium, WordPress-specific, managed hosting solution, your dreams have come true. DreamPress is all that and more. Not only is it optimized to support a high-performance WordPress site and make website maintenance a snap, but it also comes with 24/7 support from our WordPress experts. 
Domain Name: Free with Annual Hosting Plan
Once again, a domain name is included when you buy an annual hosting plan from DreamHost.
WordPress Free and Premium Themes: $0–$80 (average)
Working on a budget is common for startup sites. Fortunately, when it comes to WordPress, you have options that cover the entire spectrum. There are thousands of free themes available in the WordPress Theme Directory to get started with. Plus, you can often upgrade a free theme if you like how it works, typically for anywhere between $20 and $80. 
| | |
| --- | --- |
| Mid-Range WordPress Website | |
| DreamPress | $203.40/year |
| Domain Name | Free |
| WordPress Theme | $0-$60 |
| TOTAL | $203.40-$263.40/year |
How Much Does It Cost to Build a Small-Business WordPress Website?
"I am just getting started, but I want some e-commerce functionality."
As your site gains more traffic and your business expands, you will likely need to get as much 'bang for your buck' as possible. Looking for all-in-one solutions from the very beginning is a smart way to prepare.
DreamPress Plus Hosting: $299.40/year
With even more features and none of the technical slog, DreamPress Plus takes care of all the WordPress upkeep so you can focus on your content. Plus, it's speedy — five times faster than shared hosting.
This service is also designed to scale, so you don't need to worry about your site ever overloading. What's more, you'll get free access to Jetpack Professional, the gold standard for WordPress backups and security.
Domain Name: Free with Annual Hosting Plan
Domain names never break the bank when you host with us. DreamHost annual plans come with a free domain.
Premium WordPress Theme: $20–$80 (average)
For a more unique look and additional features, you can choose from a variety of premium WordPress themes at marketplaces like StudioPress and Pixel Union. Not technical? Many premium themes come with easy-to-use site-building tools for additional customization options.
| | |
| --- | --- |
| Small Business Website | |
| DreamPress Plus Hosting | $299.40/year and up |
| Domain Name | Free |
| Premium WordPress Theme | $20-$80 |
| TOTAL | $319.40-$379.40/year |
How Much Does It Cost to Build an E-Commerce Site with WordPress?
"I need all the bells and whistles for a streamlined online store."
If your bread-and-butter revenue comes from online sales, there can be a lot of moving parts to keep track of. Upgrading to a hosting plan that specializes in e-commerce can solve a lot of issues. 
DreamPress WooCommerce Hosting: $203.40+/year
DreamHost's WooCommerce hosting packages are primed for online sales. They're pre-loaded with the WooCommerce plugin and the Storefront theme, so you can be up and selling in no time. Additionally, our WooCommerce hosting packages all come with a pre-installed SSL certificate so your customers can make their online purchases with confidence. 
Domain Name: Free with Annual Hosting Plan
With an annual plan, you don't have to worry about dishing out extra cash for a domain name. 
Premium WordPress Theme: $20–$80 (average)
When it comes to running an e-commerce website, it might be worth upgrading your theme. Not only will your store look more professional, but it's also likely to function better and be easier to customize. Many premium e-commerce themes come with pre-installed plugins that are useful for online stores and are ready to go when it comes to accepting digital payments. 
| | |
| --- | --- |
| E-Commerce WordPress Website | |
| WooCommerce Hosting | $203.40/year and up |
| Domain Name | Free |
| Premium WordPress Theme | $20-$80 |
| TOTAL | $223.40-$283.40/year |
How Much Does It Cost to Build a Custom WordPress Website?
"I want the best WordPress site money can buy."
Got a high-traffic website — or just want to be catered to? Live in the lap of luxury with the best hosting, security, and custom design out there.
DreamPress Pro Hosting: $863.40/year
If your site has high-capacity needs and top-of-the-line performance requirements, we created DreamPress Pro just for you. We can help you handle over one million monthly visitors to your site. DreamPress Pro comes with more storage and memory as well, plus all the features available with our other DreamPress plans.
Additionally, you'll get access to DreamCare with your Pro plan. This is an elite force of highly-skilled, in-house WordPress experts who will be keeping an eye on your site, troubleshooting problems, and offering solutions when you need them.
Domain Name: $11.95 and up
Once again, you get a free domain name with your annual hosting package. For a custom website, however, you may also want additional domain names that redirect to your site. That way, both cupcakesbyhannah.com and cupcakes-by-hannah.net direct visitors to the same place so potential customers can easily find you.
Web Designer/Developer: $1,000–$10,000
Forget a packaged theme. If money is no object, why not work with a professional designer to build your ideal WordPress site from the ground up? Designers' fees can vary widely, depending on their experience level and your local market. In general, however, you can expect to spend a minimum of $100 an hour to work with one.
If you're not sure how to select a web developer or designer and would rather go with a recommendation you can trust, you're in luck. Here at DreamHost, we can confidently recommend our own professional design service. Our talented team of highly-skilled WordPress designers can bring your visions to life!
| | |
| --- | --- |
| Custom WordPress Website | |
| DreamPress Pro Hosting | $863.40/year |
| Domain Names | $11.95 and up |
| Web Designer/Developer | $1,000-$10,000 |
| TOTAL | $875.35/year and up (not including designer/developer costs) |
You Dream It, We Code It
Tap into 20+ years of coding expertise when you opt for our Web Development service. Just let us know what you want for your site — we take it from there.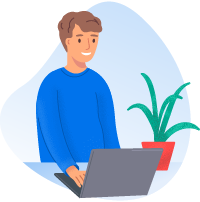 The True Cost of Building a Website with WordPress
Pricing out a website build from start to finish can include quite an intimidating list of items. It's necessary to remember, however, that there's a hosting plan out there for every budget.
Whatever your approach might be, we're here to help you manage your site's hosting, so you can focus on running your business. We offer plans to suit a diverse range of needs – check them out today!