The Complete Guide to New Top-Level Domains (TLDs)
Choosing the right domain name for your site can be a difficult task. Not only do you need to find a word or phrase that is clear, concise, and memorable, but you also need to select which Top-Level Domain (TLD) you want to use. It's a critical part of building your online presence!
For most of the internet's existence, TLDs have been relatively straightforward with the most common options being .com, .net, and .org (along with some regional alternatives). However, over the past few years, a lot of new top-level domains have gained popularity and prominence.
In this article, we're going to explore the history of these new TLDs and discuss how they differ from the old generic top-level domains (gTLDs) we're all familiar with. We'll also talk about their potential benefits and disadvantages for a variety of websites and businesses, before showing you how to get one for yourself. Let's go!
The Most Popular TLDs? We Got 'Em
Search DreamHost's 400+ TLDS to find the perfect domain for your website.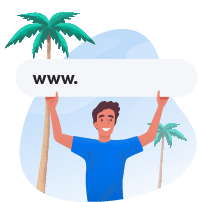 An Introduction to Top-Level Domains (TLDs)
When choosing a domain name for your site, you're likely to focus most of your attention on the Second-Level Domain (SLD), which is the middle section that comes after the https:// and before the final period. This is where you'll likely include your business or brand name, as well as any relevant keywords (for example https://mycompanywebsite).
Second-level domains are followed by Top-Level Domains. These come at the very end of the domain name, and are sometimes referred to as 'domain extensions.'
It probably won't surprise you to learn that the most popular TLD is .com (short for 'commercial'), followed by .org ('organization'), and .net ('network'). You've probably also come across industry-specific options, such as .edu ('education') and .gov ('government'). These are commonly referred to as 'generic Top-Level Domains' or gTLDs for short.
In addition to these options, there are also several country code TLDs (ccTLDs) available, which are usually reserved for a specific country or region. However, some of these have become popular international options as well, such as .io. Initially, this was created for the British Indian Ocean Territory but is now very popular in the tech community as an abbreviation for Input/Output .
In fact, multiple TLDs were created with an explicit type of website or geographic location in mind but quickly grew to be used across industries and territories. While there were numerous options available, many people still desired more freedom in the TLDs they could use. This resulted in a years-long debate that culminated not long ago.
What Are New gTLDs? What Makes Them Different from Old TLDs?
While some new top-level domain names were added over the years, they amounted to little in the way of variety. However, this all changed in 2014, when the Internet Corporation of Assigned Names and Numbers (ICANN) introduced the New gTLD Program.
The purpose of the program was to increase the number of generic top-level domains by enabling users to submit applications for new additions. In total, ICANN received nearly 2,000 TLD requests during the application window and had a goal of adding up to 1,300 of these as new TLDs.
If an application was successful, that TLD was added to the internet with general availability for anyone to use. Some companies even purchased brand TLD extensions, such as .bmw and .barclays.
Another significant change heralded by this program is the introduction of internationalized domain names or non-latin TLDs. In fact, some of the earliest additions after the application deadline included 游戏 (Chinese for 'game'), сайт (Russian for 'site'), and شبكة (Arabic for 'network' or 'web').
Naturally, this landslide of new TLDs has led to a lot of debate. Should you stick with one of the old faithful options, such as .com, or go with a newcomer like .club or .blog?
To help you pick the right domain for you, let's look at the pros and cons of these new TLDs.
The Benefits (And Disadvantages) of New TLDs
One of the most frequent questions after the arrival of the new TLDs was whether or not they would affect a site's Search Engine Optimization (SEO). Fortunately, Google made it clear that it will treat these domains no differently from any other, so using a new TLD will neither improve nor ruin your SEO efforts.
A survey by Varn found that a majority of those asked trusted .com and .co.uk more than new TLDs. However, this one also showed that younger respondents were much more likely to trust new TLDs equally (or more so) than their legacy counterparts.
However, perhaps the primary consideration when it comes to TLDs is their price. One key feature of many new TLDs is that they are significantly less expensive than legacy offerings. For example, a .club domain can cost as little as $0.99 for the first year. This has made a lot of new TLDs very popular.
It's still too early to accurately gauge how new TLDs will change the internet in the long term. However, the rising popularity of multiple new TLDs shows that we're in for a change. The question now is: should you take the plunge and use a new TLD yourself?
Should You Use a New TLD for Your Website?
There is no easy answer as to whether or not you should use a new TLD or rely on one of the traditional options. In order to decide, there are several factors you'll need to take into account.
As we discussed earlier, the issue of trust is one of those factors, at least right now. Therefore, if you want your target audience to be assured of your authenticity, you may prefer to avoid using a TLD such as .xyz. In a study by Survey Monkey, for example, 67 percent of marketers responded that they were less likely to trust a quote from a website if it used the extension .insurance rather than a traditional TLD.
Your business and target audience will also play a key role here. If your site's goal is less reliant on an appearance of authority, such as a magazine site or a portfolio, you are less likely to suffer from using a new TLD. In fact, a less generic TLD could increase your domain name's marketability and value, by making it both memorable and descriptive.
It's also worth remembering that the lower trust in new TLDs may simply be due to a lack of exposure. Internet users see .com and .net every day, which makes those options seem more authentic and trustworthy. However, as new TLDs gain traction, they too will become more commonplace, and thus users' misgivings are likely to gradually disappear.
This could happen even quicker than you might expect. Huge brands like Google have already started making use of .xyz, for instance. It may only be a matter of time before the usage of new TLDs explodes, as more visible brands start using them.
With all of this in mind, let's summarize the main factors that should influence your decision about whether to use a new TLD. These include:
Purpose and goal.

The type of site you're running is possibly the most important consideration. Companies that rely on being trusted (such as banks, educational institutions, and insurance sellers) would probably do best to avoid new TLDs, at least for the time being. However, sites relating to entertainment, technology, and online communities are less likely to be negatively affected.

Target audience.

As we mentioned earlier, younger internet users are more likely to trust new TLDs. So if your site is aimed primarily at younger consumers, you could benefit from using one.

Brandability. 

A considerable problem with legacy TLDs is finding one that matches your brand or business name. With new TLDs, this is much less of an issue, as there are plenty of options to choose from. They also enable you to create

vanity URLs

.

Price.

Similarly, getting the right domain name can be costly. By including new TLDs in your search, you're more likely to find one that includes the name or keyword phrases you desire, without requiring you to shell out for a .

com

 or .

net

 domain.
Naturally, there are other things you'll want to bear in mind when choosing domain names. As we mentioned, the state of new TLDs is also likely to change within the coming years, since the phenomenon remains very recent. However, by taking the above factors into account, you'll have a better idea of whether or not a new TLD suits your site's needs.
How to Get a New TLD and Where to Register It?
If you've decided that you want to break from the constraints of legacy TLDs, you have a treasure trove of options at your disposal. Fortunately, the process of finding and purchasing a domain name using a new TLD is not difficult.
There are several ways you can register a domain name. For instance, a variety of web hosts, including DreamHost, will give you a free domain when you sign up for an annual web hosting plan.
The most common way of acquiring a domain is by turning to a domain registrar, which refers to any outlet that has the right to sell domains. In fact, DreamHost is one such registry operator.
Through our domain search tool, you can buy traditional offerings like .com and .net. However, we also provide many other TLDs, including .io, .club, and .design (to name just a few). Just enter the domain name you want, and you'll be presented with a series of available options from our registry.
You can scroll through the results to see Featured, Popular, and Suggested options relating to your query. Once you've found the one you want, you can click the Buy now button next to it.
At this point, you will be asked to create a new DreamHost account.

However, if you already have an account, you can just sign in instead. In either scenario, you'll then be asked to provide your personal information, which you can make private, along with your payment details.
Once you've completed the process and registered your domain, you can use it on your site, whether it is hosted by DreamHost or on another server.
Learn More About the Best New TLDs
We've got content for that! Subscribe to our monthly newsletter so you never miss an article.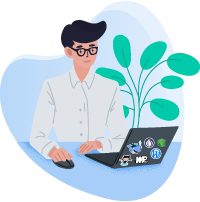 TLC for TLDs
While the old stalwarts .com and .net remain the most popular types of TLD, it may not be that way for long. A growing number of sites are relying on new gTLDs instead — a trend that has both its upsides and downsides.
In this article, we've discussed some of these pros and cons. For instance, while some new TLDs are seen as less trustworthy, they can also be considerably cheaper and easier to acquire. They can also provide more information about a site's purpose and content, and enable website owners to get more creative with their branding.
If you're ready to claim your domain, DreamHost can help. We offer 400+ TLDs that are as unique as your business. In addition to our straightforward pricing, we throw in WHOIS Domain Privacy Protection and unlimited subdomains at no extra cost. Find the perfect domain for your site today.