Why .Inc Is the Perfect Top-Level Domain (TLD) for Your Business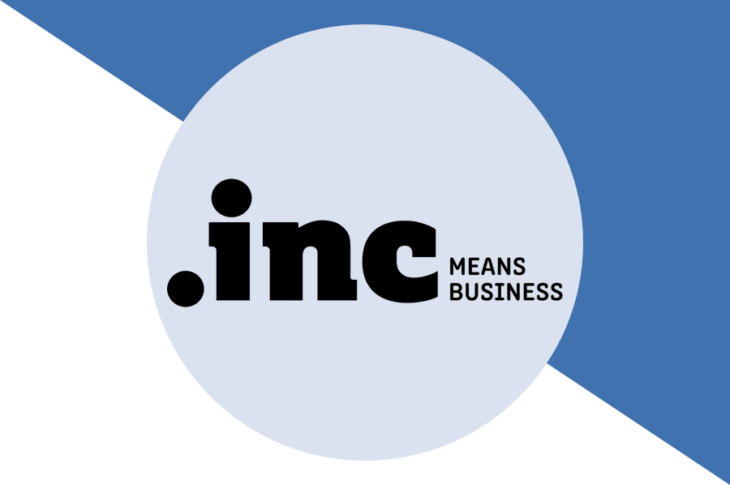 Registering a domain name for your new project or business can be an exciting but stressful process. Finding out that your top preferences are already taken can throw a wrench in your plans, especially if you've already started building your brand.
Fortunately, there's a new Top-Level Domain (TLD) you can use to get the perfect address for your online presence. Released in May 2019, .inc came onto the domain scene as a premium option with extra benefits for businesses.
In this article, we'll take a dive into the .inc domain. We'll cover why choosing the right domain is essential and take a brief look at the history of TLDs. Additionally, we'll investigate who's using .inc domains, the benefits of this new TLD, and how you can get one from your favorite domain registrar. Let's get started!
Your Great Idea Starts with a Domain
Whether you need a .INC or .COM, don't let someone else register your URL. Search DreamHost's 400+ TLDs to find the perfect fit for your website.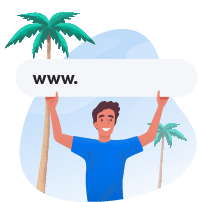 Why Choosing the Right Domain Name Matters
Domain names are an important part of your brand, so getting yours right is a priority. However, it can also be a major frustration. As of March 2019, there were 1.6 billion websites on the internet. Nearly half were using .com domains, causing a scarcity of available web addresses with that TLD.
In simple terms, the TLD — sometimes called a domain extension — is the portion of a URL immediately following the "dot." So, for instance, website.org has a TLD of .org. The most familiar examples of TLDs are .com, .org, .edu, and .net.
There are several subcategories of TLDs, including:
gTLD.

 These are good, old generic top-level domains like

.com, .net,

 and

.biz.

They're still available for registration, but your choices might be limited.

ngTLD.

A series of New Generic TLDs, such as

.pizza

 or

.sports

 that are now available to highlight the nature of specific businesses or interests.

ccTLD.

These TLDs are Country Code domains such as

.co

or

 .uk

. Using a ccTLD can impact your website's rankings outside of the TLD's country.
Scarcity and issues caused by "cybersquatters" led the Internet Corporation for Assigned Names and Numbers (ICANN) to change the TLD protocols in 2013, to offer more flexibility and a predictable release schedule. This policy change meant web developers could plan for domain transitions and might be more likely to secure a domain name appropriate for their business.
With more TLD options available than ever before, there might just be a perfect match available for you. Some TLDs even come with a few bells and whistles not usually associated with gTLDs.
4 Benefits of a

.inc

 Domain
On May 7, 2019, all .inc domains were released to the general public for one flat price, including 1 and 2 characters and the most desirable keywords. The price — $2,499 — is much heftier than an average gTLD. However, there are some benefits that come with the higher price tag. Here are four to consider before writing .inc off.
1. Establishing an Authoritative Brand Presence May Be Easier  
The premium price on .inc domain registration can help to keep speculative registrations — the practice of registering domains to simply resell at a profit — to a minimum. This enables businesses to own their online brands more authoritatively.
Cybersquatting and the scarcity of gTLDs such as .com have forced some businesses to establish domains that don't exactly match their actual business name. This can cause brand confusion and may even raise suspicions about your credibility. New .inc domains are more likely to have your brand name available.
2. Your Domain Will Be More Versatile
A .inc domain can be a dynamic addition to your existing domain. Big brands such as Gap, PayPal, and Fox have utilized the .inc domain craze to create investor relations sites and corporate sites alongside their pre-established .com sites meant for consumers. Other businesses have registered .inc domains for new ventures, hiring employees, or internal use.
Since so many businesses already have "Inc" as part of their business name, this new TLD effectively alerts visitors to the purpose of your site. Rather than taking away from your established brand or existing domain, a .inc address can provide more choices for your business strategy.
3. You'll Gain Access to Business-to-Business (B2B) Perks
The price tag attached to .inc domains includes more than $2,500 in premium benefits from brands such as Delta Air Lines, Square, Google Ads, and Quickbooks. These rewards can provide perks for your company that might make the cost of a .inc domain worth the investment.
For example, a .inc domain grants you access to free incorporation services from LegalZoom. Square provides $1,000 worth of transaction fee credits to .inc domain registrants. Additionally, you'll be able to get a $150 Google Ads spending match to help with your marketing budget.
4. International

.inc

 Domains Can Help Boost Your Search Engine Optimization (SEO)
We've already discussed the benefit of a .inc domain in terms of branding. Similarly, they can also help your SEO strategy by bringing the right Second-Level Domain (SLD) together with your TLD. For the uninitiated, SLDs are the words between "www" and the "dot" in a URL. Internationalized domain names, such as .inc, can help you rank in Google all over the world, while a ccTLD may limit your visibility to just one country or region.
Here's an example. Collab.inc, formerly CollabCreators.com, switched to a .inc domain in order to list their actual business name on the web, business cards, presentations, and search engines. Doing this helped reduce their instances of brand confusion and boost keyword results. In fact, Collab.inc is the No. 1 search result in Google for the term "collab" — higher than Collab.com, Inc.com, Crunchbase, and many other sites with millions of monthly visitors.
Top Name Brands That Are Using the

.inc

 TLD
To further highlight the popularity of .inc domains, it's interesting to note that more than 20% of Forbes' "Most Valuable" Brands have already registered theirs. Top companies such as Gap, Fox, and PayPal have locked in their .inc domains and utilized them in creative ways.
Gap, Inc., for instance, has set up its new TLD to house investor relations information, career opportunities, press releases, and information about the company's sustainability practices and mission.

Over at Fox.inc., a website strictly regarding investor relations has been set up.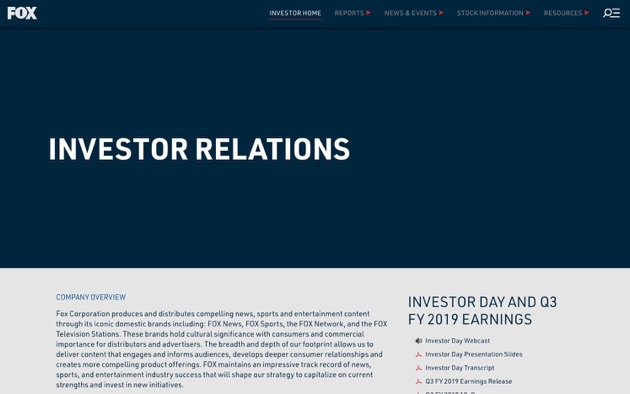 Providing investors with reports, resources, stock information, and news, this .inc site has enabled the incorporated business to extend its brand while keeping portions of the company separate and intentional.
How to Get a

.inc

 Domain
Unlike the frustration that comes with snagging your dream .com domain, registering the .inc domain you need is as easy as visiting us at DreamHost. In addition to .inc, we offer 400 other TLDs for you to choose from.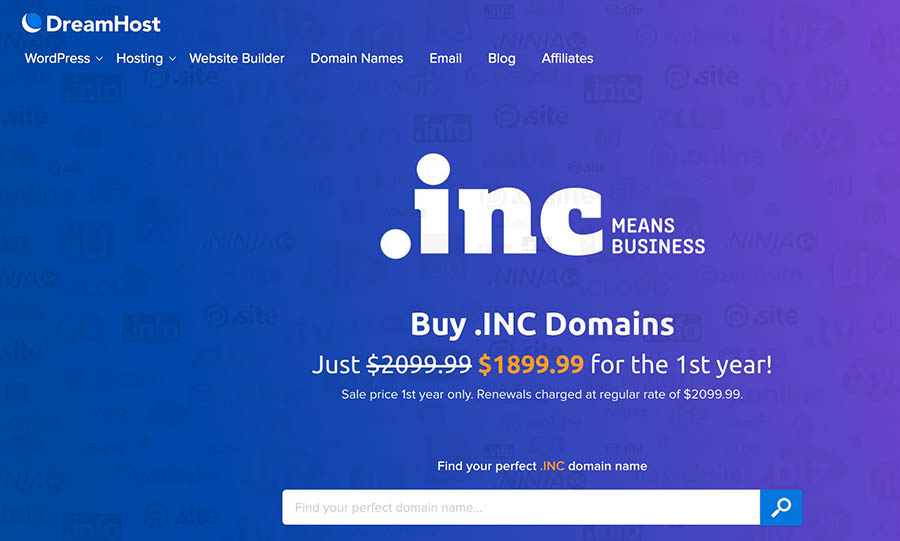 We also have one of the lowest prices on the web for .inc domains for a limited time. Plus, don't forget that any .inc domain registered with us comes with all the member benefits we mentioned earlier. Altogether, these perks alone are worth more than $2,500.
The

.inc

Experience
If your current TLD doesn't quite match your brand, you may be wondering if there's another option for you. A .inc domain may the best solution to your problem, while also providing your company with some valuable benefits.
Using a .inc domain has many advantages, including:
Authority:

The 

.inc

 domain

 

literally means "business" and speaks volumes to your site visitors.

Versatility:

Extensive naming options means

.inc

 can be used in a variety of ways both externally and internally.

Company benefits:

The premium

.inc

 price tag comes with several B2B benefits from big companies, including Google Ads, Delta, and LegalZoom.

Increased SEO:

The combination of your SLD and TLD matter to search engines, and

.inc

 can help improve your ranking.
For a limited time, DreamHost is offering .inc domains for just $1,899 — the lowest price on the internet! Take full control of your business name online with a .inc domain. Plus, if you buy now, you'll also receive 50% off our web hosting packages!