What is a Website Builder? Everything You Need to Know
Hey, champ. We see you killin' that small business game. You've got a great business plan, a dedicated team, and a brand with lots of potential. But as you get things going, you know need something else: a web presence. But there's a problem. 
You don't know exactly how to build a website to make this happen. Hey, we get it. These things can be tricky. 
Want in on a secret? They don't have to be! 
Using a quality host and a free website builder is a stress-free way to get a professional website up and running — no expertise needed! 
There's a slew of website builders out there, so where to begin? 
We answer these Qs — and a ton of others — in our exhaustive guide to all things web builder. You'll want to stick around for this.
We've Got the Ultimate Website Design Tool
When you partner with DreamHost, you get access to WP Website Builder and more than 200+ industry-specific starter sites for free!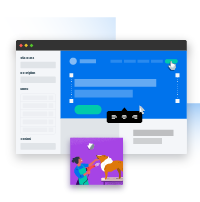 What is a Website Builder?
Let's start with the basics. 
A website builder is a platform or program that allows you to quickly and easily put together a website. These site builders help you get your piece of internet real estate set up so you can start establishing your online presence, a unique .com (or .whatever) outfitted with your brand's own elements, content, and offerings, tailored to your specific business goals.
Website builders typically feature drag-and-drop software that lets you customize elements on a page with layouts chosen from a handful (and sometimes hundreds) of available web page templates.
Website builders exist in both online and offline formats, the main difference being an internet connection. An online website builder won't require any software downloads; it'll simply work through your internet browser. 
The plus? 
You can work on it anytime and anywhere (with an internet connection), so you can build on the go. Most online builders come with accompanying hosting services, so you don't have to worry about that extra technical hoop. This is an easy-to-use option for newbies.
On the other hand, offline builders function as downloadable software programs, where your computer hosts your files until you're ready to upload them to your web host. With this option, you can work on your site offline, but this will require a little more technical know-how. Plus, you need a plan from a web host, which you'll need to buy separately. 
A website builder works basically like this:
From your website builder's library, pick a template that best fits your needs.

Edit the template's built-in elements with a click and add your own content (like images, video, social buttons, and text) to personalize your site.

Publish!
Easy-peasy.
What are the Pros and Cons of Website Builders?
So who are website builders for, anyway? These platforms are an excellent tool for small business owners and entrepreneurs looking to establish a strong online presence — quickly and simply. 
Is going with a site builder right for your small biz? Let's do some decision making with a good 'ol pro/con list. 
PRO: Website builders don't require extensive coding or technical skills.
Let's face it — we're not all computer whizzes. And that's okay. To get a site up and running with a website builder, you don't have to be. If you know how to click, you can build a snazzy site with text, images, videos, and a beautiful layout minus the hiccups of fancy-schmancy DIY web development. 
It's true: You don't have to write a single line of code. 
PRO: They're low maintenance.
Think of website builders as an easy-going roommate (not the one who spends 45 minutes in the shower). They don't require tricky or constant upkeep and won't make you pull your hair out. Because of their simple setup, you don't have to stress about your website, which is a big win. Your website will still need to be updated with fresh content regularly — all good sites do — but website builders make that easy.
PRO: Website builders set up your site in a snap.
As a small business owner, you've got a lot of to-dos and not a lot of time. Save your precious hours by using a website builder to simplify the website creation process. In a matter of minutes, you can create your own unique website from a collection of pre-formatted and eye-catching layouts outfitted with your brand's content, images, and videos.
PRO: Options, options, options.
Worried that you'll get stuck with a cookie-cutter site that looks just like every other .com out there? Don't. 
A good website builder helps you stand out from the crowd. With a full library of choices, optimized layouts, attractive and user-friendly design elements, and customization options, you can make your site one of a kind. 
PRO: You don't have to be a graphic design genius.
So maybe you weren't a fan of art in school — no problem. You don't need to understand color theory, possess Photoshopping skills, or be versed in typography to create an appealing website. 
Website builders do the heavy lifting by offering pre-packaged designs that look sharp. They also allow you the freedom of customization, so you can give your site your own personal touch within a professionally-designed template.
CON: Web builders may limit more experienced developers.
If you do have some technical know-how, you may want more freedom when customizing your site and may be eager to outfit it with more advanced bells and whistles not offered with website builders. 
If you're looking for a top-of-the-line option, hiring a web designer or building a DIY website from the ground up may be worthwhile. Plus, with a site builder, you don't always have control over the code governing your pages.
PRO: They're easy on the wallet.
Getting a functioning (and gorgeous) site up and running doesn't have to mean breaking the bank. Believe it! With site builder trial periods and many low-cost (even free account) options, you can save a pretty penny for other small biz expenses.
CON: Builders may have limited pages or functions.
Use a budget-friendly web builder and run the risk of restricting your site's structure. Because you're under the rules of your program, they might set limits on the number of pages a site can have, offer few e-commerce options, or lack responsiveness capabilities. 
If you have big plans for an expansive page structure down the road, you'll want to research providers carefully to make sure you find the best match for your long-term goals.
What Should You Look for in a Website Builder?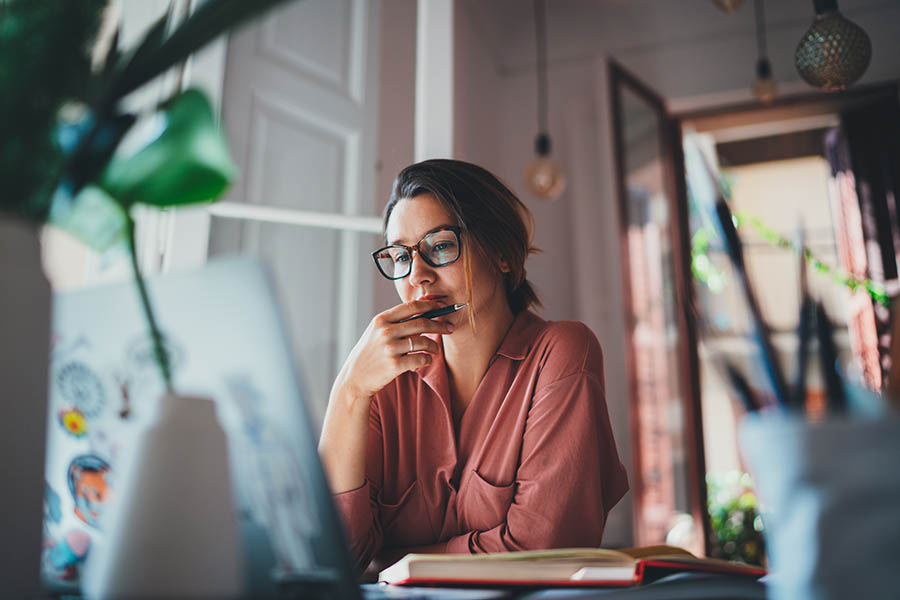 It's clear: Not all site builders are created equal. So what sets apart a so-so builder from a great one? What should you look for when choosing one? Consider this list of must-haves.
1. Ease of Use
You chose to use a website builder for its ease of use, so don't get stuck with one that requires a Ph.D. (or even advanced coding skills) to operate. Look for a simple, user-friendly interface that allows you to build a website easily — regardless of your website-building experience. Skip the learning curve and start building a beautiful website immediately.
2. High-Quality Templates
Your audiences can spot a cheap-looking website from a mile away. Pick a website builder that has high-quality, professional-looking templates that are clean and attractive. This is your chance to make a strong first impression, so avoid website builders with a lack of first-rate options.
3. Quick Updates
Have you heard? Content is king. Your website needs top-notch content, regularly published, updated, and shared in order to make (and keep) traffic coming to your brand. Make sure your site builder makes it easy to add and change up the content on your site. 
4. Social Compatibility
A best-case scenario is that audiences connect with you in more ways than one. Your site builder should allow you to link to and display social media icons to help visitors — whether they're Instagrammers or tweeters — engage with you further. Make sure whatever builder you choose can seamlessly integrate your social platforms.
5. Domain and Email Options
In conjunction with your web host, you'll want to own your own piece of internet property — meaning a domain and branded email address. These elements are critical when trying to establish a trustworthy brand in your field. Choose a site builder that provides options for domains and email registration.
6. Form Builders
Your visitors will want easy (and clear) ways to connect with and contact you — whether it be to submit a complaint, questions, or compliments (we'll hope it's more of the latter). Ensure that your website builder has the tools to create forms audiences can easily navigate.
7. Customization Options
Even with a preformatted layout, you want to be able to give your site a bit of your brand's unmistakable flavor. An A+ website builder should provide the freedom to add your own personal touches and customization options, like varying fonts, text styles, or color schemes. You do you.
What Do You Need to Get Started with a Website Builder?
OK, now let's get down to the nitty-gritty of using a website builder. First things first, what do you need? Here's a handy checklist to get you started.
1. Choose your website builder.
Drumroll, please! It's the moment we've all been waiting for: selecting your site-building platform and starting to create that one-of-a-kind website. 
Have your eye on a specific website builder yet? We've got WP Website Builder, a premium suite of tools designed to help you build a beautiful and functional WordPress site — no technical know-how required. 
2. Get a domain.
This is a basic to-do but an oh-so-important one. As we've discussed, your domain is where you establish your business' presence on the web. To get your very own domain set up, you'll need to use a registrar — this allows you to buy and register your domain name, securing your unique web address. BTW, you can keep your domain and web hosting under one roof. 
Your Great Idea Starts with a Domain Name
Don't let someone else register your URL. Search DreamHost's 400+ TLDs to find the perfect fit for your website.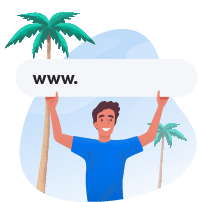 3. Secure a Web Host.
Not only do you need a unique web address, but you need a service to house your site — AKA, a web host. WP Website Builder is included with our WordPress hosting plans, meaning you can handle hosting and site design in one fell swoop. 
However, if you go with another platform, you'll need to purchase a web hosting plan from a hosting provider. Simply put, a web host gets your site on the internet; you pay to store your website on their servers. 
4. You've got (e)mail.
It's smart — crucial, even — to set up an email address connected to your business. If you're going the self-hosted website route, you often get the added perk of a branded email, like you@yoursite.com. Cool, huh? 
Plus, these types of email addresses appear more suit-and-tie than your standard email providers, boosting credibility and trust with your visitors.
5. Create and Customize.
This is the fun part. Explore your website builder's library of templates and each layout's individual elements, planning out which might best serve your business's purpose — and your audience's. Then, customize it to showcase your unique brand voice. Play with colors, fonts, backgrounds, placement of text, visual elements, and more. Make it your own.
6. Add Images, Logos, etc.
Give your site more oomph with high-quality images and brand-specific visuals that establish your business and attract visitors (hint: they love visuals). That's it. Now your site is starting to look really snazzy. 
A note on images: To make visuals work for you, you need sharp photography and killer design. Scour royalty-free photo sites, like Pixabay, Pexels, or Unsplash for appealing images (just say no to fake, cheesy stock photos), hire a photographer, or use these tips for taking your own photos for your business. 
7. Set up Analytics.
As a small business owner, you need Google — for a lot of reasons. One is to (hopefully) secure a coveted space in search engines. Another reason is for tracking metrics. Enter Google Analytics. This service can help you keep track of numbers and analyze valuable insights to help you continue improving your site. Thanks, G.
Way to go, you! You've got a brand-spanking-new site. If you still haven't found the right site builder for you, read on.
WP Website Builder: Intro and History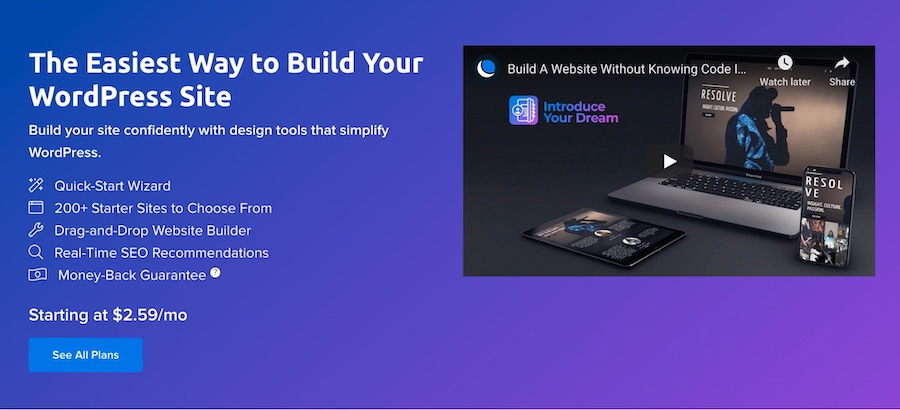 Well, we've been dropping hints all along . . . could you tell? If not, here's our megaphone-like announcement. With DreamHost, you can score the package deal: a perfectly-priced WordPress hosting plan with access to our site builder extraordinaire, WP Website Builder.
Yep, you read that right. Included are our site builder's above-and-beyond services, along with domain, email, and solid web hosting options. 
Wait — let's back up for a minute. How did our site builder come about? 
WP Website Builder was born out of a discovered need. Once upon a time, we observed that users wanted a piece of internet real estate but either didn't know how to get started or have the time to create a website from scratch. 
Thus, our site building tool — a launchpad for creators and visionaries (like you!) wanting to get things up and running fast — was born! Powered by our friends at BoldGrid, WP Website Builder is a one-stop creation tool perfect for building a beautiful site without hassle or commitments. 
WP Website Builder's Key Features
So let's talk shop: Why use our site builder? What does it offer you?
WP Website Builder is a sophisticated and user-friendly website builder that gives you control and customization at your fingertips. This is your site, after all. 
With a bundle of easy-to-use WordPress plugins and design tools created by the folks at BoldGrid, WP Website Builder makes getting a functional and attractive site up and running simple.
Furthermore, WP Website Builder does site-building well, making the creation process simple from blank page to publication. Plus, starter content is packed into every beautiful, responsive, and customizable design, making it easy to get a great-looking site, no advanced coding expertise needed.
And since WP Website Builder is built for WordPress — the world's most popular content management system — you know it'll be easy to scale your site and add functionality when and if you need to (ecommerce website, anyone?).
WP Website Builder Step-by-Step Walkthrough
We're so glad you've selected our stellar service. Let's walk you through how to build your site with our site builder. To get started, you'll need to select WP Website Builder as an option during your DreamHost purchase. Watch the video above for more details about our checkout process.
1. Open the WP Website Builder setup wizard.
When you set up a new website with us, you'll receive an email that includes your WordPress login credentials and some information about how to get started. One of the options is to use the WP Website Builder setup wizard. This wizard walks you through choosing a design for your website, setting up basic pages, adding important information, and accessing the WordPress dashboard.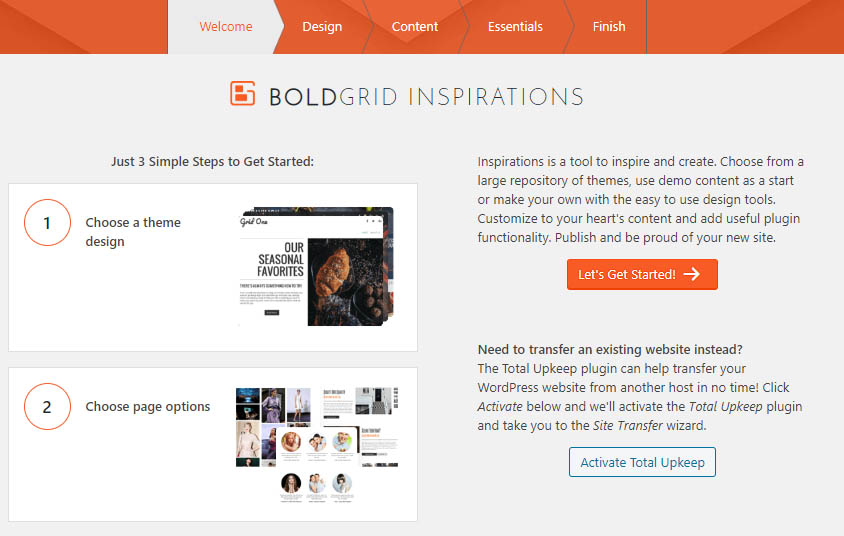 2. Pick your theme.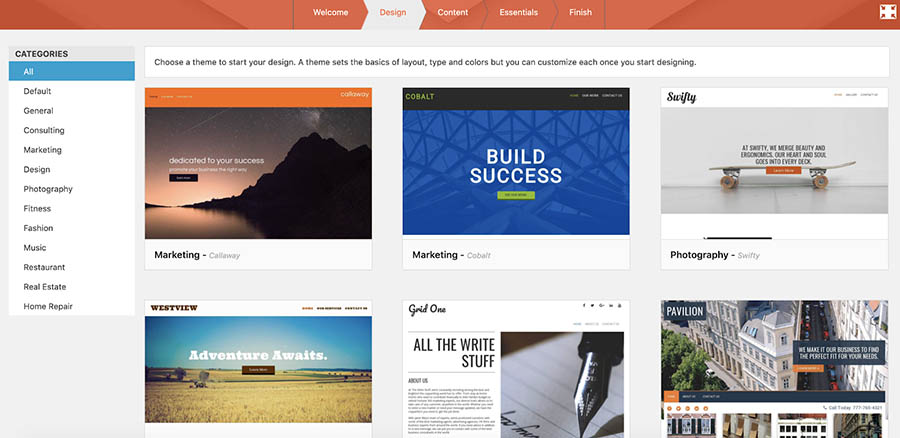 Next, let's choose a design template (also known as a WordPress theme) for your new site!
On the left side of the screen, select a category for the type of site you'd like to create to see all of the available themes. Hover over your selected theme, and then click the Select button.
And remember, the theme you choose doesn't have to be exactly perfect at this stage. Later on, you'll be able to edit whichever theme you choose to make it match your brand 100%.  
3. Add contact information.
Now it's time to add some simple contact and social media information. WP Website Builder uses this information to set up social media sharing for you, but you can also skip this step if you're not interested. 
4. Finish and Install.
When you're ready, click on the Finish and Install button. While you wait for the quick-start wizard to set everything up, feel free to take a well-deserved break. As soon as your website is ready, you'll get access to the WordPress dashboard. Before you do anything else, take a look at your home page.
 
4. Edit your theme.
At this point, you probably want to make some changes to your theme. To do that, return to the dashboard and open the editor for the page you want to change. 
Once you're in, you'll notice that we set up a new Post and Page Builder for you, which replaces the default WordPress Block Editor. With this feature, you can move elements (or blocks) of content around with your mouse and get access to quick styling settings with just a click.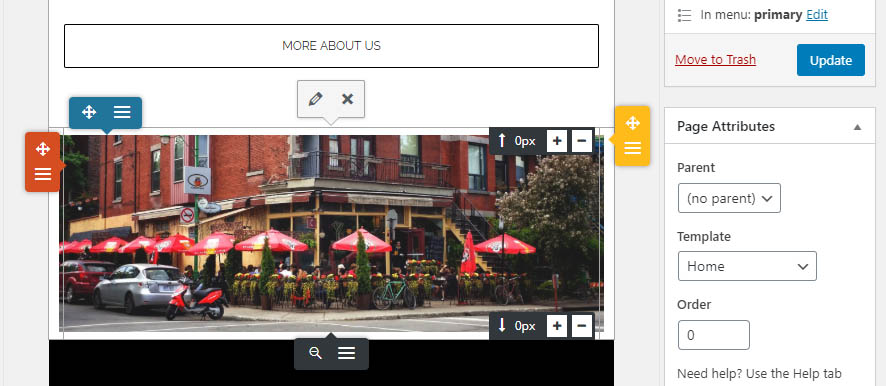 Now it's your turn to give WP Website Builder a try. By combining theme selection with a drag-and-drop builder, we've made designing a beautiful website simple. Promise!
Get Content Delivered Straight to Your Inbox
Subscribe to our blog and receive great content just like this delivered straight to your inbox.
Final Clicks
If you haven't accepted it already, consider this again: You need a great website. The world is online, and your business needs to be too. 
When web audiences navigate to your site, they should find a professional and functional webspace. A website builder helps you do that quickly and easily, and keeping your hosting and site creation under one roof makes it even simpler. 
WP Website Builder can help make your site the best it can be — with just a few simple clicks.