The Top 11 SEO Best Practices for Domains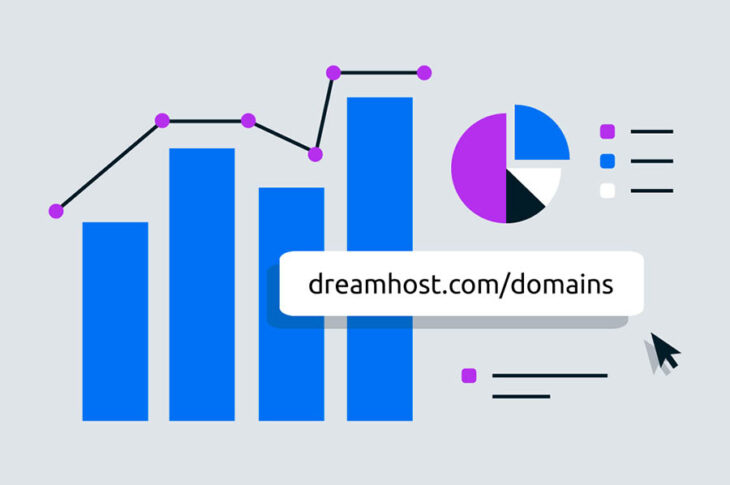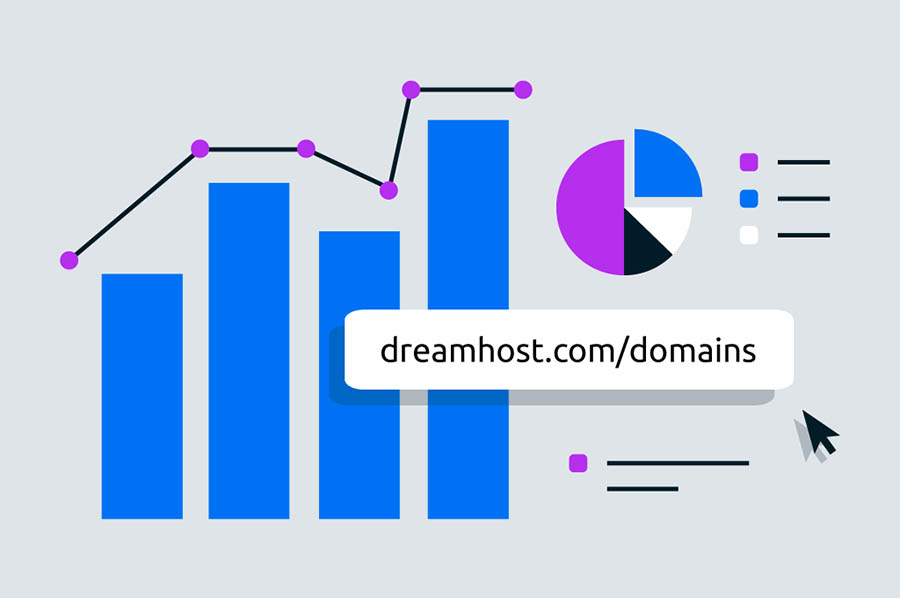 Ever played Monopoly? Any seasoned (or even once-in-a-while) game player will know that in Monopoly, you need good real estate. Got property on Illinois Avenue or St. James Place? You're likely to get some traffic and see that $$$. Mediterranean or Baltic Avenue? You'll probably miss crucial crowds.
The lesson here for website owners: In matters of both board game properties and internet real estate, location is key.
Is it that important to have a well-placed piece of internet property? Yep! For pennies on the dollar, you can set up your own coveted web address. And that's crucial — research shows that your site's URL is one of the primary elements considered when web searchers are deciding which site to visit.
So what is a domain? Where do you get one? And most importantly, how do your domain and Search Engine Optimization (SEO) work in tandem to help you build your brand and conduct killer business? This guide will answer the most burning domain Qs from ranking-conscious webmasters like you and addresses the essential rules for domain name SEO.
Want your domain and SEO to work for you? We've got you covered.
The
Domain Basics You Need to Know
Let's talk basics. What is a domain? Well, it's your virtual moniker — telling internet users who you are and where to find you — your virtual address, unique to your site. They are the part of websites that are readable to humans. For example: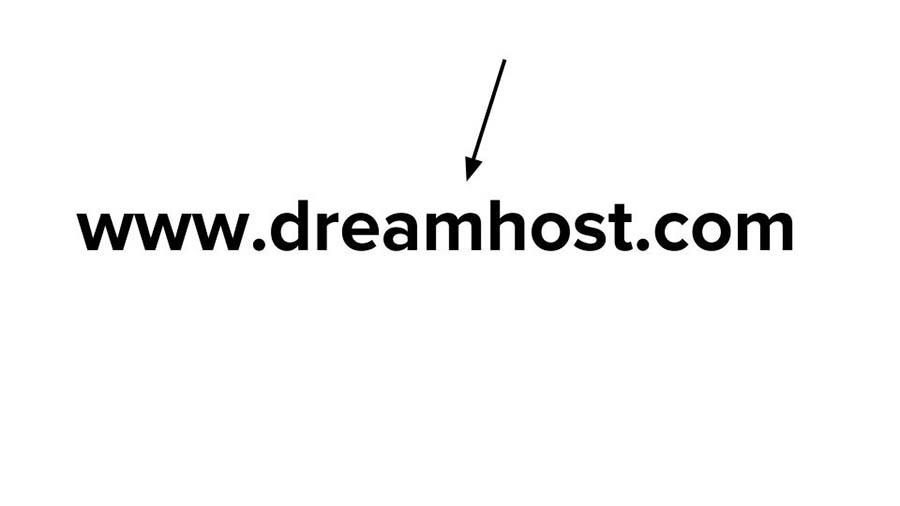 Domains actually have a few parts. Let's break them down.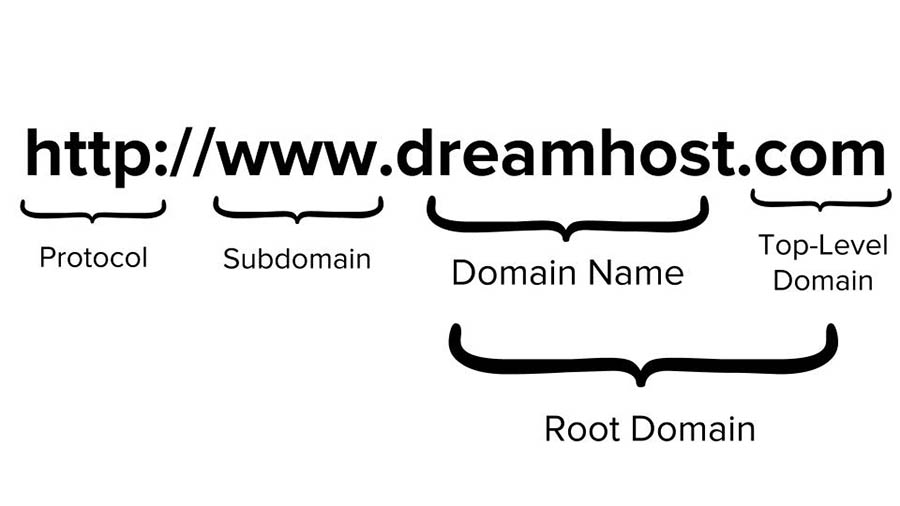 What are the purposes and functions of these hierarchical elements? Let's review.
Top-Level Domain: Sometimes referred to as an extension or domain suffix, the TLD appears at the end of a domain name and exists in thousands of forms, many of which you've seen — .com, .org, .edu, .net, .gov — and maybe a few you haven't, like .book, .data, .graphics, or even country or region code TLDs, such as .ca or .us. (Get a domain with us, and you can choose from a host of dot whatevers. We have tons of options.)
Domain Name: Level two of the domain hierarchy — the domain name — is your site's specific and unique location, and since it factors into how you're found in search engines, should be chosen with care. (We'll discuss this at length below.)
Root Domain: This refers to the combination of a TLD extension and your unique domain name. Together, these elements constitute a complete web address and the highest level in your domain hierarchy, which is likely your homepage (e.g. dreamhost.com). Like your domain name, your root domain is unique to your site exclusively.
Subdomain: From the root domain, you can build off additional pages (with the same root) and form a larger part of your TLD. These are called subdomains, and they shape the third-level of the domain hierarchy. (It's not as convoluted as it sounds, we promise.) They are placed in front of your root domain, separated from your domain name with a period. You've probably encountered these unknowingly while browsing the web — like, blog.yourwebsite.com or shop.yourwebsite.com — or the most common subdomain, www. Some sites have a single or no subdomain — and often for a good (SEO) reason (see tip No. 1 below).
Protocol: At its most basic level, protocols help the internet function. They enable the connection — and transfer of data — between two locations on a network. (The 'http' protocol is common, but you'll want to keep an eye out for 'https' when shopping online or sharing personal credit card or other financial information. This designation reflects a secure connection — meaning, the site has an SSL certificate to operate under an https protocol.)
Beyond the technical jargon, your domain is the first impression of your website. It's a distinct feature of your site and is an important — even crucial — reflection of your online presence. In fact, your domain is a vital part of establishing your brand — not to mention, it's where you do business — and as such, should be chosen carefully and according to the trusted (but evolved) principles of search engine optimization. Now, let's see how these two elements (should) work in tandem.
Your Great Idea Starts with a Domain Name
Don't let someone else register your URL. Search DreamHost's 400+ TLDs to find the perfect fit for your website.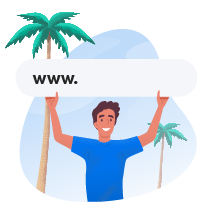 How Domains and SEO Work Together
Does a domain really matter for SEO? Simply put, yes! One of the most important and basic building blocks of SEO is the structure of URLs and domains.
While the factors that influence search engine rankings have changed as the internet has evolved (visit our keyword section in tip No. 2 for more on this), this principle still rings true: by providing answers to web users' most important questions, keeping things fresh, and adhering to tried-and-true best practices, you're helping your site get seen.
That's the aim, right?
The most important of your business goals — whether it be sales, subscribers, stellar stats, or a squad of loyal followers — begins with that first click. And that first click depends on you getting your brand out there in (search engine) lights.
SEO-friendly domains also contribute to additional site boosts, like better rankings and higher click-through rates — plus, they help to establish your brand as a trustworthy authority in your field. With a killer SEO domain, your site visitors will be knocking on your door in no time.  Domain name SEO FTW.
Now, let's talk tips for crafting a SEO-friendly domain.
Get Content Delivered Straight to Your Inbox
Subscribe to our blog and receive great content just like this delivered straight to your inbox.
Domain SEO Best Practices
Not sure how to utilize your domain to increase your rankings within search engines? Here are 11  ways to mold SEO to your advantage.
1. Keep it to a Single Domain and Subdomain
The appeal of organizing your site based on sub-pages and additional folders may be enticing — and popular — but there's no guarantee (and not a lot of good evidence) that the ranking ability of your mother domain (your root domain) will transfer to your subdomains. The truth of the matter is, you're more likely to see a strong ranking performance if you keep content together on a single domain and subdomain. The exception to this could be a language-specific version of a site, such as en.yoursite.com.
2. Make it Easy to Read
As important as your domain is for brand building and ranking performance, it's not smart to pick your domain details willy-nilly — you'll want to consider both computer and human processing capabilities — and in our current tech landscape, ranking factors dictate that the former depends more and more on the latter.
Meaning, is it written with search engine algorithms in mind? Is it readable to those human visitors looking to find you?
An easy-to-read, accessible, user-friendly domain contributes largely to positive user experience; that, in turn, warrants more successful outcomes for your site. Anything to make it easier for people (and search engines) to find you, right? (Want give your current domain a checkup for readability and see what the doctor prescribes? Try a domain appraisal.)
Readability can vary based on location, language, and industry, but if you're acting on the assumption that those out there searching want to find your content, then here are a few essential domain-crafting must-dos:
Avoid Numb3rs: Tread (very) lightly when considering the addition of a numerical value in your domain name — this tactic comes preloaded with built-in confusion: is it oneword.com or 1word.com? See? Tricky. Don't purposefully create roadblocks that prevent those e-crowds from finding you.
Be Wary of Misspellings: It might seem clever to misspell a word in your domain purposely, but these types of intentional word errors typically backfire and set your site up for trouble; most people already have trouble spelling as it is. Consider how often we rely on spelling-and-grammar-checking programs, and rethink that cutesy spelling bee fail.
Make it Memorable (and Compelling): It might seem like without numbers or spelling games, you might lack the tools to be unforgettable on your piece of internet real estate. Wrong! Remember, you're still trying to grab attention, but it can (and should) be concise, uncomplicated, and on-brand, while still sticking in the minds of your audiences. Ignore ephemeral trends and think longevity. Consider engaging in brainstorming sessions to unearth those out-of-the-box ideas that relate to your brand and mission.
Think Intuitive: Does your domain name give visitors an idea of what they're going to engage with or do they have to play Nancy Drew to understand your offering? Give them a hint of what to expect with a makes-sense moniker. (If you don't, expect to dish out way more $$$ for marketing!)
Keep it Short: If your domain contains too many characters, you're going to exhaust web users. Truth bomb: they don't have the patience or interest to navigate to your site via a lengthy URL (at least, without running the risk of developing carpal tunnel), so keep things short and sweet. Aim for a golden character limit of >50-75 in your domain and gain value, establish positive UX, and increase shareability. The more concise, the more likely users will be not only to visit, but pass along your URL as well. (Plus, it will get shortened less by shares and search engines).
Keep it Simple: Save those complicated phrases or words with tricky spellings for your account passwords. Your domain should be easy to communicate — by mouth, by keyboard, and by search engine algorithm. Trust us, this principle of processing is science-backed! The easier your site is to access, the more positive feelings your visitors will have. And we all want those good web vibes, yes?
Tame Unwieldy Characters: Yes, enhancing readability and technical processes has everything to do with subduing deviant punctuation or nonstandard characters. These obstructions (learn this new vocab word: cruft) rarely serve a useful purpose in domains and can trip up functioning in areas of the web, like certain crawlers or browsers, and in parsing processes.
Reconsider Hyphens and Case Sensitivity: If you want to visually separate a two-word name in your domain, a (single) hyphen might help with clarity and brand-building purposes. But where SEO is concerned, steer clear of the dash within your domain name (using hyphens in multi-word URLs within your site is fine). Hyphens can sometimes associate your site with spam and decrease readability. (And don't substitute a space — these display as "%20" within URLs. #awkward).
A word on case sensitivity: be wary. Capitalized characters can sometimes fail to render on different systems. Unless you're adept at handling redirects from corresponding URLs, try to avoid capitalization.
As you can see, readability involves a variety of important factors. You don't want users (or computers) tripping over their keys to find you. Make it roll off the tongue. Craft your domain remembering that, above all, a URL easy for humans to read and type is more powerful in search engine rankings — especially as search engines become increasingly more clued in to user search behavior. Boosting your domain UX amps up your SEO power. We'll call that a double-whammy win!
3. Knuckle Down Keywords
In any SEO-related conversation, "keyword" is often the buzzword. Keywords are crucial. There's no denying that. But when it comes to incorporating keywords into your domain, there are a few key things to understand (see what we did there?)
First of all, you can't outsmart search engine algorithms when working to boost your SEO. For SEO beginners, it might seem tempting — and intuitive — to simply craft your domain around exact and/or multiple keywords.
Trust us; it's been attempted — successfully — at one point. Consider URLs of yesteryear, like, 'best-insurance-quotes.com,' sites that simply relied on keyword-rich domains to reach top rankings.
Because of this, search engines began to negatively associate these sites with lower site quality. Google's smartened up and made some changes. It no longer prioritizes keyword-stuffed and exact-match domains (i.e. exactly-what-someone-might-type-in-the-Google-search-box.com) quite like it used to, so keep that in mind. It's likely that they'll scrutinize keyword-inclusive domains with more depth (and sometimes even combat them), so you'll need to have strong content, brand identity, and structure, along with positive UX to backup your URL.
But smartly-used keywords within your domain can help web users understand what to expect when they navigate to your site, aid in processing fluency, help Google associate your site with a searched-for keyword, and serve as powerful anchor text when users are CTRL+C-ing your site URL. Those are big pluses for you — and your rankings!
Remember, smartly-used keywords indicates that you've done your homework. There are thousands of great SEO tools to help you. Google's Keyword Planner is a good place for beginners to start.
For more advanced users, we recommend Semrush. It's got great features — think content marketing tools, competitor insights, and off-page SEO tools such as their backlink analysis — that will check the right boxes for most websites and businesses. What's more, Semrush offers the largest keyword database on the market with 20 billion keywords (yep, you read that right!) at your fingertips. To make it easy for you, we've worked out a special 14-day trial offer so you can put the platform to the test before you commit.

Note: You'll also want to scout out any possible legal considerations concerning your chosen domain name. No copycat-ing!
And when used in conjunction with words or ideas that convey and enhance branding, you'll know you're on to something smart. And still, using your brand as your domain name serves as a reliable (and very successful) option — with it, you're building brand awareness and identity. Ultimately, your greatest strength is to be the trusted and sought-after source on your topic (especially since a large portion of your visits will be from navigational search traffic) so think: branding first.
As your site builds buzz, search engines will come to associate your brand with your keywords.
4. Canonicalize URLs on Similar/Duplicate Content
We know that's a big word — SAT verbal, anyone?  But seriously, what does it mean? Well, to begin, it's important to know the SEO impact of duplicate content. When similar or copy content exists on your website, it can trip up search engine crawlers, which might confuse which page is the "master" or original. Duplicates may also cause search engines to miss your unique content. We definitely don't want that!
It's actually easier to have copy content than you might think, as each unique URL (even different URLs reaching the same page, like your homepage) exists as a separate page — at least to search engines.
Canonicalization is a way to control that duplicate content — simply a way to tell search engines which pages on your site are the master pages, or in other words, to indicate which URLs you want showing up in search engine results. It also positions your site for optimal search traffic and SEO rankings. Handy, huh?
How to canonicalize? 301 redirects and canonical tags are oft-used to remedy the issue of consolidating duplicates and delineate master pages, but there are lots of different methods.
5. Exclude Dynamic Parameters, When Possible
What's a parameter? Well, it's basically a way to get more information out of a user's click. For instance, they can track details about a particular campaign you're running, which can be useful say, if you're trying to get more deets about user behavior. These parameters typically add keys and values to your URLs, including equal signs, question marks, and ampersands (&).
The problem? They often lead to bulky and unsightly — not to mention, overly-long — URLs, especially if they include more than one parameter.
If you can, avoid them for the sake of a readable URL. If you believe they're necessary for tracking important info, use with caution and consider rewriting for usability's sake.
6. Match URLs to Page Titles
File this tip under our already-growing topic umbrella of "Doing it For the Visitor." Again, you should often be thinking of web users and how to make visiting your site an enjoyable (and easy) experience for them.  As we've discussed, your domain building is largely human-centric. More often than not, your efforts of striving for virtual people-pleasing will yield a positive SEO return, without an extensive amount of additional SEO work.
Why is this? Well, put simply, it has to do with creating and meeting the expectations of visitors — meaning, no clickbait-style URLs, please. If they get what they clicked for, you're building trust and rapport with your audience, and meeting the demands of search engines.
There's no need to be overly matchy-matchy when coordinating URLs to page titles. It doesn't have to match word-for-word (in fact, it'd likely be too cumbersome that way; see more on No. 7), but it should contain some of the same words and give readers an accurate and clear idea of the content they'll find on your page.
For example: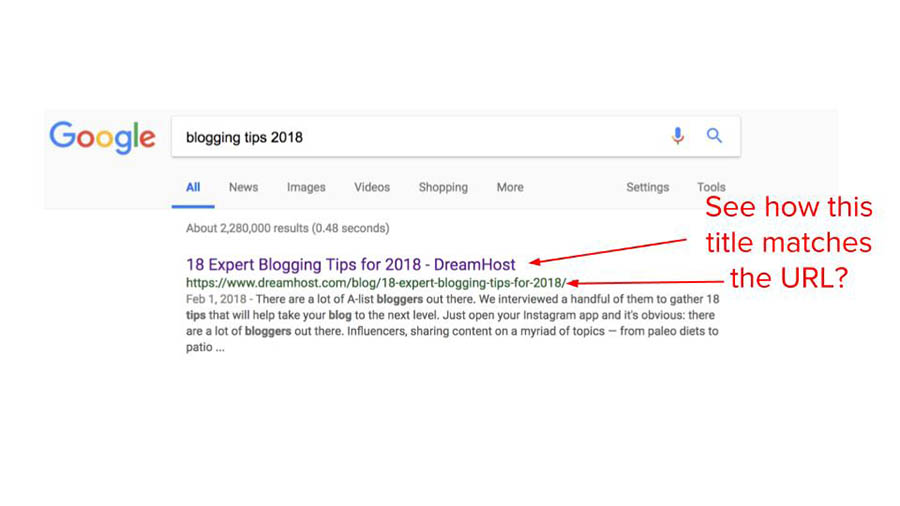 7. Rethink Stop Words
If your page title contains words like for, or, but, of, a, the, and, etc. (AKA stop words), you can consider cutting them out of the matching URL for length and readability purposes — they aren't really necessary.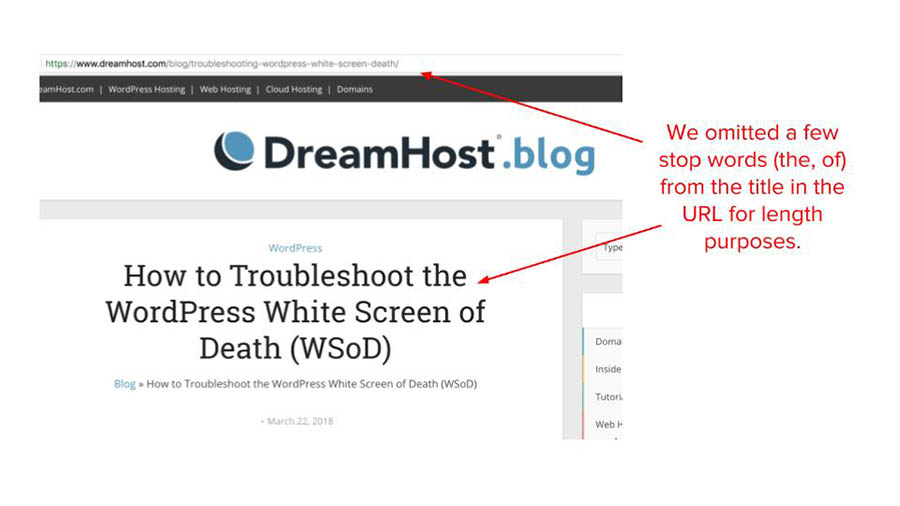 Ultimately, whether you think they help or hinder readability for users, it's your judgment call. Sometimes they're okay to leave in (see our blogging tips link example in No. 6), but slicing out a few can save precious characters — and help fleeting visitor attention spans.
8. Limit Redirects
Whatever your visitors are clicking on while perusing your site — or however search engines are crawling your site — try to get them from point A to point B (or C, D, or E) using the shortest redirect string as possible. (Meaning, a point A to point E jump or A to C would be ideal, rather than A to B to C to D to E).
The longer the string of redirect jumps, the more roadblocks (i.e., speed, accessibility, UX, etc.) for browsers and human visitors — especially on mobile. It's like a virtual way of telling users and search engines to take a number and wait in line. Plus, with excessive jumps, ranking signals can become messy and skewed, and your pages lose authority.
WordPress has become pretty smart with handling redirects. If you're looking for more detailed info, check out this guide.  Do yourself a favor and minimize your number of redirects — your users (and your SEO) will thank you.
9. Go With a .Com TLD Extension
Even though there are plenty of TLD options for your domain, it's obvious that .com is the most common on the web — and the most familiar for internet users (remember the processing fluency principle?) It's probably a good choice to stick with .com, a generally trusted and accessible (not to mention, brandable) TLD for a positive and reliable user experience.
That's not to say that there couldn't be good reasons to choose another top-level domain extension, especially if you've (smartly) decided to have more than one domain — your TLD won't negatively influence your SEO ranking directly. But consider that some lesser-known TLDs, like .biz, .info, and .us, are often associated with spam (yikes) and receive less traffic and are connected to low-ranking sites.
What if your ideal .com TLD is not available for purchase? Try a country code top-level domain or other trusty options, like .club, .net., or .blog — these are still good bets.
Your TLD is important, so choose it carefully based on your overall goals, and consider its potential implications for UX and SEO.
10. Domain Age: Don't Sweat it
You don't have to lie about your (domain) age. A little myth busting for you: domain registration length isn't an important SEO consideration. Hooray! Whether you started your newfangled website two years or two days ago, don't sweat it. If you are filling it with quality content and have given it an SEO-conscious domain, you're on the right track for top performance points.
11. Back It Up
We've talked about this at length (recap at our keyword section of tip No. 2), but if you're simply running on the assumption that only a keyword-stuffed domain (e.g., cheapbabytoys.com) will get you ranked, you're setting yourself up for T-R-O-U-B-L-E.  In fact, that method operates in direct opposition to how search engines function.
Along with a well-crafted SEO-conscious domain, you need to outfit your site with quality content (and lots of it), a pleasurable user experience, an appealing design, reliable brand signals, and strong internal structure. This winning combination results in a positive SEO outcome.
Search Engine Optimization Made Easy
We take the guesswork (and actual work) out of growing your website traffic with SEO.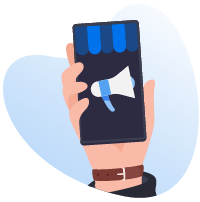 Advance to Go (and Collect SEO Points)
Sure, building your ultimate site domain isn't exactly like playing a board game, but in both, we learn a key principle: location is everything. Your search-engine-optimized piece of internet real estate — AKA your domain — is a fundamental step in the process of getting seen on the web.