How to Pick a WordPress Theme
Choosing which theme to use for your WordPress website is one of the most crucial decisions you'll make. In most cases, you'll stick with the same template for a long time, so it's not a choice you should take lightly.
When it comes to WordPress themes, you have thousands of options. Whatever type of website you want to build, there's likely a perfect theme for it out there. The right theme won't only look amazing, but will also provide you with useful functionality.
In this article, we'll go over what types of questions you should ask when you're checking out a new theme and explain what to look for when making your selection. Let's get right to it!
DreamHost Makes Finding a Theme Easy
In addition to automatic backups, DreamPress Plus and Pro users get access to 200+ premium themes at no added cost!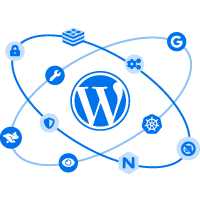 Why Your Choice of WordPress Theme Matters
If you have any friends who use WordPress (and the numbers say you probably do), ask them how long they've been using their current theme. In most cases, the answer will number in years. Changing your WordPress theme can be tricky, as it will radically alter the appearance and even the functionality of your site.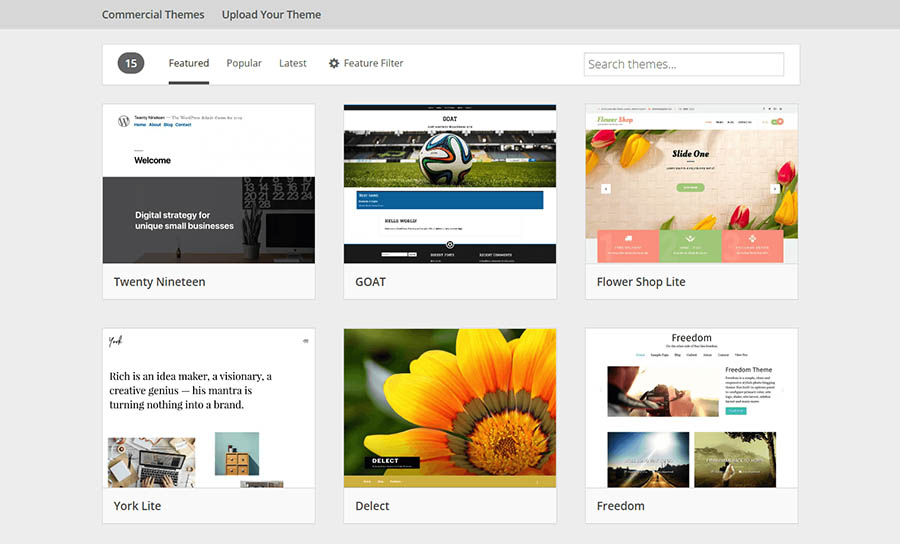 Therefore, it's best to avoid doing it if you can. That means you'll probably be using the theme you select for many years to come. Your mission: to choose a WordPress theme that has a classic design, suits your site's goals, and makes upkeep easy. 
Sound like a big undertaking? Let's break down the process of selecting a theme into easy-to-handle steps.
7 Questions to Ask When Looking for a WordPress Theme
As you might expect, picking out a WordPress theme can take a while. You'll need to ask yourself several key questions before you get started, so you'll know exactly what to look for.
1. What Is My Site's Purpose?
No two WordPress themes are the same. Additionally, most themes are built with very specific types of websites in mind. Therefore, you'll need to have an idea of what goals you're trying to accomplish with your site.
What is the site for? To be honest with yourself, you'll need to be clear on what you're trying to do with the website. Is it a blog or a community site or a collection of news? You can't pick the right theme if you don't know what you want things to look like. Do you need a static front page? Do you need to show a featured post and then a slider? Do you really need that slider? 

— Mika Epstein, DreamHost WordPress Expert
2. Who Is My Audience?
Knowing what type of site you want to build also helps you determine who its audience will be. The more you know about your audience, the easier it will be to design a website that gets their attention.
Identifying your audience includes researching to find out what their interests are, what types of designs might appeal to them, what features they'll expect from your website, and more. At this stage, it's smart to put together a comprehensive target market profile.
3. What Functions Does My Site Need?
Every website requires different functionality. For a blog, you'll need a way for visitors to find posts, comment on your publications, locate related content, and access your social media channels. With an online store, you'll have to be able to showcase product descriptions and pictures, let customers leave reviews, and so on.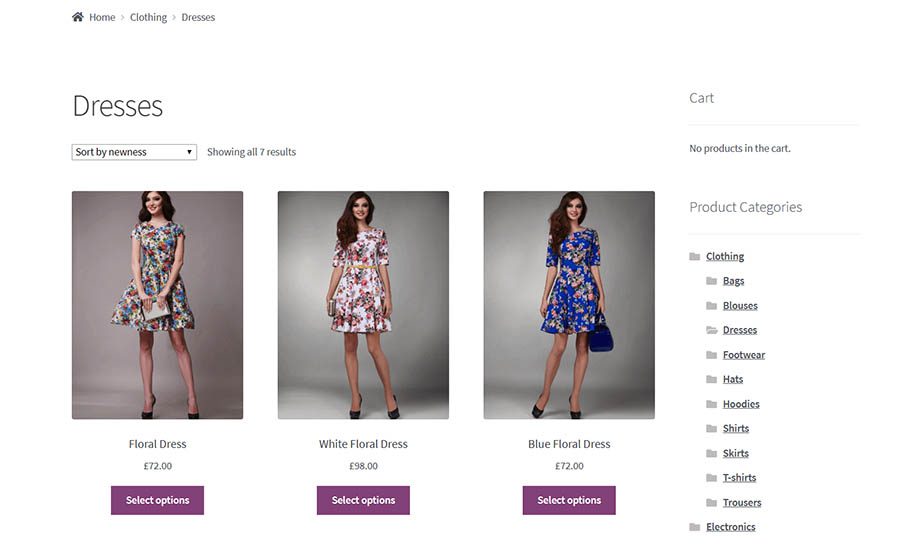 With WordPress, you'll rely on plugins to implement some of that functionality. However, choosing a theme that includes the features you need out of the box can be a significant timesaver.
4. What Do I Want My Site To Look Like?
Usually, the first thing you'll notice about a theme is what it looks like, and if it fits with your idea of what you want for your website. In most cases, you'll need to make some changes to any theme you choose, to get it looking just right.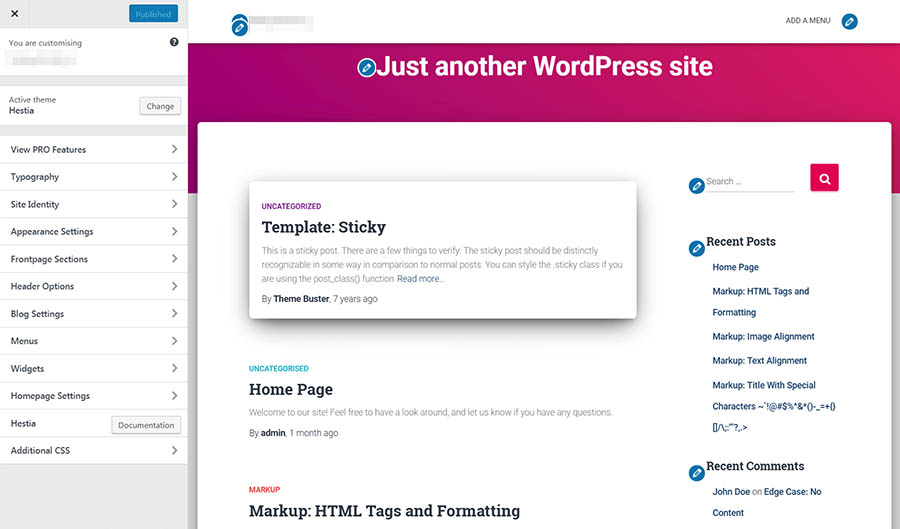 However, choosing a theme that's as close to your vision as possible will make your job a lot easier. You'll also want a style that's thematically appropriate for your site and is likely to appeal to your target audience.
5. How Fast Should My Site Load?
If there's one thing users hate, it's a slow website. There are a lot of factors that can affect your site's speed, but the theme you pick plays a significant role. Some themes are better optimized than others, so they tend to be faster across the board.
It can be hard to gauge a theme's level of optimization without taking it for a test drive. Usually, your best bet is to check user reviews and see if you can find any comments about loading times. This will give you some idea of what to expect.
6. What Is My Budget?
When it comes to WordPress themes, one of the most critical decisions you need to make is whether to go with a free or a premium option. Premium themes tend to pack in a lot more functionality to justify their price tags.
Keep in mind, however, that premium themes aren't always better. For most types of websites, you'll find there are fantastic free options that provide everything you need to get started.
7. What Do My Competitors' Sites Look Like?
Finally, it's essential to have an idea of what your competitors are doing. That includes everything from the quality of their content to how they interact with visitors and what their websites look like.
In many industries, you'll find that websites tend to share very similar styles. If your audience expects a specific aesthetic, you'll need to consider whether you want to provide what they're looking for or try something unexpected.
Get Content Delivered Straight to Your Inbox
Subscribe to our blog and receive great content just like this delivered straight to your inbox.
9 Things to Look for When Picking a WordPress Theme
Although every WordPress theme is unique, it's not difficult to spot the best options if you know what to look for. Now, let's go over some of the criteria you need to keep in mind when selecting your theme.
1. Simple Layout
Often, you'll see WordPress themes that showcase an incredibly intricate layout to draw potential users in. Then, once you install the theme, you find out it looks nothing like the demo site. Personally, we're fans of themes that feature clean lines and simple design. After all, you'll know they can look great without the need to spend hours tweaking every setting.
2. Responsive Design
These days, mobile users outnumber all other types of browsers. This means that it is essential for your website to look and function well on all mobile devices and screens.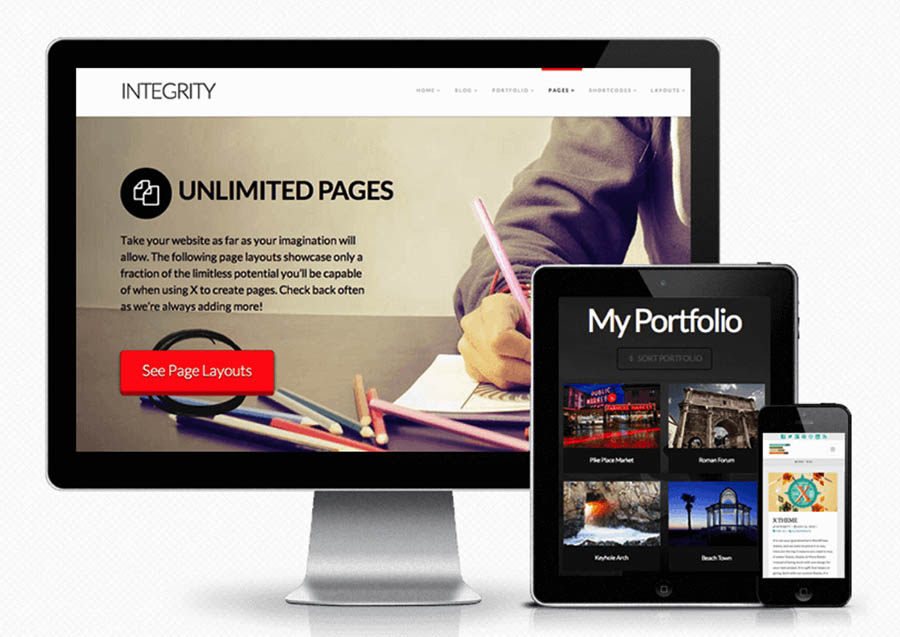 Therefore, it's worth looking for quality, responsive WordPress themes right out of the gate. If your theme includes a fully responsive layout, you don't have to go to lengths to ensure that mobile users can enjoy the experience.
3. Browser Compatibility
Although most people use the same popular browsers — such as Chrome, Firefox, and Safari — they're far from the only options. There are dozens of browsers you can choose from, and not all of them render content and images in the same way. Good developers will keep this in mind, and ensure that their themes play nicely with most browsers.
4. Supported WordPress Plugins
Plugin compatibility issues can manifest in many ways. If you are picky about the theme and plugins you use, these problems should be few and far between. However, if you have specific plugins in mind for powering key functionality on your website, it's worth checking to make sure your top theme options are compatible with them.
E-commerce is also a popular niche for WordPress users, and WooCommerce is the number one plugin for implementing that functionality. As such, WooCommerce integration via an e-commerce theme is a key consideration if you want to start an online store. You're essentially looking for dedicated inner pages and templates to showcase your products seamlessly. Many developers promote that their e-commerce themes are 'WooCommerce ready,' so if you see this, you should be prepared to place the theme under further scrutiny. 
5. Translation Ready
There are a lot of tools you can use to translate your WordPress pages and create a multilingual website. However, for this to work, you'll want to use a theme that's translation-friendly.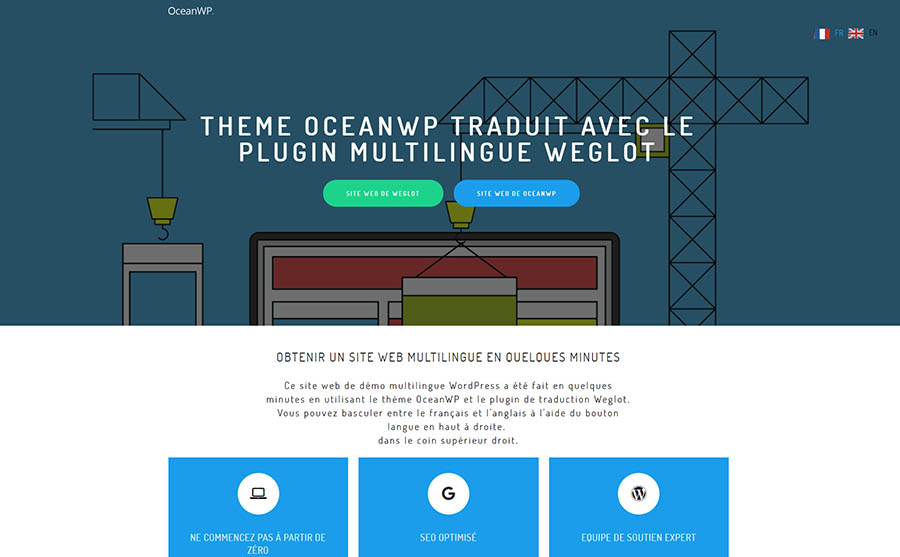 That means looking for a theme you can use in conjunction with translation plugins, so you don't have to go through the process manually.
6. Page Builders & New Block Editor Compatibility
These days, a large part of the WordPress community is embracing page builders. WordPress itself is moving in that direction with the new Block Editor. So it's important that whichever theme you choose works well with drag-and-drop page builders. This can significantly simplify the process of customizing your website.
7. Support Options
If you run into any issues with your theme, it's always nice to know that you can turn to its developers for advice on how to solve it. Ideally, your theme's developers should provide you with multiple support channels, and should be active when it comes to helping their users.
8. SEO Friendly
If you want search engines to rank your site highly, then you'll have to play by their rules. That means following Search Engine Optimization (SEO) best practices and using a theme that does so as well. An SEO-friendly theme should offer a mix of features including reliable performance, mobile responsiveness, support for Schema data, and more.
9. Ratings and Reviews
A theme's reviews and ratings are a useful indicator of what to expect. When it comes to popular themes, you'd be surprised at how many user ratings you can find.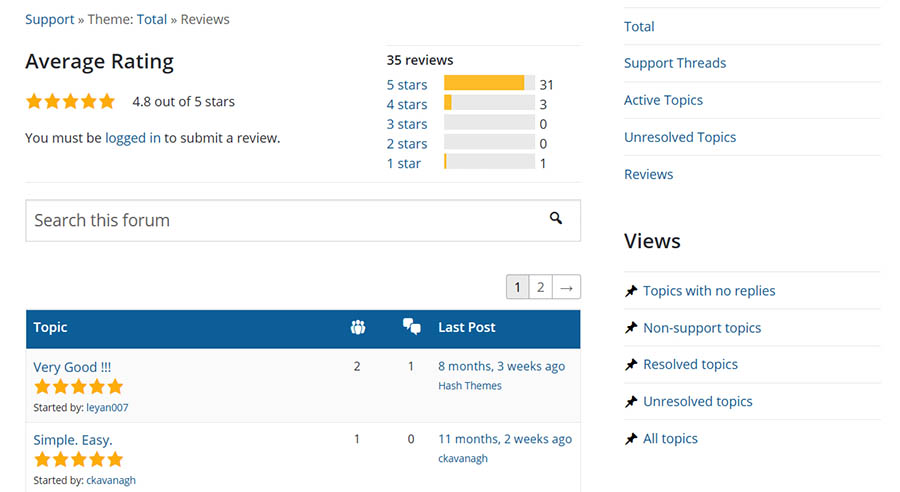 To get the full picture, we'd recommend looking beyond each theme's website and doing some quick searches for third-party reviews, which tend to be more thorough and honest.
Where to Find Quality Themes
There are a lot of places to look for top-notch WordPress themes. However, these two sites are an excellent way to get started:
WordPress.org

: The official WordPress website also doubles as the largest repository of free themes, with thousands of options to pick from. Moreover, WordPress.org maintains very high standards for the themes it publishes.

ThemeForest

: There are a lot of premium theme marketplaces, but sites like ThemeForest have a clear lead when it comes to inventory. There are thousands of choices and most of the popular premium WordPress themes can be found there.
Most premium theme developers also make sales through their own websites. There are a lot of smaller marketplaces that focus on specific types of themes as well. Other interesting options you might want to check out include CSSIgniter and StudioPress.
Every single theme on WordPress.org is checked when it's submitted. They're exceptionally good about it. Most themes there are safe as houses to use. And they're free! 

— Mika Epstein
How to Install a Theme in WordPress
Once you finally settle on the perfect theme, it's time to go ahead and set it up. Fortunately, WordPress makes that a very simple process.
To install a theme, access your WordPress dashboard and navigate to the Theme > Appearance tab. Once there, select the Add New button at the top of the page.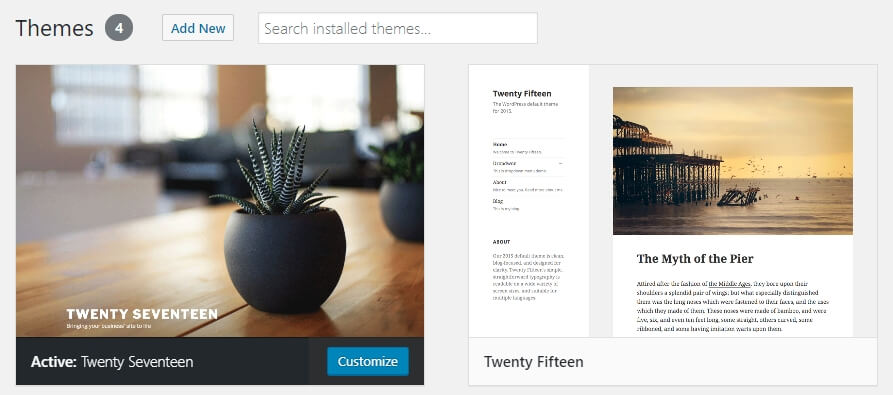 WordPress will enable you to upload the .zip file you received after purchasing and/or downloading whichever theme you chose. When the file is uploaded, all you have to do is go to the Themes tab and hit the Activate button, and your new theme is ready to go.
Ready to Pick a WordPress Theme?
Themes are one of the key features that make WordPress an amazing platform. You have literally thousands of themes to choose from. Even better, many themes offer more than just aesthetics — they'll also include features to improve your site.
When it comes to themes, there's no single option that's perfect for every user or website. So we recommend that you keep an open mind, remember all the criteria we've discussed in this article, and test each theme you consider thoroughly before you decide which one to settle down with.
Are you ready to start using your new theme? You'll first need to pick a web host and then install WordPress. Fortunately, we have plenty of plans for WordPress users to choose from!