The Vital Importance of Owning Your Online Content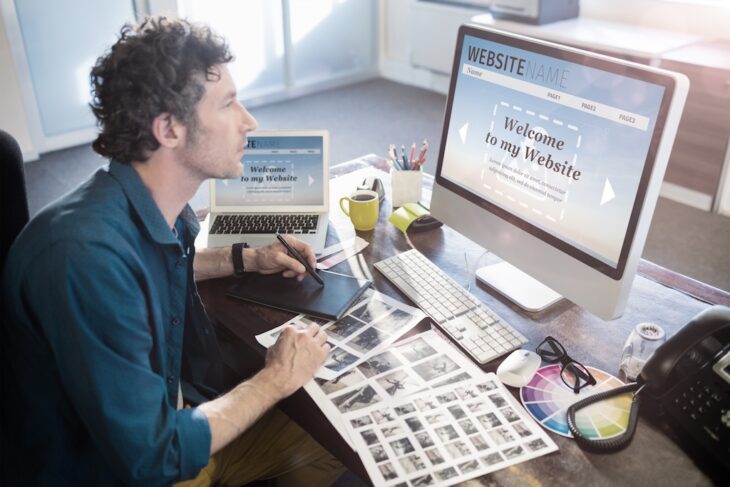 When your kids live in Los Angeles but grandma and grandpa are in Atlanta, they're bound to miss a few milestone moments. And like many parents, Jonathan LaCour, Senior Vice President of Product and Technology at
DreamHost
, often turns to social media to keep his parents in the loop.
"I'm using these platforms because it's easy to share," he says. "To be able to post photos and send messages back and forth is a case for Facebook. They have features built in to add content."
But one day LaCour had an epiphany: what if Facebook went away or he left the platform?
"I have shared information through a third party, and, frankly, I don't trust them," he says. "I still share through Facebook because it's convenient, but it's important to understand that there are rights you are giving up — and that there is an alternative."
After that aha moment, LaCour started using his own website more. Since he liked using Facebook's "On This Day" feature to scroll through memories, he recreated that on his site. "I push out my updates to Facebook and Instagram because people follow me on those channels," he says. "But the place where the content originates and stays is on my site. I'm choosing what I'm sharing with the world."
The Price of Free Platforms? Your Privacy
However, not everyone is as web savvy as LaCour. In fact, many of us don't realize that the price we pay for using these free platforms is our personal information — and even the ownership of the content we share.
"Most people think they still own the content they share outright," says Justyn Hornor, founder of Creative Content Experts. "But once you put your content onto a third-party platform, generally speaking, that third party owns it. This varies wildly, though, so content creators need to know what they're doing and the terms of service for each."
For example with Facebook, you only control the creation of the content, meaning once you post something, the social giant can use it as it sees fit — and regularly change the rules and features available to users.
So What Does Owning Your Content
Actually

 Mean?

Small-business owner Simon Mitchell sums it up well.

"Unless you are running your own web or mail server on a computer in your home or office, someone else always owns or controls your content to some degree," explains Mitchell, who owns Copy Octopus.

"Owning your content these days means that you have complete control over the platform — in other words, having it on a website that you can manage all of the aspects of," he says. "For my own business, I have a WordPress site hosted on a third-party web host. That means that I can publish and promote my content however I like, and I can move to another hosting company if I want to."

But remember: content isn't just your photos or blog posts. It's also your emails.

To truly have privacy and control, setting up and running your own email server is optimal. If not, you're stuck with using a third-party provider.

"Email is another interesting form of personal content," says John Locke, founder of Lockedown Design. "We see ads in Gmail, Yahoo, and many other free email services. This is a phenomenon where the large internet companies are using your browsing history to serve you ads. But how do you keep your email safe? I recommend that everyone have their own domain-branded email to go along with their website."

If you choose to sync your email addresses with an email client, make sure you use SSL, and keep that information encrypted.

Bonus: It also looks significantly more professional if you're a business and you have a branded email address, as opposed to a Gmail, Yahoo, or ISP address.
What Are the Risks of Using a Third Party to Publish Your Content?
But what if setting up a website, with an accompanying email account, seems like an unnecessary expense or headache? Especially if, say, you run a small business that could get by with just a Yelp or Facebook page.
Is setting up your own website and owning your content really worth it?
To answer that, I spoke with Gillian Perkins, a business strategist at Aptus Creative Marketing. Perkins contends that there are two main risks you've got to weigh before making that call.
The first: unless you also have your content stored somewhere else, you could lose it at any point in time. That's because most platforms don't guarantee your content will be safe.
"Secondly, by publishing your content publicly," Perkins explains, "you open the doors for anyone to take it and use it as they like, whether or not this is legal. Of course, if it is illegal, you always have the option to use the courts to get justice. However, legal proceedings are costly and very time intensive. At a certain point, you have to ask yourself: is it really worth it? And that means that when you publish on a public platform, you have to accept that this is a question you may end up facing."
Beyond those two concerns, there are a few other issues you should consider too.
Advertisers Are Watching . . .
Depending upon the terms of service, third parties can use the information you provide for various purposes ranging from marketing to research.
And the Internet of Things? Not helping.
"Everything has a computer running it, from your car to smart refrigerators," Locke says. "The devices we rely on are getting more sophisticated, and also provide data about us. When you weave all this together, you can see how it will be possible for advertisers to target individuals with specific offers with increasing certainty."
. . . And Tracking Your Every Move
Many apps use geolocation, from Google Maps to Yelp to Pokemon Go. "But a lot of apps use geolocation when there is no real reason to — except for in-app advertising," cautions Locke.
Security Breaches
While hacking has always been a threat, there's a reason it's been in the news a lot more recently. "In global politics there has been a huge amount of emphasis placed on hacking into people's content and barraging social media with false information," LaCour says.
"To me, these concerns are at the root of the danger of unauthenticated, unverified social media silos. You just have to hack into one thing and you get access to millions and millions of people on these platforms."
What's the Government's Role in All This?
That's a timely question. The answer: we're at a critical turning point as the fight over net neutrality heats up again.
"Governments need to protect the rights of their citizens, including the right to privacy and the right to decide what happens to their intellectual property," Mitchell says. "But things are changing so fast that governments and lawyers are struggling to keep up."
Essentially, the debate is over whether to classify the internet as a utility or a service, explains Locke. Until now, it's been a utility, like electricity or phone lines. "If we let corporate interests determine who gets access to information and how much they have to pay for that access, that will be a monumental step backwards," Locke says.
But that's not the only Washington vs. internet battle raging.
Twitter recently sued the U.S. government after the feds demanded Twitter reveal the identities of the people behind an anti-Trump account. And there has been pressure on many tech giants — including Apple, Facebook, Google, and Microsoft — to make it easy to penetrate encrypted devices.
"This would be a bad move," Locke says. "If you make it easy for intelligence agencies to get into devices via a back door, then it makes it even easier for malicious hackers to do the same."
As legal battles with the tech giants illustrate, the government isn't exactly cut out to help you own your content right now — or respect your privacy. That means it's up to you to take precautions to make sure you're protecting your content and ownership rights.
The Case For Owning Your Content
Despite the fact that more people are publishing online than ever before, the number of companies that control and distribute that content is still pretty small.
"We place a lot of trust in these companies, and for the most part they don't abuse that trust," Mitchell says. "But that could all change as internet business models continue to shift. To protect yourself and the personal or business brand you've worked hard to develop, you need to maintain control of your content as much as current technology and the market allows."
Ultimately, the case for owning your content comes down to control.
When your content lives on your own personal website, you have the exclusive rights and access to the results your content can drive. You can use content to grow your audience, make money online, or prove your expertise.
Here are a few ways that control can pay dividends.
Owning Your Content Makes It Harder to Steal
Remember business strategist Gillian Perkins? One of the biggest risks of using a third-party platform for your content, she said, was theft.
"This matters from a moral perspective — theft is wrong," Perkins says. "There are also potential effects on the economy and culture of innovation. Quite simply, if people know that their material might be stolen, they may be less likely to share it in a public way."
So what's the solution? You guessed it.
"For your protection, I recommend publishing high-quality, original content on your own website first," she says, "so that if anyone does take it, the world will easily be able to see your fingerprints on it."
Owning Your Content Can Help Build Your Brand
If you own your content, you've taken charge of what your message is, and no platform change or algorithm can touch that.
"I'm all for platforms like Medium or Facebook as places to help build your brand, but they aren't the central hub," Locke says. "That should always be your website. Whose brand are you really building when you lean on social media platforms as your main place for people to find you?"
And when you teach people to not go to your website, but to instead read your Medium thinkpiece or your LinkedIn Pulse post, you have to be careful that you're not training them to ignore your website, Locke warns.
One way to avoid that is to tailor content for the platform it's on — for instance, a 60-second, square video on Instagram — but always keep the most extensive version of your content directly on your website.
Own Your Own Website
When you partner with DreamHost, you get access to WP Website Builder and more than 200+ industry-specific starter sites for free!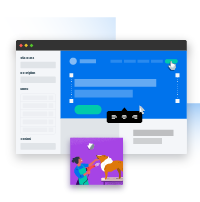 Owning Your Content Can Build an Email Subscriber List
If you teach your audience to go to your website for content, instead of an aggregator like Facebook, you can build an email list — an asset that Locke contends is more valuable than social likes or shares.
"You can take your email subscription list with you if you move hosts, if Facebook shuts down, or if you're no longer ranking in Google," Locke says.
"Your email list is a way to market directly to customers who have said that they want to hear more from you. You can leverage your email newsletter to drive people back to your site," he says. "There's something very powerful in building an audience that seeks you out at the source, when you don't have to continually spend money to get eyeballs on your content."
We Are All Content Publishers
Content is everywhere. And we're the ones creating it.
WordPress websites now publish 84.3 million blog posts each month. And every 60 seconds, Facebook tallies up another 4 million likes and Twitter pumps out 350,000 new tweets.
"Everyone is a publishing company, whether they know it or not," Locke says. "Some people only post on social media. Some people publish not only on their blog, but they're making YouTube videos, recording podcasts, experimenting with new social platforms — those are the brands that are going to get stronger. Owning your content pays long-term dividends."
Get Content Delivered Straight to Your Inbox
Subscribe to our blog and receive great content just like this delivered straight to your inbox.
What Does Owning Your Content Mean to You?
We want to hear your thoughts: Do you think owning your online content is important? Why or why not? What tips would you offer to someone just starting a website? Follow us on Facebook and Twitter to start the conversation!