How to Start a Blog: A Comprehensive Guide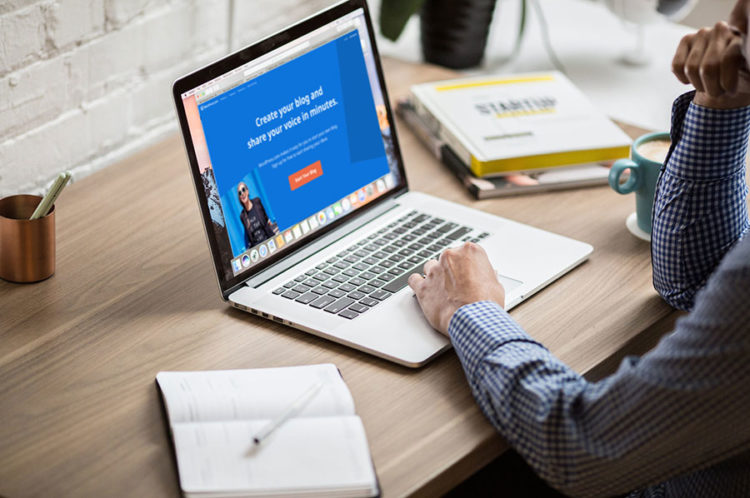 Blogs have become a ubiquitous part of the online landscape. Most internet users and companies have one, and that's no coincidence. However, while starting a blog is easier than it's ever been, building one that draws traffic and can actually make you money requires both planning and effort.
In most cases, this investment is well worth it. A blog can be an extension to an existing marketing strategy and can also be a lucrative method for making money online. Even if you don't monetize your blog, it can be creatively and professionally useful for both individuals and businesses.
In this comprehensive guide, we're going to take you through all the steps required to create a successful blog using WordPress:
We'll cover everything from coming up with a name and installing your site, to writing your first post and sharing it with others. There's a lot of ground to cover, so let's get started!
A Brief History of Blogs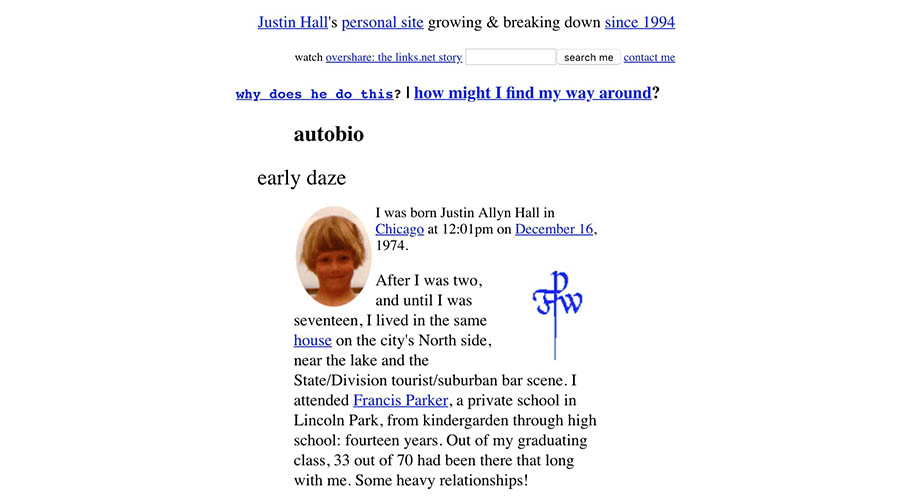 Do you remember your first blog post? Maybe it was a slightly fumbling introduction to yourself or a public diary entry about an event that had happened to you. It might even have been something more ambitious, like a review of a recent purchase. Alternately, maybe you haven't written one yet.
Whatever your personal experience with them might be, blogs have been a staple of internet culture ever since the '90s. In the decades since, they have evolved from mostly aimless public diaries to encompass many different niches and goals.
This expansion was bolstered by the rise of blogging platforms, which let those with no knowledge of HTML and File Transfer Protocol (FTP) create their own 'weblogs,' as they were then known. The most notable of these at the time was Open Diary, but it was soon followed by new blogging platforms like LiveJournal and Blogger. This explosion of tools led to a rise in new bloggers, which culminated in the early 2000s.
Even with the rise of social media, blogs still stand strong as a medium and continue to bring like-minded people together on the internet. Their purpose has shifted, of course, and most 'online journal' blogs have largely been usurped by the less time-consuming and more direct alternatives of Twitter, Facebook, and Tumblr. While bloggers may have updated their tools over time, starting a blog today still offers many creative and commercial benefits.
The Benefits of Blogging
The reasons you may want to start a blog will differ radically, depending on what your goals and intended focus are. In the same vein, the ultimate benefits of blogging to you will be individually determined.
For instance, if you want to run a journal-style blog, you may just be looking to express yourself in an open and honest way. Perhaps you have a cause you want to discuss with other people or a particular subject matter that you're passionate about. You might even just want an outlet to vent about your worries, which can help you clear your mind and promote progress in your everyday life.
A blog can also be an excellent opportunity to express yourself creatively. You could use it to publish your writing, including reviews, short stories, or even poems. This can not only motivate you to keep improving your writing but can also help to grow your audience. Some bloggers have even managed to turn their blogging into careers as published writers.
However, as we mentioned earlier, blogging is not only for personal or creative use. You probably won't be surprised to hear that many businesses have their own company blogs. This includes most giant international corporations like Google, Facebook, and Starbucks. However, smaller businesses also use blogs to grow their audiences, post updates about their services, and provide value to their readers.
Of course, while we're clearly fans of blogging, that doesn't mean it's free from potential problems and difficulties. For one, your blog requires a considerable investment of time and effort to be successful. There are also plenty of common blogging mistakes you'll want to avoid, such as having an irregular posting schedule, using a site with long loading times, and most importantly, writing sub-par content.
Even so, these are almost all issues you can avoid. If you take the time to plan, create a well-performing site, and work on improving your writing, you'll be well-equipped to run a blog that people will genuinely enjoy reading.
How to Start a Blog (In 14 Steps)
In order to improve the odds that your blog doesn't languish in obscurity, we're going to take you through the entire process of setting it up, from start to finish, with step-by-step instructions. Let's get this blog on the road!
Step 1: Identify Your Blog's Subject and Niche
First and foremost, you'll need to decide what your blog should be about. Chances are you already have a good idea of what the subject matter will be. However, it's necessary to determine not only what general topics you'll tackle, but also how and for whom. This will help define your blog's identity and make it easier for you to tailor its content to your intended audience.
A perfect starting point is to consider your own interests. What kind of topics are you passionate about and feel you could write about insightfully? For example, let's say you're a big fan of video games. In this scenario, you may be inclined to start a blog where you discuss and review games you enjoy.
However, there are already plenty of blogs on this subject, so you'll need to think about how yours might differ. This includes deciding what your blog's focus will be (such as a particular genre or style of game), and defining your target audience (hardcore gamers or those new to the medium?). Doing some market research at this stage will be useful, as it can help you find a niche that may be underserved.
Continuing with our gaming example, you might notice there are few blogs devoted to a specific type of game or that discuss games as a whole from a given perspective. These are both niches you could set out to fill. As a result, your blog will have a tighter focus and stronger audience appeal.
Step 2: Name Your Blog
While it might seem like a secondary consideration, naming your blog isn't a task you should take lightly. After all, a name can help to brand your blog and make it more memorable. In addition, especially if your blog takes off, you'll want your chosen name to be something you're happy with.
Most blog names can be roughly separated into two categories:
Keyword-based.

 These are names that contain relevant keywords, in order to be descriptive and make the purpose of the blog clear. Some examples include British Beauty Blogger and Car and Driver.
If you feel stuck and need a bit of inspiration at this stage, some tools can help you out. For instance, there are several online name generators you can use to create potential names based on a word or phrase. One of our favorites is simply called Blog Name Generator.
This site lets you enter information related to your blog, including its tone and subject matter. It then creates a series of names that you can use for inspiration.
For example, here are some of the results we got for a "funny" and "informative" blog about "texting, traveling, and painting" (we set the author as Elsa Cox from New York).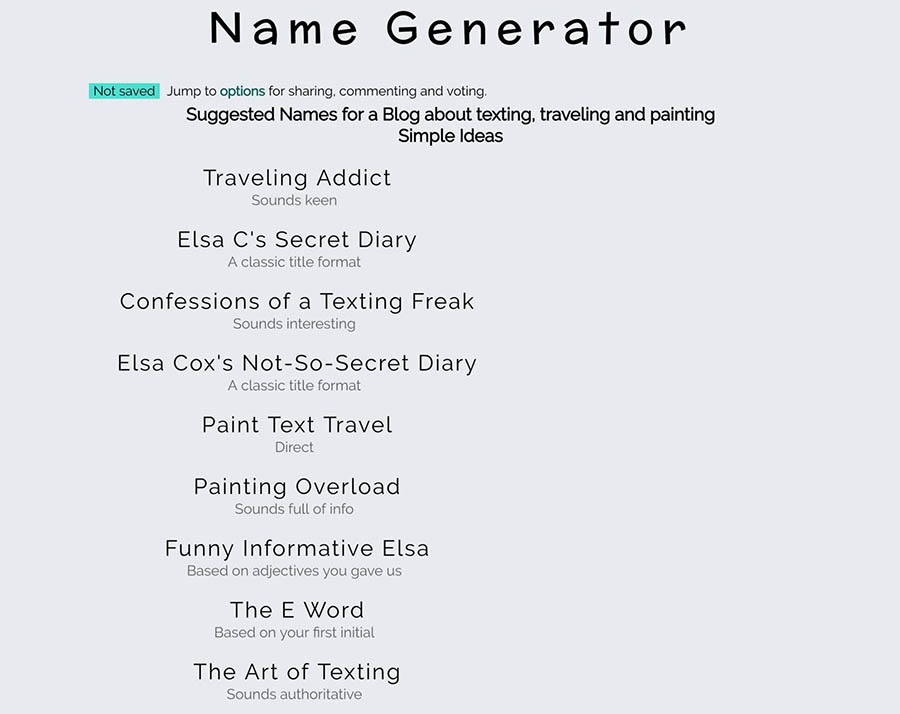 You can either use one of these options outright or take them as inspiration to help you come up with something unique. Either way, it's essential that you make sure to search for your chosen blog name using Google to ensure that you don't accidentally infringe on someone else's brand.
Step 3: Choose a Blogging Platform
At this point, you'll need to consider which platform you'll use to build your blog. As we've previously discussed, there are numerous platforms available for this purpose. For example, you can choose a dedicated blogging platform, such as Tumblr or Blogger, both of which are free.
However, we only recommend using these 'free blog' solutions if you're starting a personal blog that's meant to function like a journal (due to their limited functionality and customization options). Using a blogging platform can also come across as 'cheap' or unprofessional, especially if the blog is tied to a business.
Instead, we recommend that you use WordPress to create your blog. Not only is this platform easy to use, but it offers considerably more functionality. WordPress also lets you style your blog using themes, and add new features via plugins. It also helps to make your blog more secure and perform better with minimal work required on your end.
As such, we'll be using WordPress throughout the remainder of this article. If you're unfamiliar with this open-source blogging software, we've written extensively about it over the years! Here are a few articles to help you learn the ropes:
Step 4: Purchase Web Hosting and a Domain from a Web Host
You may have noticed our use of the term 'self-hosted' in the list above. This is because WordPress doesn't provide hosting for your blog. Rather, it's a Content Management System (CMS) that you need to install on a server. Don't worry — this is not as complex as it might seem.
All it means is that you will need to sign up for a web hosting plan if you want to get your site online. This will require some research to make sure you pick a host and plan that's right for you. To help you out, let's look at the main types of hosting that are available:
Shared hosting

 

is the cheapest option (DreamHost plans start at $2.59/mo) but can be limiting in terms of performance. On this type of plan, you share a server and its resources with multiple other sites. Shared hosting is best suited for new sites with low traffic.
Virtual Private Server (VPS)

 

hosting is a version of shared hosting where each site has its own resources. It's slightly more costly but provides improved performance. As such, this kind of hosting is recommended if you want to focus on growing your blog.
Dedicated hosting is the most expensive and powerful option. As the name suggests, you'll get an entire server that's dedicated to your site alone. This is usually overkill for a blog, however, unless you want full control over your server or your site draws unusually large volumes of traffic.
In addition, you can decide whether or not you want managed hosting. When you have a managed plan, the hosting company will take care of several key technical tasks required to keep your site running smoothly.
Finally, you'll also need a domain name, which is the URL that will be used to access your blog. When it comes to creating a domain name, there are several things you'll want to consider. We've written about this at length before, but one of the basic steps involves choosing which Top-Level Domain (TLD) you want to use, such as .com or .org. You should also aim to make the domain name memorable, which is easiest if you keep it concise.
Of course, you don't want to get your hosting and domain from just anywhere. Choosing the right hosting plan is crucial, as this will play a key role in your site's performance, security, and other vital factors. It's also smart to look for hosting companies that specialize in WordPress hosting specifically, as that means its services will be well-optimized for the platform.
Here at DreamHost, we offer a number of top-notch WordPress hosting plans to choose from.
These plans provide plenty of power for your site, along with tight security and fast performance. In addition, they come with handy features for WordPress users, such as pre-installed sites and automatic updates and backups. You'll also get access to reliable and knowledgeable support via multiple channels. And if you sign up for certain annual plans, you can even get a free domain!
Our shared hosting plans are ideal for your brand-new blog. They start at just a few dollars per month and provide plenty of resources while your site is still small. Later on, when your blog begins to receive more traffic, you can upgrade to a more powerful option such as our WordPress managed hosting.
How to Purchase Shared Hosting
To purchase a shared hosting plan, simply select Sign Up Now on our plans page. You'll next need to choose the billing term for your hosting account: monthly, annually, or every three years. The longer your term, the bigger your discount on hosting.
You'll also be asked to select between DreamHost's Starter Shared and Shared Unlimited packages. Starter Shared is the most cost-effective option, although you won't get professional email @yourdomain. For just a few dollars more each month, Shared Unlimited gives you everything, including a specialized email address, to thrive online.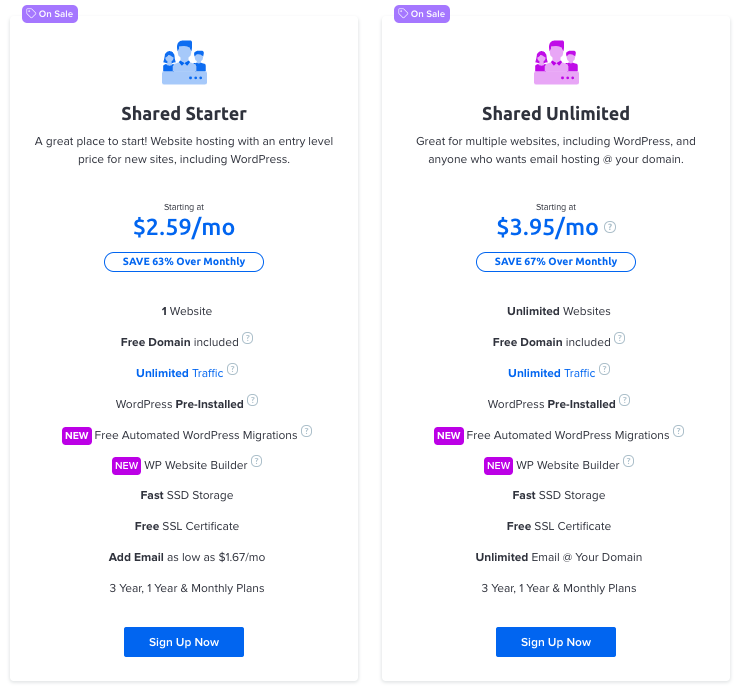 Next, you'll be able to register a free domain (included with all annual terms) or enter a domain that you already own. Note: If you're pressed for time or aren't sure which TLD would be right for your site, you can easily add a domain at a later time.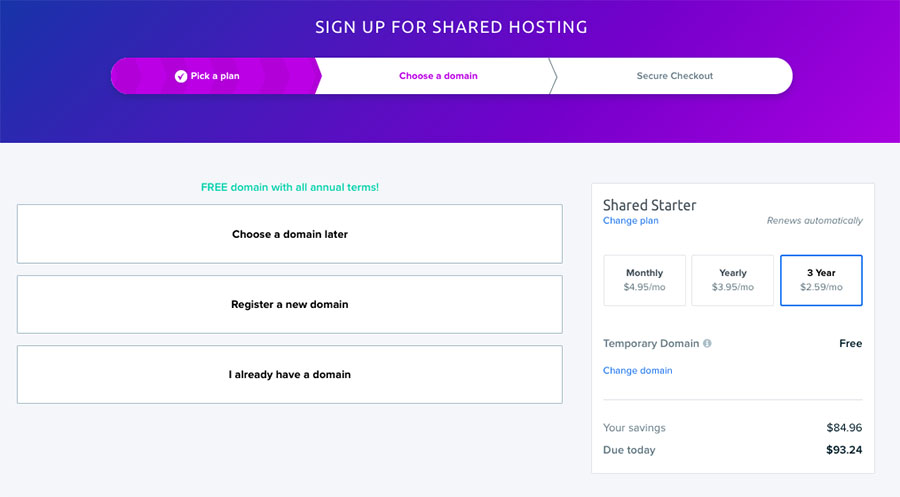 For this guide, we'll assume that you want to register a new domain. Click "Register a new domain," and type your proposed URL into the search box. We'll pull up all the available domain names related to your search so you can select the ideal Top-Level Domain (TLD) for your site. Remember to keep search engine best practices for domains in mind when making your decision.
We're almost done with the setup. Next, you'll add your billing info and review all the details about your hosting package. Make sure that the box next to "Pre-Install WordPress" is checked. This will get your site set up quickly and means you don't have to worry about installing the CMS in the next step.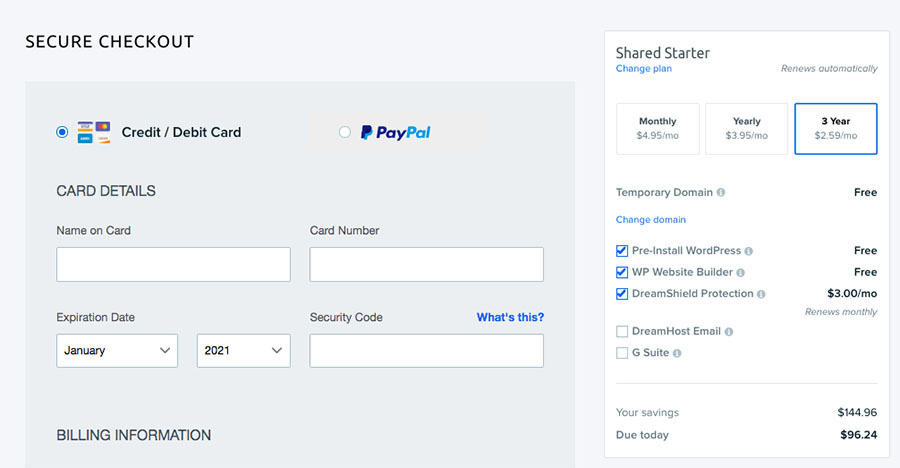 At this point, you can choose to add DreamShield, our in-house Malware Remover, to your hosting account. For $3 a month, DreamShield scans your site to identify malicious code, out-of-date software, and broken file permission to help keep you safe online.
After you've made your account selections, decide on your payment method — DreamHost accepts all major credit cards and PayPal. Once you've entered your payment information, click "Submit Order" at the bottom of the screen.
It will take a couple of minutes for the installation to your website's database to fully complete. In the meantime, you'll be sent an email with additional instructions on configuring your new WordPress software, including a link to create your WordPress password. If you run into any snags, help is just a click away.
Shared Hosting That Powers Your Purpose
We make sure your WordPress website is fast, secure and always up so your visitors trust you. Plans start at $2.59/mo.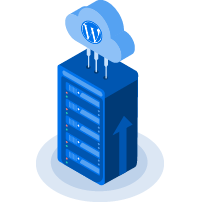 Step 5: Install WordPress
As we mentioned earlier, we'll be showing how to create a blog using WordPress in this guide. This platform is both user-friendly and intuitive to get started with, but it does need to be installed on your site before you can use it. If you checked the "Pre-Install WordPress" box during the sign-up process in the previous step, skip ahead to Step 6.
There are two main ways you can install WordPress:
Manual installation.

 This requires you to manually upload and configure the WordPress software on your site. While the process is infamously quick, we only recommend this approach if you're more technically savvy.

One-click installation.

 This is an option offered by many web hosts, which enables you to install WordPress on your site almost instantly. As such, you don't have to worry about configuration or manually installing any files.
If you feel up to the task of installing WordPress manually, we recommend that you check out our complete guide on the subject. You'll need to download the latest version of WordPress, and use an FTP tool such as FileZilla to upload it to your site.
However, using a one-click installation tool is a considerably simplified process. To install WordPress at DreamHost, log into your panel and use the sidebar to navigate to WordPress > One-Click Installs.

Here, you can see several different one-click install options. One of these will be WordPress, which you can go ahead and select. This opens an overlay, where you can configure your installation.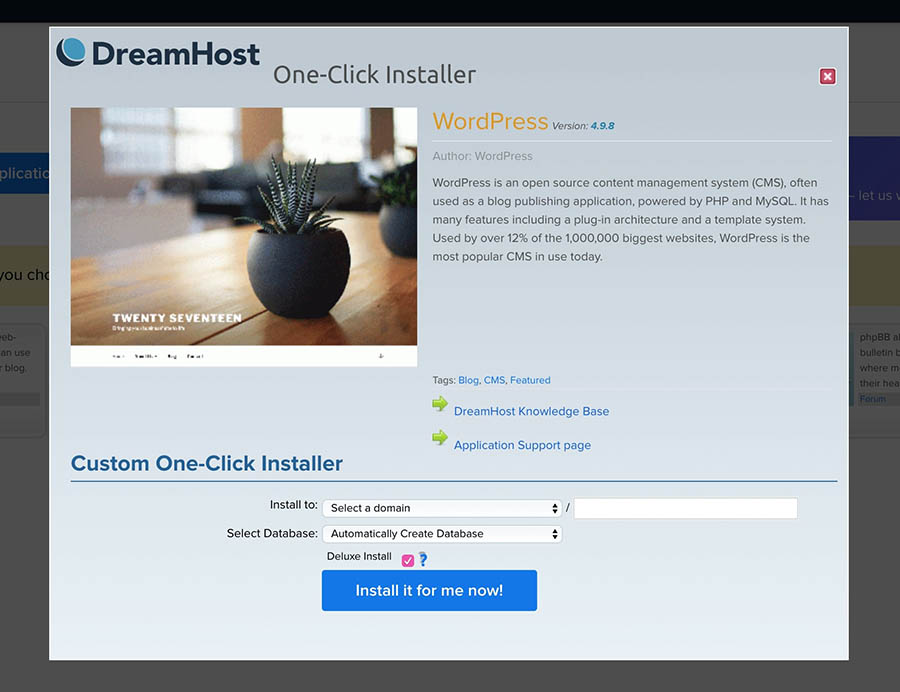 All you need to do here is select which of your domains you want to install WordPress on. In addition, you can pick an existing database to use for your new site. However, in most cases, you can just leave this set to Automatically Create Database.
The final option is Deluxe Install, which is selected by default. This provides a number of optional features beyond the basic WordPress installation. We recommend that you leave this checked, as it adds several useful tools for free.
Then, you can click on Install it for me now! to start the installation process. This can take several minutes. As soon as the installation is completed, you'll receive an email containing the link and login information for your new WordPress site.
Step 6: Tweak Your Blog's Appearance with a Theme
With WordPress up and running, it's finally time to start putting together your blog. First of all, you'll need to consider how you want your blog to look. You can easily change the appearance of your site by using a WordPress theme.
A theme works like a template you can install on your site, which determines its layout and overall design. Some themes also include additional functionality, and they can come in both free and premium varieties.
There's a lot of ground to cover with themes, but for the time being you only need to worry about finding one that fits your blog's intended style. Picking the right theme can be a struggle if you don't know where to look, but a good place to start is by browsing the official WordPress Theme Directory.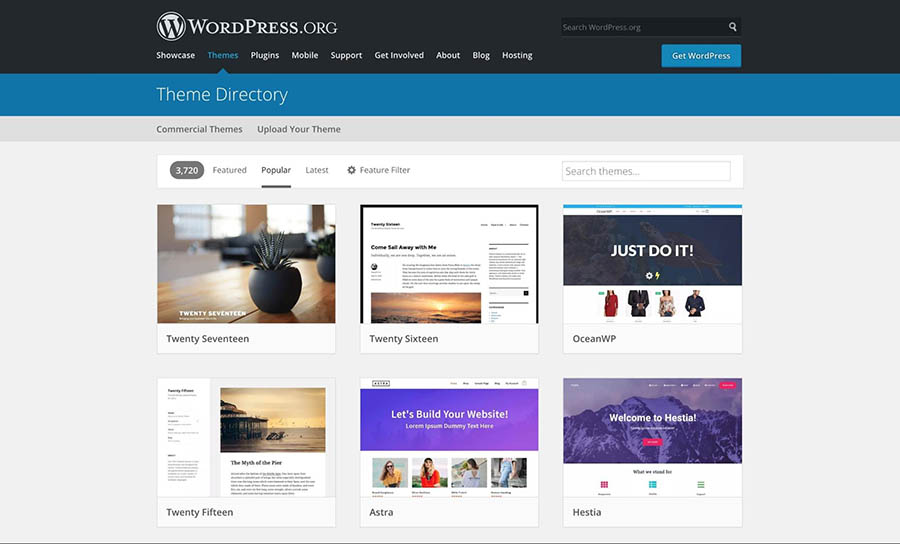 Here, you'll find hundreds of free themes in several different categories. There are so many choices, in fact, that you'll probably want to use the Feature Filter to narrow down the available options.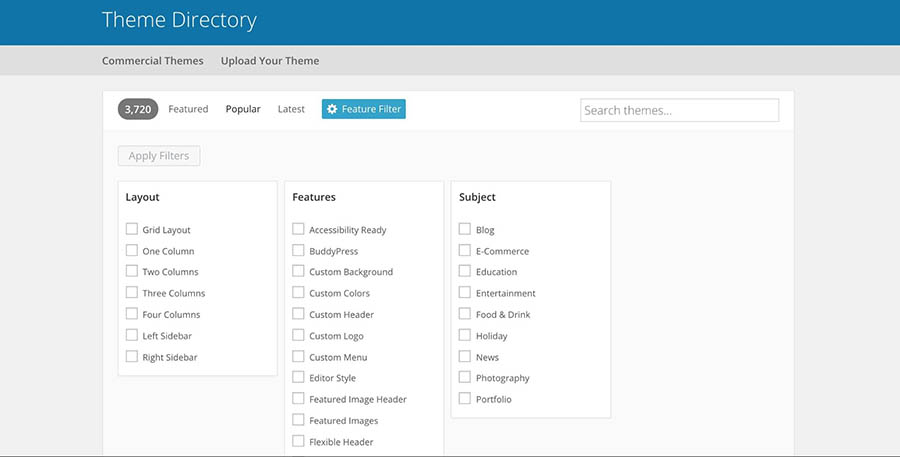 As you can see, there's even a search filter called Blog. If you select this, you'll be able to see all the themes specifically created with blogs in mind.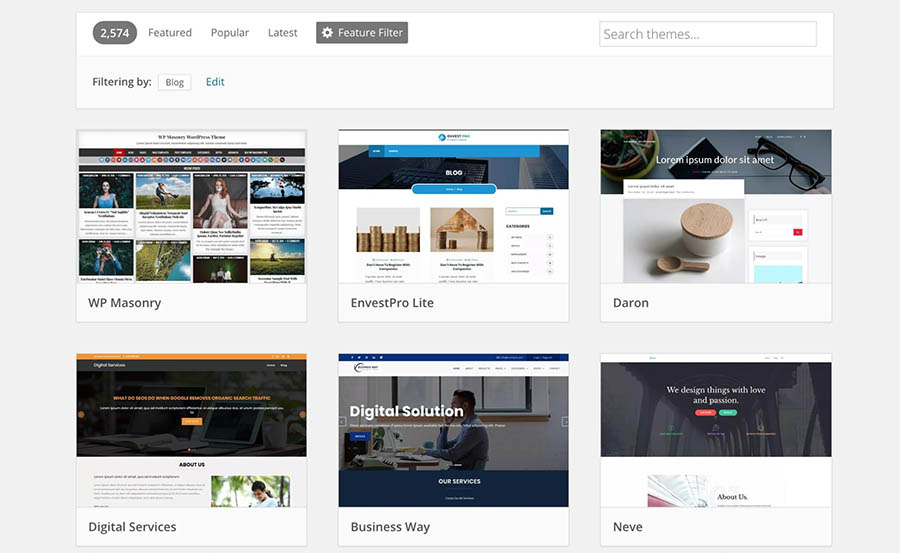 If you find a theme you want to use, you can download it here and then install it on your site. However, you can also do this through your WordPress dashboard by navigating to Appearance > Themes.

Here, you'll see your currently installed themes and where you can install new ones by clicking on Add New. This will open the Theme Directory again, letting you download and activate themes directly from this interface. Hover over your choice, and click on Install.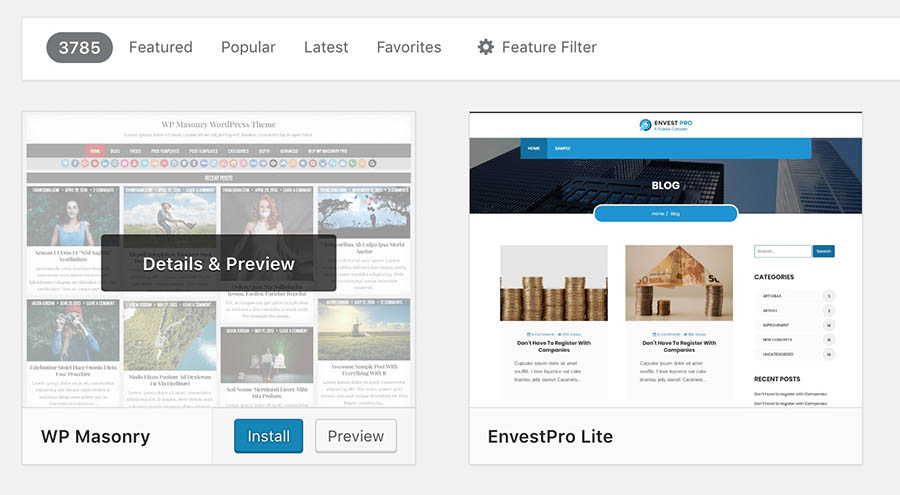 After the theme installs, you can select Activate to set it as the current theme for your site.
If you can't find a perfect theme using this method, you may be better off looking for premium alternatives. These will cost you some money, but they usually offer more options for customization and configuration.
Step 7: Customize Your Blog With Plugins
One of the reasons WordPress is so powerful is its built-in flexibility. This is in large part due to how easy the platform makes it to add new functionality to your site using plugins. In simple terms, a plugin is an add-on you can install to provide your blog with new features.
The process for finding and using plugins is very similar to how themes work. You simply need to download and install a plugin, at which point it will become active on your site. You can find lots of free options in the WordPress Plugin Directory.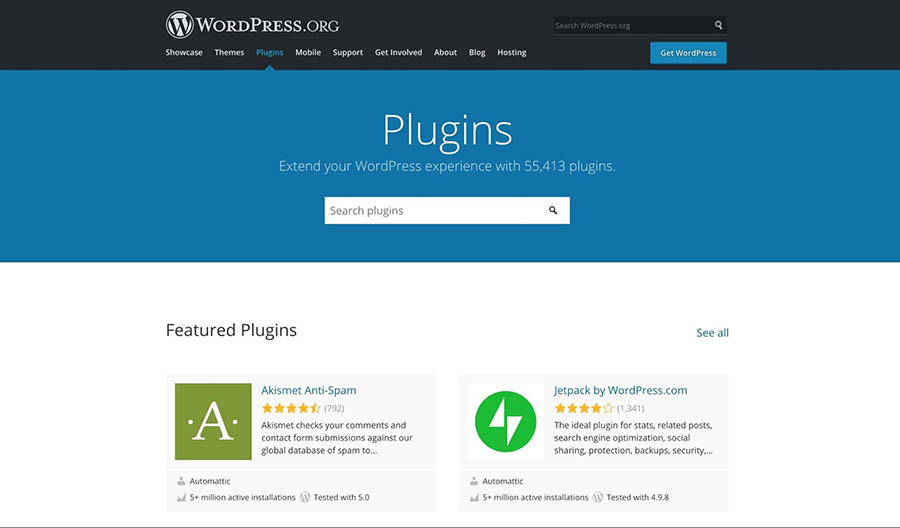 Conversely, you can access this directory from your admin dashboard, by going to Plugins > Add New.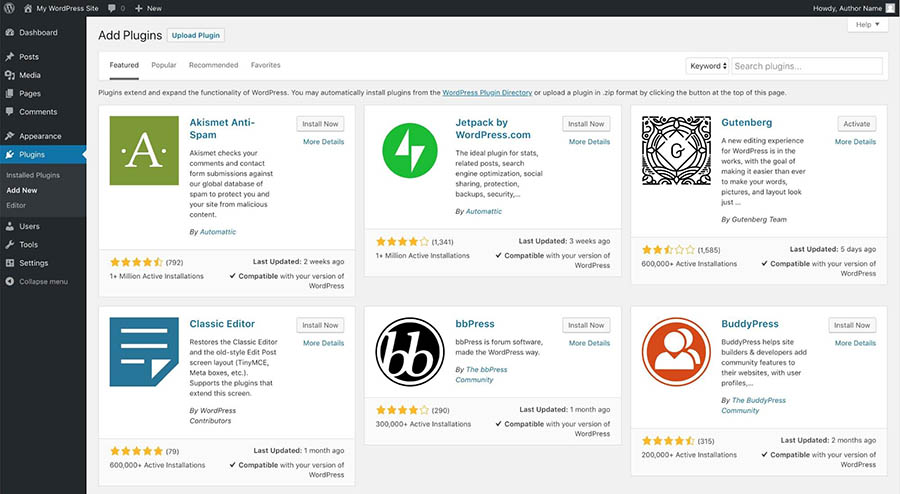 As before, all you need to add a plugin is to look for one you want, and then click on Install followed by Activate.
There are literally thousands of free and premium plugins at your disposal, many of which we've previously recommended:
However, when your site is first starting out, it's best to stick to a few basic options. This will keep you from getting confused or cluttering up your site with unnecessary features.
With that in mind, let's look at a few of the best plugins for blog owners, starting with Jetpack.

You can actually think of this as several plugins in one, as it contains plenty of functionality in a single package. In fact, it's such a feature-heavy plugin that we don't have room to discuss everything it offers in this article. However, to quickly summarize, Jetpack gives options for improving your site's security, optimizing its performance, sharing your posts on social media, and much more. Best of all, Jetpack is totally free, although it offers premium plans that add even more features.
The next plugin deals with something that concerns all sites but is especially pertinent for blogs: spam. To help ensure that spambots can't take over your site, you'll need a plugin to deter them. The best option for the job is Akismet Anti-Spam.

This plugin automatically detects and filters out spam from comments and contact form submissions. It also lets you manually specify which comments are spam, which helps the plugin improve its detection abilities for the future.
Next up, you'll also want to consider a plugin like VaultPress.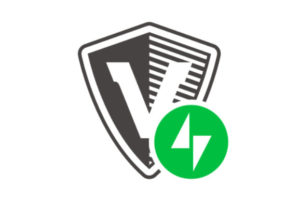 This lets you create real-time backups, which are copies of your site. This can be incredibly useful if something goes wrong with your site, such as if a hacker successfully attacks it or it breaks and you can't access your content. In those situations, you can simply revert your blog to a previous backup to avoid losing data.
And deal alert:  VaultPress is included for free with our DreamPress Plus and Pro plans.
Naturally, there are many more plugins that can help you out and we'll discuss more of them later in this article. For the time being, however, these should get your site started on the right foot.
Step 8: Brainstorm Blog Topics
At this point, your site is mostly ready to go. As such, it's time to start thinking about content. It's usually smart to have at least a few posts ready to go when the blog launches.
You may already have a few ideas for initial posts, but if you don't, you'll have to start brainstorming now. Naturally, you'll want to begin by focusing on your blog's niche. For instance, are there any recent events or news you can discuss or spin off from? Alternately, you might prefer to write a tutorial or a comprehensive guide about a particular topic.
Another way to find topics is to perform keyword research. You can use Google Keyword Planner for this, as it's both comprehensive and free.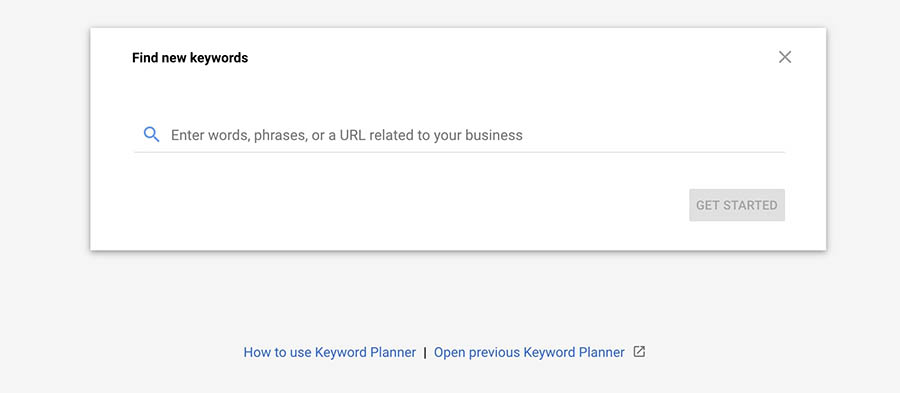 With this tool, you can search for keywords related to your blog, to see what your audience is most interested in. For example, if you enter the keyword "men's fashion," you'll see that popular keywords include "stylish shirts for men" and "men's summer clothes." You can then consider how to write blog posts that are optimized for these terms (something we'll look more at later).
Step 9: Write Your First Blog Post
After all this time, you're finally about to put pen to paper and write your first post. WordPress recently released its new editor, so if you're unfamiliar with the Gutenberg interface, you may want to familiarize yourself with it first.
Then, to get started, access your admin dashboard and click Posts > Add New.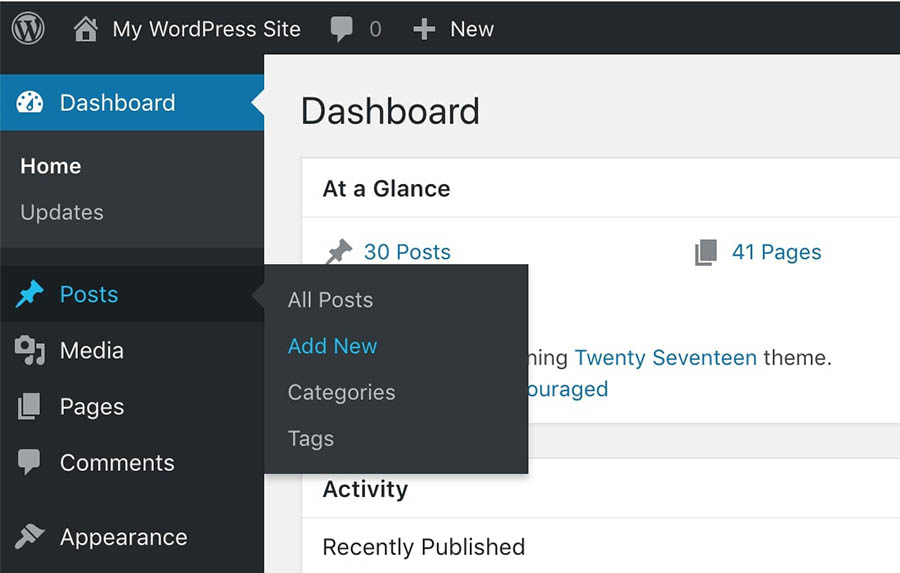 This will open the WordPress editor.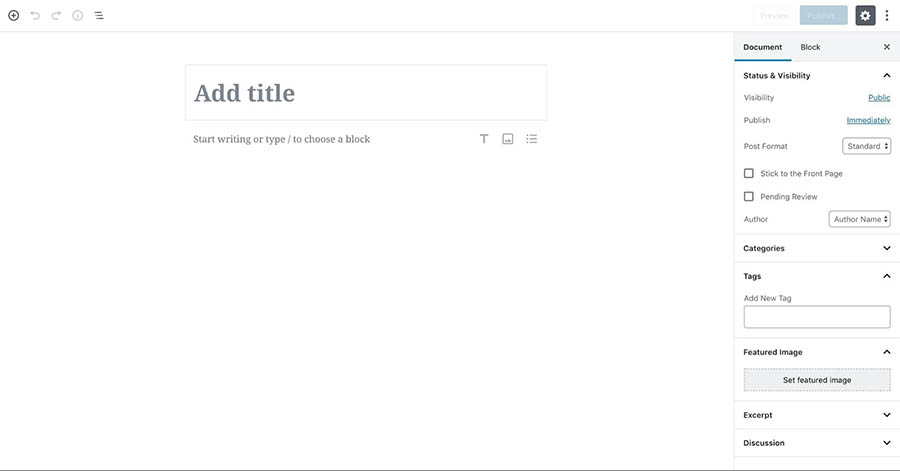 At this point, you can start putting together your post. We've previously written a comprehensive guide to writing quality blog posts, so we recommend you check it out. We'll go through some of the basics here as well.
First off, you'll want to set a descriptive and attention-grabbing post title.

The key to creating a snappy headline is to make it informative and specific. You should aim to accurately describe the article's contents, while still being as concise as possible.
Next, you can begin adding your body text by typing into the main paragraph block.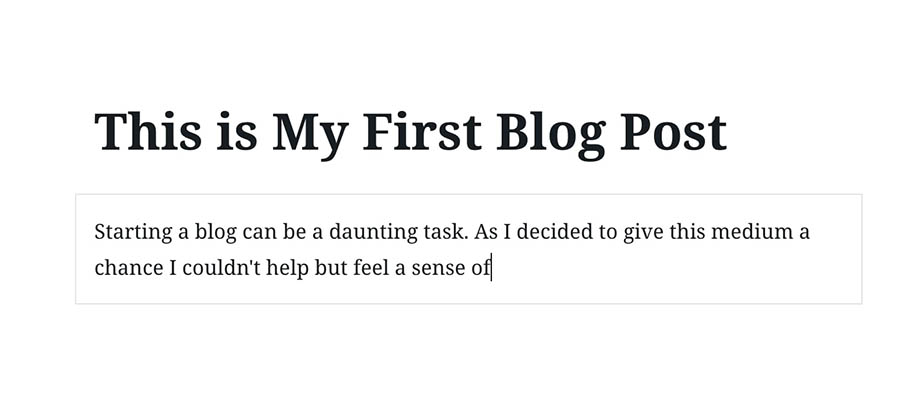 When you're writing, you'll also find several relevant options in the right-hand sidebar.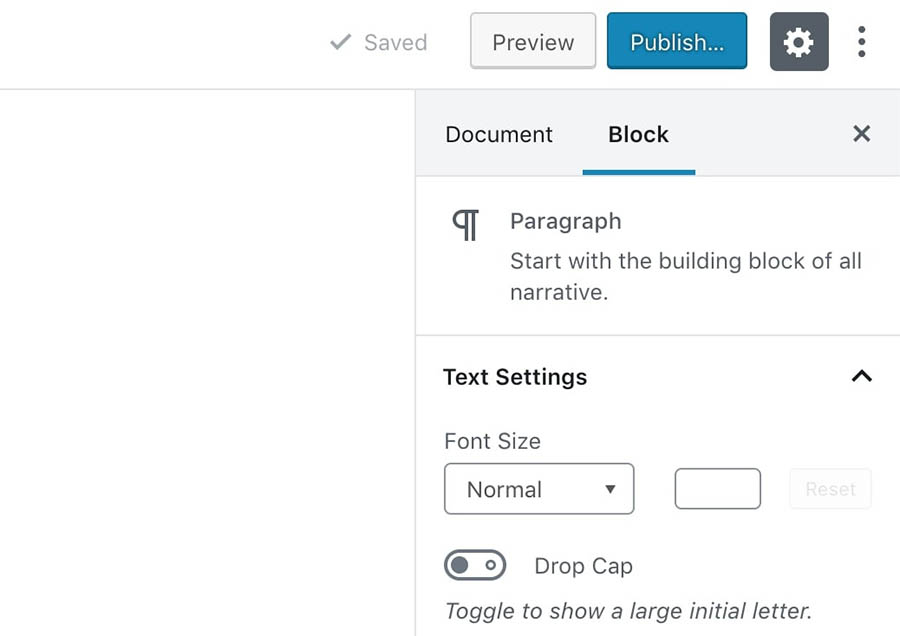 These settings will differ depending on the type of content you're currently working on. You can add images and other media to your post by placing a dedicated block in the editor.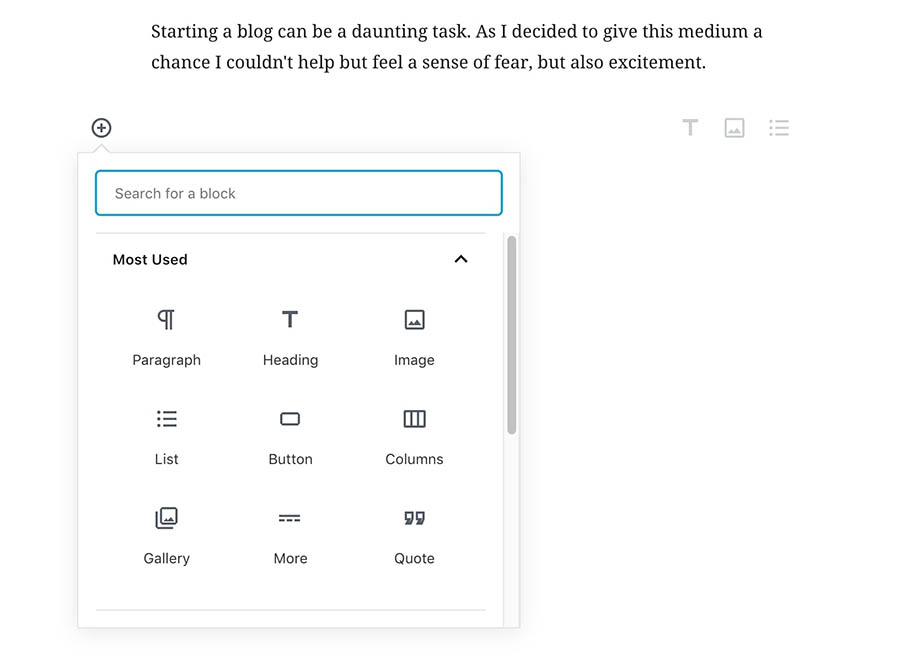 For example, selecting an Image block will let you upload a new image file, or choose an existing one from your Media Library.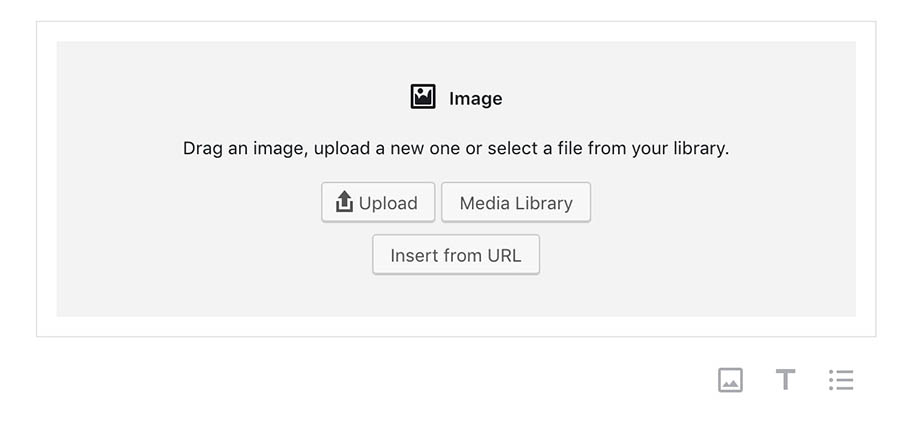 When you've completed your post and included all its supplementary content, you can add the finishing touches. For instance, you can assign it one or more Categories and Tags. These help you organize each post based on its type and topic.
Finally, you can set a featured image for the post. How this will appear depends on your theme, but it's usually featured on both your blog's homepage and at the top of the post itself. Select your headline, and use the Featured Image option in the sidebar to choose a file.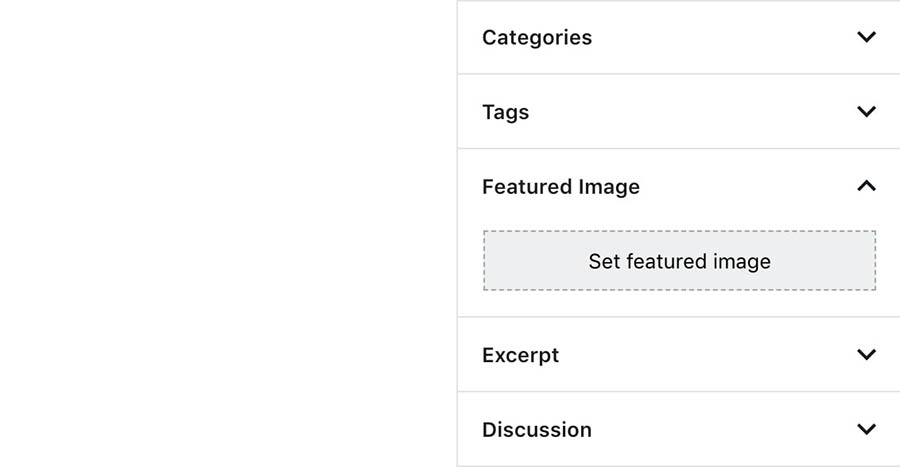 Your post is now ready, so go ahead and click the Publish button in the top-right corner to make it live.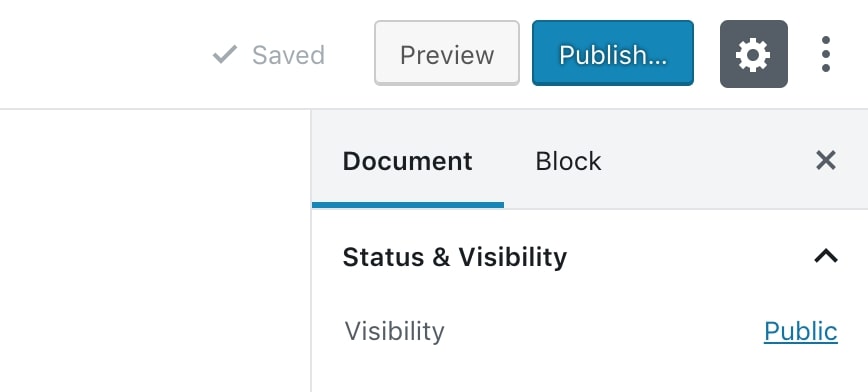 You can also set how and when you want the post to appear on your site, if you'd like to delay its publication. You can also choose its visibility, which determines who can see it, or simply save it as a draft to work more on later.
Step 10: Optimize Your Posts for Search Engines
We previously discussed the importance of keyword research when it comes to finding topic ideas. Keywords are phrases that users enter into search engines to find what they're looking for. By optimizing your posts for specific keywords, you can increase the likelihood that they'll appear when users search for them.
This is also known as Search Engine Optimization (SEO) and is vital for increasing traffic and visibility for your blog. SEO involves a number of tasks, including (but not limited to) increasing your site's speed and getting backlinks from other sites.
When it comes to your blog, the most important step is to optimize the posts themselves. There are several SEO tools that you can use to do this, but our recommended solution is Yoast SEO.

Yoast SEO is a free plugin that adds a new section to your WordPress editor.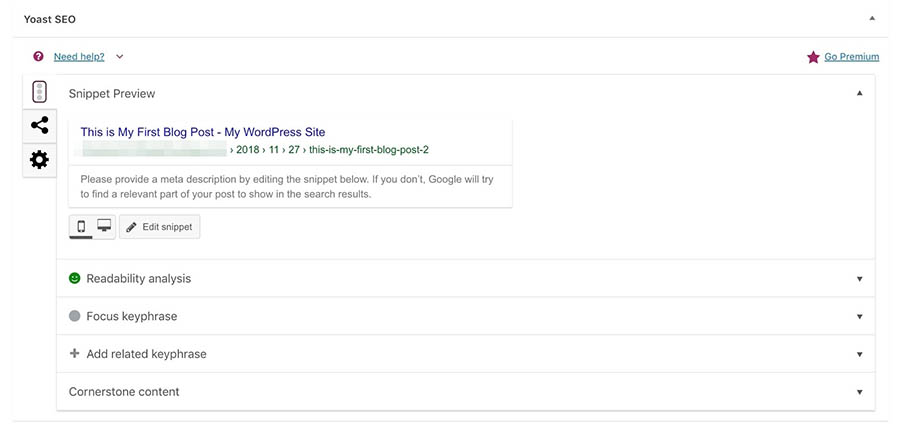 Here, you can set a 'keyphrase' for your post, which is the keyword you want to optimize it for. Once you've done that, the Yoast SEO plugin will show you in real time how well-optimized the post is, giving you specific advice on how you can improve it.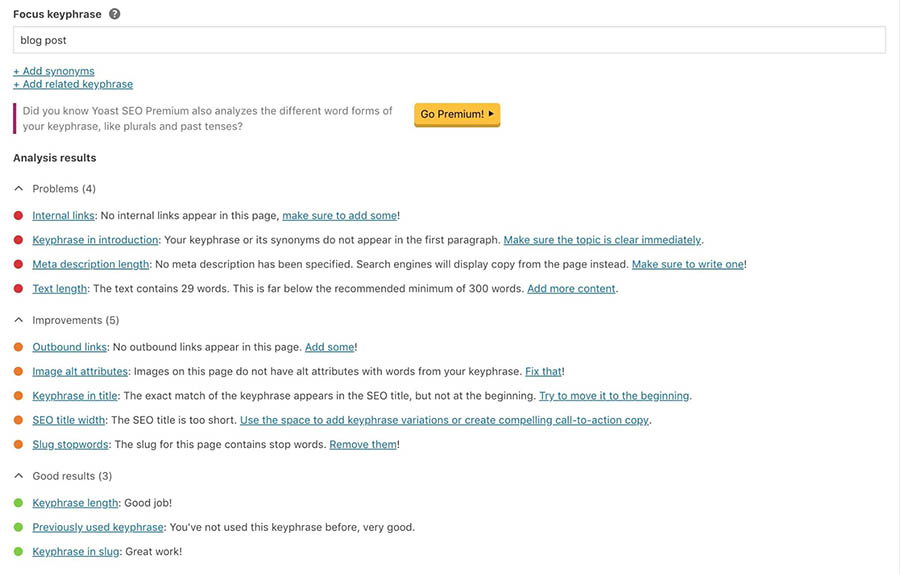 Yoast SEO also lets you add a meta description, which is a snippet of text that appears alongside the post in search results.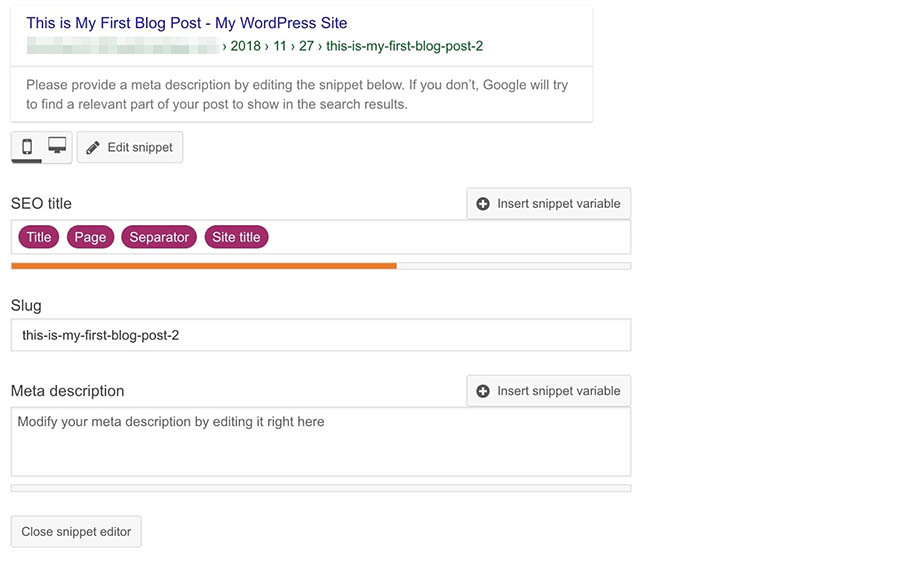 By adding a description and following these guidelines, your posts will be likely to rank higher in relevant search results.
Step 11: Set a Schedule (And Stick to It)
To make sure that readers return to your blog, you'll need to publish content regularly. When you offer new posts on a consistent schedule, your blog won't go silent for long stretches of time, and your audience will be more likely to return.
There's no perfect publishing schedule for every blog, of course. How often you publish will depend on your available time and your blog's subject matter. Regardless, it's a smart move to set a strict schedule for yourself and make sure you follow it. You could even make this schedule clear on the blog itself, letting readers know when new content will be available (for example, every Tuesday and Thursday).
Fortunately, there are tools you can use to help you stick to your schedule. One such solution is the Editorial Calendar plugin.

This solution lets you create a calendar for your posts and even schedule drafts to be published at a specific time and date. With it, you can easily track upcoming deadlines and follow your schedule without slipping up.
Step 12: Create a Style Guide
Another helpful asset for any blogger is a style guide. As the name implies, this is a set of guidelines that determines how posts on your blog should be written and formatted. It helps you ensure that your content has a consistent tone and look over time, which in turn makes your blog appear more professional and authoritative.
A style guide can also be useful if you ever decide to bring on additional writers. They can refer to your guide to ensure that they follow the same practices, ensuring that all posts on the blog maintain a similar style (regardless of who they're written by).
There are plenty of things you'll need to consider when creating your blog's style guide. However, here are a few of the most crucial elements:
Voice and tone.

 Is your blog laid-back or serious? Is the writing casual or professional?

Language.

 For example, do you use British or American English?

Punctuation and formatting.

 Do you use en dashes or em dashes? When do you use single or double quotation marks?
Naturally, a style guide will evolve as your blog grows and changes. As such, it's best to think of it as a constant work-in-progress, rather than as unquestionable gospel.
Step 13: Market and Share Your Posts
Once you've published a few posts and settled into a groove of writing content, you might think you can relax. However, all your hard work thus far could effectively be for nothing, if no one knows that your blog even exists.
This is why marketing your blog and posts is so critical. We've already discussed SEO, which is a key part of any online marketing strategy. Still, there are several other ways you can make sure you get more eyes on your new blog.
Naturally, you'll want to start by sharing your posts on social media. This will help get them more widely seen while encouraging those in your network to share your content with their own followers.
It's also smart to make your posts easier to share right from your website. One way to do this is by adding social media buttons to your posts, which you can do using the Jetpack plugin.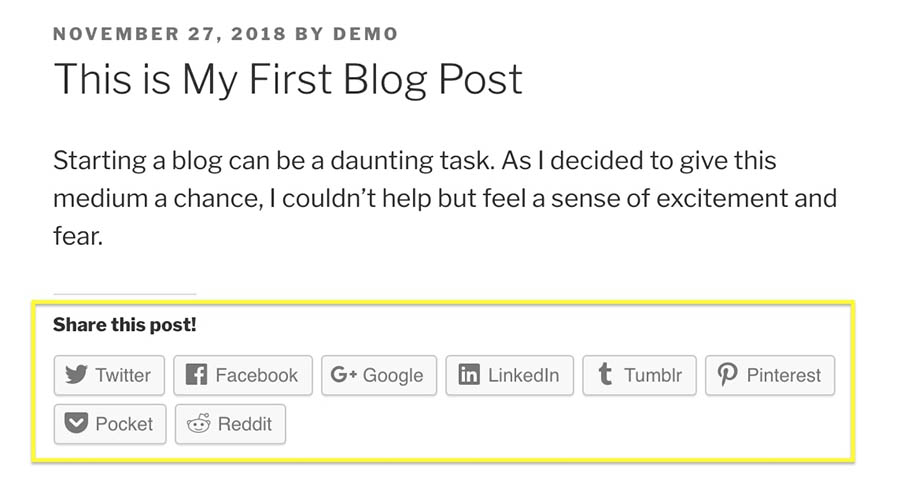 This plugin enables you to add social media sharing buttons to your posts and integrates with the most popular platforms. Jetpack also includes a feature that automatically shares your post on social media, to save you even more time.
Marketing your site and sharing your posts is one thing, but you'll likely wonder when you can expect to see results. There's no easy answer to this question, as each blog is entirely different. It's possible that you might see lots of traffic right away, which is more likely if you already have a strong online presence.
However, in most cases, it will take time for your blog to gain momentum. If you perform SEO, share your posts, and regularly publish high-quality content, you should see a gradual increase in readers. That increase will let you know you're on the right track. You can also keep a close eye on your site's metrics with Google Analytics to see how well it's performing.
Step 14: Make Money Blogging
Last but certainly not least, let's consider the options you have when it comes to monetizing your blog. After all, you've put a lot of work into your site, and you probably wouldn't say no to making some money from your content.
In a previous blog post, we discussed several ways you can monetize your blog in detail. Right now, let's recap some of the most common (and potentially lucrative) techniques:
Selling products and services

.

Providing something purchasable alongside your posts is a great way to earn some money. For instance, you could write and sell an e-book, or produce a course on a relevant topic.
Affiliate marketing

.

By marketing products from other vendors and sharing affiliate links, you can earn money without the need to create or ship your own items.
Crowdfunding

.

 You can also ask your loyal readers to donate directly, which eliminates the need to market any external products.
You can also implement advertisements on your site in the form of links and banners. A popular and easy solution for doing this is Google AdSense. This automatically generates ads that are suitable for your blog and audience, so you can focus entirely on creating great content.
Ready to Start Your DreamHost Blog?
Whether you need help finding a target audience, crafting the ideal social media strategy, or setting up an email newsletter, we can help! Subscribe to our monthly digest so you never miss an article.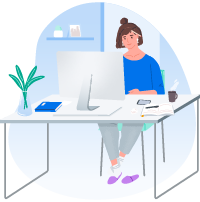 Starting a Blog? You've Got This
Ready to start blogging? Now is the time! Not only can a blog be a phenomenally creative pursuit, but it can also be used to market your business or even be monetized in its own right.
Do you have more questions about how to start a blog or how to get started with WordPress? Check out DreamHost Academy, expert-created WordPress tutorials, to learn more about the platform.