Choosing the Perfect Domain Extension for Your Business (3 Tips)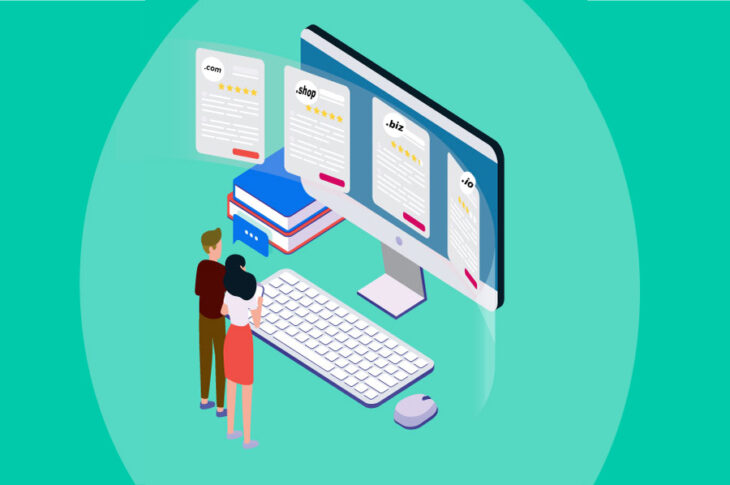 Choosing the right domain extension is important for creating a successful website. However, with so many options, deciding on the best one for your business can be overwhelming.
By taking the time to research your options and consider the various factors involved, you can increase the likelihood of your website's success. Therefore, having a solid understanding of the different extensions and their use cases can help point you in the right direction.
In this post, we'll explain what domain extensions are, their history, and the various available types. Then we'll discuss some tips on choosing the perfect domain extension for your business and wrap up with some Frequently Asked Questions (FAQs). Let's jump in!
Get Content Delivered Straight to Your Inbox
Subscribe to our blog and receive great content just like this delivered straight to your inbox.
An Overview of Domain Extensions and Top-Level Domains (TLDs)
A domain extension is the last part of a domain name, and it indicates the Top-Level Domain (TLD) to which the domain belongs. A TLD is the highest level of the Domain Name System (DNS) hierarchy.
DreamHost Glossary
Domain Extension
An extension is the final part of a domain name following the period, such as ".com", ".net," and ".org." There are over 1,000 different extensions on the internet that have been assigned by the Internet Corporation for Assigned Names and Numbers (ICANN).
Read More
Domain extensions were introduced in the 1980s to help organize the growing number of websites on the internet. Initially, there were only a handful of gTLDs (generic top-level domains), including .com, .net, and .org.
Over time, new TLDs have been introduced, including country-code TLDs (ccTLDs) in addition to new generic TLDs (gTLDs). Country-code TLDs are two-letter domains representing specific countries or regions, such as .uk for the United Kingdom and .us for the United States. Generic TLDs are domain extensions for any purpose, such as .biz, .info, and .name.
The Internet Corporation for Assigned Names and Numbers (ICANN) manages the DNS, including the assignment of domain names and Internet Protocol (IP) addresses. To keep up with the ever-changing internet landscape, ICANN periodically releases new generic gTLDs.
While there are now hundreds of different new TLDs available, not all of them are equal.
They come in all shapes and sizes, and they can be divided into four main categories:
Generic domains: These are domains that anyone can register, regardless of their relationship to the domain name. Examples include .blog, .shop, and .news.
Industry-specific domains: These domains are restricted to specific industries or businesses. Examples include .law for legal practices and .bank for the finance industry.
Geographic domains: These domains are restricted to businesses or individuals in a specific geographic location. Examples include .nyc for companies in New York City and .berlin for businesses in Berlin.
Brand domains: These domains are owned by a company or brand. They can only be used by the organization that owns them. Examples include .google and .apple. They also have stricter registration requirements.
New TLDs are less common than the original legacy TLDs. However, the introduction of new TLDs has helped create a more organized and user-friendly internet. It's now easier for people to find the websites they're looking for. Furthermore, businesses can choose a TLD that accurately represents their industry or target market.
How Domain Extensions Can Help Your Business
There are many ways to use domain extensions for creative branding, marketing, and customer engagement. With so many options available today, you now have the option to use domain extensions creatively to better represent what type of business it is that you're running.
For example, you could use a .blog domain for your blog, a .shop domain for your online store, or a .city domain for your business in a specific city. You could also use an industry-specific domain to target a particular industry or a brand domain to promote your brand.
Let's look at some specific examples of how you might leverage the wonderful variety of new domain extension options below.
Domain Extension Examples and Use Cases
.shop
If you run an online store or are a small online retailer, .shop can be an excellent domain extension. It's versatile and helps your visitors know that you're an online business.
Furthermore, the extension itself acts as a Call to Action (CTA):

.shop is also easy to understand. It's a somewhat universal term, with consumers from around the globe recognizing that you can use the site to purchase goods, products, or services.
.co
As the most popular domain extension, .com domain names can be hard to come by. An alternative would be to use a .co domain extension, which is the Country Code of Colombia and can be a great shortened alternative to the traditional .com.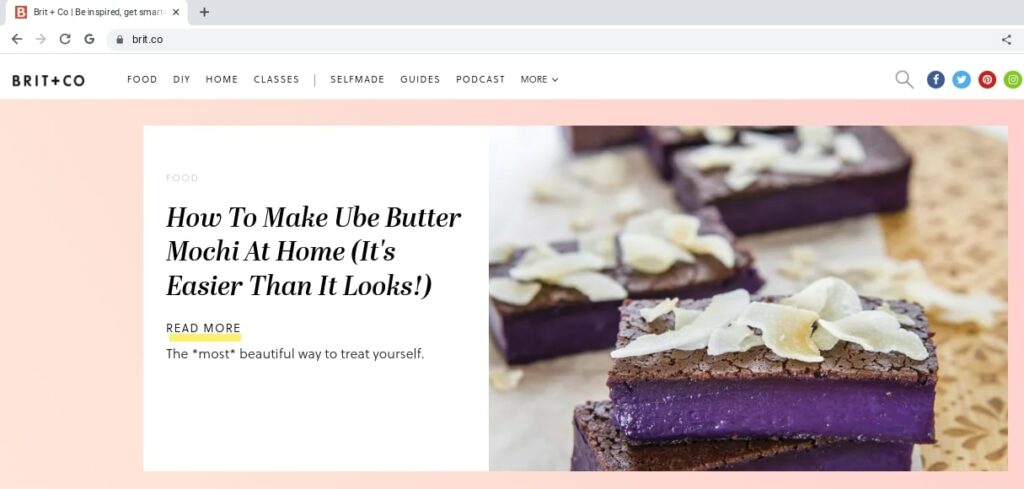 It's also flexible and quite similar to .com, making it useful for companies of all shapes and sizes. It can be an excellent alternative if the domain name you wanted is already taken using the .com extension.
.io or .tech
If you're a tech startup, you might consider something more hip and modern, like .io (Country Code for the British Indian Ocean Territory) or .tech. These domain extensions are a popular option for a variety of software companies, apps, and tech leaders such as Intel and Cisco.
.org
The .org domain is intended for non-profit organizations. This extension can help you promote your organization and make it easy for people to find your website: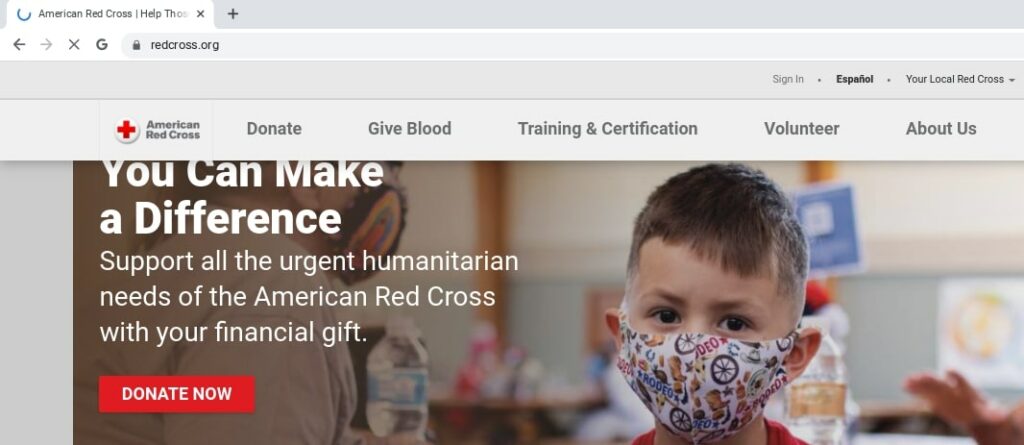 Some examples of organizations that use .org domains include the Red Cross and the World Wildlife Fund.
.xyz
The .xyz domain, considered one of the most successful new TLDs around, is popular with large global conglomerates, most notably Google's parent company, Alphabet and Block. This extension can be ideal for companies across all industries because it helps communicate to your audience that you're an organization that offers services or products:

.me
A .me domain (which is actually a Country Code for for Montenegro) can be a great way to promote your personal brand online. This extension is intended for individuals, and it can help you create a professional and memorable online presence.
.blog
If you're a blogger, a similar extension to consider is .blog. You can use it to make your URL easy to search and remember. It's unique, eye-catching, and lets your audience know exactly what type of website to expect: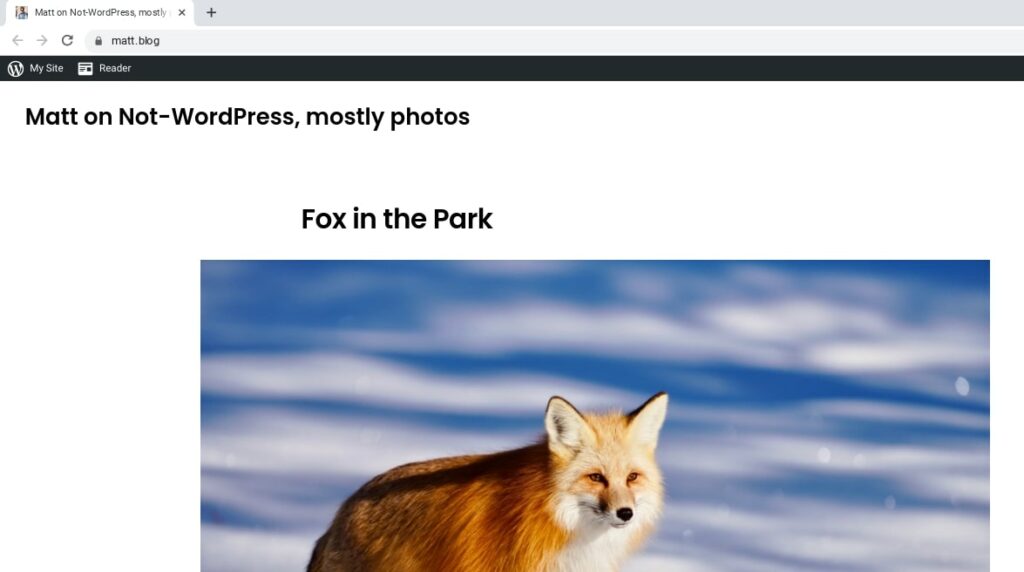 The .blog extension is also relatively new. This means that there's a high chance of being able to register it with the domain name of your choice, assuming it's somewhat unique.
.live
Global brands and content creators are now using .live domain extensions to enable viewers to access their live content. If you're looking to create a website for your social brand, media company, esports, or perhaps even a content hub for a professional services company, .live domain can be a great choice.
3 Tips for Choosing Your Domain Name Extension
Choosing a domain name for your business is a big deal. So it's important to give a lot of thought and consideration. To help you with this, we've put together a list of tips for choosing the perfect domain.
1. Consider Your Options
One common mistake people make when choosing a domain extension is assuming that all .com domains are available. This is not always the case.
In fact, most .com domains have already been registered. If you're having trouble finding an available .com domain, you do have some options in domain aftermarkets or hiring a domain broker to help find and facilitate a domain transaction. However, if you simply cannot make any headway here, using a different extension is a strong secondary option.
For instance, if you're a business, you could try your domain name with the .online extension. You can also get more granular than that. For example, if you're an online retailer, you could try .shop.
2. Choose an Extension that Suits Your Website's Content
Another mistake people make is choosing a domain extension that doesn't match their website's content. For example, if you're creating a website about travel, you wouldn't want to use a .net domain. Instead, .travel would prove a much better fit.
Choosing an extension that accurately represents your website's content is important to avoid confusion and ensure that people can find what they're looking for.
We recommend thinking about your website's purpose and who you want to reach with it. This will help you narrow down your options and choose an extension relevant to your content.
3. Make Sure Your Domain Name Is Memorable
Some people choose domain extensions that are too long or difficult to remember. While it's important to select an extension that accurately represents your company and the services you offer, you also want to make sure that people can easily remember and type in your domain name.
The same is true for ensuring that your domain is easy to pronounce. You don't want people to have trouble finding your website or telling others about it.
How to Search for Domain Extensions
Before registering your domain name and extension, you'll need to make sure it's available (unassigned). Assigned names are the specific domain names that have been given to organizations or businesses.
For example, suppose you're registering a .com domain. In that case, you can only register a name that has not already been taken by someone else.
You can purchase a domain name and extension from various places, including domain registrars like DreamHost. When choosing a registrar, comparing prices and features is important to find the best deal. Some registrars offer discounted rates for first-time customers, so you can take advantage of any available deals.
In addition to pricing, reputation is also important to consider — you don't want to trust this valuable digital asset to an unknown or unreliable company. Ask yourself… How long has this registrar been in business? Do they have good reviews?
A domain registrar's location is also important due to political territory and privacy restrictions, as many countries ban using certain domain keywords in other countries (China, Russia).
More recently, some registrars have also started to ban users registering virus-related domains during the COVID-19 pandemic.
A Trusted Domain Registrar for Over 25 Years
Many web hosting companies provide domains as part of their hosting packages. At DreamHost, we offer many great benefits for people looking to register a domain name. We have competitive pricing on all our domains and free WHOIS privacy protection on select domains.
To check if a domain name is available on DreamHost, you can use our Domain Name Search tool. Simply enter the domain name you want to register, and we'll let you know if it's available:

If the domain name is available, you can add it to your cart and begin registration. However, if the domain name is already registered, you'll need to choose a different one for your website.
In most cases, you'll be able to pay for your domain monthly or yearly. Once your payment is processed, your domain will be registered, and you'll be able to start building your website.
At DreamHost, we give you a free domain name when you purchase an annual web hosting plan. However, you can also buy a domain from DreamHost without having a hosting plan with us.
We offer competitive pricing on all of our domains, so you can register the perfect domain name for your website without breaking the bank. You can also transfer your domain name to DreamHost if you're unhappy with your current registrar.
Domain Extension FAQs
At this point, you hopefully have a strong grasp of domain name extensions. However, to ensure we've covered all the vital information, let's wrap up with some FAQs.
How Important Is It to Choose the Right Domain Extension? 
Choosing the right domain extension is essential for building a successful online presence. This extension can indicate your site's content and increase your site's credibility. By taking the time to research your options and choose wisely, you can set your website up for success.
Should You Use a New TLD for Your Website?
The answer to this question depends on a few factors. Firstly, you should consider your target audience. If this group is primarily composed of people who are familiar with the internet, then using new domain extensions shouldn't be a problem.
However, if your target audience is people who are less familiar with the internet, they may have difficulty remembering or finding your website if you use a new TLD.
You should also consider your budget when deciding whether or not to use a new TLD. New TLDs can be more expensive than traditional ones, so you'll need to weigh the cost against the potential benefits.
Can I Create My Own Domain Name Extension?
Yes, you can create your own domain extension, but the process is not simple or cheap. You'll need to work with ICANN, the organization that oversees the DNS, to get your new TLD approved. The approval process can take up to two years, and it's not guaranteed that your TLD will be approved.
If you're interested in creating your own domain extension, we recommend working with an experienced domain name registrar who can guide you through the process. This partnership can take some of the hassle out of the registration.
What Is the Most Popular Domain Extension?
The most popular domain extension is .com, but many other options are available. You can choose from over 1,500 different domain extensions, so it's crucial to find one right for your website.
If you're unsure which domain extension to choose, we recommend starting with a .com domain. But if you're looking for something more unique or specific, there are plenty of other options for more niche sites.
Can You Change Your Domain Name Extension?
Yes, you can change your domain name extension. However, it's important to choose the right extension for your website from the start. Once you've chosen an extension, it can be difficult and expensive to change it.
If you're not sure which domain extension to choose, we recommend doing some research to find the right fit for your website. Once you've found the perfect extension, make sure to register it as soon as possible to avoid any potential problems down the road.
How Much Does a Domain Extension Cost?
Domain name prices vary depending on the extension you choose. Some domain extensions, like .com and .net, are less expensive than others, like .biz and .info.
You can typically expect to pay around $10-15 per year for a basic domain name. However, keep in mind that prices can vary depending on the registrar you use and any special offers it may be running.
To get an accurate estimate of what a domain name will cost you, we recommend confirming prices with your chosen registrar.
What Is WHOIS Privacy Protection? 
WHOIS privacy protection is a service that hides your personal information from public view. This feature is important because when you register a domain name, your personal information (such as your name, address, and email address) is made available to anyone who wants to look it up.
With domain privacy protection, your information is hidden from public view, keeping you safe from spam and identity theft.
DreamHost offers WHOIS privacy protection on select domains. If you're looking to keep your personal information safe and secure, we recommend choosing a domain with this service.
Get the Perfect Domain Extension for Your Business
Taking the time to choose the right domain extension will pay off in the long run. It can help you improve your branding, build trust with your target audience, and establish yourself as a credible source of information.
As we discussed in this article, there are many domain extensions to choose from. The perfect one for your business will depend on your website niche, audience, and budget. Fortunately, you can explore the available options and their pricing when registering your domain name.
At DreamHost, we offer various domain services to help you find the perfect name and extension for your business. You can use our search tool to see the availability of domains you're interested in, then purchase and register one in no time!
Your Great Idea Starts with a Domain Name
Don't let someone else register your URL. Search DreamHost's 400+ TLDs to find the perfect fit for your website.