A couple of months ago we collected some data on how many WordPress-powered sites we host.  We knew it had to be a pretty large amount because we see them constantly.  It turns out that we are hosting nearly 500,000 WordPress websites!  Out of about 1 million total domain names hosted, that means that almost half of them have at least one WordPress blog.  I knew it was a lot, but I didn't expect it to be that many.  Crazy!
So, the next thing I thought was, "I wonder which plugins are the most popular among all of those WordPress users."  Well, here's the answer (the ones with ** are included by default)…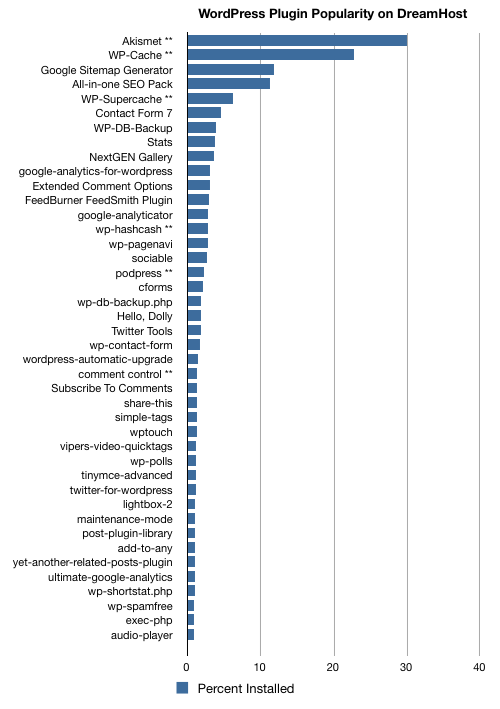 It's not surprising to see 3 of the top 5 be some of our default plugins (we only enable either WP-Cache or WP-Supercache, not both), but it is surprising that some non-default plugins made it so high on the list.  For instance, Google Sitemap Generator is in use on nearly 12% of all of our WordPress sites!  That's even more impressive when you consider that these numbers include our fully-managed easy one-click for WordPress, which don't allow you to install your own plugins.  We didn't break out how many of those there are, but there's enough of them that it would skew the results.  I also found it amusing that nearly 2% of our WordPress blogs have the "Hello, Dolly" plugin enabled.  Statistics related plugins are popular as a group, with 5 of them making an appearance on the list.