How to Translate a Website Quickly & Easily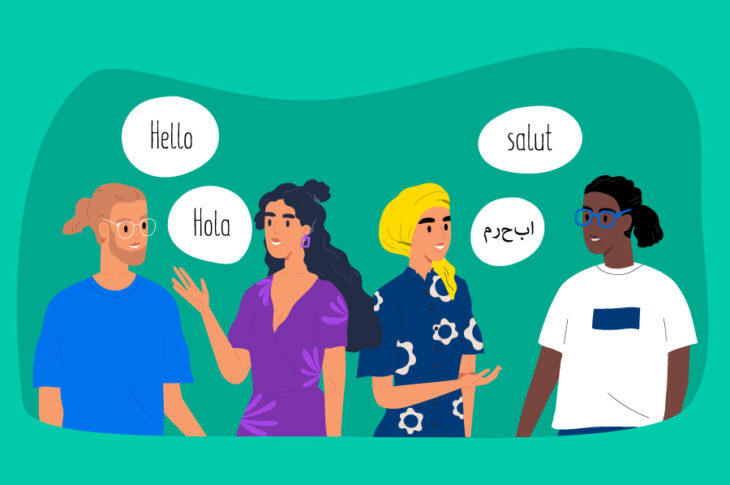 It probably won't surprise you to learn that English is the most common language on the web. However, it's far from the only one. In fact, nearly half of all internet users speak another language. This means that if you're not translating your website, you may be losing out on potential conversions and revenue.
Fortunately, translating your content is not as difficult as you might think. Plus, you don't need to be multilingual to do it! Today, it's easier than ever to build a website and make it available in other languages.
In this post, we'll discuss why you might want to create a multilingual site. Then, we'll provide you with a list of solutions for translating your website quickly and easily, including using web browsers, online translator tools, plugins, and more. Let's jump in!
An Introduction to Website Translation
When you translate a website, you essentially create a new version of the site in a different language. For instance, our DreamHost site is also available in Spanish.
This process can be done manually, by hiring a professional translator. Alternatively, you might use an automatic translation tool.
There are a few things to keep in mind when translating a website. First, you'll want to make sure that all of the content on the site is translated accurately. This includes the text as well as any images or other multimedia elements.
Additionally, it's important to consider the overall design of the site. The goal is to create a version of the site that is easy for users to navigate and understand, regardless of their device or native language.
You'll also need to consider your site's Search Engine Optimization (SEO). The translated pages should contain the right keywords so that users can easily find them when looking for information in their language.
It's worth noting that website translation is not the same as website localization. Localization is a more comprehensive process. It involves translating the site content and adapting the site's design and functionality to better meet the needs of users in a specific region.
Why You Might Want to Translate Your Website
There are a number of reasons why you might want to translate your website. If you have an international audience, translating your site can help you cast a wider reach and better serve your users. It can also be a good way to expand into new markets.
A multilingual site can help increase your conversions. Your website visitors will be more likely to convert if your site content is in a language that they understand.
Translating your site can also show users that you are committed to inclusivity. It provides a good User Experience (UX) for everyone, regardless of their language. Making your site more accessible can help you build trust with your visitors and make them more likely to do business with you.
Finally, translating your site can help improve your SEO. If you optimize your site for keywords in different languages, you can attract more traffic from users who are searching for articles in their native languages.
Get Content Delivered Straight to Your Inbox
Subscribe to our blog and receive great content just like this delivered straight to your inbox.
How to Translate Your Website Quickly and Easily (10+ Methods)
Translating an entire website can be time-consuming and costly, especially if it contains a lot of pages. Fortunately, there are a handful of tools that can help simplify the process. There are also multiple methods that you can use.
Let's look at 10+ ways to translate your website quickly and easily, with step-by-step instructions.
Using Major Web Browsers
Most web browsers enable you to translate your site in just a few clicks. Plus, this feature is normally available for free.
However, the quality of the translation may not be very good. Therefore, it's important to proofread the translated site carefully before making it live.
Let's look at how to translate your website using different browsers.
1. Google Chrome
Translating your site in Google Chrome is quick and easy. To start, click on the three dots in the upper right-hand corner and select Settings: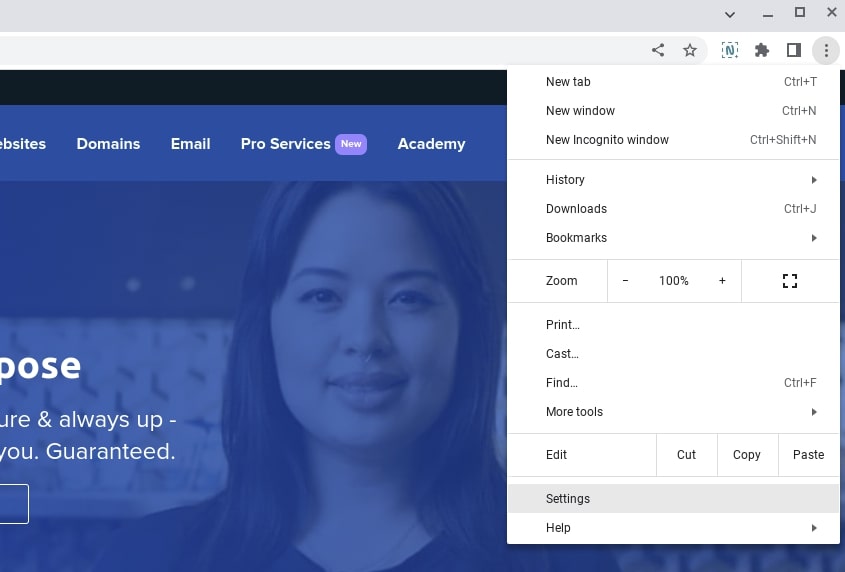 Next, navigate to Advanced and select Languages and inputs > Languages. At the bottom, you'll see an option that says Offer to translate pages that aren't in a language you read. Click to enable this setting:

Now you can translate your website into foreign languages. Visit the web page you want to translate, then right-click and select Translate to English:

In the popup that appears, click on the three dots and select Choose another language:

Then, you can choose an option from the dropdown menu. When you're done, click on Translate. The web page will automatically be translated.
2. Mozilla Firefox
Unlike Chrome, Firefox doesn't have a built-in translation feature. Instead, you'll need to use an extension.
A popular option is To Google Translate: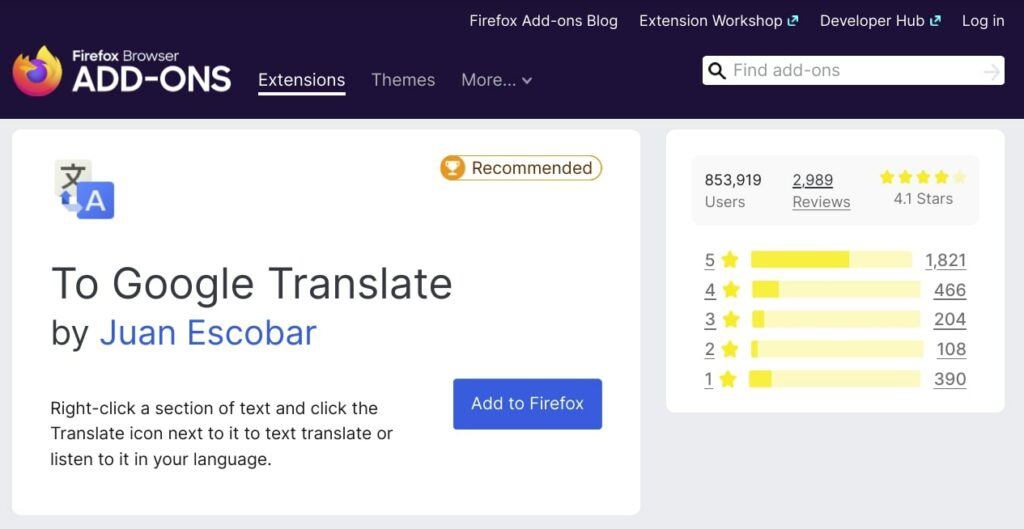 Select the Add to Firefox button to install the add-on. On the Options screen, you can choose specific languages: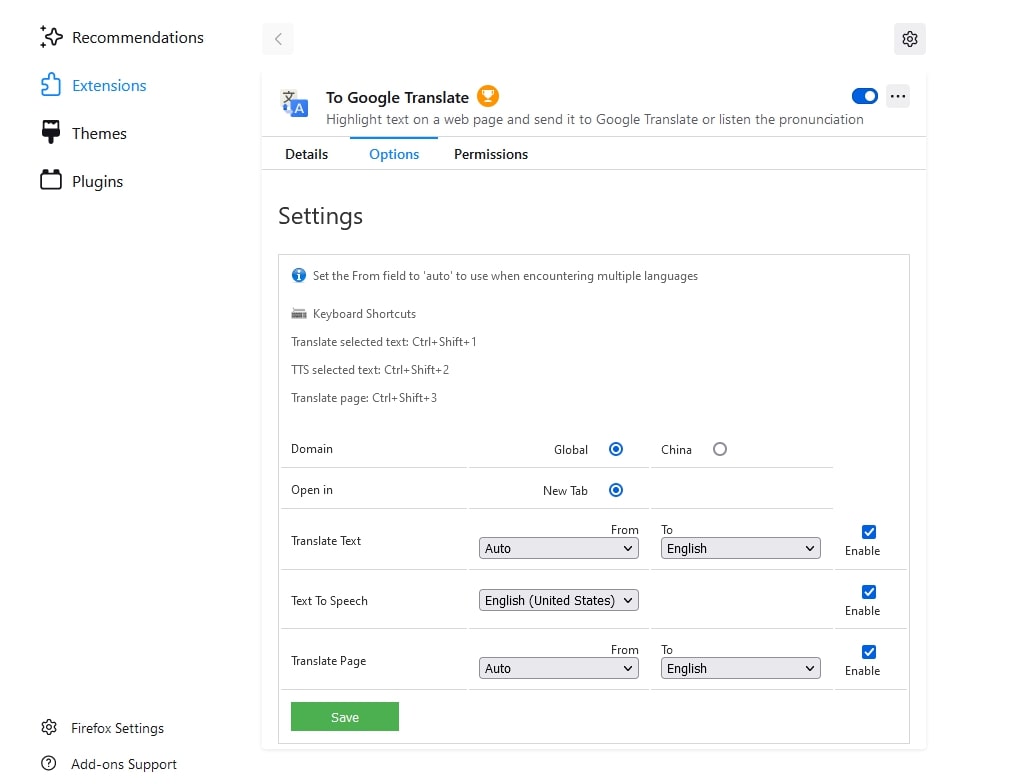 You can also leave the Translate Text field set to Auto to translate in different languages. When you're done, select Save.
Now, when you visit a web page that you want to translate, you can right-click on it and select Translate this page. This will open Google Translate.
Another option is to change your Firefox settings. You can do this by clicking on the menu in the top right and navigating to Settings > Language:

Choose the language you want. Then select the OK button.
3. Microsoft Edge
If you use Microsoft Edge, you can access a built-in translation tool similar to the one in Chrome. Open your site and click on the Translate icon in the address bar: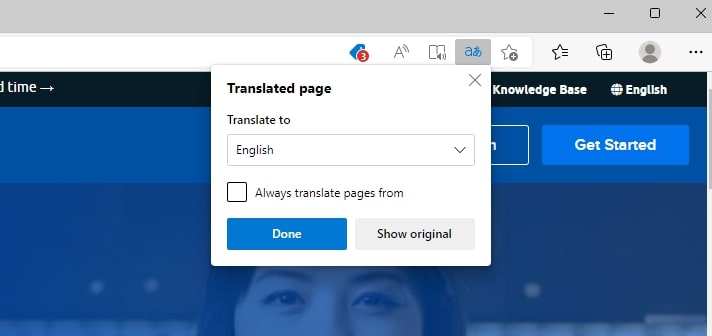 A popup will appear. Under Translate to, select the language from the drop-down menu and click on Done.
4. Safari 
Your options for translating a website in Apple Safari will depend on your device and your browser version. For example, you may be able to access the Translate button in the Smart Search field.
If you're using Safari on your iPhone, you can select the aA button in the address bar. This will open a menu where you can find and select the option to Translate to English.
Using Online Translator Tools
There are plenty of online translator tools that you can use. Many of them are free.
These tools use Artificial Intelligence (AI) to translate a page into another language. The process is often quick.
Unlike human translation, these tools won't account for linguistic nuances. Therefore, you may need to check the translations to make sure they're accurate.
5. Google Translate
Google Translate is one of the most popular online translator tools. You can use it to translate individual pages or your entire site into different languages: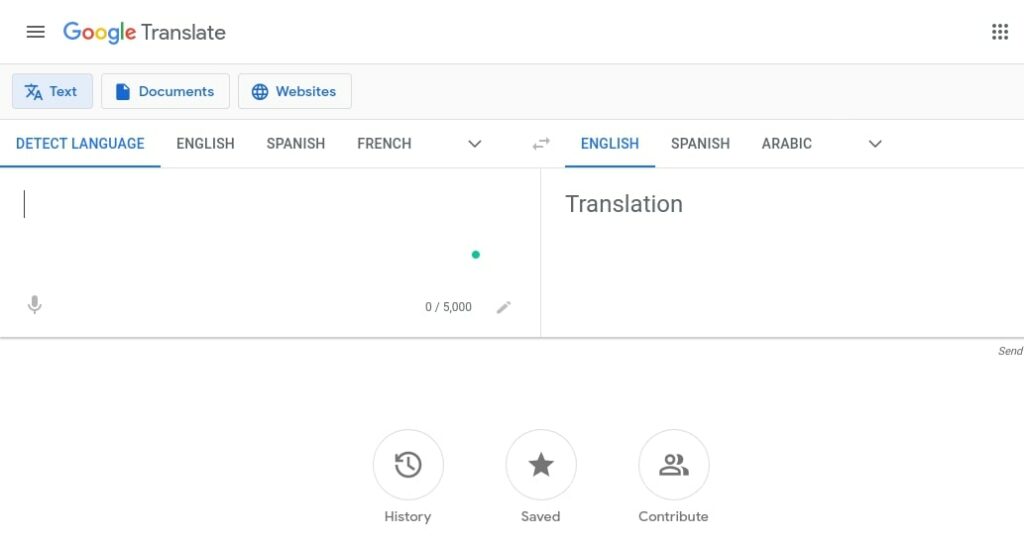 On the main page, click on the Websites tab and enter your URL in the text field. Select the native language from the options on the left, then choose the new language you want to translate the content into. Next, click on Translate:

You should now be able to see the translated version of your site. If you want to change it to another language, you can select your preference from the drop-down menu.
6. Translate.com
Another popular online translation tool you can use is Translate.com: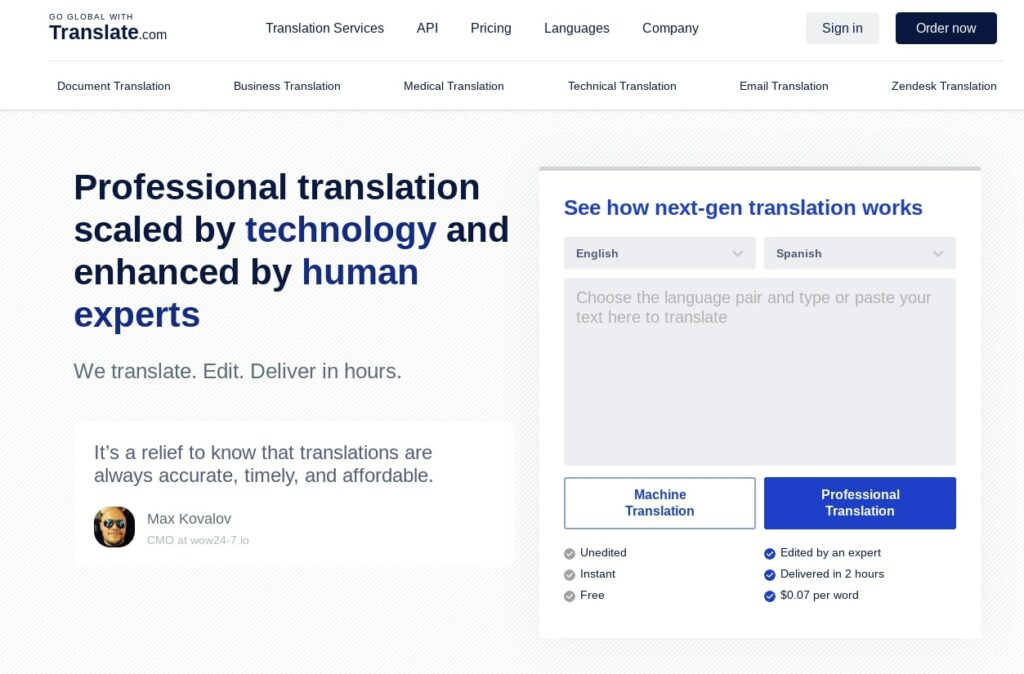 It offers over 30 different languages and lets you use your voice or keyboard to input text. Then, you can read the translated text or listen to the audio version.
The unedited versions of machine translation are free to use. You can also leverage the professionally edited translations for $0.07 per word.
7. Translatedict.com
Translatedict.com is a useful online translator that lets you choose from more than 50 languages: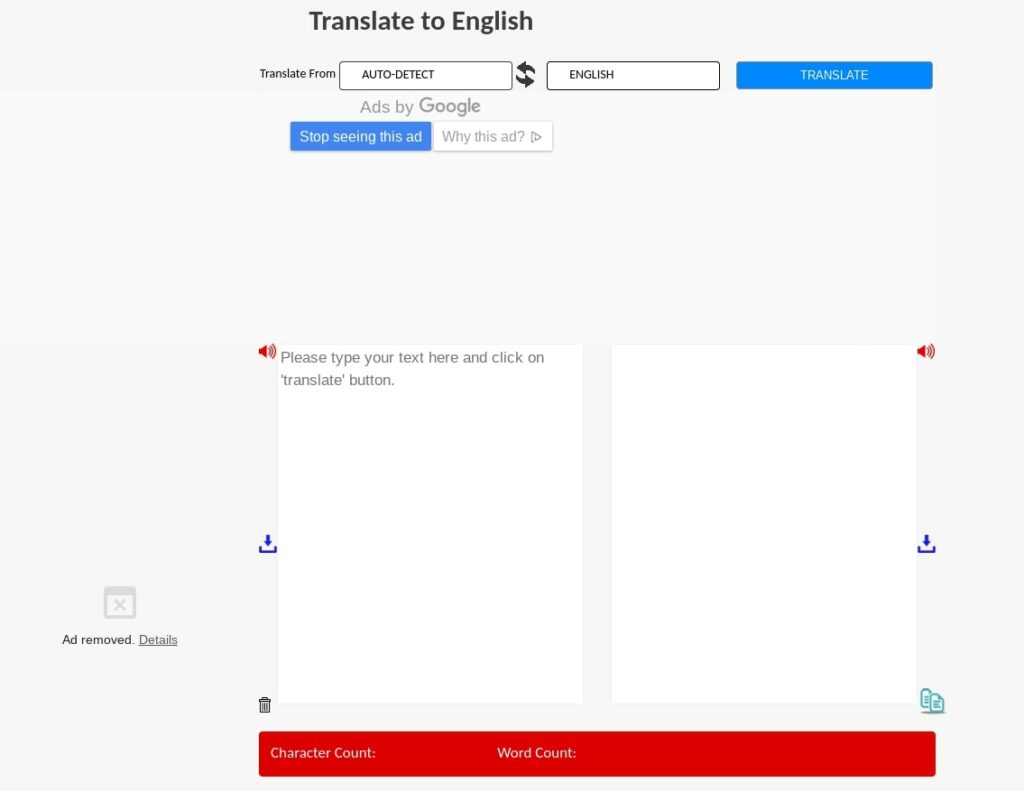 Start by entering your text in the provided box. Then, select the preferred language and click on the Translate button.
When it's finished, you can view the written text or select the sound icon to listen to it. You can also use the word and character count tools to keep track of the length of your content.
Using WordPress Translation Plugins
If you're a WordPress user, you can also use plugins to translate your website. Let's look at some popular options.
8. Weglot
Weglot is a robust solution that automatically translates your website into more than 100 languages: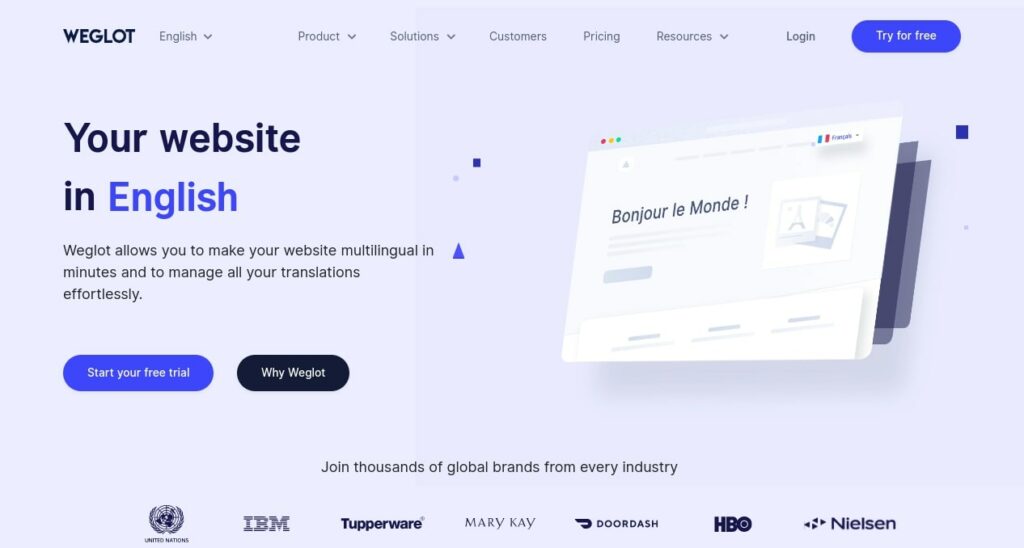 The service incorporates both human and machine translation solutions. You can use automatic translations, then manually edit your text for clarity. You'll also have access to professional website translators.
After you sign up for a Weglo account, you will receive a confirmation email with your API key. Then, you can install the Weglot Translate plugin on your WordPress site:

After activating the plugin, navigate to Weglot and enter your API key. Next, select your Original Language (such as English) and set the Destination Languages: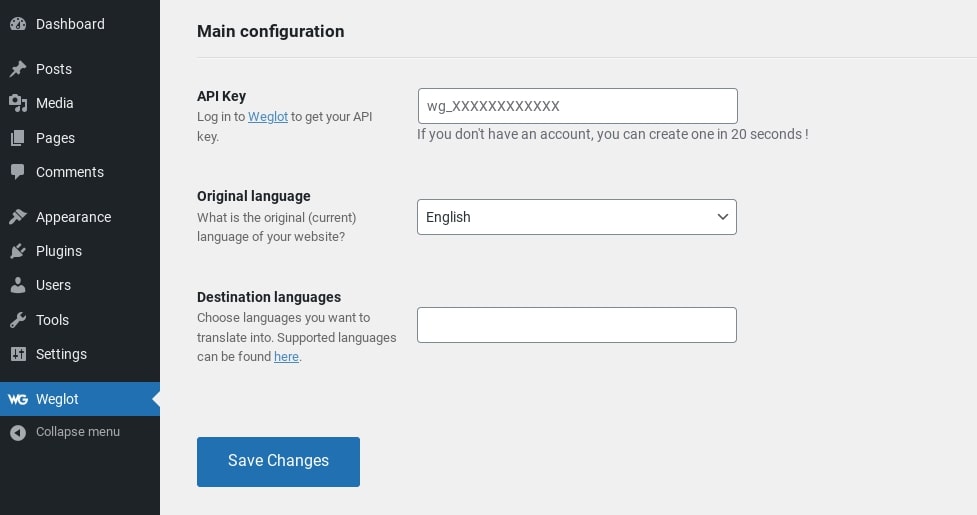 You can also choose specific pages to exclude from translation. When you're done, click on the Save button. Now, when you view your site on the front end, you should see a language widget that lets you translate the page.
The plugin is free. However, you can upgrade to a premium plan to access more features.
9. Polylang
Polylang is another WordPress plugin that enables you to translate your site:

You can use it to set the language for each post and create translated versions in your WordPress editor. Once you install and activate the plugin, you can access its settings by navigating to Languages: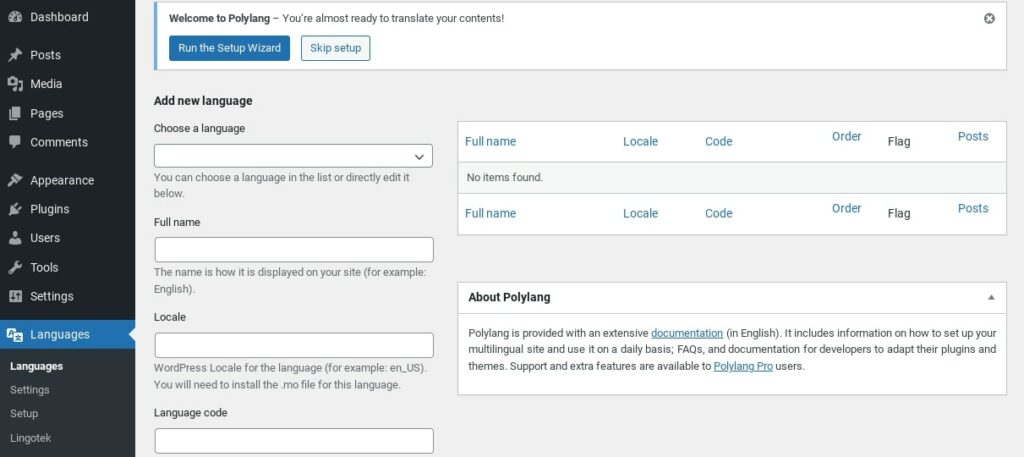 The plugin is free. For more advanced features, you can upgrade to a pro plan.
10. WPML
WPML is one of the most popular translation plugins for WordPress: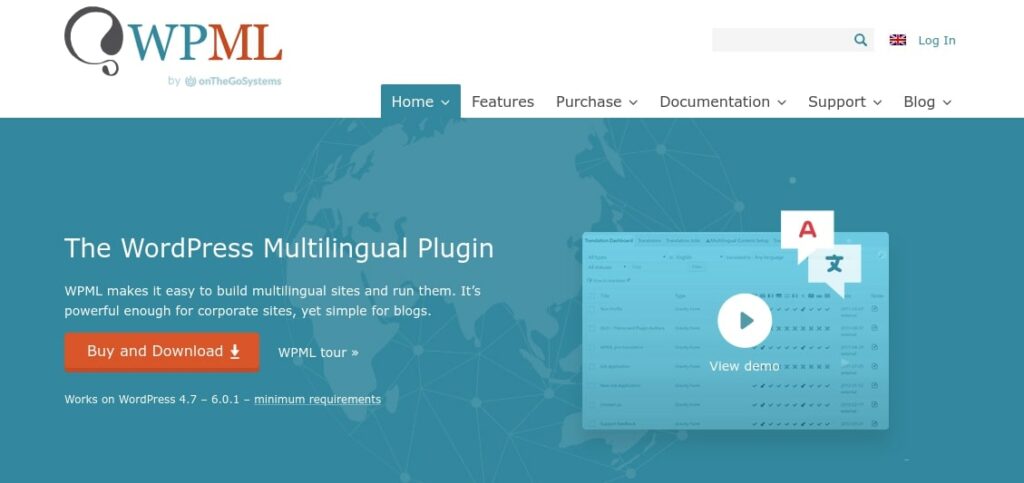 This tool is intuitive and easy to use. However, it's mostly focused on manual translation. Once installed and activated, you can assign the Translator role to specific users.
The plugin supports more than 40 languages. It also lets you generate language variants.
Bonus Option: Translate Your Website Using Custom Translation Services
At this point, we've discussed a range of translation tools that you can use, including online translators and WordPress plugins. However, if you're looking for high-quality translations, you might consider using a professional service such as Gengo or Translated.com: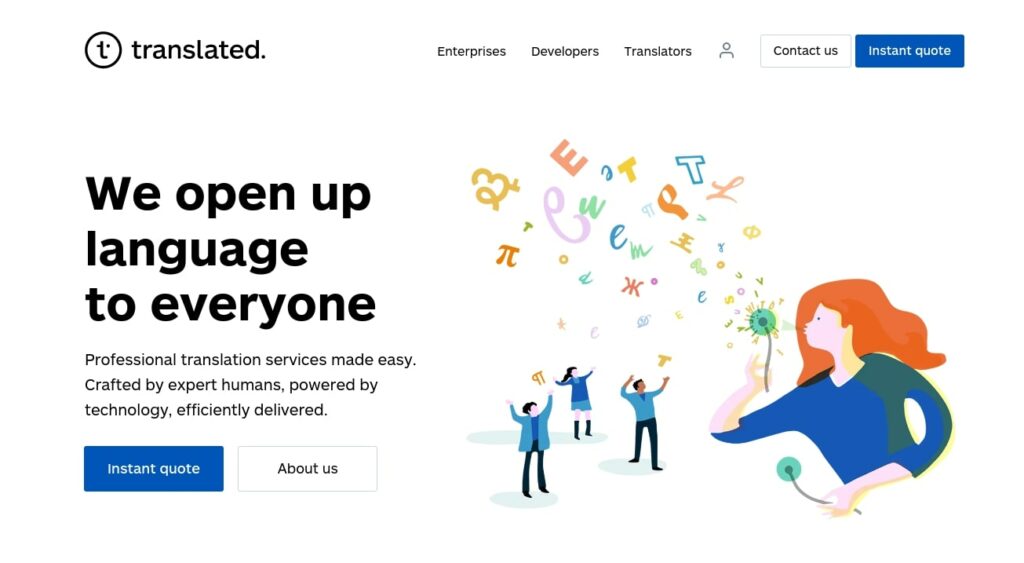 Of course, you'll have to pay for this service. However, you can have peace of mind knowing that your translations are being handled by experts in those languages.
This option can save you a lot of time and energy in the long run. You can contact the translators to learn more about their services and prices.
Translate Your Website Today
Not all of your site visitors are fluent in English. To avoid losing out on conversions, you might want to consider translating your content into different languages.
As we discussed in this post, there are various methods you can use. For instance, you can use an online tool such as Google Translate or install a WordPress plugin like Weglot.
Are you looking for additional ways to enhance your website? Check out our DreamHost Pro Services to learn more about our professional web design services!
DreamHost Makes Web Design Easy
Our designers can create a gorgeous website from SCRATCH to perfectly match your brand and vision — all coded with WordPress so you can manage your content going forward.