The Ultimate Guide To Web Hosting (What You Need To Know)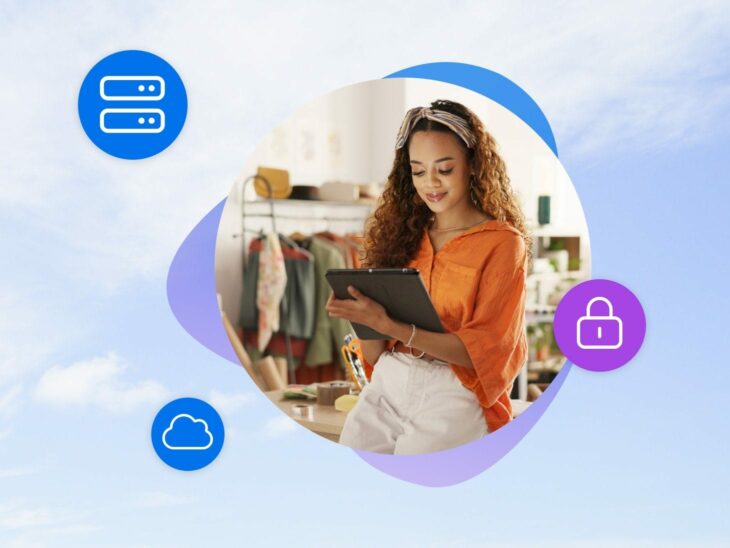 What makes a great website? Design, content, and features are all part of the mix, but the truth is that no one would be able to access your site without web hosting.
For many site owners, hosting is a bit of a mystery. With so many different plans and providers to choose from, knowing where to start is half the battle.
To help you figure out what hosting is all about and find the right option for your next project, we decided to build the ultimate guide. Spend the next few minutes with us, and you're guaranteed to come away with a wealth of knowledge!
What Is Web Hosting?
Every website is stored on a server. That server makes the website available to users on the web. Web hosting is the service of storing (aka hosting) a website on a server.
DreamHost Glossary
Server
A server is a computer that stores data. A web server is a type of server that stores and delivers web pages to users. Web servers are connected to the internet and use HTTP to send web pages to users who request them.
Read More
Your "web host" or "hosting provider" is the company that owns and maintains the web server that hosts your site. In addition, these companies often provide helpful resources, support, and services like domain registration and custom email addresses.
Selecting the right web hosting services for your site is an important process. Your choice can impact your website's security, availability, and performance. Picking the wrong plan or web host could affect the growth of your website and your ability to attract repeat visitors.
Ideally, you'll want to use a hosting plan that fits your needs and budget.
The Most Popular Types Of Web Hosting
If you've never had to sign up for hosting before, the sheer range of available services can seem a little intimidating.
To help you make an informed choice, let's take a closer look at the most common types of hosting:
Shared Hosting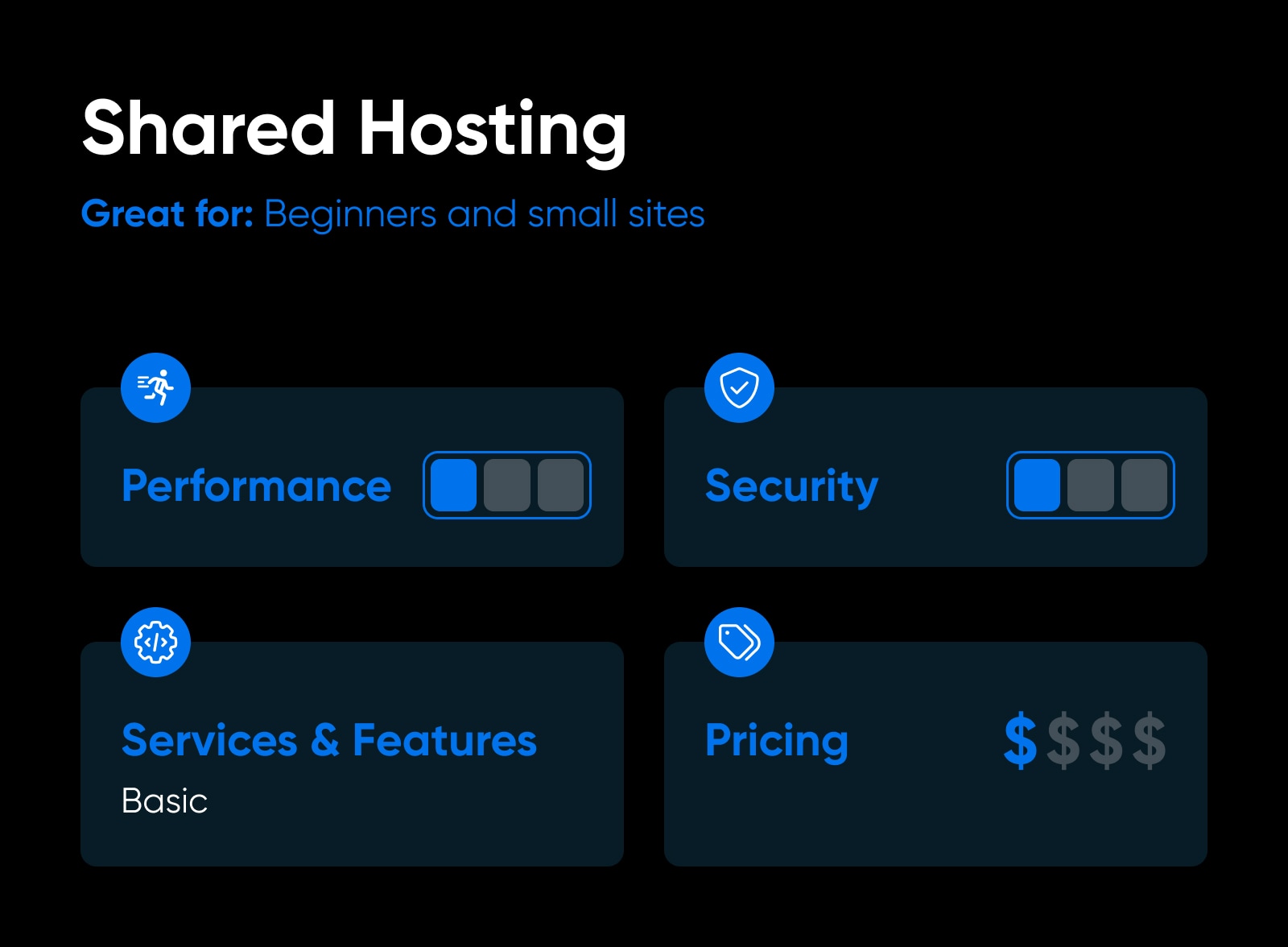 Shared hosting plans are the most popular choice among website owners. On this type of plan, a single server is shared between multiple users. That means a single computer will host a whole heap of websites.
DreamHost Glossary
Shared Hosting
Shared hosting is a web hosting plan in which multiple websites share the same server. This is typically the most affordable hosting plan, as the expense of server maintenance is distributed among multiple consumers.
Read More
Although you share resources with other users, they don't have access to your files, information, or other data. The major upside to shared plans is that they tend to be very affordable since web hosting companies can divide server upkeep costs among multiple users.
Think of it like having a timeshare on an exotic island. You get the benefit of a beautiful place to relax and some general upkeep, but you don't have exclusive ownership.
Performance And Security: Good loading times for smaller sites, up to 1,000 visitors per day. Shared hosting is generally secure, but issues can be shared between sites on the same server.
Service And Features: All basic services are included, but you will need to install your own software and take some responsibility for performance and security optimization.
Pricing: The industry standard for shared hosting is around $5 per month. That said, you can find good plans for less.
At DreamHost, we offer high-value shared hosting plans starting at just $2.59 per month, including free domain registration.
Pros Of Shared Hosting:
It's easy to find plans for less than $5 per month.
Depending on your service provider, you can get excellent performance on medium or small business websites.
Cons Of Shared Hosting:
Shared plans often don't perform well for websites with heavy traffic.
For the best rates, you may have to sign up for a multi-year contract.
Who Is Shared Hosting Best For:
For a beginner, shared hosting should be the go-to option. With the right provider, you'll have all the tools you need for getting your project going and plenty of room to scale up over time.
Get Content Delivered Straight to Your Inbox
Subscribe to our blog and receive great content just like this delivered straight to your inbox.
Virtual Private Server (VPS) Hosting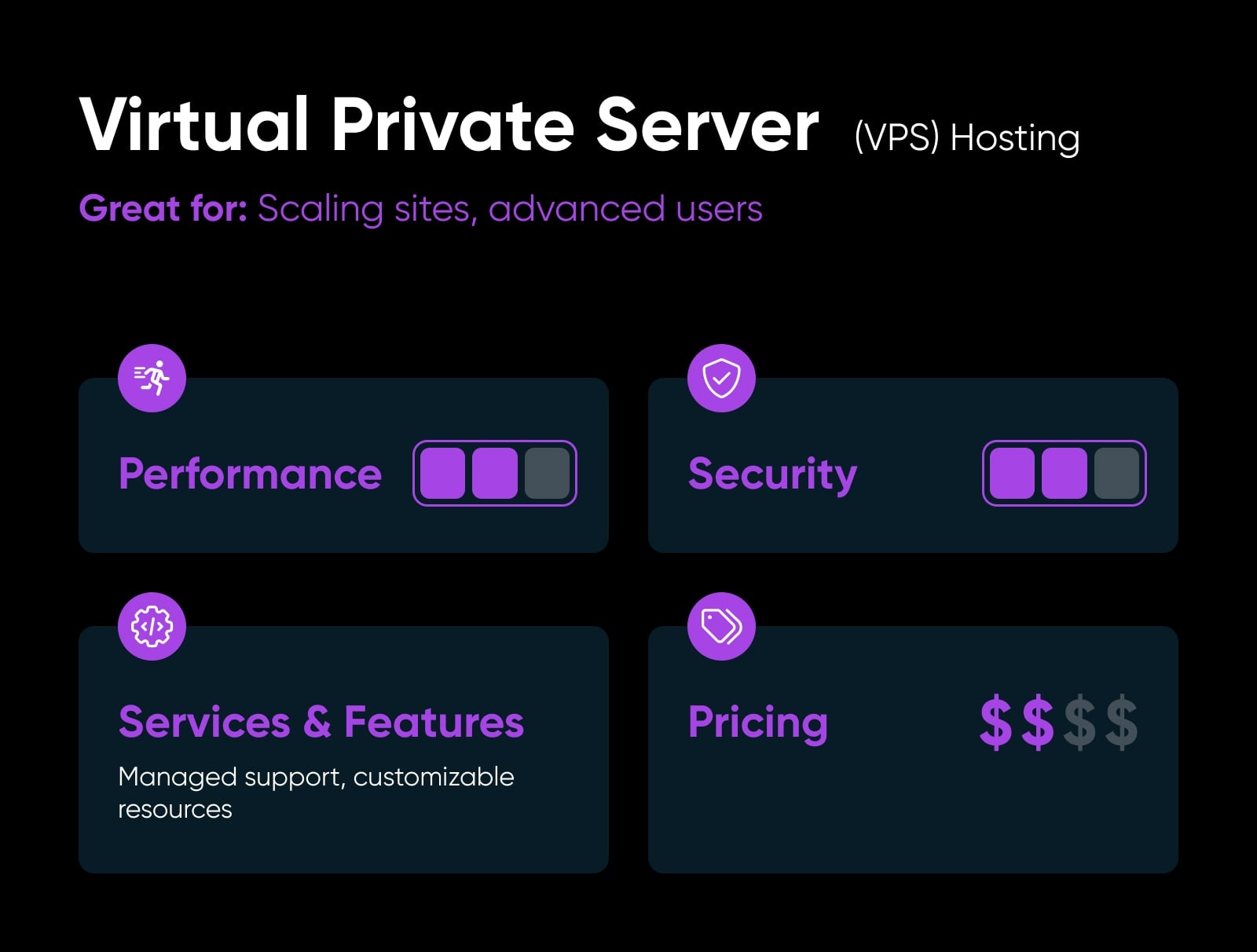 Virtual Private Servers (VPS) offer enhanced performance and greater customization compared to shared hosting plans. In a VPS environment, a single physical server hosts multiple isolated units, each dedicated to individual websites.
So, if shared hosting is a timeshare property, VPS hosting is like having your own apartment in a large complex.  In practical terms, VPSs provide a higher degree of isolation between users, although you still share the same physical server.
Nevertheless, this setup can enhance performance and security. Plus, depending on your hosting provider, you might be able to configure your VPS from scratch and get precisely the resources you need.
To give you an idea of what you're looking for, a single-core VPS with 1 GB of RAM is enough to run a simple WordPress website. However, figuring out the precise amount of resources you need for each new project can be tricky. This might make a VPS a less attractive option if you are new to website hosting.
Performance And Security:  VPS hosting guarantees better page-loading speeds and less downtime. Since each site is kept separate, security threats are rarely shared.
Service And Features: Unmanaged VPS hosting is a lot like shared hosting. Managed VPS hosting takes care of all technical tasks.
Pricing: Highly variable, but the monthly industry standard is right around $30 per month. Managed plans cost a bit more than unmanaged plans, although they make up for it with additional features and services.
At DreamHost, we offer four tiers of VPS hosting, each with a monthly, one-year, and three-year option.
Pros Of VPS Hosting:
You get fully dedicated resources for your website.
Depending on your host, you might be able to configure your VPS to your specific needs.
Cons Of VPS Hosting:
Calculating the amount of resources you need can be challenging.
Configuring a VPS often requires some technical know-how.
Who VPS Hosting Is Best For:
If you want full control over your server without spending hundreds of dollars on a dedicated plan, consider using a VPS. The high level of customizability also makes it an attractive option.
Dedicated Hosting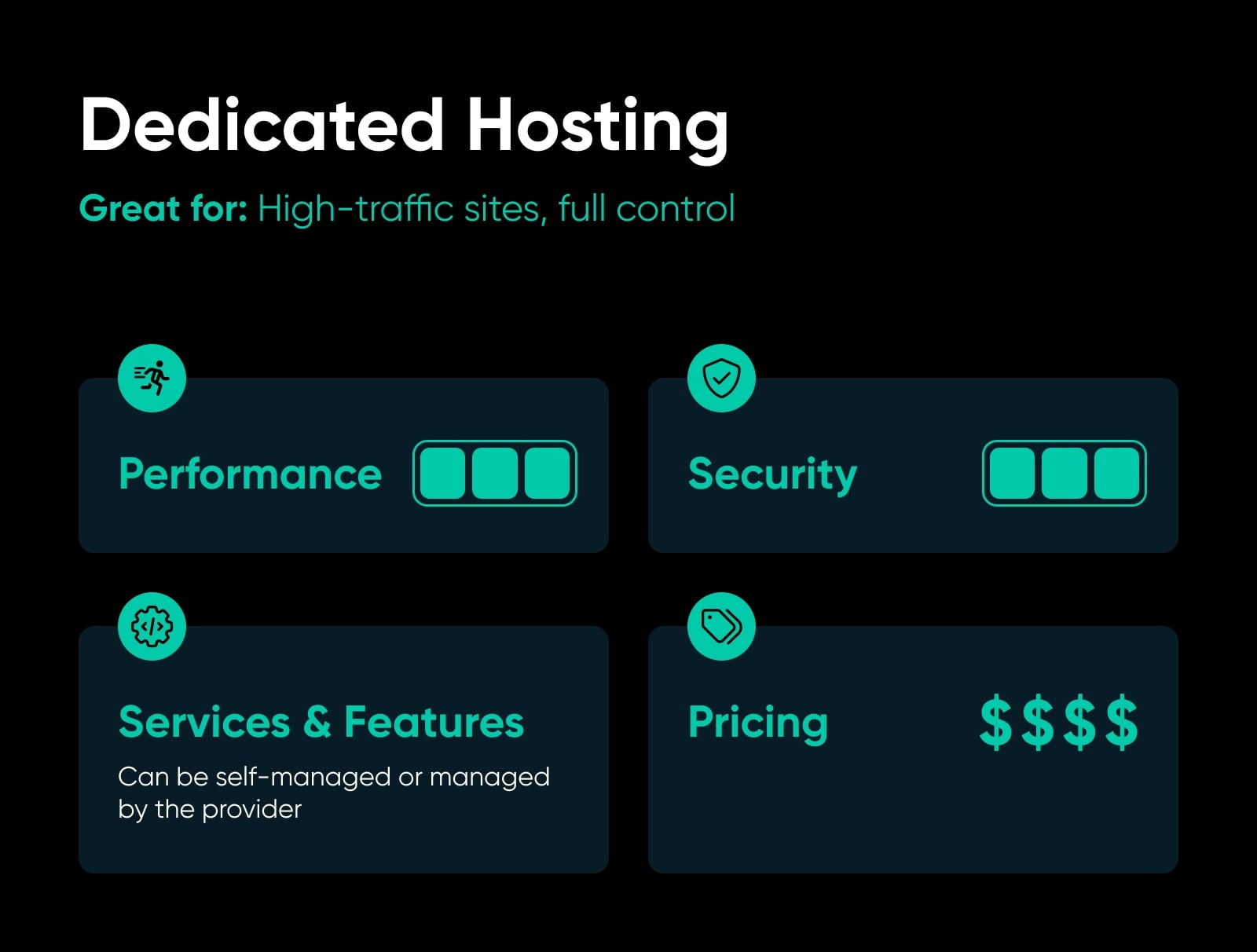 So far, we've only discussed hosting plans where you share servers with other users. Servers are expensive, so if you want a private one all to yourself, you'll pay more of a premium.
DreamHost Glossary
Dedicated Hosting
Dedicated hosting uses a server dedicated to a single customer. The client has complete control over the server, and they are responsible for all of its maintenance and administration.
Read More
With a dedicated server, you get exclusive access to a single server (or sometimes more than one). That means you'll have complete control over its configuration, and the web hosting provider simply houses it for you.
Carrying on the analogy — instead of a timeshare, you get the whole place to yourself.
Performance And Security: Optimum speed, stability, and security for high-traffic websites. The best performance comes from plans that use SSD (solid state drive) storage.
Service And Features: Unmanaged dedicated hosting means it's up to you to add features. Managed dedicated hosting provides the same kind of service we talked about when discussing VPS hosting plans, plus features like a unique IP address, dedicated server backups, and extra support.
Pricing: The average dedicated server starts at around $100 per month, although plans at that price aren't likely to include a fully managed hosting package.
Our own dedicated hosting is managed and still comes in at a competitive price. The month-to-month price range for DreamHost's dedicated hosting starts at $169.
If you're not afraid of commitment, you can bag a standard plan starting at $149/month or pay $279/month for enhanced features such as additional memory and faster processing.
Pros Of Dedicated Hosting:
You get a whole server to yourself.
In most situations, you can configure your server to your liking.
DreamHost users get uncapped bandwidth.
Cons Of Dedicated Hosting:
It's a relatively expensive option.
Who Dedicated Hosting Is Best For:
Dedicated hosting is the go-to choice for websites that require the very best when it comes to performance and have the budget for it.
Alternative Hosting Types
The three web hosting options above cover the majority of websites. However, there are more types of hosting available. Here are some of the alternative options to look out for:
Cloud Hosting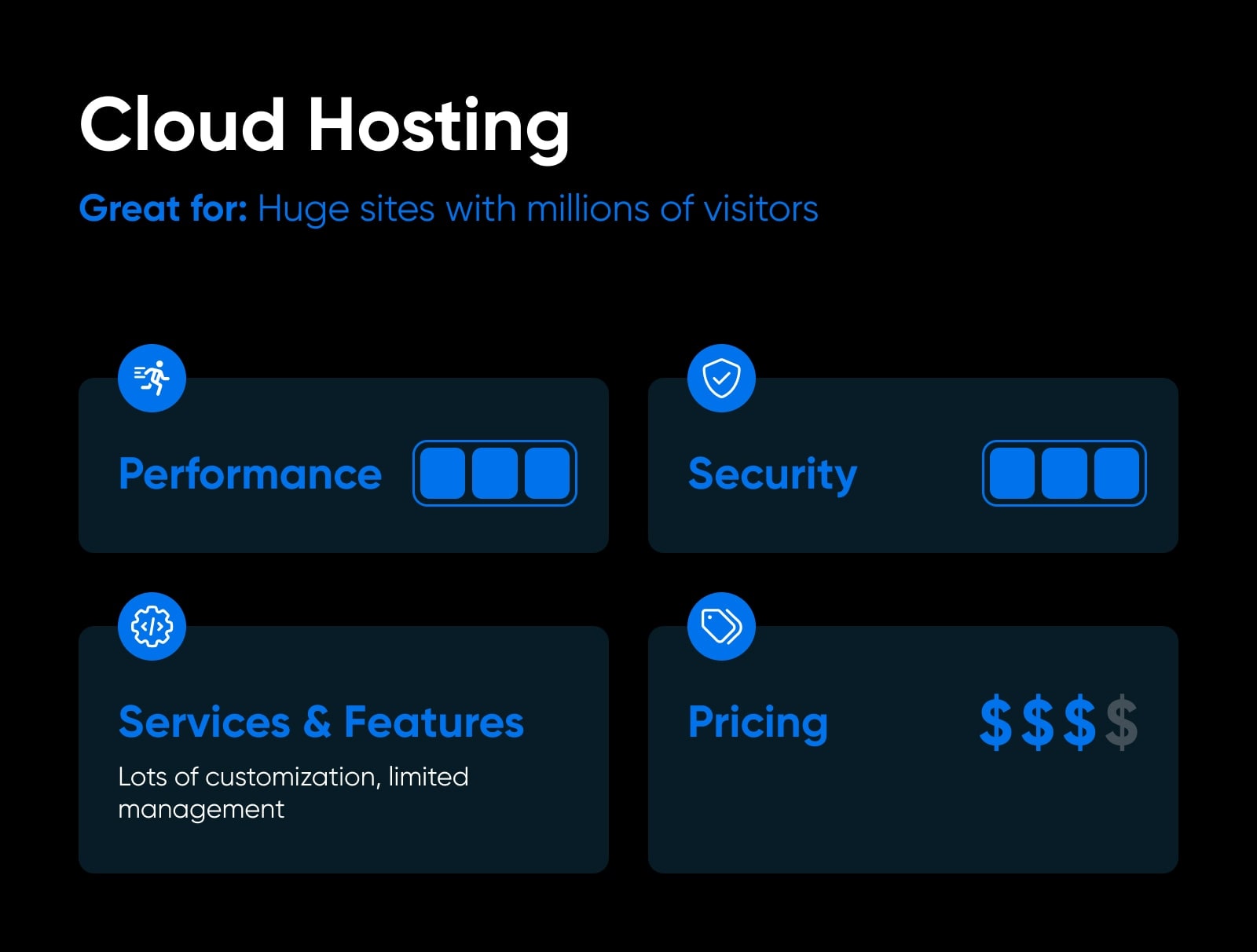 Cloud hosting is where things begin to look a little trickier. When people talk about the "cloud," they're usually referring to a distributed VPS.
DreamHost Glossary
Cloud Hosting
Traditional web hosting houses a website on a physical server. On the other hand, 'cloud hosting' uses multiple virtual (remote) servers for the same task.
Read More
The advantage of this setup is that you can easily scale your server's resources as needed. Plus, thanks to the system's built-in redundancy, you won't have to worry about downtime and data loss.
Cloud hosting can be either very cheap or incredibly expensive, depending on your server configuration. It's the type of setup that some massive internet-based companies use to power their operations. But unless your website is called Netflix, you probably won't need this option.
Pros Of Cloud Hosting:
It offers a high degree of scalability.
You can customize your server as you see fit.
Cons Of Cloud Hosting:
The payment structures for cloud hosting can be complicated.
It's not well suited to users who don't have experience with configuring a server.
Who Cloud Hosting Is Best For:
If you like tinkering with your server's configuration and want a high degree of scalability, cloud hosting is worth looking into.
Managed WordPress Hosting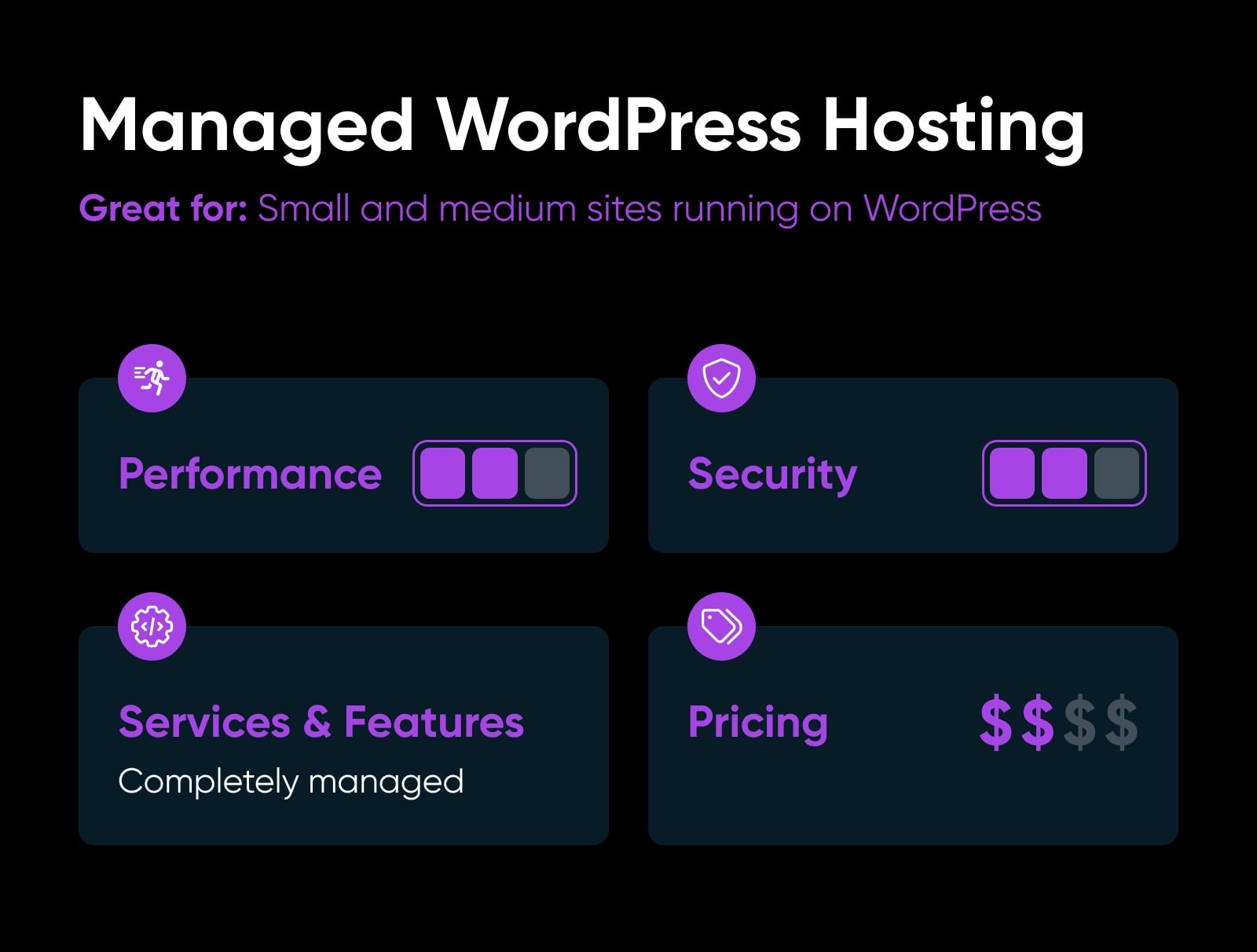 Managed WordPress hosting is a little different from the other options here. It's not a type of plan but rather a kind of service.
With managed WordPress hosting, your provider takes care of a lot of the day-to-day maintenance tasks that would otherwise fall on your shoulders. Those tasks include backups, security monitoring, software updates, and more.
Managed hosting plans can come in every flavor; there are managed shared plans, managed VPSs, and even managed dedicated servers. In all of these cases, you pay a little extra, so you don't need to worry about the nuts and bolts of hosting.
You don't need a WordPress-specific plan to set up a website with the platform. However, these plans tend to be optimized to provide better performance and make your life much simpler.
On top of WordPress-specific plans, there are also entire hosting platforms that only work with this Content Management System (CMS).
DreamHost Glossary
Content Management System (CMS)
A Content Management System (CMS) is a software or application that provides a user-friendly interface for you to design, create, manage, and publish content.
Read More
Pros Of Managed WordPress Hosting:
It comes with some level of managed service.
You get access to WordPress-specific perks, such as free plugin licenses and one-click installations.
Cons Of Managed WordPress Hosting:
It's only valuable for WordPress users and limits your ability to use other platforms.
Who Managed WordPress Hosting Is Best For:
You can set up WordPress on any type of web hosting plan. However, if you want a plan tailored to the CMS from the ground up, WordPress hosting can be an excellent investment.
Reseller Hosting
If you run a business that revolves around building websites, such as a development or design agency, you'll probably have to deal with hosting.
DreamHost Glossary
Reseller Hosting
Reseller hosting is when a web developer purchases hosting from a web host and then resells it to their own clients. The developer acts as a middleman between the host and their clients, often providing support and billing services.
Read More
A lot of clients don't quite understand how hosting works and could use help getting everything set up and working. Reseller hosting offers a solution for these situations.
In a nutshell, you get access to an account that lets you provide hosting to your clients. Those clients pay you directly, and you're responsible for managing their accounts.
Most web hosts that offer reseller accounts enable you to charge whatever you wish for hosting. This means that if you run a web development agency, you can transform hosting into a source of recurring revenue.
Pros Of Reseller Hosting:
You can set up hosting accounts for third-party users and charge them directly.
You're in complete control of the hosting experience.
Cons Of Reseller Hosting:
You're usually responsible for billing clients.
In most cases, you'll have to take care of maintenance and support tasks independently.
Who Reseller Hosting Is Best For:
If you run a business that helps with web hosting for clients, it can make sense to offer that service in-house. With reseller hosting, you can bill clients directly for hosting and take care of maintenance for them while having another company provide the infrastructure.
How To Choose A Web Hosting Provider
Your choice of web hosting plan will inevitably impact your website, but remember, these are just services; your choice of provider is every bit as important.
Here are some key questions to answer when choosing a host:
Performance
Performance and uptime can make or break your website. Your website's performance influences Search Engine Optimization (SEO), bounce and conversion rates, and how trustworthy your site appears to visitors. We're not exaggerating when we say that your server's reliability directly impacts your website's bottom line.
Any provider you consider should have an uptime guarantee of at least 99%. Evaluate the host's performance-related features, such as caching, SSD storage, and Content Delivery Service (CDN) access.
Don't just rely on claims and reviews. Test the host's performance using tools like Google's PageSpeed Insights. If possible, you may even want to get access to a test account or sign up for a free trial, and use that to conduct further testing.
Software
Whether you're building a personal blog or the next big tech startup, every website relies on certain technology. When you select a web hosting provider, check their technical documentation to ensure that the service supports the software, services, and languages that you plan to use.
For example, you will need a hosting solution that supports PHP and
MySQL or MariaDB if you want to run WordPress.
DreamHost Glossary
MySQL
MySQL is a relational database management system that offers practical management tools. You can use MySQL to create, modify, and extract data from relational databases through the SQL programming language. It can also control the access that users have to the database.
Read More
Top hosts offer easy installation for popular apps and user-friendly control panels for account management. DreamHost provides a one-click WordPress installer, WooCommerce pre-configured plans, and a built-in Website Builder for hassle-free website creation and management.
Security
According to Norton, over 800,000 sites are hacked every year. So, even for smaller websites, cybersecurity should be a top priority.
To give yourself the best possible protection from threats like malware and DDoS (distributed denial-of-service), choose a host that follows up-to-date security protocols and provides features for protecting your site.
Secure Socket Layer (SSL) certificates are particularly vital for keeping your site and users safe. Adding an SSL certificate to your site can be an additional expense, but some hosting providers (like DreamHost) will include one in your plan at no extra cost.
Another feature to look for is automatic daily backups. These ensure that you can always bring your site back if it becomes corrupted with malicious code, or you lose your content.
Scalability
Most new sites start on a shared, low-cost plan. However, as your online presence expands, you'll need more resources, bandwidth, and disk space in order to maintain your site for all its users. A host that offers easy upgrades to a Virtual Private Server (VPS), Managed WordPress, or Dedicated Hosting plan can make this process smoother.
If you choose a host that makes it challenging to change your plan, you could find yourself migrating to a new provider just a few months after launching your site. This can ultimately be a waste of time and money.
Technical Support
Your relationship with your web host will hopefully be a long one. Reliable customer support is vital to a mutually beneficial relationship. Ensuring that your host has multiple contact methods and a 24/7 support team should guarantee that someone will be available whenever you need help.
Additionally, specific support for WordPress, e-commerce, or other niches can come in handy. Choosing a host with a knowledgeable team will ensure that your site has the best possible support.
For example, if you opt for DreamPress, our WordPress-specific managed hosting, you'll get priority access to our elite squad of in-house WordPress experts.
Pricing
Obviously, your budget is a key consideration when selecting a web host. Shared hosting can cost as little as $3-10 per month to start. VPS plans are $20-50 per month, while dedicated servers range from $100 to over $500 per month.
Just remember that you might not be on the same plan forever. If you want to pick a host for the long term, consider what kind of resources you might need in future and check the pricing for plans that can cover your requirements.
On a similar note, make sure to look into your potential host's renewal fees, as well as the initial sign-up costs.
If you need to cancel your hosting for any reason, you'll also want to avoid excessive fees. It's wise to choose a host that offers a free trial period and one that has a generous refund policy or money-back guarantee.
Other Features
Along with all the points mentioned above, it's worth considering what other features each host offers.
For instance, do you get email accounts with your hosting plan? Can you dive into the file system of your website via Secure File Transfer Protocol (SFTP)? If you need to fix errors or optimize your site, does your host provide access to your .htaccess file?
DreamHost Glossary
.htaccess
'.htaccess' is a configuration file used by the Apache web server software. The .htaccess file contains directives (instructions) that tell Apache how to behave for a particular website or directory.
Read More
All of these questions are worth considering as you make the final choice on your web hosting provider.
How To Set Up Your Website With Shared Hosting
So, you've weighed up the pros and cons, and decided on your web host. The next step is to set up your hosting plan.
The most common choice, particularly for new website owners, is shared hosting. To show you how it works, let's walk through the process of setting up your site — from creating an account and choosing a plan to building and securing your website.
Step 1: Sign Up For Your Hosting Plan
The first step in bringing your website to the world is to sign up for a hosting plan. This task varies between hosts.
If you decide to host with us, simply head to the Shared Hosting page and click on the blue Sign Up Now button underneath the feature list of your preferred plan. You'll be taken to a wizard that will walk you through purchasing your plan and creating a DreamHost account.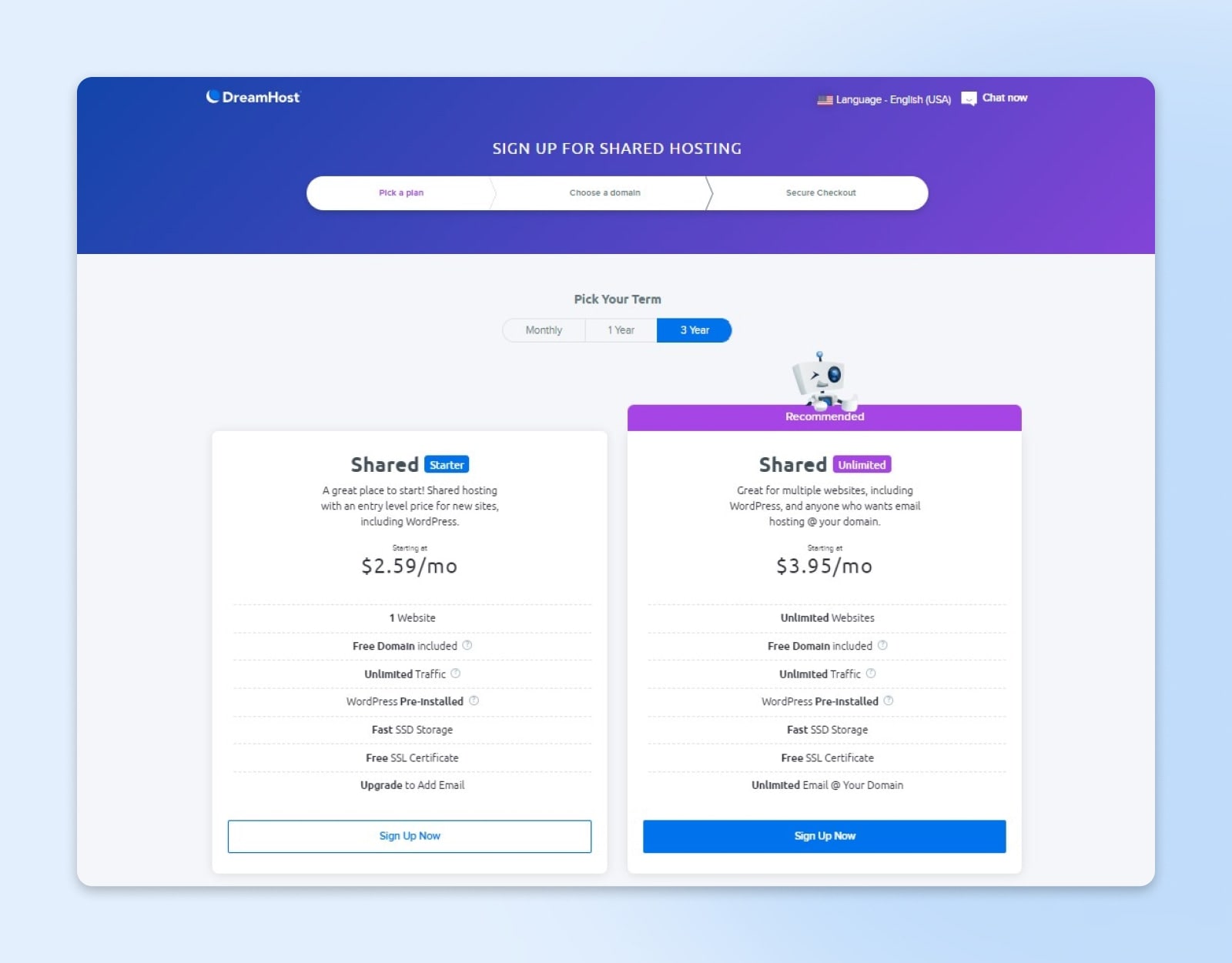 Simply follow the steps to get everything set up. You can opt to register a domain right away during the process or save that task for later. Which you choose is totally up to you. There's no right or wrong way to do it.
The DreamHost account creation is on the third page (Secure Checkout). Below that, you'll find additional options you can configure for your new site.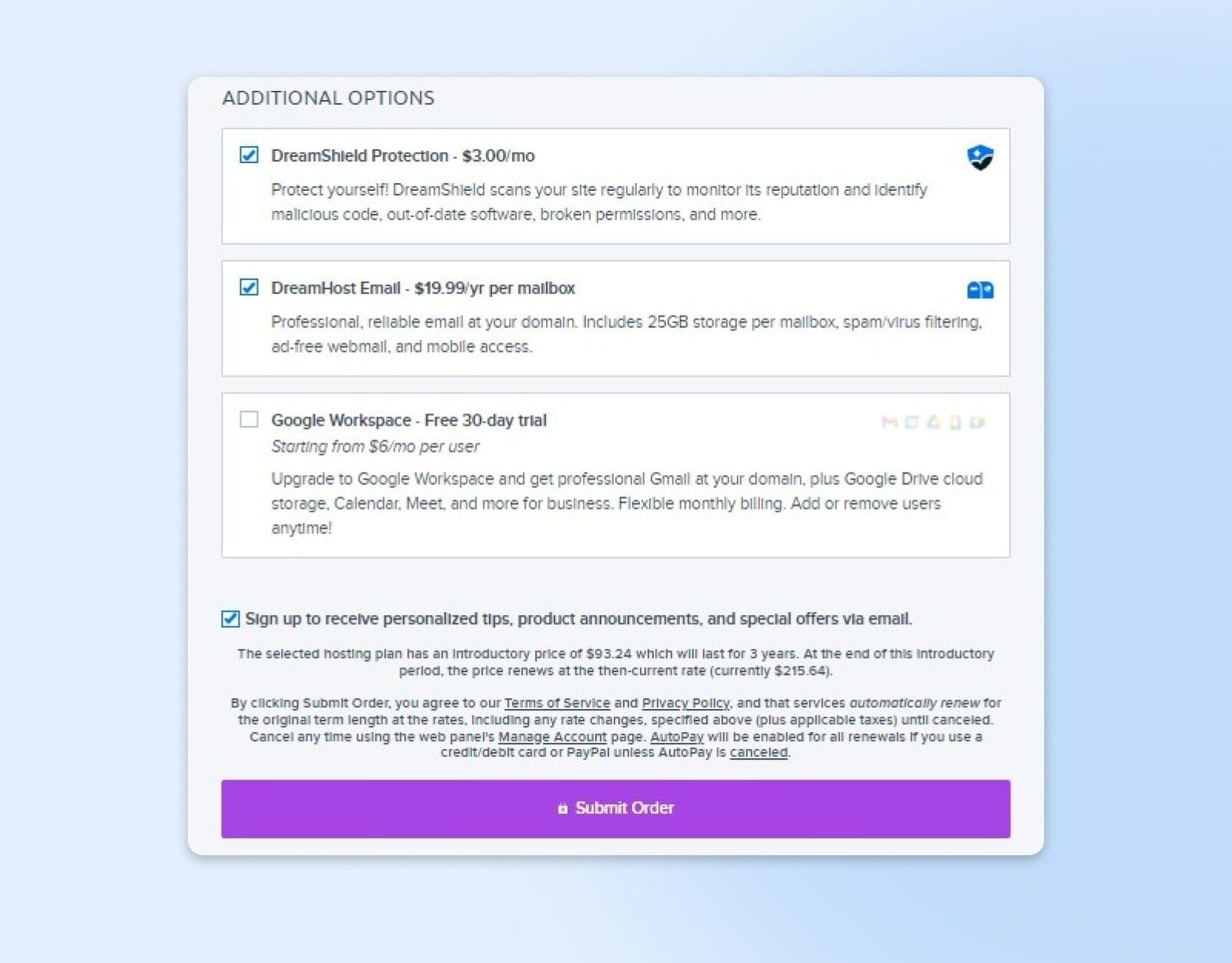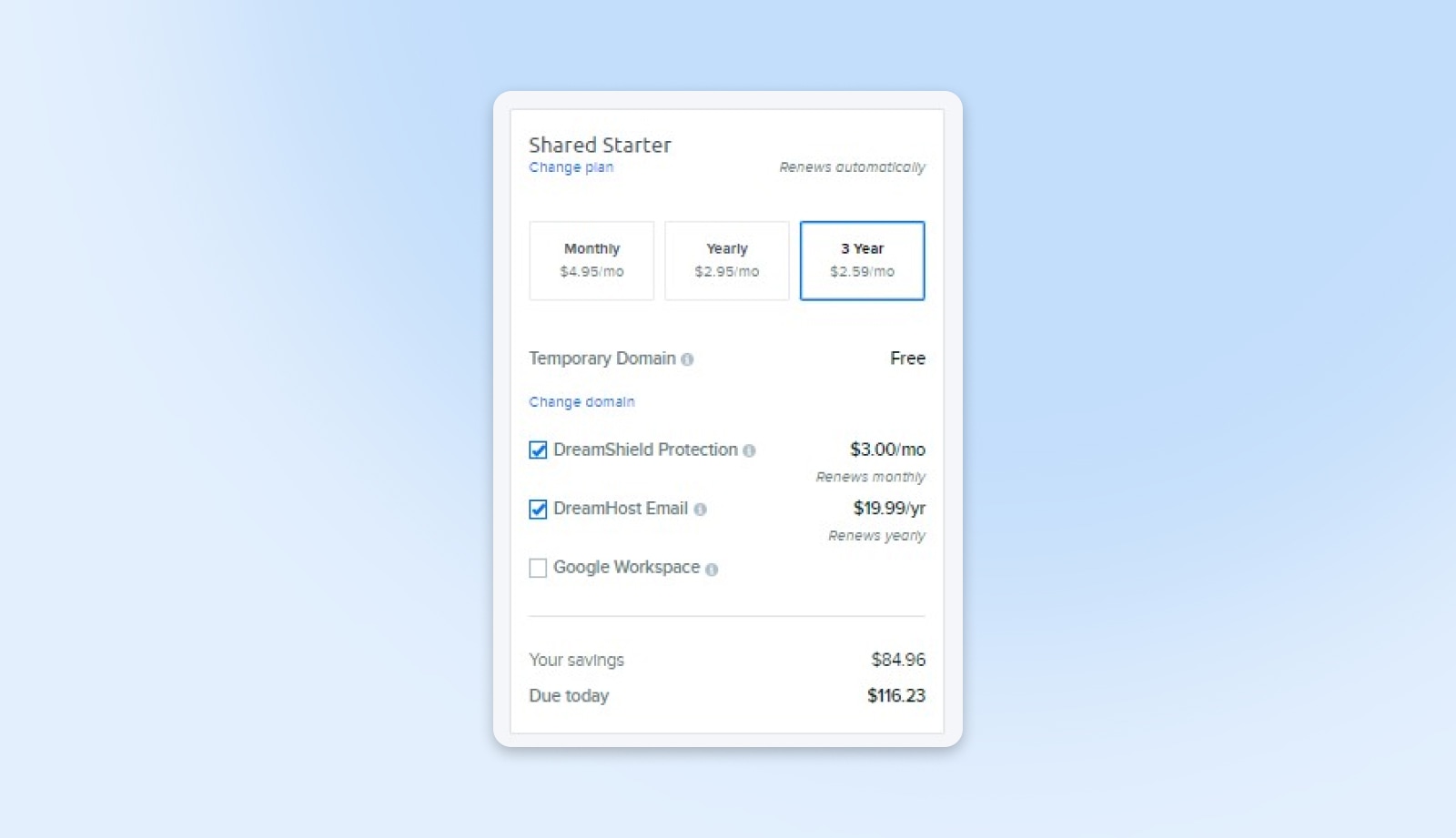 If you're planning on using WordPress to build your site, we highly recommend checking the boxes to pre-install the platform and use the WP Site Builder. This can greatly streamline the process of getting your site up and running.
Step 2: Explore The Control Panel
Once you've created your account and purchased a hosting plan, you can log into your control panel using the email and password you provided during signup.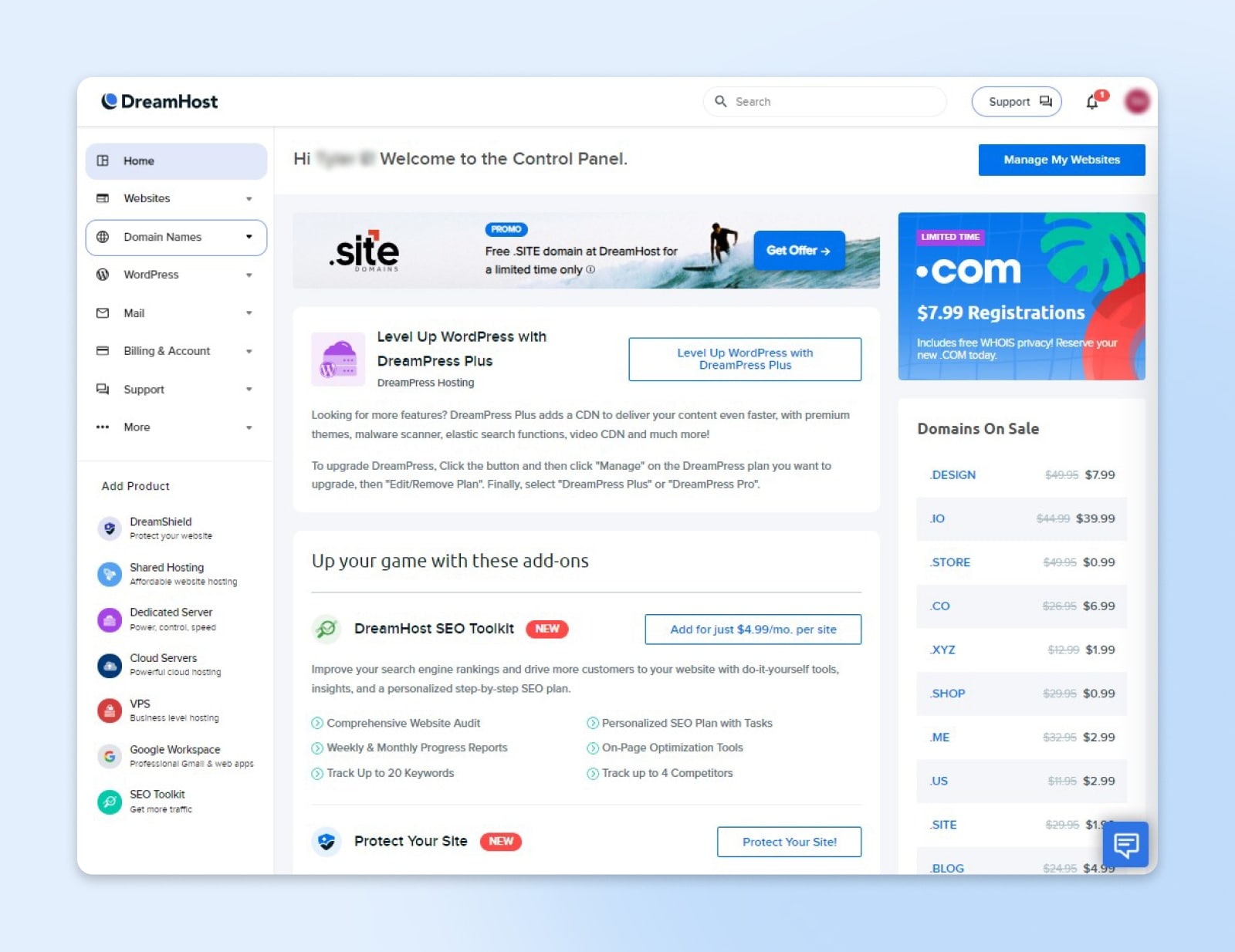 On DreamHost Shared Hosting plans, we make it pretty easy to control your site. Through the user panel, you can see everything related to your websites, domains, and hosting account in one dashboard.
Along the left side, you can find all the available features and functions:
Domains: This menu is where you'll access your existing domains or register new ones.
WordPress: Here you can access any WordPress services you've added to your account, such as our DreamPress managed hosting. You can also add new installations of WordPress from this menu.
Mail: This menu provides you with everything you need to manage your email services.
Users: This is where you'll find options for adding and managing additional users you've added to your account.
MySQL Databases: If you ever need to access your MySQL databases, you can use this option, found under the More menu.
There's plenty more to explore in the panel, so we recommend taking a few minutes to click on the various links and get acquainted with where things are located.
Step 3: Register Your Domain
If you didn't register your domain during the initial signup process, you should do so now. Your domain name gives your site its primary URL and carves out its unique place on the web. No one else can use your domain once you've registered it.
Our Shared Unlimited hosting plan includes a free domain registration credit. You have one month from signup to use the credit, so if you're unsure what domain you want, you can take a little time to think about it. However, you can't start building your website until your domain is registered.
To register a domain, head to your DreamHost panel and navigate to Domains > Manage Registrations.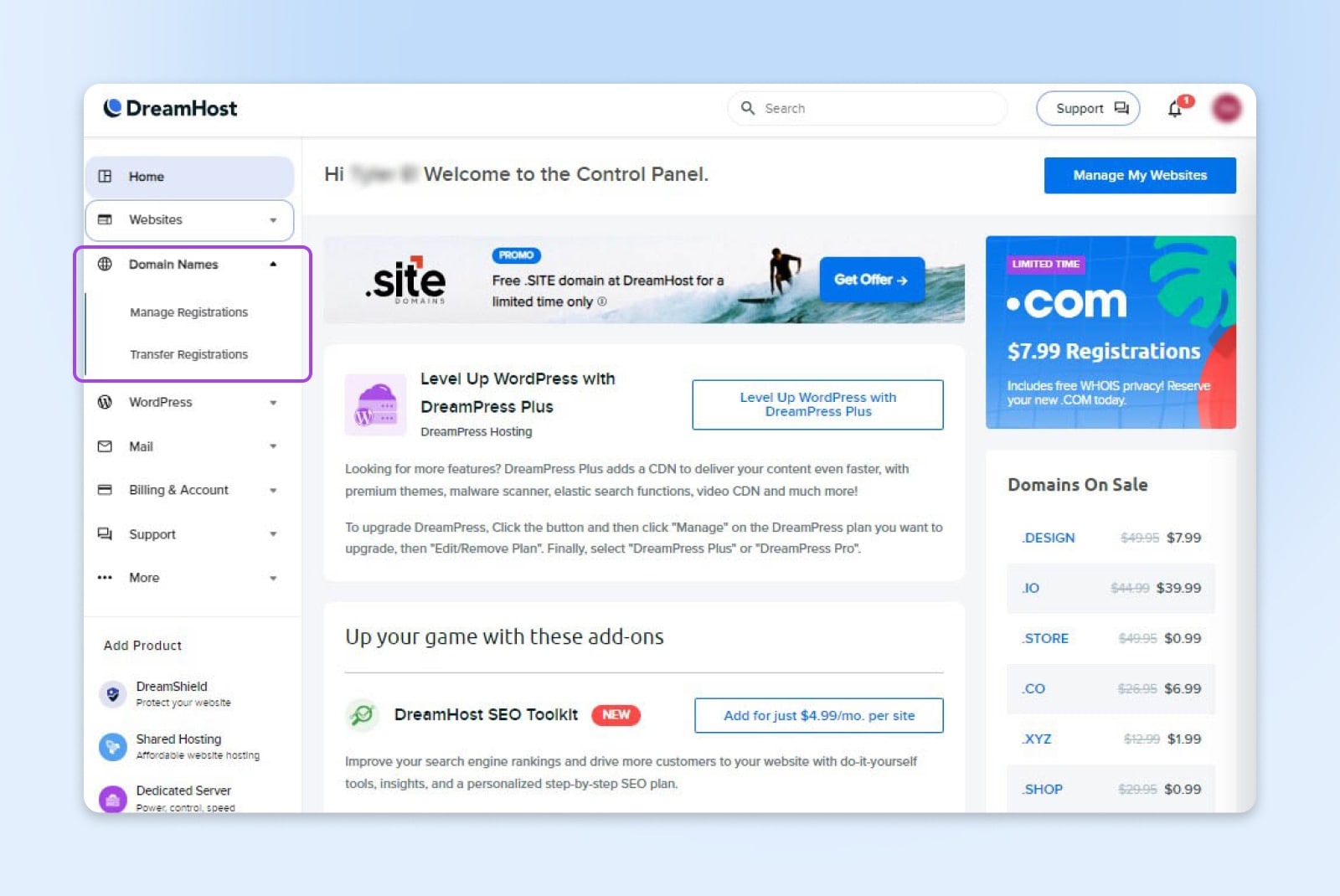 From there, you can search for the domain you want. If it's available, you can add it to your cart.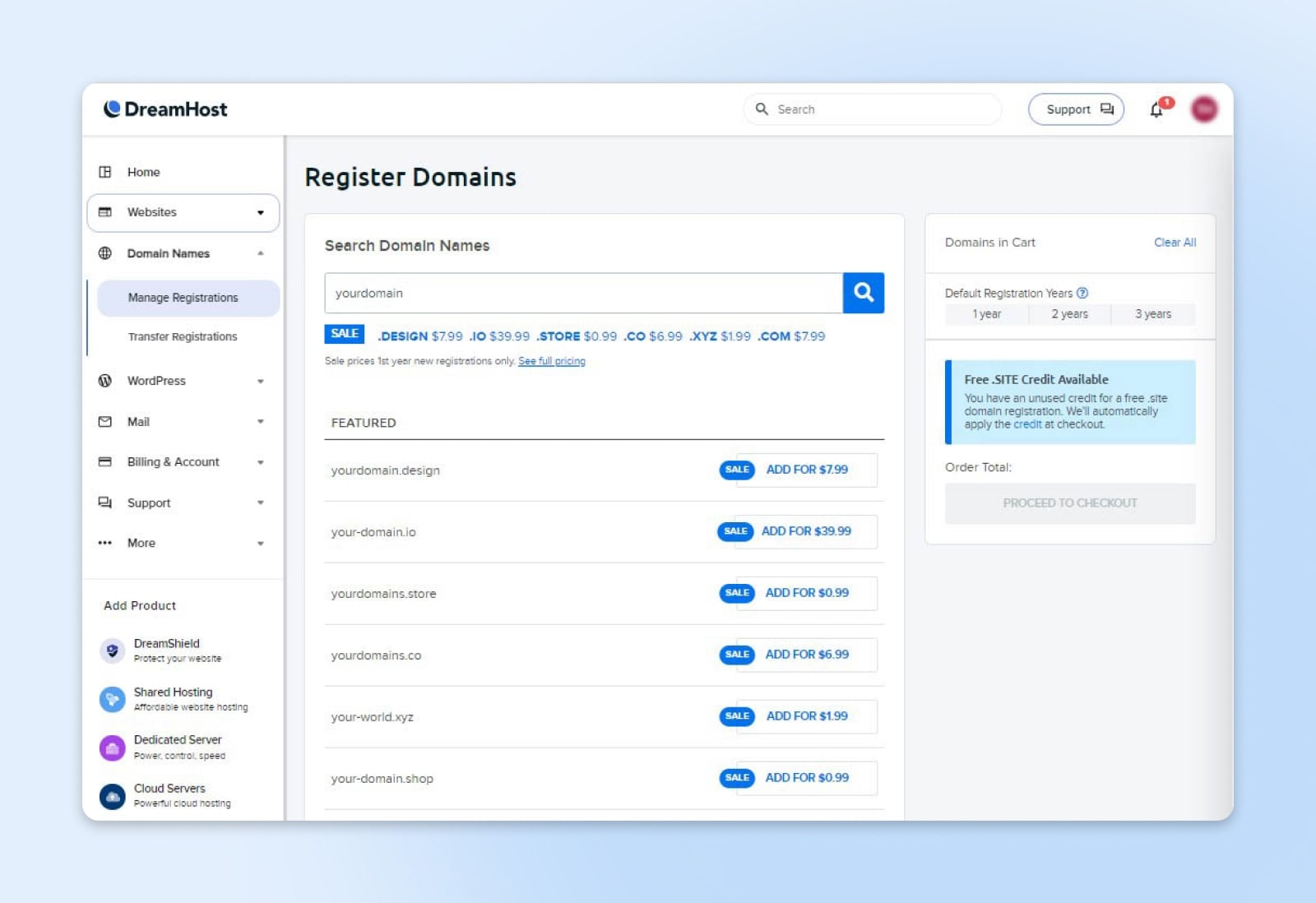 Keep in mind that it can take up to 72 hours for your domain to become accessible once you purchase it. So if you're in a hurry to get your site online, it's best to take care of this task as soon as possible.
Step 4: Customize Your WordPress Site
With your domain registered, you can start building and customizing your WordPress site.
There are many ways to approach website design, of course. We highly recommend using our WP Site Builder tool, as it makes the process much more straightforward. If you didn't enable this option when signing up, you can contact support any time to have it turned on.
The easiest way to access your WordPress dashboard and admin page is simply to navigate to yourwebsitename.com/wp-admin in your browser, where "yourwebsitename.com" is your site's domain name. You can also access the dashboard by clicking the link in the email you received when setting up your account.
If you enabled the WP Site Builder, you'll be greeted by a "getting started" wizard the first time you log into your dashboard. This wizard will walk you through three quick steps to begin building your site.
When you're finished, you'll land back in your dashboard, with a new item available in the menu: Inspirations. From there, you can edit your WP Site Builder theme and make other changes.
Step 5: Increase Security With An SSL/TLS Certificate
SSL (Secure Sockets Layer) and its successor, TLS (Transport Layer Security), are protocols that help enable secure data transmission online.
Sites using SSL/TLS have "https" in the URL, and most browsers display a padlock icon in the address bar to indicate that a site is using this security feature.
We offer a free SSL/TLS certificate for personal websites. E-commerce sites can take advantage of our partnered offer with Sectigo Verified SSL. No matter which offer you're using, you'll follow the same steps to add the certificate.
Open your DreamHost panel and navigate to Websites > Secure Certificates.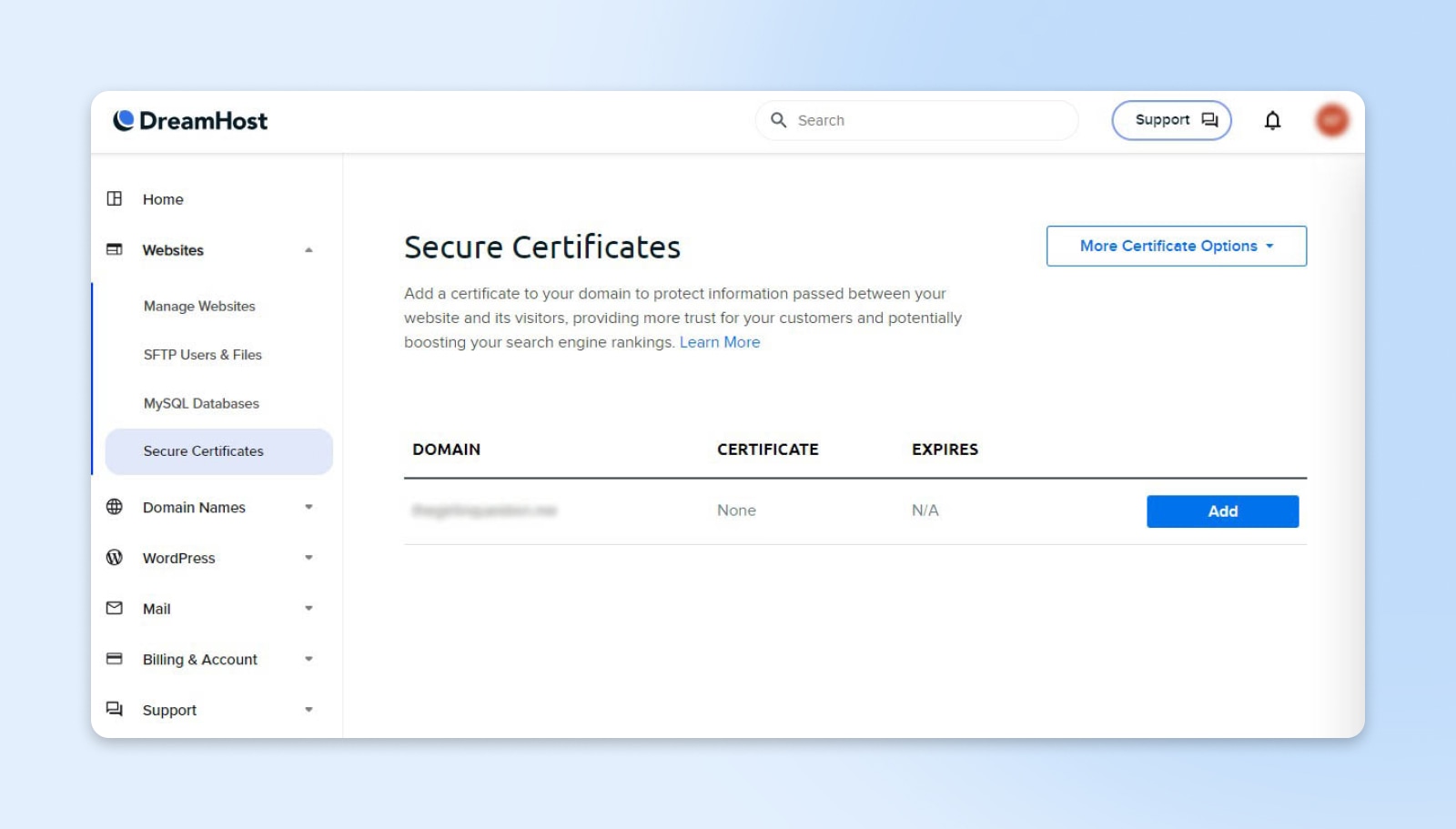 From this screen, you can manage any existing certificates on your sites or add a new one by clicking the Add button. After that, simply follow the instructions provided.
Step 6: Set Up Your Email
Finally, we recommend setting up email on your domain. This gives you a simple and reliable way to communicate with website visitors and customers. Depending on your plan, email hosting might be included or available as a paid extra.
To access your email settings on your DreamHost plan, visit your user panel and click on Mail.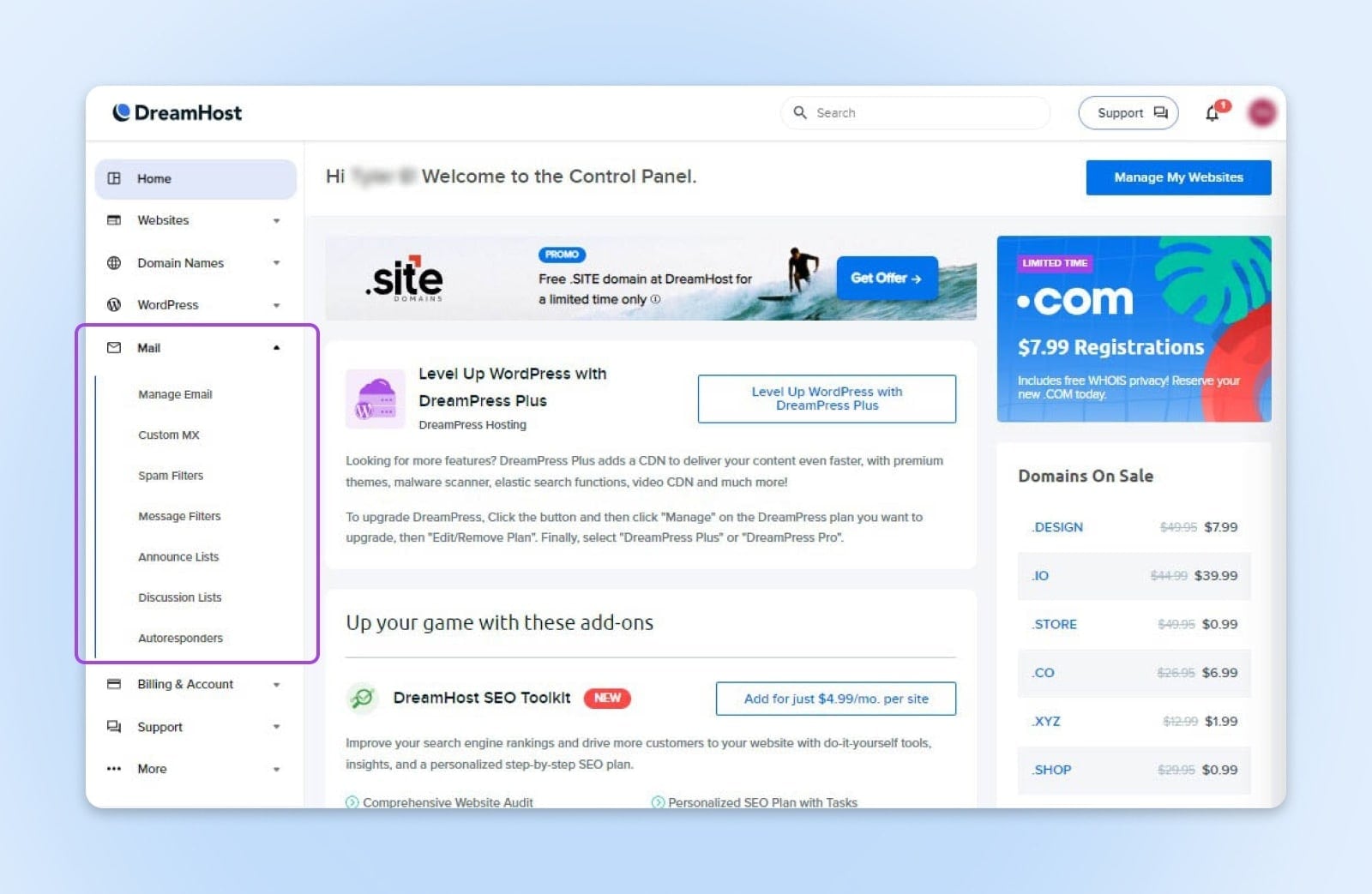 There you'll find options for accessing your email, adding new email addresses, managing spam settings, and more. To set up email on your new domain, navigate to Manage Email > Create New Email Address and follow the instructions within.
Setting Up Managed Shared Hosting
Whereas shared hosting is very much a DIY option, managed hosting provides a hassle-free way to get your website online. With these plans, you don't have to worry about site management and maintenance.
When you sign up for a managed hosting plan, your account should come with your chosen CMS or software pre-installed. For example, we offer managed plans for WordPress.
This means you only have to walk through the basic setup process for your software, and then you're ready to go.
Once your site is online, your provider should take care of security updates and server optimization. Some hosts offer extra features, such as one-click staging. This allows you to test new plugins, add-ons, templates, and themes to make sure they work properly before deploying them on your live site.
Setting Up VPS Hosting 
The process of setting up a VPS varies, depending on the type of hosting you have chosen.
Some providers offer self-managed VPS hosting, which is much like owning your own server. This means you have plenty of control over the configuration of your VPS, but you will also be responsible for the technical side — such as deciding how much RAM and what CPUs you need.
In contrast, managed VPS plans work much like managed shared hosting. The primary difference is that you have dedicated space in your chosen data centers.
With DreamHost, managed VPS hosting is available as an add-on to a regular shared hosting account.
To set up your first VPS:
In your User Panel, go to VPS under Add Product in the left-hand column
Click the Add a VPS Server button
On the Add VPS page, choose your preferred VPS package
Use the on-screen options to decide whether to migrate data from your shared server to your VPS, and whether to cancel your current shared hosting
Click the Get This VPS button to purchase your chosen plan
To set up additional virtual private servers, repeat the steps above, skipping number four.
Get Started Today With DreamHost
Solid web hosting is the foundation of any successful site. It allows you to deliver content and reach the maximum number of potential customers, without the constant fear of technical failure.
If you're looking for a reliable hosting solution, DreamHost has you covered. Our hosting comes with a 100% uptime guarantee, market-leading performance, and excellent technical support.
We also offer a range of hosting plans at affordable prices: shared, managed, VPS, cloud hosting, and more. Sign up today to see how easy it can be to host a website online.
Web Hosting That Powers Your Purpose
We make sure your website is fast, secure and always up so your visitors trust you.