Improve Your Rankings Using These 20 SEO Techniques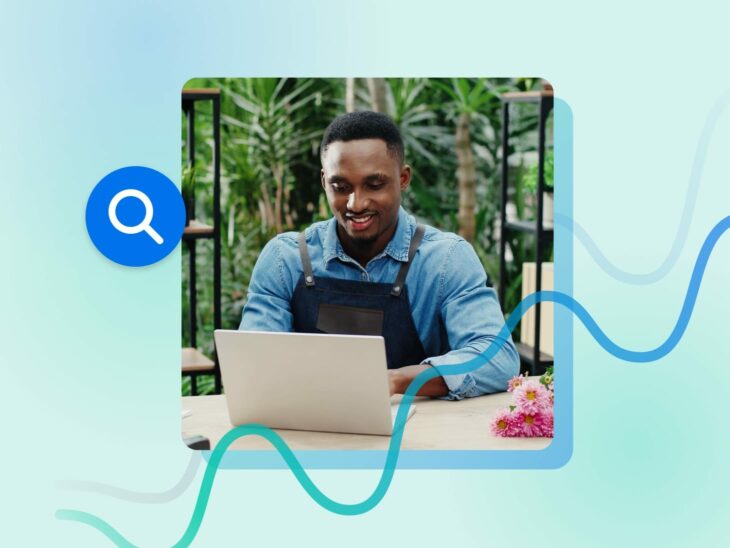 Ever played Monopoly?
Angling to get the best real estate on the board is the name of the game.
Purchased property on Illinois Avenue or St. James Place? You're likely to get good traffic and see a Return On Investment (ROI).
But the more out-of-the-way Mediterranean or Baltic Avenue spaces? You may miss out on crucial crowds.
There is a lesson here for real estate moguls and website owners alike: Location is critical.
When it comes to internet real estate, the really cool thing is you can actually upgrade the location of your website on search engine results pages when you apply Search Engine Optimization (SEO) techniques.
So, to help you do just that, we put together this guide full of actionable steps SEO beginners and intermediates can take to improve website rankings and get you in front of more potential customers.
What Is SEO?
Search engine optimization is the act of making changes both on and off your website in order to help it appear closer to the top of Search Engine Results Pages (SERPs) when people are looking for products, services, or information you offer.
DreamHost Glossary
What is SEO?
Search Engine Optimization (SEO) is the practice of improving a site's ranking in search results. Search results are aggregated based on a number of factors, including a site's relevance and quality. Optimizing your site for these factors can help boost your rankings.
Read More
The ultimate objective of search engine optimization is to assist in making your website more visible and attractive to website visitors — boosting their conversions into clients, customers, or a loyal audience.
Why Should You Focus On SEO?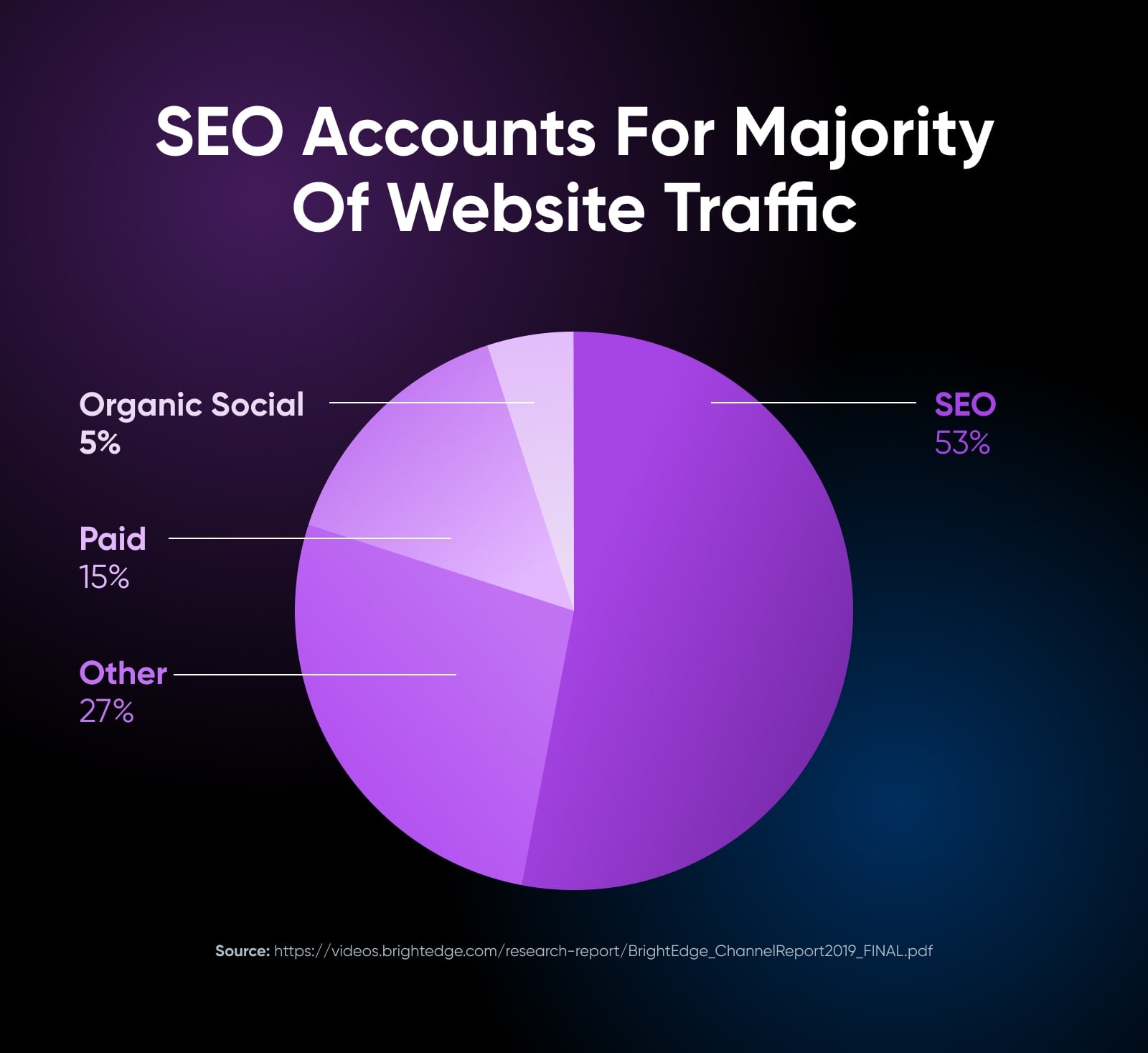 When you sit down to find something on the internet, there's one place the majority of us turn to first: a search engine.
This means if you want to get your website noticed, you have to make sure that it appears in search engines like Google, Bing, etc. Most ideally, on the first few pages — beyond which only the most determined searchers have the attention span to click.
The best way to do this is by investing in a variety of SEO activities. After all, BrightEdge found that SEO is the number-one driver of traffic to websites.
Ready to rise to the top by optimizing your website to not only be more findable but more usable, trustworthy, and engaging?
Onward!
20 Ways To Improve SEO
When compiling this list of SEO strategies, we started with an assumption: You're busy!
So the techniques here are ones that intermediate and beginner website owners or managers can implement fairly easily with a reasonable time commitment, and can build upon in the future as time allows.
Remember, you don't have to use all of these, although you certainly can. Even a handful should be a good start toward giving your site a boost on SERPs.
Also, we'll be focusing on advice targeted at Google since it's the most popular search engine. It also happens to release the most helpful information about how its algorithms work. That said, many of these strategies should also help you on most other search engines, such as Yahoo Search or Bing.
Keep reading to learn about some of the most approachable areas of SEO to focus on — and how to tackle them. These tips will help strengthen your visibility and provide you with powerful Google search results and lots of organic traffic now and well into the future.
On-Page SEO Tips
On-Page SEO, or on-site SEO, describes all the changes and improvements you can make to your website to impact your search engine ranking.
On-site content is a huge area where you can apply SEO. Other elements that can be optimized include hosting, mobile readiness, links, headings, and more than we could dive into right now.
1. Use WordPress For Your Website
Right out of the gate, we'll start with one of the best things you can do for SEO: Build your website using WordPress.
Why?
Well, partly because WordPress is built in a way that's inviting and readable for both human readers and the algorithms search engines. WordPress websites are well organized, fast to load, and ready for mobile users.
DreamHost Glossary
WordPress
WordPress is an open-source Content Management System (CMS). Since it is free and accessible, WordPress is used to power almost any type of website, from blogs to e-commerce businesses.
Read More
It's also extremely user friendly for website owners and managers, making it easier to do all the things you need to do on the backend to optimize things like content and header tags (more on both soon).
Then there's the ecosystem of tools that work with WordPress to help folks implement SEO tactics, such as the plugins we're going to discuss later in this article.
If you aren't already on WordPress, learn how simple it can be to get started in our guide How to Start a Website in 5 Minutes with WordPress.
2. Choose Your Hosting Provider Carefully
Promise – we're not just saying this because we're a hosting company.
We're saying this because it's true: The hosting provider you pick is vital for good SEO.
Since Google takes page loading speed into account among its many ranking factors, a good host that prioritizes website speed can help push you to the top of SERPs.
Your host also affects the amount of downtime your site experiences and the location of your server — both of which are thought to influence Google ranking.
Google has even confirmed that it uses HTTPS as a ranking signal. That means it's ideal if your web host of choice makes it easy to use HTTPS. FYI, with DreamHost, HTTPS protection is free, thanks to our partnership with Let's Encrypt.
DreamHost Glossary
HTTPS
HTTPS is a secure version of HTTP. With HTTPS, data sent between browsers and websites is encrypted with the TLS/SSL protocols. That means data can't be modified or read during transfer.
Read More
So when you're setting up your SEO-friendly WordPress website, you'll want to choose a host that's reliable and has a reputation for excellent performance. Better yet, a WordPress-specific hosting plan that's focused on providing impressive speeds with little to no downtime.
Even for an existing site, you may want to consider switching hosts if your current provider doesn't meet these criteria to help support your SEO efforts from the ground up.
3. Prioritize Page Speed
As noted above, the load time of your website pages is a confirmed consideration most search engines make when ranking websites.
That's why a good chunk of technical SEO tricks are focused on ensuring every aspect of your site works properly to keep up with speed requirements.
While we have a full guide on ways to speed up your site, here are some of the high points:
Use a plugin to remove unnecessary code and increase speed performance
Compress images to shrink file sizes that take longer to load
Look for a WordPress theme that's speed-focused
Get rid of broken links, missing files, and other excessive elements that lead to 404 errors
Implement security tactics that guard your site from Distributed Denial-of-Service (DDoS) attacks and the load-clogging traffic they create
Get Content Delivered Straight to Your Inbox
Subscribe to our blog and receive great content just like this delivered straight to your inbox.
4. Get Mobile-Friendly
More people than ever are using mobile devices like smartwatches, cell phones, and tablets to browse the internet.
This means your site needs to have perfect usability on any type of device a visitor happens to be using.
You can ensure that it does by optimizing your website for mobile devices, which includes applying responsive design.
With responsive design, a website looks and acts just as great on a handheld gadget as it does on your laptop or desktop computer.
If your site is responsive, its chances of appearing high on SERPs will be that much better, because it's quick to load and doesn't scare off visitors immediately — a quality point many search engines consider when ranking websites.
For WordPress users, the best way to pull off responsive design is to choose a theme that supports it (which many, if not most, now do).
To test how your current site performs on mobile and how your SEO tweaks are working, use Google's Mobile-Friendly Test tool.
After a few minutes, the tool will spit out a check mark if the website you tested is responsive on mobile. If Google finds areas for improvement or pinpoints elements that had trouble loading, it'll provide a list of adjustments you can make to enhance the mobile experience.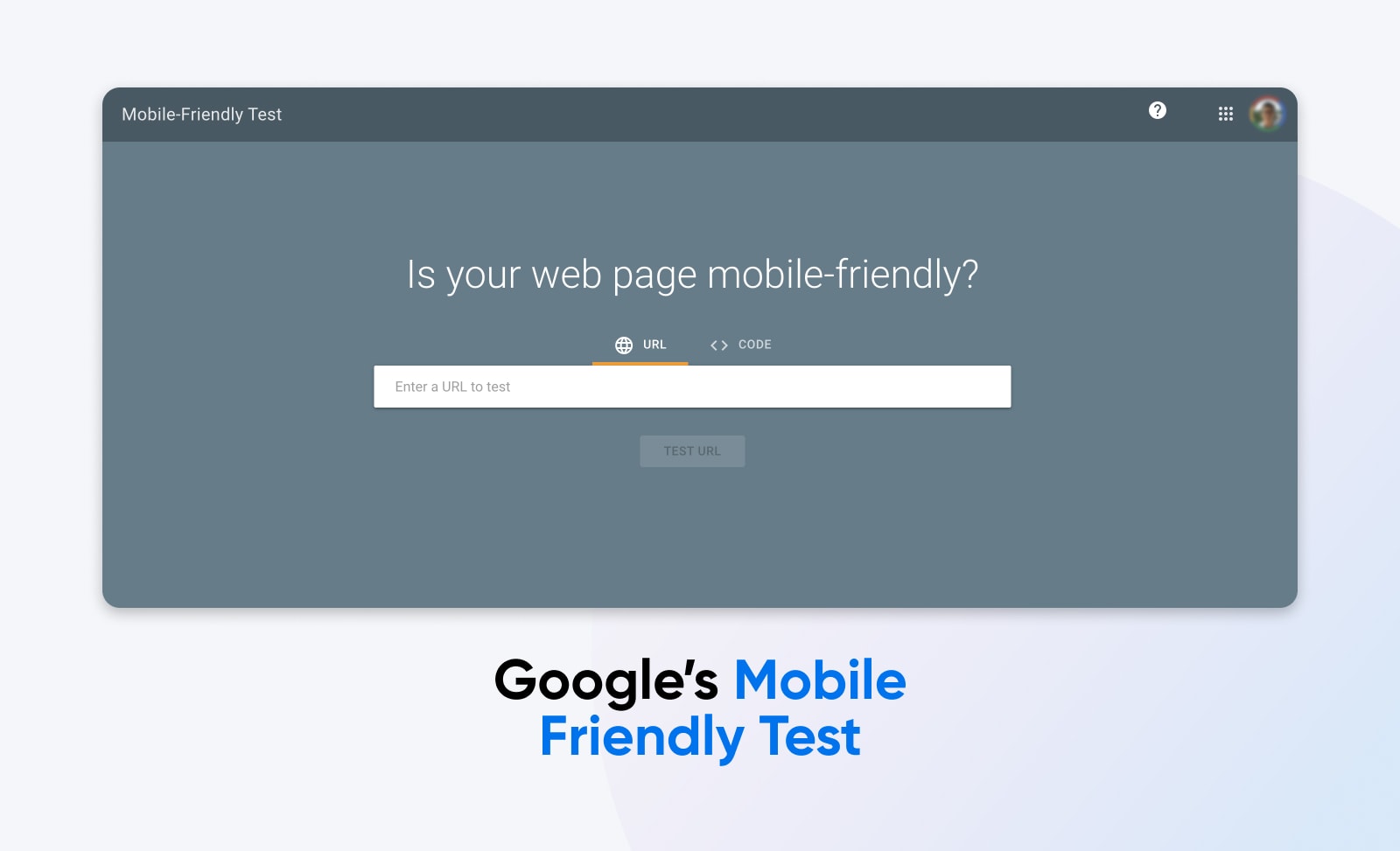 5. Find Dedicated SEO Plugins
If you're new to WordPress, you may not yet be familiar with plugins.
These are small pieces of add-on software you can install to your WordPress website to add new features and functionality. There's a plugin to help your site do just about anything — including rank higher in search engines. In fact, there are many SEO plugins for WordPress that are designed specifically to improve your site's organic search ranking.
One of our favorite, comprehensive SEO plugins is Yoast SEO. It can add a whole suite of optimization-focused features to your site, including a keyword density analysis, reading ease score, SEO title and meta description ranker, support for understanding and cleaning up links, and plenty more.
6. Use Relevant Keywords In Content
Users frequently type similar search queries into Google when they're looking for information.
You've probably searched for a phrase like "how to make risotto" or "is my dog acting normal?" before. And, if all was well in the Googleverse, these prompts should have resulted in pertinent responses, such as a recipe for risotto or a local veterinarian site.
Humans, as a species, are not all that different from one another. We tend to type the same kinds of phrases again and again. Well-used search terms and phrases are called "keywords," and they should be the heart of your content if you want to boost SEO.
Google Keyword Planner is a tool that takes people's search prompts and assigns value to each of them, and it can be a core component of creating high-ranking content when you learn how to use it to conduct keyword research.
Use Keyword Planner to determine which target keywords will make for high-traffic blog posts, product descriptions, and anything else that requires content.
For example, if your blog is about interior decorating, you might find through Keyword Planner that "mid-century modern furniture" is currently a hot search term. By incorporating this phrase into your blog and any products or services you offer, you're more likely to attract searchers who are Googling this very topic.
Once you've made the most of Keyword Planner, you can look at using more robust tooling to track your rankings, analyze your traffic, and even review competitors' keywords.
There are many helpful SEO tools on the market, from the free Google Analytics for tracking metrics to the breakout hit Ahrefs for all-in-one SEO support.
But, one of our overall favorites is Semrush. It's an established and trusted solution with an extremely comprehensive set of features at an affordable price. Even better? We worked out a special 14-day trial with Semrush so you can see if they're a good fit for your site.
7. Incorporate Useful Links With Link Building
Google and other search engines don't consider your website in a vacuum. They look at how well it's connected, both internally and externally to other sites.
Using plenty of links throughout your posts and pages in a strategy called link building tells search engine crawlers how they relate to similar content. It also encourages other people to link back to your site — more on backlinking soon — which in turn communicates to search engines that your content is valuable!
DreamHost Glossary
Crawling
In SEO, 'crawling' is when a search engine bot looks through web pages so they can later be indexed and eventually ranked. These bots are often called 'crawlers' or 'spiders'. They closely review anything they can find on a page.
Read More
As with keywords, this is a strategy you'll want to use carefully. If you cram too many links into your content, use a lot of links that point to irrelevant pages, only include links that promote products, or even neglect to optimize your anchor text — your search engine rankings will likely suffer.
Instead, look to incorporate links where they fit naturally, and to point readers towards high-quality websites that already rank well in SERPs. Smart use of both internal links and external links is key to achieving the best SEO results possible.
8. Create A Sitemap
A sitemap is a list of pages on your website that are accessible to search engine crawlers as well as users. Having one makes the process of crawling and indexing your website faster and more accurate, which is preferred by search engines and can boost your standing with them.
Sitemaps are usually written in XML, a metalanguage that crawlers can understand and transmit to search engines. Thankfully, you don't need to know any XML to create your own sitemap.
You can visit Google's page on how to build and submit a sitemap for a walkthrough of the whole process of creating and sharing your sitemap with Google Search Console.
However, it gets even easier if you're running a WordPress site. Simply install the XML Sitemap Generator for Google plugin. This plugin will automatically notify Google (and dozens of other search engines, for that matter) of this new crawler-friendly way for it to browse your site's content.
9. Apply Heading Tags Wisely
While a sitemap is useful for helping search engine crawlers see how your site is organized, it doesn't help them make sense of the content itself. For that, you'll need to use heading tags — or header tags.
DreamHost Glossary
Heading
A heading is a section title that summarizes the content that follows it. Headings can help readers navigate online content and understand what different sections will cover.
Read More
WordPress makes it easy to apply heading tags so you can make website content easier to read. Though how it looks will vary based on your WordPress theme, when you go to add or edit content on your site there will often be an option to create headings that give content hierarchy and make it easier to comprehend.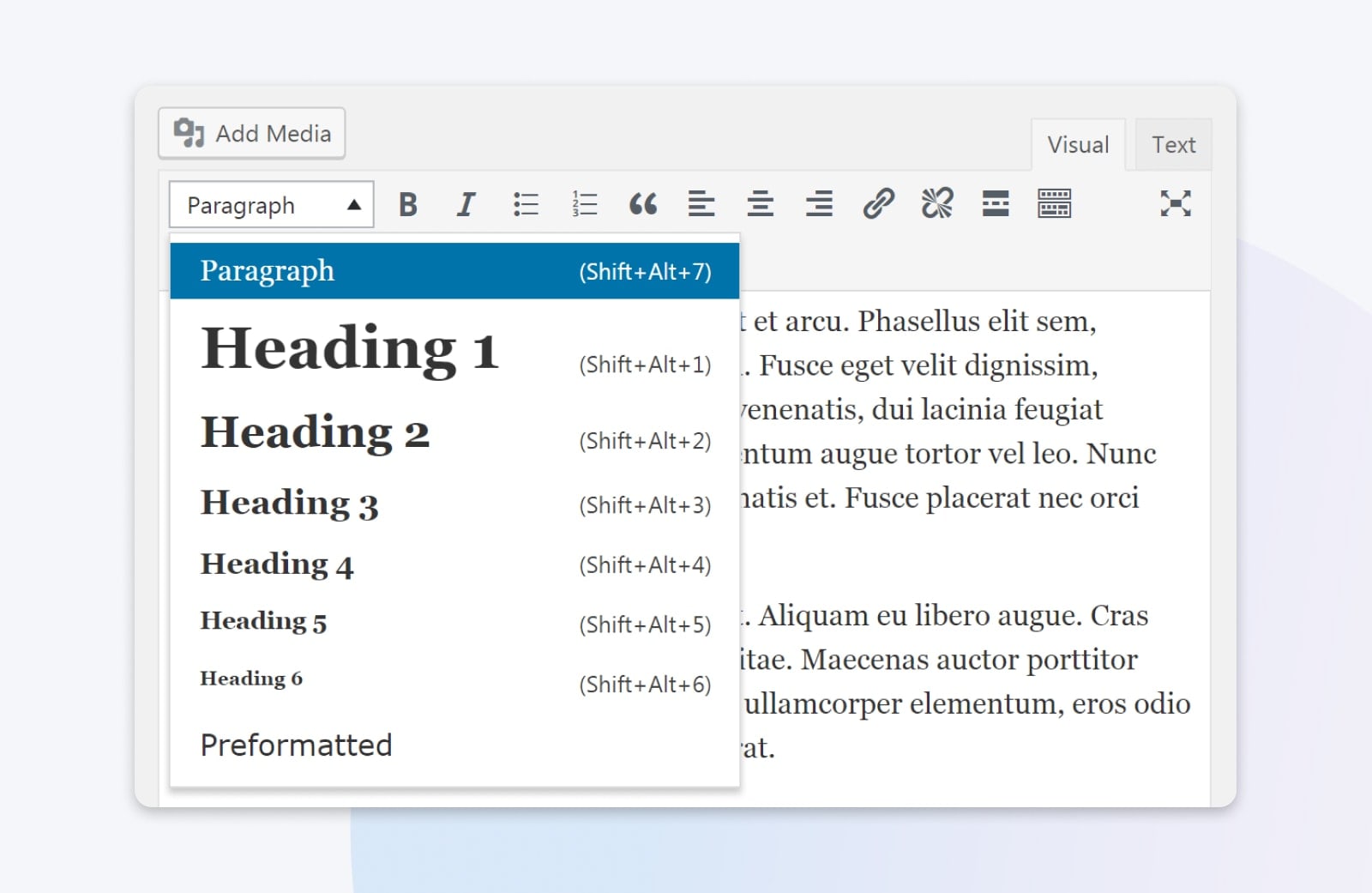 Using these headings to structure your content accomplishes two things:
For human readers, it provides a visual benefit by breaking up your text and making it easier to read. It may also keep visitors on your website longer and inspire them to read your content more deeply, as they can scroll right to the sections in which they're most interested.
For crawlers, good headers make it quick to understand how your content is organized and what it's about, which is why they pay so much attention to them. So when creating SEO-ready posts and pages, don't forget to use WordPress' heading options correctly and consistently.
10. Write High-Value, Long-Form Content For Humans
Google and other search engines keep their algorithms mostly secret, both because they don't want people to be able to exploit their weaknesses and because they are constantly changing.
That means any schemes for gaming a search engine aren't going to last long.
You can come up with a lot of ways to catch a search engine's attention, but setting up your website to appeal to robots and robots only ignores why search engines exist in the first place: to help people find solutions.
A search engine's goal is to match people with the piece of content most relevant to what they're looking for. So, above all, content that people find helpful is going to perform the best.
People will return to the same helpful tutorial or storefront over and over. And if they really like something, they'll link it on their own site or share it with friends. As content gets linked and visited more and more, search engines will take notice and rank it highly.
In addition to value-adding content, search engines also tend to seek out more lengthy content.
That doesn't mean shorter content never ranks highly. However, longer content has an advantage because search engines consider it more likely to be useful. Plus, the more comprehensive your content is, the better it can communicate its value to crawlers via more keywords, headings and subheadings, links, and so on.
Longer content is also valuable to readers, can increase your perceived credibility, and encourages visitors to spend more time on your site.
So, when building your content marketing strategy, plan to create pieces that are as in-depth as possible. There are many ways to do this, but the skyscraper technique — improving on existing content by making yours better and sharing it widely — is a powerful method worth checking out.
11. Keep Content Fresh
Along with quality and length, it's believed that Google's algorithms consider the freshness of content when deciding how to rank your pages.
Older, high-quality content will do well, of course. But, a boost may be given to some newer content that's more likely to be accurate and relevant to searchers.
Therefore, if you want your site to do consistently well in SERPs over time, it will likely help to add new content regularly. Try planning a blog schedule to keep yourself on track and varying the types of content you create to keep yourself and your visitors interested.
Also, don't neglect older posts and pages. Keep your blog fresh by updating your existing content. This not only ensures it's up to date for readers, it also increases site-wide content freshness.
Off-Page SEO Tricks
Off-page or off-site SEO refers to all elements that affect page rankings outside of your website.
Off-page SEO is naturally harder to control than what you do on your own website. As you'll see, strategies like thinking local, getting social, and more can really shape how people visit and interact with your website — and in turn how search engines perceive the value of your site and choose to rank it as a result.
12. Practice Responsible Backlinking
Backlinks have a bad reputation in some circles because overzealous marketers have abused them over the years.
The reason they're often misunderstood is that there's a whole internet underbelly of so-called SEO companies that you can pay to link to your site on their networks of low-quality articles.
Don't fall for the charade! This is a move that's sure to get you on Google's bad side.
Backlinking doesn't have to be a dirty word. Literally, a backlink is just an incoming hyperlink from one web page to another website, and there are ways to earn them fair and square.
Our advice is to stick to organic linking instead of the paid kind.
If you provide a service, encourage customers to write reviews on other sites. If you're a blogger, ask another blogger if you can write a guest post for them and link back to your site in the post. If you use WordPress comments, make sure your comment username links to your blog. You can even engage in today's hottest digital marketing trend: influencer partnerships.
The top results on Google tend to have more backlinks than all the rest. It's clear that backlinks are a huge element search engines look for when assigning authority and ranking to websites. If you write great content and participate in online communities, you can develop a healthy ecosystem of backlinks over time.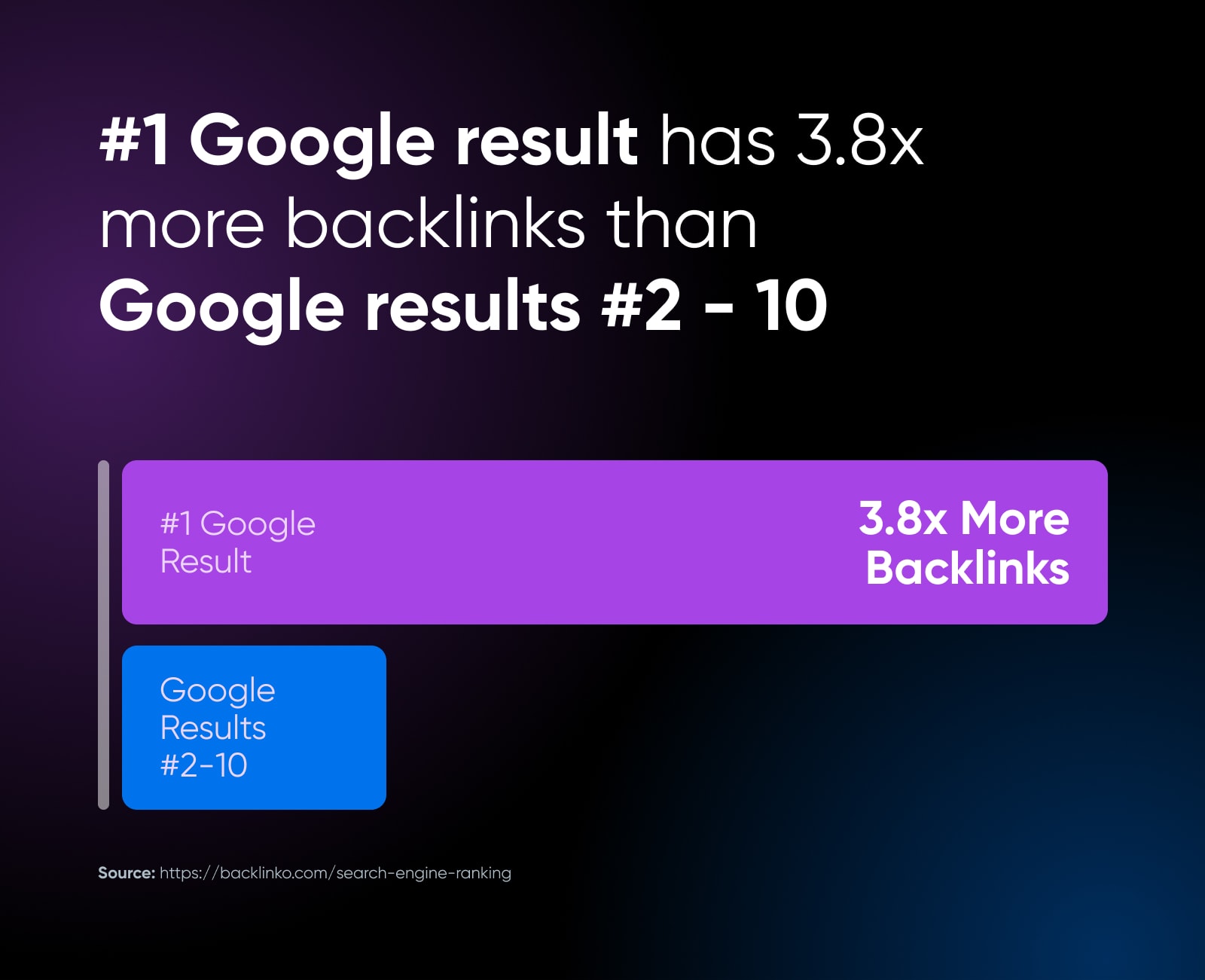 13. Guest Post
We mentioned guest posting as a strategy for building out your backlinks. In addition, creating quality content for other outlets is also a way to build credibility in your space all while increasing brand recognition.
Plus, as long as you're careful about who you partner with on guest blogs, you should be getting in front of readers who are very interested in what you have to offer. If your content piques their interest, you may be able to drive tons of soon-to-be loyal customers right to your website.
One key element Google uses to rate the quality of search results is EEAT:
Experience
Expertise
Authoritativeness
Trustworthiness
When you're invited by other website owners to create high-value guest articles that link back to your own website, you're signaling to Google that you've established experience, expertise, authority, and trust in your field.
To find guest posting opportunities, connect with other website owners in a similar space. If you need help locating them, here are some phrases you can type into Google:
"your niche" + write for us
"your niche" + guest contributor
"your niche" + blogs accepting guest posts
14. Get Social
Google has made it pretty clear that activity on social networks does not directly impact SEO or search ranking at this time.
However, building a robust social community is a great way to expand the reach of your content, which means more engaged traffic that then shows search engines just how great your website is for the right people.
Think about it, don't you sometimes use social media to search up online services you're looking for, or product reviews? Social media sites have become search engines of sorts. So sharing your content to them regularly is an ideal way to get in front of the right eyeballs.
Our advice is to learn which platforms your ideal audience uses. From there, stick to the few where you can engage the most regularly and authentically to drive website visits — and SEO.
15. Boost Local SEO With Your Google Business Profile
Local SEO enables website owners to attract the folks in their area who can benefit from their services or goods.
To get the most bang for your buck with local SEO, focus on your Google Business Profile (formerly Google My Business). This will help you show up in the Local Pack — the set of listings and the map that appear at the top of Google when you search for a term that indicates you're looking for local businesses. In other words, it's what you see first when you search for something like "ice cream near me."
There are tons of factors to play around with to make this profile the best it can be, from your business description to photos, posts, the Q&A section, reviews (which you can manage), and more.
For a step-by-step walkthrough on Google Business Profile optimization, check out this robust guide from BrightLocal.
Domain SEO Tactics
Your domain is your website's name and address, which is unique to your site and critical to your SEO.
It's made up of several parts:
Domain Name: This is what most think of as your website's name. It's how search engines and people will know your site, so choose wisely and consider keywords, your business name, etc.
Top-Level Domain: Your TLD, sometimes referred to as an extension or domain suffix, appears at the end of a domain name and can take many forms (.com, .org, .edu, etc.).
Root Domain: This is the combination of your TLD and domain name. It will most likely be the web address people type in to find your site.
Subdomain: Additional sections of your website that use the same root domain are subdomains. The most common is "www." Both www.yourwebsite.com and blog.yourwebsite.com use subdomains.
Protocol: Protocols such as "https" enable the connection between two locations on a network.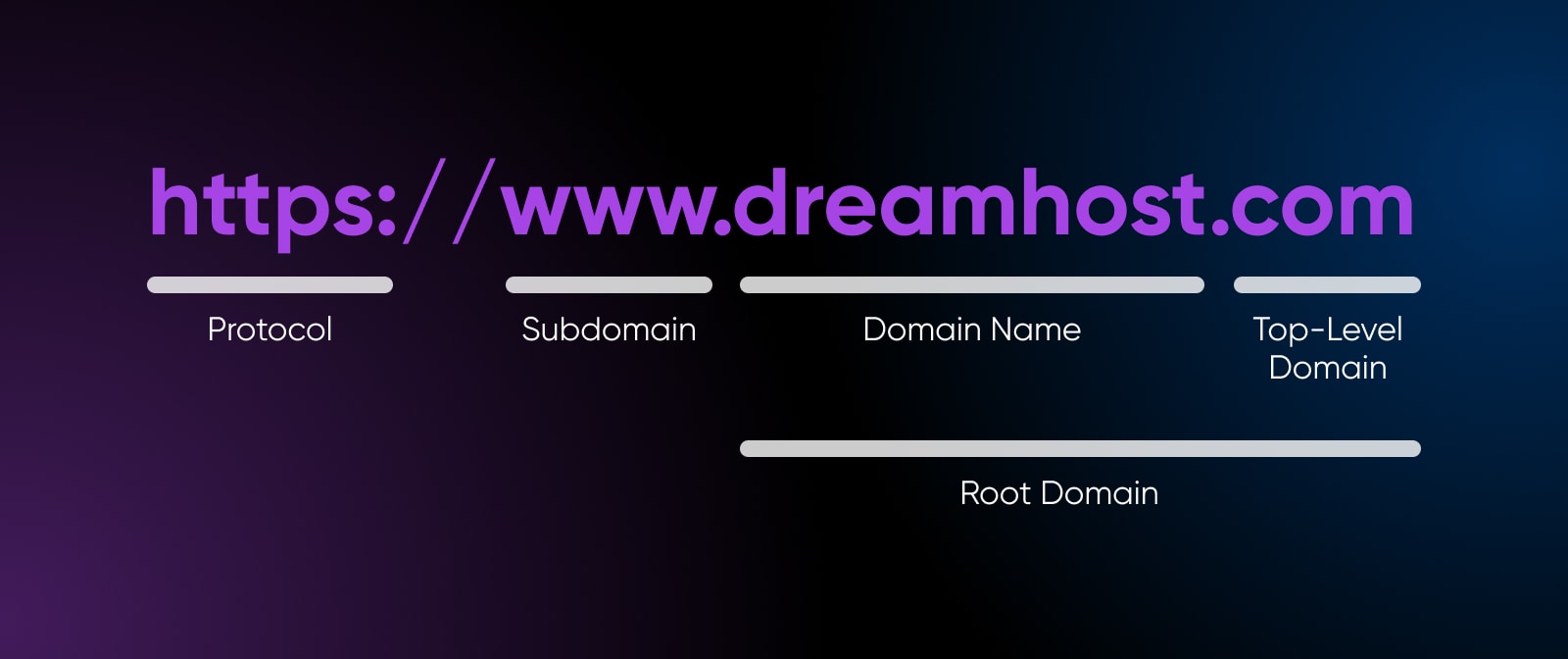 We tell you all of this so that you understand the tactics in this section for improving your domain SEO.
Domain SEO is the practice of considering your domain's length, phrasing, structure, and more to build a space on the internet that your target audience finds clickable and trustworthy, boosting its value in the eyes of search engines.
16. Stick To A Single Domain & Subdomain
Contrary to what some may think, there's no guarantee nor is there much good evidence that the ranking of your root domain will transfer to your subdomains.
On the contrary, what we've found is that you're more likely to see a better ranking if you keep all your content together on a single domain and subdomain, like www.yourwebsite.com.
In other words, you don't necessarily need to break your website down into subdomains like blog.yourwebsite.com or shop.yourwebsite.com unless you have a good reason.
The exception to this could be a language-specific version of a site, such as en.yoursite.com.
17. Apply Keyword Research Wisely
When it comes to incorporating keywords into your domain name, there are a few key things to understand (see what we did there?).
It's not as simple as crafting your domain name around exact keywords. Consider URLs of yesteryear, like "best-insurance-quotes.com." While this worked once upon a time, today search engines associate these keyword-stuffed domain names with lower site quality and give them lower rankings.
So while you can still use keywords wisely in your domain name, we recommend keeping it to a minimum and not trying to go for the exact phrases that searchers may type into Google.
Smartly-used keywords within your domain name can help internet users understand what to expect when they navigate to your site, and help Google associate your site with their searched-for keyword.
In addition, your website should have keyword-focused content, a strong brand identity, a smart structure, and a positive user experience. All of which back up your domain name to portray the quality of your website and minimize your bounce rate.
DreamHost Glossary
Bounce Rate
A website's bounce rate indicates the percentage of users who try to access one of its pages but decide to leave before interacting.
Read More
There are dozens of great SEO tools to help you figure out which keywords can help your business. Again, Google's Keyword Planner is a good place for beginners to start.
18. Use A Simple Top-Level Domain
Even though there are plenty of TLD options for your domain, .com is the most common on the web, and the most familiar for internet users.
Therefore, it's probably a good choice to stick with .com, a generally trusted and accessible (not to mention, brandable) TLD for a positive and reliable user experience.
That's not to say that there can't be any good reasons to choose another top-level domain, especially if you've decided to have more than one domain. Your TLD won't negatively influence your SEO ranking directly, but remember to consider that some lesser-known TLDs (like .biz and .info) are often associated with spam and may therefore rank lower and receive less traffic.
What if your ideal .com TLD is not available for purchase? Try a country code top-level domain like .uk for the United Kingdom and .in for India — or popular options like .xyz or .store.
19. Canonicalize URLs
It's important to know the SEO impact of duplicate content.
When multiple copies of similar or the same content exist on your website, it can trip up search engine crawlers, confusing them on which page is the original. Duplication may also cause search engines to miss your unique content, so it never sees the light of the first page of a search engine.
We definitely don't want that.
However, it's possible to have similar or even the same pieces of content and still have an optimized website, as each unique URL exists as a separate page in the eyes of search engines.
Canonicalization is the process of attaching a canonical annotation (often called a "tag") to a URL that tells search engines "Index this one!" It indicates which URLs you want search engines to show on their results pages, making it easier for them to understand and rank your site and for you to tailor your site's presentation online.
There are multiple ways to specify a canonical URL, which you can learn from Google's handy guide.
20. Make It Easy To Read & Click
As important as your domain is for brand building and ranking performance, it's not smart to pick your domain details willy-nilly — you'll want to consider both computer and human processing capabilities.
Meaning, is it written and spelled with search engine algorithms in mind? And, is it also readable and appealing to those human visitors looking to find you?
An easy-to-read, accessible, and user-friendly domain contributes largely to positive user experiences and clicks. That in turn warrants more successful outcomes for your site.
Use these tips to make it easier for people and search engines to find, understand, and rank your site: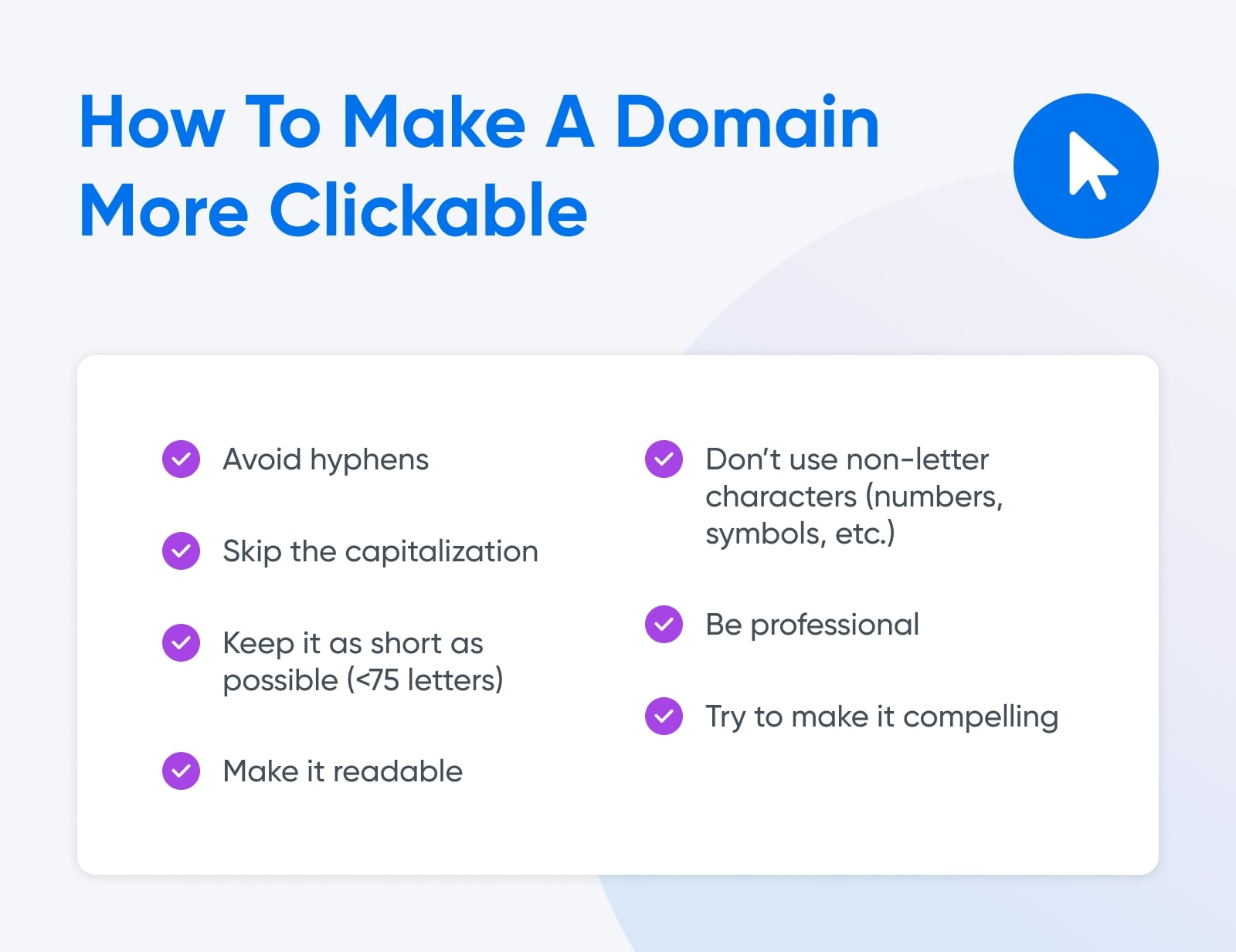 How Will You Grow Your SEO?
As you can see, SEO encompasses a huge range of strategies and techniques — so it can understandably be a little bit intimidating.
Fortunately, you don't need to become an SEO expert overnight to help your site rank higher on SERPs.
If you want to begin seeing results, all you need to do is start with a handful of the above tips, building up your efforts and layering on more new tactics as you see success.
Do you have any questions or need support improving your WordPress website's SEO?
Our SEO marketing pro services team provides expert content creation, creative SEO tactics, and continuous tracking and improvement to help boost the quality of your site and the traffic it attracts.
Get More Visitors, Grow Your Business
Our marketing experts will help you earn more traffic and convert more website visitors so you can focus on running your business.