15 Essential Plugins and Features For Your WordPress Website
The ability to adapt is everything. Just ask Pizza Rat.
Trust me on this: mozzarella and pepperoni weren't core components of the paleo rodent's diet. Oh, how far we've come!
When it comes to WordPress, flexibility is just as important. But instead of a scrappy critter trying to survive in the big city, it's plugins that make the platform so darn adaptable.
If you are currently running a WordPress site, you'll want to make sure you're taking advantage of all the options that plugins provide. But we get it. There are so many options; how you do you even know where to start?
Fortunately, WordPress' Plugin Directory enables you to research each plugin with ease. Every plugin in the directory includes user rankings, reviews, as well as the number of active installations.
To throw you a bone — or a cold slice of pepperoni — we've vetted the thousands of plugins available and narrowed the list down to just 15 essential WordPress plugins. These babies can help improve site speed, Search Engine Optimization (SEO), and much more.
Dreams *do* come true, Pizza Rat! Let's dive in.
How We Chose Our Essential WordPress Plugins
WordPress plugins are self-contained pieces of software that extend or add new functionality to your WordPress website. There are heaps — not hyperbole — of plugins available for free in the WordPress Plugin Directory, but you can also find them through third-party vendors and independent developers as well.
When choosing the plugins for this list, we decided to collate them into a number of categories we think will help you create a successful site, such as security, site speed, SEO, and engagement. Then we refined our choices based on the number of active installations, overall reviews and ratings from users, and support options. Now, let's get to those plugins.
3 Essential WordPress Plugins for Creating Backups
As you'll keep hearing if you're working with WordPress, having a dedicated backup is a key aspect when it comes to protecting your site. With that in mind, here are three options to choose from.
1. DreamObjects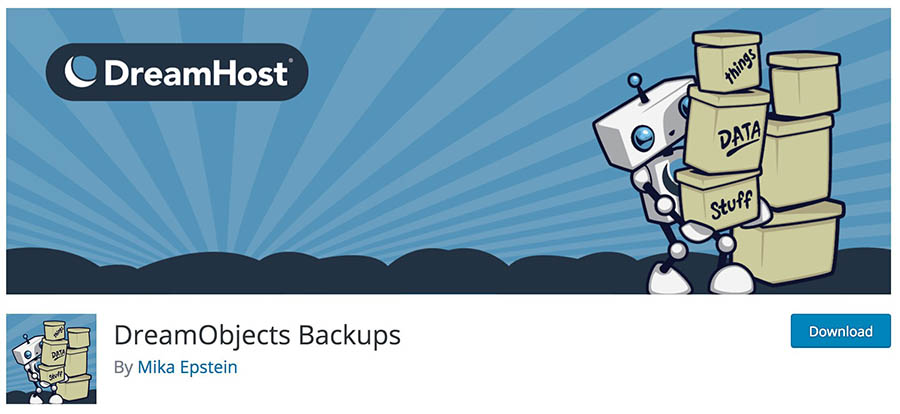 The DreamObjects Backups plugin will automatically backup your entire site to our DreamObjects Cloud. While we think DreamHost users are going to benefit the most, this solution can be used by anyone wishing to use a cost-effective storage solution to store files.
What's more, you can set the backup frequency, and limit the number of files stored in the cloud to keep the costs down. For those using WP-CLI, there are a number of hooks to help carry out these tasks in a more familiar setting.
2. UpdraftPlus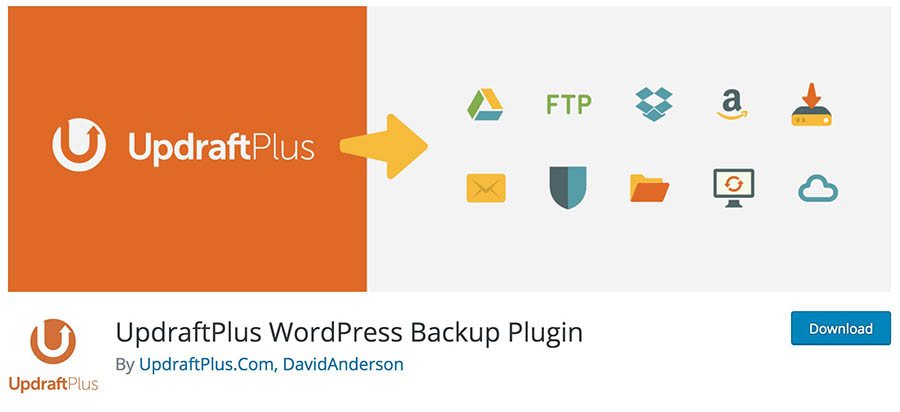 Next up is another plugin that is compatible with DreamObjects — UpdraftPlus. This is arguably the most popular free backup solution available and is supremely easy to use with a one-click backup process.
Although it's free, it's not only suitable for the budget-conscious. It's a super-slick solution for backing up your website with a number of extensions to bolster the plugin's functionality and a plethora of storage locations out of the box.
3. Jetpack's VaultPress Feature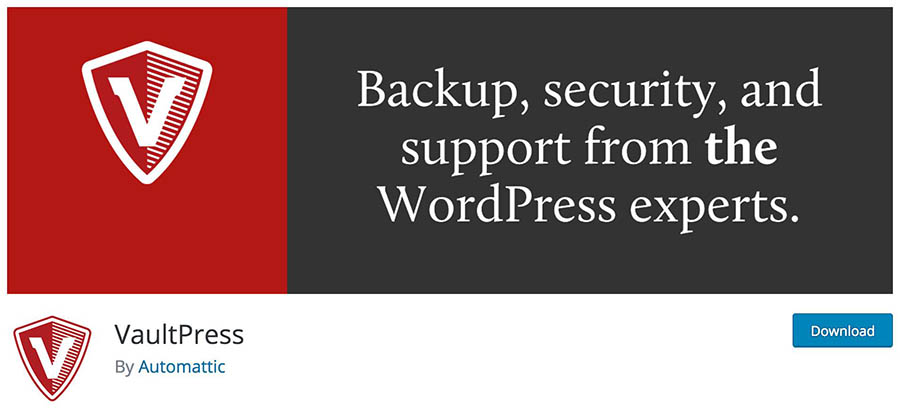 VaultPress is a premium backup solution with a stellar pedigree. It's now part of the Jetpack suite and is maintained by WordPress' developers Automattic.
This means integration with the platform is probably the slickest of all solutions and using the plugin is a breeze. It automatically makes daily backups, which can be maintained via a dedicated dashboard. You can also carry out those backups via Secure Shell (SSH) and File Transfer Protocol (FTP), enabling you to minimize bandwidth and lag to boot.
Get More with DreamPress
DreamPress Plus and Pro users get access to Jetpack Professional (and 200+ premium themes) at no added cost!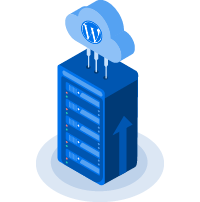 2 Essential WordPress Plugins for Security
Keeping your site secure is obviously an incredibly important task. It's a never-ending cycle, which is why you'll need quality solutions to rely on. With that in mind, the following two options are highly recommended and both have a top-drawer pedigree!
1. Akismet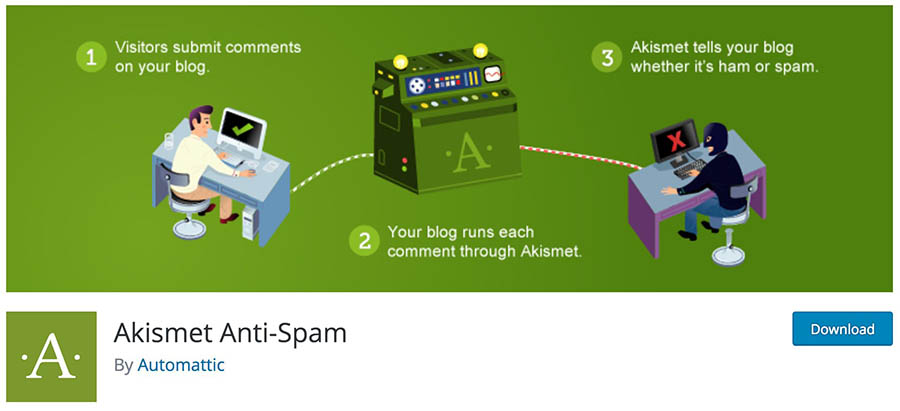 Eradicating spam is a crucial part of securing your website, and the more comments and emails you receive increases the risk of being targeted. Akismet is another Automattic solution that filters malicious links and irrelevant content from your site by checking against a global, constantly maintained database.
The plugin is free for personal bloggers, but if your site operates as a commercial venture, you'll need to get a subscription. The good news is you can get this, VaultPress, and Jetpack's premium features with one of our DreamPress plans.
2. Jetpack's Security Features

Speaking again of Jetpack, its security features are going to be vital for practically all site owners. Depending on the plan you choose, there are a number of features available.
While the aforementioned spam filtering and backups are premium features, out of the box you'll receive 'set and forget' brute force protection and downtime monitoring to make sure your site experiences maximum uptime.
2 Essential WordPress Plugins for Caching and Speed
Slow site speeds can quickly kill your traffic numbers, and users expect a website to load rapidly. Site caching is an easy way to improve page loading times, and the following two solutions are front-runners.
1. WP Super Cache
As you may have noticed, the folks at Automattic develop functional, yet crucial plugins for WordPress, and a lot of the time, they offer them for free. WP Super Cache is no exception.
This plugin caches your pages as static HTML, with minimal setup required. There are three modes to choose from, each increasing the amount of customization you can make. For many, the Simple mode will be enough, although the Expert mode provides faster caching at the expense of more tweaking.
2. Varnish HTTP Purge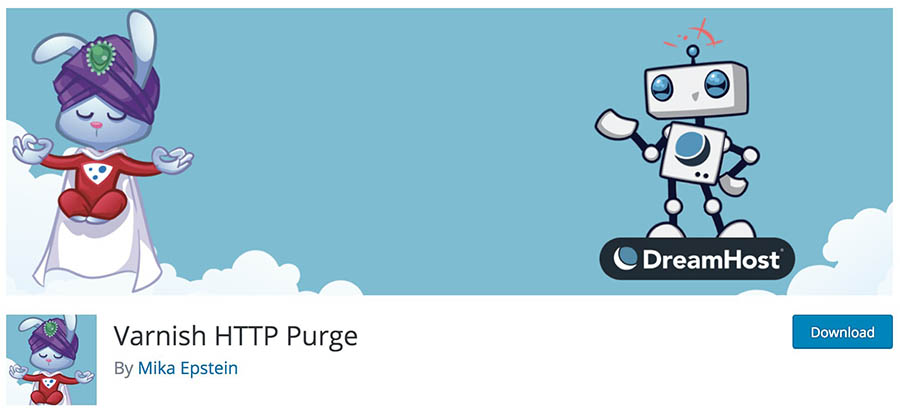 Varnish HTTP Purge is a plugin developed by (and used on) DreamHost sites — so its quality is assured. In essence, it accelerates your website by flushing the cached data on your page or post each time you make a change, enabling those changes to load quickly for end users.
You can administer the plugin via WP-CLI and also manually purge the entire cache via your WordPress dashboard (which will also happen when you switch themes). Finally, developers will appreciate that other plugins can hook into the purge actions too, meaning you can also determine when to trigger a purge.
3 Essential WordPress Plugins for SEO
Search Engine Optimization (SEO) is vital for good search rankings, so having a plugin or two at hand will put you on an equal footing to your competitors. Here are our recommended solutions.
1. Yoast SEO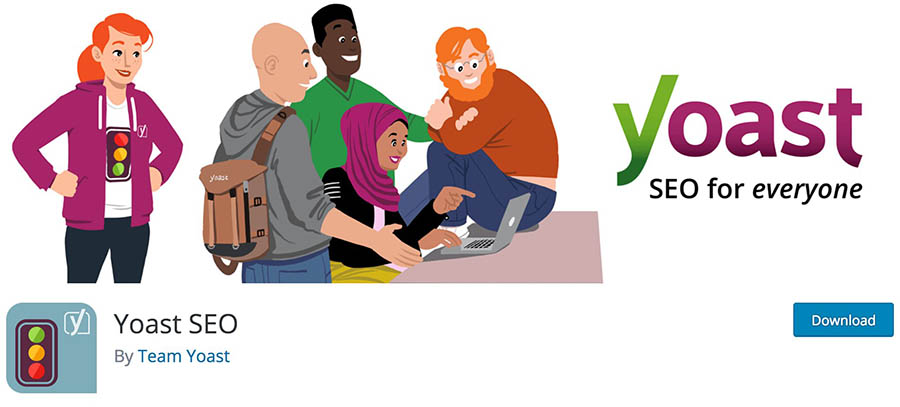 Yoast SEO is an immensely popular plugin for making sure your site's SEO is solid. In fact, it's arguably the only solution for many users — a testament to its quality.
The great thing about Yoast SEO is that it is centered around a simple traffic light system, whereby green means your post or page is good to go, while yellow and red means more tweaking is necessary. Plus, readability can be optimized regardless of whether your content has a focus keyword or not. However, once you add one, you'll also be able to tweak the SEO of your post or page.
2. Google Analytics for WordPress by MonsterInsights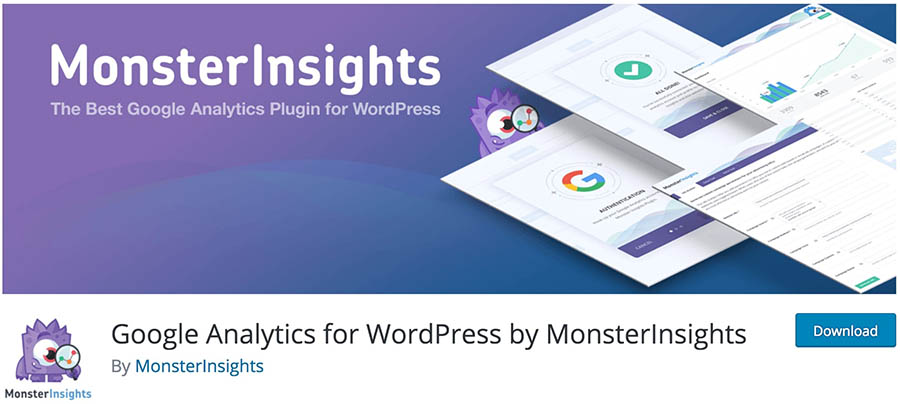 Google Analytics for WordPress by MonsterInsights isn't strictly an SEO-focused plugin, although it offers a handy way to complement your efforts via the WordPress dashboard.
In short, it displays a basic overview of your Google Analytics metrics within WordPress, which lets you view how visitors interact with your site. Of course, coupled with a standout SEO plugin, you get a complete overview of optimizations — meaning it is essential for your WordPress website.
3. Jetpack's SEO Tools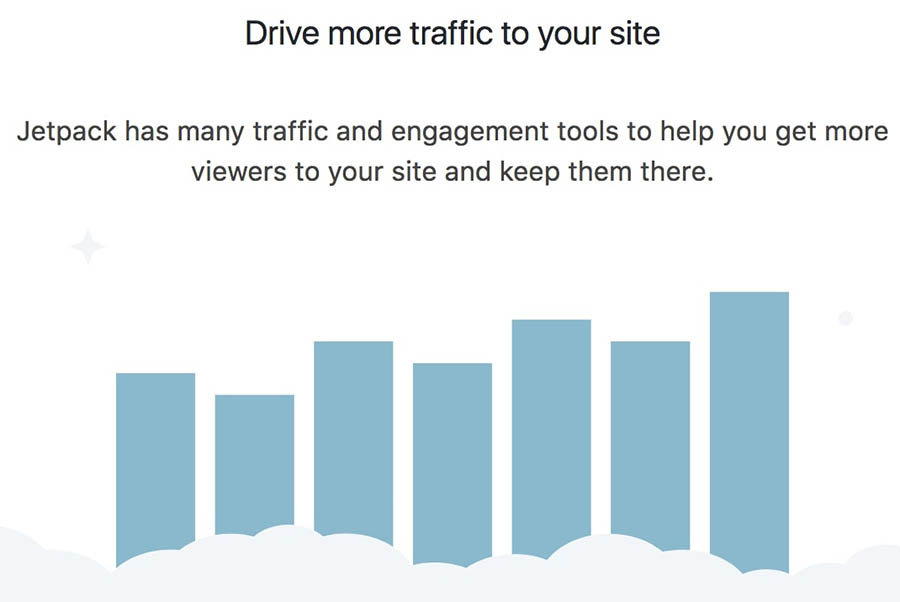 Revisiting Jetpack, Professional plan users have access to a selection of tools to help optimize posts and pages.
This module takes a different approach to other plugins by letting you customize how your titles, taglines, posts, pages, and archives appear in search engines. You can also write a custom meta description and preview how your content will look on social media.
While it's not as comprehensive as Yoast SEO, Jetpack's offerings are ideal for those dipping their toes into SEO.
3 Essential WordPress Plugins for Creating Forms
While you may not think your website's forms are important, they are often instrumental in turning leads into full-blown conversions. Choosing a plugin wisely is a good idea, and the next three are great regardless of how they're used.
1. Contact Form by WPForms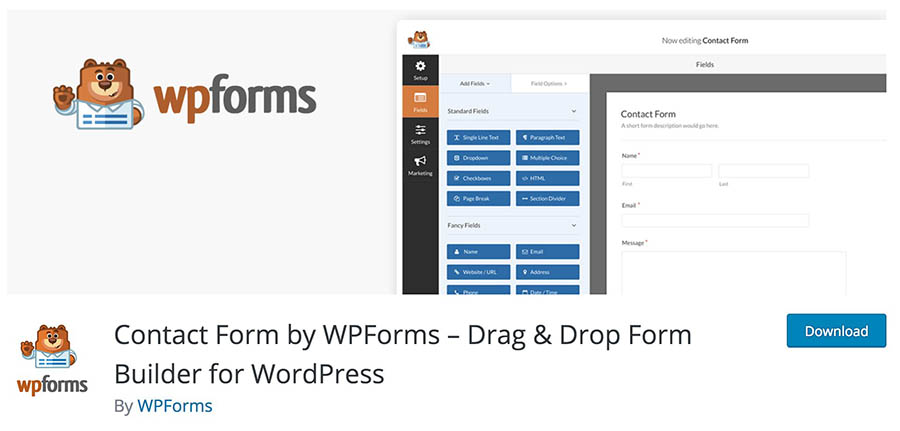 Contact Form by WPForms is a powerful form-building tool that's also extremely easy to use. Better still? It comes with all DreamHost plans free of charge.
Contact Form features a drag-and-drop interface that enables you to quickly create all manner of forms for your site. It also features a wealth of elements that will let you create the ideal form for your needs. Contact Form comes with a number of pre-built templates to help you get up and running in a flash.
2. Contact Form 7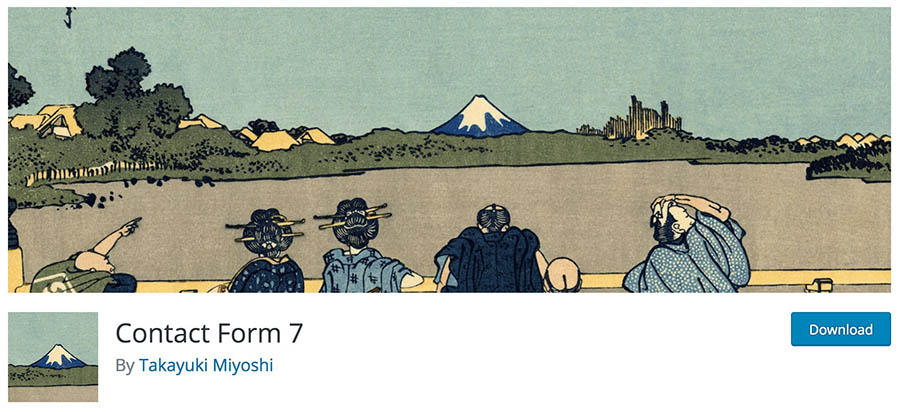 Next up, Contact Form 7 is a monolithic WordPress plugin and enables you to customize and manage multiple forms across your website using an HTML editor within WordPress. It's not as intuitive to use as other solutions, but as a free plugin, it's arguably the most powerful, cost-effective option available.
3. Ninja Forms
If you are looking for a contact form plugin that's both intuitive to use and powerful to boot, Ninja Forms is a great solution. It's a free tool, featuring a drag-and-drop editor for creating your forms.
It's easy to pick up and use Ninja Forms straight away, but it has a number of developer-centric features (such as hooks, filters, and custom fields) to create more complex forms.
2 Essential WordPress Plugins for Social Media
Social media has rapidly become a primary way to engage with potential leads and customers so having a quality plugin can help bolster your metrics in this area. There are two plugins we recommend.
1. Jetpack's Social-Related Modules

Our final look at Jetpack includes a number of modules that offer a comprehensive way to share your content across the web, specifically Publicize and Sharing.
Publicize lets you share your content on social media from each individual post or page, and the Sharing module automatically includes links for users to share your post across social media. That's not all, though! There are a plethora of widgets and tools at your disposal to connect and engage with visitors, regardless of their needs.
2. Social Media Share Buttons & Social Sharing Icons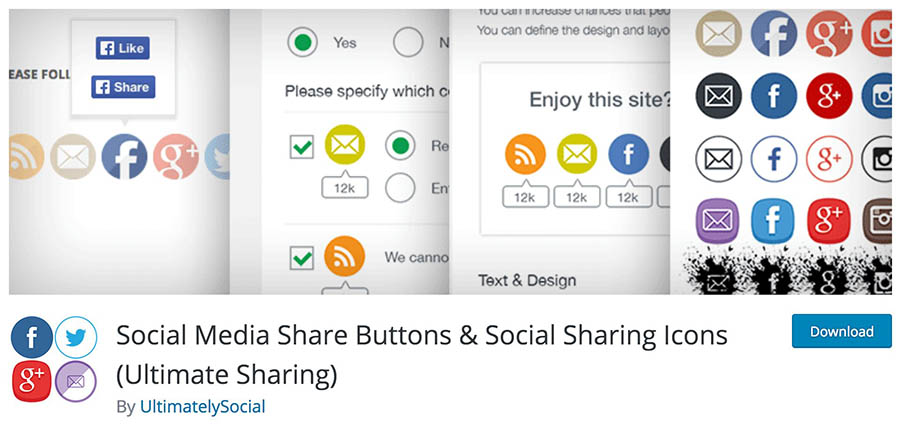 As a third-party solution, the Social Media Share Buttons & Social Sharing Icons plugin is perfect for anyone looking to share their content on social media. It offers share buttons for over 200 different social media platforms with multiple customizations for each.
For example, you can add share counts for each social network and customize the way they appear. Given the number of icon variations at your disposal, you will have no problems finding a compliant icon that matches your overall site's look and brand.
You're Cordially Invited
Join DreamHost's Facebook group to connect with like-minded website owners and get advice from peers and experts alike!
Plug It In
When it comes to extending your WordPress site, plugins will be your go-to option. They are generally easy to install and maintain through the platform's admin panel and, best of all, many can be found for free in the WordPress Plugin Directory.
In this post, we've discussed 15 essential WordPress plugins and features, breaking down their benefits and features by category. Those categories were based on the necessary elements of successful WordPress sites, including security, site speed and caching, backups, SEO, and user engagement.