Is Elementor Pro Worth It? Free vs. Pro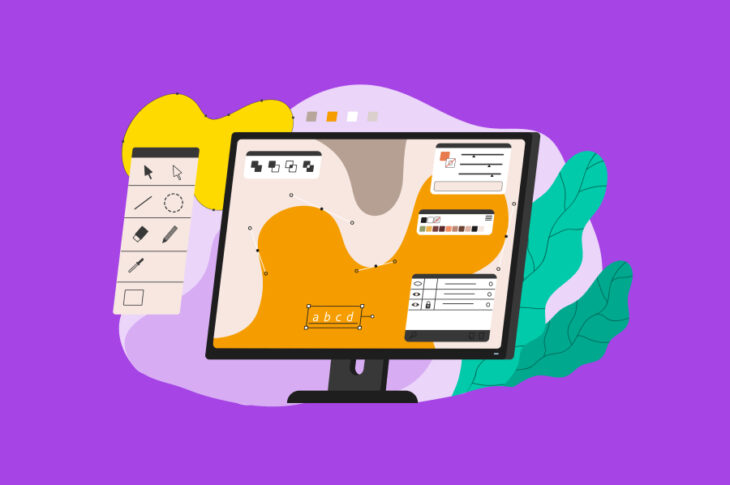 When it comes to designing and building your WordPress website, page builders can be instrumental. Popular tools such as Elementor can help you create stunning pages without touching a line of code. However, you might be wondering whether you should stick to the free version or spring for the premium package.
The good news is that both versions can be useful and beneficial. Elementor comes packed with powerful features that can simplify your web design process. Your decision on whether to upgrade or not will depend on the specific features and functionalities you're looking for.
In this post, we'll introduce you to Elementor and discuss the benefits of using it. Then we'll explore the biggest differences between Elementor Free vs. Pro and what you can expect from each version. Let's jump in!
An Introduction to Elementor 
Elementor is one of the most popular WordPress page builders around today. It's widely used among site owners and web designers for various reasons:

It enables you to create custom layouts for pages and posts with its intuitive drag-and-drop editor. With Elementor, you can customize your website without learning to code. However, even if you're a developer or experienced WordPress user, there's still plenty to gain from using the plugin.
With Elementor, you won't have to worry about the plugin slowing down your site. It's optimized for speed and continuously releases new versions for performance improvements.
The WordPress Full Site Editor is a page builder that is built into the WordPress core. It simplifies the process of creating and customizing posts and pages within your editor.
However, the default WordPress editor does not offer as many features as Elementor does. By using the page builder, you'll get access to more customization options than you otherwise would using only the WordPress Full Site Editor.
The Benefits of Using Elementor
Before we get into the specifics of Elementor Free vs. Pro, let's first cover some of the reasons why you might want to use it. If you're a beginner or new site owner, Elementor lets you control every aspect of your website. It's an excellent way to improve your site without having to hire a professional developer.
Even if you have never used a page builder plugin before, you'll be able to appreciate Elementor's ease of use. This is because Elementor comes with a built-in tutorials section, which helps you learn how to use all of its features.
The interface is intuitive and easy to navigate. All of the widgets are well organized, and the various settings and tools are always accessible.
Elementor also lets you expand and enhance the editing functionality that comes built in with WordPress. It works seamlessly with the Block editor, enabling you to easily customize and optimize your block-based WordPress themes.
It's also fully compatible with popular Search Engine Optimization (SEO) plugins such as Yoast SEO and Rank Math. This means that you can edit the design of your pages while also ensuring that they're optimized for search engine visibility.
Another benefit of using Elementor is that you can see your changes in real-time. This means that you can make changes and see how they look, without having to wait for the page to reload. This makes it a lot easier to create a website that looks exactly the way you want it to.
You can also use Elementor to design a wide variety of content and pages. For example, you can build landing pages, sales pages, and much more. It even comes with a library of templates to make building and personalizing content that much quicker and easier.
Get Content Delivered Straight to Your Inbox
Subscribe to our blog and receive great content just like this delivered straight to your inbox.
An Overview of Elementor Free vs. Pro
As with any freemium tool or service, you can expect to get more features and tools with Elementor Pro. That said, the free Elementor plugin is a robust tool that comes with a wide variety of elements and features for enhancing your site.
The main difference between Elementor Free vs. Pro is that the paid version provides you with more widgets, premium support, and a full template library. The free plugin comes with an extensive collection of features, integrations, and tools for streamlining the design process. It just doesn't include as many options as you would get with the Pro version.
If you're a freelancer, small business owner, or startup, this may not be an issue. For example, you may prefer the free version because the options will be less overwhelming. Plus, you won't have to worry about the paid license hurting your budget.
That said, let's take a closer look at each. In the following sections, we'll explore Elementor Free's features, including its pros and cons. We'll wrap up by doing the same for Elementor Pro.
Elementor Free: Features, Pros, and Cons
Elementor is a leading website-building platform in the WordPress community. It can be used by everyone, from beginners to professional developers. It boasts an intuitive visual builder that lets you control every aspect of your pages.
The best part is that you can add, customize, and modify elements without having to touch a single line of code. Let's explore some of the specific features that you can use.
Feature: Over 40 free widgets
Elementor provides more than 40 free widgets that you can use to build your professional website: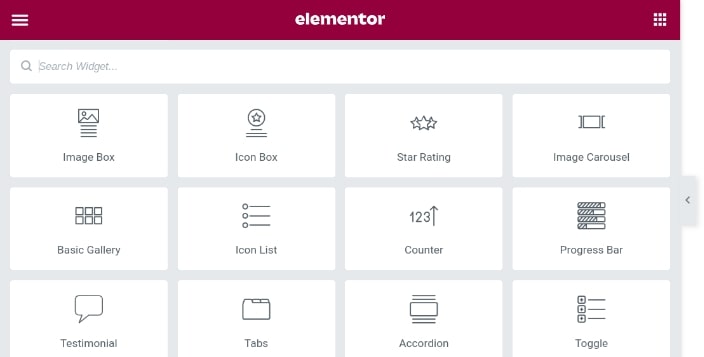 Some of the most popular Elementor Widgets include:
Heading
Image
Video
Button
Image Box
Icon
Image Gallery and Carousel
Progress Bar
Toggle
Accordion
This is only scratching the surface! All the elements you would need for building basic pages on your site are included with the free plugin. Plus, you can easily insert them using the intuitive drag-and-drop editor.
Feature: Live Drag-and-Drop Editor
One of the best features of the Elementor page builder is the live drag-and-drop editor. The intelligent interface lets you seamlessly add, customize, and move elements and modules on your pages: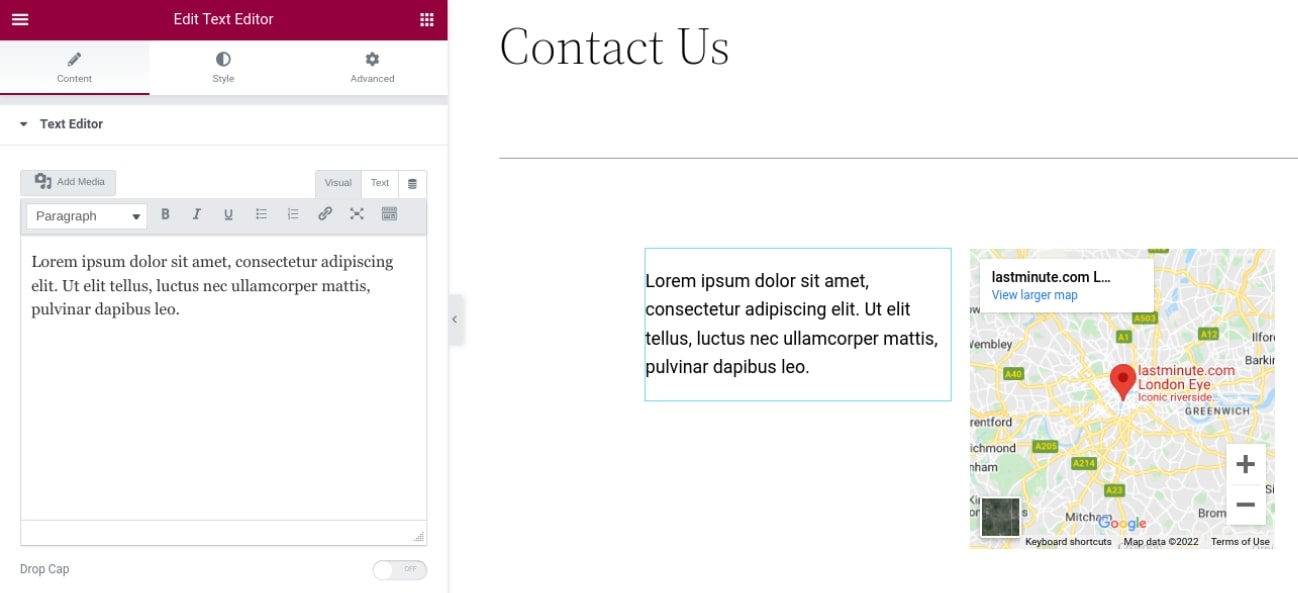 You can create various layouts, then insert any of the free widgets available from the Widget Library. Within the Elementor editor, you can easily edit and customize the settings of each widget by simply clicking on it. Then a panel will open that lets you configure the various controls as well as change the typography, colors, spacing, etc.
Being able to see the changes you're making in real-time can enhance the site-building experience. You won't have to waste time "previewing" your changes on the front end of your site like you would if you were only using the WordPress editor.
The drag-and-drop editor lets you create distinct pages with varying layouts that fit the intent of that particular page. It is incredibly easy to use, which makes it a great option for people who are new to website design.
The editor also includes a Navigator feature. This feature enables you to seamlessly navigate the sections and inner sections of your page designs. The panel displays all elements and widgets on the page so you can move about and arrange them with ease.
Feature: Reusable Templates
Elementor offers an expansive template library. These pre-built layouts provide you with the foundation needed to create your pages with ease. With the free version, you have access to more than 30 templates. This includes options for popular pages, such as your homepage, contact, and about us pages.
Elementor enables you to create custom layouts and designs, giving you more flexibility than many other options. Another handy feature is that it lets you create reusable templates: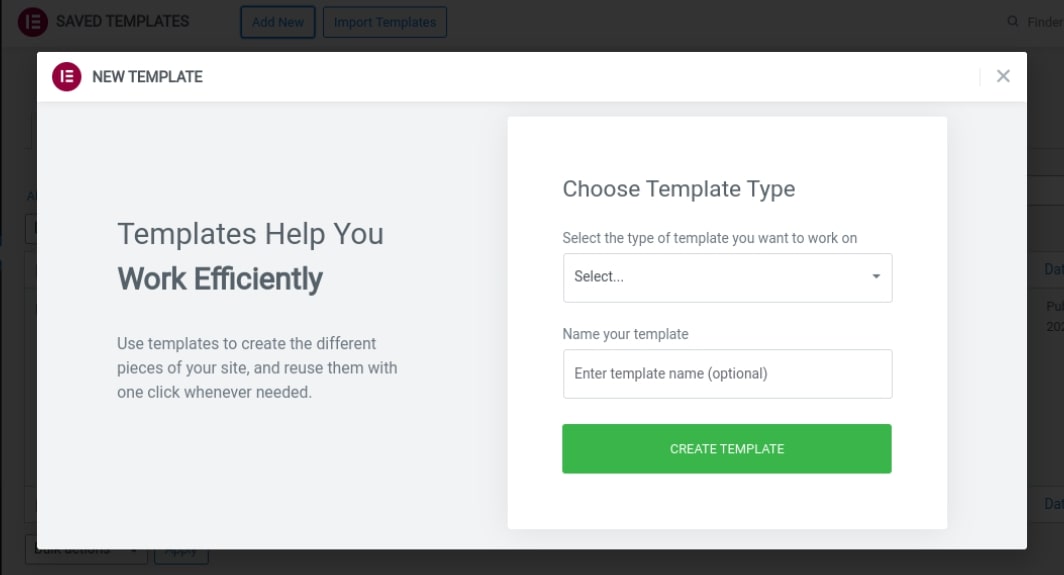 This lets you save time by eliminating the need to start from scratch every time you want to design a page that is similar to one you already have. You can use the reusable templates on any page.
This is really helpful if you want to create a consistent look and feel for your website or if you need to create multiple pages that have the same layout. Then, you can choose from the library of widgets to add additional functionality to your pages, such as contact forms, social media icons, and maps.
Feature: Website Kits
Another element that sets Elementor apart from other page builder tools is its website kits. The free version comes with five of them: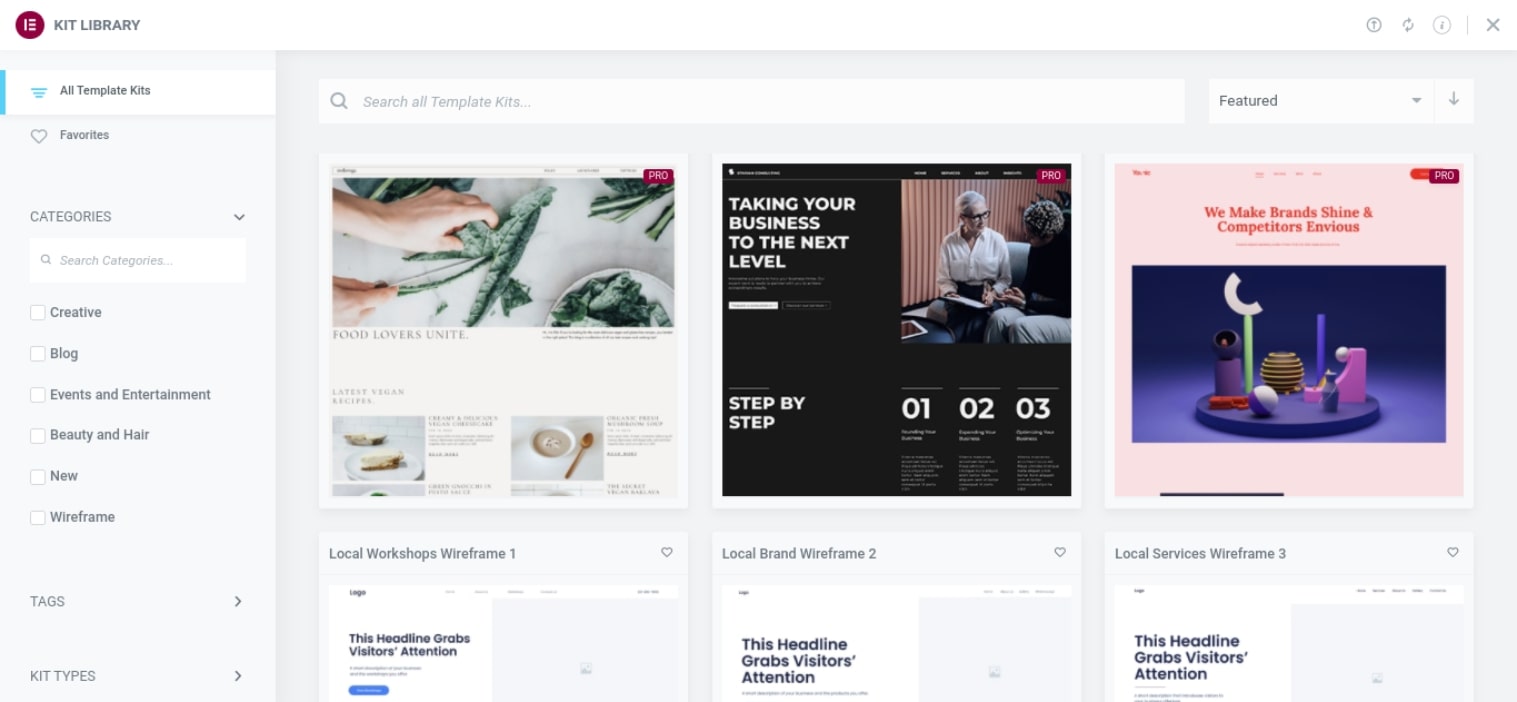 These website kits help you design every aspect of your site. Similar to starter sites, the templates can be used on any page and make it easy to customize the essential pages of your website, including the homepage, blog posts, and 404 page.
Elementor Free Pros and Cons
Of course, one of the main advantages of Elementor is that you can download and use it for free. You get access to all of the features we just discussed without having to spend a dime. It is also incredibly easy to install and use. Once activated, you can access the Edit With Elementor button on any page or post within WordPress.
However, the downside is that you don't get as many features as you would with the Pro version. For example, you won't be able to use all of the templates from the Elementor library, nor will you get premium support.
The good news is that if you start using the plugin and find that you would benefit from these extra add-ons, you always have the option to upgrade directly from your WordPress dashboard.
Elementor Pro: Features, Pros, and Cons
The free Elementor plugin is not lacking in features. However, Elementor Pro comes with a handful of additional capabilities that you don't get with the free version.
With a paid license, you get unlimited access to the template library. This is a bonus for large websites that are constantly adding new pages with unique requirements.
The drag-and-drop builder also lets you edit all areas of your site, including the header and footer. You can also design archive and single post pages. You can build custom post type templates and add dynamic content from custom fields from plugins such as Advanced Custom Fields.
Feature: Popup Builder
Another unique feature of Elementor Pro is the Popup Builder. This tool lets you create a wide variety of popups, including lead capture and subscription forms, exit intents, ad banners, and more: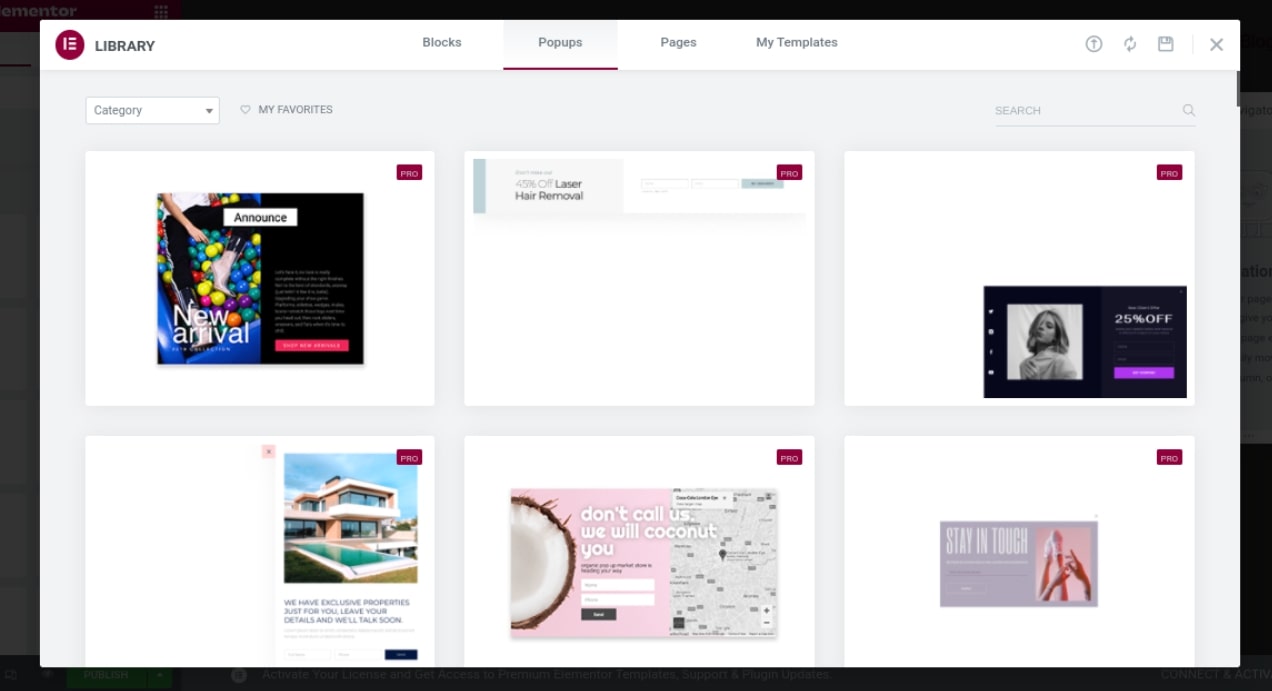 The Popup Builder lets you display the element on specific pages using certain predefined parameters and triggers. You can also configure it to appear based on visitors' actions, such as clicking on a button. It also lets you adjust how it displays, such as in fullscreen mode, a slide-in effect, or positioned at the bottom of the screen.
Feature: WooCommerce Store Builder
Another feature that you get with Elementor Pro that you don't have access to with the free plugin is the WooCommerce Store Builder. Elementor Pro provides WooCommerce-specific widgets that simplify the process of designing and personalizing your storefront: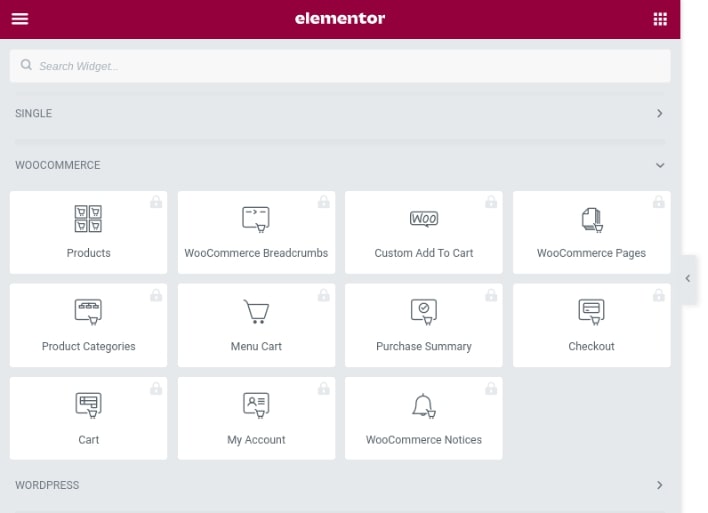 This includes widgets for:
Add To Cart Button
Product Price
Product Title & Description
Product Rating
Breadcrumbs
Upsells
Product Stock
This feature makes it easy to build and customize every part of your online shop. You can use the visual editor to build your single product page, archive product page, and other store elements.
As with the widgets included with the free plugin, you can easily drag and drop the elements anywhere on the page. Then you can use the editor panel to the left to configure the settings. Note that these widgets are only available when you have WooCommerce installed and activated on your website.
Feature: Global Widgets
Elementor Pro users also get access to Global Widgets. This feature lets you create a widget and set it to Global, meaning that any change you make to the individual widget will be applied to any other place it's used on your site.
This can help you save a lot of time. For example, if you added a Call To Action (CTA) widget and wanted to change the typography of colors of it, you wouldn't have to edit it on each page that you placed it on. You can simply edit it once, then the changes will automatically apply across all instances of it on your site.
Additional Elementor Pro features:
In addition, Elementor Pro features include:
Exclusive Pro Kits
Advanced motion effects
Theme Builder
Dynamic content
Marketing automation and Customer Relationship Management (CRM) integrations
Over 90 professional widgets
Custom CSS and custom code
Premium support
Of course, the downside to Elementor Pro is that you need to pay a premium license. Pricing for the paid plugin starts at $49 per year. This includes all Elementor features, premium support, and more Website Kits.
Also, you may not need all of the features that come with Elementor Pro. If the majority of settings and extras seem unnecessary, you may not get your money's worth out of a paid license.
Elementor Free vs. Pro: Frequently Asked Questions
By now, you probably have a solid understanding of the differences between Elementor Free vs. Pro. However, to make sure we've covered all essential aspects, let's wrap up with some frequently asked questions.
What Is the Main Difference Between Elementor Free and Elementor Pro?
The main difference between Elementor Free and Pro is the number of templates and widgets you get access to. There are plenty of features available with the free plugin. However, if you're looking for a more expansive set that includes super niche options, you might want to opt for Elementor Pro.
Can You Use the Theme Builder With Both Versions?
The Theme Builder is available with both Elementor Free and Pro. However, Pro lets you customize every aspect of your theme, including the header and footer. With the free plugin, you're restricted to your WordPress theme's limitations.
Is Support Included With the Free Elementor Plugin?
Premium support is only included with Elementor Pro. This includes 24/7 support available through your dashboard. However, there are plenty of resources, tutorials, and documentation to help you through any issues you may encounter with the free version.
Does Elementor Work With All WordPress Themes?
Yes, Elementor is compatible with all WordPress themes (with respect to the standards set by WordPress Codex). This includes features such as the Theme Builder.
Can I Use Elementor to Create My Own Theme?
You can edit and customize every aspect of your theme using Elementor. You can also access pre-made Elementor templates. However, you can import or export entire themes with all of their parts.
Is It Necessary to Have Both Elementor Free and Pro?
You can certainly use Elementor free as a standalone plugin. However, if you choose to upgrade to Elementor Pro, you'll need the basic version installed first.
Is Elementor Pro Worth It?
At this point, hopefully, you have a better understanding of Elementor Free vs. Pro. The free plugin comes with everything you need to build a beautiful website.
However, if you're looking to streamline the process or want more advanced features and functionality, the add-ons that come with the paid version may be worth the price. Elementor Pro can be particularly helpful if you have an online store and want unlimited access to the WooCommerce-specific widgets.
Remember that you don't need to start with Elementor Pro, especially if you've never used the plugin before. You can always start with the free version to see whether or not it's something you'd like to commit to. If you enjoy using it and think it would be worth upgrading to unlock unlimited access, switching to the premium version is quick and easy!
Elementor Free vs. Pro: Deciding Which One Is Better for You
Elementor is a powerful tool. Regardless of which version you choose, you'll be able to leverage it to simplify and streamline the process of building and designing your website pages.
The free version of Elementor may be the best option for you if:
You are looking for a straightforward solution for basic pages on your site.
You don't have an e-commerce store.
There's no need for writing custom CSS.
On the other hand, Elementor Pro version may be right for you if:
Your budget isn't a concern.
You want full control over your page designs and the ability to add custom CSS.
You're planning to build complex pages that require unique settings and widgets.
You want full access to the Template Library.
We recommend starting with the free version to give it a try. Also, if you do decide to upgrade, Elementor offers a 30-day money-back guarantee.
Spin Up a Testing Environment and Try Elementor Yourself
If you're new to website design, you might be looking for a user-friendly yet affordable solution to help you create your pages with ease. Fortunately, a website builder plugin such as Elementor can help.
As we discussed in this post, Elementor is a powerful WordPress tool that lets you easily build and customize pages for your website without touching a line of code. While Elementor Pro gives you unlimited access to its full suite of features and templates, the free version is more than enough to provide you with a better experience for building and designing your site!
At DreamHost, our mission is to make your site management as simple and seamless as possible. That's why we offer WordPress hosting designed specifically for WordPress users. Check out our DreamPress managed WordPress hosting plans to learn more!
Launch Your Website with DreamPress
Our automatic updates and strong security defenses take server management off your hands so you can focus on creating a great website.