Ready, Set, Sell! A Comprehensive Introduction to WooCommerce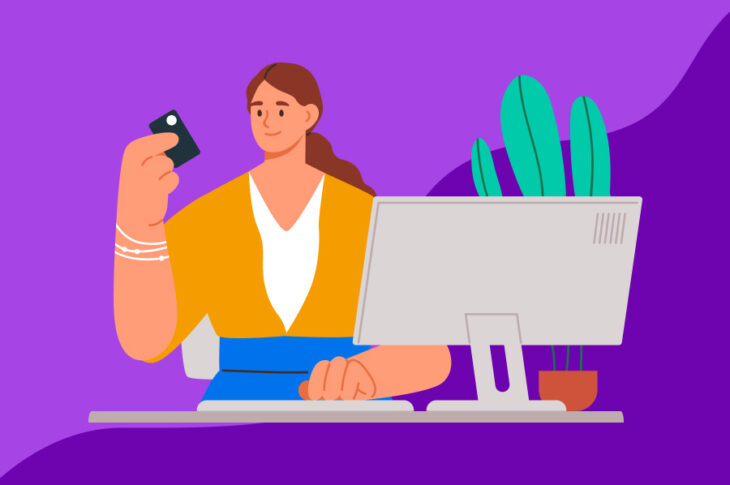 WordPress has come a long way from the humble blogging platform it used to be. These days, you can use it to create any type of site you need, including e-commerce. However, selling products and services online hasn't always been easy, even with a user-friendly platform like WordPress.
That all changed when WooCommerce was launched and became the de facto e-commerce solution for WordPress users. WooCommerce is the standout choice for anybody who wants to build an online store. This popular plugin offers a wide variety of features and makes selling goods and services through your site simple — even for beginners.
An Introduction to WooCommerce
The WooCommerce plugin was first launched in 2011 and quickly became a popular method for creating an online store: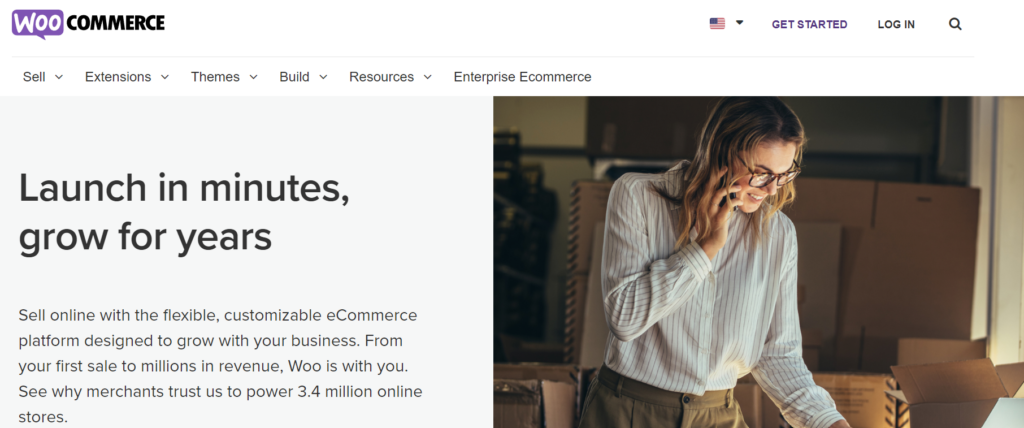 It was later acquired by Automattic in 2015, making it more or less the officially supported WordPress e-commerce plugin. WooCommerce's growth since then has been continuous and staggering.
According to statistics collected by Barn2, WooCommerce powers almost 41% of all e-commerce websites. This makes it the most popular e-commerce solution by far, almost double its closest competitor (Shopify).
So what is all the hubbub about? The main reason for WooCommerce's incredible growth and continuing success is how easy it is to use. Before it came along, selling products and services online was not always a picnic. You usually had to purchase several pieces of software, construct the site yourself, and keep track of every moving part.
WooCommerce streamlines this process, helping you turn your existing WordPress site into an online store in minutes. It also makes configuring and running your store much easier. Now, let's take a closer look at why WooCommerce is such a valuable tool.
Why WooCommerce Is the Best Choice for Your Online Store
We've already mentioned that WooCommerce is easy to install and configure, even for total beginners. Just by using the basic free plugin and its default settings, you can set up a store in less than an hour:
This ease of installation significantly lowers the threshold for e-commerce beginners while still giving you control over nearly every facet of your store.
Once WooCommerce is installed, you can easily configure and manage everything from a user-friendly interface. This includes product costs, item details, shipping fees, taxes, stock levels, images, and much more. You can also tailor the checkout process to suit your needs, thanks to customizable carts, geolocation features, and several different payment options.
Perhaps the best feature of WooCommerce is its flexibility. It truly is a one-size-fits-all solution that works equally well for small independent stores and large, ambitious e-commerce businesses. As your company grows over time, WooCommerce's scalability makes it easy to expand your store.
While the plugin's default settings work well for a more modest site, the plugin can also be configured and customized to match your precise needs. You can change the look of your store using themes created specifically with WooCommerce sites in mind and add new functionality through dedicated extensions. In the next few sections, we'll look at both of those options in more depth.
How to Customize Your Online Store With WooCommerce Themes
WooCommerce works well with just about any WordPress theme. However, there are plenty of themes specifically created for sites that use WooCommerce. These themes help you customize your store's appearance to match the rest of your site. Some even add new functionality related to WooCommerce, such as custom post types.
Most WooCommerce themes are based on the official Storefront theme: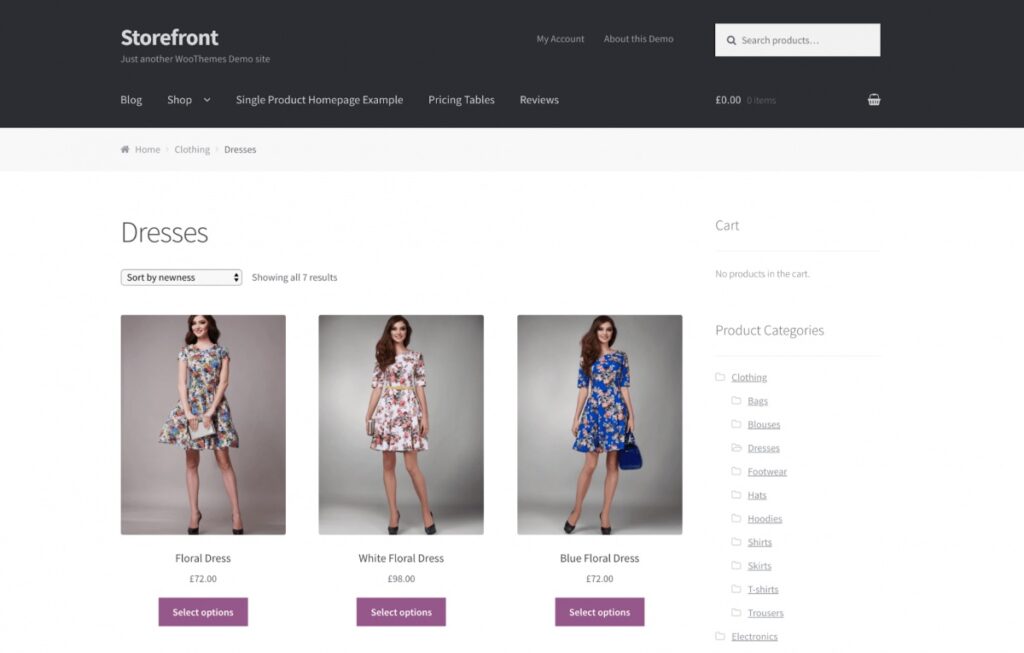 This theme is developed by the team behind WooCommerce, so you can be sure that it's secure and that the integration is bullet-proof. Storefront is also free, which is always a plus.
While this theme works great on its own, it can be further expanded using one of several child themes. If you're not aware, a child theme builds on an existing theme (its 'parent'),  enabling you to make changes to the 'parent theme' without editing it directly.
In addition to Storefront and its child themes, you can find more than a thousand WooCommerce-ready themes on ThemeForest. Many of these are specialized for different types of stores.
For example, Electro is specifically built for creating electronics shops, while the Motor theme is tailored toward car dealerships. Regardless of your business and tastes, you should be able to find a theme that works perfectly for you.
4 Extensions for Augmenting Your WooCommerce Store
Once you've picked out a theme for your store, it's time to consider adding extra features. WooCommerce extensions enable you to add new functionality to your WordPress store. While they work very much like WordPress plugins, they are specifically created to integrate with WooCommerce.
Some extensions are free to use, while others require a one-time payment or a regular subscription fee. Either way, you can use them to enhance your store with new features.
There are hundreds of extensions available, but we're going to take a look at a few of the best options for first-time WooCommerce users.
1. WooCommerce Google Analytics

WooCommerce Google Analytics enables you to use Google Analytics to track your store's performance. This extension can help you understand your customers' journey, including how they find your site and which products they're most interested in. You can then use this data to optimize your sales funnel.
Key Features:
Tracks session length, users, and referrers.
Highlights which areas of your store perform well and which need improvement.
Helps you understand customer behavior and product popularity.
Pricing: WooCommerce Google Analytics is a free extension, but it does offer a premium version as well, starting at $79 for a single site. Both extensions also require a free Google Analytics account to use.
Get Content Delivered Straight to Your Inbox
Subscribe to our blog and receive great content just like this delivered straight to your inbox.
2. WooCommerce Subscriptions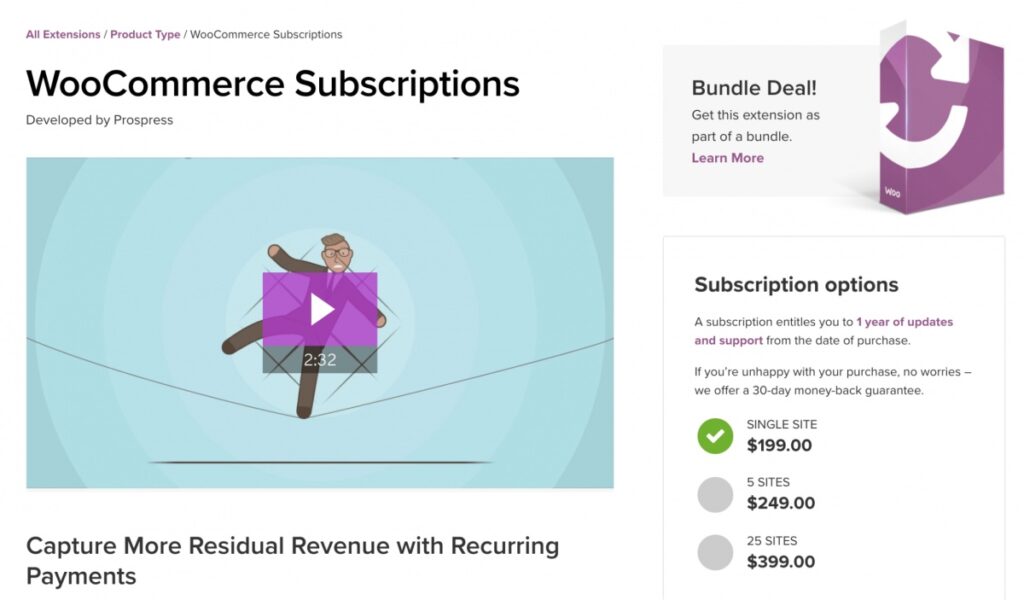 WooCommerce Subscriptions enables you to create products with recurring payments. It can be used to sell both physical products, such as a monthly subscription box like Loot Crate and virtual products or services.
Key Features:
Enables you to choose your payment schedule from several options.
Offers more than 25 different payment gateways.
Supports automatic subscription renewal emails for both you and your customers.
Pricing: WooCommerce Subscriptions starts at $199 per year for a single site.
3. WooCommerce Zapier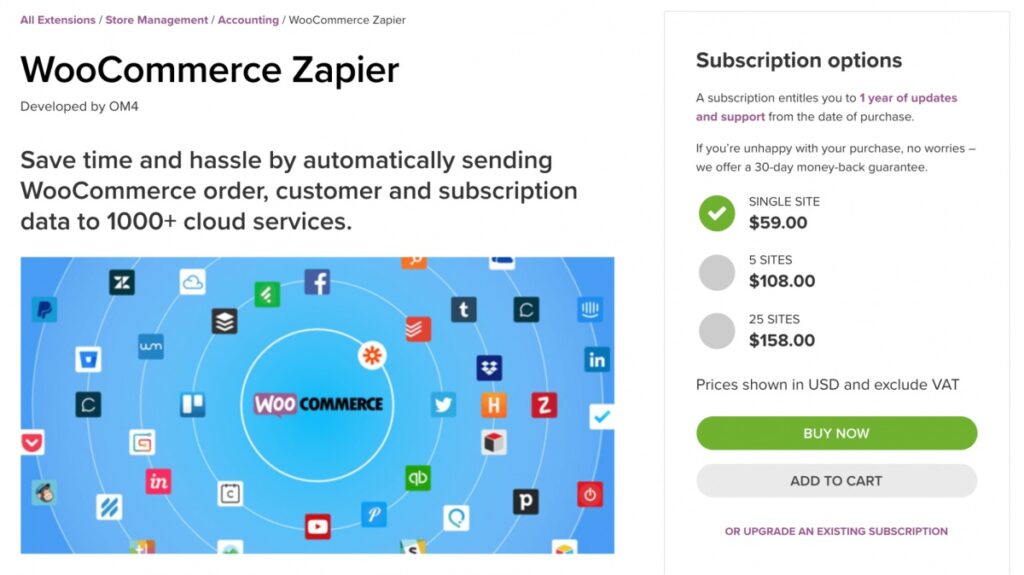 WooCommerce Zapier is a great solution for integrating your store with third-party services. With this one extension, you can connect WooCommerce with MailChimp, YouTube, Dropbox, Google Drive, and many other platforms.
Key Features:
Integrates with over 1000 third-party services.
Enables you to configure automation to save time.
Provides performance reports through the 'Digest by Zapier' feature.
Pricing: WooCommerce Zapier prices start at $59 per year for a single site.
4. Square for WooCommerce

Square for WooCommerce enhances your store's payment options, both online and in-person. The extension is very easy to install, and you'll be able to accept payment within minutes. Square is compatible with all credit and debit cards in the US, UK, Australia, Canada, and Japan.
Key Features:
Makes it easier to accept payments from various sources.
Deposits your funds quickly, within 1-2 business days.
Enables you to quickly sync your Square and WooCommerce accounts.
Pricing: Square for WooCommerce is a free extension that requires a Square account to use.
Start an Online Store Today
If you want to use your WordPress site to sell goods and services, WooCommerce is by far your best option. It's the most popular e-commerce plugin for a reason and makes it incredibly easy for beginners and experienced users alike to open an online store.
While using the basic WooCommerce plugin will enable you to build a successful store, you can improve it even further using themes and extensions. For instance, you can link your online store with Google Analytics to track customer behavior or set up recurring subscriptions for your customers.
Creating a beautiful e-commerce store is just the first step. You'll also need to make sure that your WooCommerce-powered shop loads quickly and provides a great user experience. Check out our managed WordPress hosting plans to supercharge your site's performance!
Power Your Store with Managed WordPress Hosting
Hassle-free, high-performance WordPress hosting can help you grow your business.