10 Kick‐Ass Women in WordPress to Follow on Twitter
We could all use a little more girl power, and that's especially true in the tech industry.
Be honest. Can you count all the women in the tech sector who you can name on one hand? There's a good chance you answered yes. But just because the ladies aren't getting as much attention, that doesn't mean they aren't making huge waves in the WordPress community.
That's why you should be following these 10 women in WordPress on Twitter. They all have a lot to say in 280 characters.
1.
Mika Epstein

Twitter: @Ipstenu
Website: halfelf.org
As DreamHost's official WordPress guru, Epstein troubleshoots any issue that comes up, offers top-notch support, and plays a key role in building and maintaining DreamPress, our managed WordPress hosting solution. She's also a master on Multisite and .htaccess.
When she's not working as a WordPress developer, she's racking up stamps in her passport to speak at WordCamps about coding and open source technology. But you don't need a passport to read her musings on Twitter about WordPress — and sports, LGBT issues, and so much more.
2
. Naomi C. Bush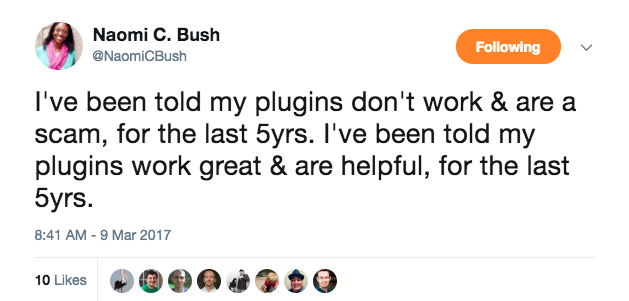 Twitter: @naomicbush
Website: naomicbush.com
Bush and WordPress go way back. Currently the head Gravity Forms wrangler, Bush has been working with WordPress since 2005 as a professional site developer, plugin developer, and college educator. Now she's modernizing WordPress even more by developing a way to accept payments through your site via processors like Stripe.
The WordCamp regular shares her musings about WordPress and all things tech on Twitter on the regular. Follow her and you just might learn a thing or two.
3.
Tammie Lister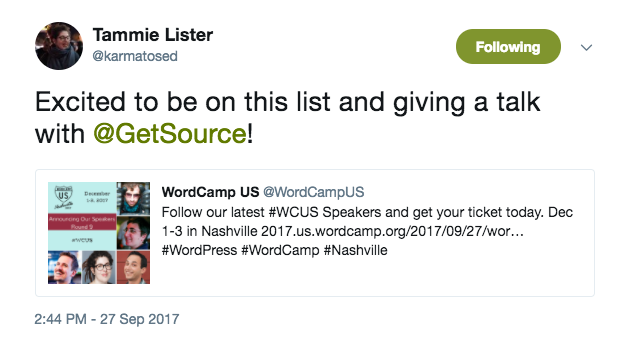 Twitter: karmatosed
Website: tam.blog
Tammie Lister knows so much about building community websites using BuddyPress that she could write a book about it. So she literally did: BuddyPress Theme Development. That impressive skillset has served her well in her current job as an experience designer at Automattic, the company behind WordPress.com.
Based in the UK, she has spoken all over the world at WorkCamps, waxing poetic on topics like knowing your users and creating human connections online. Then there's Twitter, where she shares insights and advice on the WordPress world — no lecture fee necessary.
4.
Helen Hou-Sandí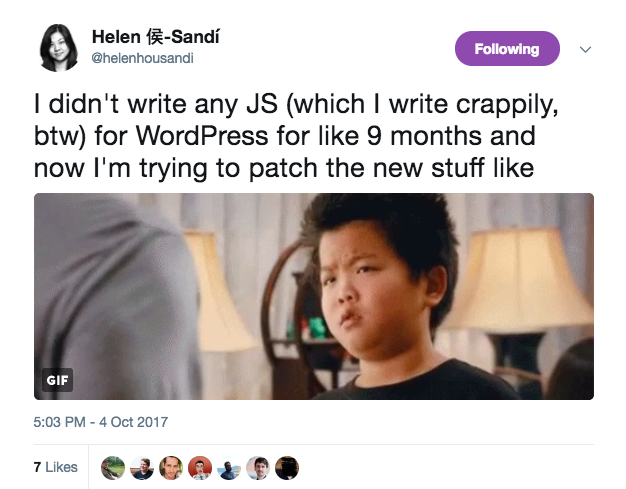 Twitter: @helenhousandi 
Website: helen.blog
Any WordPress user should look up to Helen Hou-Sandí. As the director of platform experience at 10up, her agency designs and develops WordPress tools. So what have they done to enhance the user experience?
Think game changers like a notification plugin that allows content creators to alert their subscribers to new posts in real time, and a drag-and-drop ordering system for WordPress posts.
As a WordPress Lead Developer, Hou-Sandí works on constantly growing the platform. She makes it easy to get a glimpse into her world on her Twitter. The self-described "Sometimes collaborative pianist" and "Bossed up bad Asian mom" expounds on everything from IKEA trips to Mike Pence rants to favorite snacks. You should follow her Tweets; she's always unfiltered — and always entertaining.
5.
Sara Rosso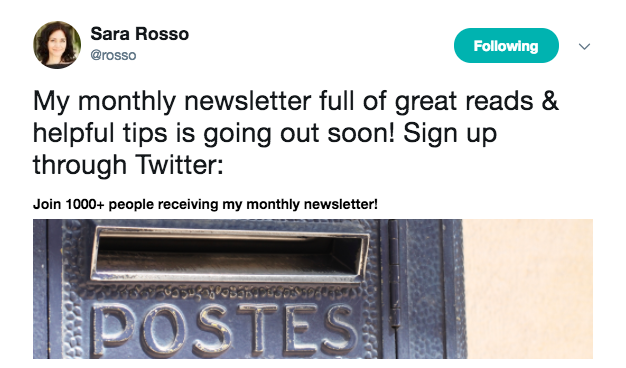 Twitter: @rosso 
Website: sararosso.com
The ultimate Renaissance woman, Sara Rosso's resume is an impressive read. She lived in Italy from 2003 to 2016 and blogged about it at Ms. Adventures in Italy, where she now covers food and travel.
That's not her only foodie credential: She's the founder of World Nutella Day and co-hosted the event until she turned the reins over to Ferrero in 2015. She launched a podcast, Eye on Italy, all about — you guessed it — Italy, before everyone else had one.
Rosso also writes about tech and building a business at the aptly-named When I Have Time. An avid photographer, she sells some of her photos to Getty Images. Finally, there's her actual day job: overseeing the marketing department at Automattic. All that and more is on display on her Twitter feed.
6.
Eileen Lonergan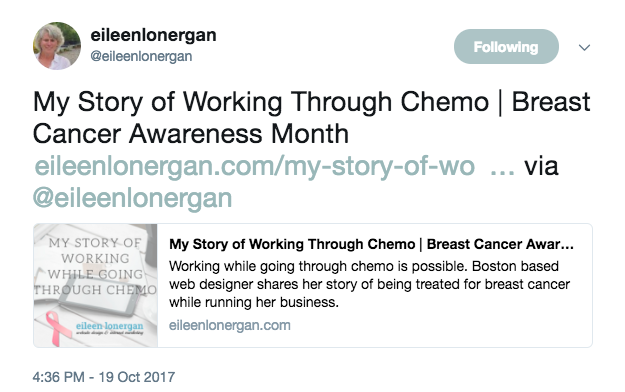 Twitter: @eileenlonergan
Website: Eileenlonergan.com
If you're in the middle of building a website for your business, you might want to call Lonergan. Her tactic isn't just about creating a good looking site — it's also about getting your biz listed with the major search engines.
As a digital marketing specialist, she knows all the tricks, from best SEO practices to pay per click campaigns to email marketing. She can also build the Facebook page, Twitter, and YouTube channel for your brand.
She learned the ropes of getting your message out in previous jobs as a media buyer and planner at advertising agencies. As if that wasn't enough to keep her busy, Lonergan is the founder and community manager of the Divi Theme User Group on Facebook, a partner in Elegant Marketplace, a web store for web designers and developers. But you don't have to hire her to get her words of wisdom — she regularly shares them on Twitter.
"You're really cute for an engineer." Gag me. Here are 6 things women in tech are sick of hearing.
7
.
Stephanie Leary

Twitter: @sleary
Website: stephanieleary.com
When you're ready to learn more about WordPress, pick up Leary's book, WordPress for Web Developers. She breaks down building WordPress themes and plugins, as well as server-related issues. As someone who has developed several plugins herself, she would know the drill.
And her Twitter account is just as informative and straightforward, with Leary dishing on parenting, politics, and everything in between.
Get in on the action — start your own WordPress website with DreamPress!
8.
Tammy Grant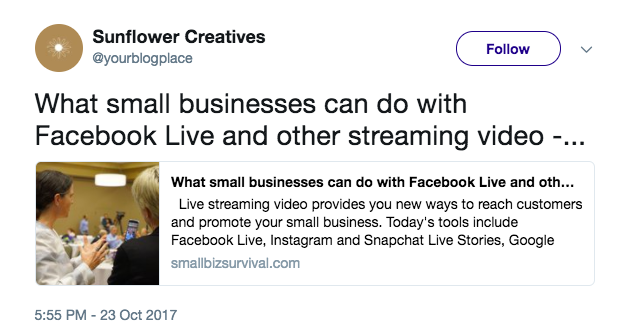 Twitter: @yourblogplace
Website: sunflowercreatives.com
Grant has been an entrepreneur since college, when she founded a dorm cleaning service and then a clothing line for sororities. Fast forward to when she started a family in the '90s, and decided to learn web development. Smart move.
Now her business, Sunflower Designs, focuses on building Divi websites and child themes. In addition, she's developed training software for the Royal Canadian Air Force. She doles out both smart business and web development advice on her business' Twitter account.
9.
Lisa Sabin-Wilson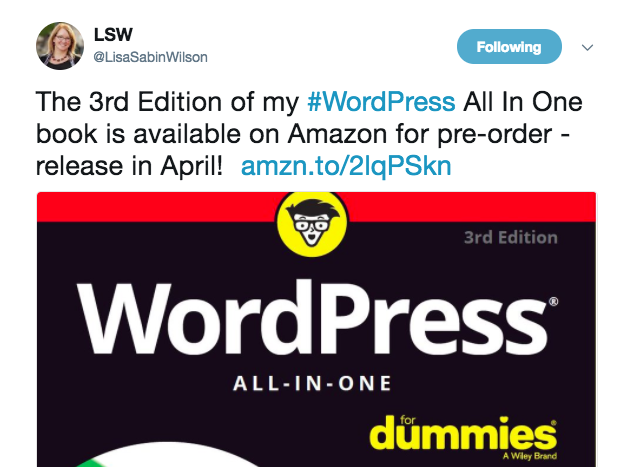 Twitter: @LisaSabinWilson
Website: isasabin-wilson.com
If you're in need of a brush-up on WordPress basics, Sabin-Wilson is your girl. Currently a partner at WebDevStudios, she's the author of WordPress for Dummies, BuddyPress For Dummies, WordPress All In One For Dummies, and WordPress Web Design For Dummies. That's proof that she knows exactly how to deliver easy-to-digest information for users of all levels.
Sabin-Wilson is just as good at giving presentations, as her WorldCamp talks prove. Her Twitter account is equally dynamic.
Want more great ideas? Check out our list of 10 must-reads for women working in tech.
10.
Rachel Cherry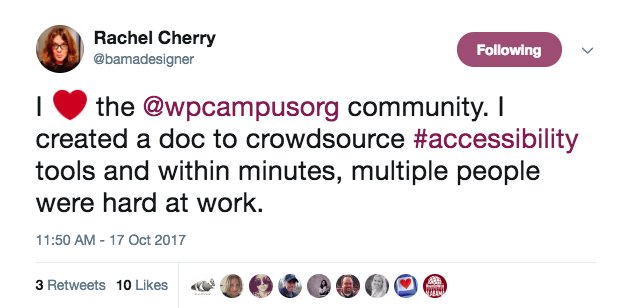 Twitter: @bamadesigner
Website: bamadesigner.com
As a senior software engineer for Disney Interactive, Cherry still builds with WordPress. With over a decade of experience in back- and front-end web development and digital design, she spent years as a web designer and developer for The University of Alabama.
As the director of WPCampus, she leads the community-centered organization on how to use WordPress in the academic world, which feeds off her passion for collaborating. She tweets about just that, along with being a fitness addict and traveler.
Who Else?
Do you know someone who would be a great addition to this list? Let us know!