How Much Does a Web Designer Make?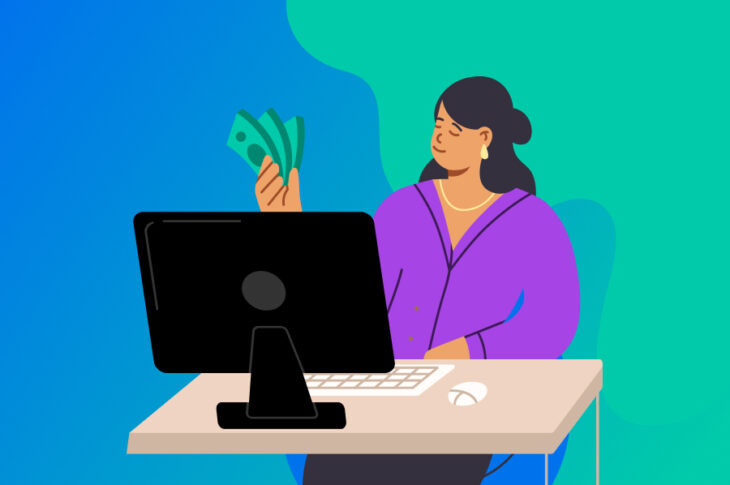 Are you considering a future in web design or development? With so many career trajectories and overlapping skills, it can be hard to choose the right role to pursue. Therefore, you may be weighing the pros and cons, and wondering how much a web designer makes.
While the average web designer salary varies, you can typically earn around $62,864 per year in the United States. This excludes benefits like bonuses, equity, and profit sharing. Plus, you can increase this figure by moving to a high-paying location.
In this post, we'll explain what a web designer does and look at the main requirements. We'll then do a deep dive into the average salary of a web designer. Finally, we'll explore the job outlook in this industry. Let's get to it!
What Does a Web Designer Do?
Before we explore web designer salaries, it's important to have a sense of what the role actually entails. Simply put, a web designer is responsible for the appearance of a website. This includes elements such as layout, navigation menus, buttons, and more.
Web designers often collaborate with graphic designers and developers. However, some may also have responsibilities in graphic design and front end development.
Typically, web designers specialize in the following areas:
User Experience (UX). This refers to people's experience when they navigate a website and interact with its content. UX design is focused on creating web pages that are beautiful, functional, and glitch-free.
User Interface (UI). UI designers determine the look and feel of a website. This can include color schemes, button shapes, fonts, and more.
Interaction. As the name suggests, interaction designers are in charge of identifying key instances of interactivity in the visitor journey. They focus on usability and will likely collaborate with marketing and development teams.
These specialties overlap quite a bit, so you don't need to choose one specifically. However, picking an area of expertise may be useful for jobs or projects that require specific skills.
It's important to note that a web designer is not a developer. While they may need some front end development skills, designers usually focus on key web design elements. On the other hand, web developers are mainly responsible for a site's performance and functionality.
What Skills Do You Need to Become a Web Designer?
Since web designer roles can be rather generalized, you're probably wondering what practical skills you need to have. If you want to work in web design, you'll need both creative and technical abilities.
Here's what you'll need to know:
Front end development. Web designers often collaborate with front end developers and back end developers to implement their creations. Still, they'll need to have a basic understanding of coding languages like HTML, CSS, and JavaScript.
Graphic design. Since web design considers every aspect of a site's appearance, it's also useful to have a general sense of graphic design principles. An aesthetic eye is essential.
Design tools. Some common tools that you may need to use include Adobe Suite, Google Web Designer, Sketch, and InVision Studio. Each company will have its own preferences.
Web standards. Web designers should be knowledgeable in other areas, including Search Engine Optimization (SEO), accessibility, and analytics.
Communication. Collaboration and communication skills are also important. This is because web designers often work within a team.
Keep in mind that formal education isn't entirely necessary to become a professional web designer. However, you'll likely need an associate degree in the subject.
Alternatively, you can do an intensive program on popular learning platforms, such as Codecademy or Udemy: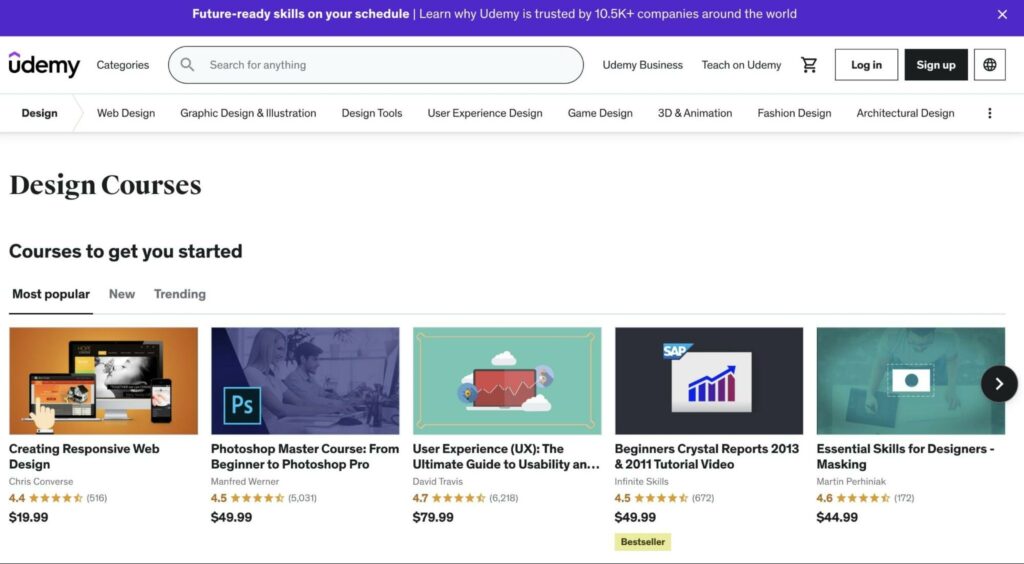 Being self-taught isn't considered a bad thing. However, a bachelor's or a master's degree in a relevant subject can increase your earning potential.
The Benefits of a Career in Web Design
There are many advantages to choosing a future in web design. Firstly, you can get started on this career path relatively quickly. If you choose the right courses and utilize free resources to learn how to code and design web pages, it can be a worthwhile investment: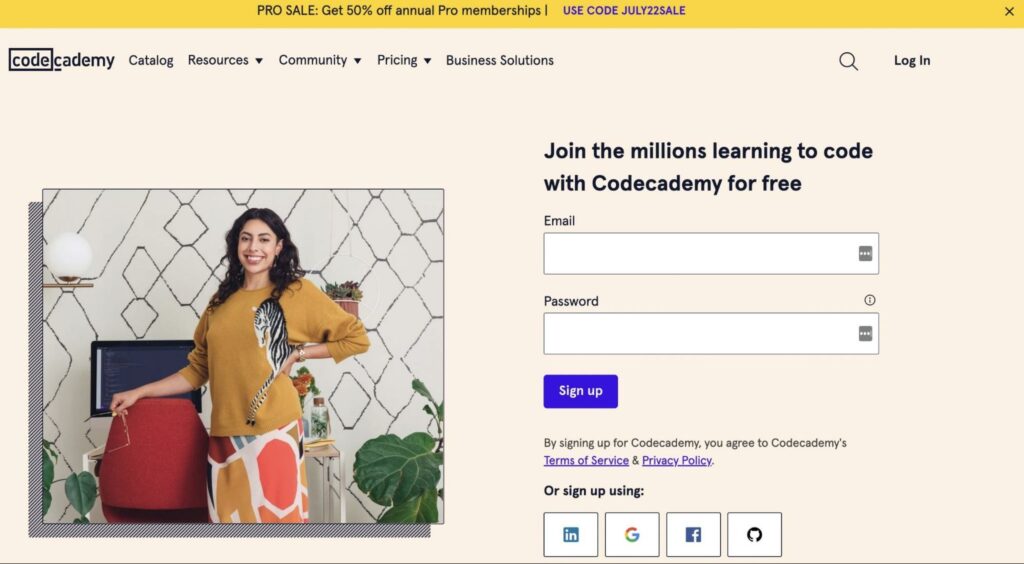 Additionally, web design can be an excellent option for creatives who want to break into a more tech-forward role. Similarly, a job as a web designer can be a good stepping stone, as it enables you to explore different facets of design.
For instance, you can start off as a web designer and transition to UX design. You might even discover a passion for graphic design or front end development and go with one of those instead.
In a nutshell, web design offers tons of flexibility and space for growth. No matter your trajectory, the skills you gain can be highly marketable. Plus, you'll probably have an exciting career, since technology and design trends are always evolving.
How Much Does a Web Designer Make?
Now, let's take a detailed look at web designer salaries in the United States.
Average Web Designer Salary Overall
First, we'll explore the average base salary for web designers. Here are the numbers from a few credible sources:
There is certainly some variation in these figures. However, we can presume that the average web designer salary falls somewhere between $51,382 and $76,154 annually.
Still, this likely excludes additional factors such as bonuses, equity, and profit sharing. For instance, Glassdoor states that web designers enjoy an additional pay of around $28,997 annually: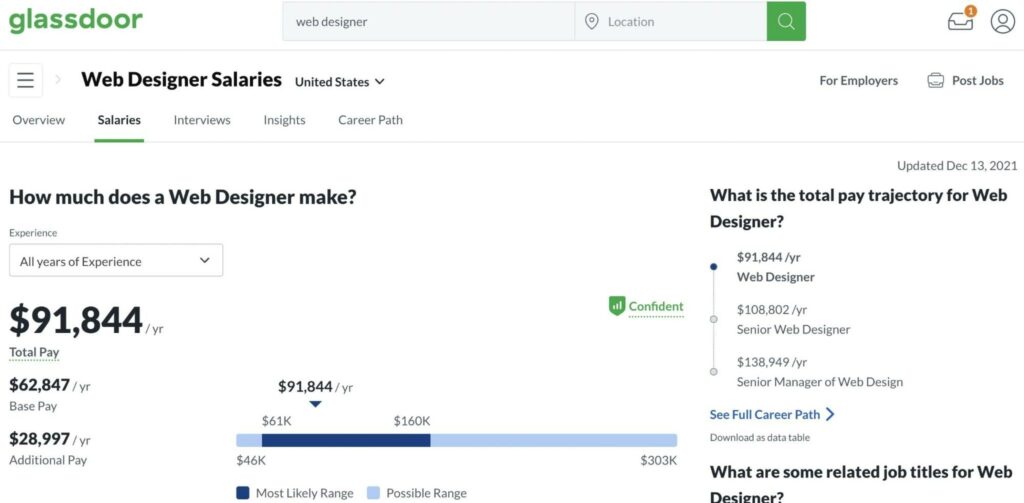 Of course, web designer salaries are determined by a variety of factors, including the level of experience and location. We'll explore these factors in more detail over the next few sections.
Average Web Designer Salary Based on Years of Experience
Let's look at web designer salaries based on years of experience. Here are the average figures for junior or entry-level web designers:
Once again, these numbers exclude extra pay. Glassdoor reports that entry-level web designers may receive an additional income of around $42,234 annually. This means junior web designers can make almost as much as mid-career professionals.
Moving on to the more experienced web designers, here's what their average salaries look like after ten years:
Payscale: $61,599
Glassdoor: $76,518
Indeed: $65,774
Salary.com (Web Designer III): $93,010
While some of these senior web designer salaries may not be that much higher than entry-level ones, there are some factors to consider. For example, a veteran at a particular company will likely enjoy increased benefits such as bonus vacation days and affordable health insurance. At this experience level, Glassdoor reports an additional pay of around $35,473 annually.
Average Web Designer Salary Based on Specialization
As we mentioned earlier, web designers can choose to specialize in certain areas. These are the average salaries for UI designers:
As you can see, UI designers make slightly more than general web designers. Now let's see how the average UX designer salary compares:
UX designers have higher salaries too. With this in mind, you may consider specializing in either of these areas. However, even if you don't want to ramp up your technical skills, web design is still a profitable choice.
You have other options, too. For instance, you can become a web designer that specializes in a particular CMS, such as WordPress. Alternatively, you could establish valuable expertise in mobile design.
Average Web Designer Salary Based on Location
You might be wondering how web designer incomes vary by location. Here are the highest paying cities for web designers:
Atlanta, Georgia: $76,268 per year
Austin, Texas: $66,623 per year
Brooklyn, New York: $57,728 per year
New York, New York: $56,456 per year
Chicago, Illinois: $55,005 per year
Most likely, these salaries are determined by the cost of living in that area as well as the concentration of technology companies. If you're willing to move locations for the sake of your career, you'd be wise to thoroughly research your options first.
Remote and Freelance Web Designer Salaries
You might consider working as a freelancer or looking for a remote job. Alternatively, you might want to work for different clients.
Some companies prefer to hire designers for specific projects, rather than recruit a full-time professional. According to ZipRecruiter, the national average for a remote web designer salary is $76,392 per year: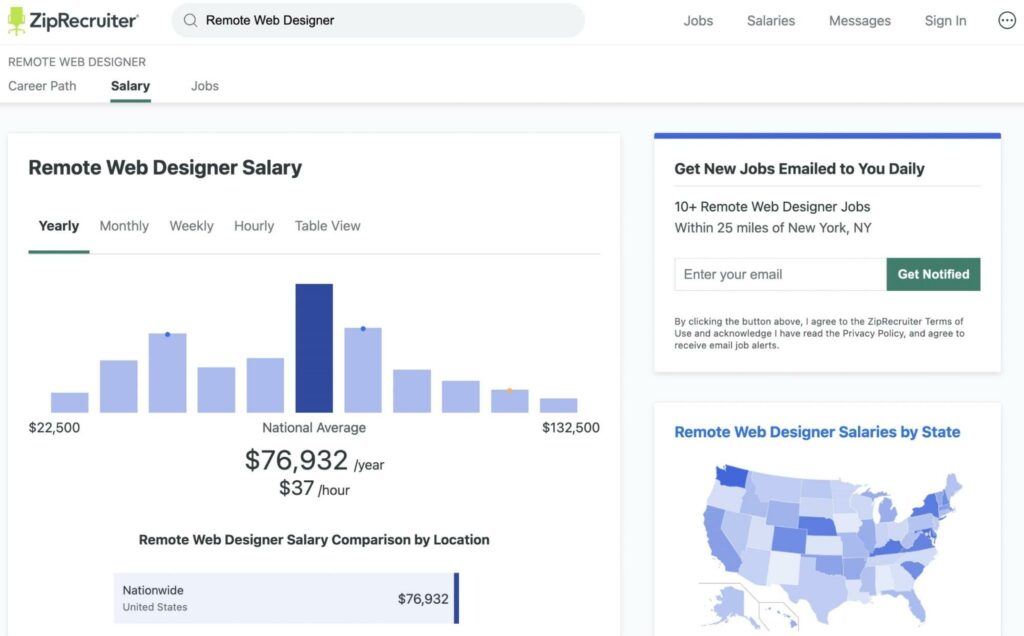 This is equal to $37 per hour. Similarly, freelance web designers make an average of $55,810 per year, which is the same as $27 per hour.
These numbers may seem significantly lower. However, remote or freelance work has its benefits too. For instance, independent web designers can travel as often as they please and create their own schedules.
What's the Job Outlook for Web Designers?
Data shows that web designers can make a good living, especially when you consider additional pay like bonuses. However, if you're concerned about job security, you'd probably want to look at the outlook for web designer positions.
The current market value for web design services is $11 billion. Moreover, the U.S. Bureau of Labor Statistics reports that jobs for digital designers are expected to grow by 13% between 2020 and 2030: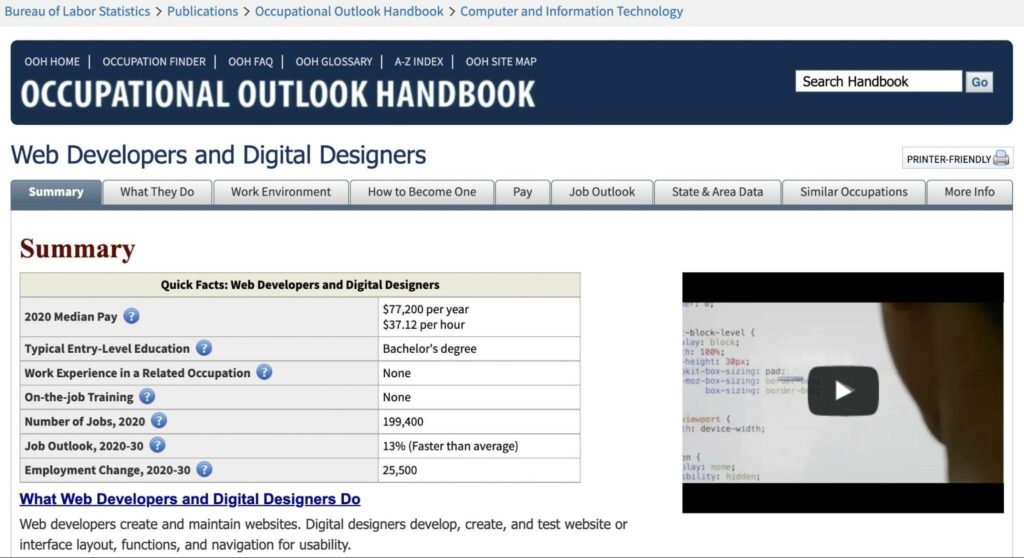 This is faster than the average growth rate for jobs in general. Also, it's important to remember that web designers are generalists. Therefore, they have added job security because they can always pivot to other fields like graphic design or front end development.
The future of web design will likely focus on accessibility and mobile responsiveness. As such, you may consider specializing in one of these niches. A background in these areas can make you a more attractive candidate.
Dynamic Web Designers Can Enjoy Lucrative Careers
If you want to work in web design, there are several factors to consider before you invest in your education or professional development. For instance, you'll want to have a good understanding of the earning potential in this industry. Additionally, you might want to look at the job outlook for web designers.
Typically, mid-career web designers make somewhere between $60,000 and $90,000 per year. These figures exclude bonuses and benefits. You can make more if you specialize in areas such as web accessibility or responsive design. While web designers may not make as much as their technical counterparts in web development, they still can enjoy long and profitable careers.
Get Content Delivered Straight to Your Inbox
Subscribe to our blog and receive great content just like this delivered straight to your inbox.