How Much Does a Front End Developer Make?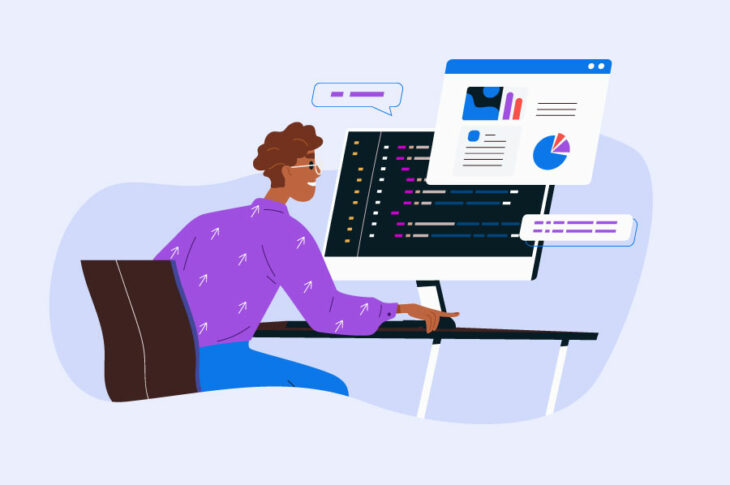 If you want to become a front end developer, it's important to know the average salary of this position. This way, you can successfully negotiate your pay during job interviews. Otherwise, you might not gain a fair wage for your extensive skillset.
As a front end developer, the average salary in the United States is between $96,881 and $102,120. However, this amount can vary, depending on your experience level, coding knowledge, and location.
In this post, we'll take a closer look at front end development and what this job entails. Then, we'll discuss how much front end developers can make in a year. Let's get started!
An Introduction to Front End Development
Front end developers play a key role in the development of websites and apps. They work on a website's front end, which is the content that users interact with.
When you visit a website or open an app, everything that you can see was designed by a front end software engineer. These professionals combine design, technology, and programming skills to make a website easy to use.
Here are some common tasks for a front end developer:
Front end development is different from back-end development. While front end developers improve the visual elements of a page, their back-end counterparts focus on optimizing the server. This can involve managing the database, coding programs, and debugging server-side issues.
Usually, different developers work as a team to create a dynamic, well-functioning website. If you know both front end and back-end code, you can even become a full-stack developer. In this position, you can oversee the entire web development process.
Job Requirements for a Front End Developer
As a front end developer, you'll need to be knowledgeable in web design principles. Ultimately, you'll be responsible for making a website as visually appealing as possible. This can involve choosing the right color scheme, decluttering the layout, and updating the typography.
In this role, you will also focus on usability. By solving navigation issues, adding accessible features, and focusing on inclusivity, you can enable any user to access and interact with your content.
To perform these front end development tasks, it can help to know a few common coding languages:
HTML: this is used to build the structure of a website.
CSS: it controls a site's style and format.
JavaScript: this language controls the behavior of the website.
You may also need to be familiar with JavaScript frameworks and REST API. Additionally, front end development can involve running A/B tests to maximize performance.
When it comes to soft skills, front end developers should be creative and communicative. Even if you look for a remote option, you'll still have to be willing to work with a global team.
How Much Does a Front End Developer Make?
The average front end developer salary can vary due to a variety of factors. Depending on your location, years of experience, and employer, you can make anywhere from $96,881 and $102,120 per year.
According to Indeed, the current average base salary for front end developers in the United States is $102,000. This is an estimate based on 5,028 entries from anonymous front end developer employees: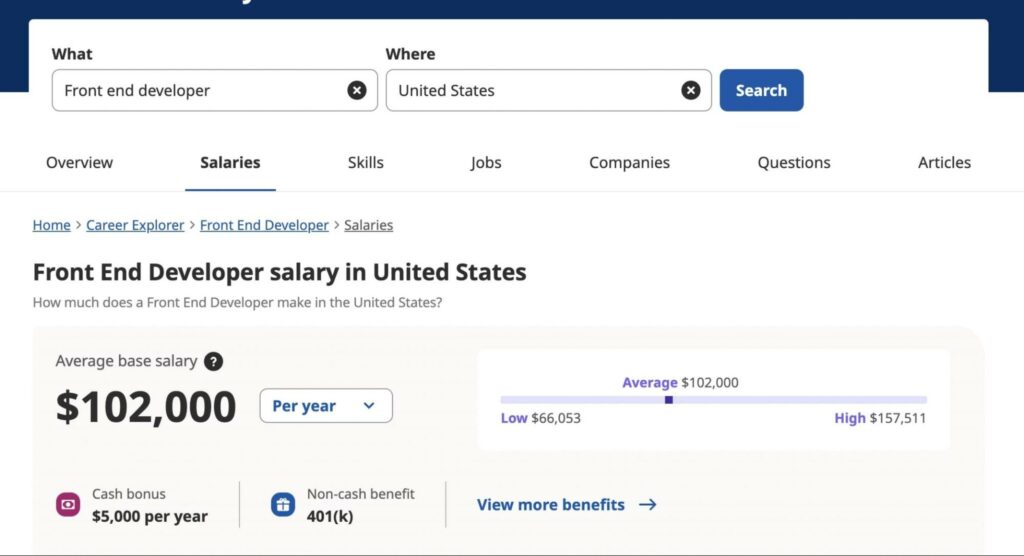 The most common benefits for this position are health insurance, paid sick time, and unlimited paid time off. These front end developers also claimed that they received a $5,000 cash bonus every year.
However, other job board websites report slightly lower front end developer salaries. On Glassdoor, the base pay is listed as $82,669 per year. With additional pay, this comes to a total of $101,092: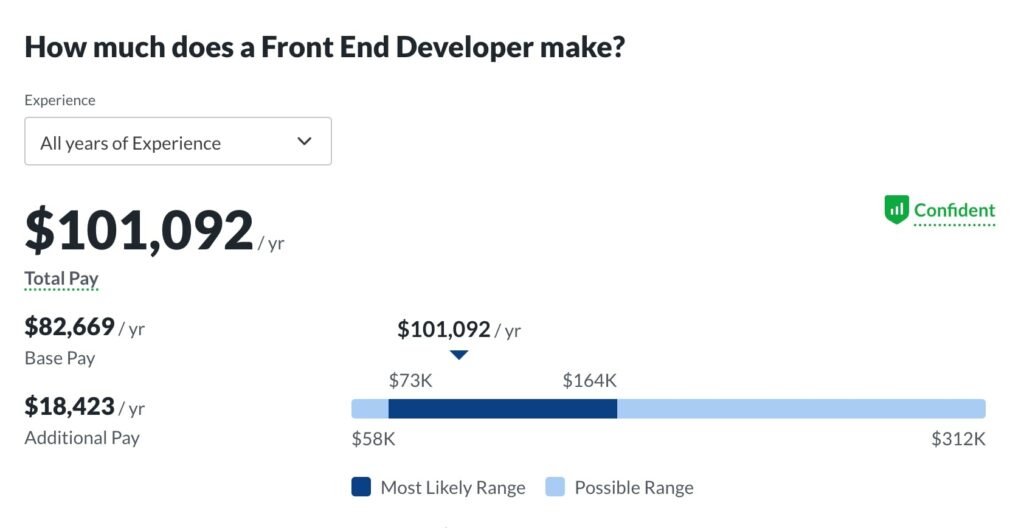 Meanwhile, ZipRecruiter lists a national average salary of $96,881 for front end developers. This is about $46.58 per hour, or $8,073 a month: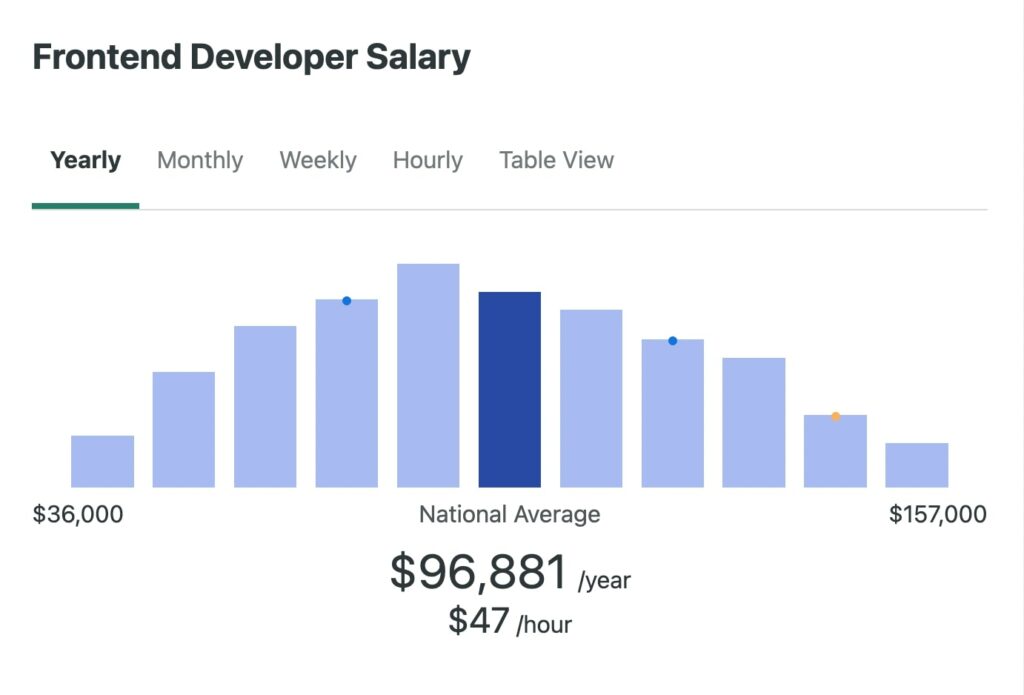 As a freelance front end developer, your salary will depend on the number of clients you work with. However, freelancers can make an average of $85,940 per year:
As you can see, it can be difficult to pinpoint an exact front end developer salary. To help you determine whether this is the right career path for you, let's dive into some additional factors.
Front End Developer vs. Back End Developer Salary
As we mentioned earlier, back-end developers work on the server-side of a website. Since they have to be familiar with database technologies like MySQL, these developers often have slightly higher salaries.
In the United States, the average base salary for a back-end development job is $116,605. This is around a $14,000 increase from the front end salary: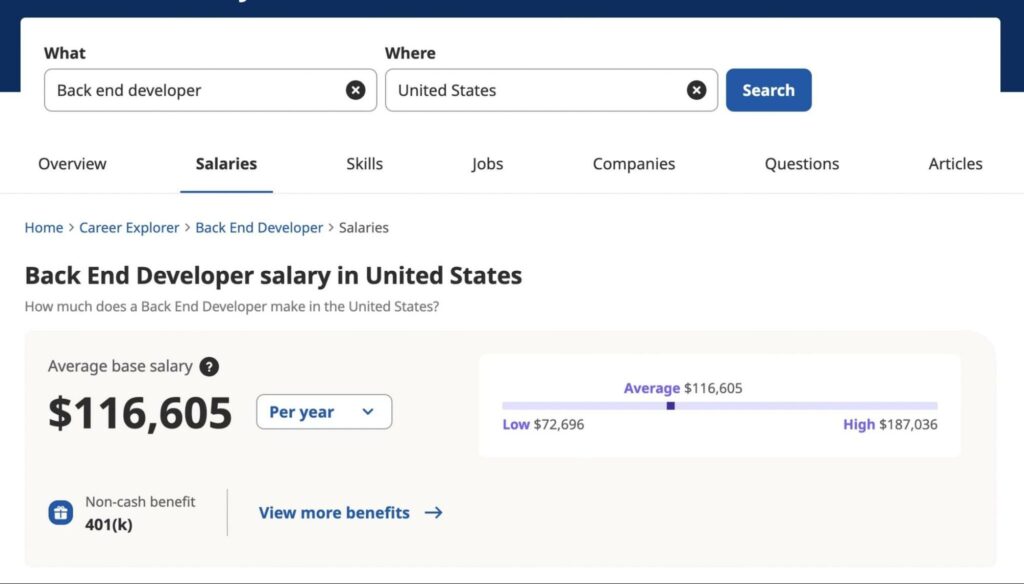 Glassdoor reports a similar national average, listing back-end development salaries at $116,267 per year. This includes average additional cash compensation, commissions, and profit-sharing: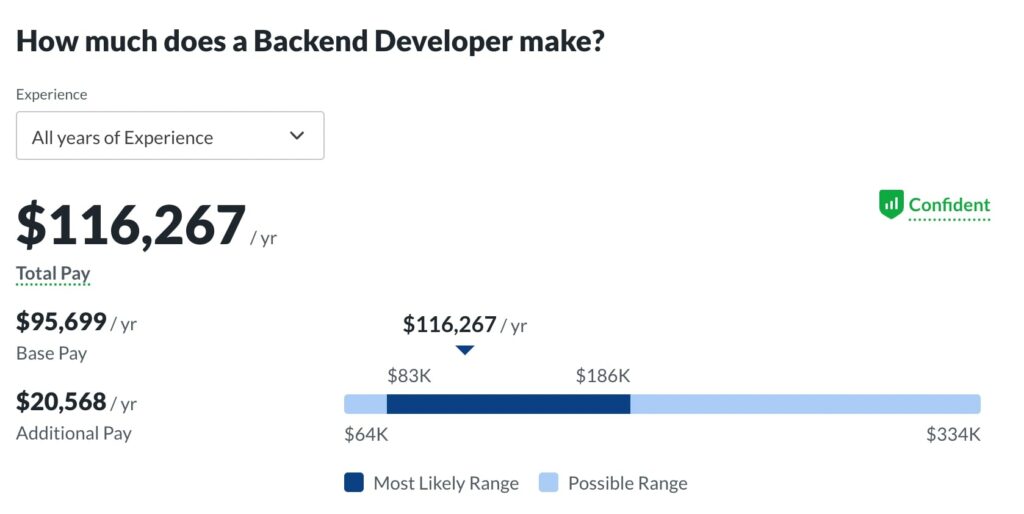 On the other hand, ZipRecruiter notes that most back-end developers only make $102,750 per year. However, this is still higher than the recorded $96,881 for front end developers: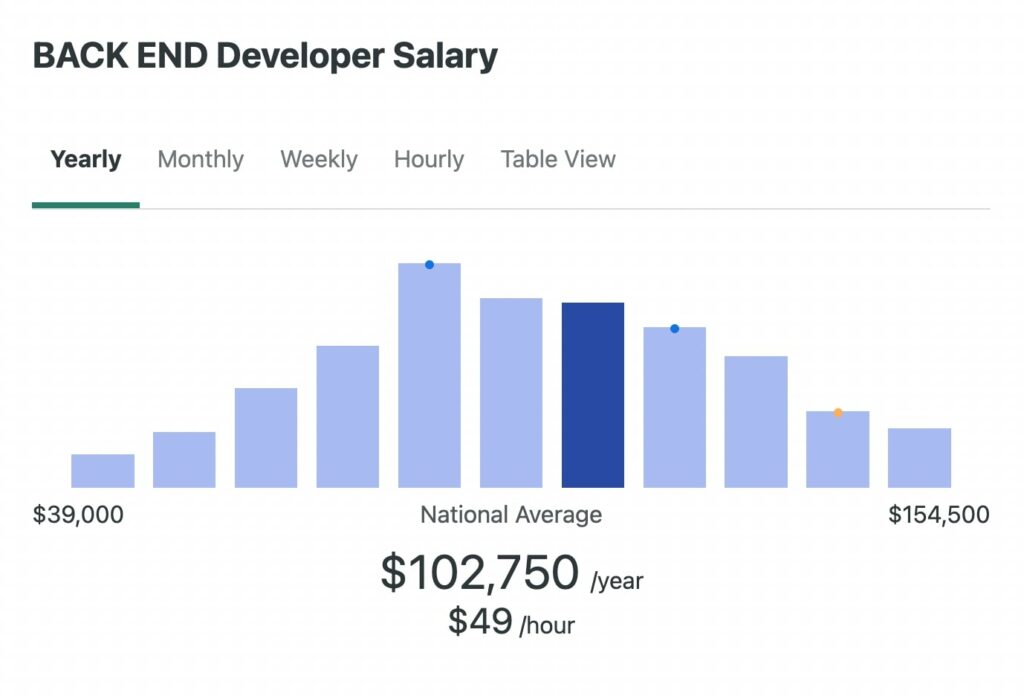 In general, back-end developers can make more than front end developers. This is mostly because they have advanced coding skills and experience.
Front End Developer vs. Full-Stack Developer Salary
A full-stack developer can perform the same duties as front and back-end developers. Since they have a broader skillset, they tend to earn more than other developers.
ZipRecruiter reports a national average income of $111,519. According to these statistics, you can make about $14,600 more as a full-stack developer: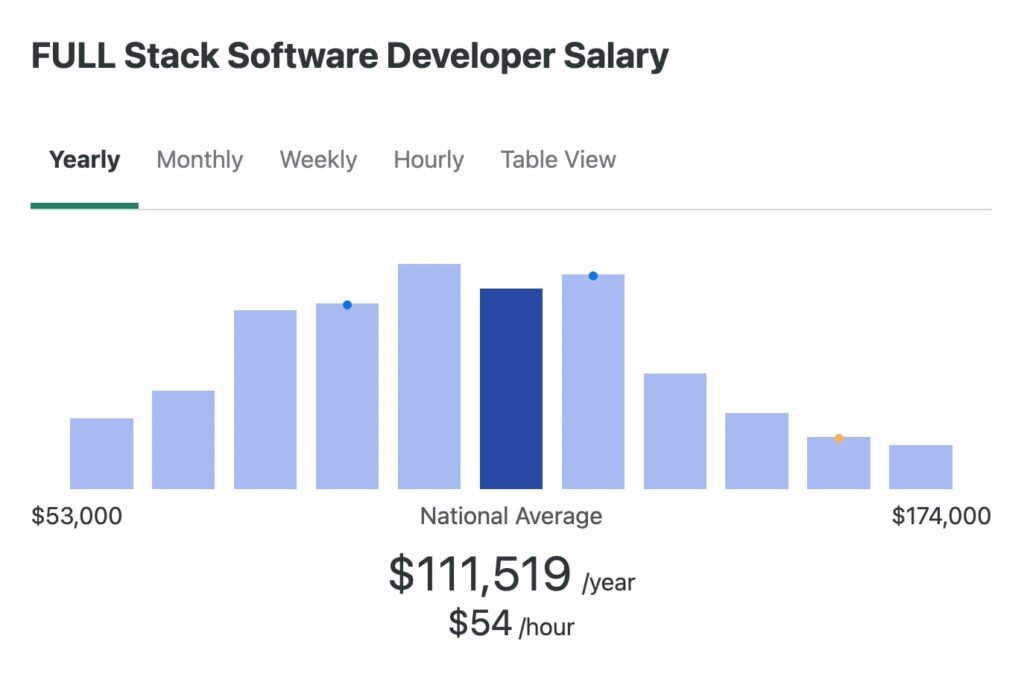 On Glassdoor, you'll see that the average total pay for full-stack developers is $107,666. This is about $6,500 more than front end development: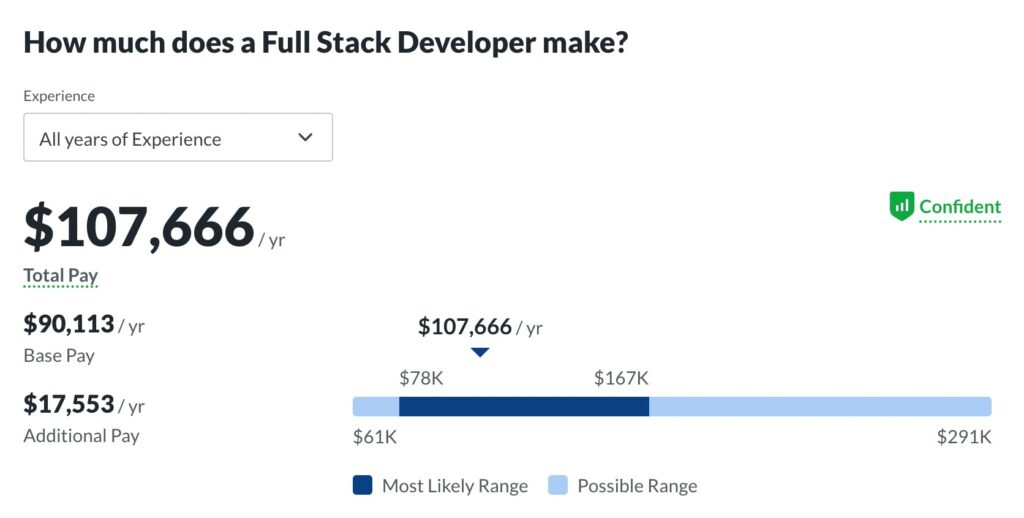 However, Indeed places the average base salary for full-stack developers at just $100,967. This is lower than the $102,000 that front end developers make: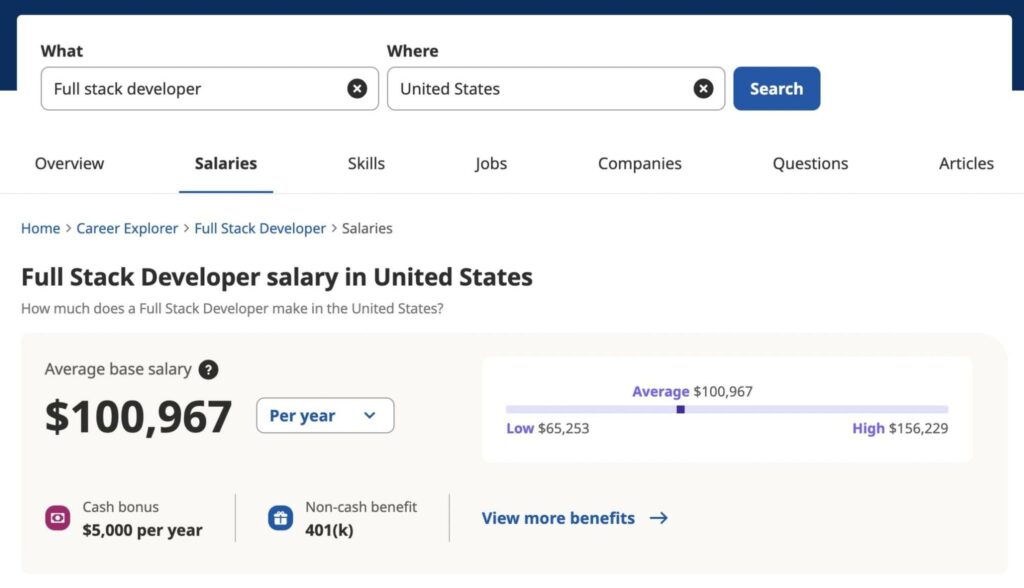 Expanding your skills into full-stack development can boost your income. However, the pay increase likely won't be much higher than a back-end development position.
How Experience Level Affects Front End Developer Salaries
Like with any job, your experience level can affect your income. As an entry-level front end developer, you'll be paid less than someone with years of development experience.
For junior front end developers, Indeed reports an average base salary of $52,921 per year. ZipRecruiter records a similar national average of $59,781. This equates to about $29 per hour.
As you progress through your career, you can get pay raises and gain more opportunities for advancement. According to Glassdoor, senior front end developers can make around $125,014.
Plus, developing new skills can help you increase your income. Even if you're a new front end developer, it can be helpful to know AWS, machine learning, enterprise software, and other advanced technologies. Whether you are self-taught or have a college degree, these skills can help you negotiate a higher salary.
How Location Affects Front End Development Salaries
Your income as a front end developer can also be affected by your location. In the United States, front end development salaries can vary from state to state.
From the anonymous posts on Indeed, we know that the highest paying locations for front end development are the following states: California, Washington, New York, and Massachusetts. In fact, both Washington and California pay about 20% more than the national average salary: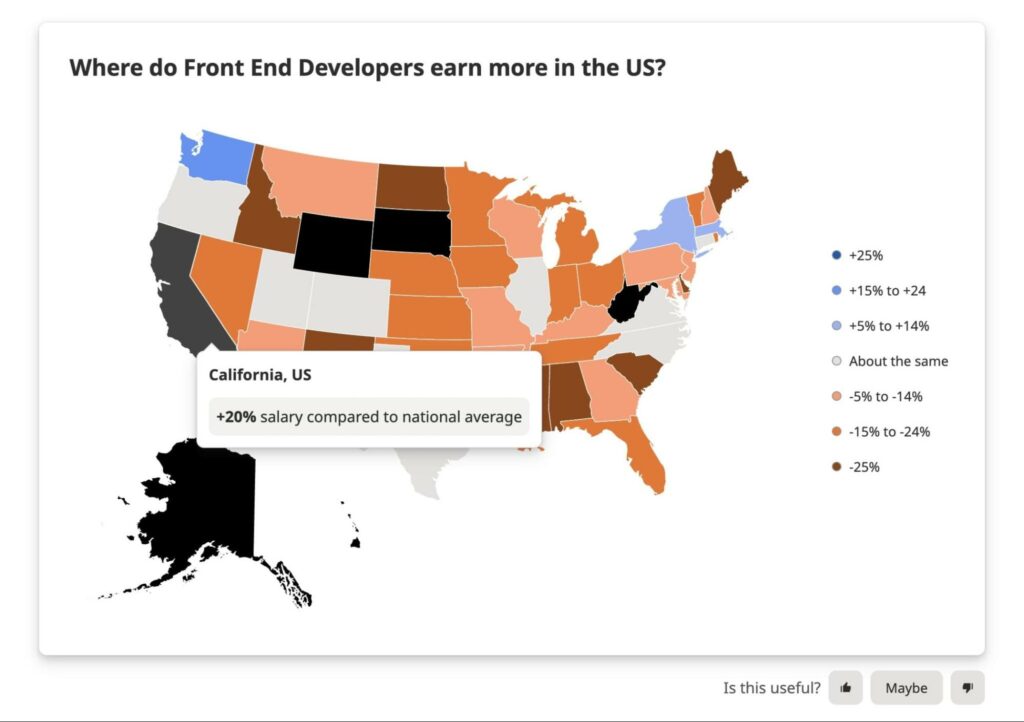 Indeed also reports that some of the highest-paying cities are San Francisco, New York, and Dallas. In San Francisco, front end developers can make around $141,262 per year: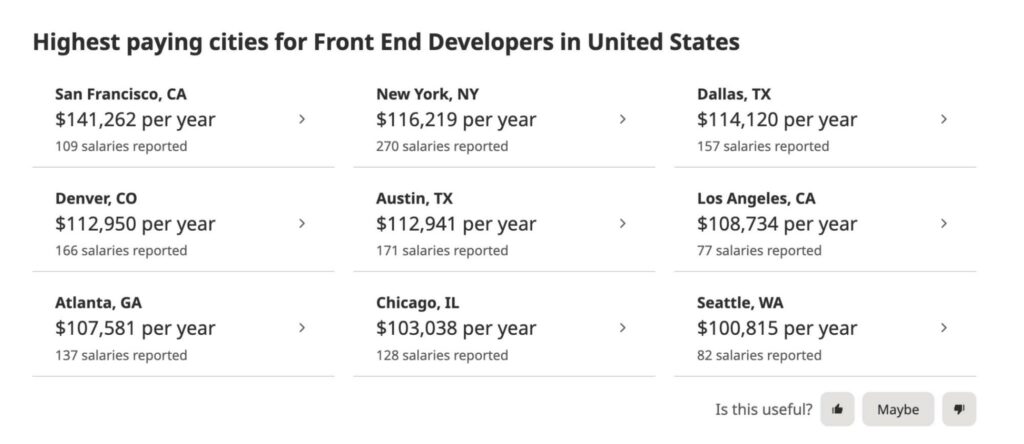 Although the United States is one of the best places to find a well-paid development job, other countries can offer similar benefits. In Australia, the average base salary lies at $123,721, while in Switzerland front end developers can make CHF 96,375 ($100,233) per year.
Launch Your Career in Front End Development
Whether you want to hire a developer or become one yourself, it's a good idea to familiarize yourself with the job requirements and average salary. Since front end developers focus on user experience, they play a crucial role in making online content aesthetically pleasing and easy to use. In the United States, front end developers can expect to make around $100k with added benefits.
However, a front end developer's salary can be affected by a variety of factors. If you live in a state like California, you can expect higher compensation rates. Plus, any extra knowledge of coding can help increase your annual salary.
Do you want to start a career in web development? You can subscribe to the DreamHost blog to learn more about learning coding languages, design tips, and more!
Get Content Delivered Straight to Your Inbox
Subscribe to our blog and receive great content just like this delivered straight to your inbox.