How Much Does a Back End Developer Make?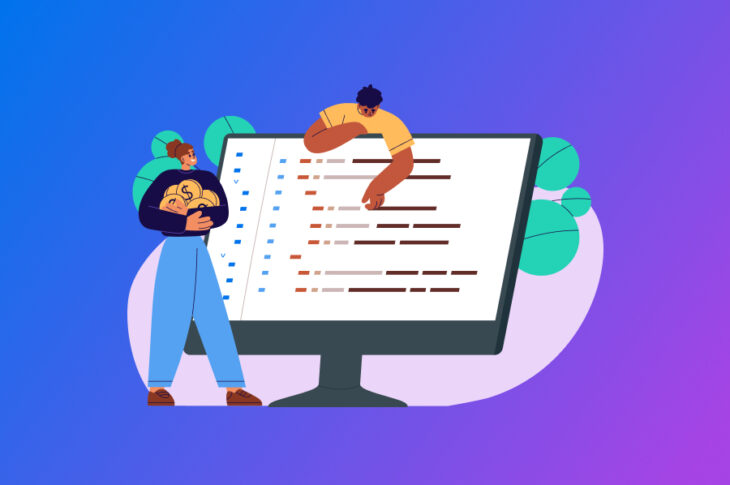 Becoming a back end developer requires a specialized skill set and a significant time investment. Before starting down that path, you may want to know if the end result will be worth your time.
The good news is that back end developers in the United States can expect to reach six figures, with an average annual salary of about $116,000. Still, not every job in this field is the same. Factors like location, years of experience, and coding knowledge all influence how much you'll earn.
In this article, we'll discuss what a back end developer does, talk about the future prospects of this career path, and explore how much money a back end developer can make based on several sources. Let's get started!
The Duties of a Back End Developer
For those outside of the computer science and engineering fields, it's easy to assume that all computer programmers or web developers are the same. As you're probably aware, however, there are countless coding languages, specializations, and areas of technical knowledge.
Back end developers primarily focus on server-side script writing for apps and websites. In other words, these developers are responsible for the flow of data that happens behind the scenes in order for mobile applications and web pages to function accurately and efficiently.
As a result, back end developers spend a lot of time with databases, and can specialize in a variety of coding languages. Some common coding languages used by back end developers include:
Java
C#
Visual Basic
Ruby
Python
PHP
Back end developers often work within frameworks such as Laravel, Django, and Node.js, depending on the programming language they are using. Since these developers spend most of their time working with databases, they will also be familiar with the details of management systems like Oracle, MySQL, and Microsoft SQL Server. Knowledge of API and ORM interfaces is also important.
This may sound overwhelming, but most people start with a narrow focus and learn more as needed. For example, a programmer skilled in JavaScript may brush up on their PHP as required to complete a particular project. In most cases, you only need to master a few common skill sets to get started as a back end developer.
How Much Does a Back End Developer Make?
While factors like education, experience, and location all affect the final number, back end developers can expect to earn a salary of just over $100,000 on average.
Indeed reports an average pay of $116,605 per year for back end developers in the United States, with a few outliers reporting higher salaries as much as 50% more to double that amount. Glassdoor shows very similar results, reporting an average salary of $116,222.
Salary.com provides a range of $91,303 to $117,112, which is a little lower but still aligns with the other two sources: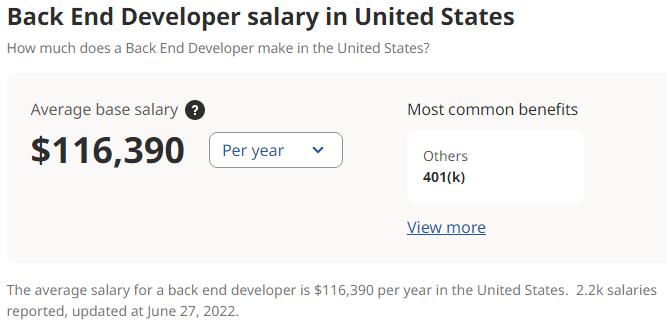 In a general sense, average earnings for back end developers are strong when compared to similar roles such as web developers, app developers, and even front end developers. Those fields are broader, and generally require less specialization. Working with databases on the back end of websites and apps is also less appealing to many programmers when compared to more hands-on work, making it a more niche focus.
The benefits in this field also tend to be impressive, since competition for skilled back end developers encourages companies to attract and retain them for long-term careers. These developers commonly report perks such as 401(k) plans, remote work options, commute compensation, continued education assistance, comprehensive health insurance, life insurance, and stock options.
In other good news, the US Bureau of Labor and Statistics predicts that this field will grow by 13% over the next five years. This is partly due to the reasons mentioned above, as well as an increase in demand corresponding to the continued growth of popularity for mobile devices and the eCommerce industry.
How Experience Level Affects Back End Development Salaries
As with most jobs, experience is one of the biggest factors when it comes to compensation. This is especially true for developers who spend years honing their skills, learning tricks of the trade, and expanding their knowledge to new coding languages and software platforms.
ZipRecruiter reports an average salary of $76,685 for entry-level back end developers, while senior-level back end developers make roughly 40% more, with an average salary of $107,812. These numbers are a little lower than what is reported from other sources, but helps to illustrate the effect experience has on total earnings.
Knowledge of specific skills also has a notable impact on how much back end developers can make. More common skills like Python, C++, and data structures can give a small boost of around 10%, while specialized skills such as XSLT, Pig, and Haskell can result in jumps as high as 20-50%.
Experience tends to correlate with a broader range of knowledge for back end developers, so the more you know, the more valuable you are, and the more you can qualify for different opportunities and projects. You can see the list earlier in this article for common skill sets that benefit back end developers, while specialized knowledge in rare niches can make you even more valuable to the right employers.
How Location Affects Back End Development Salaries
While the above numbers reflect pay in the United States' market, earnings vary considerably by country and even from state to state within the U.S. ZipRecruiter provides a breakdown by state that can give you an idea of where there is more demand and if it would be worth relocating.
There is a stronger overall earning potential in the west, including states like California, Washington, Colorado, Montana, Arizona, and Wyoming. Meanwhile, southern states such as Texas, Louisiana, and the Carolinas report a lower average salary for back end developers: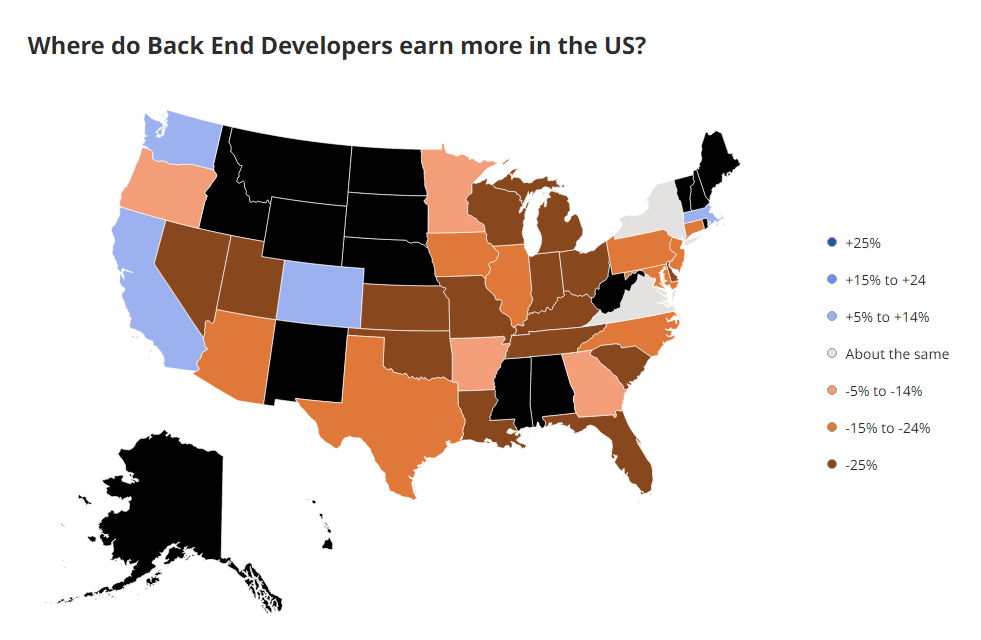 Note that pay is likely to fluctuate from company to company as much as state by state, and the highest salaries may reflect higher costs of living.
In addition to the U.S., Australia has a similar demand and slightly higher average salaries of around $123,839. Other high-earning countries include Switzerland, Denmark, and the United Kingdom.
A Growing Field
Back end developers are in high demand, as more and more business goes digital. Not only that, but technology continues to become more interconnected with the rise of online gaming, mobile devices, and cloud storage. All of these industries need to hire back end developers to keep the data flowing, making this a solid career prospect for the foreseeable future.
Back end developers can expect a strong salary potential, with a median income around $100,000 plus or minus 20%. With a healthy outlook and good salary relative to other programming fields, back end developer is a solid choice for those interested in a computer science career that is in high demand.
For more articles like this, subscribe to our blog and stay informed about the state of eCommerce and opportunities on the web. DreamHost is your source for the tools and knowledge needed to succeed online!
Get Content Delivered Straight to Your Inbox
Subscribe to our blog and receive great content just like this delivered straight to your inbox.