How to Drive More Traffic to Your Website
Getting traffic to your website is getting harder all the time. You are competing with more and more websites that are seeking the same visitors, both from direct as well as indirect competitors. On top of that, you're dealing with search engines that constantly change the rules about how to get good rankings.
But fear not! At DreamHost, we totally understand that staying on top of the next SEO trend is difficult — especially if you've got a small business to run. So we put together this guide to make it easy for you to attract more visitors without breaking the bank — or skipping sleep.
For the record: We wrote this with a WordPress website in mind, but the content is still valuable regardless of the site builder or CMS used.
1. Make Sure Your Site is Search Engine Friendly
Check your WordPress settings to make sure you did not accidentally check to discourage search engines from indexing your site. You can do this by looking at Settings > Reading in the WordPress dashboard and looking at Search Engine Visibility. Make sure this is unchecked.
Checking this setting is good only when you are building your site initially and not ready to have your site indexed, but as soon as the site is launched, it should always be unchecked.
How Online Search Works
The popular search engines use programs called spiders to 'crawl' your site and index it, evaluating the code your site uses and the content it contains. Based on what is discovered, the search engine uses algorithms to rank your site based on over 100 indicators that determine how valuable your website's content is.
Search engine optimization, or SEO, is the goal to make these search engine spiders happy with what they find on your site. Keeping them happy is very complex and is constantly changing, but there are some things that seem to remain constant.
Google searches make up 70 percent of all searches. Bing and Yahoo make up about 15 percent. The rest are smaller search engines, like DuckDuckGo, Ask, and AOL or are popular in different parts of the world — Baidu is popular in China, while Yandex is the dominant one in Russia. All things considered, a good place to start is Google.
Search Engine Optimization Made Easy
We take the guesswork (and actual work) out of growing your website traffic with SEO.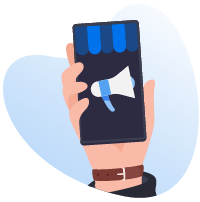 2. Create Great and Unique Content
One of the biggest reasons your target viewer will visit your website will be because of your online content.
The way to think of it is this: the target user of your product, service or information has specific pain points. While the pain point may be directly solved by your product or service, they may need to learn more about topics related to your product or service first before they are ready to buy.
If you can provide good, meaningful content that discusses related topics that will be of high interest, the website viewer will come to trust you because you deliver valuable information. If you are solving problems that people are searching for then it is likely that you are going to get shared on social media and ranked in Google.
The way to start with this is to first understand your target website visitors.
What are their goals and aspirations?

What are their major pain points?

What content can you provide that will help educate them?
The best content seeks to help your target reader and visitor of your site. It gives them information and suggestions to solve pain points. It helps them become more aware of their options. This is the content that will resonate the most with your target readers or buyers.
Consistency is Key
Try to write and publish as often as possible, but not at the cost of quality! The more quality content you have on your website or blog the more opportunities you create for organic traffic to come your way.
In addition to blog posts, video is very big. Adding tutorials or video posts can go a long way to building links and traffic from YouTube. Adding great graphics to better illustrate your ideas also helps. You will get much better search engine rankings with video or images added to your posts than you will without.
3. Leverage Top Keywords
One way to really drive traffic rapidly is to identify the terms your target audience is using to do their search. What do they enter when using Google? These terms or phrases target visitors are using are called keywords.
One thing you can't assume is that you know what word or words search engine users employ to find a product or service like yours. You probably have a good idea, but you may be off, especially in keyword popularity. Google provides a web tool that can help you identify the top keywords, called Google Adwords. Part of Adwords is a feature called Keyword Planner. Bing also has a Keyword Research tool and would be useful as a second resource.
There are different types of keywords:
Base keywords —

These are the base words that tend to be very popular. Because of their popularity, it can be hard to get high search rankings by targeting them but you still want to know about them.

Modifier keywords —

These are less popular ones than the base words, but are still useful—they add 1-2 words on the base keywords.

Long-tail keywords — Long-tail keywords are those that are three words and longer. The volume usage of long-tail keywords is much lower than the base as they are much more specific, but it can be a lot easier to get high rankings with long-tail keywords and will drive visitors with very focused goals your way.
For example, using a bicycle analogy, here are examples of the main keyword types:
Base keyword —

bike

Modifier keyword —

mountain bike

Long-tail keyword —

cross country mountain bike
Try to use all three types of keywords. Don't limit yourself to just the base and modifier keywords. By using keywords that also are more specific to your product or service, search engines will come to identify your website or blog as a destination for that particular subject, which will boost your content in search rankings and help your target customers find you.
How to Use Keywords
Once you have a selection of targeted keywords, there are a number of ways you can use them:
Choosing content to write about

For titles of your posts and pages

In body tags (h1, h2 and h3)

For your Permalinks

In meta-descriptions

As categories and tags

In the beginning sentence of a post

Throughout your post, but not too often
Since you used ideas from your target customer's pain points to create your keywords, it is obvious that you will want to create content around those topics.
Use your keywords in the content you write, even you only focus on one keyword term or phrase at a time. Page titles are one of the most important SEO factors on your blog or website. Each of your pages and posts will need its own unique title. Based on the content and the keywords used, choose a page title that includes those keyword terms or phrases.
4. Make Sure You Have a Good Permalink Structure
Permalinks are the URLs people use to find your site and its internal posts and pages. A good permalink will help users find your site more often.
For example, a bike store's blog post will get much better search engine rankings with a permalink that looks like www.coolbikeshop.com/cross-country-mountain-bikes than it will with a permalink like this: www.coolbikeship.com/?=12.
Fortunately, you can change your permalinks to follow best practices. In the WordPress dashboard, go to "Settings > Permalinks" and make sure you have the option set to postname. The best one to use is /%postname%/, which leverages the title of your post or page, again taking advantage of your keyword(s).
Use an SEO plugin
There are lots of WordPress plugins that help you with SEO. One of the best is Yoast SEO. Here are some of the key features and functions:
Edit the meta title and description for each of your pages and posts. Every time you create a new post, for example, you can fine tune your meta title and description to leverage your keywords.

Create better permalinks for each of your pages and posts. Sometimes you need to "fine-tune" the permalinks to better use your keywords.

Content analysis to check the quality of your post content for how well it is written and how well it works for SEO.

Fixes the canonical link element to work with your WordPress categories and tags and your home page. The canonical link element tells Google the original page content from derivative pages within your site carrying the same content.

Make sure you clean up any broken links and make sure your navigation all works smoothly.

Fixes backlinks to your site so that backlinks with extra variables at the end of the URL get stripped away. Your content gets found under the URL you want it to be found.

Creates an XML Sitemap for search engines that handle no-index pages. Sitemaps give search engines a map of your website so they can more easily index your site. The plugin then submits your sitemap to the search engines on a regular basis.

Make easy edits to your robots.txt and .htaccess files.
This is all from the free version of Yoast SEO. The premium version does even more!
5. Use a Mobile-Optimized Theme
The theme you use on your WordPress website does affect your SEO in two ways: speed and mobile support.
The way your theme is coded is important. If it uses clean HTML and CSS code, that will help show the search engines that you have a trustworthy site. Typically the cleaner the code, the faster the theme will load. To test out how fast your site loads, try PageSpeed Grader and run the free report. If your site doesn't get a B or higher, you may want to consider a different theme (or see if you have too many plugins).
Providing great support for mobile is very important for getting good search results. Make sure that your theme is designed to support mobile phones and tablets as well as desktops. One of the best ways to ensure your theme is well developed and mobile-optimized is to use a theme created by a theme provider with a good reputation. The three we recommend are StudioPress, PixelUnion, and Theme Foundry.