A Beginner's Guide to Affiliate Marketing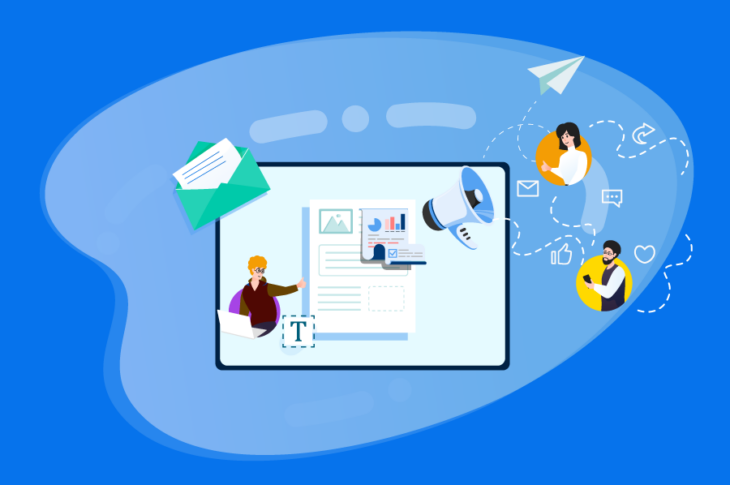 There's no shortage of ways you can make money online. However, few are as flexible and rewarding as affiliate marketing. If done right, it can be a lucrative way of earning an income by producing creative and valuable content.
In a nutshell, affiliate marketing enables you to monetize your content by promoting other companies' products using affiliate links. When somebody buys a product or service based on your referral, you earn a small commission on that purchase.
In this article, we'll introduce you to the basics of affiliate marketing and discuss how it works in practice. We'll also show you how you could benefit from using it and give you some help in getting started.
(The article continues below — but before you scroll, consider subscribing to our content below so you never miss an update!)
Get Content Delivered Straight to Your Inbox
Subscribe to our blog and receive great content just like this delivered straight to your inbox.
An Introduction to Affiliate Marketing
Affiliate marketing involves promoting products from external vendors on your own website. While definitions sometimes vary, there are generally three or four parties involved in an affiliate setup. Since these terms can be confusing, let's take a moment to clarify the 'who's who' of affiliate marketing:
The affiliate. Also known as 'the marketer,' this is the person running a site that contains affiliate links. The affiliate receives a commission on each purchase made by visitors who found a product by clicking on one of their links.
The consumer. This is a visitor on the affiliate site who clicks on an affiliate link and completes a purchase (whether that's the original item being promoted or something else from the same company).
The network. This refers to the internal or third-party platform that the affiliate program operates on. This means they're the ones providing the links that the affiliates use and paying the affiliate their commissions.
The merchant. This is a company that sells products being marketed by the affiliate. In many cases, the merchant and the network are the same, as some companies run their own affiliate programs. For simplicity, we'll be combining these last two entities throughout the rest of our discussion here.
Those are the essential elements of any affiliate marketing deal. Now let's talk about how those elements come together to help you make money.
Examples (And Types) of Affiliate Marketing In Action
Affiliate marketing may look simple on paper, but actually making money from it requires a lot more work than you might imagine. Let's discuss several examples of different programs to understand better how affiliate marketing works!
Web Hosting Affiliate Marketing Offers (Pay-Per-Sale)
You might have noticed that many web hosts offer affiliate marketing programs. DreamHost is no exception. Our Web Hosting Affiliate Program, for example, offers up to $200 per every web hosting client that affiliates send our way:

The way the program works (and how most do) is that a website owner applies for it. If they're approved, they get access to a custom dashboard where they can track referral activity and earnings.
We say if they get approved because most serious affiliate programs filter people who can access them. That way, the program owner or the "network" can protect its brand by deciding who can promote it.
Once you're part of a network, you'll get what's called a referral link. The referral link leads visitors from your website to the network. It contains a unique identifier (a cookie) that tells the network, "This visitor came from over here!". If that visitor completes a purchase using the link, you get the referral bonus: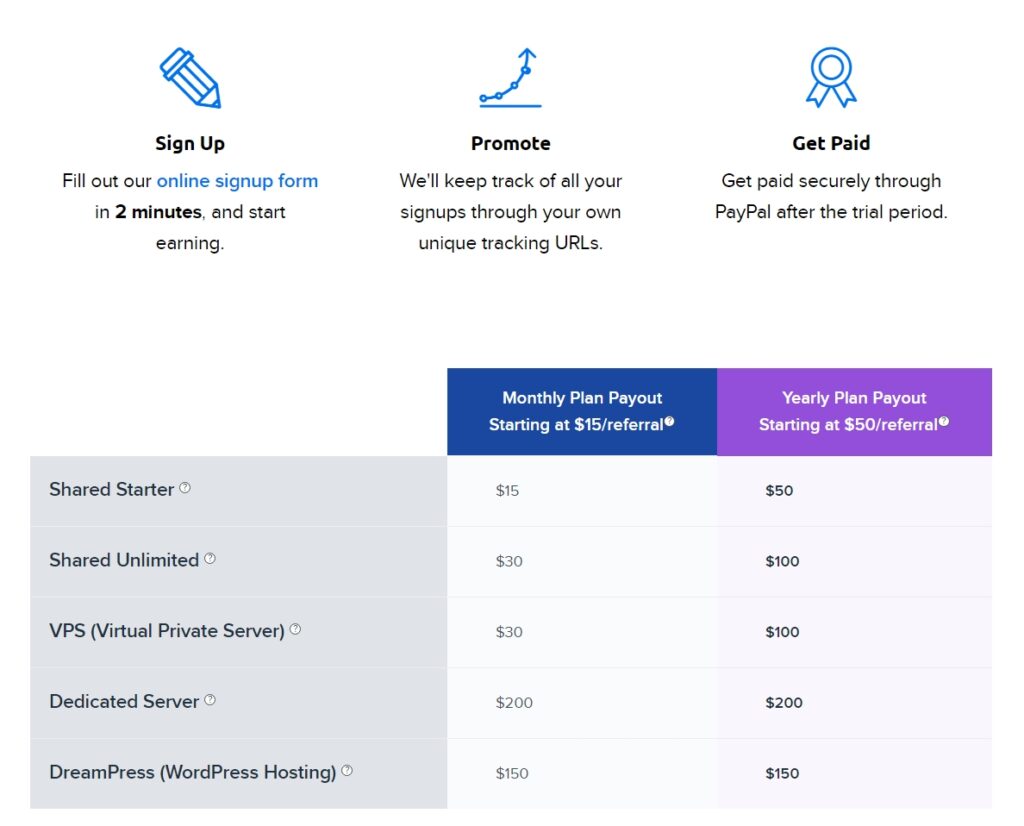 Hosting affiliate programs are outliers because they tend to pay much higher referral bonuses than other networks. Most other programs pay you a small percentage of your sales. With hosting affiliate networks, you tend to receive flat fees instead.
As an affiliate, there are a lot of ways that you can promote hosting products. Some common examples include creating content such as:
Hosting platform reviews
Hosting platform comparisons
Recommending your favorite hosting platforms
On paper, the process is really simple. You publish hosting reviews, wait for users to find and read them, and collect payment on link clicks.
However, that process can take a long time in practice. Moreover, most affiliate programs pay in net terms. That means you might have to wait one, two, or even three months to see referral payments. That setup exists to prevent any abuse of the program.
It's important to understand that convincing real people to spend their money on your recommended products requires trust. Affiliate marketing can be incredibly lucrative. However, you need both decent traffic and a trusting relationship with your audience to get there.
E-Commerce Affiliate Programs (Pay-Per-Sale)
One of the best examples of an e-commerce affiliate program is Amazon Associates. Amazon accounted for 36.9% of all e-commerce sales in the US during 2020. That's a staggering figure, reflecting the massive scale of Amazon operations.
One component of that market share is Amazon's affiliate program. The basis of the program is that Amazon pays you up to 10% in commissions from the products that users buy through your affiliate links: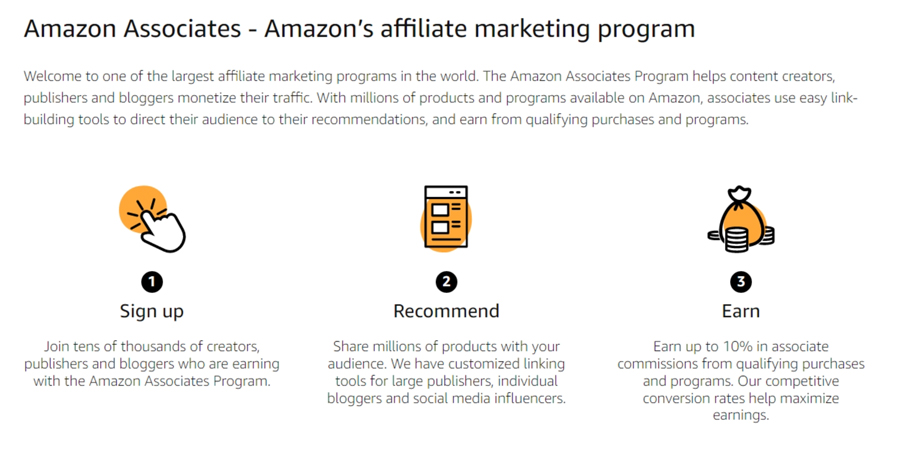 Amazon Associates accepts several kinds of websites, but it focuses mainly on sites with blogs. You can also apply for the program if you have a mobile app or a YouTube channel. Plus, there's a separate category for social media influencers.
Applying for Amazon Associates requires a well-established blog. Amazon usually filters applicants with fewer than ten blog posts on their sites. However, you'll need a website that gets a lot of traffic to make decent money from the program.
Amazon Affiliates is incredibly popular because the platform is so well known. With Amazon, you don't need to convince people to buy from the store. Instead, it's all about getting them to trust your specific recommendations.
This program pays commissions on a Net-60 basis and offers multiple payment methods. Options such as getting a check or cashing your earnings as Amazon Gift Cards make this affiliate program popular in many countries that don't have access to other payment platforms.
It's also worth noting that most affiliate cookies have relatively long lifespans. Amazon Affiliate cookies, for example, last 24 hours. That means someone can click on an affiliate link from your website, get to Amazon, check out a few products, and leave the site. If they return to Amazon within 24 hours and make a purchase, you still get the commission.
Acorns Affiliate Program (Pay-Per-Lead)
After two examples of pay-per-sale affiliate programs, we're going to discuss a different model of business. Pay-per-lead programs don't reward affiliates for successful sales. Instead, you get paid a flat fee for specific types of leads.
For instance, Acorns is a micro-investing platform. It enables everyday users to invest modest sums of money without talking to brokers or dealing with regular banking platforms. The Acorns affiliate program pays $10 per each successful signup: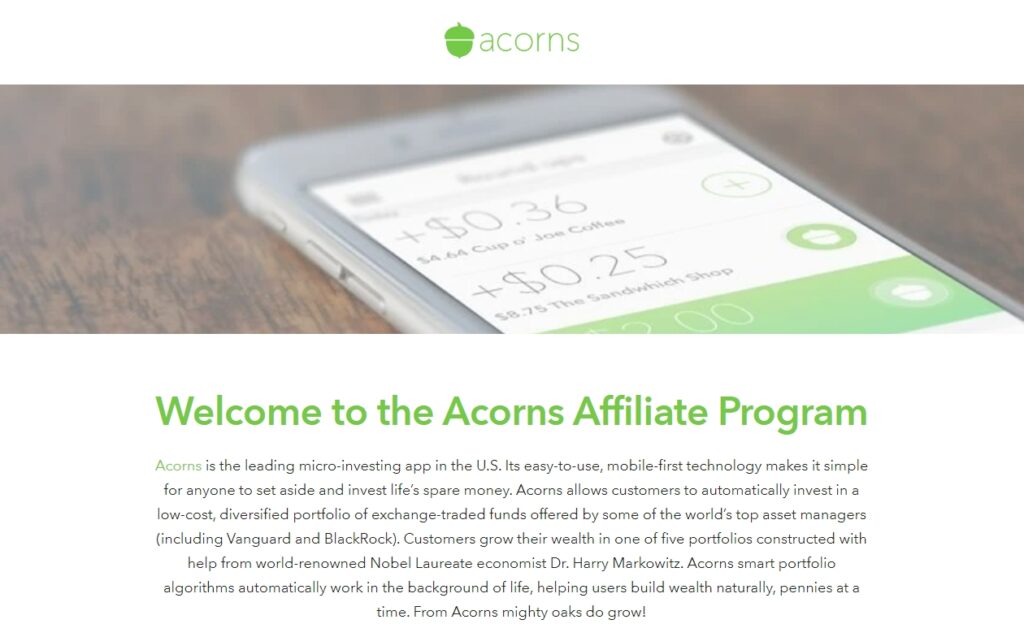 Right off the bat, most pay-per-lead programs offer smaller commissions than their pay-per-sale counterparts. The upside is that it's often much easier to get users to become leads than it is to get them to buy products.
Most pay-per-lead programs, including Acorns, have requirements for valid leads. In the case of Acorns, users must be from within the US. That means you're competing with many websites and influencers trying to teach people how to invest their money.
Signups are just one type of lead that companies pay for. Depending on the program, other networks may pay you to get users to sign up for free trials, download an app, or even fill out a contact form.
Skyscanner Affiliate Program (Pay-Per-Click)
Pay-per-click programs are relatively rare because most companies prefer to pay for leads or sales. However, Skyscanner offers multiple affiliate programs, including one for sales and another for clicks: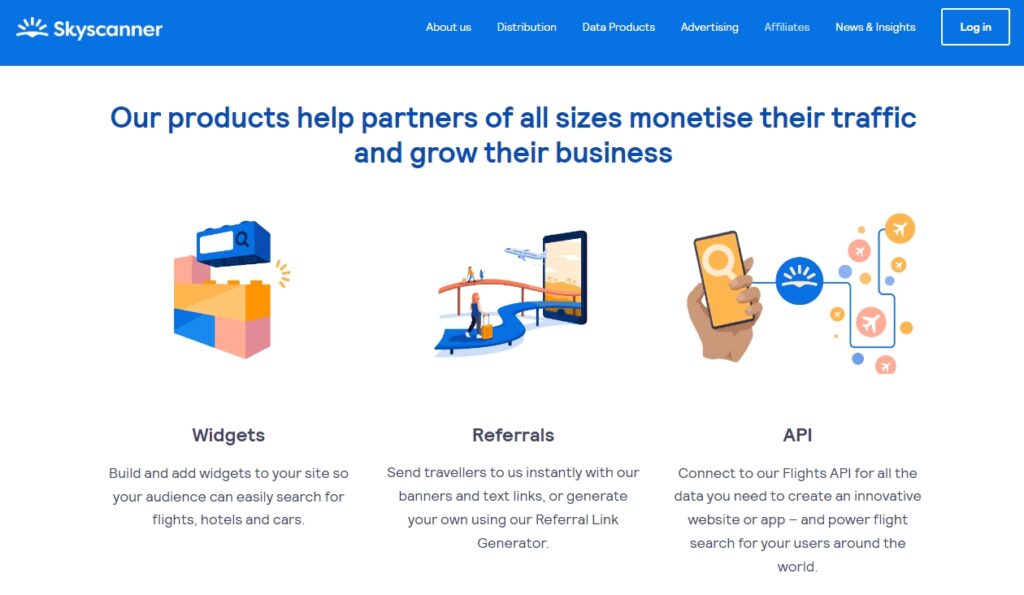 The Skyscanner pay-per-click program enables you to place a travel widget on your website. Visitors can use the widget to search for flights and get directed to the Skyscanner website: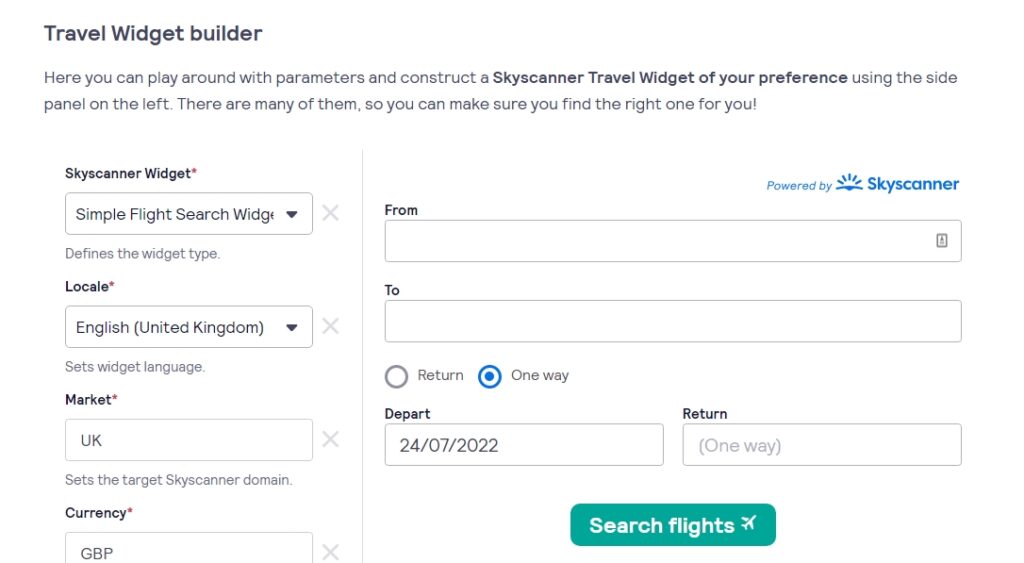 In this case, the program pays you for every successful search through the unique widget on your website. As you might expect, pay-per-click affiliate programs tend to pay a lot less in commissions than their sale or lead counterparts.
The advantage of this type of program is that it tends to be highly targeted, and it's relatively easy to convince users to click on something. For example, this particular program can be a fantastic fit for travel blogs.
If you search for pay-per-click affiliate programs, you'll find information about a lot of ad networks such as Google AdSense or Mediavine. It's important to understand that ad networks are not the same as affiliate marketing programs. An ad network can also pay you for clicks, but that's where the overlap between both monetization methods ends.
What Are the Pros and Cons of Affiliate Marketing for Monetization?
No single website monetization method is a good fit for every website. However, affiliate marketing offers many upsides that other monetization methods don't. Let's go over the pros and cons of being an affiliate!
The Pros of Being an Affiliate Marketer
Perhaps the most significant advantages of affiliate marketing are its flexibility and low barrier to entry. You can become an affiliate by running a blog, a YouTube channel, through your social media profiles, and even using email marketing. If you have a channel where you can promote links, you can be an affiliate marketer: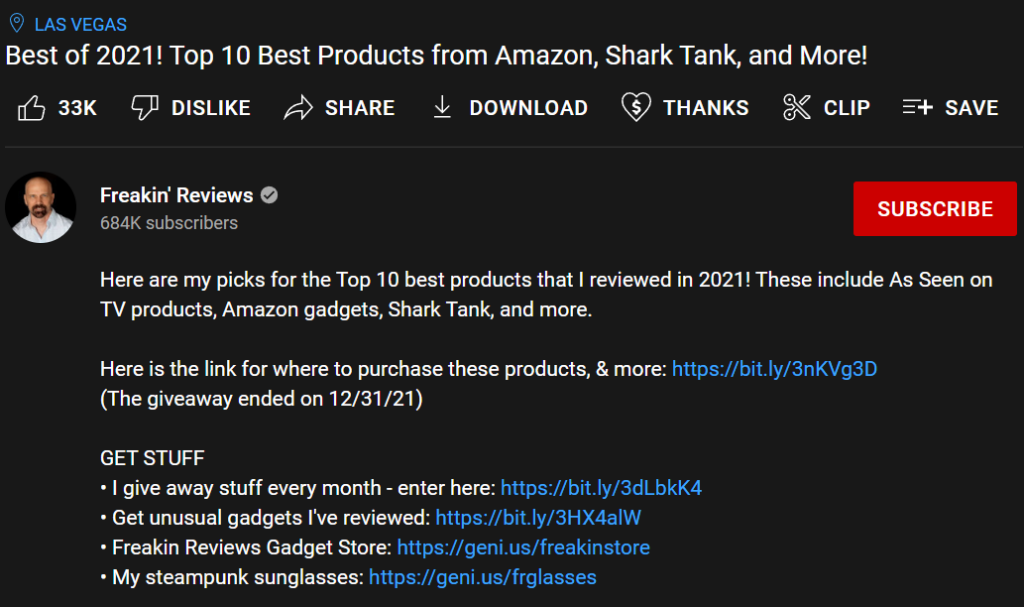 Moreover, affiliate marketing payouts tend to be a lot higher than other monetization methods, such as running ads on your website. Ads might bring in a steady income if you have a lot of traffic, but so does being an affiliate.
You can choose precisely what programs to sign up for with affiliate marketing. That gives you complete control over which products and services you promote to your audience. Furthermore, you can simply avoid a specific program if you're not comfortable with it.
In our experience, there are also affiliate programs for most niches. As long as you promote products your audience is interested in, you shouldn't have a problem converting some of them. In affiliate marketing, even a few conversions can translate to significant payouts (such as hosting affiliate programs).
The Cons of Affiliate Marketing
Although affiliate marketing can be a great monetization method, it's not without its downsides.
For starters, many programs require your website to fit specific criteria if you want to join them. These networks do this to protect their brands and to prevent low-effort marketing from tarnishing their reputations: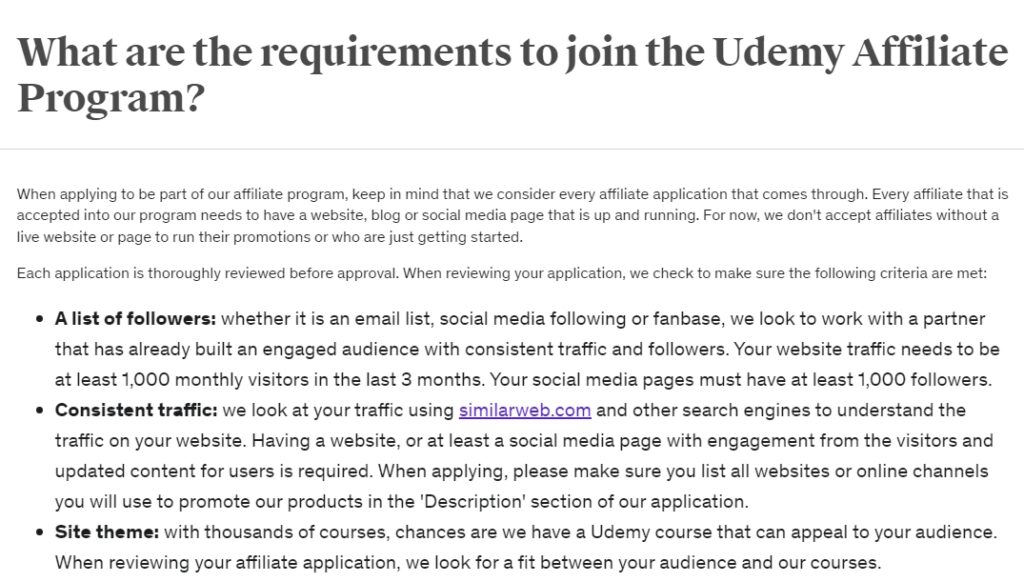 Often, the application process for affiliate programs can be long and grueling. It's not uncommon, for example, to be rejected from the Amazon Associates program. You might even need to re-apply multiple times before you're accepted.
Another critical aspect of affiliate marketing is that you must disclose that you're being paid to promote products. Not doing this can go against affiliate and even government guidelines in many jurisdictions.
Additionally, it's worth noting that affiliate payouts tend to take a long time to process. For affiliate programs, it's not uncommon for networks to pay one, two, or even three months after your links deliver a purchase or a lead. This is a common practice to discourage users that would exploit affiliate programs. Still, it means you need to be patient if you want to see your money.
Overall, affiliate marketing can be a fantastic way to make money online. However, it requires a lot of patience and setup if you're using a website. It might take months or years before your site can successfully apply to programs and get conversions since you need to build an audience.
Moreover, many affiliate niches, such as tech gadgets and appliance reviews, tend to be incredibly competitive. This is because there's so much money in those programs.
How to Get Started With Affiliate Marketing (In 3 Steps)
As we've already mentioned, affiliate marketing has a relatively low barrier to entry. To help you get started quickly, we're going to walk you through the first steps for turning your site into an affiliate marketing success.
Step 1: Choose a Suitable Affiliate Niche
If you're starting a new affiliate site, you'll need to consider what niche you will work within. Your site's niche determines what type of content you create, who your target audience is, and which kinds of products you will promote.
Naturally, it's crucial to choose a niche that's financially viable. This means you need to find a subject that enough people will be interested in. That may seem tricky, but there are actually a lot of options you can choose from. Performing keyword research is also a smart idea at this stage to find out what keywords are driving the most traffic via search engines.
If you're unsure where to start with keyword research, your best bet is using free tools such as Google Keyword Planner. You can utilize Keyword Planner to find out what users are looking for in the niches you're considering: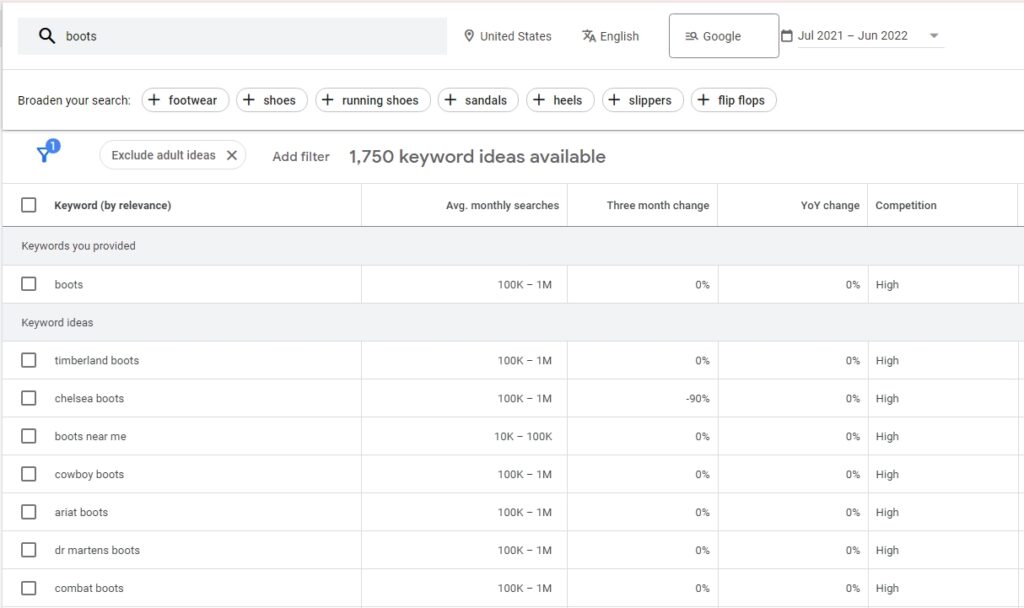 Keyword research tools won't just give you an idea of which topics you might need to cover. They'll also tell you how competitive they are.
If you're considering a niche where most keywords have high competition, you'll have a hard time "breaking in". That's not to say you shouldn't attempt to, but it might take a long time.
This step isn't just about finding the niche that pays the most or the one that's not as hard to break into. To be successful, you should also aim for a niche that suits you personally. If you already have some knowledge and interest in your chosen area of focus, you'll be in a position to create authoritative and engaging content to go along with your affiliate links.
You'll also have a better understanding of your target audience's needs and desires. This is essential since it helps you build trust with your visitors. If they feel like they can rely on your judgment and recommendations, they'll be more likely to click on your links and make purchases based on your suggestions. Therefore, the best niche will have plenty of potential consumers and will be something you can create knowledgeable and trustworthy content about.
Step 2: Find and Sign Up for the Right Affiliate Programs
Once you have a niche and site ready to go, it's time to look for affiliate programs. As we mentioned previously, many programs are run directly by a merchant, with the goal of promoting their own company's products.
When deciding which programs to sign up for, you should first look at what products they want you to promote. Most importantly, they'll need to offer products that are popular in your selected niche. Therefore, look for brands that speak to your target market, and see if they offer affiliate programs. For example, if your site is about running websites, you could look for web hosts with their own affiliate programs.
In addition to merchant-driven programs, there are also dedicated affiliate networks, such as Rakuten, Awin, and CJ. These programs encompass several merchants and thousands of products. This gives you access to multiple types of products without needing to join lots of programs.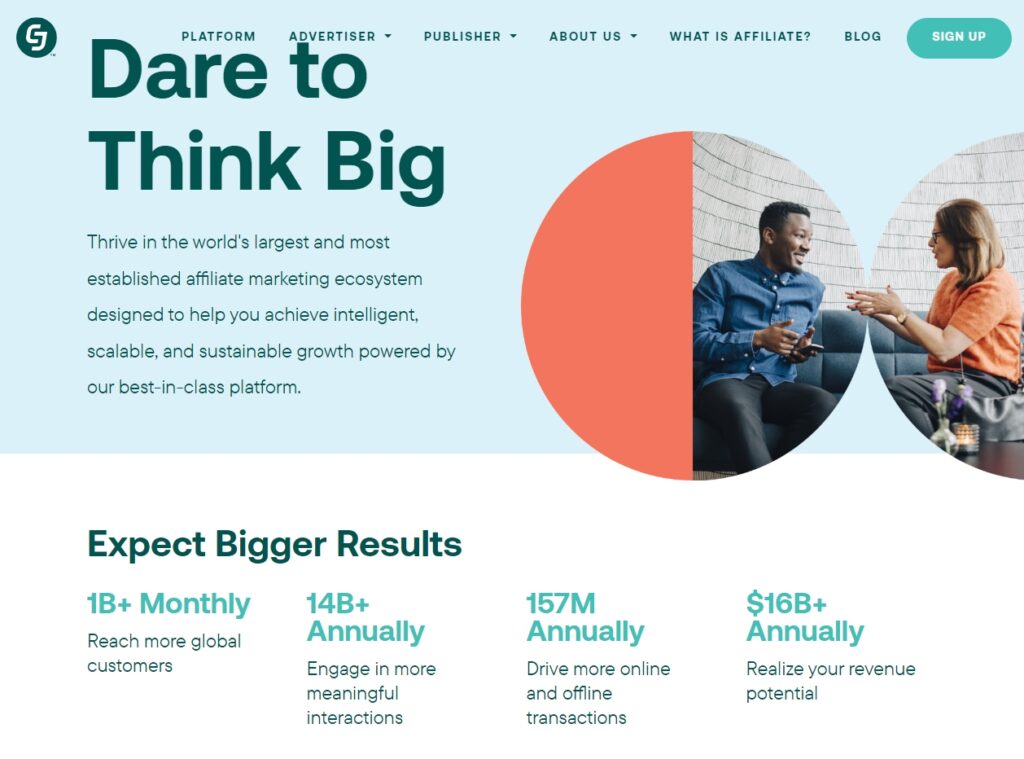 Before you sign up, it's also a smart move to research each program and see what experiences other affiliates have had. Naturally, it's also important to find programs that will pay you well. After all, you're putting a lot of effort into promoting the merchants' products, so you should see a fair share of the profits.
You might even find it useful to seek out an affiliate community, such as Wealthy Affiliate. There, you can get advice and help from those who have been publishing and marketing for a long time. This can be particularly helpful when you're a novice. Then, in a few years' time, you might be the one helping another beginner get started.
Step 3: Add Affiliate Links to Your Site
At this point, you've signed up for the best affiliate programs in your carefully chosen niche. Now it's time to really get to work, which means sharing your affiliate links. Of course, how you actually implement these links on your site will vary, depending on what type of content you're creating.
For example, if you're running a review site, it makes sense to place relevant affiliate links within your reviews. The simplest way of doing this is to include them as text links in the content itself. However, this approach can be seen as misleading since it's less clear that you're promoting the products in question.
There are a lot of creative ways to include affiliate links without being disingenuous. For example, Spotern lets viewers identify and buy the outfits they see in movies. Each buy button has an affiliate link: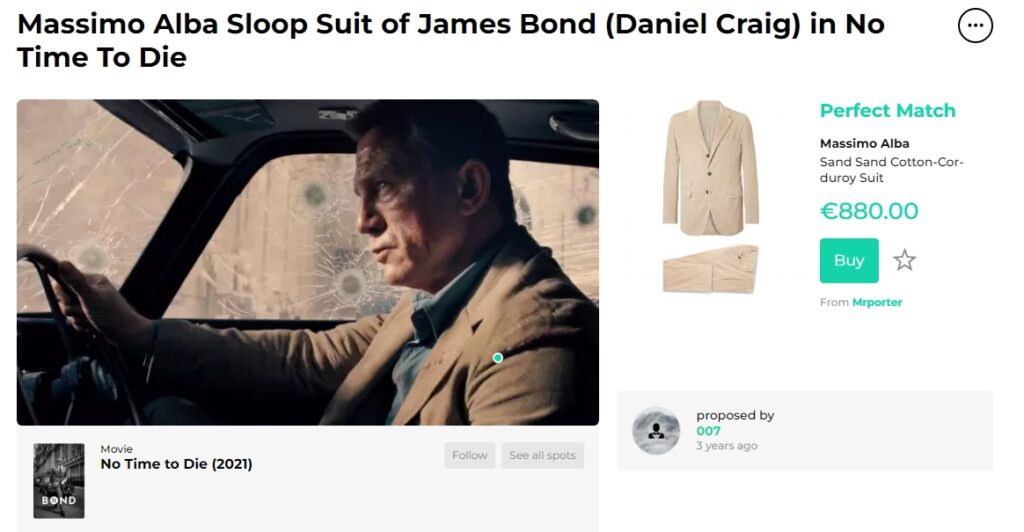 You can see a similar approach taken by OutdoorGearLab. This site links to each product's page alongside the pricing information in its reviews. However, these product sections are clearly separate from the body of their reviews: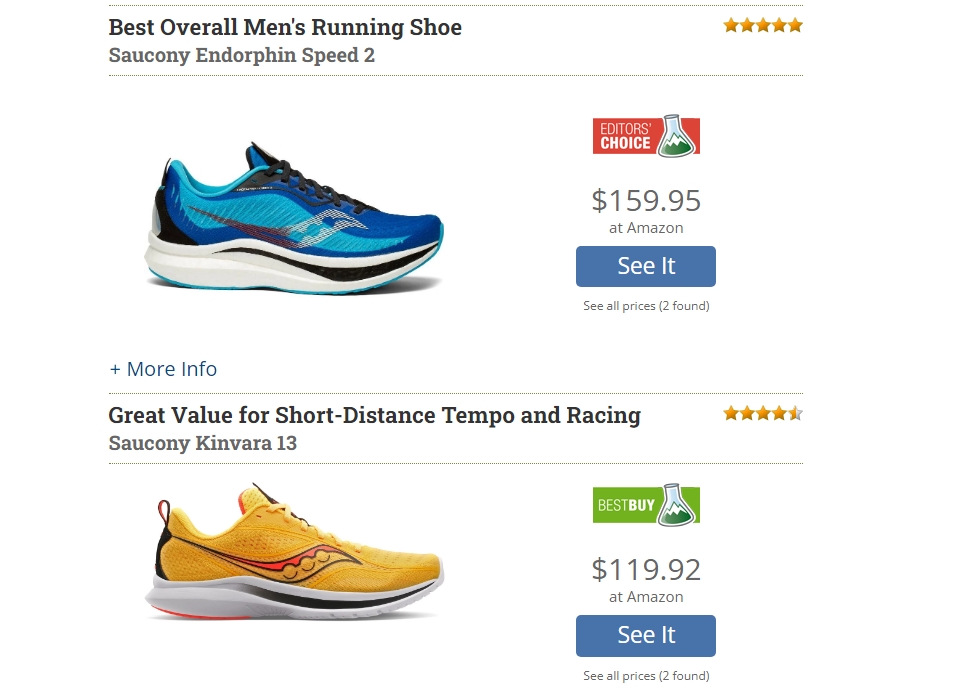 Some affiliate programs will also provide you with assets, such as banners, that you can use to promote products. These might be more suitable if you want to keep your marketing and content clearly separated.
As with your niche, your approach to implementing links will depend on your site's purpose. Feel free to experiment with different strategies, but always remember that your focus should be on providing value to your audience. If you fail in that task, visitors won't trust you, click on your links, or return in the future.
Make sure you write quality content, therefore, and keep an eye on your conversions to see what's working (and what's not). You might also consider using an affiliate marketing theme to make your site look more professional.
Finally, we once again want to stress the importance of disclosing your affiliate links. This is a crucial part of complying with the endorsement guidelines provided by the FTC. Violating these guidelines could lead to legal action, which is naturally something you'll want to avoid at all costs.
As such, you should provide information about your links' nature and purpose, which you can do by creating an 'affiliate disclosure' statement. The notice should be unambiguous and clearly visible anywhere affiliate links are used. This will keep your site out of trouble and help to promote trust with your audience.
Affiliate Marketing Tips for Beginners
When you're starting as an affiliate, it's easy to fall into the trap of believing that it's easy money. However, it takes a lot of rapport to recommend products and services to your audience and for them to trust you. After all, you're asking people to spend real money on your recommendations.
If you want to succeed as an affiliate marketer, there are many tips you should keep in mind. Here are some of the most important aspects to remember if you're new to affiliate marketing:
Don't recommend products you can't trust. Recommending products that are low quality might yield some sales, but it also burns bridges with your audience. If you steer a reader wrong once, they're much less likely to trust your recommendations in the future.
Update your recommendations when needed. One of the best ways to be a successful affiliate marketer is to stay on top of trends and update your recommendations accordingly. If the best product or service for a specific situation changes, you should change your content. Doing this helps position you as an expert and keeps that content relevant well into the future.
Don't opt for the highest-paying programs blindly. A lot of affiliate programs woo members in with high commissions. Affiliates join without testing the quality of the products, and they end up making the wrong recommendations to readers. If you're going to sign up for a program that offers high commissions, check to see if it provides the kind of products that you can honestly recommend.
Aside from those tips, a huge part of being a successful affiliate is building an audience and engaging with them. To increase sales, you'll want to keep publishing content regularly and ensuring that your visitors return to your website when they need further recommendations.
Get Started With Affiliate Marketing
New websites can take a while to start seeing affiliate marketing results. However, if you already have a library of content and a growing audience, becoming an affiliate can be one of the best ways to monetize your site. Moreover, nothing is stopping you from promoting multiple affiliate products and still looking into other monetization methods (it's never wise to put all of your eggs in one basket!).
If you're considering becoming an affiliate, we can summarize the process in three steps. Those steps are:
Choose a suitable affiliate niche.
Find and sign up for the right affiliate programs.
Add affiliate links to your site.
Ready to start your own affiliate marketing website? Consider DreamPress, our managed WordPress hosting solution. With automatic updates and strong security defenses, DreamPress takes server management off your hands, so you can focus on what you do best: selling products. Learn more about plan options today!
Become a DreamHost Affiliate
Join the DreamHost Affiliate Program to get cash quickly. Earn up to $200 per referral!