Supercharge Your MySQL Database
Increase the speed and reliability of your site by giving your MySQL database its own virtual private server.
Meet MySQL VPS
Your Dedicated Database
As our premium MySQL database service, DreamHost MySQL VPS uses an isolated Linux-VServer that has resources dedicated to your site.

Locked Up Tight
Standard MySQL servers share resources with other users, but with MySQL VPS, your databases and resources are protected from other users.
Two ways to MySQL
Here are a few key differences between standard MySQL and MySQL VPS.
Standard MySQL Server
Included with shared and VPS hosting plans by default.
Suitable for small, optimized databases.
DreamHost MySQL VPS
Runs MySQL on an isolated virtual server, without noise from other services.
Perfect for sending large amounts of data between your apps and MySQL.
Simple and powerful controls
Access your MySQL VPS on the VPS dashboard page
Add, remove, or restart databases quickly and easily
Adjust RAM anywhere from 300MB up to 4000MB
View usage stats right on the dashboard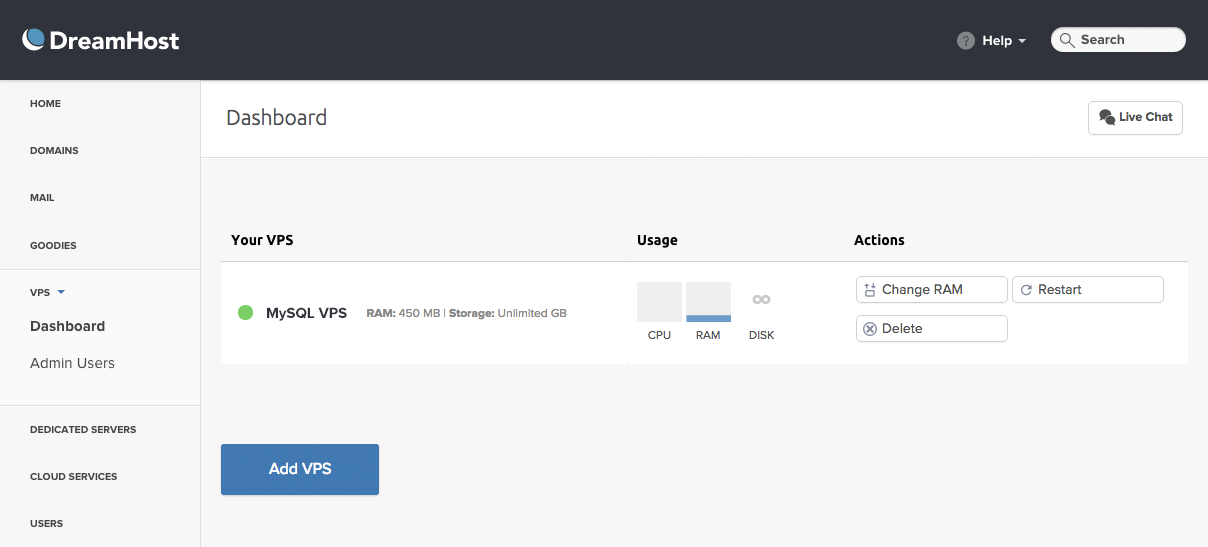 DreamHost control panel: VPS dashboard
---
Your first week is free
We start you off right, with a whopping 2300MB of RAM on your first week, free of charge. Our robots monitor your usage closely, and then adjust your RAM at the end of the week to match your usage. You only pay for what you need.
Starts at just $15/mo After Your First Week
Includes 300MB RAM and unlimited disk space!