What Is the Difference Between Shared and Managed WordPress Hosting?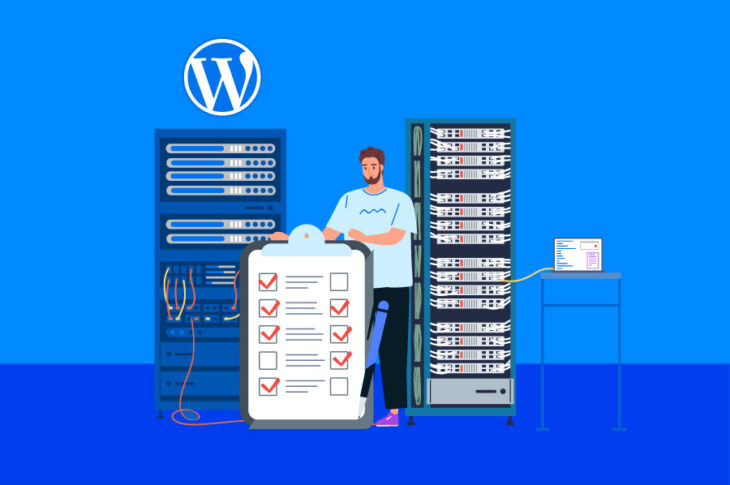 If you're new to building a WordPress site, you may be confused about choosing a hosting plan. Shared and managed hosting are two of the most popular options for WordPress sites, and deciding between them is one aspect that determines your site's success.
As a new site owner, shared hosting will provide the features you need for a budget-friendly price. However, managed hosting offers several benefits that may tip the scales in its favor and make it worth the extra cost. Therefore, the decision isn't necessarily clear-cut.
In this post, we'll explore the pros and cons of shared and managed WordPress hosting. Then we will help you decide the best choice for you by taking a closer look at the differences between the two. Let's dive in!
What is Shared WordPress Hosting?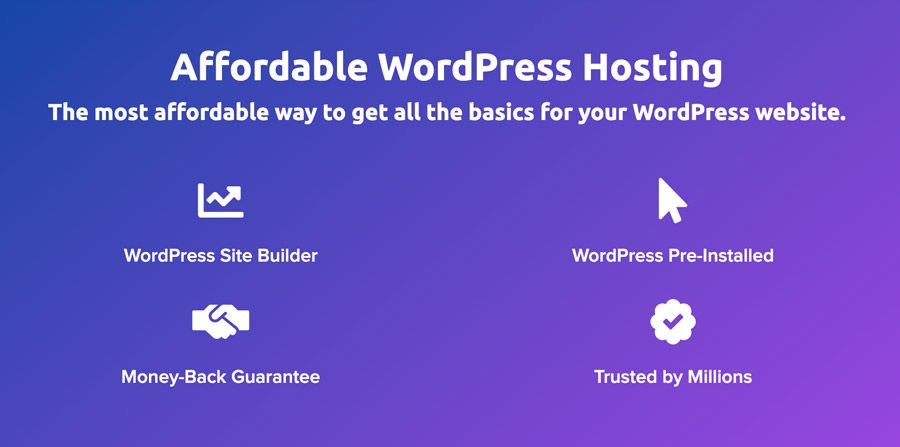 If your website is brand new, shared WordPress hosting may be a good initial option for you. While it usually offers fewer features than managed hosting, there are still a number of key benefits:
Technology continues to improve in a way that allows for more features, such as increased bandwidth, larger amounts of server space, and more administrative options.
You can build your site and grow both your audience and traffic until you need to upgrade.
Benefits of Shared Hosting
The primary benefit of shared hosting, however, is its pricing. Because you are sharing server resources with other websites, providers can offer you extremely competitive prices.
While your budget may be a primary concern initially, there are some drawbacks of shared hosting to consider before choosing that route:
You are limited in server space and performance, given that other sites share the same resources.
There may be restrictions on the types of software you can install, which could potentially limit your site's ability to scale and grow.
There are fewer or limited support options, as most basic plans do not include top tier support.
Shared hosting is the most popular solution for most new sites and blogs. It's budget-friendly, and if you don't expect to use many resources, it could be some time before you need to upgrade. However, you must weigh up issues of support, site backups, and performance against the lower price point.
What Is Managed WordPress Hosting?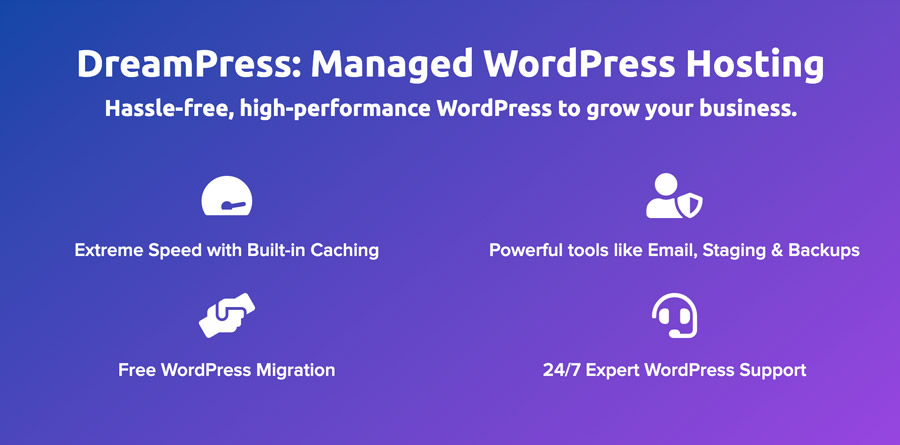 In a nutshell, managed WordPress hosting is when your service provider looks after any server resources specific to your WordPress installation. In other words, tasks such as installing the platform, keeping it updated, and performing backups are usually included as part of your hosting plan.
Benefits of Managed WordPress Hosting
There are several features and benefits to managed WordPress hosting, including:
Better performance because the server is specifically optimized for WordPress.
Isolated resources. Unlike shared hosting, the resources included with managed WordPress are only for your website, so you can be confident you won't encounter performance issues due to "neighbors" accidentally overusing resources
Access to higher-quality, expert support (again, because the host specializes in WordPress).
Scalability so your site has room to grow as your traffic increases.
One-click website staging. Freely experiment and safely test changes to your website in a sandbox environment; you can push the changes to your live website when you are ready for your visitors to see them.
Built-in caching. Copies of your site's files are stored in a temporary location called a cache, so they can be accessed more quickly. This helps to improve your site's performance and the speed at which visitors can view your content. With managed WordPress, you don't need to configure plug-ins to get caching because it's already set up at the server level.
Backups on demand and one-click restore. In addition to automatic, daily backups, you'll also have the convenience of being able to request backups as you please. This gives you more control and security to protect your online assets before you make changes to your website or whenever you may need them, plus you'll have peace of mind that you can quickly restore a backup with just a click.
Managed WordPress hosting is a great solution if you need your provider to do the heavy lifting of keeping your platform updated and secure. It lets you simply focus on your content — and running your core business — while not having to sweat the technical stuff. However, shared hosting also has a few benefits you may want to explore.
Get Content Delivered Straight to Your Inbox
Subscribe to our blog and receive great content just like this delivered straight to your inbox.
The Differences Between Managed and Shared WordPress Hosting
Of course, managed and shared hosting are not equal, so you'll need to consider the key differences based on both your current needs and your overall plan for growth.
When it comes to features, both platforms have their pros and cons:
Shared WordPress hosting. These packages are more limited with regard to WordPress-specific features. Although you can use tools besides WordPress, you're limited to the support and maintenance you'll receive for them.
Managed WordPress hosting. When it comes to resource management, you'll rely on your host. This is usually a good thing, as you'll receive greater support due to the knowledge and expertise your host has. However, there are fewer options for those who wish to optimize their server to their exact requirements.
Shared vs Managed WordPress Hosting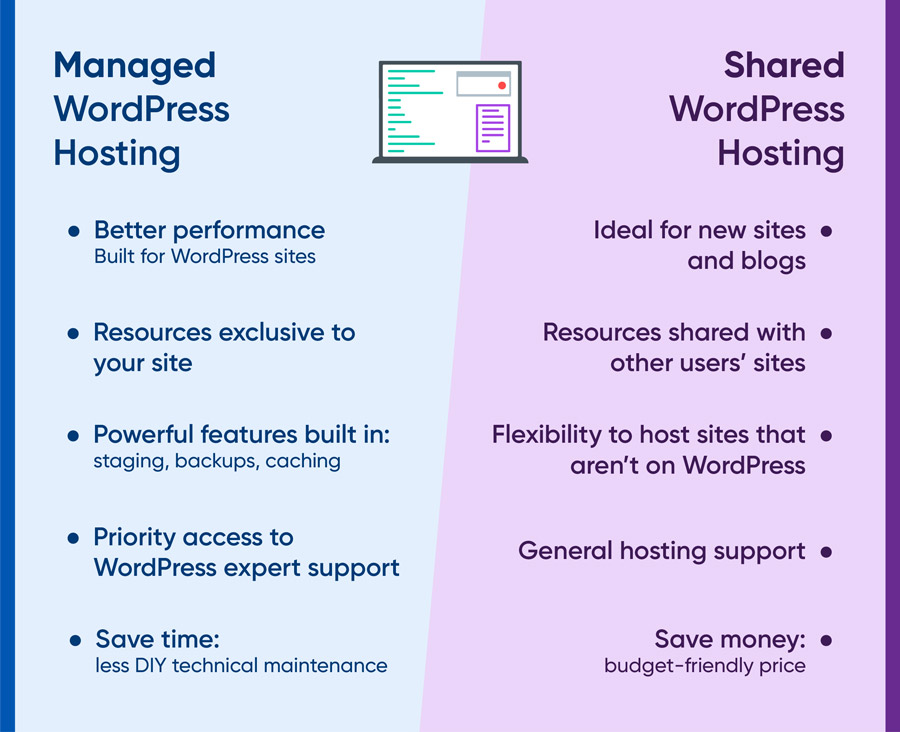 Of course, the ultimate question is: Which hosting plan is right for me? The answer will be based on your budget, needs, and technical expertise.
Shared WordPress Hosting
Shared hosting is great for running a small website, blog, or portfolio site. You should consider shared hosting if:
You have a small or limited budget and a 'DIY' attitude. While price is a legitimate concern, you must also be comfortable with managing your site. Aspects such as backups, WordPress updates, and general server maintenance may be your responsibility, depending on your web host.
You don't expect large amounts of web traffic. Because you are sharing server space and resources with others, you may experience lags or slow speeds depending on the makeup of other sites on the server. However, if you don't expect major traffic on your site, this may not be a deal breaker.
You would like to integrate WordPress with a different tool. Since shared hosting is generic enough to work with most web-based platforms, you can install practically anything you would like.
Overall, if you're comfortable working under the hood, and don't expect to use a lot of server resources, shared hosting may work well for you.
Managed WordPress Hosting
On the other hand, managed WordPress hosting is ideal if you plan to run a medium to large business site or an e-commerce storefront. You should consider a managed WordPress hosting plan if:
You have a budget that can accommodate the price. Managed WordPress hosting costs a bit more upfront, but it can save you big in the long run with less downtime.
You can't (or don't want to) perform site maintenance. If you're not technically savvy or simply don't have the time or inclination to perform site maintenance, investing in managed hosting is perfect for you. You can focus on your content while your host manages the technical aspects.
You need WordPress-specific support. A managed WordPress host offers support technicians who specialize in everything related to the platform. If you have an issue with your database, or a recent upgrade or plug-in installation, they are much better equipped to help you than a shared service.
If you prefer to delegate your site's maintenance and see no issues with the slightly higher price, we definitely recommend you go with a managed plan.
However, if you know your site is going to see a great deal of traffic, or you plan to develop applications or websites, opting for managed hosting will let you avoid performance issues down the line.
One important thing to keep in mind about delegating your site's maintenance to a managed WordPress hosting provider: this upkeep doesn't typically include regular updating of plug-ins and themes. So, you'll want to be sure that you maintain those plug-ins and themes  when new versions are available.
There are several places where you can manage themes or plugins updates:
WordPress, Plugins, Themes and Translations updates can be managed on the Updates Screen located in Dashboard > Updates sub menu.
Themes updates can be managed on the Appearance Screen.
Plug-ins updates can be managed on the Plugins Screen.
One easy way to be certain that you never miss the latest plug-in and theme updates, and that you keep your site secure, is to enable auto-updates. To learn how, visit our friends at WordPress here.
Which Hosting Plan is Best?
So, which hosting option is best? Well, it depends on your needs. Many website owners start out with shared hosting because it helps them get started quickly and inexpensively. However, managed WordPress hosting has many benefits for larger websites and power users that should be considered before making a final decision.
In this post, we've discussed the differences between shared and managed WordPress hosting and talked about which will work best for your website. To briefly recap:
Shared WordPress hosting is a low-priced service in which you share resources with other sites. This is a good starter option for a small website, blog, or portfolio. However, you may need to upgrade as your site and traffic grow. That will require technical know-how and a budget increase.
Managed WordPress hosting provides WordPress-specific services, powerful tools, and dedicated resources for your site. Because of those services, tools, and resources, it's recommended not only for enterprise-level companies' WordPress sites with high traffic, but for any business site, e-commerce site, established site already getting traffic (including popular blogs), or mid- to large-size agency's site built on WordPress that would benefit from the optimized stability, performance, and user experience they offer. However, it's somewhat more expensive so you'll need to factor that into your decision.
Power Your Site with WordPress
Hassle-free, high-performance WordPress hosting can help you grow your business. Low-cost shared and high-performance managed hosting plans available.