2019 Year in Review: WordPress at DreamHost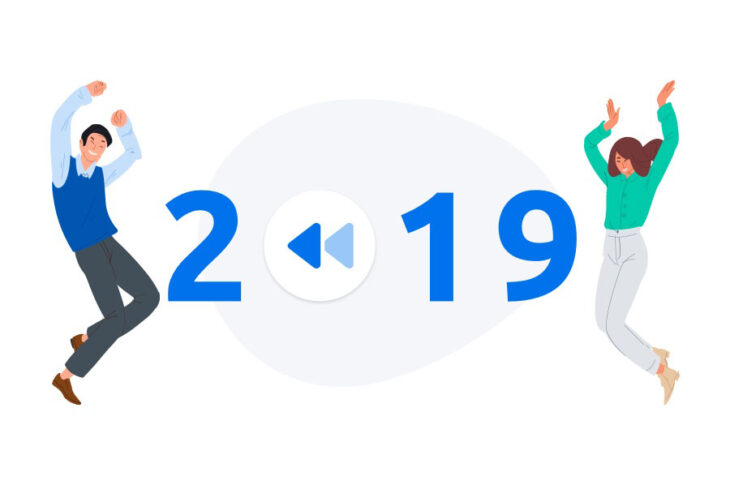 TL;DR: 2019 was a pretty rad year! We saw lots of new ideas come to life on the web and so many existing ones expand and grow using WordPress. We continue to put WordPress features and support at the top of our priority list so we can keep giving such a large percentage of our customer base the help they need. Thank you for a great year — we're looking forward to many more to come!
2019 WordPress Redux
Now, let's review some of the major WordPress perks we brought you in 2019.
Build & Edit Websites Easier with WP Website Builder
For: All WordPress users
To make your WordPress experience easier than ever, we partnered with BoldGrid to give you access to a premium set of plugins and design tools. Boldgrid's WP Website Builder bundle offers several useful features, whether you're starting fresh or just want to try new tools with an existing site. These features include a website creation wizard that builds a starter site for you with preloaded content and a drag-and-drop builder that makes editing simpler for everyone (beginners and pros alike)!
To prove just how versatile this tool is, we put together a tutorial series that demonstrates how you can use WP Website Builder on a number of projects.
This bundle is usually $60 a year on its own, but our customers get access to it for FREE. If you aren't taking advantage of it yet, you can install WP Website Builder on any existing or new WordPress website from your DreamHost panel.
More Control with On-Demand Backups
For: DreamPress users
While daily backups are a great feature to have, the ability to create a backup "on demand," whenever you want, can be hugely beneficial for your convenience and the security of your website assets.
This gives you more control and peace of mind to make changes — any time of the day — knowing you can revert back to the original version if you don't like it or if something goes wrong. No need to wait on daily backups to do its thing!
Experiment & Test with One-Click Staging Sites
For: DreamPress users
Let's face it, things break or sometimes don't have the results we expect. This year we launched one-click staging for DreamPress, which allows users to safely experiment and test code and other changes without risking what's on the live version of their site. With staging, you can avoid those panic situations and make changes confidently, when you're ready.
Hassle-Free WordPress Migrations
For: DreamPress users
Moving a site can be scary, take a lot of time, and cost a lot of money. So we added free migrations to DreamPress in 2019 to make transferring from another host easy, straightforward, and worry-free.
Simpler, Better File Management with WebFTP
For: All hosting customers
This year we rolled out a new WebFTP interface to resolve some known issues and improve your experience. With WebFTP, you can now access files quickly with our auto-login feature (no need to remember another password). It also supports SFTP connections, includes a file editor with syntax highlighting, and handles compressed files in a much more efficient way. To access your website's files via WebFTP, visit your DreamHost account panel.
Continuous Learning with Our WordPress Guides & Tips
For: All WordPress users
We are big fans of sharing information and helping others with the resources and experience we have accumulated over the years. Our motto: never stop learning! Here are just a handful of our most popular WordPress guides from this year.
What's Coming in 2020?
To complement our WordPress Academy tutorials, we're working on a brand new set of guides and videos that will help WordPress users grow their site's traffic. Watch this space for an announcement next year.

Free WordPress Migrations for

Everyone

.

 This year we launched free migrations for DreamPress, our managed WordPress solution. It has become more and more evident that moving a WordPress site can be an intimidating task. We think it's important to open up free migrations to a larger group of WordPress users, so we're excited to share that this is in our pipeline.

You tell us!

Fill out this short survey to give us feedback on which WordPress features you think we should work on next year.
We are looking forward to 2020 and all the exciting things to come!