Starting a Side Hustle? Follow These 10 Social Accounts to Grow Your Business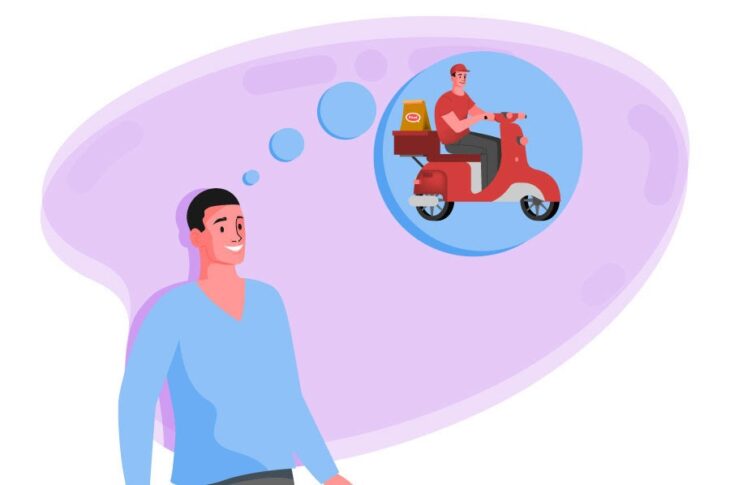 Are you looking for that extra push and motivation to kickstart and scale your side hustle? Whether it's graphic design or an online course, we've got you covered with our top 10 social media accounts to follow to start your side hustle and grow your business.
Whether you're just starting your side hustle or looking for a way to push harder and cross things out on your vision board, these accounts are sure to inspire you!
Your Side Hustle Needs a Website
We'll make sure your site is fast, secure, and always up so your visitors trust you. Plans start at $2.59/mo.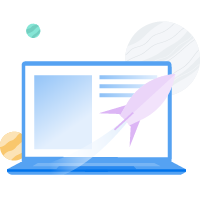 1. Sunny Lenarduzzi (YouTube)

If you've ever been on the fence about making a YouTube channel, you should check out Sunny Lenarduzzi.
Sunny is a YouTube and course consultant featured on Forbes and Entrepreneur for her incredibly active community of more than 500k people. According to a case study on her website, she consistently makes $300K per month through YouTube and helps entrepreneurs figure out how YouTube fits into their strategy.
She makes videos that showcase:
How to build your own YouTube empire
How to bag brand deals as an influencer
Behind the scenes of her entrepreneurial ventures
Social media influencer tutorials and equipment
Interviews breaking down the success stories of million-dollar businesses
Along with her videos, Lenarduzzi has a ton of freebies on her website to help you dominate your niche through YouTube.
2. Side Hustle Pro (Twitter and Podcast)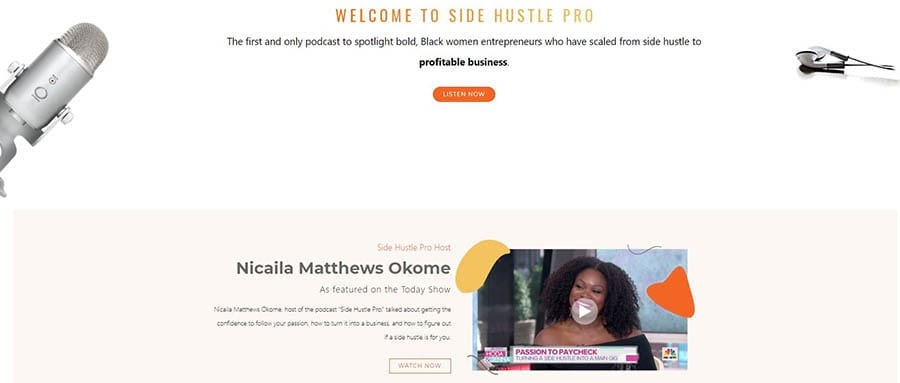 There's nothing quite like listening to other people who're in the same stage of your journey or just a few steps ahead. You feel like you're not alone in your struggles; it gives you someone to look up to and a chance to learn from other people's mistakes.
Nicaila brings powerful stories of women entrepreneurs who inspire us to hustle and achieve our goals to her podcast, Side Hustle Pro. Her guests are women who transformed their side hustles into profitable and successful businesses.
She started her podcast as a side hustle and scaled it to the point that it allowed her to quit her day job. Nicaila now helps others like herself grow their influence through social media marketing and launch their own podcasts.
Follow Side Hustle Pro on Twitter if you want to learn:
All about content marketing and social media marketing
Stories of entrepreneurs who have made it big in affiliate marketing, influencer marketing, or built a passive income stream
Productivity tips for how to manage a full-time job and side hustles
3. Vishen Lakhiani (Instagram and Podcast)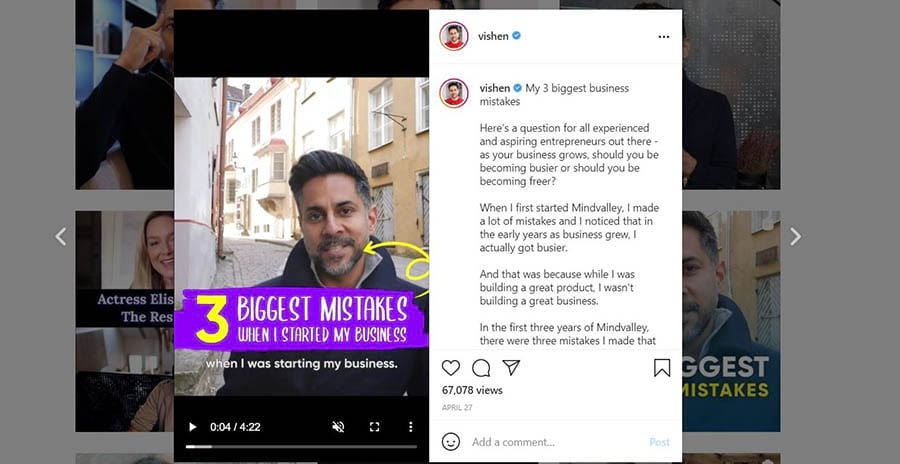 Speaking of people who have built wildly successful side hustles, Vishen Lakhiani of Mindvalley is an inspiration. Vishen's aim for Mindvalley, a course membership platform, was to make enough extra cash to quit his 9-to-5 job. While he did achieve that, he did not stop there. He has built Mindvalley into a $100 million company with no funding and just $700 in cash.
Lakhiani's mission is to help people be better versions of themselves. He helps entrepreneurs include ethical marketing, spirituality, and fitness routines along with their business growth.
Lakhiani posts regularly on his Instagram about:
Self-sabotaging beliefs for entrepreneurs
Productivity hacks for busy founders
The power of manifestation and spirituality in entrepreneurship
He's also the host of the Mindvalley Podcast, where he interviews successful business owners on their mindset and growth strategies.
4. TEDx Talks (YouTube)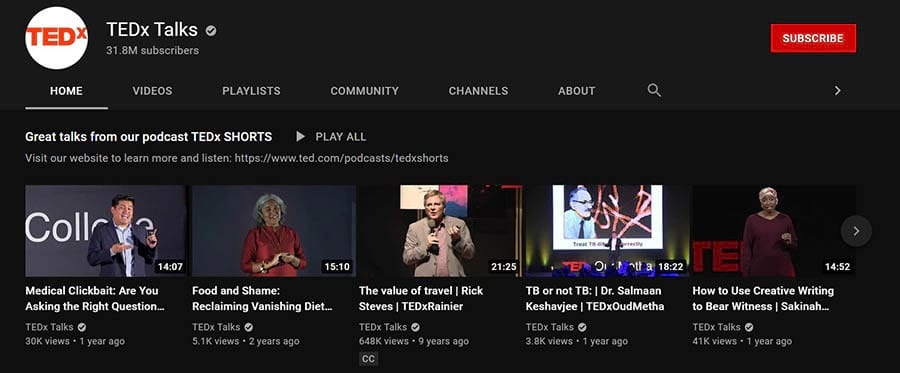 TEDx is huge. This community hosts hundreds of talks by content creators like graphic designers, Instagram influencers, and freelance writers who tell you about their life stories and offer insights into the particular field they specialize in.
TEDx is a great way to discover people you might relate to and who have gone through similar experiences as you find yourself in.
The main purpose behind TEDx Talks is to:
Help translate your goals to reality
Bring unique perspectives from experts in your fields
Show you the potential of your small business idea
Change your mindset with real-life stories of people who were in your shoes.
Teach you how to persuade people through narratives
5. Neil Patel (YouTube and Blogs)

Neil Patel shows up on Google's first page in every single search about digital marketing and SEO. And he's got the credentials that prove he deserves it — Forbes Top 10 marketer, Entrepreneur Top 100 companies, and one of the top 100 entrepreneurs under 30 recognized by President Obama.
If you want to expand your freelance side hustle, Neil Patel's YouTube channel is where you should start. His videos serve as mini online courses for virtually every topic on digital marketing.
His channel focuses on:
Blogging for small businesses and websites
Affiliate marketing and other passive income sources
6. Sean Ellis (Twitter)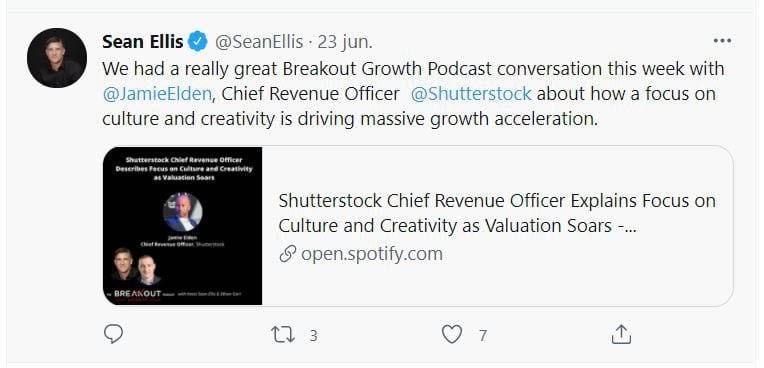 Sean Ellis specializes in scaling small businesses through methods that cut through the noise. He helped companies like Dropbox, Eventbrite, LogMeIn, and Lookout grow to the million-dollar businesses they are now.
Ellis is a category maker. He coined the term "growth hacking," which is now used as a job description. He directly helps other entrepreneurs replicate his success and become growth hackers through his venture Go-Practice, a simulation-based learning experience for growth. His book on growth hacking is now an international best-seller and has been published in 16 languages.
So whether you are a B2B startup or a freelancer, Ellis's business ideas will help you growth hack your way to success.
Critical skills needed for growth hacking
Creative ways to accelerate growth and increase your earning potential
New trends and podcasts in the field of growth hacking
7. Barbara Corcoran (Twitter)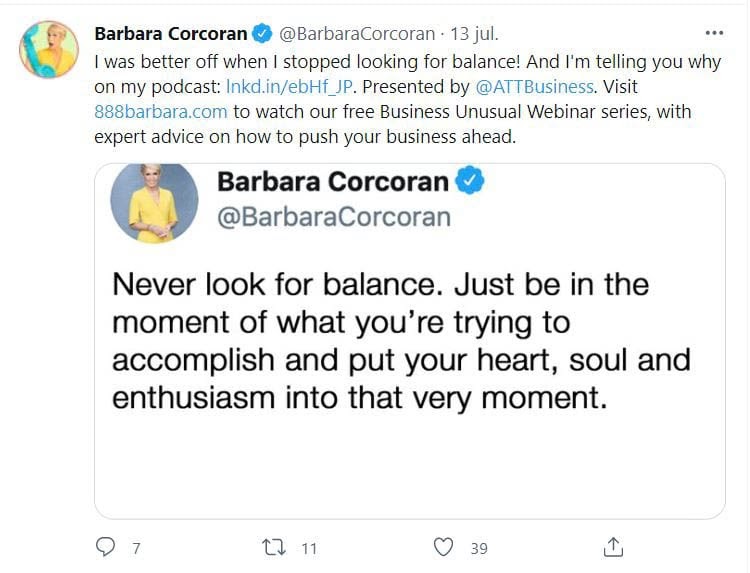 Barbara Corcoran is one of the two female investors, alongside Lori Greiner, on the famous ABC show Shark Tank. Her journey, like many others on this list, is a turnaround story. Barbara quit her day job with just $1000 in the bank and started a real estate company. Over the next 25 years, she successfully transformed it into a $5 billion real estate empire, The Corcoran Group.
On Twitter, Corcoran shares her experience over these 25 years. Her quirky, entertaining, yet inspiring tweets will help motivate you to stop making excuses and start your side hustles.
Corcoran makes sure that both small business owners and large-scale entrepreneurs remain rooted in their goals and ambitions through her tweets. Follow her to address your limiting beliefs and skyrocket your business.
Find her tweeting about:
Social media management strategies for small businesses and social media managers
Motivational moments and quotes from her real-life experiences
Personal challenges and insights into her entrepreneurial journey
8. Melinda Emerson (Twitter)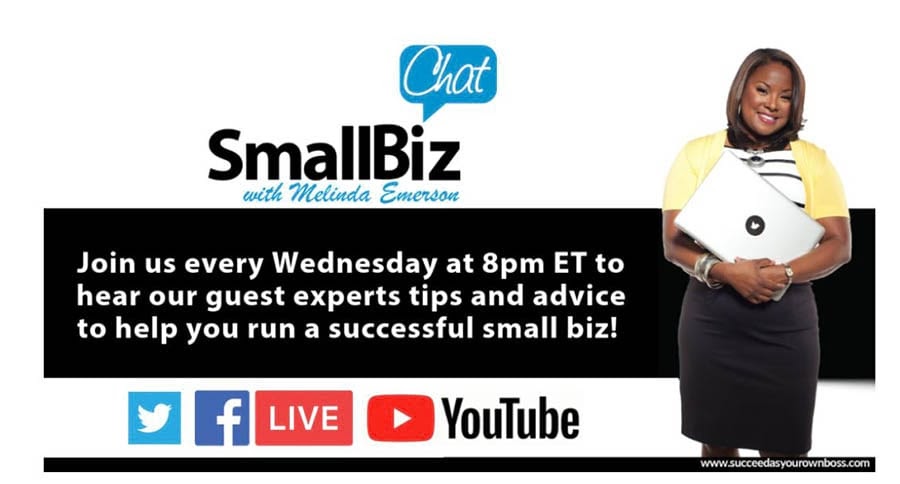 Also known as "SmallBizLady," Melinda Emerson is ranked by Forbes as the No. 1 most influential woman entrepreneur, so you know she's an influencer you'll want to follow. Every third Wednesday of the month, you can see Melinda live on her YouTube, Twitter, and Facebook pages answering questions from small business owners.
Emerson has lectured at educational institutions like MIT, The University of Pennsylvania, and many more. She is also currently running a marketing consulting firm, Quintessence Group, for Fortune 500 brands like American Express and FedEx, which target small businesses.
On her social media platforms, Emerson shares:
Marketing skills and social media selling tips for small business owners
#SmallBizChat conversations with SMB owners
How to build your own business from scratch
If you run or dream of running a small business side hustle, Melinda and her tweets will help you understand your target audience and serve them better.
9. Copy Posse – Alex Cattoni (YouTube and Instagram)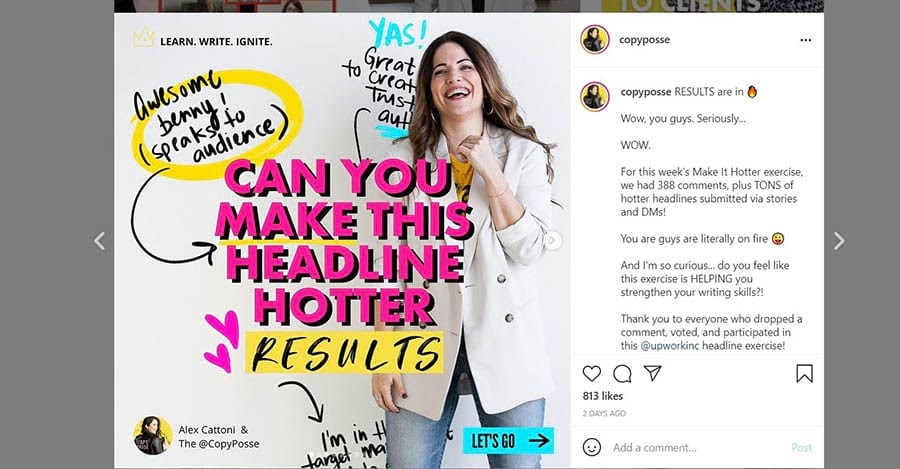 If you're a freelance writer or a virtual assistant, Alex Cattoni's posts are a great way to upskill yourself. Alex has a unique niched-down community of copywriters and freelancers and helps them write words that sell.
When she first started out, everyone Cattoni knew told her copywriting was too niche a topic. But, she didn't listen to them — and now she's built a 7-figure business just on the sheer power of her community of more than 100K YouTube and 30K Instagram followers. Cattoni has also been featured on Forbes and at digital marketing conferences like AdWorld for her copywriting skills.
Alex posts:
Strategies to book potential clients and earn extra money
Her experiences with copywriting for over a decade (the good and the bad!)
Community engagement posts with tasks, challenges, and rewards
Her blog is also a great place to start if you want to make copywriting your side hustle.
10.  Authority Hacker (YouTube and Podcast)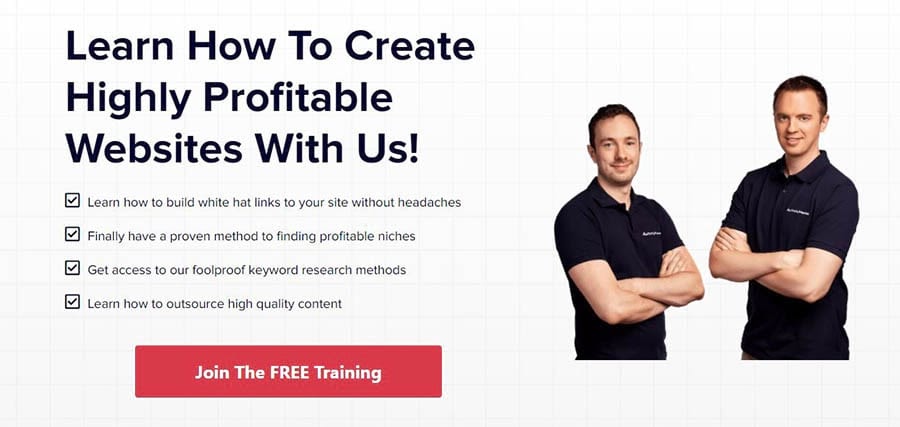 Founded by Gael Breton and Mark Webster, Authority Hacker focuses on helping people build highly profitable websites and multiple income streams. Its target audience is affiliate marketers and niche websites, but its marketing tips can easily be extended to SaaS (software as a service) businesses.
The best part about Authority Hacker's advice is that it comes from real-time experience. Breton and Webster actively build websites and allow their audience to follow along on the journey. Therefore, the information is highly relevant and up to date, which you don't find on many other websites.
Apart from their combined experiences, Authority Hacker also brings on other business owners in the affiliate and SEO spaces to share their wisdom.
They delve deep into internet marketing and extra income ideas on their channel, covering topics like:
Affiliate marketing websites targeting a specific niche
SEO concepts like keyword research and backlink outreach with guest posts
Tips and tricks for high-converting affiliate copy
Best software and tool reviews for internet marketers
Get Content Delivered Straight to Your Inbox
Subscribe to our blog and receive great content just like this delivered straight to your inbox.
Start Your Side Hustle with Inspiration
While starting a freelance business or a side hustle might seem scary, these accounts break it down and show you exactly how others have done it.
Pick a couple accounts you resonate the most with and start consuming their content. Use their failures as stepping stones for your success. You have everything you need right at your fingertips — make the best use of it.
With your inspiration in place, we're here to support you as you launch and grow your business. Whether it's shared hosting for small budgets, building out the website for your side hustle, or assisting with marketing, DreamHost can help your new income stream grow.