LiveChat: A New Way to Reach Support
If you're anything like me, you're used to having the world at your fingertips. In fact, you expect it. Everything you connect to is right there – friends, family, news, shopping. You get instant gratification in your digital life, and when one aspect isn't instant, it sticks out like a sore thumb.
We Feel Your Pain!
To help eliminate your frustrations, we've been busy bringing LiveChat support to all our customers. As we learned from past experience, though, a change like this is challenging. It isn't something that can just be switched on and offered to everybody. It takes time to do it right. We realized we were in over our heads; we were forced to take it offline until we had a better plan. As a result of these setbacks, we spent months creating policies and procedures to make sure our new LiveChat rollout is a success. We've been gradually enabling it for more and more customers over the last few months.  Now, we're close to having it available to everyone!
Why Is LiveChat Important?
While we've primarily used email for support since DreamHost began, it's clear that this contact method no longer fits many of our customers. As the internet rapidly expands, people look for faster methods to contact support. Just like me, they're looking for more immediate responses to their issues. LiveChat changed the way that many online businesses handle support, and we believe it's an asset to our customers.
Using LiveChat communication tools enables us to take a more customer-centered approach to handling DreamHost tech support. Traditional phone support requires a lot of extra resources (both time and employees) in order to be successful, but we believe that LiveChat is a great solution. Customers get immediate access to support, and we retain the major benefits of email support (multitasking, history records, etc). Customers can get instant confirmation of any troubles they're experiencing and know they've got help. While there are some issues that we may not be able to immediately resolve via LiveChat (abuse/hacking related cases, wide-scale server issues, long investigation time needed, etc), our goal is to help most customers solve problems in a single chat session. If a problem persists beyond the first chat, we're always just another chat away.
Another positive perk of LiveChat is that we get nearly instant feedback/notification when there's a wide-scale customer-facing problem. While we do have a full suite of network/server monitoring tools to show us where problems are occurring in our system, LiveChat gives us an immediate view of our system from our customers' perspective. When issues come up, the immediate influx of support chats gives us insight into how severe a problem actually is. This allows us to get news about issues out to customers quickly –and we can escalate individual cases accordingly.
We'll Support Your Dream
Whatever your goals, we'll be right there with you, making sure your site is fast, secure, and always up. Plans start at $2.59/mo.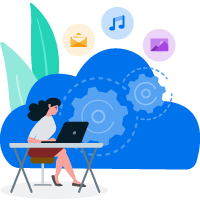 Past Failed Launches
We've always known that LiveChat is a valuable tool that could benefit both our customers and us. When our earlier attempts to implement it were unsuccessful, we were forced to stop offering it and go back to email support. Our mistake was, without much pre-planning, we made LiveChat available to all customers instantly. We quickly realized that we wouldn't be able to support the volume of incoming chats and had to constantly adjust how many customers could access LiveChat.
We also didn't have a dedicated team of LiveChat representatives. Instead, we relied on support representatives who were already handling normal email support duties to pick up additional chat requests. Then, to top off our challenges, we didn't keep much data from our chat statistics (more on that below), so we weren't able to see places where improvement was needed. We knew that our support team was flooded with more chat requests than they could realistically respond to, so we had to start the new re-launch pretty much from scratch.
The Re-Launch
With these past issues in mind, we were determined to make the re-launch of LiveChat successful. We planned a much more controlled rollout, so we wouldn't be overwhelmed with chat requests. This allowed us to carefully build up the number of accounts with around-the-clock access to LiveChat. Also, it allowed us to prepare our team for challenges in providing support. Every week we're expanding LiveChat support to more customers. This allows us to guarantee we have enough team members to cover the demand – and make sure wait times stay short!
Our planning for re-launching LiveChat began before we re-opened it up to any customers though. We started by creating a dedicated group of Tech Support team members whose main responsibility is covering LiveChat support requests. This gives us more control over scheduling, so we're able to add more reps during our busiest times. With a smaller, more focused team, we can make faster changes to our policies/procedures if we discover that something isn't working. With this team directly connected to customers, we're able to report on problems and resolve them much faster than through traditional email support!
Previously, we had very little data to show when our busiest times of the day/week were, where we had gaps in chat coverage, how many chats were being dropped due to long waits, etc. We've resolved that by creating a new set of metrics that we log. Every chat we have is now logged, averaged, graphed, color-coded, etc…you name it!  We maintain so many metrics now that we hit the cell limit of Google Spreadsheets within a couple months of tracking data.
We also implemented a better internal support system for our LiveChat team. An internal chatroom for our reps was created, where they share knowledge and report trends or outages that need attention. We've also defined set escalation paths for issues that we're not able to troubleshoot via LiveChat and need to be handled via email, either due to issues beyond our control, time concerns or the issues mentioned above (abuse/hacking related cases, wide-scale server issues, long investigation time needed, etc).
Where Do We Go From Here with DreamHost Support?
One of the most important metrics we track is customer wait time. This number drives the way we've released LiveChat this time around. Industry-average wait times are between one to two minutes, and this is the number we're aiming to beat.  We're keeping a close eye on this data while we enable LiveChat for more customers to make sure we're competitive in our LiveChat wait times.
The biggest challenge we still face is offering the same level of technical support service as we do via email. LiveChat is a fast-paced work environment, and some problems we investigate don't have an immediate fix. While we do the best we can to solve all issues via chat, not all chats can be resolved in one session. With feedback from our LiveChat team, we continue to develop policies and procedures to recognize these types of issues. Then, we can find new ways to escalate issues faster, improve email responses and develop training programs for our team to be better equipped to handle a growing number of support cases.