How to Write Product Descriptions That Really Sell: 8 Simple Tips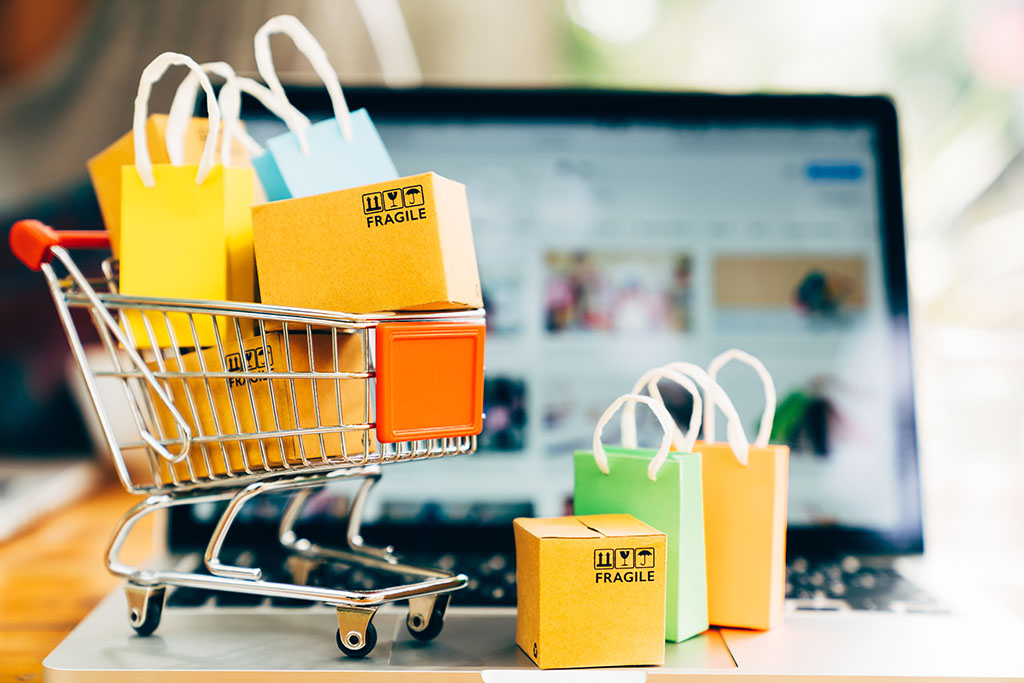 Congratulations! You've done the hard marketing work to lead your target customer right to your product pages. They are currently reading through a product description to decide whether or not they will purchase something from your e-commerce business.
The million dollar question: will they buy what you're selling?
The answer, in large part, depends on how much time and effort you put into your product description. It may seem drastic to weigh product descriptions so heavily, but stats show that a well-written product description is a surefire conversion tool. Here's a closer look:
The stats don't lie. If you want to increase sales, it's time to polish your e-commerce product descriptions.
Shared Hosting to Power Your Purpose
We make sure your website is fast, secure, and always up so your visitors trust you. Plans start at $2.59/mo.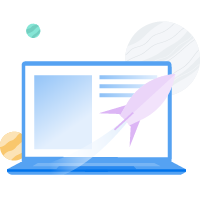 8 Ways to Write an Excellent Product Description
But what actually makes a good product description? In this guide, we're giving you eight tips (along with winning examples) that provide a comprehensive look into what makes an effective product description. Let's go!
1. Identify Your Buyer Personas
It can be difficult to write a product description if you don't know who your target audience is. To successfully write about product features that resonate with your potential buyers, you have to know who they are.
This means you need to reference your buyer persona(s)  — a fictional representation of your ideal customer based on market research. If you don't already have a buyer persona to guide the copywriting on your website, the time to create one is now.
A buyer persona should answer all of the following general questions:
What is the demographic information of your buyers?
What are their interests?
What is their native language?
What kind of language appeals to them? (e.g., Does industry jargon appeal to them or turn them off?)
How do they spend their free time?
How do they find your website?
Why are they interested in your store?
If you have the luxury of big data at your hands, collect data on your current customers to also understand:
Product preferences
Behavioral patterns
Purchasing patterns
Access to this data will help you fine-tune your buyer personas. Once you know who you are selling to, it will be easier to write product descriptions that resonate well with them.
2. Focus on Product Benefits and Features
As crucial as it is to speak the language of your buyers, your buyers don't come to your page to connect. They come to learn precisely what your product can do and how it will meet their needs and fulfill their pain points. To accomplish this, you need to write an extensive list of your product's features and benefits.
Start with the features. For example, if you sell shoes, include size information, material, color information, the weight of the shoe, etc. Your features section should be comprehensive and tell consumers everything they need to know about what makes your product special.A list of features is a great start, but it's only half the battle. Potential customers also want to know the benefits of your particular product. And, this is where your product description can shine.
With the shoe example, benefits would include things like comfort, flexibility, odor-resistance, wet and dry traction, etc.
Allbirds does a fantastic job showing off the benefits of their shoe without being verbose. Their advantages are spelled out in short, sweet blurbs that get right to the point.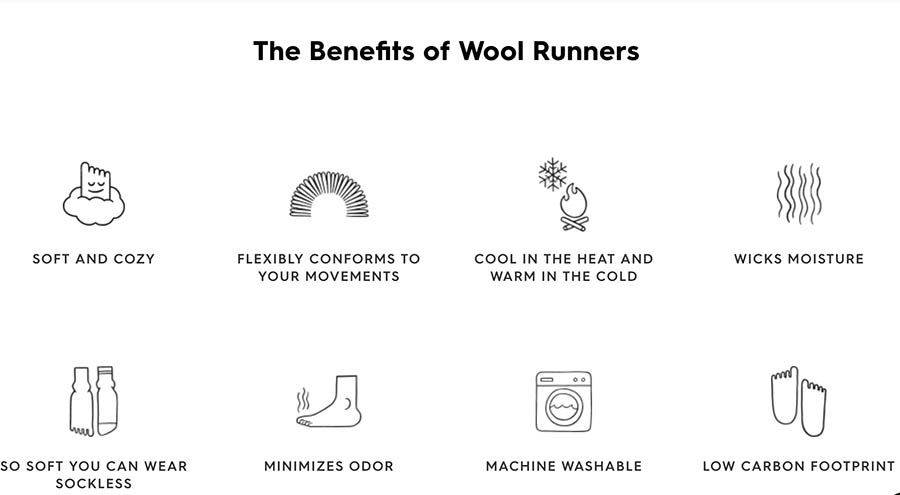 Benefits are your main selling points, your differentiators, and the reasons why customers will end up selecting your product over your competitors. Don't neglect clearly identifying them.
3. Stay True to Your Brand's Voice
If your brand's voice is professional, your product descriptions should be professional. If your brand is snarky and sarcastic, then your product descriptions should match. Is your brand funny? Be funny when writing your product descriptions.
Everyone is familiar with the hilarious Poo-Pourri advertising videos. You know, the videos that took Poo-Pourri from a $10 million company to a $30 million company almost overnight?
Poo-Pourri has a unique brand identity and tone of voice, which they stay true to even when describing their products.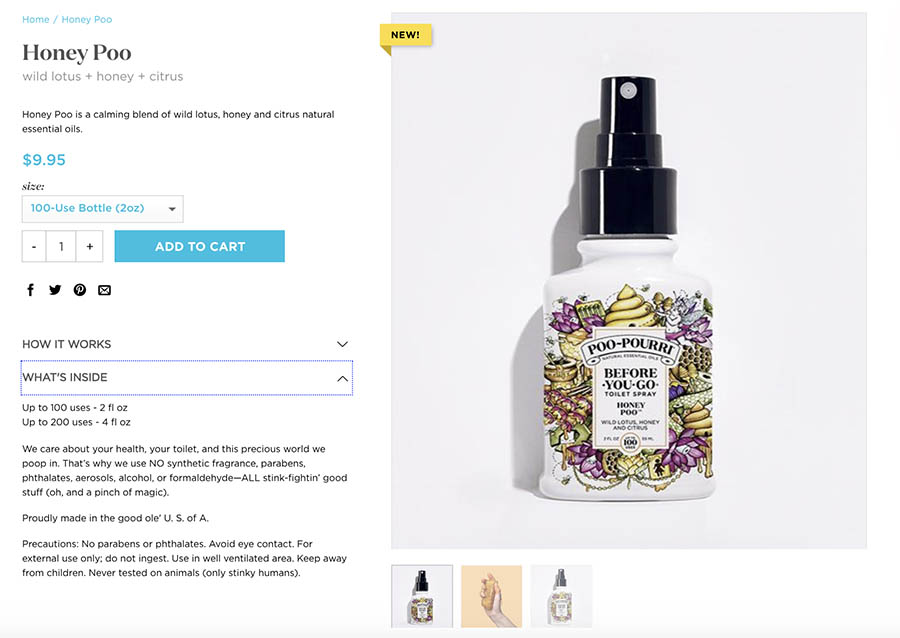 4. Tell a Full Story
Every good story has a beginning, a middle, and an end. Unless, of course, you're one of the writers on Game of Thrones, but I digress.
With product descriptions, the formula for good writing is no different. You need to present a complete story that engages your readers. This doesn't mean you need to write a novel, but at the same time, your product description shouldn't just be a list of features and benefits either.
Instead, show (not tell) your customers how the product will improve their lives. Help them visualize a real-life scenario where your product solves a problem. The goal is to create a narrative arc in which the reader is the hero and your product is the tool that enables them to succeed.
For example, check out the impressive product storytelling of Malicious Women Candle Co.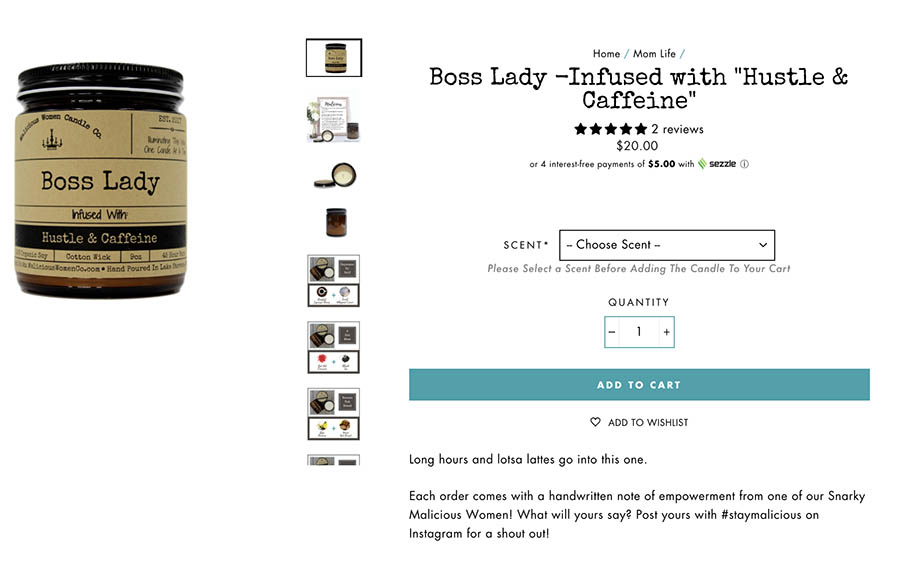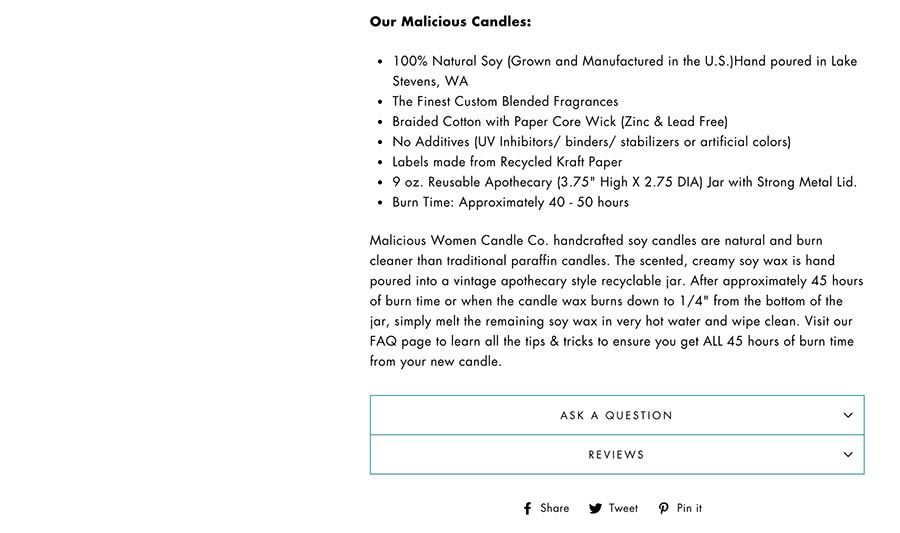 Customers aren't just buying a candle at Malicious Women Candle Company. They are purchasing a product that promotes empowerment with a side of hustle and energy. Now that's a product story.
5. Use Active Language to Persuade Buyers
Your mom was right; the words you use make a difference — especially with product descriptions. The truth is that some words are just more persuasive than others. In fact, experts have roadtested all kinds of language to come up with 189 words and phrases that actually improve conversion rates.
Consider these 20 tried-and-tested words recommended by David Ogilvy, the proverbially 'Father of Advertising':
Suddenly
Now
Announcing
Introducing
Improvement
Amazing
Sensational
Remarkable
Revolutionary
Startling
Miracle
Magic
Offer
Quick
Easy
Wanted
Challenge
Compare
Bargain
Hurry
The common theme? Persuasive words encourage consumers to take action.
Jon Morrow of SmartBlogger.com has his own list of 600 power words that will tap into your customer's emotions, making them more likely to engage with your message.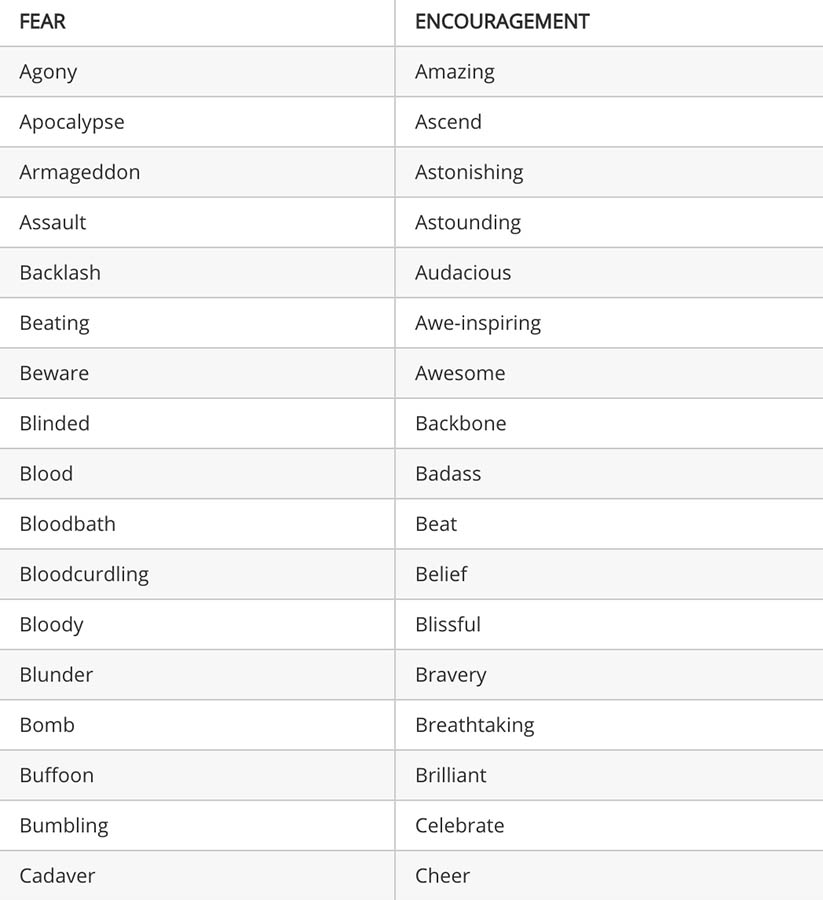 Since many companies use awe-inspiring (see what we did there?) power words in their product descriptions, it's easy to find good examples — even for seemingly bland products. Here's one about shaving cream from Ulta Beauty.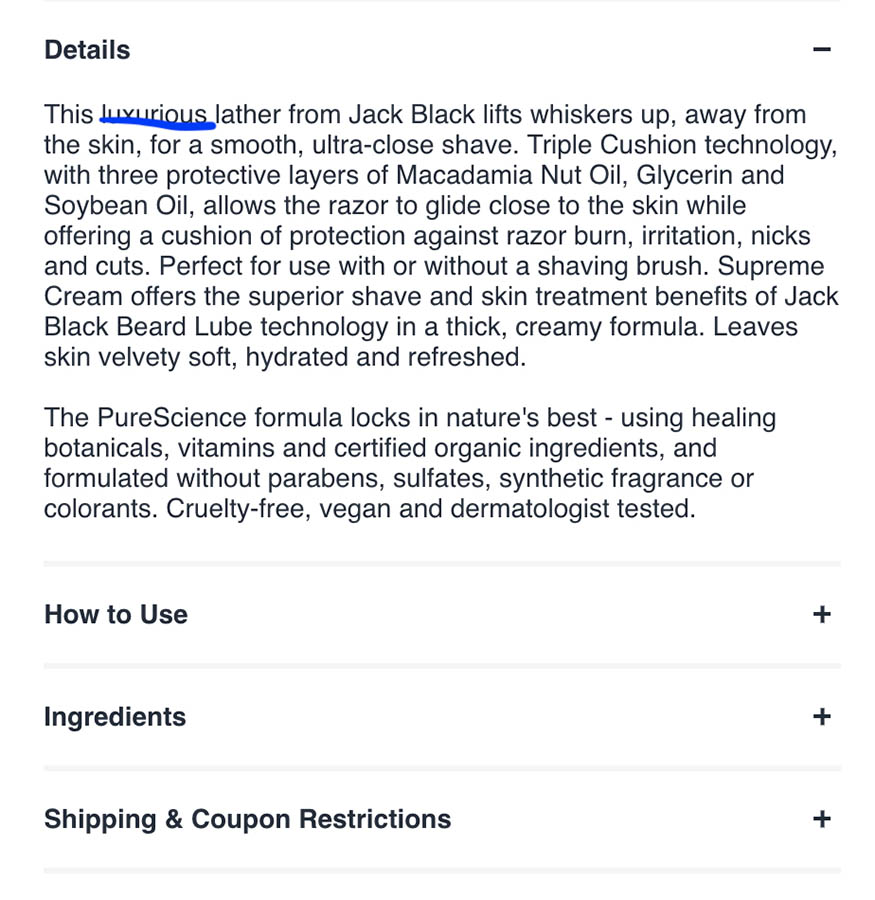 When writing product descriptions, take a moment to scan through your copy and make sure each word is pulling its weight.
6. Make Text Scannable with Bullet Points
Making your text scannable is one of the most critical elements of writing a good product description. Studies suggest humans have an attention span that's shorter than that of a goldfish — a bleak eight seconds.
This means it's essential to make your content easily digestible. The solution to packing a narrative punch in a relatively small space? Create a bulleted list.
J. Crew does this well. Customers can click on a picture to see the item of interest and quickly read the scannable bullet points for more information.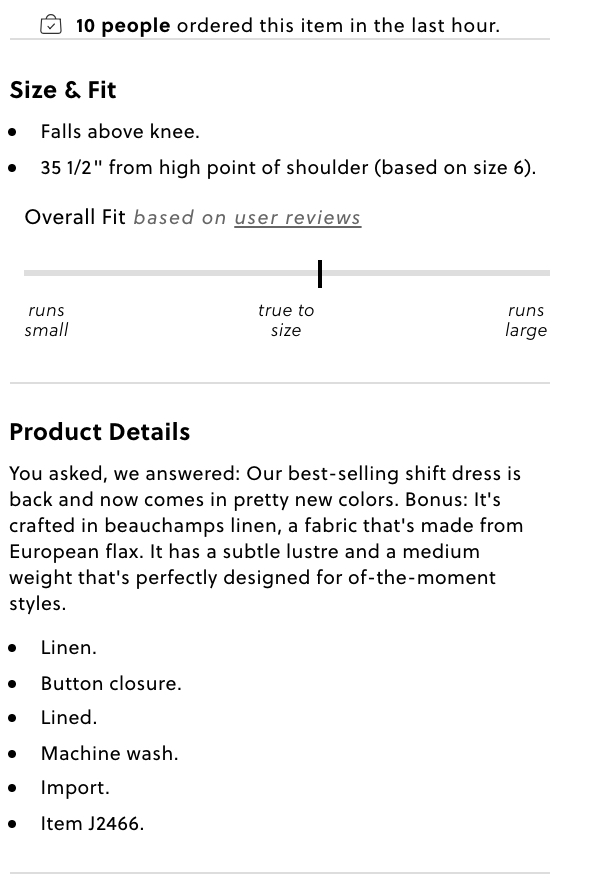 The more you can do to make a product description scannable, the better.
7. Optimize Copy for Search Engines
Copywriters have a unique challenge when it comes to writing product descriptions. They must persuade readers, but there's another audience to keep in mind too: search engine algorithms.
Search Engine Optimization (SEO) — including identifying and using the appropriate keywords for your products — should be a critical part of your product description writing process.
The SEO world is constantly changing, along with Google's algorithms, so what works one day might not be ideal the next. However, there are still some keyword strategies that stand the test of time, such as avoiding duplicate content and including keywords in the following places:
Page title
Product title
Alt tags
Product descriptions
The keywords you use in your copy help Google and other search engines identify what the page is about. This information then used to determine how to rank your site on the search engine results page (SERP) so that relevant results to served up to people imputing related search queries.
For example, when you type "shaving cream" into Google, Google offers a list of products.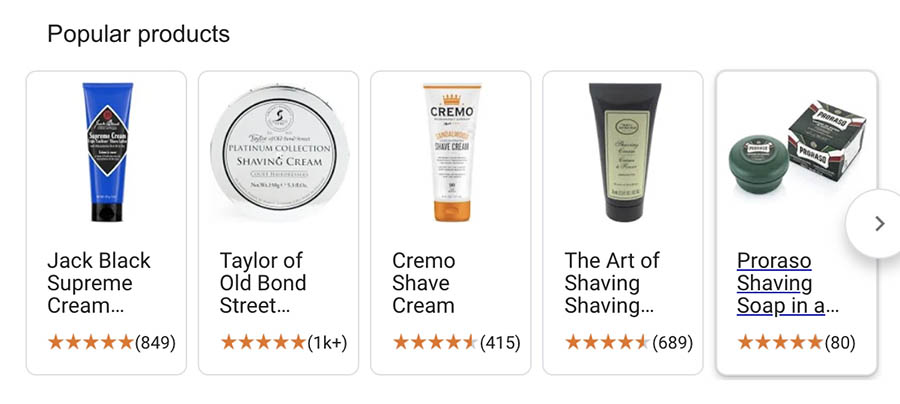 There are literally hundreds of shaving cream products on the market today, but these five products have the best SEO keyword strategy.
Take Cremo Shave Cream, for example. When visiting their product page, it's clear they have maximized the use of keywords, such as shave cream and shave.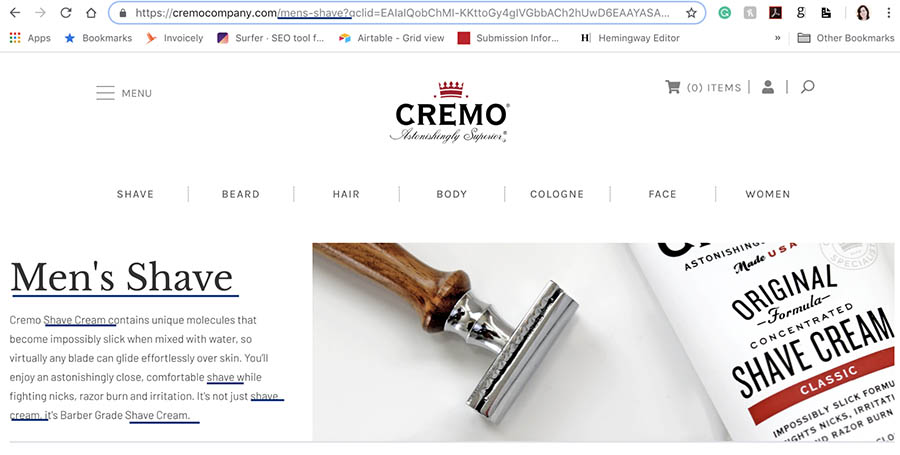 Additionally, when you check out the page source, you can see the back-end (e.g., alt tags) are optimized with the keyword as well.
8. Add Images and Video
It should go without saying that a great product description must include images. If you need extra persuasion, remember that 63% of consumers believe good images are more important than product descriptions.
If your e-commerce store can afford to hire a product photographer, awesome! If not, there are lots of DIY product photography tutorials to help get you started. Of course, good photos start with good equipment, including:
Camera
Tripod
Nice background
White bounce cards made of foam board
Table
Tape
Once you've gathered your gear, you'll need some tips on how to actually take stellar photos. This guide from Bigcommerce provides beginner-friendly tips at budget-price: how to shoot exceptional product photos for under $50. Suggestions include:
Using a light-colored backdrop so it's easier to touch up images.
Creating your own lightbox to distribute light evenly.
Using a tripod to steady your camera.
Retouching images before posting them.
If you don't think a smartphone will do the trick, think again. All you need for affirmation is to take a gander at some of the DIY photographers on Instagram. Jennifer Steinkop of @aloeandglow, for example, uses an iPhone 8 Plus, the Lightbox app, and some of the tips mentioned above to create gorgeous beauty shots.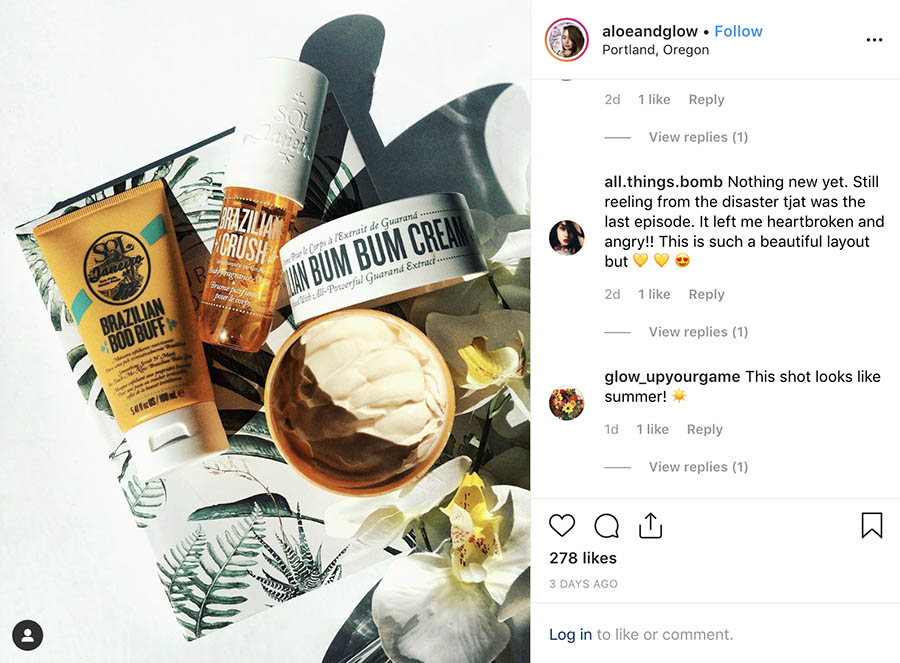 Looking for a more corporate example? iRobot has excellent product photography on its website. The company includes at least four images and often a video (bonus!) to show consumers exactly how the product works.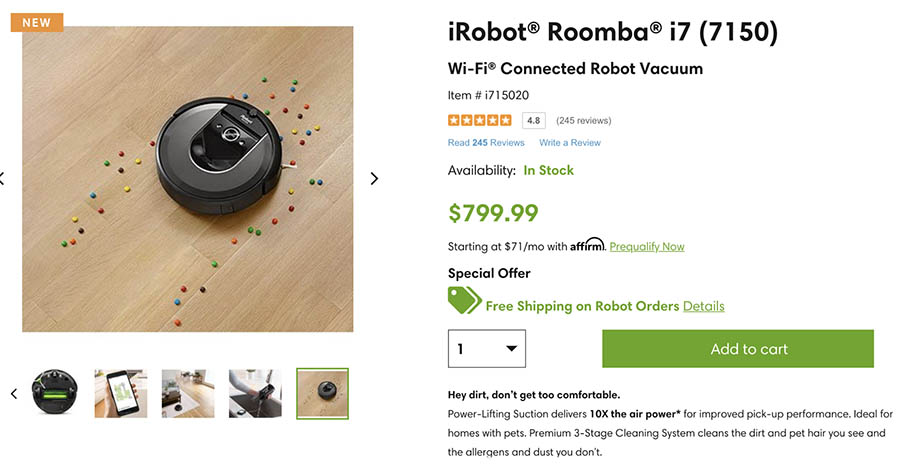 With a few clicks of a button in a second or two, consumers know exactly what they are getting when they buy a Roomba.
Another tip courtesy of iRobot: consider adding customer reviews to your product description. In addition to quality imagery, social proof can be hugely motivating for prospective buyers.
Get Content Delivered Straight to Your Inbox
Subscribe to our blog and receive great content just like this delivered straight to your inbox.
How to Create a Product Description Template
While we've just outlined eight tips for writing product descriptions that really sell, it's important to note that there is no one-size-fits-all solution. That's because all products have different features, benefits, and selling points.
However, if you have a list of similar products and you don't want to start from scratch every time you write a product description, it can be beneficial to create a template.
There are lots of handy product description template examples you can download from e-commerce websites. To really maximize their value, though, we'd recommended you focus on the 8 tips we outlined above. Start by asking:
What are your buyer personas?
What are the pain points of your customers?
How does your product solve customer pain points?
What power words can you use in your copy?
Do you have a unique story or brand voice?
Is your language accessible and free of industry jargon?
What are the main features and benefits of your products?
Do you have an image and video library?
Once you've answered these questions, you can tweak your template and test it with your audience. If you find a specific template is outperforming others, then you've found your winner.
Your Products, Our Hosting
Ready to revolutionize the way you write product descriptions and how you display them on your website? At DreamHost, we offer low-cost shared WordPress hosting, and a variety of other resources to help you build the perfect custom website for your online store. Check out our shared hosting plans today!