How to Successfully Deal With Tech Support (5 Simple Steps)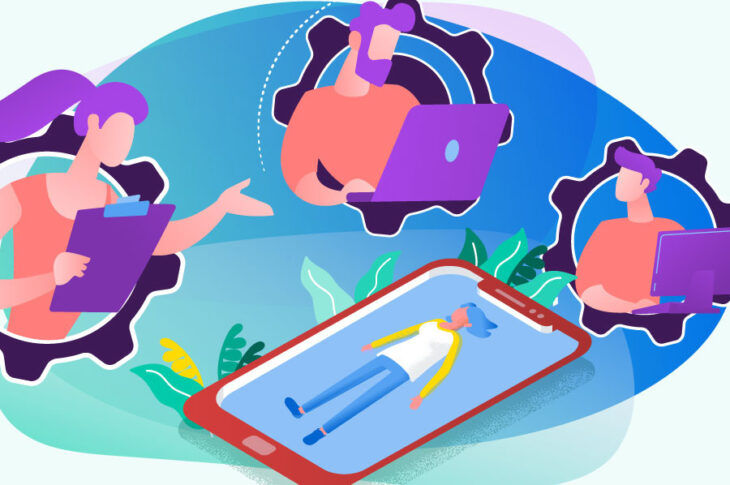 Spoiler alert: Setting up a website can be stressful — especially if it's your first time. And even if you're a pro, having something go wrong with your website at one point or another is pretty much inevitable. The hard truth is that technical difficulties can make you want to throw in the towel.
But don't give up, champ. 
DreamHost's brilliant tech support team is here to get you back on track. For more than 20 years, our top priority has always been customer satisfaction, which is why our support team wins awards for quality and responsiveness. 
What's more, getting help with your website is even easier if you know what to expect when you reach out to us and what you can do on your end to make the process as quick and painless as possible. Yep, you've got the power!
In this article, we'll help you cope with your website's technical difficulties, give you some advice for contacting technical support, and let you know what to expect when you interact with a customer service rep. 
Want to jump ahead? Here are 5 steps to successfully dealing with tech support:
Are you ready to uncover the secrets to getting good customer service? Let's dive in!
We'll Support Your Dream
Whatever your goals, we'll be right there with you, making sure your site is fast, secure, and always up. Plans start at $2.59/mo.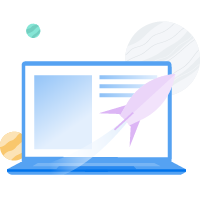 Step 1: Try Some Basic Solutions
If it looks like your site has gone offline entirely, there may be a quick fix you can tackle on your own. First, check to make sure the website is genuinely down and that the issue isn't something on your end.
Security software may be blocking your website, especially if you're trying to access it from a different network than usual. Maybe your cat unplugged the router. Actually, she may be trying to help, so don't forget to check and see if the reset worked. Last but not least, have you tried turning your computer on and off again? You're welcome, fans of The IT Crowd.
Once you've eliminated other possibilities and determined that your site is down, you'll want to know whether it's just you or if it's a hosting problem. You can look at the DreamHost Status page to find out if there's a system-wide issue.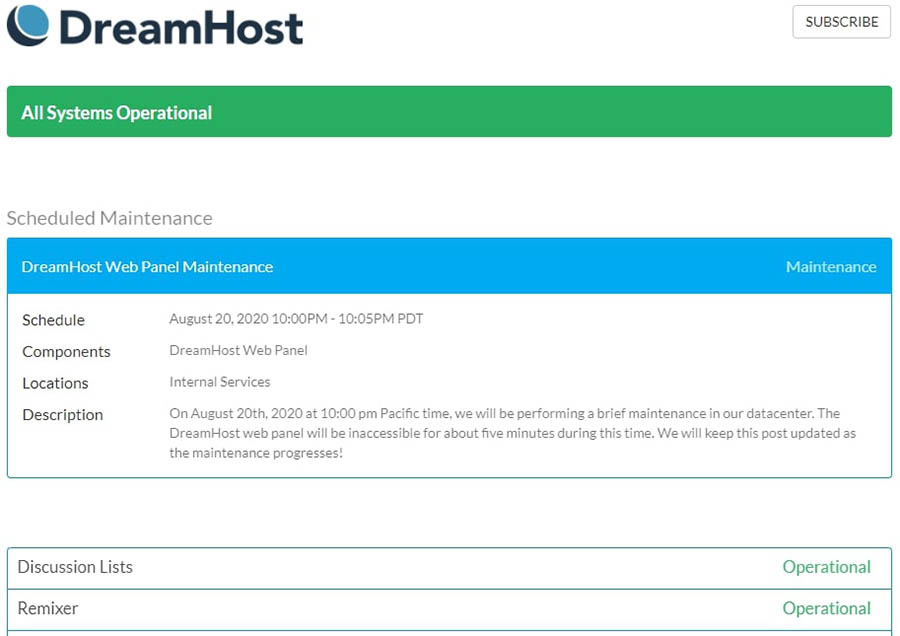 If DreamHost is experiencing downtime, there's no need to contact tech support, as we're already aware of the problem. You'll just have to sit tight until it's over.
If this doesn't seem to be the source of the issue, here are a few questions to ask yourself:
These are just a few possibilities, but asking the above questions may help get you on the right track. 
If you were able to pinpoint the issue, you might want to see if you can DIY your way to a solution. Troubleshooting help is available 24/7 via our Knowledge Base and blog.
Step 2: Document the Problem in Detail
So you've done your detective work, but you still don't know what's wrong. It's probably time to call in some expert help. However, before contacting support, you might want to spend some time carefully documenting the issue your website is having. Being thorough now will make it easier for tech support to get you a solution quickly.
First, try to reproduce the issue. A problem that can't be copied will be much more challenging to solve. If you're able to consistently trigger the issue, you can provide more information to the DreamHost tech.
If you're unable to recreate the exact circumstances, try to accomplish the task in other ways. Now might be an excellent time to explore the forums. Another user may have some helpful insight or creative suggestions for how to reproduce your problem.
You don't need to be a tech expert to document complex issues. Just use precise language to describe what you see in as much detail as possible. If you're vague or inaccurate, you'll likely end up having more back and forth with the support agent.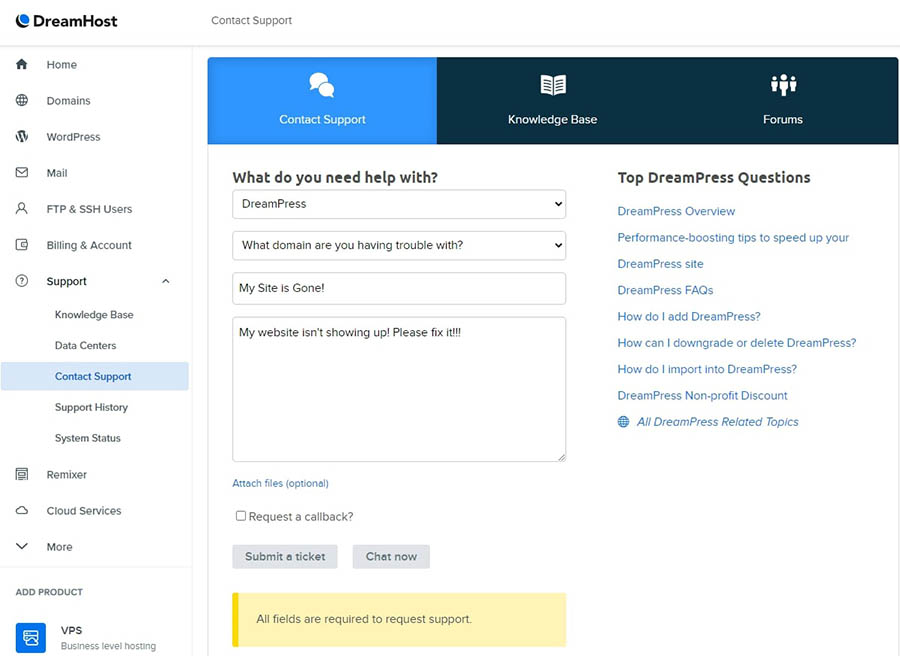 Once you've put together a detailed description of the issue, you'll want to compile your website's recent history. Identify which domain is having problems and what Content Management System (CMS) you're using. Include any changes you made, no matter how innocent they seem — even installing a new theme or plugin can sometimes create problems.
Additionally, you'll want to take screenshots of what you see to support your description. A picture is worth a thousand words, especially in tech support! Bonus points apply if you can grab some video while you're at it.
After you've thoroughly documented your problem, you'll need to gather your account information. Have your domain name and the last four digits of your password handy.
Step 3: Contact the DreamHost Tech Support Team
Now it's time to contact DreamHost's award-winning, in-house support team. You can access a technical support specialist by email or live chat. If you're an existing customer, both of these options will be available to you through your panel on the Contact Support page. If you're unable to log in to your DreamHost account for any reason, you'll need to contact support using the online contact form.
No matter which avenue you choose to get in touch, you'll start by filling out the Contact Support form. Remember all that information we asked you to gather in the first two steps? Plug it into the form. Include your detailed description of the problem, as well as any methods you've tried to fix it.
Live chat is available from 5:30 am–9:30 pm Pacific time, seven days a week. The service is available in Spanish as well. After filling out the Contact Support box, click on the Chat now button and wait for an agent to join.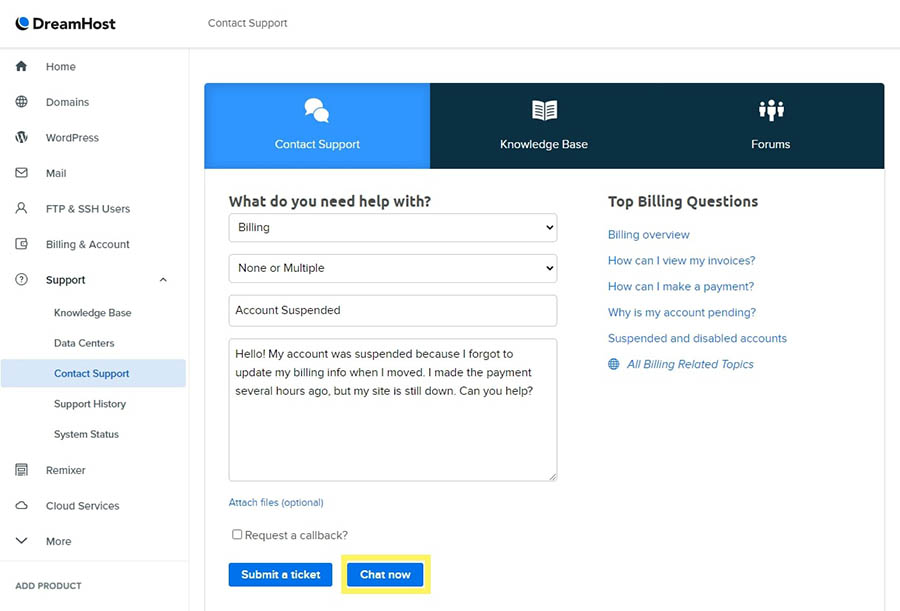 Once the chat is complete, you can review it in the Contact Support page's Recent Messages section. Keep in mind that while it may be convenient, live chat is best suited for situations with a quick fix. If your issue is more complicated, the chat agent may ask you to open a ticket via email, as this is the preferred method for contacting support.
You can create a ticket the same way you access the live chat. The only difference is that you'll click on the Submit a ticket button after you've filled out the Contact Support form.
Once you've submitted your ticket, it will appear under Open Tickets. You can withdraw it if you solve the issue independently and no longer need help from tech support. Otherwise, you'll be able to view your conversation here. 
Step 4: Request a Callback if Necessary
After support resolves your issue, you can still refer back to the conversation if needed. You can find the closed ticket in the Support History section of DreamPanel. You'll also find any other messages from DreamHost here.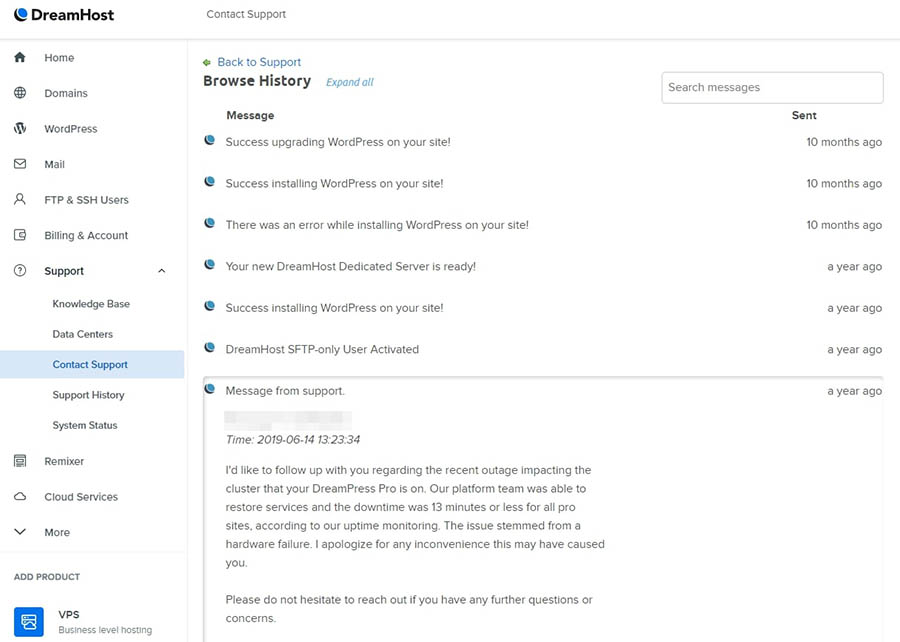 If you need to submit a file, you can do so by selecting the Attach files link at the bottom of the form. If you prefer, you can send the file via SFTP to your DreamHost server. Just be sure to explain what you'll be uploading and where you uploaded it.
DreamHost's support team doesn't typically operate over the phone. However, callbacks may be available to you, depending on your plan. You can choose to add three callbacks per month to any plan for an additional fee.
To access phone support, check the Request a callback box when you submit your ticket.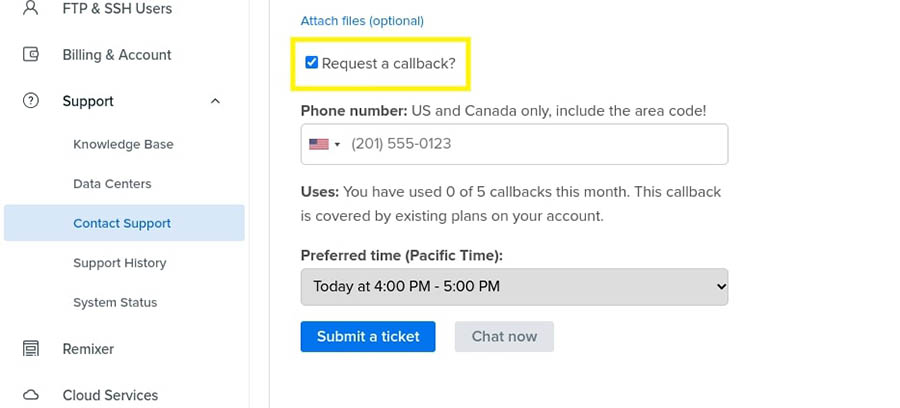 Here, you'll also be able to add your phone number and a preferred time. Even if you choose to have a callback, be sure to include as much information as possible when filling out the Contact Support box.
Step 5: Work With Our Support Team to Solve Your Problem
The DreamHost support team tries to reply to all requests within 24 hours. However, that doesn't necessarily mean we'll completely solve the problem at that time. You'll be working together with a support agent to diagnose and resolve your issue. Tech support is a team effort.
Be prepared to answer some questions and maybe even perform a few tasks to help diagnose the trouble. You'll also be able to ask any questions that you may have. If it turns out the issue isn't with DreamHost, our support specialists will try to point you in the right direction to get it worked out.
Of course, it helps the entire process if everyone tries to remain calm and courteous. Glitches and technical difficulties are part of owning a website, and this likely isn't the only time you'll encounter frustrations. Even if you're worried about losing traffic, it won't help to lose your cool. You haven't done all that yoga for nothing. Breathe.
Remember, even if your website is experiencing significant downtime, DreamHost has a 100% uptime guarantee. You'll receive credit for the inconvenience, and we'll do everything we can to improve your customer experience.
Get Content Delivered Straight to Your Inbox
Subscribe to our blog and receive great content just like this delivered straight to your inbox.
Great Customer Support Is a Click Away
Handling website problems is no one's idea of a fun time, and TBH, neither is interacting with angry customers. It's totally normal that you're feeling stressed out, frustrated, and maybe even embarrassed for not having the answers yourself. But before you open that bottle of wine, keep calm and contact tech support.
Knowing what to do when complex issues arise can make the situation a little less scary. Also, planning ahead when dealing with tech support can help you get the most out of the experience. Gather as much detailed information as you can and know what channels you have available to you, as well as how to use them.
With DreamHost's superhero tech support team in your corner, you can build your website fearlessly. Get started with a hosting plan today!