Top 5 Benefits of Google Workspace for Your Online Business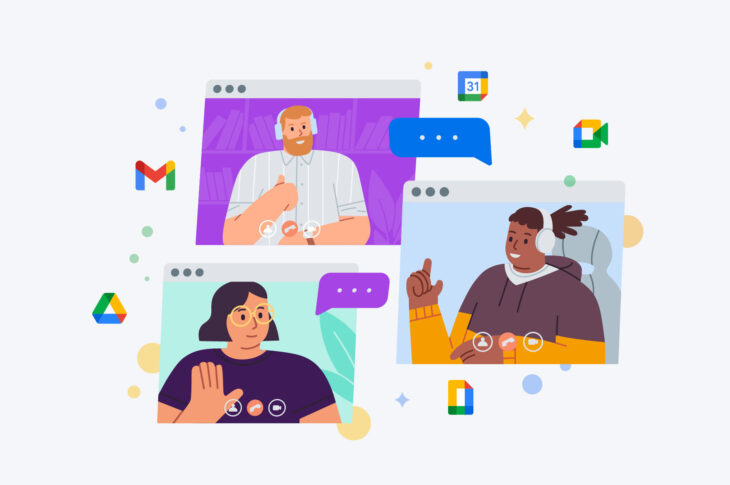 If you're starting a business, chances are you're looking for email and office software to power it. There are many business productivity suites out there, and choosing the right one for your company can seem like a challenge.
If you need an affordable and powerful productivity suite for your business, Google Workspace might be just what you're looking for. This set of tools from Google offers email, cloud storage, document creation, and more, all with fantastic collaboration tools built in.
In this article, we'll introduce Google Workspace and its key benefits. Let's get started!
Google Workspace Offered by DreamHost
Work together from anywhere for just $6/user per month. Current DreamHost customers can try it free for 30 days.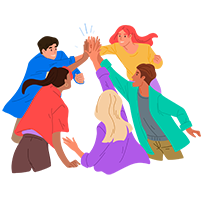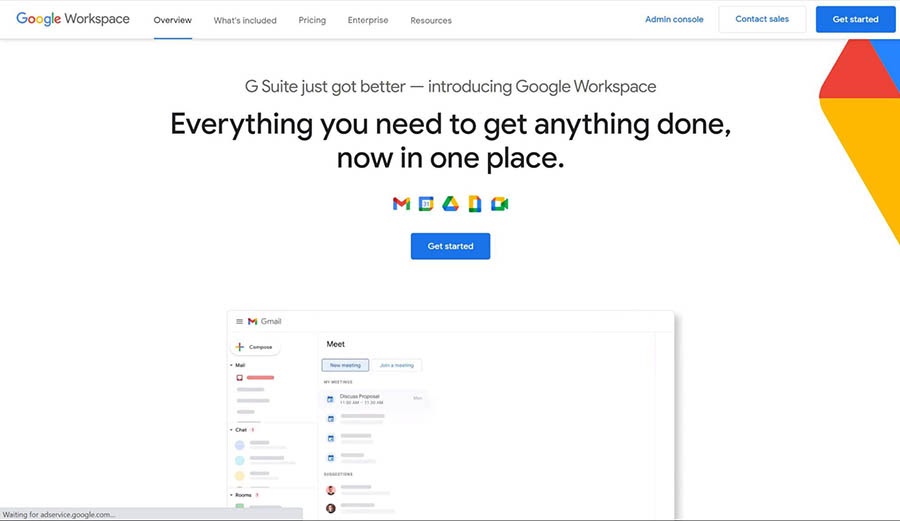 Simply put, Google Workspace is Google's package of business-focused apps and services. It's Google's answer to Microsoft Office, with a heavy focus on collaboration and the cloud.
The service was originally launched in 2006 as Google App. Rebranding followed, first as G Suite in 2016 and then as Google Workspace in 2020. 
Name changes aside, Google Workspace quickly gained a following for its ease-of-use, powerful collaboration features, and the ability to use it from any web browser.
Most of the apps included in Google Workspace are available for free to anyone with a Google account. However, by subscribing to one of the paid Google Workspace plans, you'll get an ad-free experience, improved customer support, and some additional perks.
Top 5 Benefits of Google Workspace for Your Online Business
Google Workspace has a lot to offer for businesses of any size and niche. Let's take a look at five of the ways this solution can help your company do more.
1. You'll Get Access to a Wide Range of Tools
Google Workspace offers all the basics you'd expect from an office suite and much more. Here are the main features:
Whatever your business needs, Google Workspace probably offers a solution that can help. You can check out the full list of included features and apps on Google's website.
2. Your Email Needs Will Be Covered
Gmail has been the industry standard for years, thanks to its advanced features and best-in-class spam protection and security. A Google Workspace account provides you with all the best features of Gmail, such as smart replies, while also enabling you to use your own custom email domain.
After that, labels are easily one of the most useful Gmail features for businesses. Instead of folders, as you'll find in most traditional email clients, Gmail lets you assign multiple labels to each message. This offers you a lot of flexibility when it comes to organizing your communications.
3. Collaboration Is Made Easy
Google Docs, Sheets, and Slides (a presentation solution) are easy-to-use productivity apps that offer many essential functions you need to run a business. Better yet, they provide easy avenues for collaboration.
In fact, all the Google Workspace apps are designed from the ground up to make working as a team simpler. You can have multiple people working on a Google Doc simultaneously and see where everyone is in the document. Comments are a simple click away, and you can receive an immediate notification when someone tags you. 
Additionally, Google Meet and Google Chat offer simple video conferencing and messaging that you can hop into with a click. On competing services like Microsoft Office, these features can feel like an afterthought or require more effort to use.
4. Google Workspace Apps Are Available Everywhere
All of the Google Workspace apps are web-based, which means they're available on any device with a web browser. You don't need to worry about installing any programs, and your work won't be interrupted by software updates. Google also offers excellent iOS and Android apps for all of its major services, so you can work on the go if needed.
To complement these apps, Google provides the Drive cloud storage service. The basic Google Workspace plan comes with 30 GB of cloud storage, but upgrading to a higher tier bumps that number up to several terabytes. So there's plenty of room for your critical documents and creative content.
If you're worried about not having internet access and being locked out of your files, don't be. Google Workspace enables you to sync the major apps for offline use, so you can still edit documents or view emails when you don't have a connection.
5. The Price Is Affordable
Finally, Google Workspace is highly affordable. The basic plan starts at just $6 per month per user, which is an excellent price for budget-conscious small business owners.
A higher-tier package increases the price to $12 per month but also drastically increases the Google Drive storage amount. All Google Workspace plans also remove the ads normally present in the free versions of the apps, so you can work distraction-free.
The Cons of Using Google Workspace
Of course, like any product, Google Workspace isn't perfect. While we love it, there are some downsides to consider when comparing Google's offering with its competitors:
Power features.

Google apps like Docs and Sheets tend to offer fewer features than their main competitors (such as Microsoft Word and Excel). Google Workspace does generally make up for this with superior collaboration tools, but it's worth noting.

Desktop applications.

If you require (or just prefer) desktop software, you won't find it with Google Workspace. Everything is browser-based.

Storage.

The base tier of Google Workspace only offers 30 GB of cloud storage space (although the higher tiers do bump this up significantly).

Support.

Google offers "standard support" on all of its Google Workspace packages, with the option to upgrade to "enhanced support" for an additional fee. Unfortunately, Google support can be a little

tough to deal with

. With that being said, DreamHost offers

expert support

for our Google Workspace customers.
Despite these potential downsides, Google Workspace stands out as one of the most popular productivity and email solutions for businesses. However, no one tool is right for every organization, so it's best to do your research carefully and compare it with other options.
Google Workspace and DreamHost: The Perfect Pair
Here at DreamHost, we offer Google Workspace's Business Starter and Business Standard plans to all of our customers, and sign-up is easy. We also provide an extended 30-day trial period for up to 10 users, so you can make sure Google Workspace is the right platform for your business.
To sign up for Google Workspace, log in to your DreamHost admin panel. In the sidebar, scroll down to Add Product and select Google Workspace.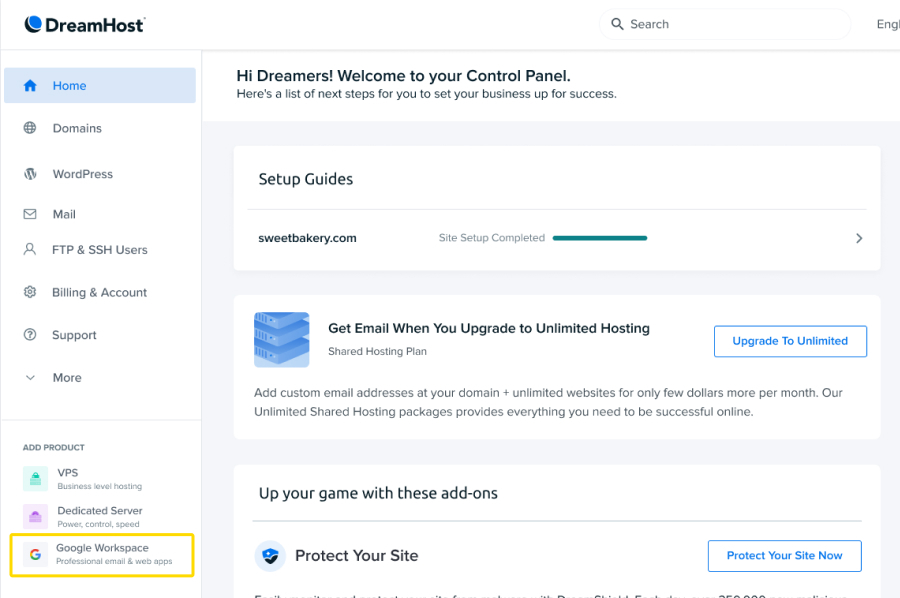 On the next screen, click Get Started.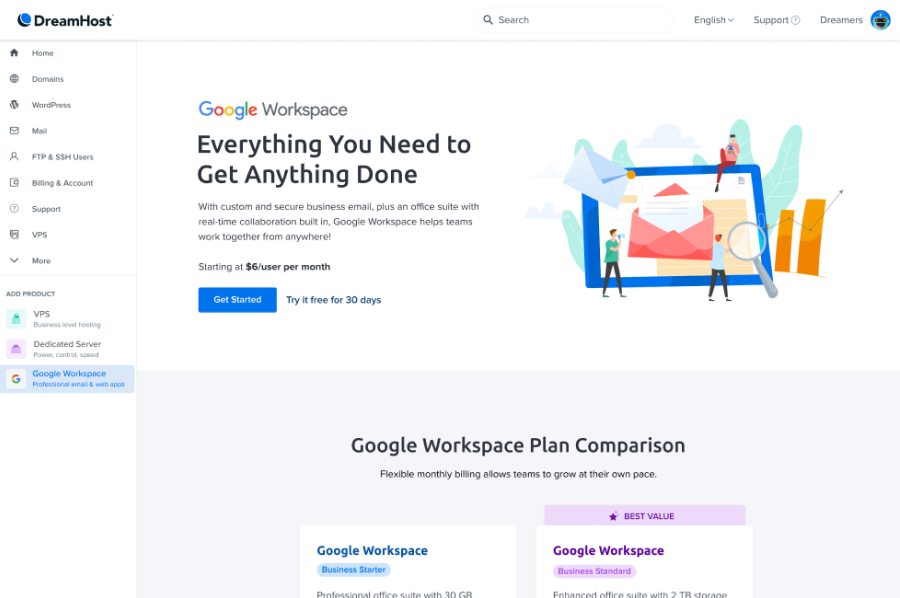 You'll be asked to select the domain you want to associate with your Google Workspace account, as well as the number of users and the plan you want to sign up for.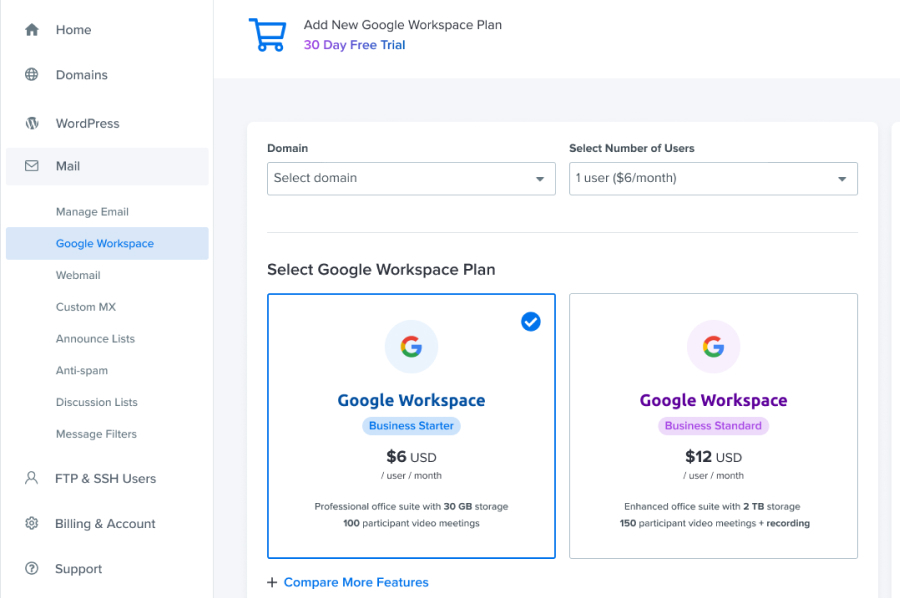 The primary difference between the plans is storage. The Business Starter plan offers 30 GB, while the Business Standard plan offers 2 TB.
Next, scroll down and enter your details in the Admin User Creation section. When you're finished, click on Complete Setup to finalize your choices.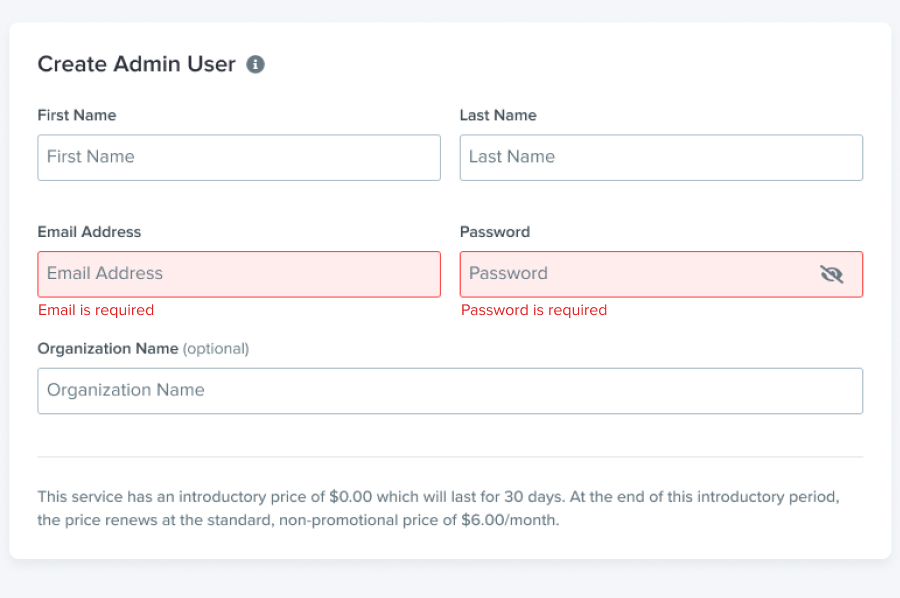 You'll receive a few confirmation emails, so be sure to look out for those and take any actions requested in them. After that, you can manage your Google Workspace subscription at any time from the Manage Account section of your DreamHost panel.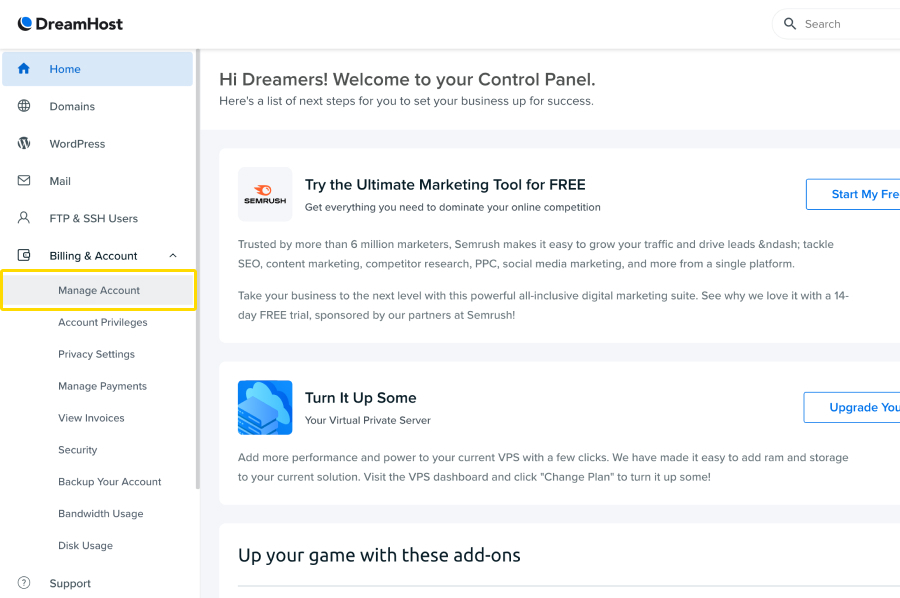 That's all there is to it! We also recommend setting up a recovery email and phone number for your new Google Workspace account in case you lose your password. If you need further help at any point during the sign-up process, you can also consult our step-by-step guide to setting up Google Workspace with DreamHost.
Get The Ultimate Productivity Tool
If you're looking for a robust and feature-packed email and office suite for your business, Google Workspace might be the solution for you. It's a versatile and powerful set of apps with outstanding collaboration features.
If you're ready to get down to business, DreamHost makes it easy. Our Google Workspace packages are affordably priced and come with an extended 30-day free trial, so you can make sure it's the right fit for your company!