How Much Does Web Hosting Cost? (3 Types of Plans)
Whether you're setting out to build your own website or plan on hiring a developer, you might be overwhelmed by the pricing options available for website hosting. In order to create a reasonable budget for your website and still maximize performance, you'll need to conduct some research first.
Arming yourself with a broad selection of hosting information and pricing levels will help you confidently pick a web host that suits your needs. Additionally, knowing the basic benefits that come with managed versus unmanaged hosting and the different options available is an important step towards building a great website.
In this article, we'll take a look at three different kinds of web hosting services and discuss how much you should expect to pay for them. Let's get started!
The Costs Involved in Starting a New Website
When it comes to getting a new website off the ground, you can do so for next to nothing. However, there will likely be some costs to keep in mind as you plan to launch your site.
Let's look at WordPress, for example. The software itself is open-source and won't cost a cent. Still, you'll need to consider the following costs:
Domain name.

Depending on what name you're hoping to score, domain pricing can have a wide range. For a standard

.com

 name, however, you'll need to plan for anywhere between $10 to $50 per year.

Premium themes or plugins.

 If you want full control over all aspects of your site, you may need to consider a budget for premium plugins and themes. The extra cost is often worth it if you're looking to set yourself apart from competitors.

Web hosting.

 Hosting is required to get your site online and, in most cases, will involve a monthly fee that can vary significantly.
Your hosting service is the highest non-optional cost you'll need to worry about. That's why we'll spend the rest of this article providing the information you need to make an informed hosting decision.
How Much Does Website Hosting Cost? (3 Types of Plans)
There are several types of web hosting, and costs can range from less than $5 per month to hundreds of dollars per month. To help you cut through the clutter, we're going to look at the three major categories of web hosting services you'll want to consider in your search.
1. Shared Hosting
The first and most popular kind of hosting is shared hosting. This variety is so common among web hosting companies because it's cost-effective. Shared hosting distributes the resources of one physical server among multiple websites.
Performance and Security
Let's get the biggest downside of shared hosting out of the way first. It's more difficult to maintain high speeds and overall performance on this type of hosting. You can think of it like having a timeshare on an exotic island. You get the benefit of a beautiful place to relax and some very general upkeep, but it might not be available whenever you want or need it.
Since loading times can make a big difference in how people interact with your site, performance is a critical consideration. Shared hosting also requires that you stay on top of updates. If one person forgets to lock the door to your timeshare, it could ruin the experience for everyone. That also means it's possible for security issues on other sites to affect yours.
Service Levels
Shared hosting generally offers very basic service levels. You can think of it as a 'DIY' option, where you'll need to be ready to handle most issues on your own. This could mean you'll not only have to install WordPress yourself, but also worry about performance and security optimization.
Not all shared hosting options are created equal, however. Your shared hosting plan may include extras like one-click installations for WordPress, guaranteed bandwidth, free domain names, and more. You'll simply want to assess what level of support you need for your website and make sure the host you choose provides it.
Renewal Pricing
Hosting prices are typically listed as a 'per month' rate. However, it's also essential that you pay attention to the fine print. Generally, to get the lowest possible price, you'll need to sign up for a longer contract length.
Therefore, paying per month is likely to cost you more in the long run than paying for one or more years upfront. Still, shared hosting at any contract length is by far the most economical and budget-friendly hosting service you can find. Despite its drawbacks, this makes it an excellent choice for small sites and blogs.
Industry Standards
The industry standard for shared hosting comes in at an average of $5 per month. You can find plans for cheaper than that, however, yet still come with plenty of features.
Here at DreamHost, for example, we offer high-value shared hosting plans starting at just $2.59 per month.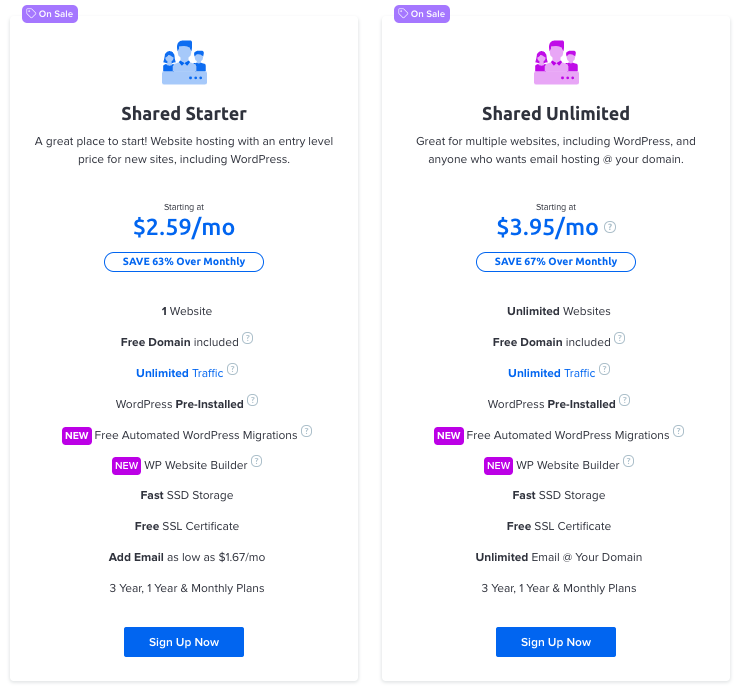 DreamHost shared hosting includes a domain name, comes with one-click installations of WordPress and features 24/7 support when you commit to at least one year. There are also starter and unlimited package options for paying month-to-month, as well as for the one- and three-year contracts.
How Much Does It Cost to Host a Website?
At DreamHost, we'll make sure your website is fast, secure, and always up so your visitors trust you for just $2.59/month!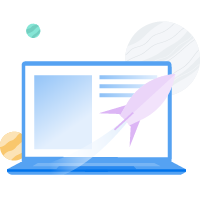 2. Virtual Private Server Hosting
The next hosting option, which has also become incredibly popular, is Virtual Private Server (VPS) hosting. This still hosts multiple websites on the same physical server, but each site gets its own virtually-partitioned space.
This enables your website to run more optimally and enhances security, but it's still a very cost-effective method. VPS represents a middle ground between shared hosting and dedicated servers (which we'll look at next).
There's one other major factor to consider when you're looking at VPS hosting. With this type of plan, you can opt for either a managed or unmanaged service. Managed VPS hosting will provide you with a support team that will tend to your site's security and performance, while unmanaged VPS hosting requires more hands-on attention.
Performance and Security
Let's revisit our timeshare. When you go with a VPS plan, you are ensuring that you can reserve whatever dates you want in your exotic beach house. Plus, it will be clean and ready to go when you get there.
VPS hosting can guarantee better page loading speeds and less downtime, as every website gets its own dedicated set of resources. Also, since each site is kept separate, it's unlikely that security threats to other sites will affect yours.
If you opt for a managed VPS plan in particular, you'll know that your server is being maintained and secured for you. Your site uptime should be guaranteed, and you'll know exactly what kind of resources you have available (and get the opportunity to scale them up when needed).
Service Levels
Unmanaged VPS hosting is a lot like shared hosting. You may get a few extra perks, but you won't have a lot of help managing your website or server.
On the other hand, a managed hosting plan provides you with a safety net. You'll have a team of technicians and support staff who will be looking out for the security and functionality of your site and server. The exact services you get can vary, but often, your web hosting provider will work hard to make sure your website is optimized and up-to-date at all times.
Managed hosting is an excellent option if you have a growing website, but are not ready to invest in your own hardware or an IT team to manage everything. You can get excellent results with little to no technical know-how.
Renewal Pricing
Once you decide whether you want to go with a managed or unmanaged VPS plan, you'll want to start assessing the pricing options. As with shared hosting, VPS plans will need to be renewed either in monthly or yearly increments. For the best deal, you'll want to opt for the longest contract (if your budget allows and you're happy to commit for the long term).
Industry Standards
VPS hosting will cost you a bit more than a shared plan, but it's still an affordable option. Prices vary a good deal, but the monthly industry standard is right around $30 per month. Managed plans will cost a bit more than unmanaged plans, although they make up for it in additional features and services.
At DreamHost, we offer four tiers of VPS hosting, each with a monthly, one-year, and three-year option.
You can start with a basic VPS plan for just $10 per month or go all-in with an enterprise plan for $80 per month. Regardless of your choice, all of our VPS plans all come with free SSL certificates and unlimited websites and traffic. What's more, these options are all managed, which means you'll save a lot of time on upkeep.
We Know You've Got Lots of VPS Options
Here's how DreamHost's VPS offering stands apart: 24/7 customer support, an intuitive panel, scalable RAM, unlimited bandwidth, unlimited hosting domains, and SSD storage.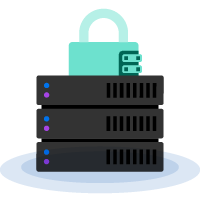 3. Dedicated Hosting
The third hosting service you're likely to encounter is dedicated hosting. This is the 'all-in' option. Dedicated hosting, or a 'dedicated server' as it is sometimes referred to, provides you with an entire physical server that's reserved solely for your website.
While your hosting provider still owns the hardware, this option gives you near-complete control over what is installed on that server and how it's configured. There are a few more things to consider when it comes to dedicated hosting, including the more substantial up-front investment, but it's a sound option if your site is well-established.
Performance and Security
Dedicated hosting offers a lot of benefits for certain kinds of sites. If your website receives a ton of traffic or you handle a lot of transactions on your site (such as with a small business or e-commerce website), a dedicated host might be a smart investment.
With this option, you finally have that house on the beach all to yourself. Dedicated hosting offers you speed, stability, flexibility, increased security, and lots more storage. Plus, you won't have to worry about other websites affecting your site's performance or putting its users at risk.
When shopping for dedicated hosting, you'll want to know whether you are buying a solid-state or a traditional drive. Along with that, you'll also need to decide if you want metered or unmetered bandwidth. All of these elements will impact the price of your dedicated plan.
Service Levels
Now that you're investing in a physical piece of hardware, there's more to consider when it comes to service. While you can rent a server and manage it yourself, you'll need a lot of knowledge about server technology and programming to make that work. Even if you do have the necessary know-how, optimizing and managing a dedicated server can take up a lot of time.
Managed dedicated hosting provides the same kind of service we talked about when discussing VPS hosting plans. Plus, it adds on everything you'll need for handling a larger and more robust website (or multiple sites). This can include a unique IP address, dedicated server backups, and plenty of support.
Renewal Costs
Just like with other hosting options, you'll have to decide if you want to pay for your hosting month-to-month or benefit from the savings you can get with a year-to-year plan. Most dedicated hosting providers offer both. Just be sure to read the fine print to determine whether your yearly renewal includes a standard increase.
Industry Standards
Now that you're investing in a piece of equipment and the skills necessary to take care of it, you'll be looking at a significantly higher price tag. Dedicated hosting prices cover a wide range, depending on how much speed, memory, security, and service you need.
The average dedicated server starts at around $100 per month, although plans at that price aren't likely to include a fully-managed hosting package. Our own dedicated hosting is managed and still comes in at a competitive price.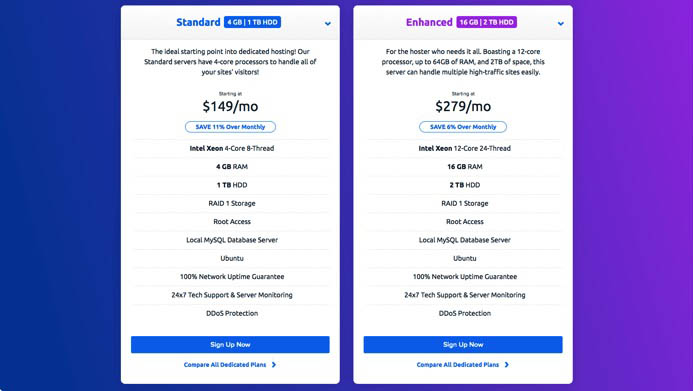 If you're not afraid of commitment, you can bag a standard plan starting at $149 per month, or pay $279 per month for enhanced features such as additional memory and faster processing. The month-to-month price range for DreamHost's dedicated hosting starts at $169.
Get DreamHost's Most Powerful Hosting
Our dedicated hosting plans are the ideal solution for high-traffic sites that require fast speeds and consistent uptime.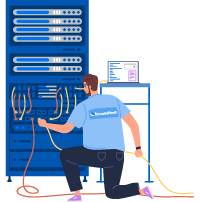 Breaking Down Website Hosting Costs
Before you break out the checkbook, it's crucial to understand all of your website hosting options. With many different kinds of plans out there, and what seems like an infinite combination of services and performance levels, knowledge is power for you as a consumer.
When making your choice, you'll want to understand the basics of the three most common types of hosting:
Shared hosting

.

This is the least expensive entry-point into web hosting, although the services will be basic. You can expect to pay $5 per month or less.
VPS hosting

.

 This can be the best value-for-dollar option. You'll likely pay an average of $30 per month, and you can opt for the benefits of managed hosting for an even greater value.
Dedicated hosting

.

 For top-of-the-line dedicated hosting, you can expect to pay anywhere from $100 to $300 per month. You'll get what you pay for here, so read the fine print and assess your site's needs carefully.
Have you decided what kind of web hosting plan might be right for your website? At DreamHost, we have something for everyone. That includes superb managed WordPress hosting plans, in addition to our other shared, VPS, and dedicated options!