How to Fix the Facebook Incorrect Thumbnail Issue in WordPress (4 Methods)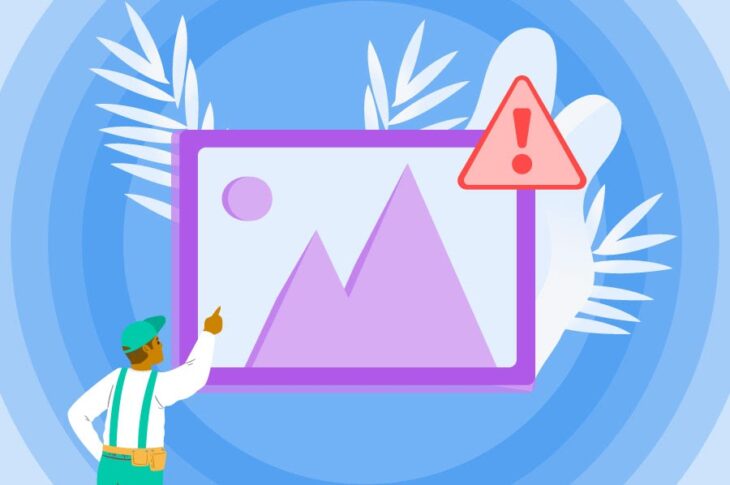 When it comes to marketing your WordPress website, sharing posts to Facebook can be a powerful method. However, sometimes this social media platform can wrongly display your images. If you've been struggling to fix the Facebook incorrect thumbnail issue, you probably understand what a headache that can be.
Fortunately, this issue isn't anything that a little troubleshooting can't solve. By applying a few tried-and-true solutions, you can fix Facebook's habit of displaying the wrong thumbnail when you share a post.
In this article, we'll cover a few reasons why you might be running into the Facebook incorrect thumbnail problem. Then, we'll walk you through four different methods for resolving it. So let's dive right in!
Facebook Link Preview Problems? Skip the Stress
Avoid troubleshooting when you sign up for DreamPress. Our friendly WordPress experts are available 24/7 to help solve website problems — big or small.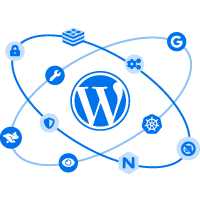 Why You Might Be Seeing the Facebook Incorrect Thumbnail Error
Having your own website is only the beginning of a solid marketing strategy. Social media platforms can help you meet countless goals. For example, they can assist you in reaching new markets, increasing your traffic, and growing your business.
With a projected 307.34 million users by 2022, Facebook offers a huge potential audience. As such, you've probably shared a few WordPress posts on the platform. We do it, too: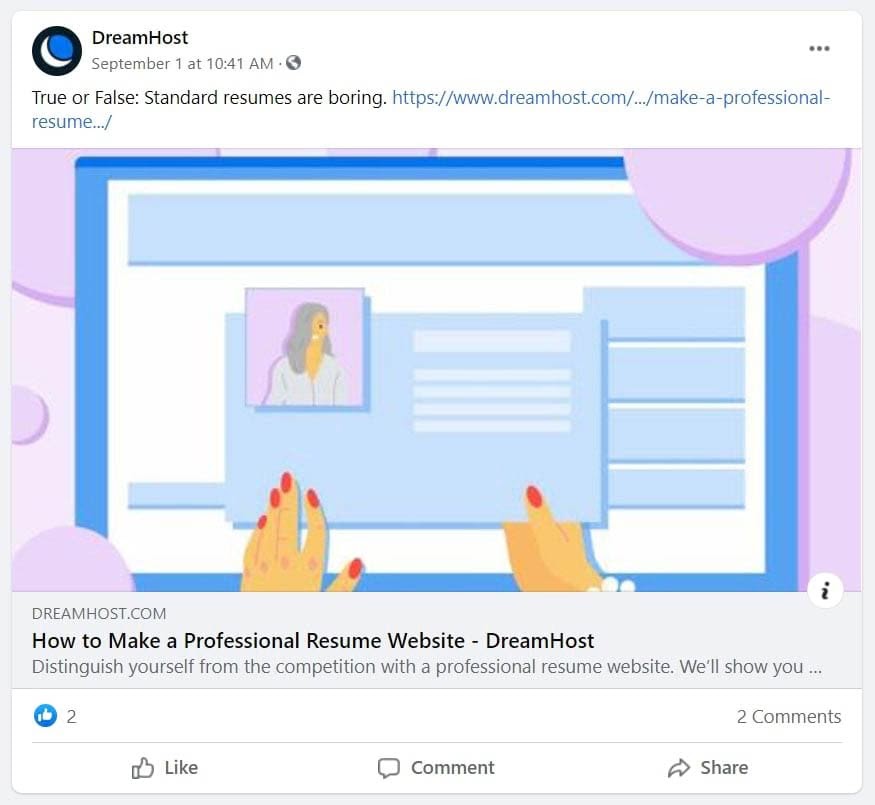 However, Facebook isn't perfect. You may notice that the image you've carefully selected isn't the one showing up in your post. That's right: you've run into the dreaded Facebook incorrect thumbnail error.
There are a few reasons why you might encounter this issue. Firstly, there might be a problem with your post's Open Graph (OG) tag. It tells Facebook which parts of your WordPress content it should share.
Thus, an incorrect or missing tag could make Facebook share the wrong image. This error is more common if your featured photo is smaller than the other pictures in the same post.
You might also be looking at a caching problem. If the program is calling up outdated information, it might be grabbing an old image that's no longer relevant.
Lastly, there may be an issue with your Content Delivery Network (CDN). Errors with CDNs are behind countless WordPress problems, including the 403 forbidden error.
Whatever the underlying cause, rest assured that you're not powerless. There are a few steps you can take to correct your Facebook image.
How to Fix the Facebook Incorrect Thumbnail Issue in WordPress (4 Methods)
You can try a few of the following methods to troubleshoot how Facebook displays your media elements. Let's take a look!
1. Use Yoast SEO to Adjust Your Social Settings
First up, we'll be using a popular plugin to correct your thumbnail: Yoast SEO. A dedicated social media tab provides a simple way to fix this error. You can also use it to improve your Search Engine Optimization (SEO).

With such practical features, it's no wonder that Yoast SEO is one of the most popular WordPress plugins. The SEO options are particularly powerful, but we'll only be focusing on how the program can fix your thumbnail error for now.
First, make sure you've installed and activated the Yoast plugin. After that, you can write your post as usual. Next, scroll down to the bottom of the page and click through to Yoast's Social tab. There, you'll find an option to Select Image.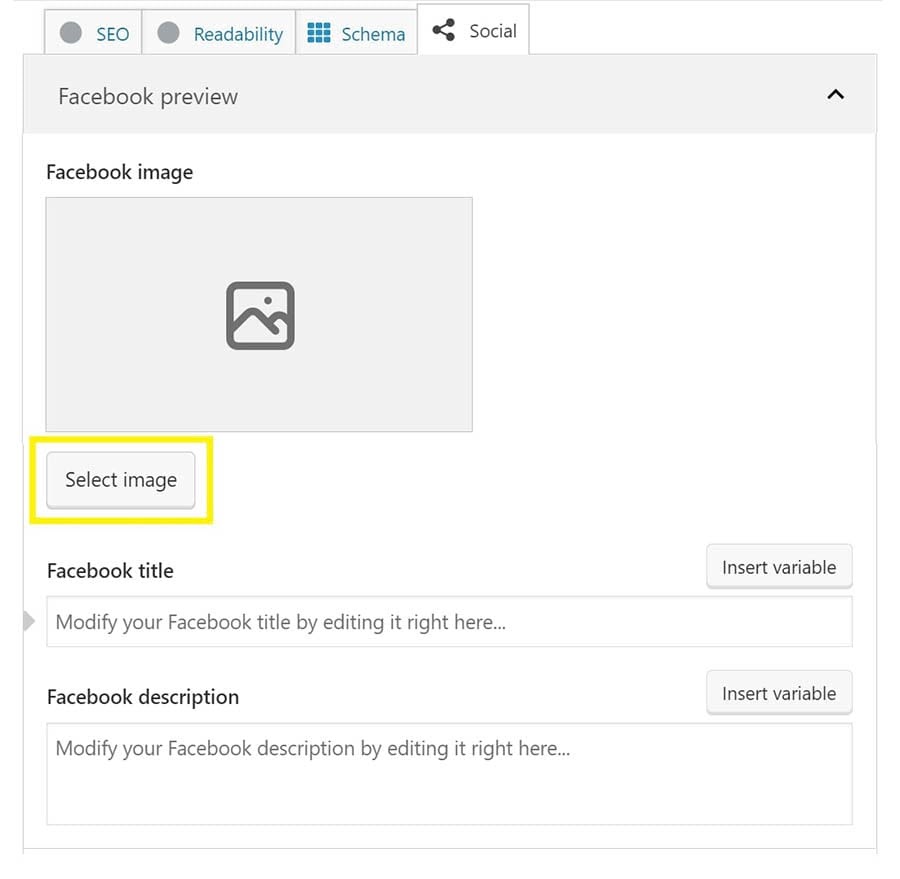 Click on that button. You'll then be able to upload an image or choose one from your gallery. Update the post, and the problem should be fixed.
2. Use AIOSEO to Calibrate Your SEO
If Yoast SEO hasn't solved the issue (or you prefer a different SEO plugin), you can also try AIOSEO. It is a powerful platform that can help you fix the incorrect thumbnail error and climb to the top of search results.

Just like with Yoast SEO, you'll want to start by installing and activating AIOSEO. Then, write your post like you usually would, and scroll down to the bottom when you're done.
Click through to AIOSEO's Social tab. Then, find the field labeled Image Source. Click on it to see the dropdown menu.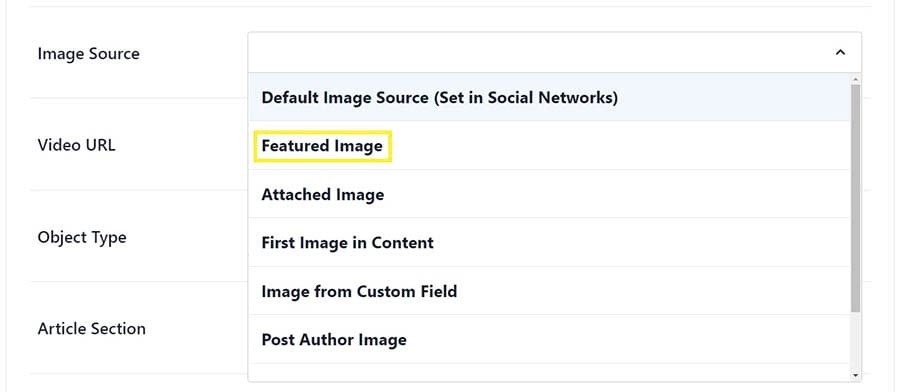 From here, you have two options: Featured Image or Image from Custom Field. Choosing the first selection will present your post's featured image as the thumbnail. On the other hand, picking a custom image will allow you to use whichever media element you want. Either option should fix the problem.
When you're done, remember to save your work. Then, check your Facebook post one more time. It should now be showing the correct thumbnail. If you're still having trouble, move on to the following method.
Search Engine Optimization Made Easy
We take the guesswork (and actual work) out of growing your website traffic with SEO.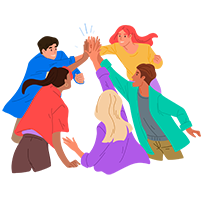 3. Use the Facebook Debug Tool
Let's go back to those OG tags we mentioned earlier. They are part of a Facebook-centric problem, so we'll need to dig into the platform itself and clear the cache. Fortunately, the Facebook debugger makes this easy.
Before we begin, take a second to make sure your WordPress cache is cleared. If you need help, check out step one of our article on fixing the WordPress login page refresh error.
Next, navigate over to the Facebook Sharing Debugger site. Enter the URL of the malfunctioning WordPress post into the box. Then, click on Debug.
You should then see a list of post metrics. After that loads, find the Scrape Again button near the top.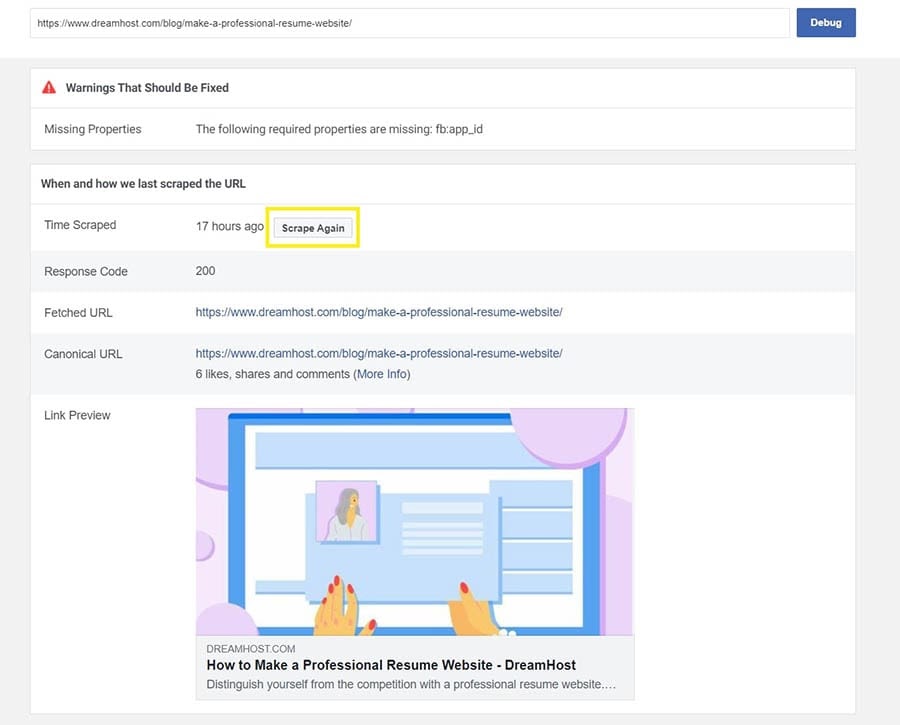 Clicking on it will cause the platform to re-check your post for the updated thumbnail image. Remember that you might have to do this twice to fully resolve the Facebook incorrect thumbnail error.
4. Manually Upload Your Facebook Thumbnail
We'll wrap things up with a quick-fix method. Let's be clear about this one: It's not going to solve the underlying issue.
If you need to fix a post, it'll get the job done. Nevertheless, if you're dedicated to promoting your blog on social media, we highly recommend you go back and try the other methods afterward.
First, share the post to Facebook as normal. Once you spot the incorrect thumbnail, edit the post. Then, click on the green photo icon on the editing screen.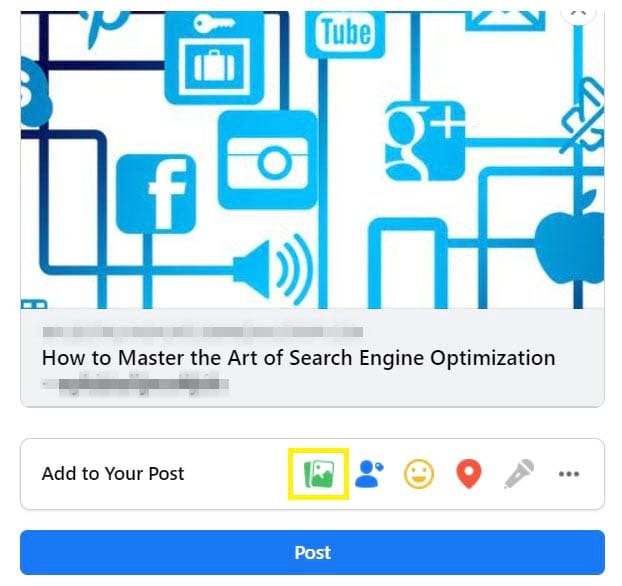 You'll then be able to choose the correct image. After you've decided, it should automatically replace the old one.
Have Another Error to Fix?
To help you resolve other technical problems on your site, we've put together several comprehensive tutorials to help you troubleshoot common WordPress errors:
And if you're looking for more information and best practices for running a WordPress site, check out our WordPress Tutorials section. This is a collection of expert-written guides designed to help you navigate the WordPress dashboard like a pro.
Get Content Delivered Straight to Your Inbox
Subscribe to our blog and receive great content just like this delivered straight to your inbox.
Displaying the Correct Thumbnail Image
An incorrect Facebook thumbnail may not seem like a big deal to some. However, marketing your WordPress site with your chosen media can be vital for your brand strategy. Fortunately, fixing this Facebook error is simple with troubleshooting.
In this article, we showed you four methods for fixing the Facebook thumbnail issue:
Use Yoast SEO to select your Facebook thumbnail manually.
Install and activate AIOSEO to choose a custom image.
Use Facebook's native debugging tool.
Directly edit your Facebook post as a quick fix.
You may have noticed that there's no method for fixing the CDN issue. Unfortunately, this is primarily a hosting issue. If you want a reliable service that can prevent these errors in the first place, check out our DreamPress hosting plans.