10 Legal Questions About Your Online Content, Answered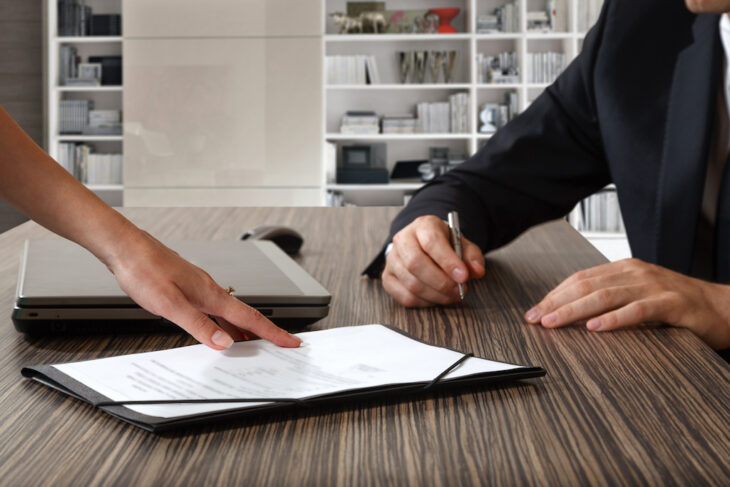 Do you really need that little copyright symbol on your website? Who owns your photos when you post them on Instagram? What do you do if someone plagiarizes your work? In this age of constant sharing online, more than a few questions about content ownership have probably crossed your mind. Luckily, we've got the answers — courtesy of two legal experts.
1. What does "owning your content" mean in legal speak?
"Being the owner of creative content means that you are the only person who may authorize the copying, distribution, public performance, public display, or adaptation of that content," explains Joy Butler, attorney and author of The Permission Seeker's Guide Through the Legal Jungle. "These are your exclusive rights as the copyright owner of the content."
2. How do I know when I own my content?
It's automatic. "As soon as you write down, record, input into a computer, or otherwise 'fix' your original creative content, you are the copyright owner of that content until you transfer or assign your ownership," Butler says.
3. Can anything dilute or negate your ownership?
Yep. Things like failing to obtain releases from your collaborators, creating the work while at your day job, or copying the work from another source.
We Support Your Dream
Whatever your online goals, we'll be right there with you, making sure your site is fast, secure, and always up. Plans start at $2.59/mo.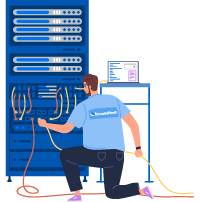 4. Do I need to add the © symbol to my website?
Nope, you don't need to add the copyright symbol, since anything you post on your site is automatically covered under the Digital Millennium Copyright Act (DMCA), explains Sally Kane, lawyer and Legal Content Director at PaperStreet. You can take an extra step and register your content with the U.S. copyright office, which provides additional mechanisms for protecting your ownership, including the ability to file a copyright infringement lawsuit, and the eligibility to have the infringer pay statutory damages and reimburse your attorneys' fees if you file and win the lawsuit.
Another easy extra is providing a disclaimer on your site such as, "All Rights Reserved: The copyright holder retains all the rights provided by copyright law, such as distribution, performance, and creation of their work."
5. Do I own my content if I post it on third-party platform like Facebook?
"The line between who owns the copy becomes blurred," Kane says. "While you may have created the content, the platform on which you are posting may take rights to your copy. By using certain platforms, you may be agreeing to give the company — and their affiliates — the license to use, distribute and modify the content. It's important to be aware of any licensing agreements prior to submitting copy across third-party sites."
6. Do I own the content I create for another website or blog?
If you are drafting content for a client or another publication or media outlet, review the contract carefully and determine what rights the client or media outlet is taking. If there is no contract, and you are concerned about rights, ask the client or editor to specify content rights in writing — rights are sometimes negotiable. When creating copy for a client, your work is usually considered "work for hire" and the content will become their property. The moment you submit the content, you lose all rights to it unless your contract specifies otherwise.
7. How can I prevent plagiarism of my content?
"You must remain vigilant in monitoring the web for copyright infringements," Kane says. "Plagiarism checking tools such as Copyscape can help you determine whether others are copying your content. Search engines like Google automatically index the site where the content was first added, which can help you establish ownership."
If you find that your content was plagiarized, copyright laws allow you to take legal action. But first, Kane recommends sending a formal, written request to the plagiarizer asking them in good faith to take down the copy. This tactic often works but if not, you can pursue legal action.
To prevent it from escalating to that step, be aware of the most common mistakes content creators make.
"One frequent mistake that negatively impacts ownership is having freelancers and collaborators — like writers, illustrators, animators, musicians and others — contribute material to the work without clearly documenting the rights the primary creator has in those contributions," Butler warns. "Another error is incorporating third-party materials, such as music, images, and text into your content without permission. While not directly impacting ownership of your original material, the unauthorized inclusion of someone else's material can negatively impact your ability to share and distribute your content."
8. Am I giving up ownership of my content if I share it on social media?
"Posting material on a social media network does not relinquish your copyright to the material, does not place that material in the public domain, and does not mean other people can use the material in any way they please," Butler says. However, per the terms of service of most networks, when you post copyright-protected content — that includes your writing, photos, and videos — you automatically grant the network a non-exclusive license to use that content on or in connection with the network.
Social media platforms and search engines like Google have terms of service granting them certain rights to what you post. "Moreover, what you post on social media or any other online platform can even have legal ramifications if the content violates the law," Kane says. "Lawyers and law enforcement officials can leverage social media posts as evidence against criminal defendants."
9. What else do I need to know about my online content?
Always remember that when it comes to the internet, nothing is private. "No matter how encrypted your site may be, if you are using a private browser, are posting anonymously, or even take down the post, there are still ways to access that information," Kane says.
"Social media platforms and search engines are notorious for using your personal information and selling it to third-party companies. Ever notice that after browsing an online store for a pair of shoes, those same shoes keep popping up on your browser or Facebook account? That's because your online activity is monitored and shared among companies who are trying to market their products to you."
10. Why does all of this matter
right now

?

There's a reason internet privacy is a hot topic right now — new ways to share content are constantly cropping up, and tech tools are emerging to help protect your privacy. That's why owning your own content is more crucial than ever. Kane says, "You work hard to create original content, so it's only natural to want to protect it and make sure no one else reaps the benefits of your intellectual property."
Our Best Advice: Lawyer Up
Still wondering about a few points? This post is meant for informational use and could never equal the legal advice you could (and should!) get from your own attorney. After all, we're fluent in web hosting here at DreamHost. Legalese? Not so much.