OK, so the traffic is bad, the rent is too high, and the smog rolls in thick. But still, there's a lot to like about Los Angeles. It is home to many iconic sites — the Santa Monica Pier, the Getty, the white block "Hollywood" letters, and the Walk of Fame — plus hundreds of museums and enough restaurants and food trucks to bring a foodie to paradise.
At the cutting edge in several industries, from tech to fashion to entertainment, L.A. is always drawing in new hopefuls looking for their place in the sunshine. In 2005, Brian Champlin was one of these transplants, moving to L.A. for work and finding a new home. As he and his now-wife, Christina Champlin, sought out new hiking trails, art galleries, and taco stands together, they used social media to document their adventures in La La Land — eventually building a WordPress website and "what to do" newsletter that brings the magic of L.A. out of the smog.
There's a lot going on in L.A. every day of the week. Blink, and you'll walk right past the best food in Chinatown, miss a beachside screening of a classic film, or lose out on tickets to CatCon. Brian and Christina's blog, We Like L.A., curates a rundown of things to do that's comprehensive enough to cure anyone's FOMO.
As longtime customers at DreamHost (we like L.A. too), Brian and Christina use DreamPress to power their site and bring the best of the City of Angels to locals, transplants, and visitors.

DreamPress
Do More with DreamPress
DreamPress' automatic updates and strong security defenses take server management off your hands so you can focus on creating great content.
Check Out Plans
Falling In Love
So what does Brian like the most about L.A.? His obligatory answer: the weather. Can't beat 284 days of sunshine or the balmy year-round temps.
"But more than that, it's the variety of things to do and the diversity of people and cultures that make up our city," Brian says.
"The physical geography of Los Angeles plays a big role in how it has evolved over the course of its history. It's big. It's spread out. The topography and climate change as you move further inland. Neighborhoods are built out instead of up. Some people see that as a drawback, but I think it's a strength. The pockets of community and culture that have grown amidst the sprawl are what make Los Angeles unique."
An Orange County native, Brian moved to L.A. for a job in digital marketing. Once he started dating Christina — who was born in the San Gabriel Valley and lived in L.A. County her whole life — he was pushed to get to know Los Angeles as they explored the city together.
"I think I fell in love with L.A. as I fell in love with my wife," Brian says. We Like L.A. first started on social media, as a personal project for Brian and Christina.
"It seemed like we were always out exploring the city in one way or another," Brian says, "So we thought, 'Why not start documenting some of these adventures on social media?'"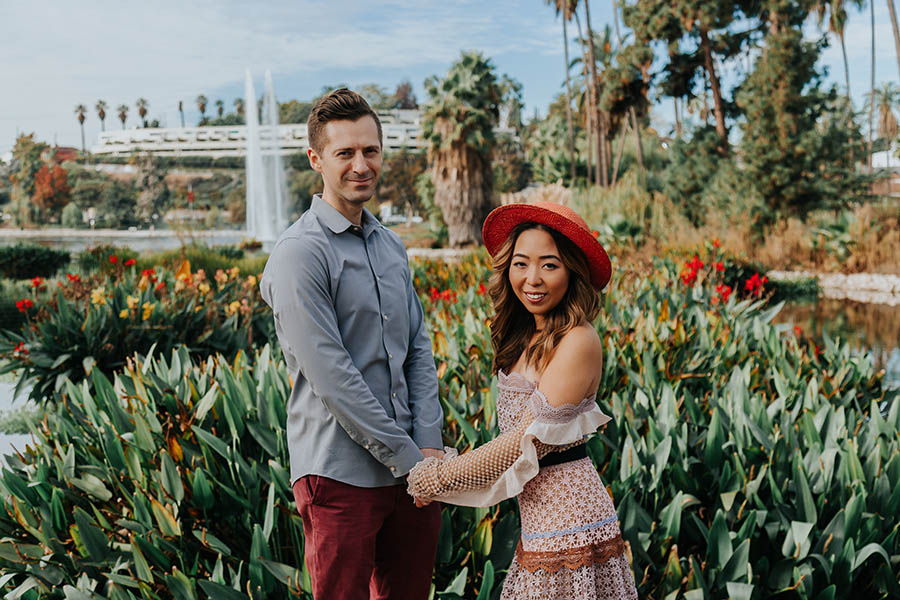 Their posts on their Instagram and Facebook accounts gained traction quickly. "Of course this was back in the days when organic growth on Facebook was actually possible, versus the pay-to-play dynamic of today," Brian says. "It got taken to a whole new level when we started developing our own web content."
They moved from snapshots of their adventures to a blog, compiling lists of free museum days, L.A. neighborhood guides, and other events and free things to do in the city. Basically, they built anything they thought might be useful, figuring that others might also be interested. Creating these how-tos and guides to the city they loved drew in the clicks and provided the first hints that they had hit on something big.
"A few of our articles went viral on Facebook — thousands of shares, hundreds of comments — and that really fast-tracked our readership growth," Brian says. "We went from having a few thousand people reading the blog to literally hundreds of thousands of monthly readers after just a few months. We've been able to keep up that level of traffic ever since."
Related: The Beginner's Guide to Marketing Your Website and Increasing Traffic
Bread and Butter
Millions of tourists from around the world flock to Los Angeles each year — and you can bet most of them are Googling "What to do in L.A.?" While search results may bring tourists to the We Like L.A. website and YouTube channel and help them plan unique trips that bring them to the center of the city's unique culture, Brian and Christina create their content with a different audience in mind.
"Our bread and butter are things to do in L.A.," Brian says. "But we aim to create content that's going to appeal to people that actually live here, whether it's peeling back the layers behind a unique landmark or point of interest or writing guides that help recent transplants get acclimated to L.A."
Their goal is to help fellow locals — especially new residents — fall in love with the city, providing guides such as a list of five hikes or 21 things to do during your first year in L.A. The foundation of their work (and what the blog is most known for) is an emailed newsletter with a list of what's going on in L.A. It goes out (and on the blog) every Monday and Thursday with a guide for what to do over the next week or weekend. "We have about 67,000 subscribers to that service," Brian says.
To track down information for their website and newsletter content, "at first we were literally just picking random things or restaurants that we thought seemed interesting," Brian says. "Christina was a huge help here, because she'd grown up reading Jonathan Gold in the LA Weekly, following his recommendations, and then developing her own sense of what was good and what wasn't. Her taste in food is impeccable."
Brian's strength? Finding the freebies. "Since I'm a total cheapskate, I was always focused on finding free stuff to do," he says. "People seem to appreciate that, though."
As their audience and notoriety grew, people started reaching out to We Like L.A. with ideas for restaurants to check out and details about pop-ups, art walks, festivals, and more. Today they have an entire email account (tips@welikela.com) dedicated to collecting tips and announcements, and it's flooded every day with pitches, requests for coverage, and news releases. Even with the time it takes to sift through and follow up on these tips, Christina and Brian still make it out into the city to do some on-the-street exploring.
"Still, sometimes our best discoveries are just when we happen to be walking a neighborhood and spot something interesting," Brian says.
Related: The Website Owner's Guide to Email Marketing
Building an Audience
Building an audience doesn't happen overnight. "And converting an audience into an actual business model takes even longer," Brian says. "But if you believe in what you're doing, and you're willing to try and fail many times over, eventually you figure it out. I wouldn't say we have it all figured out yet, but the progress from day one to now is pretty remarkable."
As their personal project evolved into a bigger undertaking — one that could actually make money — he and Christina, whose professional background is in public relations, found themselves learning about business best practices on the fly. Their combined experience in PR and marketing were a big help, but learning how to grow and run a business themselves took some time. "On a bigger level, the two words that come to mind are 'relentlessness' and 'patience.' Maybe it seems like those traits might be at odds with one another, but really it's just two sides of the same coin."
Once Brian realized the potential of We Like L.A., he took a big risk by quitting his day job fairly early into the project, "even though we were making peanuts on Adsense revenue. For Christina, it took a bit longer," he says, "but eventually I convinced her to go all in."
For the past few years, We Like L.A. has grown enough to become their full-time gig — and they've pulled in others to help out as well. "Every month we contract local journalists to write stories and cover angles that we wouldn't be able to do if it were just us, whether it's reviewing a comedy show, previewing a new pop-up, or offering our readers a unique round-up of to-dos," Brian says.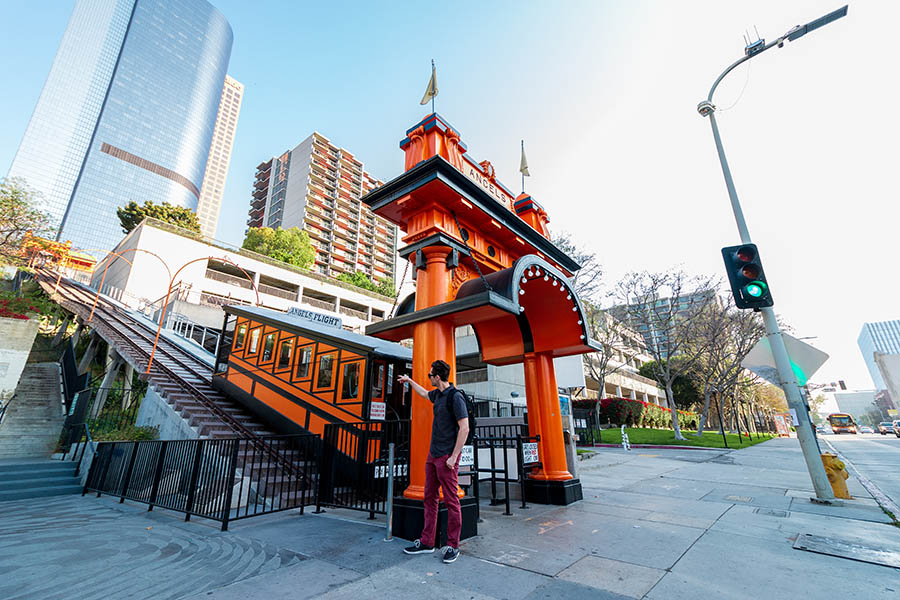 Brian focuses mostly on creating the email and working on their videos, while Christina manages the events calendar and specializes in covering food and restaurants. It's a true partnership, says Brian, drawing on their complementary strengths to build something readers love.
"Every day we try to move the ball forward by creating new content, telling a new story, or sharing some actionable tips for exploring L.A.," he says. "The idea is that if our content helps people engage with their surroundings and try new experiences, and if we do it in a way that's genuine and true to ourselves, we form a lasting relationship with the audience that strengthens over time."
Related: Ready To Start an Online Business? 5 Traits of Successful Entrepreneurs
We Like DreamHost
Brian built the blog using WordPress. He mentioned his website-building to a friend who, lucky for We Like L.A., was a longtime employee at DreamHost. Brian's friend pointed him to DreamPress, a new product at the time.
"When you run a website with a lot of traffic, there are going to be hiccups and hurdles to overcome so you can keep things running smoothly," Brian says. "That's a fact of life. In the few instances when there's been a server issue, a faulty plugin, or some other site-related issue, I've always been impressed by the responsiveness and helpfulness of the DreamHost customer support team."
Managed WordPress hosting also gave We Like L.A. an affordable way to provide its audience with a great user experience, including quick loading times. This value of using a product with high performance and low cost helped get the blog off the ground. When a new business starts growing fast from nothing, this kind of service is essential.
"There are advantages, of course, if we had a dedicated server. But those costs would've been prohibitive when we were first starting out. I can honestly say that if we didn't go with DreamHost, We Like L.A. might never have happened."
A Good Way to Be
Amidst the crowded streets and celebrity sightings, L.A.'s claim to fame is the food. "It's the best food city in America," Brian says. His favorite place in L.A. right now is Mercado La Paloma, a food hall just east of the USC campus, on the other side of the 110 freeway.
"Gilberto Cetina Jr. is one of our favorite chefs, and he actually has two spots in the Mercado. One is Chichen Itza, which specializes in cochinita pibil (slow-roasted pork — so good)," Brian says. "The other spot is a Yucatan seafood restaurant called Holbox. Honestly, you couldn't go wrong with either one."
Right now, the We Like L.A. duo is getting ready to bring on another full-time employee. In the meantime, there's always "another pop-up to check out, another new restaurant to try, and many more free things to do to share with our readers," Brian says. "Every week, I feel like I'm trying something new. That's a good way to be."
Feature Image: Overlooking Los Angeles. Photo by Christina Champlin.