Meet Museum Hack: Tours for People Who Don't Like Museums
Did you know that the Metropolitan Museum of Art's famous Temple of Dendur was actually selected by Jackie Kennedy? She chose the ancient Egyptian temple on a trip to Egypt while her husband was president. And have you ever wondered why it's located at the edge of the museum? It's so that she could see it from her Manhattan apartment, earning it the nickname "Jackie's Little Nightlight."
Another fun fact: Pablo Picasso's "The Actor" painting wasn't one of the artist's more known pieces. But its worth skyrocketed — and so did visitors — after a museum guest tripped and accidentally put an elbow into it, triggering a very costly repair job.
At this point you're probably wondering where all of these tidbits are coming from, so we'll fill you in: Museum Hack.
The company, which uses DreamHost to power its websites, offers renegade tours of some of the best museums in the world, but this isn't your typical tour. The guides are all about storytelling and interacting with the group, sharing context and quirky facts that you wouldn't get on your grandma's museum tour.
Shared Hosting That Powers Your Purpose
We make sure your website is fast, secure and always up so your visitors trust you. Plans start at $2.59/mo.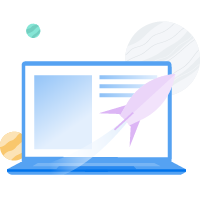 A Tour is Born
It all started in 2013 when Nick Gray went on a date to the Met and fell in love — with the museum. He went back with his iPad to research pieces he was interested in, things he could imagine being in his apartment. Soon he started giving tours to his friends, and one of them happened to be a writer for a popular blog.
The next day after the tour was posted about, Gray had a waiting list of 1,000 people who wanted to take a tour with him. He hired a tour guide to help him lead the groups and started charging for tickets to pay for that.
Now Museum Hack offers public museum tours in five cities across the U.S., as well as private tours and team building events in additional cities (it brought in $2.8 million in revenue last year).
"When we first started, we branded ourselves as museum tours for people who don't like museum tours; they were meant to have a renegade spirit," says Michael Alexis, Museum Hack's director of marketing. "It's very different from conventional tours. We aim to entertain people first and educate them as part of that."
If you imagine a typical museum tour, you probably envision someone lecturing as you walk from piece to piece. But Museum Hack is all about being interactive and getting to know the group. You can expect activities like taking a picture of a painting you'd either like to burn or buy, then having the group guess which fate you have in mind for your snapshot.
"One of our pillars is it's a social experience," Alexis says. "Part of what we are competing with is not just other museum tours in cities, it's literally everything — we're competing with Netflix and iPhone games and whatever else. We found that the social experience is really important for making people feel it's a great use of their time and making it memorable. People become more comfortable with each other and become friends on tour. It's closely related to the VIP experience."
Site Check
During each two-hour tour, a guide will typically share the stories of 10 to 15 pieces, bringing the group through a range of galleries. "Everything is story-based," Alexis says. "It's also passion-based, so each guide is creating the material themselves after seeing what catches their eye and what resonates with them. It's like going to a museum with a really good friend who also happens to know a lot about the collection."
Museum Hack offers overview tours as well as more niche ones. For example, "Badass Bitches Tours" is one of their most popular offerings at the Met. The two-hour tour explores feminism in the galleries, highlighting female artists and subjects, many of whom don't get as much time in the spotlight.
Each Museum Hack tour includes a mix of crowd-drawers and lesser-known works. "We try to get a mix of both," Alexis says. "A lot of Met tours include 'Washington Crossing the Delaware,' but they don't have to. It's not definitive one way or the other. We often do include showstopper pieces, but we generally prefer to try to show a side of the museum that people might not otherwise see on their own. If you go to the Louvre, you're going to see the 'Mona Lisa,' but there are 100,000 pieces that also deserve attention and have stories behind them, and we try to celebrate that."
Meet More Awesome Site Owners
Subscribe to the DreamHost Digest for inside scoops, expert tips, and exclusive deals.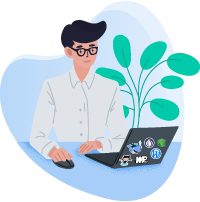 Fearless Leaders
Selecting and training their guides is not something Museum Hack takes lightly. "Choosing tour guides is an intense process," Alexis says. "If you've ever seen 'American Idol' or 'America's Got Talent,' it's not so different from that. We put out a call for people. A lot of them tend to be actors or comedians of some sort. It works well for them because it's a part-time position for the most part, so they can do other things as well. For us, it's great because performers are very good in front of people and in small groups. They are very good at reading the audience and how it's resonating. Things we might take for granted, like speaking clearly and projecting your voice, is second nature for them. And there are similarities between a script you would read in a play and creating a script."
After auditions, the guides must train for three months before they can lead tours of their own. During that time, they learn Museum Hack's framework, including their exclusive "five elements of a hack" approach. While Alexis won't give away all the secrets, he explains it's about teaching them what makes a story compelling and personal.
"It's not just any story about any object," he says. "There needs to be this criteria. Every story must have a mind-blowing element, one thing you take away from it, which is cool. There are other pillars or priorities outside that story framework, including a sense of VIP — we want guests to feel like we rolled out the red carpet for them and every story is meant just for them; every tour is customized just for them."
As guides create their own tours, they can pull from stories that the founder has added to the "Hacktionary," the secret book of all the stories Museum Hack tells at the museums. Alexis estimates that if you see 15 items on your tour, three of them might be from that core library and the remainder is from research the guide has done. "If you went with the same guide two weeks in a row you'd see different things because we're constantly developing new ones," he says. "One of the operational headaches is the collections change. Sometimes favorites have moved onto storage or another museum, but that's also what makes it interesting."
Guides pull information from a wide variety of sources. Many of them have expertise beyond the museum. For example, one guide has a Ph.D. in biology and will use material from that field in their tours.
"The guides are constantly picking up books," Alexis says. "One of our guides put together a custom tour for Dannon, the yogurt company and carried around a book on the history of yogurt for a week, so he could figure out how to find pieces in the museum that correlated with what he was learning."
And of course, the guides do plenty of research online, too. They're encouraged to look anywhere and everywhere for inspiration.
Team Spirit
In addition to their museum tours in New York City, Chicago, Los Angeles, San Francisco, and Washington D.C., Museum Hack also offers team building and corporate events in additional places, including in Philadelphia, Atlanta, and Boston. It's worked with major businesses like Google and Facebook and customizes each tour to the company's needs. The company will even ask what movie rating they want for the tour — are they looking for something more adult or PG-13?
Either way, Museum Hack guides aim to include elements to boost the workplace. "We build in activities to improve collaboration, leadership, etc.," Alexis says. "Is there a piece about Napoleon in the museum? Then let's talk about leadership in a way that's related to Napoleon. Or we'll do an activity where one person has to rely on another, for collaboration, and tell people why we're doing it. We include this team building core to it."
(Dream) Host with the Most
To keep their business booming, Museum Hack relies on DreamHost. "Notably, I've personally been a DreamHost user since 2009, so I'm going on a decade," Alexis says. "We have several platforms and active campaigns, which we use DreamHost for." For example, the company uses the domains teambuildnyc.com and teambuildingboston.org to drive traffic to museumhack.com.
One reason Alexis is loyal to DreamHost is that it's so simple to operate. "It has a very user-friendly dashboard," he says. "I can point people around it, and it makes sense for them. Part of that is the one-click install, which I've used dozens of times to set up WordPress sites, versus a manual install or something else you'd do to get that. We have a number of email accounts within the DreamHost dashboard. And I love that everything is unlimited. DreamHost is the only host I've used where we are not thinking about resource allocation and not worrying about going over, thanks to unlimited domains and bandwidth. It gives us a lot of peace of mind."
Alexis is also grateful for the solid, reliable customer service. "The very few times whenever I've had something come up — not with performance, but if I'm setting up a site or doing security — contacting customer service is super easy and super quick. You know what you're getting and how to fix it."
Additionally, DreamHost offers tools that make running a business easier, such as managing email lists and self-post tools, which is more "It's also helped us having that unlimited capacity to scale up and launch websites," Alexis says. "We can do it more quickly because we are ready to go when we create new accounts."
And less time spent on the nitty-gritty details means Museum Hack can spend more time researching fascinating stories about what you'll find in some of the best museums in the world.