15 Absolute Must-Reads for Women Working in Tech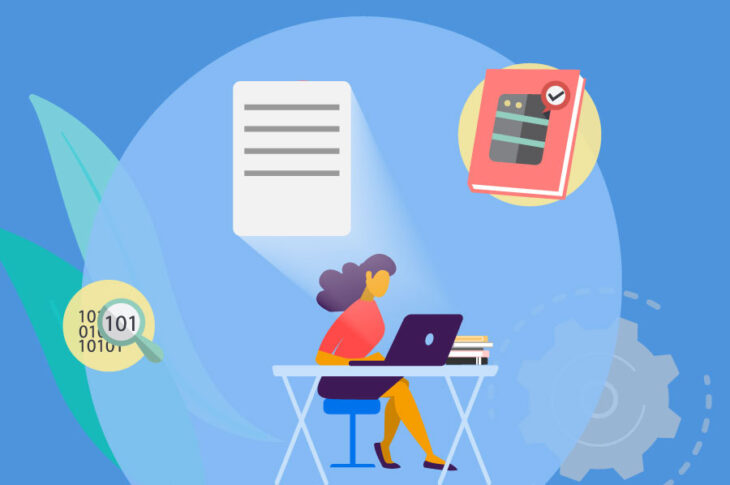 Let's face it, ladies. The tech industry has been a boy's club for far too long.
But times are a-changin'!
Even though women have a long history in the industry, it's taken decades to get a seat at the table. Today we're developers, team leads, and CEOs. Of course, there are still miles to go in the march for equality. But with women around the world raising their voices to make tech companies more inclusive, it's hard not to get just a teensy bit excited for the next generation of female go-getters.
If you want to be a part of this positive change — and help other women succeed alongside you — you'll need a game plan.
We've got you covered.
Looking beyond Sheryl Sandburg's Lean In (required reading for aspiring women in any field), we've rounded up 15 must-read books, blogs, and more for women in tech. Add these to your reading list (or blog feed) for a dose of tech news, opinions, career and leadership advice, and solidarity from women like you.
15 Must-Reads for Women in Tech 
1. Innovating Women: The Changing Face of Technology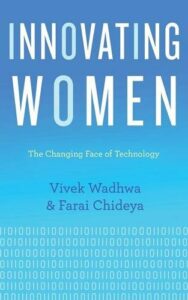 "Where are all the women?"
This is the question technology and entrepreneurship researcher Vivek Wadhwa considered at the TechCrunch Crunchies Awards in 2009 — at the nudging of his wife, Tavinder, who was the first of the two to notice a deep gender gap at the Oscars of the tech world.
Inspired by that experience, Wadhwa joined forces with journalist Farai Chideya and set out to take a look at women in tech (and the lack thereof), the challenges they face, and why they are needed in the field in their book, Innovating Women.
Yeah, our first women-in-tech book recommendation originated with a man. But don't worry!
Acknowledging that he wasn't exactly qualified to speak from the heart on this issue (and wanting to avoid mansplaining), he crowdsourced funding and worked with female contributors, ranging from former Google VP Megan Smith to venture capitalists to startup CEOs to middle managers.
A collection of stories, interviews, and essays from hundreds of leaders around the world in STEM careers, the book shares the experiences of various women in technology and entrepreneurship. It's also a book about innovation and an exploration of the most creative (female) minds in the field. It shows what women are doing to close the gender gap in the field, what contributions women are making in their fields, offers encouragement and advice to women who want to enter and succeed in tech, and shares how women tackle an unbalanced work environment.
It's a great read if you're looking for a feel-good book that shares inspiring stories and ideas.
2. Girl Code: Unlocking the Secrets to Success, Sanity, and Happiness for the Female Entrepreneur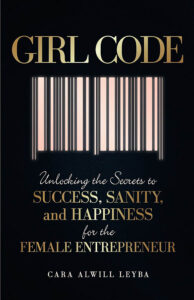 If you're a lady with an entrepreneurial itch, Girl Code is your book, whether you want to build a side hustle or the next social media empire.
But don't read for advice on how to start up a startup or how to create and run your business — author Cara Alwill Leyba digs a little deeper into the foundations of what makes a good entrepreneur, and specifically, a good and successful female entrepreneur. She takes a look at how to build confidence, brush yourself off after failure, ignore the haters, and avoid jealousy of other people's success.
Central to her book is the importance of women supporting other women in their goals and entrepreneurial endeavors.
"In today's competitive marketplace, the fiercest thing a female entrepreneur can do is to support other women," Leyba asserts.
The ultimate girl-power guide for entrepreneurs written with a "girlfriend-to-girlfriend" voice, Girl Code is full of helpful advice and support for your entrepreneurial endeavors.
Get Content Delivered Straight to Your Inbox
Subscribe to our blog and receive great content just like this delivered straight to your inbox.
3. The Glass Universe: How the Ladies of the Harvard Observatory Took Measure of the Stars
You've probably seen (or read) Hidden Figures, the story of the Black women who worked as "computers" for NASA, running the math that powered the first rocket launches that sent astronauts to the moon.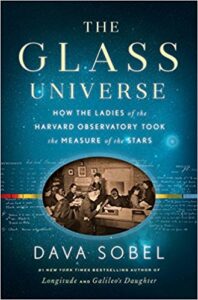 The Glass Universe runs in a similar vein: think ladies, space, science, and an unhealthy dose of gender bias. Author Dava Sobel highlights the sadly unknown and under-appreciated role of women in the history of science by exploring the lives and legacies of women who worked in the Harvard College Observatory in the late 19th and early 20th centuries.
These students — math whizzes, astronomy buffs, physics majors — were among the few women at the time to have the opportunity to work in science and technology. Their contributions included groundbreaking work in studying, documenting, and photographing the stars in the night sky and lead to the creation of the first academic fellowships and research grants for women in the sciences.
The struggles of these women in a male-dominated field — much more lopsided than it is today — will feel familiar. But more than that, this book will make you immensely grateful for all the brave women who paved the way for your generation and mine.
4. Hardball for Women: Winning at the Game of Business
Hardball for Women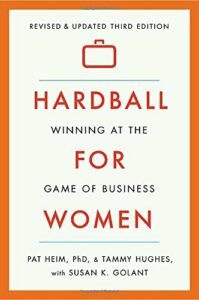 is a classic — an oldie-but-goodie updated, as the newest edition boasts, for the "post-Lean In era." This book asserts that women are not men — duh — and the rules and tactics that help a man get ahead may, sadly, be detrimental to a woman, thanks to subconscious gender biases.
For example, an assertive man may be rewarded, while an assertive woman may be considered lacking in social skills. Because advice given to and by men may not always be helpful to a woman looking to advance in her career, author Tammy Hughes tailors leadership guidance specifically for women.
While not specifically focused on technology fields, Hardball is written for women who work in male-dominated careers — or, at least, a male-dominated office. The author coaches women who want to get ahead in their careers and develop leadership skills to be aware of gender biases and how men and women behave differently in the workplace, and how to use that information to their advantage. Hughes aims to help women promote themselves and use language, verbal and nonverbal to be assertive and effective in communicating.
Overall, this book looks at the challenges men and women face in working with each other and how they can work together to create a balanced workplace culture.
5. SheGeeks.net

Tech entrepreneur and writer Corvida Raven started blogging as a 19-year-old college student and has since drawn attention (and awards) to her blog, SheGeeks.net. She's known for blogging about social media, tech gadgets, and more — and for her trademark style of writing about tech in "plain English," which she says draws on her days helping family members with computer problems.
For an introduction to her style and ethos, check out her post about inclusion in technology and browse around her Instagram and Twitter accounts. In 2009 Raven was named one of the 50 Most Influential Women in Technology, and she's worked in social media and more with General Motors, FastCompany, and TED.
Check out SheGeeks for no-nonsense reviews of new technology, social media how-tos to beef up your online presence, and for easy-to-read articles you can forward to your non-techie friends (and hopefully help another woman spark interest in the field).
6. Women of Silicon Valley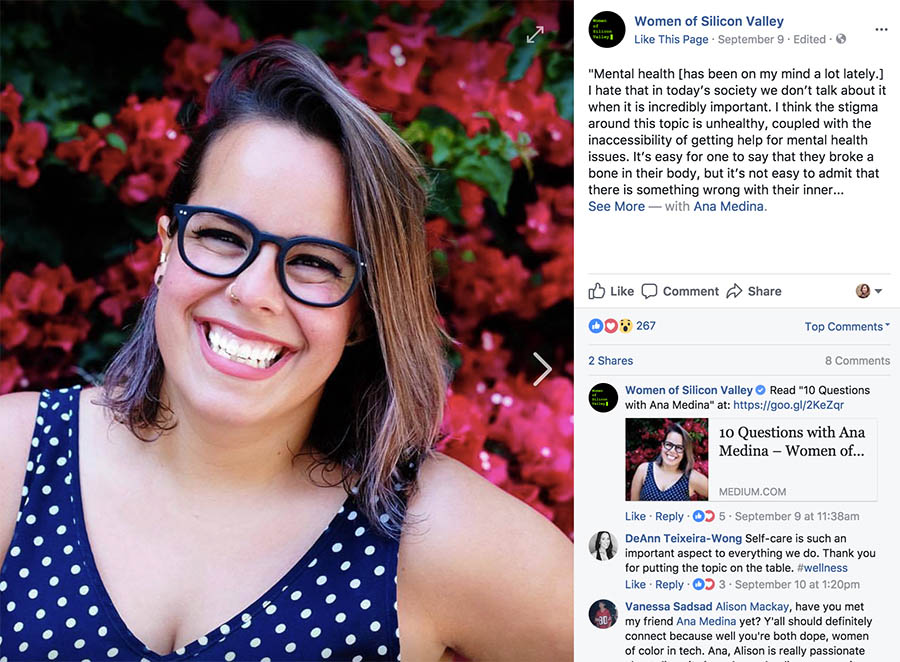 Inspired by the on-the-street photos and meaningful interview snippets of Humans of New York, college student Lea Coligado set out to find the female powerbrokers of Silicon Valley.
On "Women of Silicon Valley," hosted on both Medium and Facebook, Coligado interviews women professionals in technology, uncovering surprising anecdotes and advice — and sometimes showcasing the good, the bad, and the ugly of the real world of women in tech.
For example: Pinterest's Tracy Chou described facing "blatant sexism . . . so outright as to be comical," while Sara Mauskopf of Postmates described becoming the first woman at her company to have a baby: "Now that I'm pregnant, I am more driven than ever to make something of myself, if for no other reason than to prove it can be done . . . working with such awesome and supportive colleagues definitely makes my 'trailblazing' easier and enjoyable."
Quick-to-read Q&A profiles are posted regularly, so be sure to look through the archives and give Women of Silicon Valley a follow — and maybe submit a friend for consideration to be featured on the blog.
7. Women in Tech: Take Your Career to the Next Level with Practical Advice and Inspiring Stories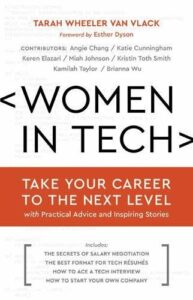 This book starts readers off with a sad statistic: In 1984, 38% of computer science degrees were awarded to women. Not too shabby for the "olden days."
But fast forward to 2010, and that number dropped to 10%. While other fields like law and medicine are attracting more women, the tech field, says author Tarah Wheeler Van Vlack, is failing. She blames (spoiler alert) a cultural unconscious gender bias, and sets out to do her part to make the tech industry more appealing and less mysterious for women.
Women in Tech combines practical career advice and personal stories from female entrepreneurs and tech professionals to motivate, inspire, and show women what a career in the field is like and how to succeed in it. Guest writers include Brianna Wu of Giant Spacekat and Angie Chang of Women 2.0 (another women-in-tech blog worth a follow).
Geared toward women who are considering jumping into tech, this book is a great read if you are just launching your career, or if you are looking for a boost further up the career ladder. Or you may want to get a few copies of this book to pass on to your mentees or women you want to encourage into the field. Bonus: this book started off on a Kickstarter campaign — it doesn't get too much geekier than that!
8. The Thrilling Adventures of Lovelace and Babbage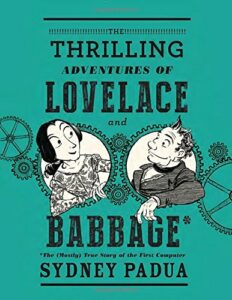 Did you know that the world's first coder was a woman?
Ada Lovelace, born in 1815, was the only legitimate daughter of the poet Lord Byron — and one of the first computer scientists. Her mother, determined to make sure Ada never became a head-in-the-clouds poet like her father, had her tutored solely and extensively in science and math.
At age 17, Lovelace teamed up with Charles Babbage and envisioned a machine that can calculate and envision anything — numbers, music, words — and she even wrote a sample computer program for it. While the machine was never built, her notes were referenced by engineers creating the first computer.
In The Thrilling Adventures of Lovelace and Babbage, author Sydney Padua turns Lovelace's story into an exciting graphic novel that's mostly accurate — well, other than envisioning an alternate ending in which the duo succeed in building their computer, which never actually happened.
This steampunk-esque novel is an adventure through the early history of modern tech — and while it takes liberties with reality (ahem), it's filled with notes that keep you grounded in the "real" history.
Interested in a more straightforward history featuring the pioneering work of Lovelace? Walter Issacson's The Innovators: How a Group of Hackers, Geniuses, and Geeks Created the Digital Revolution frames a history of the tech world with Lovelace's story, tracing its influence to the present day. 
9. Tech Diversity Files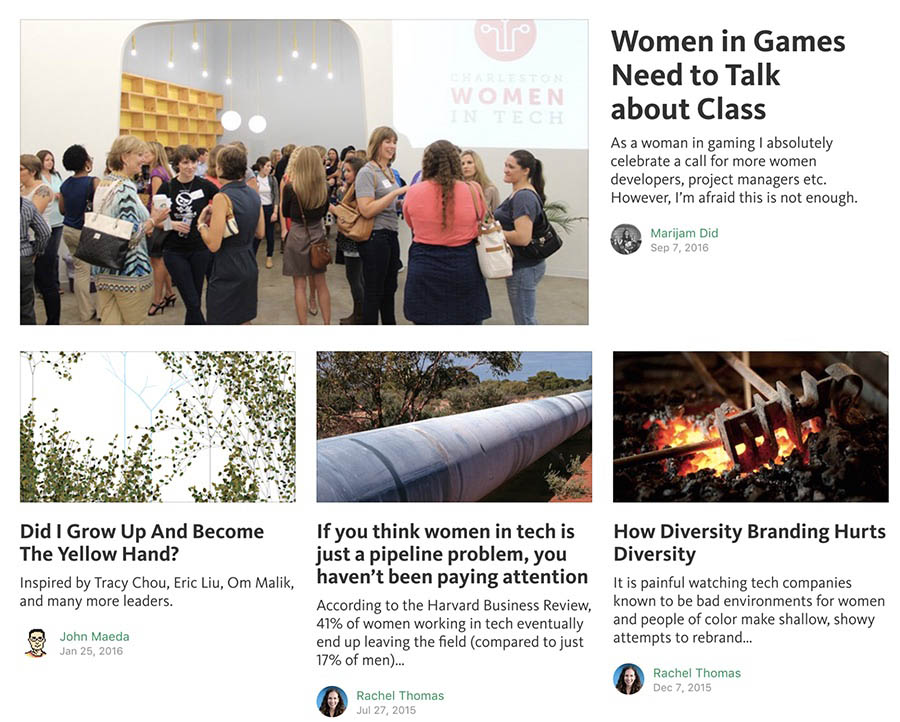 As a woman, do you ever feel a bit out of place in so-called "tech culture"? Tech Diversity Files is a blog about inclusivity in tech hosted on Medium with a handful of contributors, all looking to expand the vision of a programmer or coder as a twenty-something white male living off Hot Pockets and foosball.
Women in the tech field might start with this article by entrepreneur, professor, and developer Rachel Thomas. The gender disparity in tech is not, she argues, a pipeline problem, but because it's a field that can be genuinely hostile to women who make it there. She describes how she fell in love with programming — but not with "tech culture," so much that she considered leaving the field, which "would have been devastating, but staying was tough."
Thomas continues: "I'm not the stereotypical male programmer in his early 20s looking to 'work hard, play hard.' I do work hard, but I'd rather wake up early than stay up late, and I was already thinking ahead to when my husband and I would need to coordinate our schedules with daycare drop-offs and pick-ups."
"Kegerators and ping pong tables don't appeal to me. I'm not aggressive enough to thrive in a combative work environment. Talking to other female friends working in tech, I know that I'm not alone in my frustrations," Thomas says.
Check out Thomas's article for stats, problems, and solutions for both men and women to help close the gap — and make sure to poke around and follow the rest of Tech Diversity Files for conversation and stories about inclusivity in tech.
10. Recode.net

Where do you go for the latest in tech news? Mashable, Gizmodo, and Wired are great sources — and regularly tackle issues of gender and inclusivity in the field, and they feature female writers and bloggers.
But if you haven't already, add Recode.net to your list.
While not specifically geared just for women, its founder and executive editor, Kara Swisher, is a powerhouse woman in the tech world. Swisher is a longtime tech journalist who previously wrote articles and a tech column for the Wall Street Journal. After leaving the Wall Street Journal, Swisher founded Recode as a source for tech news.
She's the tech writer most followed by other US techies, so adding her work to your regular reading list would put you in good company.  And while not technically the written word, don't forget to check out Swisher's podcast, Recode Decode, for more news, interviews, and discussion.
11. Reset: My Fight for Inclusion and Lasting Change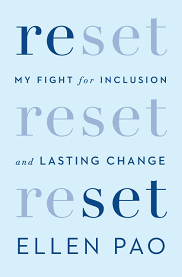 In 2012, Tawainese-American investor and activist Ellen Pao sued Kleiner Perkins, the then-leading Silicon Valley venture capital firm, in a gender discrimination lawsuit. In the lawsuit, she called out her former employer for workplace discrimination and retaliation against women and other minority groups. Pao tells her powerful story in Reset: My Fight for Inclusion and Lasting Change, shining a light on the homogeneity issues in the tech industry. 
As the former interim CEO of Reddit, Pao is also credited for forcefully trying to change the company's status quo, banning revenge porn and unauthorized nude photos on the social platform and shutting down parts of Reddit over online harassment. 
Not only that, Pao helped found Project Include, an award-winning nonprofit aimed at promoting more diversity and inclusion in tech. Named "the face of change" by Time magazine, Pao is an author to follow if you want ideas on how to build a more inclusive future in Silicon Valley (and beyond). 
12. Pivot: The Only Move That Matters is Your Next One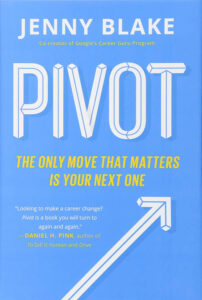 If you're thinking about taking on a new role at your company or maybe even considering an entirely different career path, pick up Jenny Blake's Pivot: The Only Move That Matters Is Your Next One. 
A former career development program manager at Google, Blake uses the Pivot Method to show you how to find new opportunities and use what's already working for you to guide your next career move. 
Want to eventually be your own boss? This book will guide you in transitioning from your current gig to a new, more adventurous opportunity — as long as you're willing to pivot. 
Winner of the Axiom Best Business Books award in the careers category, Pivot led to the Pivot Podcast, listed by CNBC as a top career advice podcast and named one of the top 20 female-hosted business podcasts by Entrepreneur. These days on the podcast, you can find Blake chatting about the COVID-19 crisis in the series "Pivoting Around a Pandemic."
13. STEMinist.com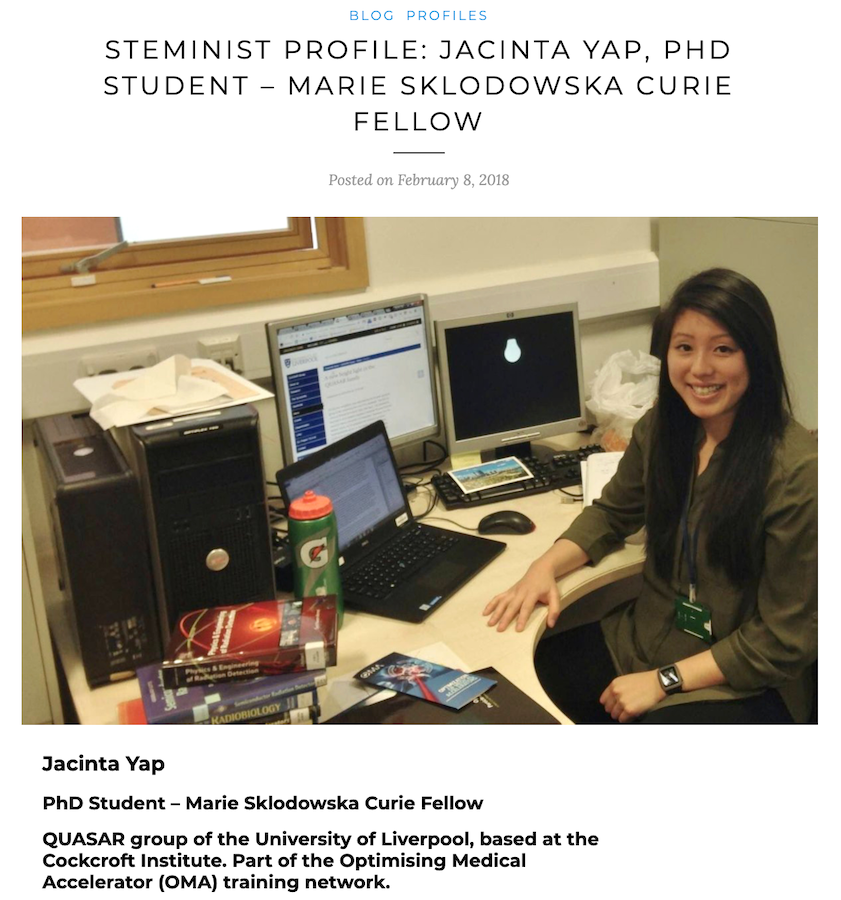 Created by software developer Ann Hoang in 2010, STEMinist.com features profiles on women in — you guessed it — Science, Tech, Engineering, and Math. After reading an editorial in Glamour magazine in 1997 entitled "Women, wake up about computers!", then 21-year-old Hoang registered for Computer Science 101 and taught herself how to build a website. 
The intersection of social justice and tech inspired Hoang to take action — STEMinist aggregates stories of women in STEM with the hopes to "increase the visibility of women in STEM; promote and elevate the perspective of women in these traditionally underrepresented fields; encourage younger women and girls to pursue careers in STEM; capture a social media snapshot of what's trending for women in STEM."
Although there hasn't been a new STEMinist profile in a couple of years, it's still easy to get lost in the multitude of fascinating and insightful interviews with women from all over the country. Featuring everyone from student researchers to data scientists to engineers and entrepreneurs, these profiles highlight women's top accomplishments, biggest inspirations, advice for future STEMinists, and lots more. 
14. BlackWomenTalkTech.com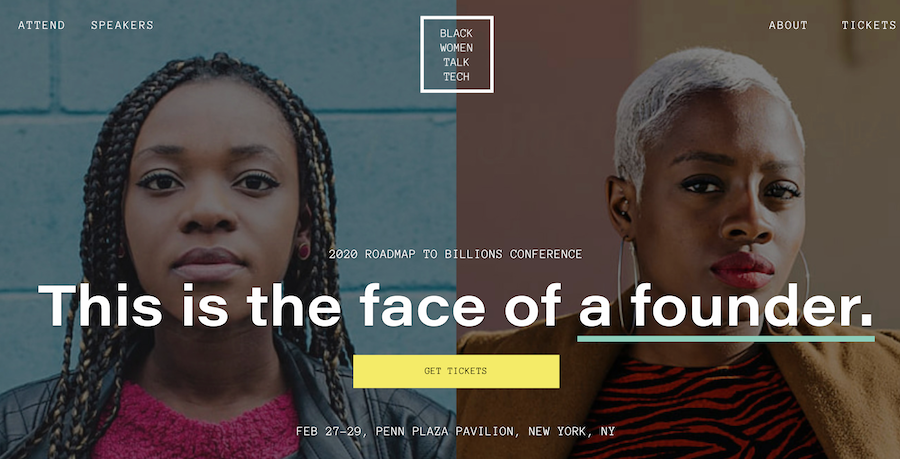 Black Women Talk Tech was founded in 2017 by Fundr co-founder Lauren Washington, Nexstar co-founder Esosa Ighodaro, and TresseNoire co-founder Regina Gwynn — with the simple goal of connecting Black women in tech. With more than 500 founders of business and tech companies and 10 chapters of national and international "mastermind groups," this organization actively works to provide Black women the knowledge and tools it takes to build big-business brands. 
"Black Women Talk Tech is a collective of Black women tech founders who have a unique understanding of the challenges we face and the advantages we bring in the industry. We're here to identify, support, and encourage Black women to build the next billion-dollar business."
Through a variety of events and initiatives, Black Women Talk Tech focuses on supporting Black entrepreneurs looking to grow in tech. In February, they held an immersive three-day conference called "Roadmap to Billions" and are currently offering  COVID-19 resources and a relief fund for founders. 
15. Women of Color in Tech: A Blueprint for Inspiring and Mentoring the Next Generation of Technology Innovators
It's no secret: There needs to be more diversity in tech. In Women of Color in Tech, Susanne Tedrick offers practical advice and inspiring stories that will help you develop the tools and mindset you need if you're a woman of color — whether you're simply considering working in the industry for the first time or struggling to get ahead. 
By breaking down specific issues that may be challenging for BIPOC women, Tedrick proves that today's tech careers can be fun — and aren't limited to coding jobs — if you are able to build a professional network of reliable mentors who understand your goals and struggles. With the right guidance and support, it's possible to overcome the obstacles that often prevent women of color from pursuing (and sticking with) careers in tech. 
Aimed specifically at BIPOC women, this book has great advice for female innovators looking to take their career to the next level. With the right communication, public speaking, and networking skills, Tedrick argues it's possible to break through barriers and build a rewarding future in tech. 
Honorable Mentions
Hungry for even more reads, digital or otherwise? Check these out!
— Reporting by Sara Atwood and Ellice Soliven