How to Monetize Your Blog: 14 Top Strategies
We get it! You wanted to connect with other like-minded folks, share a hobby or skill, or promote a small business. There are lots of great reasons to start a blog, and making money might not have been the one that got you into the blogging game.
But generating a little jingle from your online efforts is definitely worth considering, especially if it helps cover maintenance costs. For instance, using a high-quality web host and a professional theme can make a big difference to the quality of your blog, but they also aren't free.
That's where a monetization strategy comes in handy!
Fortunately, there are many ways to create reliable streams of revenue through your website. With just a little planning and creativity, your blog can be a source of significant, self-sustaining funds.
In this article, we'll offer some detailed guidance about how to monetize your blog. We'll also share some vital money-making tips and advice about timing your monetization strategy. If you're ready to make some dough, let's get started!
Why Monetization Might Be Right for Your Blog
In this context, "monetization" simply means turning a regular blog into an income-generating website. If you're still not sure whether you can make money blogging (or even want to), let's look a little more at what it entails.
Naturally, the main reason to monetize a blog is to create a source of passive income. If you're worried about devoting time to a new endeavor, don't worry! Most monetization methods won't require a lot of work to maintain after you set them up.
If you're trying to decide whether monetizing a blog is the right for you, here are three of the best reasons to go for it:
You want to support the expenses that running your blog incurs.
Your readers want more from you, and you're ready to expand how you engage with them.
It's time to improve your website by adding in some advanced plugins or premium themes and even upgrading your hosting.
If any of those scenarios fit your current situation, then you're in the right place! You might be ready to take a big step with your website. First, however, let's talk about how to time your monetization venture for the best effect.
Power Your Blog with DreamHost
We'll make sure your blog is fast, secure and always up so your visitors trust you. Plans start at $2.59/mo.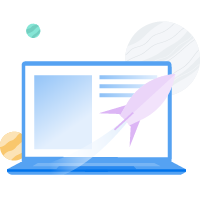 How to Choose the Right Time to Implement a Monetization Strategy
Timing your foray into the world of blog monetization is a critical element in the process. No, you don't have to be a full-time blogger to start making money from your blog, but if you take this step too early, you might find that you're not getting the results you expected.
With that in mind, let's look at a couple of scenarios that indicate you're ready to monetize your blog.
First and foremost, your audience is a vital element in any monetization strategy. In fact, finding your niche and attracting readers are essential parts of starting any blog. If you've found a focused niche for your content and your readership is growing, you're in a solid place to begin making some revenue.
Additionally, if your content is really resonating with your target audience, that's another good indication that your website might be ready for monetizing. There are a couple of ways to find out how your content is performing. Monitoring your traffic, for example, can help you determine whether your readership is growing over time.
Another key indicator is audience engagement. For instance, if you receive regular comments on your posts, you know that your readers care about your blog and take it seriously.
Finally, if you have a structured approach to your content management process and a regular, reliable content schedule, you also might be ready to monetize your blog.
An Introduction to the Most Common Money-Making Options for Bloggers
Thanks to some innovative open-source tools, there are a wide variety of ways to generate income with a successful blog. While not all options are right for everyone, knowing your audience can help you match the appropriate technique to both your goals and your readers.
Let's briefly look at a few common ways to generate money with your blog. For example, affiliate marketing is when you're compensated for linking out to particular products or websites in your content. Alternatively, you can always generate funds by selling your own products or services.
If you're not in the position to do that, you can explore offering ad space for other companies. Of course, there are plenty of alternatives to direct advertising as well, such as taking donations, hosting events, and more.
Below, we'll cover each of these strategies in detail.
How to Monetize Your Blog: 14 Top Strategies
Now that we've covered the basics of monetization, let's dig in and take a look at some of the best options available to you. Our list has a little bit of everything, so you should be able to find at least one or two techniques you can implement. Plus, we'll provide some practical advice you can use to get started right away!
1. Become an Affiliate Marketer
We mentioned affiliate marketing earlier, but let's take a look at exactly how you can start making money this way. You've likely encountered blogs in the past that mentioned their "content may contain affiliate links." If you've clicked on one of those links and ended up buying something, the blog's owner got paid for it.
That's how affiliate marketing works in a nutshell.
As you're writing content, you include links to affiliate products or companies you've agreed to partner with and promote. If your readers click on the links and make a purchase, you'll get paid. The details may vary from program to program, but you generally earn a small commission on each sale resulting from a click-through originating on your site.
For example, let's look at our own affiliate program.
We've established a user-friendly affiliate program that clearly details what payouts are available and when you'll receive them. This brings up another critical thing to note about affiliate marketing. You'll want to make sure it's clear what the expectations are not just for payouts, but also what the company expects from you as a marketer.
It's pretty easy to get started with affiliate marketing. Just be careful that you don't end up being required to market something you're not entirely comfortable with. You want your readers to trust you, so keep that in mind as you explore the many options that are out there.
You can also check out one of the many WordPress plugins that help you manage your affiliate programs. ThirstyAffiliates is a popular tool.

This plugin can help you manage all of your affiliate links. You can easily add preformatted links to your content as you type. You'll save time this way, and you'll also have access to valuable analytics and reports.
2. Use Ads to Generate Income
Another common and easy way to generate money from your blog is by allowing advertisers to bid for space on your website. Just as a business might be willing to pay for the best billboard location on the freeway, they'll pay for prime spots for banner ads or display ads on the internet too.
Ad networks take available ad space and offer it at auction to various advertisers. In turn, those advertisers will often set parameters for their campaigns. That might include specific target audiences, style and formatting preferences, and goals for how many impressions the ad should get.
This means that if you have substantial traffic numbers and some space for text or visual advertisements, you can join an ad network. The most popular option is Google's AdSense.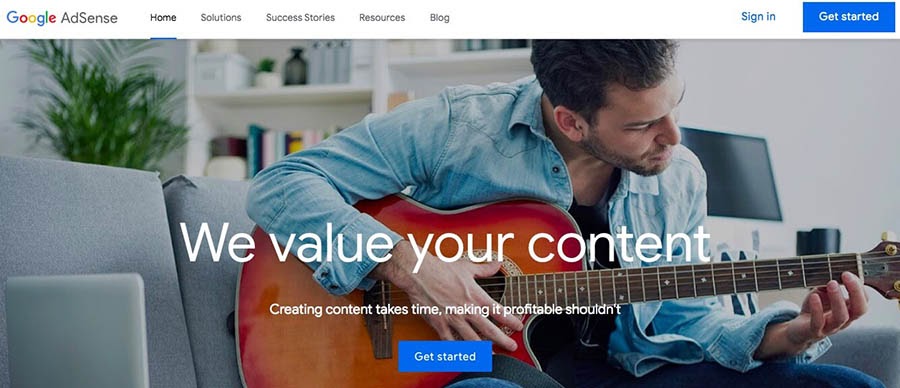 One of the nice things about AdSense is that it tailors ad placements to the layout, structure, and content of your website. This makes the ads highly relevant to your readers, increasing the chance that they'll be clicked on. Plus, you can get started quickly by simply inserting the AdSense code into your website.
There are other advertising networks out there too. Some of them have more rigorous approval processes than others. If you're just starting out, you might want to check out some ad networks that are geared towards new websites. For example, PopAds has fast approval and caters to smaller publishers.
3. Grow Revenue with Sponsored Posts and Reviews
Creating partnerships with brands and companies that fall within your blog niche is another excellent way of making money online. You can offer to place or write content related to their products on your blog in exchange for a fee.
There are a few things to consider when doing this, however.
First, you'll want to make sure you're adhering to the Federal Trade Commission's rules regarding disclosure. In a nutshell, if you're located in the United States, you need to clearly disclose your sponsored content or any product reviews you're being compensated for.
However, before that, you'll need to secure a sponsor. There's really nothing stopping you from "cold calling" a business you like. You can ask if they're interested in paying you to feature content on your website about their products or services.
Alternatively, you can register with sites like PayPerPost.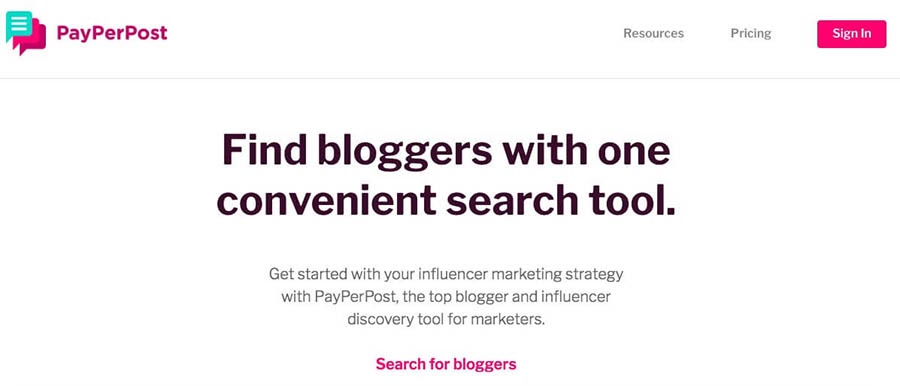 Essentially, PayPerPost is a directory where bloggers can register, and sponsors can find potential blogs to be featured on. Sponsors can search the directory by topic to narrow down the field of options.
To get started, you just need to complete a fairly simple form. After that, your information will be searchable in the PayPerPost directory. This is a nice option because you could potentially pair it with another strategy. You can also decide how aggressive you want to be in terms of seeking out sponsored post opportunities.
4. Partner with Brands as an Influencer
Establishing yourself as an influencer is another way to create reliable revenue streams. This involves using your social media status to barter with brands. If you have built up enough of a following in certain spaces, you might already be considered a micro-influencer.
Whether you approach a brand you'd love to showcase on your blog or the brands come to you, these relationships can be financially beneficial. Just as with featuring sponsored reviews, there are some websites out there that can help you establish your influencer presence. Cooperatize is one of them.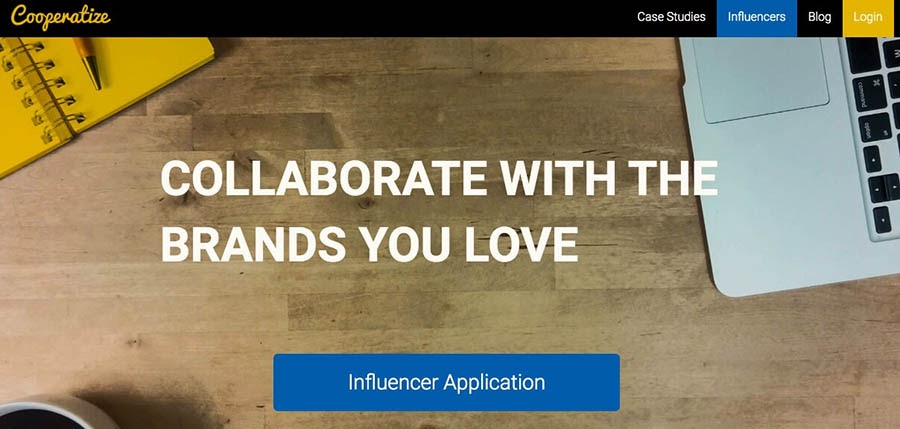 If you're not sure how to go about becoming an influencer, there are a lot of resources out there that can assist you. The basics involve fine-tuning your social media profiles and content. You'll also need to build up your networks and closely engage with followers.
After all, it's hard to "influence" if you don't have an audience for your posts and content. If you can establish a relationship with a brand that fits your blog's niche, there can be plenty of benefits for both parties.
5. Sell Physical Products
Thanks to the entrepreneurial spirit, social media, and Content Management Systems (CMSs) like WordPress, the online market for goods you can sell yourself is quite vast. The possibilities are just about endless, especially when you take into account the success of websites like Etsy.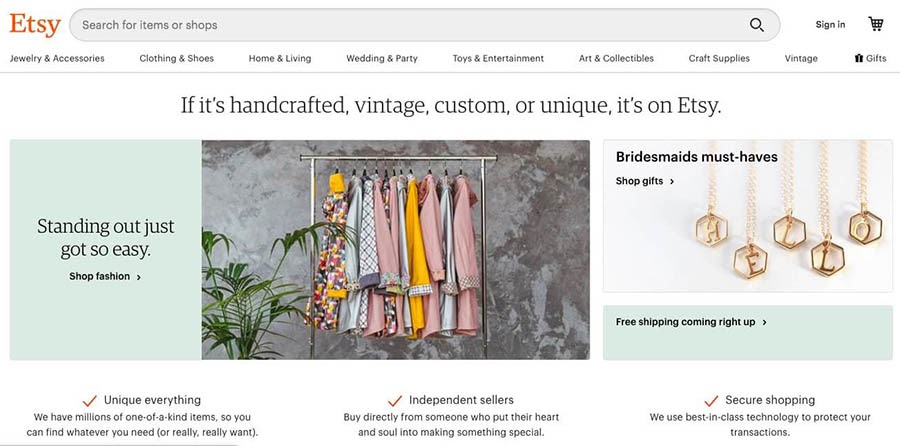 In case you're not familiar with it, Etsy was one of the first websites to offer an online marketplace for handmade goods. It's the go-to shop for unique and customized items. However, if custom products are not your thing, there are other options.
Apps that connect you directly to manufacturers have opened up new reseller opportunities. Resellers source desirable or trending products directly and sell them online for a profit. With this strategy, you don't have to worry about developing, storing, and shipping your own products.
Of course, you can also design your own online storefront! If you're using WordPress to create your blog, you also have access to one of the most popular e-commerce plugins out there. WooCommerce makes it extremely easy to set up an online store, and it's free to use. You can also add many premium features to handle marketing and customer engagement.
Once you've decided what kind of products you'll sell, you'll need to get your website set up and choose what type of payment gateways you want to offer customers.
To launch your online store, it'll be critical to have an email marketing strategy in place. We'd recommend focusing on building an email list so you can easily let your loyal fans know about your latest offerings. A great way to do this? Create your own email newsletter.
6. Sell Digital Products or E-books
If you have expertise in a specific area and have written stellar blog posts on that topic, you might consider marketing some related digital products. For example, you could create an e-book based on either your most popular blog posts or made up of entirely new material.
If there's a topic that readers continuously comment on or ask about, that might be an excellent place to start. If an e-book seems too ambitious, you can also think about serializing content and pricing certain portions of it as premium products.
Whether you decide to offer e-books, music, or another type of digital item, you might want to check out the Easy Digital Downloads plugin for WordPress.

Adding a tool like this to your website setup can help you offer user-friendly checkout options. Additionally, the free version of the plugin comes with both the PayPal and Amazon payment gateways.
Something to keep in mind is that this monetization strategy doesn't have to be your only source of income. Offering a digital download or two on your blog pairs well with many other options on our list. For example, you could easily incorporate ads or affiliate marketing as well, in order to boost revenue.
7. Offer Coaching or Consultations
Similar to turning your expertise into e-books or another downloadable product, you can also offer coaching services or consultations for a premium fee. If you enjoy engaging with people one-on-one, whether virtually or in person, this can be a satisfying way to monetize a blog.
Fortunately, WordPress can help you manage a busy consultation schedule. For example, the Booking Calendar plugin is a highly-rated and well-maintained solution.

By combining this plugin with a popular payment gateway like PayPal, you can be up and running with a money-making coaching or consulting business in no time.
There are a few things to keep in mind if you're interested in this approach.
This is a monetization strategy that requires a bit more work on your end, both upfront and on an ongoing basis. If you're looking for a way to ease into your own full-time business, however, this is definitely an on-ramp worth exploring.
Something else to consider when developing your strategy is how you'll promote interest in your new services. One of your best options is to put together one or more dedicated landing pages, which can provide all the details needed to turn readers into clients.
Get Content Delivered Straight to Your Inbox
Subscribe to our blog and receive great content just like this delivered straight to your inbox.
8. Run an Online Course
There's no doubt that the option to take courses online has become a popular and accepted form of education. Professionals can add to their knowledge base in this way, and students can even complete degrees.
As a blogger with something to teach, running your own online course is another top monetization possibility. One way to determine what topics might be popular is to look at LinkedIn Learning and research what's trending.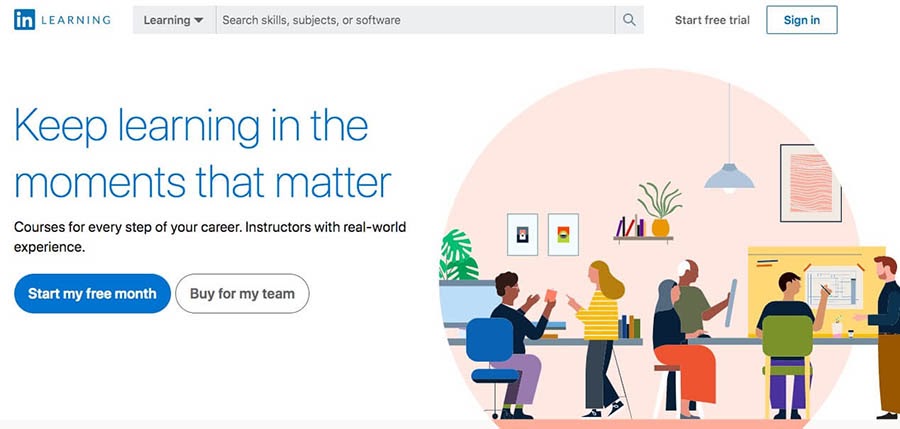 Once you determine which subjects might be appealing to your readers, you can experiment with WordPress' Learn Dash plugin. This is a tool that can help you turn your WordPress website into a full Learning Management System (LMS).
LearnDash includes just about all of the features you'll need to create an online course. This includes pricing functionality, points, and certificate options for students. You'll be able to create an engaging learning opportunity for your readers, earn some money, and establish yourself or your business as a knowledgeable authority.
9. Host a Virtual Summit
If you're not sold on some of the other options on our list, but you want to find a way to generate revenue while engaging with other professionals in your field, don't worry. Monetization is still very much a possibility for your blog!
Thanks to a wide array of accessible and affordable communication technologies, you can organize and host virtual summits. These mini-conferences can also be delivered as live or recorded webinars, for both new and old readers to engage with.
One way to coordinate efforts between your webinar platform and your website is to use a plugin like WP GoToWebinar.

To use this tool, you'll need a GoToWebinar account. Then you'll be able to easily embed a list of upcoming webinars on your site, as well as connect to registration forms. Keep in mind that if you have a global reach, however, you'll want to make sure your offerings follow the General Data Protection Regulation (GDPR) rules.
If you need to have a lot of control over your schedule and can leverage specific times of the year when you require an income boost, this is a great option. With a virtual summit, you can pull in your favorite professional resources and create an engaging online event for your followers.
10. Start a Podcast
Podcasts hit the big time in 2019. Crossing over into the mainstream, statistics soon showed that just over half of the U.S. population had listened to a podcast. While it might seem like "everyone" has a podcast, however, that doesn't mean there isn't room in the market for yours.
A podcast can be an excellent companion to an existing blog. Once you find the right niche, you can scope out some top podcast charts to see where you might fit in. After that, getting your podcast website ready for monetizing is your next step. Once you're set up and have established a following, you can experiment with some of the other solutions on our list.
For example, ad spending on podcasts is a growing area that can have better results than traditional advertising options. However, if you're not interested in placing ads on your site or mentioning sponsors during each episode, there are other monetization options.
For instance, you can create a podcast membership site with the Ultimate Member plugin.

This is a popular, well-maintained, and highly-rated tool. One caveat is that you'll need to upgrade to the premium version if you want to integrate it with WooCommerce for paid podcast memberships. Alternatively, there are some plugins like Paid Member Subscriptions that offer a few more features for free.
11. Create a YouTube Channel
Similar to podcasting, creating an engaging YouTube channel can be a lucrative (and fun!) endeavor to complement your blog. However, it might seem overwhelming at first to keep up with all the best practices for monetizing videos online.
One way to make things simpler is to do some research into the YouTube Partner Program. While it's possible to use your YouTube channel to boost your on-site revenue, the platform offers specific and beginner-friendly tools through its dedicated program as well.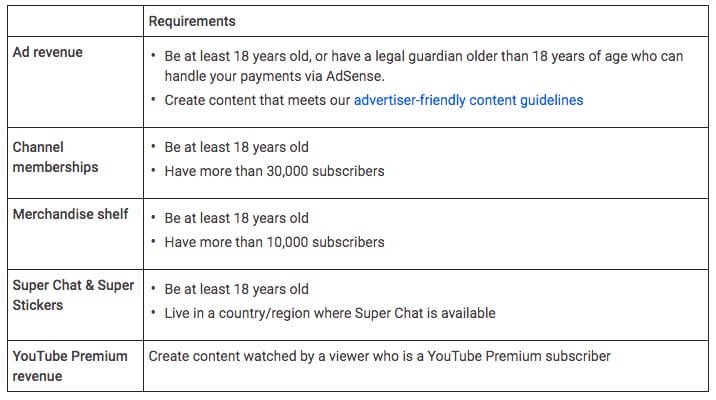 If you're not able to apply for the program, you can still use YouTube to drive traffic to your blog. When you combine elements like AdSense, affiliate marketing, and more, you can create a dynamic money-making system. You can even link to your own landing pages from your YouTube videos.
12. Accept Donations
If you don't need income to keep your website afloat, but would like to make money blogging to pay for future upgrades, accepting donations is an option you might explore. Loyal readers will likely support your passions if you have plans that will bring them more of the log posts they love.
For example, if your niche is travel and photography, you could accept donations that are earmarked to go towards your next expedition.
While you can use one of the many online crowdfunding options, there are also some useful plugins available, such as GiveWP.

This tool has a lot of features to offer for passion projects, non-profits, and blogs. The free version includes such a robust feature set that most users won't need the premium add-ons.
Alternatively, you can structure a donation system with a well-styled form and a payment gateway such as PayPal. WPForms is a great place to start if you need a form-building plugin. Just keep in mind that you'll want to be as transparent as possible with how you're using the donations, so readers will feel confident in giving.
13. Offer a Paid Membership Plan
We mentioned some membership plugins earlier when talking about how to monetize a podcast. However, there are other ways to offer and manage a membership plan for your blog itself. One of the most popular platforms for this is Patreon.

One of the best aspects of Patreon is that you can get started for free. The cost of the platform is based on the level of service you choose. Each level takes a cut of your monthly donations. For example, the "Lite" level charges 5% of your monthly donation income.
Patreon makes it pretty easy to set up content-specific membership sites. You can offer premiums for different levels of donations. This means you can give specific donors access to exclusive content on your blog, or annual premiums.
14. Develop a Branded Swag Shop
When you really love a band, writer, movie, etc., it's common to want to show your support by sporting its branded gear. If you have the resources, creating your own branded swag shop can also be a fun way of making money.
WooCommerce is, of course, the most popular e-commerce tool out there. It's an easy addition to any website. However, you can also look into print and ship services, if you're not prepared to handle the logistics of fulfilling orders.
The good news is that you can turn your WooCommerce shop into a fulfillment center as well. The Printful integration for WooCommerce is a great place to start.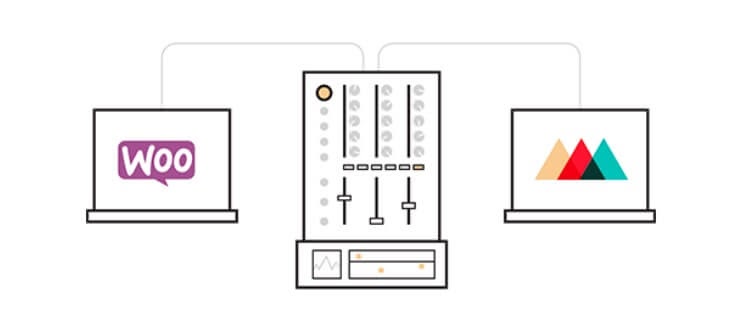 With this add-on, you can create a shop by choosing from Printful's inventory of over 220 items. You can provide designs that are specific to your blog, or choose from the pre-built templates. Additionally, you can set up items that can be individualized by your readers.
After a purchase is made, Printful will make it and ship it for you! It's that easy. You can even estimate profits with an online calculator. This will help you set your prices to ensure the level of revenue you need.
You

CAN

 Make Money Blogging
Once you decide you want to monetize a blog, you may be tempted to dive in headfirst and try everything you can think of. However, taking a measured approach often leads to a more profitable blog in the long run. We've outlined many feasible options for monetizing your blog, but it's important to keep some specific points in mind when choosing your strategy.
For example, remember that not all forms of monetization work for all blogs. It's key to determine whether you've found the right blogging niche first. Next, focusing on one or two complementary possibilities are likely to yield the best results. For instance, you might pair AdSense with a podcast or video channel.
Finally, no matter what approach you take to generating income on your blog, you'll want to make sure you have the hosting resources you need. We recommend checking out our shared hosting plans as a great place to start!