How To Start Affiliate Marketing (It's Easier Than You Think!)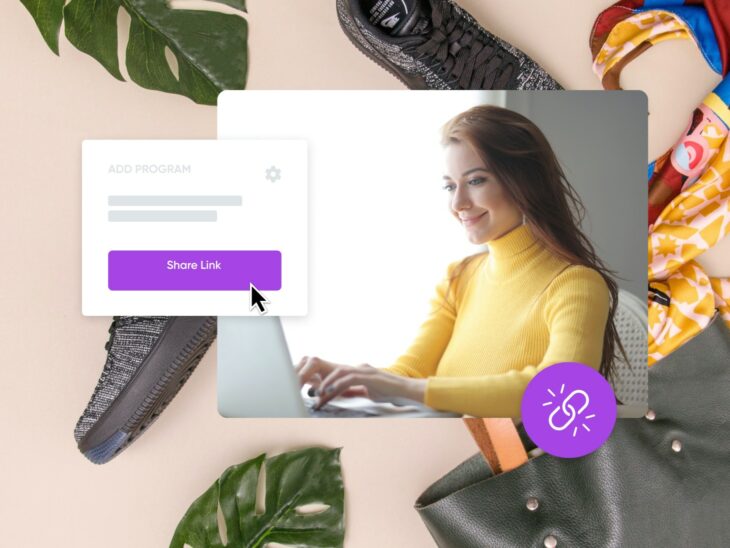 There's no shortage of lucrative side hustles and other tactics for making money online.
However, few are both as flexible and as rewarding as affiliate marketing.
When done right, affiliate marketing can be an effective way to earn an income by producing creative and valuable content.
In this article, we'll introduce you to the foundations of affiliate marketing and how to get your own program off the ground by covering:
The ins and outs of affiliate marketing
Exactly how affiliate marketing works
Examples of affiliate marketing in action
The upsides and downsides of affiliate marketing
A step-by-step guide to starting affiliate marketing today
What Is Affiliate Marketing?
In a nutshell, affiliate marketing enables you to monetize your website by promoting other companies' products or services via affiliate links hosted on your site. When somebody buys a product or service based on your referral, you earn a small commission from the company.
While definitions sometimes vary, there are generally three or four parties involved in an affiliate marketing setup. Let's explore the "who's who" of affiliate marketing:
Affiliate: Also known as "the marketer," this is the person running the site that contains affiliate links. The affiliate receives a commission on purchases made by visitors who find a product by clicking on one of their links.
Consumer: This is a visitor on an affiliate site who clicks on an affiliate link and completes a purchase.
Network: This refers to the platform on which the affiliate program operates. The network provides the links that the affiliate uses and then pays the affiliate their commission rate.
Merchant: This is the company that sells the products being marketed by the affiliate. In many cases, the merchant and the network are the same, as many companies run their own affiliate programs. For simplicity, we'll be combining these last two entities throughout most of our discussion.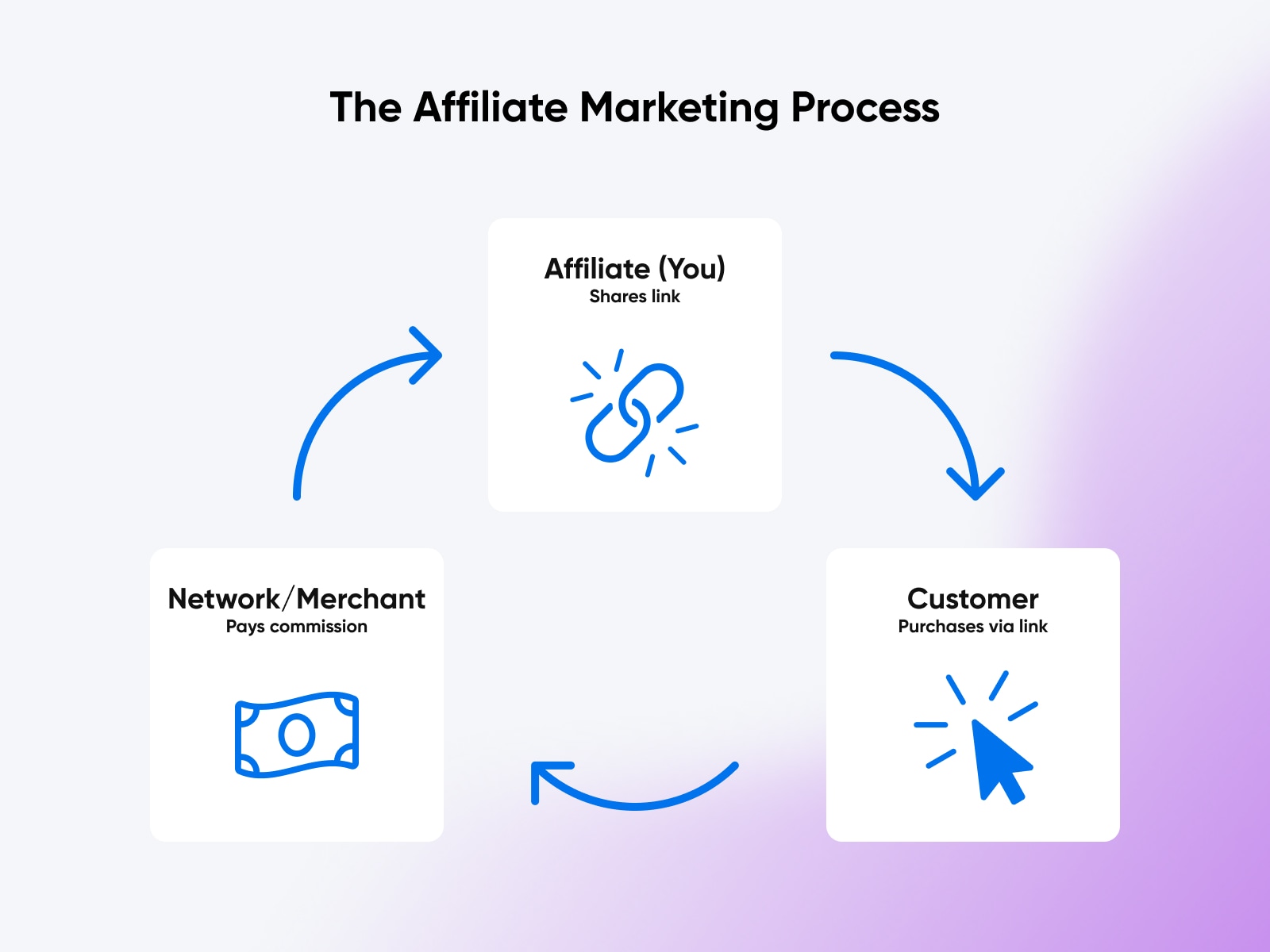 Note: Before we go any further, we must emphasize how crucial it is to disclose when you're using affiliate links. This is an essential component of following the FTC's endorsement requirements in the U.S. You'll want to steer clear of breaking these rules at all costs to avoid being shut down and facing potential legal action.
Later, we'll demonstrate precisely how to maintain compliance, but for now, let's talk about how all of the above elements of affiliate marketing come together to help you make money.
How Affiliate Marketing Works
When you sign up for an affiliate program, you usually receive a special link with a tracking ID from the merchant or the network upon which the program runs.
When attached to their products and services on your site, this unique affiliate link enables the retailer to determine when you have directed clients their way.
When someone clicks on the link, a cookie is downloaded to their computer or device. This cookie usually continues to track the consumer's behavior on the site for some time, so even if they don't make a purchase right away, you – as the affiliate – may still be able to get compensation (often called a referral bonus) for the traffic you've driven.
Get Content Delivered Straight to Your Inbox
Subscribe to our blog and receive great content just like this delivered straight to your inbox.
Examples Of 3 Types of Affiliate Marketing In Action
Let's discuss several examples of different affiliate programs to understand better how they work across industries.
Pay-Per-Sale (Featuring DreamHost!)
You might have noticed that many web hosts offer affiliate marketing programs. We at DreamHost are no exception. Our Web Hosting Affiliate Program offers compensation for every web hosting client that an affiliate sends our way.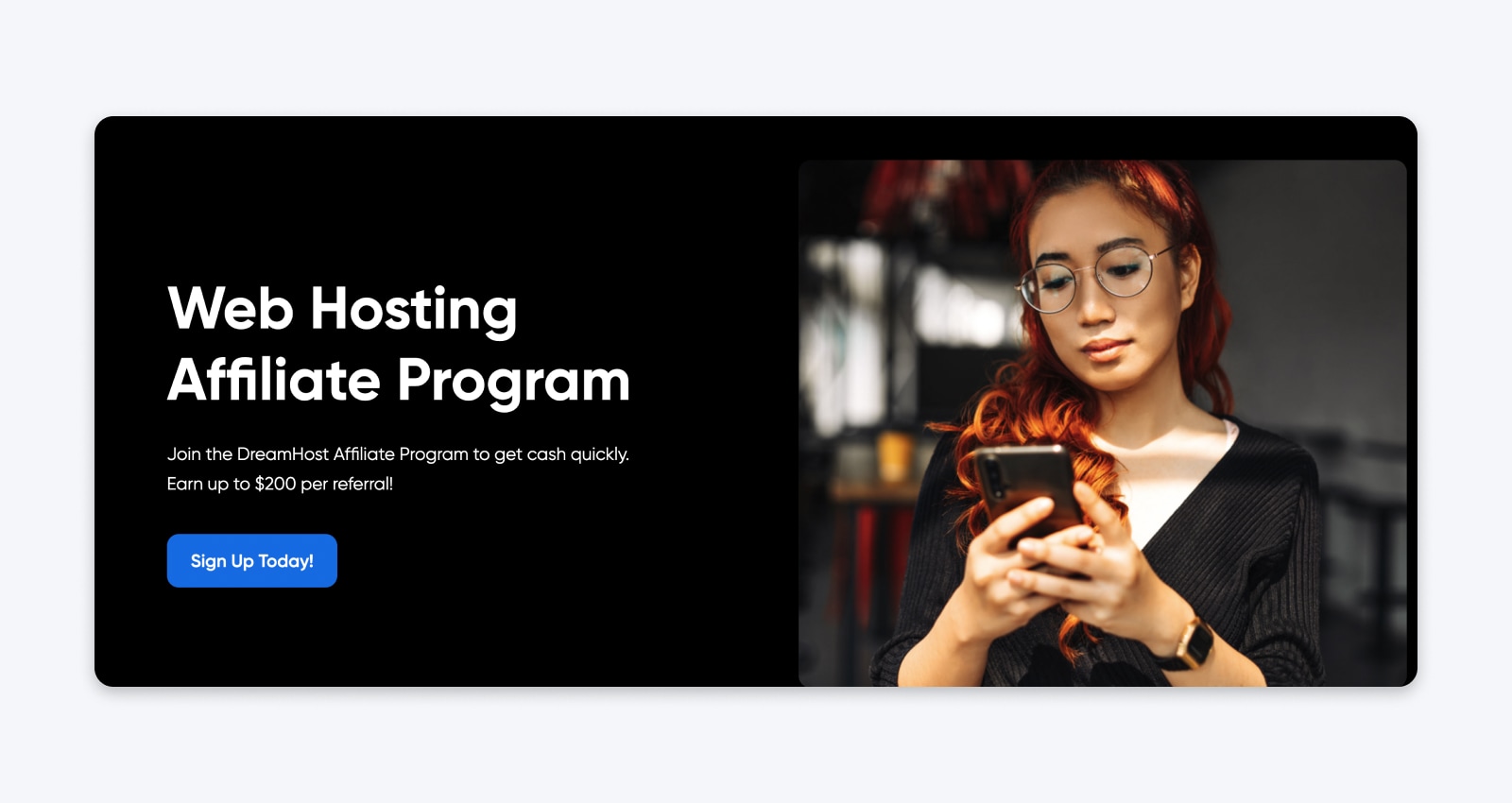 The way the program works (and how most do) is that a website owner applies for it. If approved, they get access to a custom dashboard to track referral activity and earnings.
We say if they get approved because most serious affiliate programs carefully select who can access them. This allows the program owner to protect the brand by deciding who can promote it.
Hosting affiliate programs are outliers because they tend to pay much higher referral bonuses than other setups. Most other programs pay you a small percentage of your sales. With hosting affiliate networks, you tend to receive flat fees instead.
As an affiliate, there are a lot of ways that you can promote hosting products. Some common examples include creating content such as:
Hosting platform reviews
Hosting platform comparisons
Recommending your favorite hosting platforms
The process is quite simple: You publish hosting reviews, wait for users to find and read them, and collect payment on link clicks. However, you should be warned that generating reliable affiliate income can take a long time in practice, as we'll discuss in more detail soon.
Pay-Per-Lead
Pay-per-lead programs don't reward affiliates for successful sales. Instead, you get paid a flat fee for bringing in specific types of leads.
DreamHost Glossary
Lead
In digital marketing, a lead refers to a person who may potentially convert into a paying customer. Typically, a lead is identified by their contact information.
Read More
For instance, take the micro-investing platform Acorns. It enables everyday users to invest modest sums of money without talking to brokers or dealing with regular banking platforms. The Acorns Affiliate Program pays a certain dollar amount per successful signup.
Right off the bat, most pay-per-lead programs offer smaller commissions than their pay-per-sale counterparts. The upside is that getting users to become leads is often much easier than getting them to buy products.
Most pay-per-lead programs, including Acorns, have requirements for what makes a valid lead. In the case of Acorns, one stipulation is that signups must be from people within the U.S.
Signups are just one type of lead that companies pay for. Depending on the program, others may pay you to get users to start a free trial, download an app, or fill out a contact form.
Pay-Per-Click
Pay-per-click programs are relatively rare because most companies prefer to pay for leads or sales.
However, the Tripadvisor Affiliate Program pays affiliates when consumers visit Tripadvisor via an affiliate link and click a link associated with one of their hotel booking partners — even if a booking isn't fully completed.
As you might expect, pay-per-click affiliate programs tend to pay a lot less in commissions than their sale- or lead-based counterparts. Especially those where a specific series of clicks need to happen, like in the case of Tripadvisor.
The advantage of this type of program is that they tend to be highly targeted, and it's relatively easy to convince users to click on something. For example, this particular program can be a fantastic fit for travel blogs.
If you search for pay-per-click affiliate programs, you'll find information about lots of ad networks, such as Google AdSense or Mediavine. It's important to understand that ad networks are not the same as affiliate marketing programs. An ad network can also pay you for clicks, but that's where the overlap between monetization methods ends.
Pros Of Affiliate Marketing
Affiliate marketing offers many upsides that some other monetization methods don't.
Eventual Passive Income
Of course, it will take time to build a collection of high-quality content that supports your affiliate links.
But, eventually, you may discover that all this material continues to bring in affiliate commissions for months or even years. In this way, affiliate marketing can become a powerful passive income generator.
Less Of A Barrier To Entry
One of the most significant advantages of affiliate marketing is its low barrier to entry.
You can become an affiliate as long as you can run a blog, a YouTube channel, a social media account, or even an email marketing campaign.
If you have a channel where you can build an audience and promote links, you can be an affiliate marketer.
Low Risk
Because of all the up-front expenditures for goods, personnel, equipment, rent, etc., starting a traditional small business is often risky and expensive.
But all you need for affiliate marketing is a website. All you've lost is the time and money setting up that website if you decide it isn't for you.
Relatively High Reward
Affiliate marketing payouts tend to be a lot higher than other monetization methods, such as running ads on your website. Ads might bring in a steady income if you have a lot of traffic, but so can being an affiliate.
Infinite Scalability
A typical full-time salesperson job means you can only promote goods from one company — the one you work for. That company has the power to limit what you can say and how much you can earn.
As an affiliate marketing entrepreneur, you're free to promote products and services from tons of different companies however you see fit, scaling up your audience and your number of income sources.
Cons Of Affiliate Marketing
Although affiliate marketing can be a great monetization method, it's not without a few downsides.
Requires A Lot Of Patience
Affiliate marketing usually requires a lot of patience and setup if you're using your own website. It might take months or years before your site is in a place where you can successfully apply to programs and actually build the audience and trust you need to get conversions.
In fact, the Affiliate Marketing Benchmark Report 2022 found that the vast majority of affiliate marketers make below $10,000 in revenue a year through this method.
So, if you're hoping to build a full-time income from affiliate marketing, just remember that getting to that level requires a lot of patience and grit.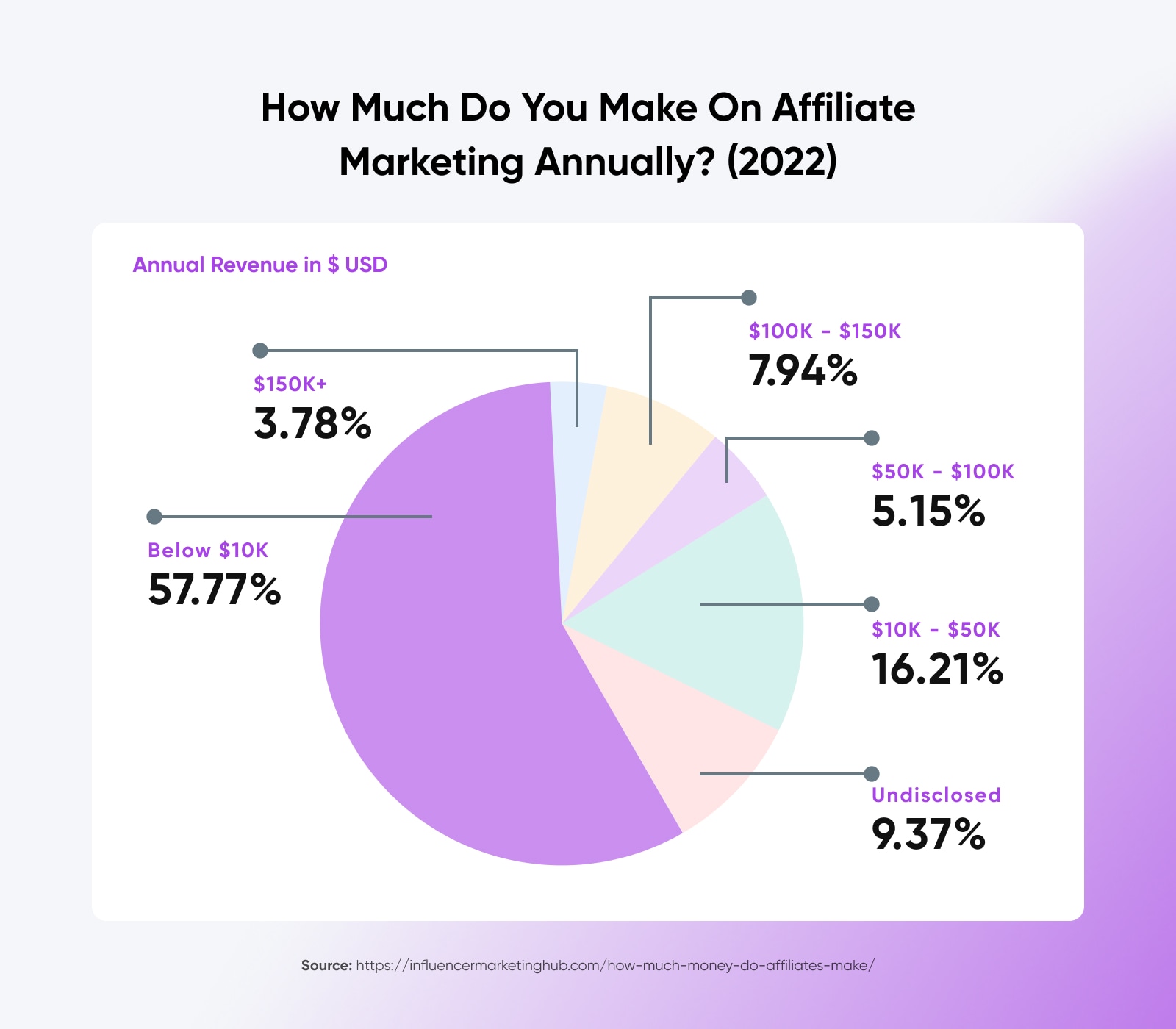 Strict Requirements
Many affiliate programs require your website to meet specific criteria if you want to join them. They do this to protect their brands and to prevent low-effort marketing from tarnishing their reputations.
Often, the application process for affiliate programs can be long and grueling. It's not uncommon, for example, to be rejected from the Amazon Associates program. You might need to re-apply multiple times before you're accepted.
Slow Payouts
Additionally, affiliate sales payouts usually take a long time to process.
Many affiliate networks pay one, two, or even three months after your links deliver a purchase or a lead. This is a common practice to discourage users that would exploit affiliate programs. Still, it means you need to be patient if you want to see your money.
Stiff Competition
Many affiliate niches, such as tech gadgets and appliance product reviews, tend to be incredibly competitive. Any program where the payouts tend to be higher or faster, you should expect to come up against a lot more contenders and some really big names.
That's why, as we walk you through getting your affiliate marketing program up and running in the next section, it'll all begin with finding your unique niche.
How To Build An Affiliate Marketing Strategy In 9 Steps
Ready to fine-tune your site and create a successful affiliate marketing business?
It's time to get tactical with the affiliate marketing tips.
1. Determine Your Niche
If you're starting a new affiliate site, you'll need to consider which niche you will work within. Your site's niche determines your content type, your target audience, and what kinds of products you will promote.
Naturally, it's crucial to choose a niche that's financially viable. This means you need to find a subject that enough people will be interested in. That may seem tricky, but there are actually a lot of options you can choose from. At this stage, performing keyword research is a bright idea to find out which keywords drive the most traffic via search engines.
DreamHost Glossary
Keyword Research
Keyword research is the process of finding and selecting keywords that are relevant to a website or business, with the aim of driving targeted traffic to the site.
Read More
If you're unsure where to start with keyword research, your best bet is using a free digital marketing tool such as Google's Keyword Planner. You can utilize Keyword Planner to find out what users are looking for in the niches you're considering.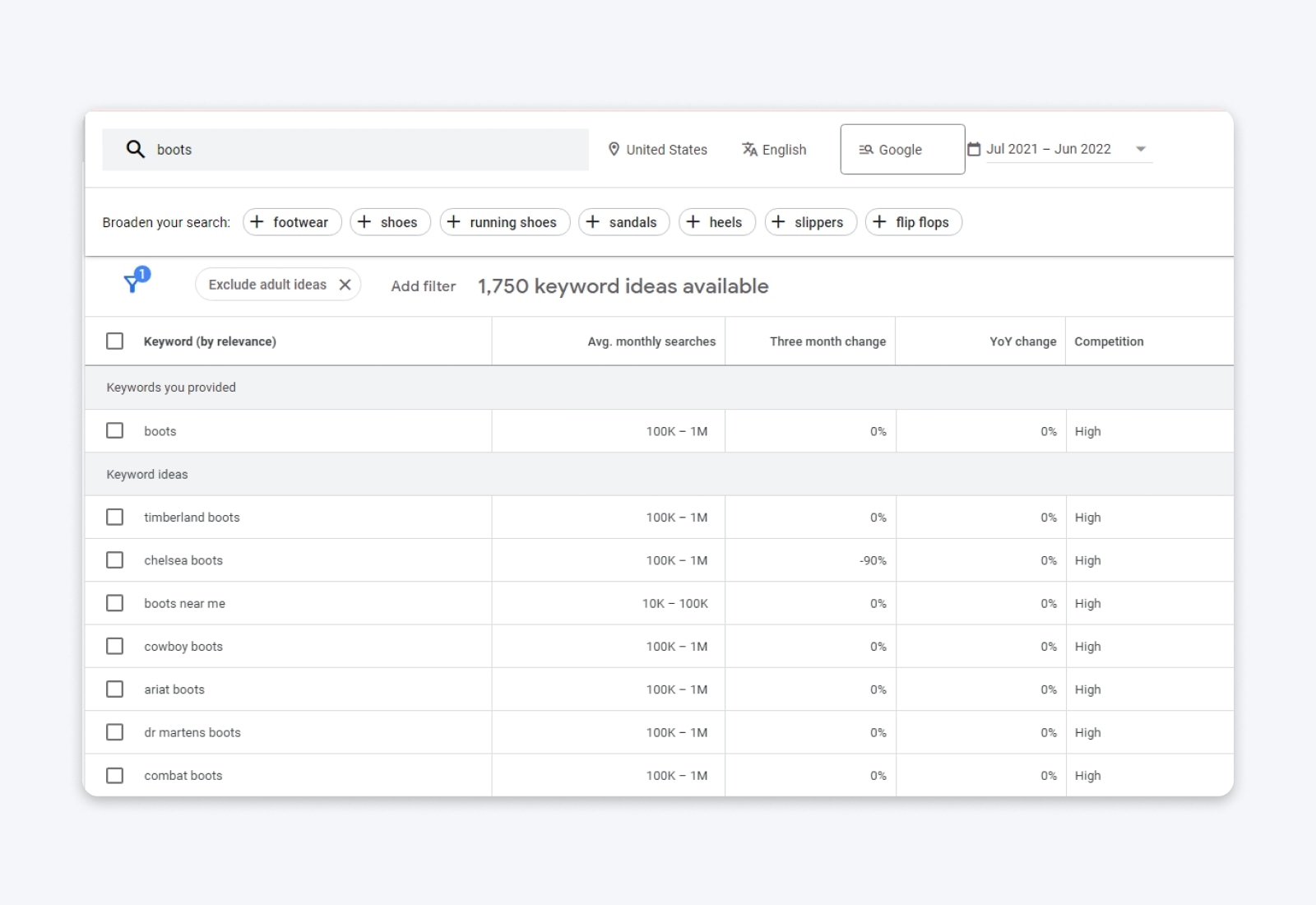 Keyword research tools won't just give you an idea of which topics you might need to cover. They'll also tell you how competitive they are.
If you're considering a niche where most keywords have high competition, you'll have a harder time breaking in. That's not to say you shouldn't attempt to, but it might take a long time.
This step isn't just about finding the niche that pays the most or the one that's not as hard to break into. To be successful, you should also aim for a niche that suits you personally. Suppose you already have some knowledge and interest in your chosen area of focus. In that case, you'll be in a better position to create authoritative and engaging content to go along with your affiliate links.
You'll also have a better understanding of your target audience's needs and desires. This is essential since it helps you build trust with your visitors. If they feel like they can rely on your judgment and recommendations, they'll be more likely to click on your links and make purchases based on your suggestions.
Overall, the best niche will have plenty of potential consumers and will be something you can create knowledgeable and trustworthy content about.
2. Build A Beautiful Platform
Lots of different platforms can be used for affiliate marketing — email lists, social media, YouTube videos, websites, forums, webinars, events, etc.
The approach you select will depend on your preferences and the preferences of your target audience. For example, if you're trying to build an affiliate marketing business in the writer space by partnering with the software you use to be a better writer, it probably makes sense to go with a platform that makes it easy to post long-form written content.
Whatever platform(s) you choose, we advise incorporating a website somewhere in the mix. A good website is the best way to host content that can be seen on the most popular search engine in the world — Google.
And when it comes to that website, remember that first impressions really do count.
Everything from color palettes to font choices can impact whether a visitor stays engaged and clicks on your affiliate links. With so much riding on your site's design, creating the perfect look can be intimidating.
DreamHost Glossary
Theme
A WordPress theme is a layout tool that enables you to change the design of your site. A theme is composed of a group of files within a zipped folder that includes page templates, CSS stylesheets, images, and more.
Read More
If you use WordPress as your website builder, there are dozens of ready-made themes that are ideal for various affiliate marketing niches. Allow us to show off a few of the stand-out options that are available so you can find your perfect fit:
Affiliates Bloglet
If you run a website focused on written content, we recommend the Affiliates Bloglet theme, which offers a clean interface and responsive design.
As such, your visitors can enjoy a minimalist experience no matter where they visit from, in addition to other features like:
Without busy elements, your blog can take center stage. However, minimalist doesn't have to mean empty. You can also use the white space around your content. That's why we recommend Affiliates Bloglet if you're running ads alongside your affiliate products: there's plenty of space for them.
iffiliate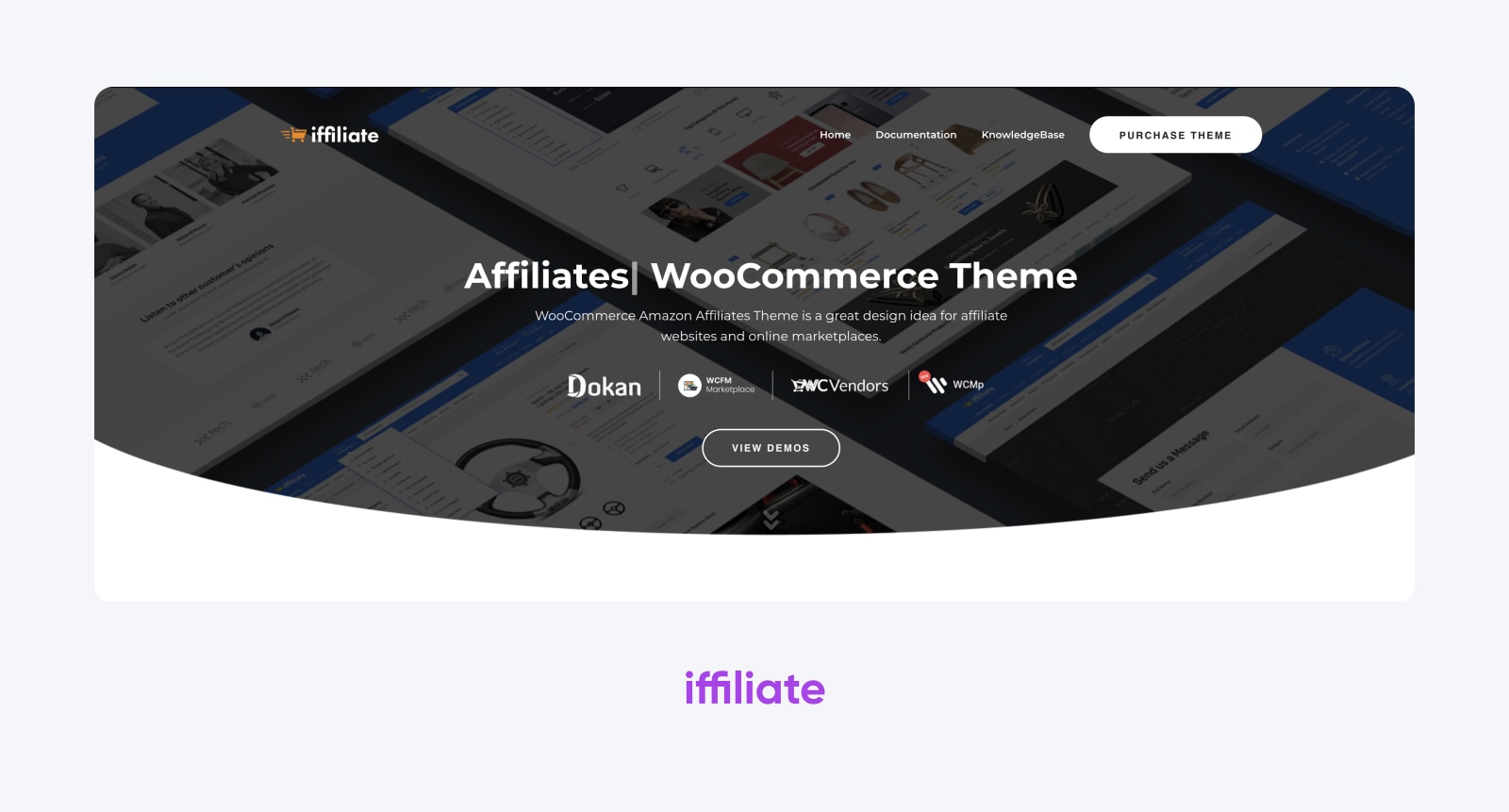 When it comes to promoting your partners' products, iffiliate is one of the top tools for the job. It's a WordPress theme specializing in affiliate programs in niches such as travel, hosting, e-commerce, and beyond.
It includes features like:
A bundled mega menu plugin for better navigation
Ajax live search that makes for a more dynamic UX
Seamless integration with the Amazon Affiliate program
We'd recommend iffiliate if you're building a more traditional e-commerce-style site. For example, you can create single-product pages to advertise each partner's items. You can then replace the checkout links with your affiliate URLs.
Divi
If you want to get hands-on with your affiliate site, Divi is an incredibly flexible theme option that enables you to control almost every aspect of your site.
You're free to choose from a huge variety of design options, such as:
Subtle shadow features that you can use to highlight specific products
Dynamic animations to catch your visitors' attention
Optional advanced code editing within the engine
Additionally, Divi also has a companion program: the Divi Builder. This page builder is optimized to work with the theme for a smoother website creation experience. If you're looking for an all-in-one solution for seamless site design, we suggest you consider Divi.
3. Apply For The Right Affiliate Programs
Once you have a niche selected and site ready to go, it's time to look for affiliate programs.
As we mentioned previously, many programs are run directly by a merchant with the goal of promoting their own company's products. When deciding which of these programs to sign up for, you should first look at what products they want you to promote. Most importantly, they'll need to offer products that are popular in your selected niche. Therefore, look for brands that speak to your target market to see if they offer affiliate programs.
In addition to merchant-driven programs, there are also dedicated affiliate networks, such as Rakuten, Awin, and CJ. These programs encompass various merchants and thousands of products. This gives you access to multiple types of products without needing to join lots of programs.
Before you sign up, it's a smart move to research each program and see what experiences other affiliates have had. Naturally, it's also important to find programs that will pay you well. After all, you're putting a lot of effort into promoting the merchants' products, so you should see a fair share of the profits.
There are three categories into which most affiliate programs can be sorted:
Low volume, high pay: This category typically includes niche products that attract fewer consumers, thus less competition.
High volume, low pay: Items in this category have broad appeal and are usually low-cost and widely available. Items available on Amazon often fall into this bucket.
High volume, high pay: Products and services in this category are both expensive and appealing to the masses: a win-win. However, items in this niche can attract more competition.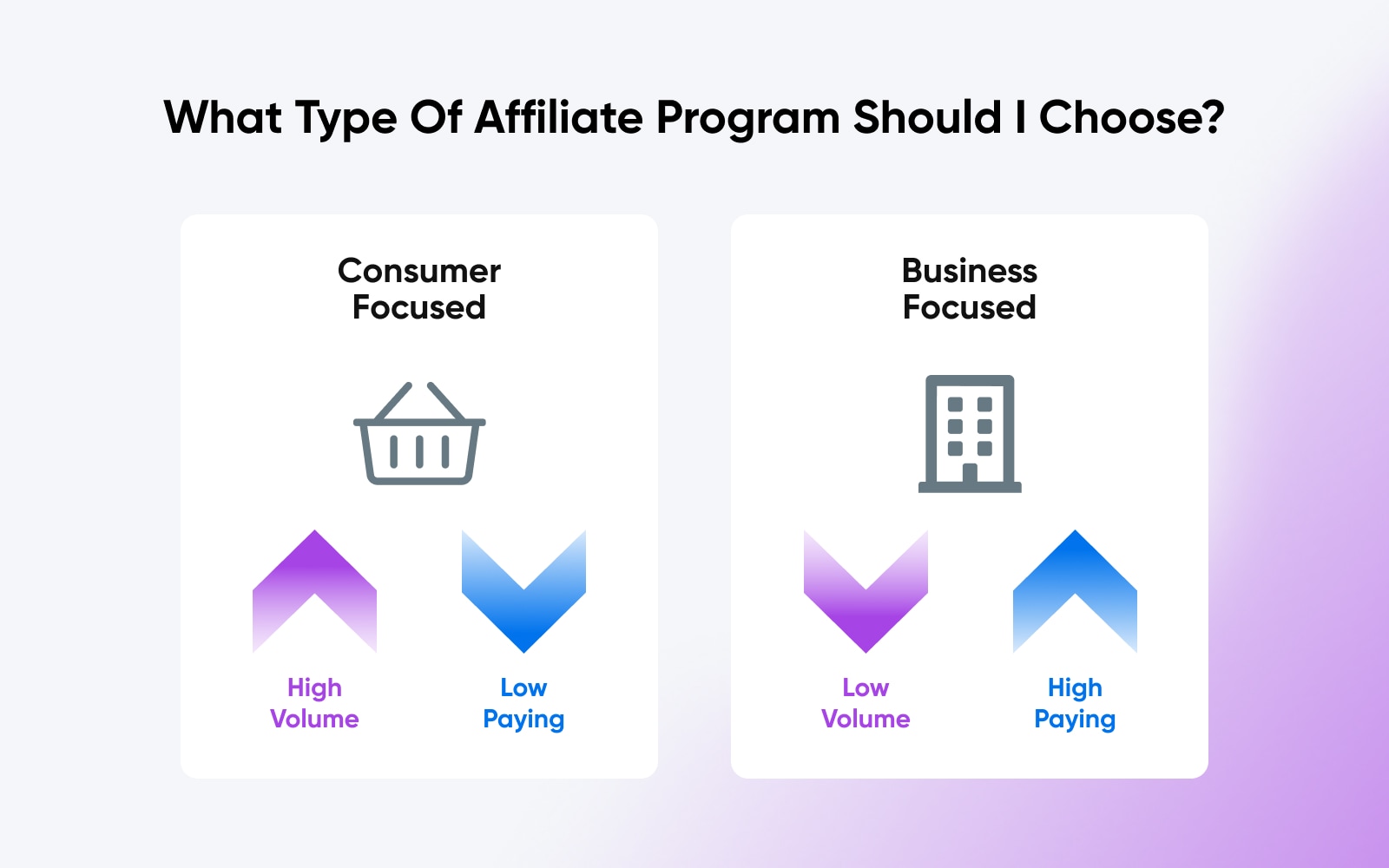 4. Implement Affiliate Links
Once you've been accepted to the best affiliate programs in your carefully chosen niche, you should have some new links to put in place.
How you actually implement your affiliate links on your site will vary, depending on what type of content you're creating.
For example, if you're running a review site, it makes sense to place relevant affiliate links within your reviews. The simplest way to do this is to include them as text links in the content. However, this approach can be seen as misleading since it's less clear that you're promoting the products in question. But don't worry; There are a lot of creative ways to include affiliate links without being disingenuous.
For example, the site Spotern lets people identify and buy clothing items they see in movies. Links to purchase products are clearly marked using buttons, which also mention the online shops to which they're taking the consumer once clicked.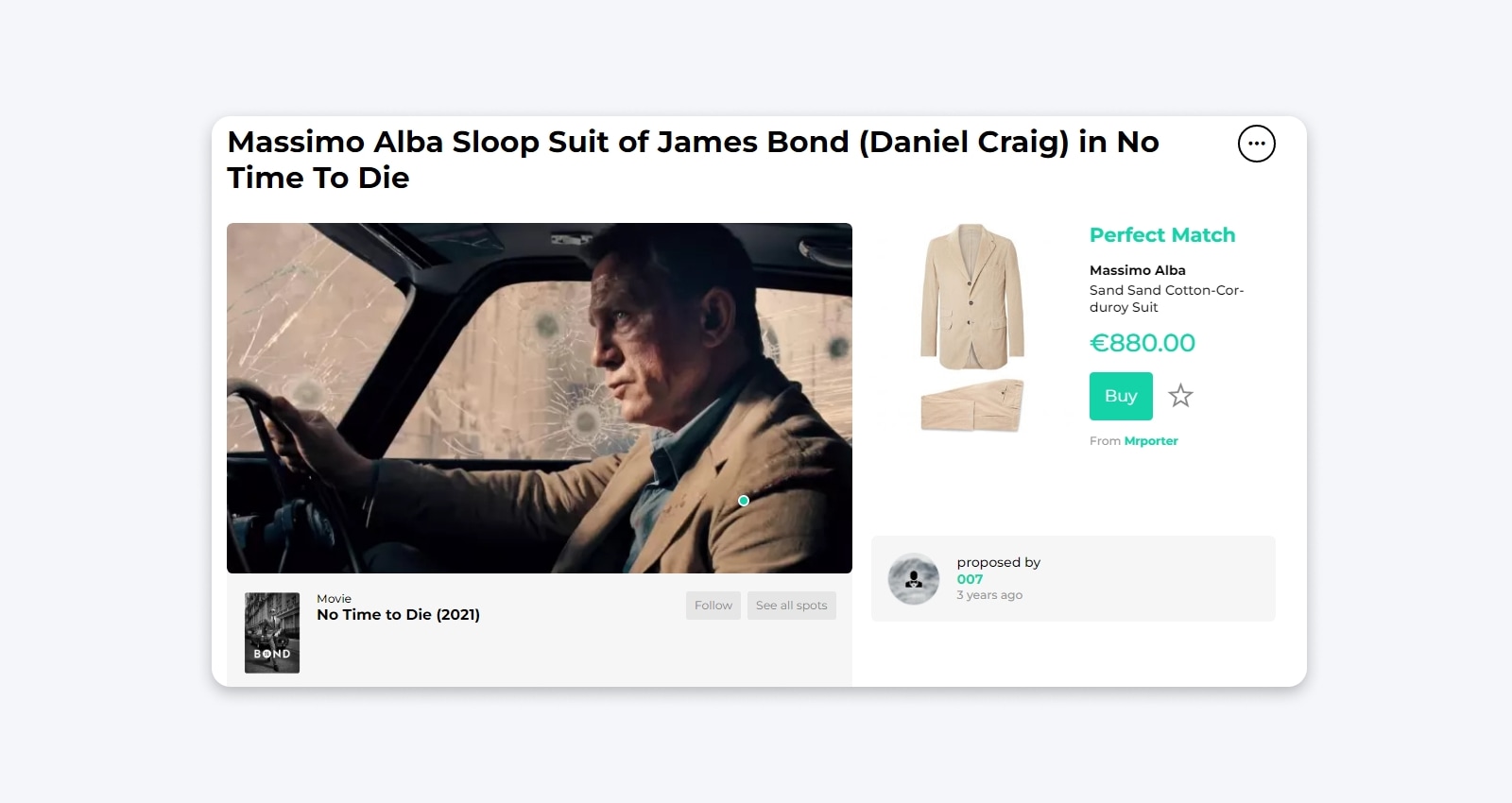 You can see a similar approach taken by GearLab. Within reviews of outdoor gear items, product sections where readers can click out to make purchases are very clearly separate from the rest of the content.
Each link is a button that's labeled so the consumer knows where they'll end up when they use it.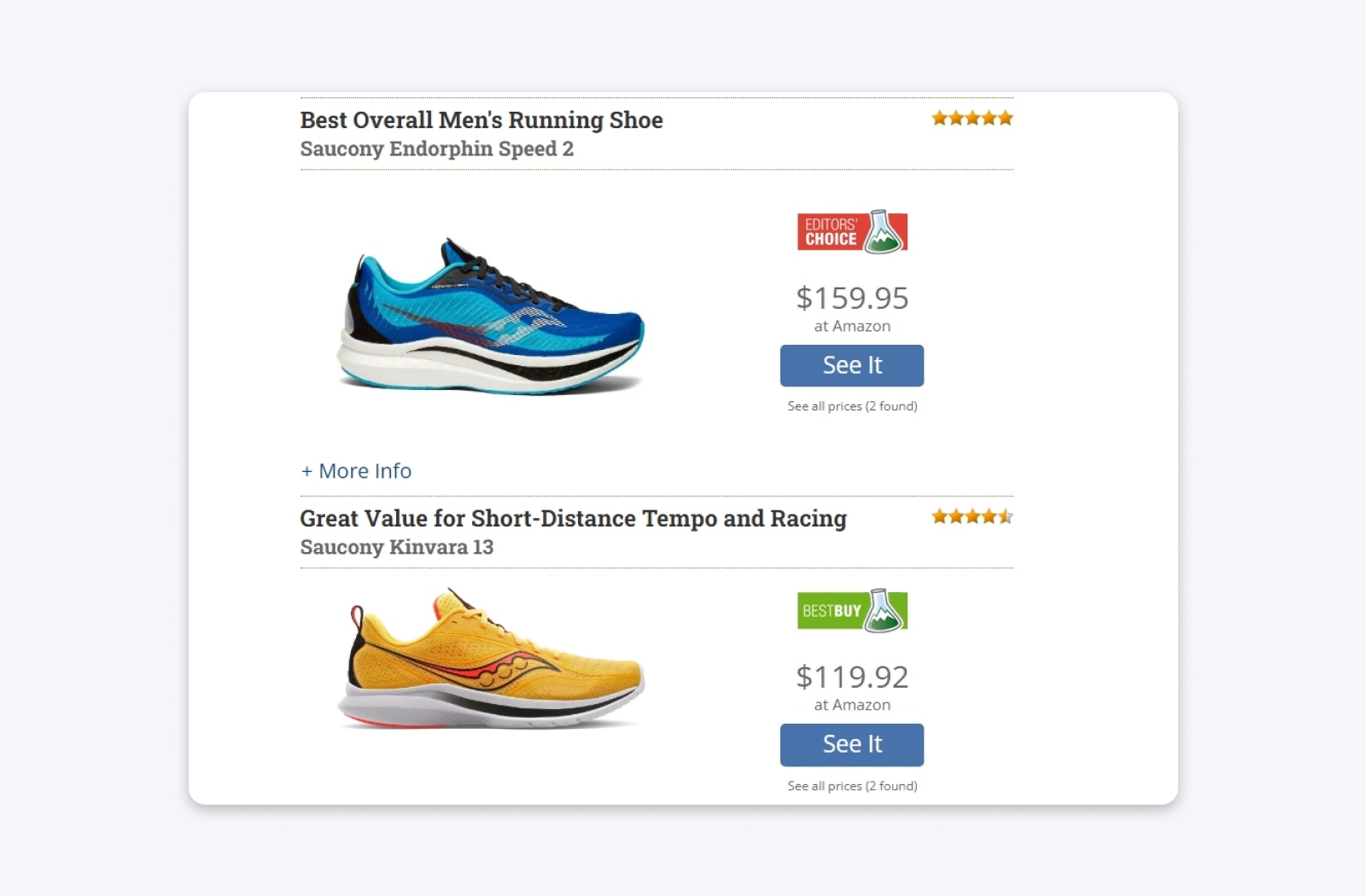 Some affiliate programs will even provide you with assets, such as banners, that you can use to promote products. These might be more suitable if you want to keep your marketing and content clearly separated.
Your approach to implementing links will depend on your content and niche. Feel free to experiment with different strategies.
5. Cloak Those Links
Link cloaking is crucial in optimizing your affiliate marketing income.
This practice involves concealing the unique affiliate ID in your links to prevent link hijacking.
With link hijacking, nefarious parties attempt to steal your commissions by switching out your ID with their own.
Not only does a cloaked link keep your affiliate ID private and your commission secured, it makes your URLs look better and easier to remember.
Within your WordPress website, you can use plugs like Pretty Links or ThirstyAffiliates to cloak your affiliate links.
6. Install Your Disclosure Statement
Earlier in this article, we mentioned the importance of disclosing that you're using affiliate links to protect your site's reputation and align with governmental requirements.
You can provide information about your links' nature and purpose by creating an affiliate disclosure statement, which you can learn more about and create here.
This notice should be unambiguous and clearly visible anywhere affiliate links are used.
7. Create Quality Content Consistently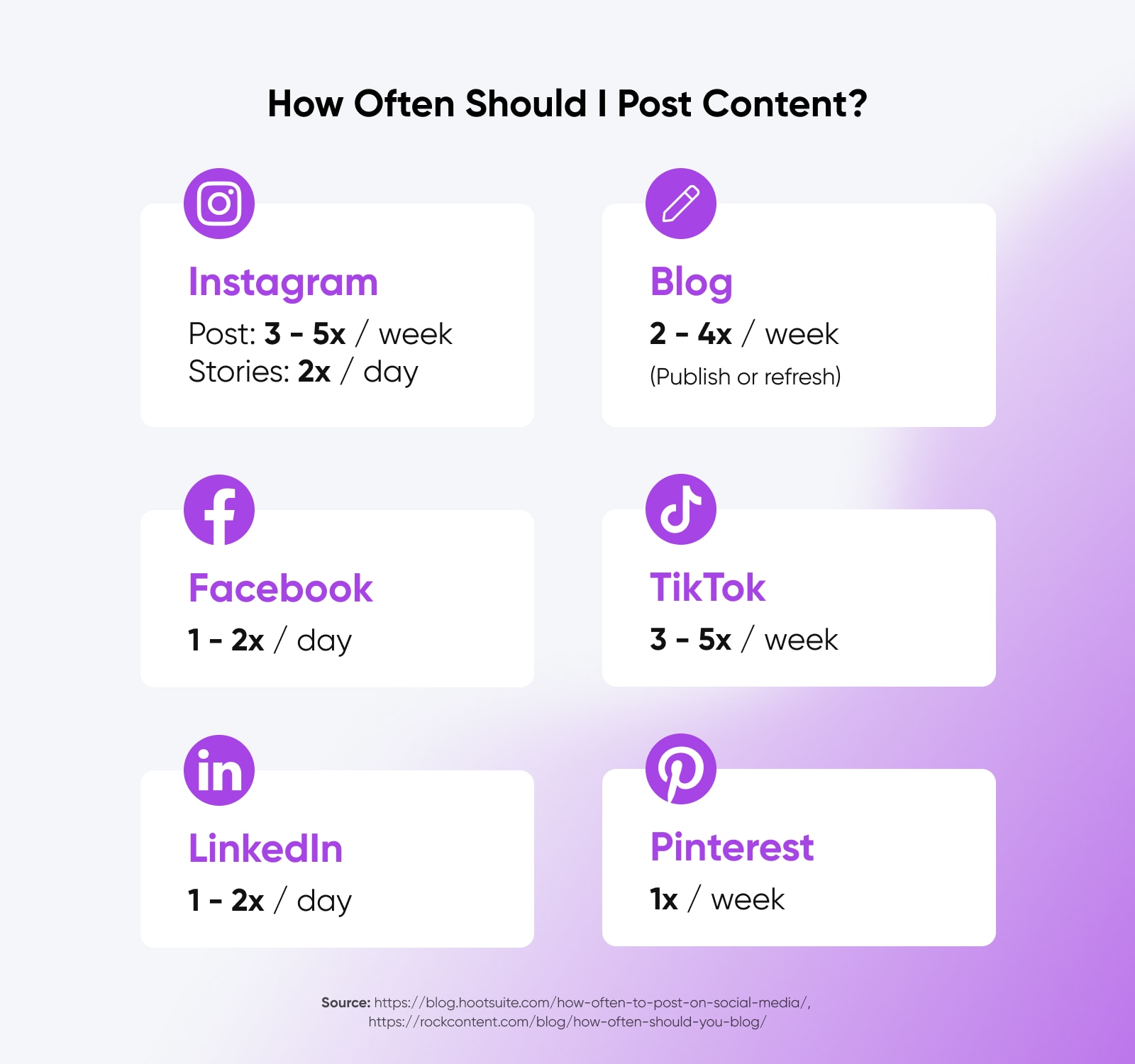 Always remember that your core focus should be providing value to your audience. If you fail in that task, visitors won't trust you, click on your links, or return in the future.
Make sure you write quality content and keep an eye on your conversion rates to see what's working and what's not so that you can tweak your direction to better appeal to your audience.
In addition to creating high-value content, you'll want to publish content regularly to ensure that your followers keep returning to your website when they need further recommendations.
Consistency is key in this world. Spend time building a content calendar that keeps you creating fresh content for your blog and other affiliate platforms.
Need ideas? Here are a few different types of content you can make to keep your audience interested:
Tutorial articles: Carefully detail how the product or service you're promoting works. Potential customers are more likely to buy something when they can plainly see how to use it for their intended purpose.
Knowledge base content: Create resources to aid in the audience's problem-solving as it relates to the offerings you're promoting. These resources should strengthen your expert reputation.
Reviews: This is a style of content that's quite popular and effective for affiliate marketers, as it captures the large number of shoppers who go to the internet to learn about products and services before making a purchase.
Head-to-head comparisons: To aid your target audience in choosing the offering that's best for them, compare it to similar items to examine the benefits and drawbacks of each.
Roundups/ultimate lists: Create a one-stop shop for readers by collecting a lot of items from the same category via product roundups or lists.
Ebooks, whitepapers, etc.: Go even deeper on topics you couldn't cover fully via blog or social media post and create lead generation sources with ebooks and whitepapers.
8. Drive Traffic To Your Site
Once you're on track creating regular, value-adding content, it's time to promote your affiliate website to the world to grow your readership and conversions.
Here are some ways to drive traffic to your affiliate website:
SEO: Try optimization techniques such as including keywords in your content, link building, increasing mobile-friendliness, eliminating bulk to grow speed, and more to drive and convert traffic. Learn more tricks at How to Improve SEO Rankings.
Guest blogging: Contact other bloggers in your niche and offer to create excellent content for them. This can also grow your authority and direct readers back to your site.
Join Internet communities: Connecting with your target audience is easy via online communities like Reddit and Quora. Participate in conversations, provide help and support, and – when appropriate – send them to your blog articles to spur traffic.
Get social: Having a strong online presence on social media platforms raises your brand recognition. Take your audience's demographics into account when choosing which social media sites to focus on: Facebook, Instagram, TikTok, LinkedIn, etc.
9. Lean On Your Community
One essential takeaway you should've gotten from this article is that it's likely going to take plenty of time before your affiliate marketing efforts bear fruit.
To keep yourself going, it may be helpful to find a support system.
For example, seek out an affiliate community such as Wealthy Affiliate, where you can get advice and help from those who have been publishing and marketing for a long time. This can be particularly helpful when you're a novice. In a few years' time, you might even be the one helping another beginner get started.
We Can't Wait To See What You Build
New websites can take a while to start seeing affiliate marketing results, but once you're ready to focus on growing a library of content and your audience, being an affiliate can be one of the best ways to generate income.
Still working on getting your website started from scratch?
Consider managed WordPress hosting from DreamHost. With automatic updates and strong security defenses, DreamHost will take server management off your hands so you can focus on the important tasks that make you money.
Become a DreamHost Affiliate
Join the DreamHost Affiliate Program to get cash quickly. Earn up to $200 per referral!