A Definitive Guide to the ICANN Domain Dispute Process
There are millions of websites, all with unique domain names. In such a crowded market, you may find that somebody else already owns and is using a domain for which you have the trademark. They may even be using it to inconvenience or disrupt your business in some way.
If that is the case, you might need to file a domain dispute. This is a process where you can appeal to an independent arbiter using the Uniform Domain Name Dispute Resolution Policy (UDRP). The goal of this policy is to help trademark holders claim domains that they have a right to use.
In this article, we'll do a deep dive into the world of domain disputes. We'll introduce you to the UDRP and discuss when you might be able to start a domain dispute. Finally, we'll talk about what you'll need to do to prepare and how to get started.
And remember: we're web hosting experts — not lawyers. This guide is meant to be an educational resource to help you learn more about the domain dispute process. You should definitely consult your own attorney for advice relevant to your specific situation.
Now, let's get into the nitty-gritty of digital turf wars.
An Introduction to Domain Disputes
As you can probably guess, a domain dispute occurs when multiple parties claim the right to use a particular generic top-level domain name. This includes .com, .net, and .org (among others).
A common example is when one party is using a domain that contains a trademark owned by the other party. This practice is commonly known as cybersquatting. In these cases, people buy domains that correspond to brands they are not affiliated with in order to steal away some of their traffic.
Another related practice is typosquatting, where a person buys domains that are very similar to another with a slight variation in spelling. For example, a well-known phishing site used a variation on google.com, which meant they received plenty of traffic from users incorrectly trying to access the search engine.
There are numerous reasons people engage in these practices. Naturally, money is a significant factor. Back in the day, if you managed to buy a domain before the trademark owners had the chance to do so, you could sell it back to them at a higher price.
However, domain disputes can also arise for even more malicious reasons. For example, a user could buy a domain to inconvenience a particular brand, to compete with them, or even to impersonate them.
The domain dispute process was created to resolve these kinds of cases. It enables trademark holders to contest ownership of domains that are used by others by proving that they have a right to use the domain and that the other party is using it in bad faith.
How the Domain Name Dispute System Works
In order to process the types of domain disputes discussed above, the Uniform Domain Name Dispute Resolution Policy (UDRP) was born. This policy was created by the Internet Corporation for Assigned Names and Numbers (ICANN) to resolve disputes where multiple parties claim the right to a specific domain.
If you find that somebody else is using a domain that infringes on your trademark or you believe the current holder has bought the domain in bad faith, then you might be able to file a UDRP to start a dispute proceeding.
While it may sound subjective, bad faith is an important factor in determining the outcome of a UDRP proceeding. It can include cases of cybersquatting and typosquatting or instances when the domain holder appears to have the intention of disrupting or inconveniencing the trademark holder.
Bad faith can also refer to instances where the domain owner profits off the trademark. For example, if you managed to purchase the domain mcdonalds.com and used it to redirect traffic to your competing hamburger restaurant's website, that would be a clear case of bad faith.
In contrast, there are cases where a disputed domain is found to be bought in good faith. This could occur if the owner has a legitimate reason for using the domain — for example, if two businesses have the same (or similar) names. It can also include cases where the domain owner is using the name non-commercially.
When a domain dispute is opened, it will be looked at by an independent arbiter accredited by ICANN. It's important to note that these arbiters can only resolve disputes regarding top-level domains that are registered with ICANN. In addition, a UDRP proceeding may not be enough to settle certain disputes, and you might still need to engage in negotiation with the other party or settle the matter in court.
Finally, some countries do not adhere to the UDRP rules. Instead, they have different ways of dealing with domain disputes. So make sure you understand what rules and policies apply in your region before going down this route.
What You Need to Do Before Starting a Domain Dispute
For your domain dispute to succeed, you'll need to be able to substantiate your claim. As such, you'll have to supply proof that supports your right to the domain in question.
According to the policy as outlined by ICANN, a claimant must be able to prove all of the following:
The disputed domain name is identical or confusingly similar to a trademark or service mark in which the complainant has rights.
The domain owner has no rights or legitimate interests in respect of the domain name.
The domain name has been registered and is being used in bad faith.
As such, you will first need to prove your ownership of the trademark. How you deal with the remaining claims will naturally vary depending on each case. However, it's worth researching the current domain owner to see if they regularly snatch up domains for malicious purposes. If they have such a history, it will be easier to prove that they've acted in bad faith.
What Constitutes Bad Faith
Whether or not the domain owner has acted in bad faith may sometimes be obvious — for example, if they are using the domain in a way that obviously undermines or profits off of your trademark. However, things may not always be so clear, and you'll still need to be able to prove that bad faith exists in order for your claim to be accepted.
As per paragraph 4(b) of the policy, evidence of bad faith can include the following:
Circumstances indicating that the domain holder registered or acquired the domain name primarily for the purpose of selling, renting, or otherwise transferring the registration to the owner of the trademark (or one of their competitors) in excess of the amount they spent on initially purchasing it.
The domain holder has registered the domain name to prevent the owner of the trademark from reflecting the mark in a corresponding domain name.
They have registered the domain name primarily for the purpose of disrupting the business of a competitor.
They have used the domain name to attempt to attract users to their site or other online location for commercial gain by purposefully creating confusion.
As we mentioned, how you prove that the domain owner has acquired the name for any of these reasons will depend on the situation. However, we recommend that you provide as much evidence to support your case as possible. There have been numerous disputes where the complainant lost the case because they lacked strong supporting evidence that the domain owner had indeed acted in bad faith.
Other Preparations to Make Before Filing a UDRP Claim
Before we move on to talking about the practical realities of submitting a claim, let's look at some a few other important aspects you'll want to consider first.
First and foremost, you'll need to be aware of the fees for submitting a dispute claim. For example, if you submit your case to World Intellectual Property Organization (WIPO), one of ICANN's approved dispute resolution service providers, the cost will vary depending on the number of domains that are included in the claim. For 1–5 domains, you'll need to pay $1,500, which is split between the panelist who deals with your claim and the WIPO.
Bear in mind that you will have to provide payment when submitting your claim. For that reason, you need to make sure you can pay the full amount before you proceed with any other aspect of the process.
You should also take some time to familiarize yourself with the UDRP rules. These rules outline all aspects of a domain dispute, and they're used to determine the outcome. As such, you need to make sure that you understand and follow them throughout the process.
Once you have your case ready to go, with all the supporting evidence in place, you'll be able to actually start the domain dispute. Let's take a look at how you can go about that.
How to Begin a Domain Dispute
At this point, you should have a case ready to submit. Fortunately, WIPO has made the process a lot easier by providing a Model Complaint form. This is effectively a template you can use to submit your claim, which will ensure that you include all the necessary information in the required format.
You can download the model complaint as a Word document, which you can fill out and send as an email attachment to domain.disputes@wipo.int.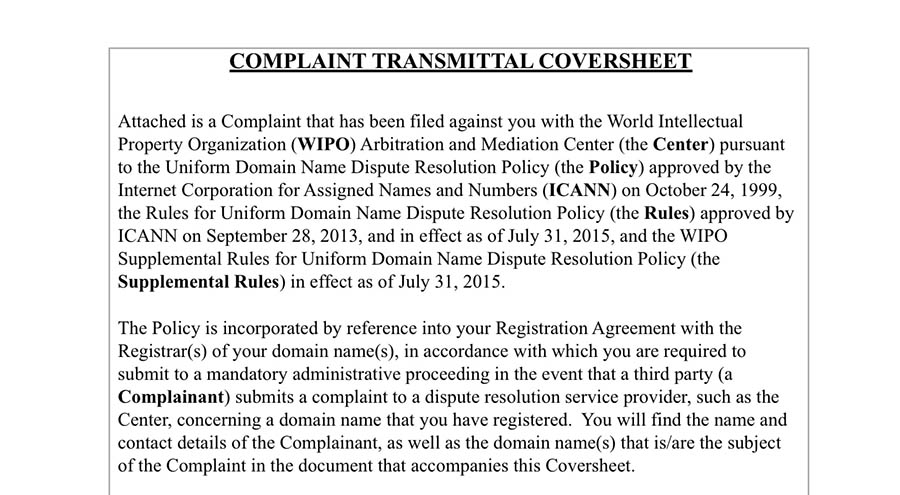 However, you can also use the online form version, which you can find on WIPO's site.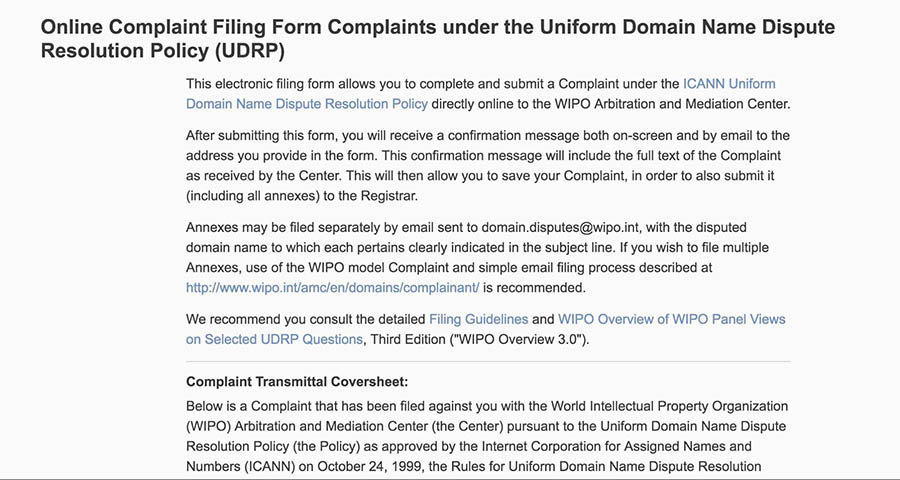 The form itself consists of several sections with the required fields clearly marked. However, any information you can provide that will support your claim should be included, regardless of whether it's listed as required or not. Remember that you need to have a strong, waterproof case, so don't skip over anything at this stage.
The first section of the form lays out the basic details for the complainant, respondent, and disputed domains.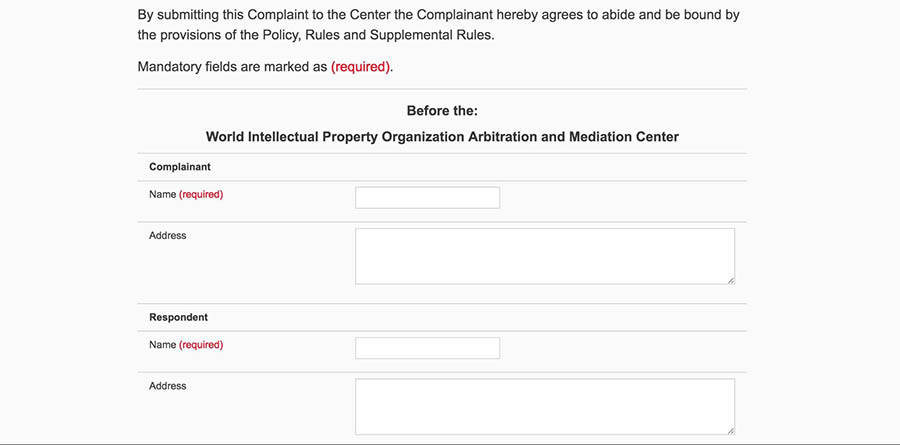 This is where you'll specify your name and address, as well as those of the domain owner. It's also here where you'll indicate what the domain(s) the dispute concerns.
After this, you'll be asked to supply your contact details and name your representative (if you're using one).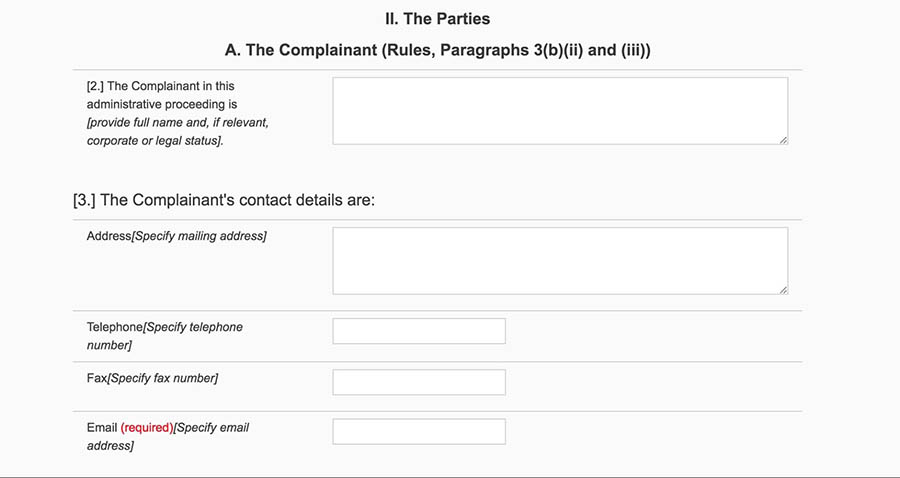 You'll also be asked to provide the same details for the domain owner, including what the disputed domains are, which registrar they used to acquire them, and ideally the date when they did so.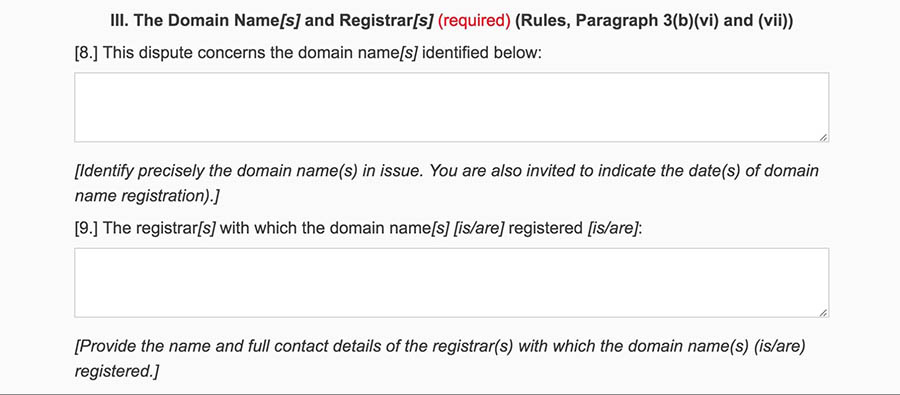 This is followed by optional sections that enable you to specify the language you want to be used in the proceedings, and state the jurisdictional basis for the claim.
After these sections, you'll be required to provide the factual and legal grounds by which you have a right to use the specified domain(s).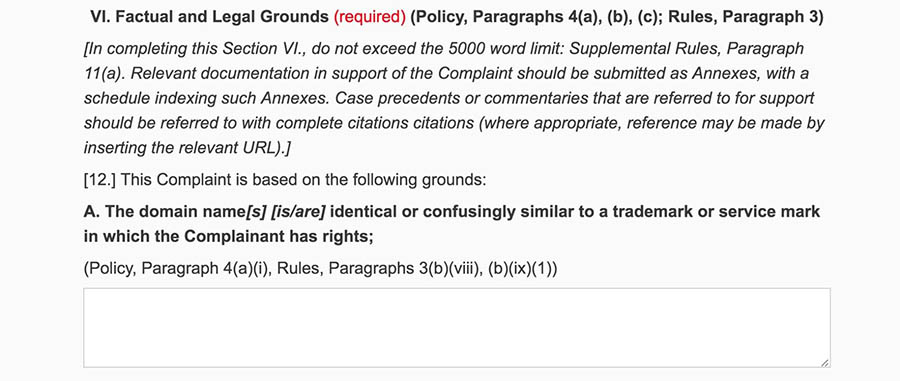 Make sure that you follow all the rules and guidelines we outlined earlier to support your claim here. This is a crucial aspect of the process and failing to adequately prove your point could cause the panelists to decide in your opponent's favor.
Next, you'll be asked to specify what action you are seeking in regards to the domain. You can choose if you want the domain owner to transfer the domain to you or if you want them to cancel it altogether.

You'll also be able to select if you want one or three panelists to decide your case. Bear in mind that choosing the latter option will mean a higher fee.
The remaining sections are shorter and simpler, so let's run through them quickly:
Mutual Jurisdiction

:

 This indicates a court jurisdiction, which could be either the principal office of the registrar or the domain name holder's address at the time the complaint is submitted.

Other Legal Proceedings:

 This enables you to specify other legal actions that are related to the disputed domains.

Communications:

 Here, you'll need to confirm that you have made the domain owner aware of the complaint.

Payment:

 In this section, you'll confirm that you have submitted payment for the claim, along with which method you used.

Certification:

 This is a purely informative section, asking you to confirm that the details you have provided are correct to your best knowledge.

Annexures:

 Here, you can supply additional supporting evidence in the form of appendices. You can attach a maximum of 10 annexures with your claim.
Finally, you'll be asked to sign and confirm your claim.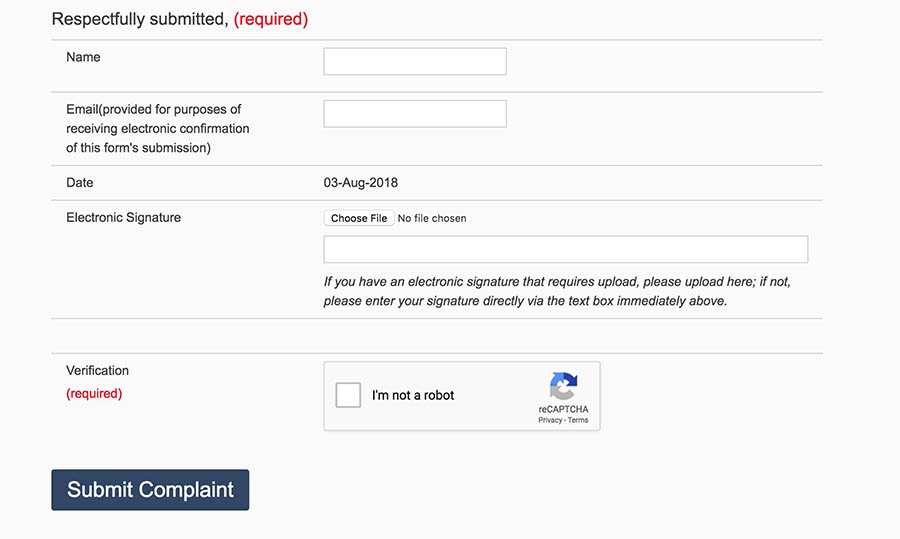 Once the WIPO has received your complaint, the proceedings will typically be completed within 60 days. For a more detailed timeline of the process, this breakdown should give you a clearer picture of what to expect.
Your Idea Starts with a Great Domain
Don't let someone else register your URL. Search DreamHost's 400+ TLDs to find the perfect fit for your website.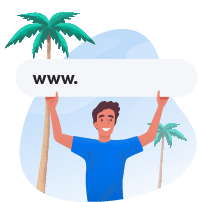 What's in a Domain Name?
If you find someone else is using a domain that you believe should be yours, especially if they're doing so for malicious purposes, you may be able to do something about it. This is why the UDRP was created — to solve trademark infringement cases when it comes to domain names. The domain dispute process can be somewhat tricky to navigate as a newcomer, but it's also worth it in the long run.
Do you have any questions about the domain dispute process? Join the DreamHost Community and let's discuss!