CRAP! I Need a Website. What Do I Do?
You've got a new business idea! GREAT!
Now you need a website. CRAP!
For most people, the thought of making a website is terrifying. Five years ago, hearing words like HTML, CSS, or even setting up a basic WordPress site meant a significant amount of time or money was going to be spent. As the need for simplicity grew, platforms like ours have allowed savvy entrepreneurs to get their digital businesses up and running without the headaches. But, before you start building, you'll need to understand the fundamentals of how to set your personal brand up for success.
Website Fundamentals: Trust the Process
Before setting up any social media accounts, securing a domain name should be priority number one. Your website will be the foundation of your business. Users will go there to learn about your brand, read content, and hopefully buy whatever you are selling. Most importantly, you control the platform and you own the content. While many young and hungry entrepreneurs take the social first opposite approach, that route can lead to a variety of problems.
If things are still a bit fuzzy, let's take a pre-internet business example to put it all into perspective. Think of a website as a brick and mortar location, and think of a domain as your brand name:
After rave reviews from family and friends, I decided that I was going to take my candy business "MMM MMM Good, Inc." to the next level. Instead of setting up my business and finalizing a location, I worked on recipes and packaging.
Since I knew finding a new location would take some time, I was excited to test out my new recipes with people other than my family. Not only would it be a great opportunity to see what sold best, but I could get people excited about coming to my new store. For the next few weeks, I network as much as I can to get my product out to as many people as possible. The response is immense, and I know the brand is destined for greatness.
As I go to finalize the deal on my new store, I'm told that I have to change the name of the business. Coincidentally, a new candy shop had opened up right down the street with the exact same name and the exact same recipes. Instead of securing my branding and intellectual property first, I unknowingly sabotaged myself out of pure excitement.
Problems like these arise more often than you would think. It's important to not get ahead of yourself and trust the process.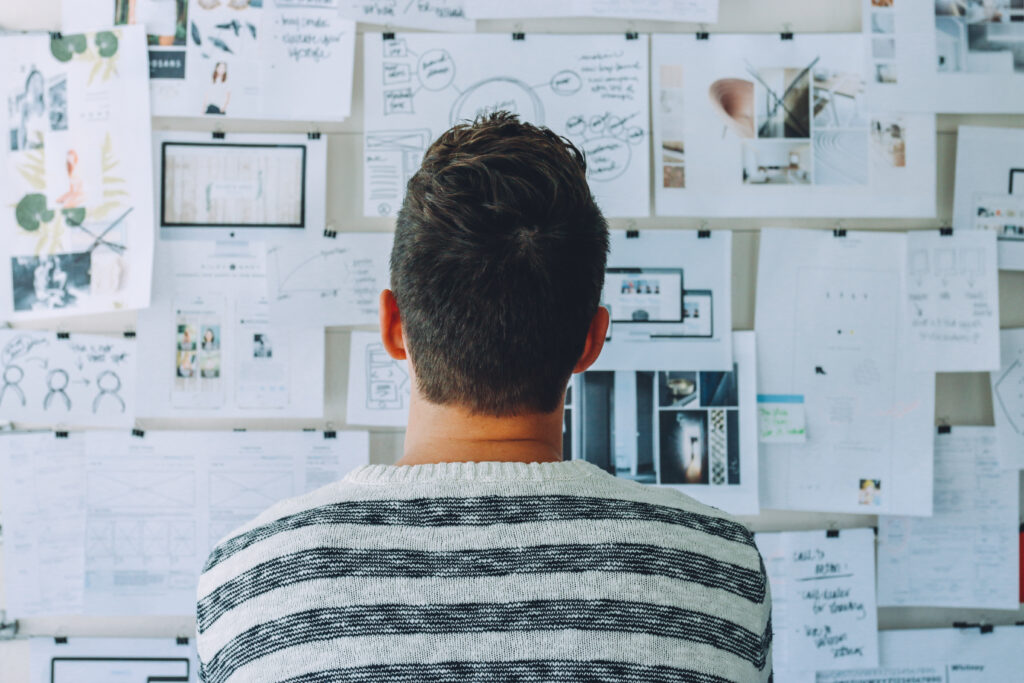 Choosing the Right Domain Name: K.I.S.S.
While you can read through a "Top 10" list of how to pick the best domain name, today we're going to give you the truth about what makes a good one: Simplicity.
When you start your search, you generally want a name that is going to be an exact match of your brand name. Not only does it make your business simple to find, but it provides an added layer of trust for users who are visiting your site for the first time. The easiest way to find a domain's availability is by using a domain search tool, like ours. Our domain tool delivers instantaneous results, and offers additional information on similar domains and TLDs.
By now you've probably cycled through the domain tool about 3-5 times. Don't be disappointed if every one of your ideas has already been taken. As the internet becomes an ever more crowded space, competition for domain names is on the rise. Below are some extra tips on getting around the crowd and locking in a domain name that will fit your business.
Your Great Idea Starts with a Domain Name
Don't let someone else register your URL. Search DreamHost's 400+ TLDS to find the perfect fit for your website.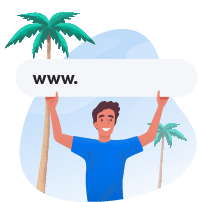 TLD: Your Online ZIP CODE
These days, zip codes have become a bit of a status symbol across the United States, and the internet is no different.
TLD stands for top level domains, but you most likely know them by names like .com or .net. The internet originally started out with seven of them, but has recently exploded to over 1,500. The reason for the recent explosion has a direct correlation with not being able to find that perfect domain name you wanted. TLDs like .com, .net, .org, and .me are the most commonly known to the general public. The commonality plays into the rise in demand.
So what are your options?
If you aren't able to find a .com domain for your brand, you are likely to find a perfect match with a different TLD. While newer lower priced domains may sound appealing, think about how often you visit websites that didn't end in .com, .org, or .net.  The other option is looking into similar naming conventions around your brand name to see if there is .com availability. The pitfall here is consistency. If new users type in your brand name and don't land on your site, it becomes a serious problem for business.
Whatever your decision, be sure to remain consistent. Make sure you have all your naming conventions match up across all platforms, and make it utterly clear to users and potential customers.
Time to Build
If you made it to the end, congratulations and thank you. Buying the right domain is the first step in running a successful online brand. The second step is building that name into something great. We'll tackle the website build in future posts, but if you are ready to start now then we are ready for you. Our WP Website Builder comes free with any hosting plan and makes it easy to create a visually appealing and responsive website.
If you've purchased a domain through us, take advantage of our new website builder Remixer, which comes free with your purchase. If you haven't, you may want to reconsider your current life decisions.
About the Author: Matt Lebo has been working in web hosting and domains for over 7 years. He enjoys puzzles, sarcasm, and all things internet. When he's not interneting, you can find him working on fatherhood, playing soccer, or finding an excuse to go to the beach.