How to Start a Website (Without Using WordPress)
Here at DreamHost, we love WordPress. However, when it comes to creating a website, it's far from your only option. In fact, depending on your site's purpose and focus, you may find there are solutions that are even better suited to your needs.
There are numerous tools and platforms out there. If you're building a specific type of site, one of these options can sometimes be better than the one-size-fits-all package that WordPress offers.
In this article, we'll discuss some of the alternative solutions you can use to create your website. We'll look at a few different types of sites, and talk about which platforms and tools could be the most useful for creating them. Let's get started!
Starting a Site Without WordPress?
Partner with DreamHost. We'll make sure your website is fast, secure, and always up so your visitors trust you. Plans start at $2.59/mo.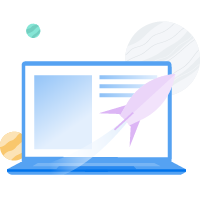 Why You Might Want to Look Beyond WordPress
First of all, let's make one thing very clear: WordPress is terrific!
It offers a tremendous amount of flexibility and customization, while remaining of the most user-friendly website creation platforms. What's more, you can effectively use WordPress to create any conceivable type of site. It wouldn't be used to run over 31% of all websites if it weren't up to the task.
While its comprehensive functionality and enormous popularity certainly make it a top contender when you want to create a new site, WordPress isn't necessarily the ideal option in every situation. There may be times when another tool or platform could serve you better, depending on your site's goal, scope, and requirements.
For instance, while WordPress has made huge steps away from being a dedicated blogging platform, a lot of its functionality and interface is still built around blogs and content-focused sites. Perhaps you'd be better served with a platform designed for e-commerce or single-page sites (as the case may be).
WordPress can also be fairly involved, especially if you just want to create a quick, lightweight site, or one that doesn't need to be updated very often. In those cases, you might not want to worry about installing the required software and setting up hosting — you just want to get started fast.
No matter the situation, there are plenty of alternative platforms right at your fingertips. However, finding the perfect one for your site can be tricky. Let's make your search easier by sharing some of our favorites!
How to Create a Website (Without Using WordPress)
Throughout the rest of this post, we're going to look at several types of websites and introduce some non-WordPress solutions you could use to create them. We don't consider any of the following tools to be better or worse than WordPress per se — they're simply alternatives. Each has its own unique features and intended uses.
Naturally, this is also not a complete list of options but merely an overview of the most prominent choices in each category. By going through this list, you should be able to find a tool that matches your preferences.
1. Content-Rich Websites
Joomla!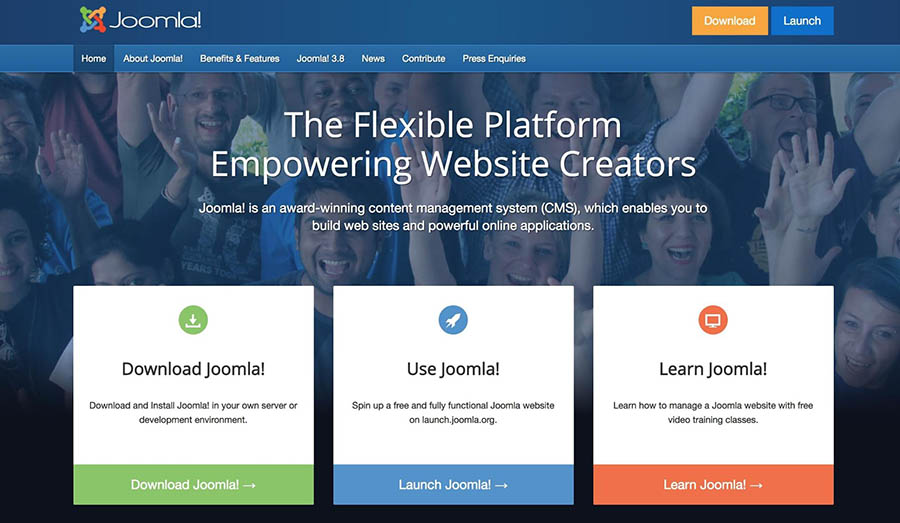 Conversely, you might actually want a complete Content Management System (CMS) but feel that WordPress doesn't offer the level of complexity you desire. In that case, Joomla! may be right for you.
Joomla! functions in much the same way as WordPress but offers increased scalability and flexibility. This makes it ideally suited for more ambitious projects, such as sites with high levels of traffic, a large number of pages, or heightened security and performance needs. It also offers more advanced configuration options for developers, if you want greater control over your site's structure and functionality.
Since Joomla! is free and open source, you can download and install it on your site right away. This is even easier if your site is hosted with DreamHost since we offer Joomla! as a one-click install option.
2. Online Stores
Magento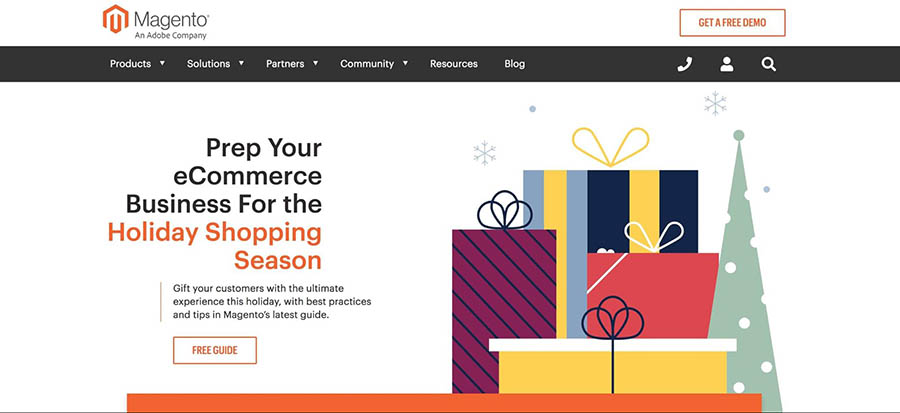 If you want a complete e-commerce solution that lets you create your own online store but doesn't require any additional software, then Magento is for you. Magento is a CMS that's 100% focused on e-commerce. As such, it lets you create your own scalable and customizable storefront without having to worry about anything else.
Magento also comes packed with built-in caching to ensure speedy pages and multi-site support right out of the box. This means that you can run multiple stores from one place and can even split your store between different regions.
To try out Magento, you can download the free Open Source version. You can also purchase the Commerce edition, which is ideal for enterprise sites and large businesses.
Shopify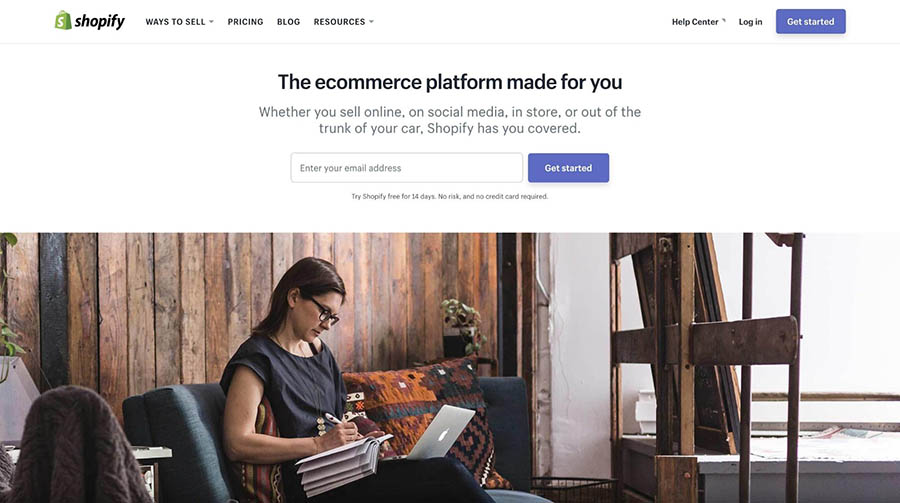 Shopify makes it easy to start your own online store — even if you have no prior experience. This makes it a strong choice if you want to create and customize a store but don't want to worry about the technical side or getting your own hosting.
Shopify's main competitor is WooCommerce, and the two have their own unique pros and cons.
While WooCommerce is a plugin that requires a WordPress site to function, Shopify is entirely independent. However, if you do want to integrate Shopify into your existing website, DreamHost makes that easy.
To get started with Shopify, you can sign up for one of its plans. These start at $29 per month for a basic store.
Etsy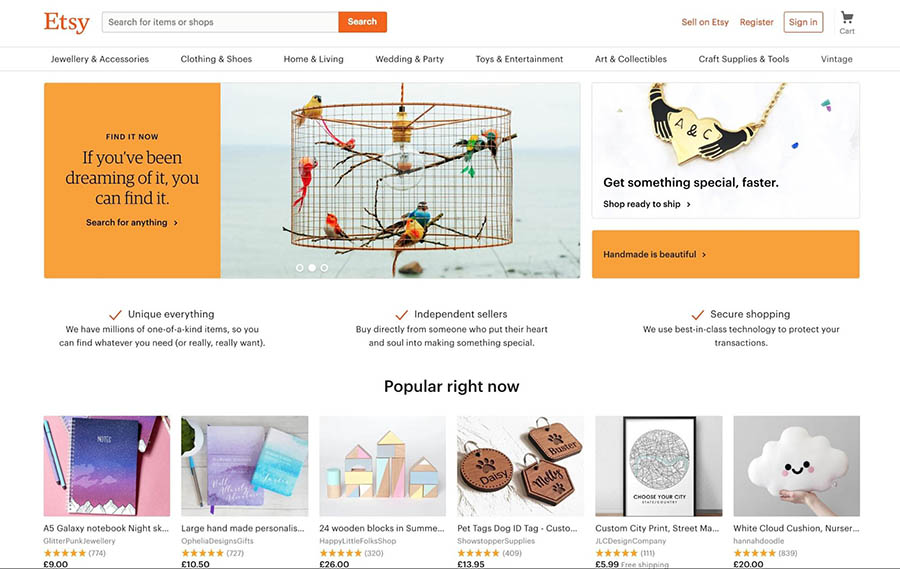 If your store is not necessarily a professional endeavor or is small in scope, you may find most e-commerce solutions somewhat daunting. Etsy is a site that focuses more on individual products than on providing a full commercial framework.
You simply list products individually on Etsy, which gives you total control over how big you want your e-commerce venture to be. For example, you can sell single one-off items, such as antiques, or even create products to order.
Payment is also simple. Etsy will cost you $0.20 per listing. Additional transaction and payment processing fees do apply but only when you make a sale, meaning you can get started without much risk.
3. Portfolios and CVs
Behance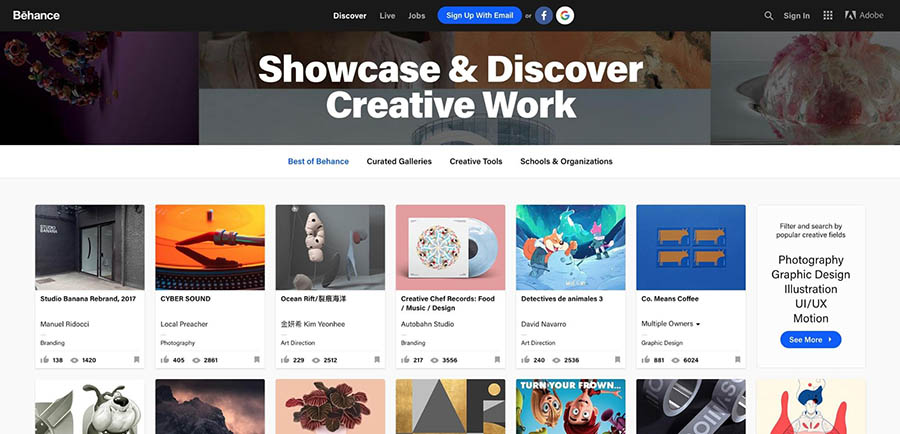 Behance lets you combine key aspects of a portfolio site with the advantages of social media. In short, it enables you to create a profile to showcase your work, which other users can discover and comment on. This not only lets you show off your creations but also makes it easy to network and find new partners and collaborators.
While this comes at the cost of customizability, as you don't have many options to change the style of your gallery and page, the social features more than make up for it. If you just want an outlet to showcase what you've produced and to connect with others, Behance makes this easy.
To get started, you can sign up for a free account. If you already have an Adobe account, you can even use that to create your profile.
About.me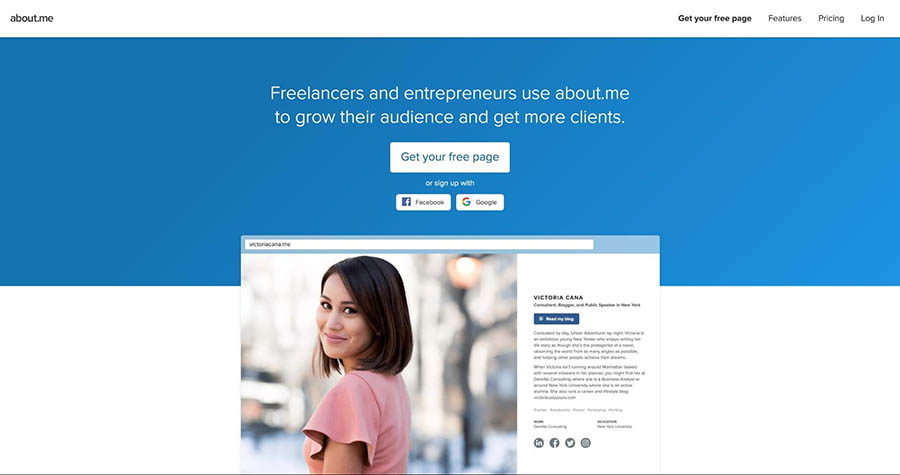 These days, most internet users have information spread across multiple platforms and sites. What About.me offers is a way to create a simple page that collects all of your information and links to your various profiles in one place.
This is ideal for freelancers, entrepreneurs, and creatives, as it functions almost like an online business card. You can style your page, add links and information, and top it all off with a Call To Action (CTA).
Creating a page on About.me is free. If you want to expand it with additional features, such as statistics and custom domains, you can get the Pro plan, which costs $8 per month or $80 annually.
4. Membership Sites
Drupal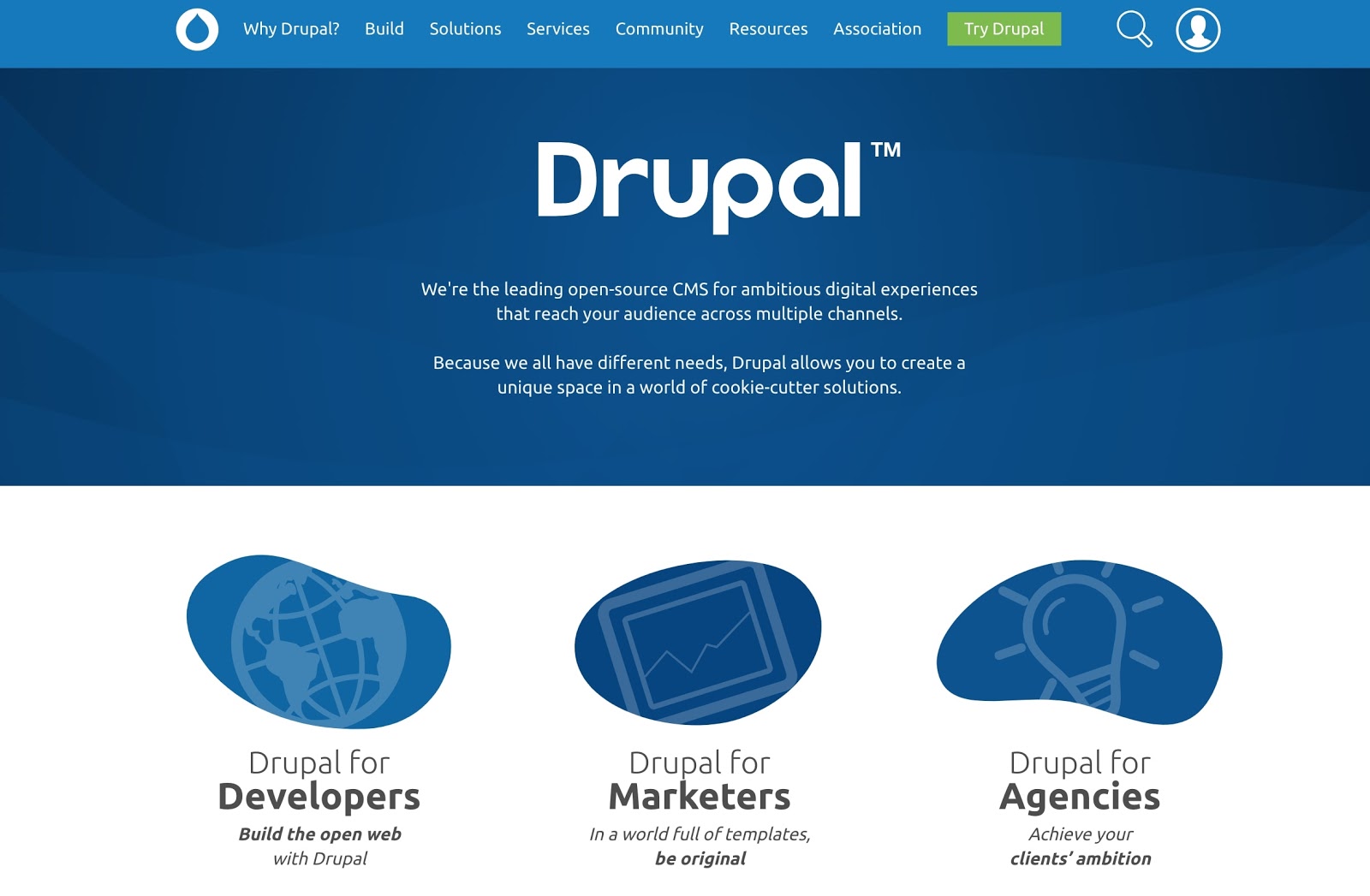 Drupal is another open-source CMS that enables you to create virtually any site you can imagine. However, Drupal's main selling point is that it's more advanced and powerful than many of its competitors. It's perfect for complex sites with large amounts of traffic and intricate structures, such as membership sites.
This is largely thanks to Drupal's flexibility, and the number of options it provides developers to configure each site. To get started, you can download and install the free Drupal software on your site. You can then install the Membership Entity module to start building your membership site.
Wild Apricot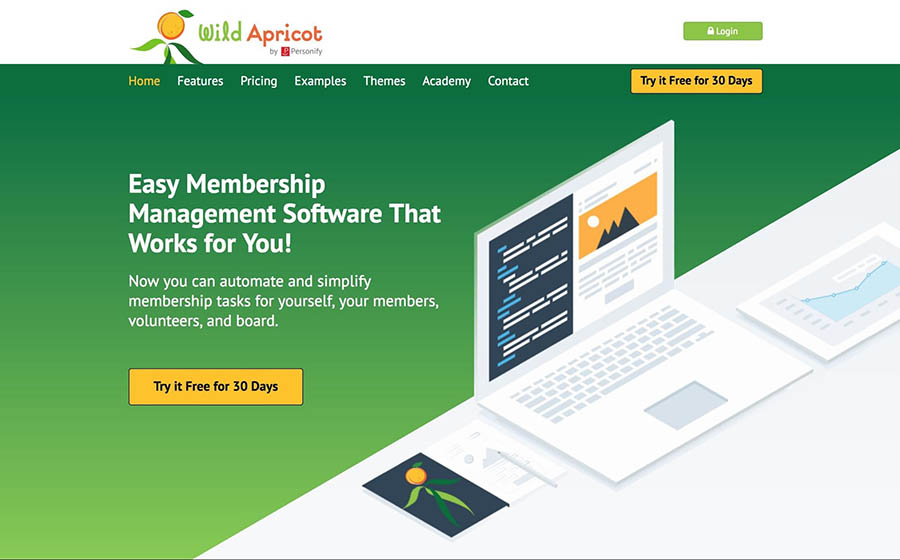 Wild Apricot is one of the most comprehensive solutions for creating a membership site. The software includes features that let you create member sign-up forms, profile pages, event registration pages, calendars, and much more.
The best part is that you can either use Wild Apricot to create a site from scratch or integrate it into WordPress. This lets you get the most out of its features, while still enjoying the advantages WordPress provides.
You can try Wild Apricot for 30 days by signing up for a free trial. If you decide to buy, the premium plans start at $40 per month.
5. Simple Sites
Persona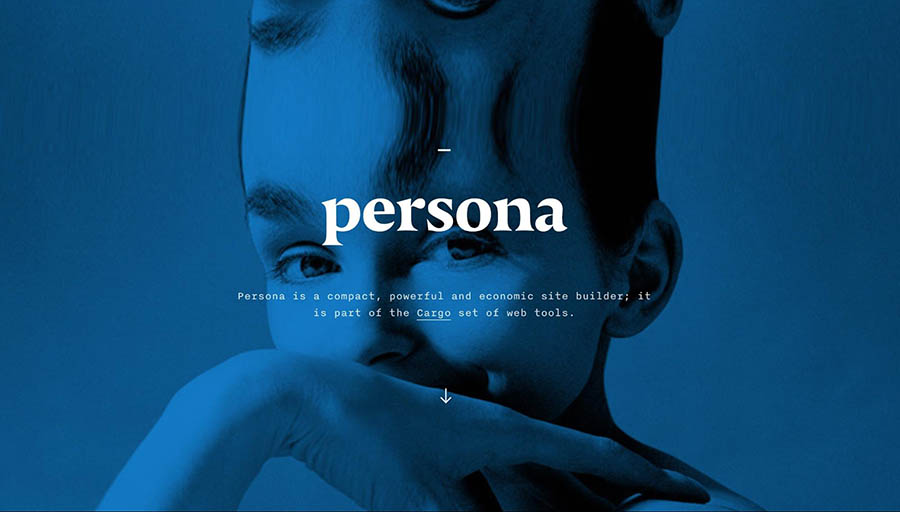 Whether you want to promote something, like a product, service, or event, or you simply want to create a striking design, a single-page site can do the trick. Persona is one tool that will make that one page really stand out.
You can choose from a number of templates, each more visually impressive than the last, and then add your own content. As you can see from the showcase, there are many types of pages that you can easily create with this very simple tool.
Persona will let you create a site for free, but it won't be publically available unless you purchase an upgrade. This either costs $4 per month or $24 annually.
Instapage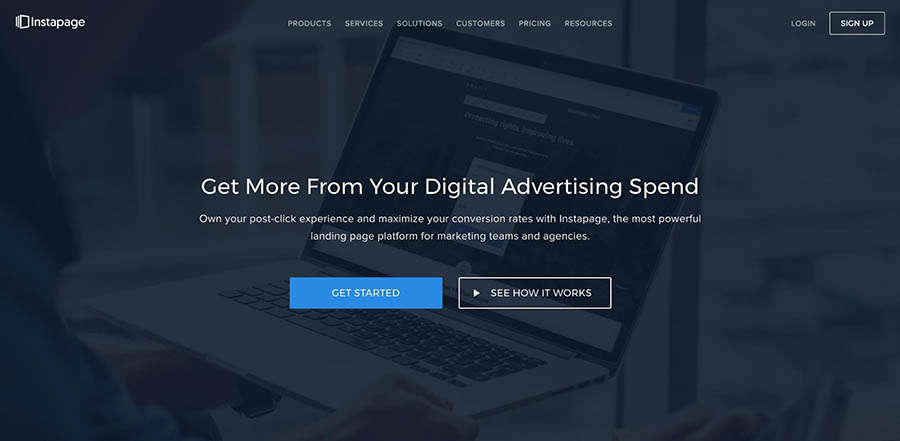 If you're looking to create a landing page or you intend to market a product, business, or service, Instapage gives you all the tools you need. It features a drag-and-drop page builder that makes it easy to create personalized landing pages.
One of the most useful aspects of Instapage is how it lets multiple team members collaborate on a page. This enables users to review and edit the page together, while also adding comments for each other. Plus, Instapage includes features like A/B testing and pixel tracking, to help you track your site's performance.
You can use the free trial to try Instapage for 14 days. After that, you'll need to purchase a premium plan, which starts at $79 per month.
Get Content Delivered Straight to Your Inbox
Subscribe to our blog and receive great content just like this delivered straight to your inbox.
You've Got Platform Options
WordPress is a terrific choice for almost any website. There's a reason it currently powers nearly a third of all websites, after all. However, that doesn't mean that it's the right option for every occasion or that you can't find a more dedicated solution for your site. In fact, several alternatives may suit your requirements better.
In this article, we've looked at many different website types, such as blogs, e-commerce stores, and membership sites, to help you find solutions for creating your website. Which platform you end up using will always depend entirely on your requirements, preferences, and level of expertise. However, there's bound to be a solution listed here that fits your needs.
Do you have any thoughts on the platforms we've talked about here, or do you want to recommend another solution? Join the DreamHost Community and let us know!