5 Ways to Pick the Best Social Media Platform For Your Small Business
You're not on Facebook? You need to be on Facebook. That's 1.49 billion monthly active users that you could be reaching —but aren't. You should also be on Twitter, where the average user follows five or more businesses and 37% will buy from a brand they follow. Oh, and don't forget Pinterest, which is the place to be if you want to reach women. But then there's also Instagram, which has more worldwide users. Actually, you know what? Just be on all of them.
Heard this advice before? So have we. Spoiler alert: It's a really bad way of going about your social media marketing.
The more you dilute your efforts, the less effective you are on each individual network. It's far more effective to pick a social network, create traction and a nice big community on it with a well-thought-out plan, automate it to a large extent through apps like Buffer and MeetEdgar, and then move on to the next network. In doing this, you not only have pre-existing social proof that helps you build your followers on this second network faster, but it also gives you an immediate boost for less work done since followers from network will often follow you on a new one as well.
But how will you know which social network to pick first? We've got some ideas.
1. Think about your audience
If you've been running your blog or business for any substantial period of time, think about what a typical member of your tribe looks like. Male, female, non-binary? Age? Married? Children? Then, think about where your customers and readers are hanging out online. For instance, women tend to hang out on Pinterest: 85% of its users are women.
2. Figure out what you want from your social media presence
Many social media marketers tend to treat each social media network in the same way. This is a mistake. Each social media network has strengths and weaknesses of its own, and it's in your interest to pair up with a network that matches up with your social media desires. For instance, if your goal is to create brand recognition and social shares, LinkedIn is probably not the best network for you. It would be, however, if you were interested in getting known for thought leadership, because thought leadership articles tend to do well on LinkedIn. If you want to build personal relationships with your fans, you could try Facebook. Hope to showcase your products in visually appealing ways? Instagram is your new best friend.
Get Social and Grow Your Business with DreamHost
Our experts will help create a powerful social media strategy and level up your execution so you can focus on running your business.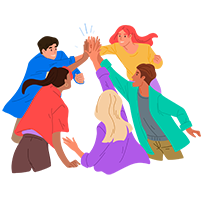 3. Pick a few social networks and put them in order
Now, take all of the social media platforms that you're interested in, and arrange them in order of importance to your business. Use your understanding of your audience and what you want out of each social network to rank in order of priority. Which do you need to focus on first? Then, which one comes second? Do this until your list is ready. You might have five networks on there, you might have 10. Between three and six is generally a good number.
Now, let's focus on the one on top of that list.
4. Learn everything you can to create an awesome content plan
Once you've picked the social media platform you'll be focusing on, take some time to learn everything you can about it. See what other people are doing. Have a look at your competitors' presence on that platform. Look up best practices and start thinking of some ideas for how to approach your social media presence on this platform. Will you have images? Personal updates? Information? Entertainment? Think about all of this now. Then create an editorial calendar and start filling it up with great content.
5. Build your audience
There are three things you need to remember if you're going to build a community on any social media platform. One, the timing of when you post things matters. So learn about what works best on your chosen platform. Two, how often you post matters, too. Is once a day enough or is it too much? Too little? On Twitter, for instance, you could post once an hour, but on Facebook, you'd probably limit it to a maximum of three times a day. Finally, three, consistency. Have a schedule and stick to it.
Before you know it, you'll have a thriving community on your chosen social network and you'll be ready to move on to the next!