Uptime Brigade! What is it and what do they do?
We all know how frustrating it can be when your site, email, or really any service you're paying for, is down!
While the DreamHost tech support staff handles many different areas of support, we understand that some issues are unmistakably more urgent than others. That's where the Uptime Brigade (or UB) team comes in!
Who are they and what exactly do they do?  The Uptime Brigade is a specialized team of tech support that handles all issues related to downtime. They make sure you get prompt, thorough troubleshooting service and they can get you back up and running as fast as they can!
We Support Your Dream
Whatever your online goals, we'll be right there with you, making sure your site is fast, secure, and always up. Plans start at $2.59/mo.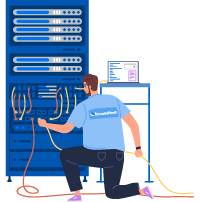 Okay, so how are they different from any other "tier 2" support? Great question!  Here's what sets UB apart from other tech support teams:
They document each case they receive with two major goals in mind:
Find any potential trends with issues, assess its impact on customers, closely track bugs, and identify areas of our infrastructure that can/need to be improved.
Find effective, simple, innovative ways to assist customers proactively so they don't have to contact support in the first place! For example, what if we notice that two customers per day say their email client isn't working, and we realize that in both cases they'r using Apple Mail and the problem was caused by misconfiguration? Then, we know it would be helpful to provide customers with a wiki article that gives specific information on how to setup the Apple Mail client when using DreamHost's email service!
Not only does this benefit our customers, but it also gives our tech support, administrative, and developer teams insight on how certain issues or projects need to be prioritized.
Sound too good to be true? Not at all! This is UB! We want to give you fast, friendly service and look forward to the improvements we make that are directly related to UB's efforts!