You Asked, We Answered: Introducing Remixer's Multipage Feature
On the hunt for the perfect site builder? We now offer WP Website Builder, a suite of premium tools and plugins that make it even easier (and faster) to get your website online!
We're proud to announce Remixer's newest feature: multipage support!
When we were first drawing up pictures of Remixer on our whiteboards, we had a vision of creating a fun, easy-to-use website building tool. With our initial research, we determined that a single-page website builder was the way to go.
Studying website traffic behavior, we found that scrolling was a far more common action than clicking around a website. Our theory went like this: if a website were to include captivating content and beautiful imagery all on one page, the average visitor would be more engaged with that one page than with a multipage website. So we launched Remixer as a single-page builder, adding the option to use anchor links to navigate the page.
Our users, on the other hand, had a different idea. Since Remixer's launch in February, we've heard one request over and over: "Add multipage support — now!"
Noted.
Our design, usability, and product teams quickly put together a project plan which was then executed by our engineers. Rob Peterson, our Remixer Support Expert, was a key contributor, channeling all that valuable user feedback into action items, testing out the feature, and working with our documentation team.
Today we're thrilled to announce that the multipage feature is live! It's awesome that so many people have been able to use Remixer to meet their needs; this new feature simply means that even more users will be able to build the websites they want!
As you get started, you'll notice a few changes to Remixer. Here's a guide to the updates:
Convenient Domain Selection
One of the first things we wanted to address while working on the multipage feature was improving the domain selection setting. Selecting a domain for your website is now conveniently accessible right in the Page Manager. We admit it was previously buried away and not the easiest to find!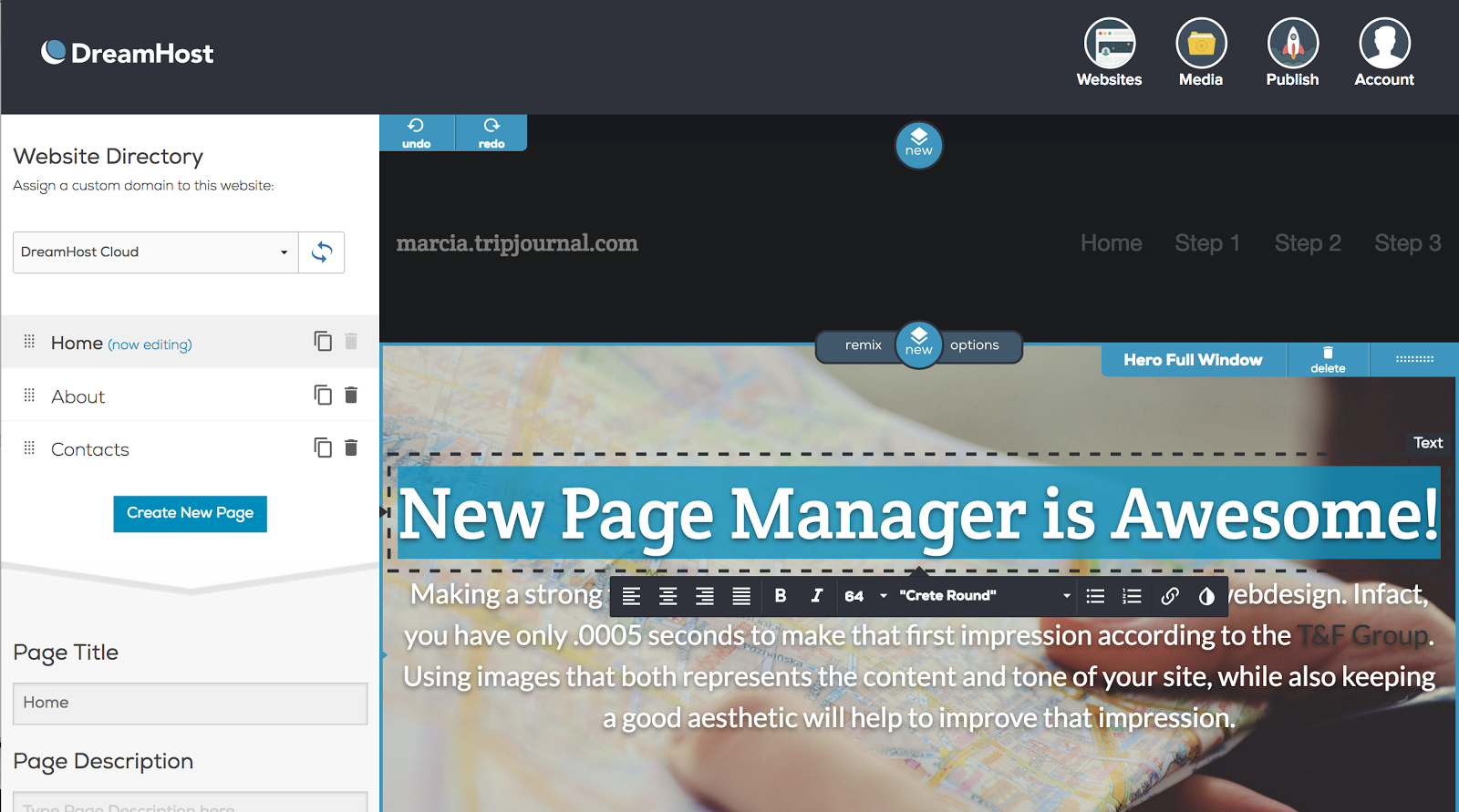 Simple Page Creation
Simply create a new page within your website by clicking Create New Page. This will add an additional page using the exact theme you selected for your website. Click on the page you'd like to edit on the left side of the Page Manager. That's also where you can assign the page name, description, and "slug" or URL that the page will reside on.
Easier Page Layout
This tool is not new but was also hard to find before. Previously, it was a carrot on the right side of the Editor; it's now nestled nicely in the Page Manager. This tool allows you to easily see all the sections of your website and reorder them via drag and drop.
Updated Navigation Menu
We've also streamlined when particular menu buttons appear. For example, if you're selecting a theme for a new website, it doesn't make sense to show you the Publish button since you can't publish anything yet. Moving forward, you'll only see the Publish button at the top menu when you're editing a website. We also renamed Content to Media since that's more in line with the items stored there.

"Pages" Is Now "Websites"
The Pages dashboard has been updated to make it clear that you are now creating websites as opposed to individual pages. This will be your main view for launching the Editor, checking the publish status of your sites, and creating a new site.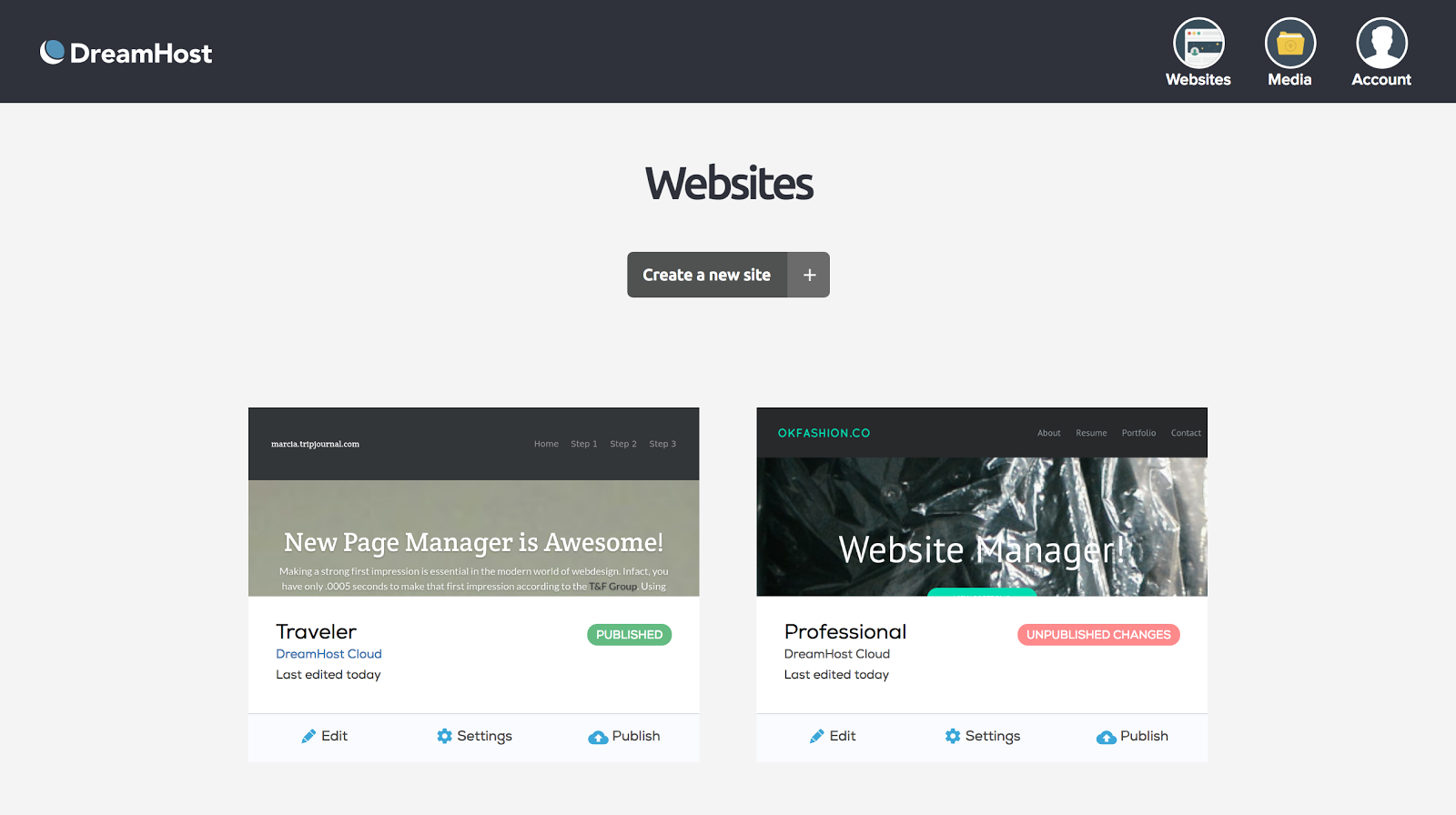 We hope you enjoy the newest feature of the "growing-up" Remixer! Creating this functionality has been a fun process, and we hope you find it useful for achieving your website goals.