Generate More Leads with a Strong Google Business Profile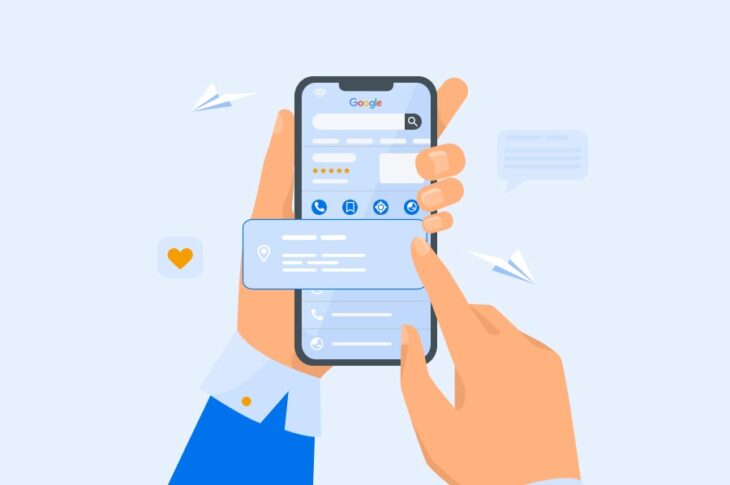 Attracting new customers online is not always an easy task. Finding your audience and ranking higher in search results can be more complicated than you expect. However, with organic search driving 53% of web traffic, maximizing your online presence is crucial if you want to grow your business.
While there are many steps you can take, creating a strong Google Business Profile is one easy way to boost your digital visibility. A fully-optimized listing can help you reach potential clients, scale your business, and generate more quality leads.
This post will discuss what a Google Business Profile is and how an optimized business listing can benefit your web presence. Then we'll describe five of the tool's newest features and how they can fuel lead generation. Let's get started!
What is a Google Business Profile?
A Google Business Profile is an online tool that allows you to take charge of how your company appears on Google. This platform was formerly known as Google My Business (GMB), but in 2021 Google announced that it was updating GMB and rebranding.
This change is still in progress. Overall, it aims to simplify profile management and make Google Business listings more accessible for small businesses. However, Google Business Profile still helps all business owners to create an online presence and connect with customers: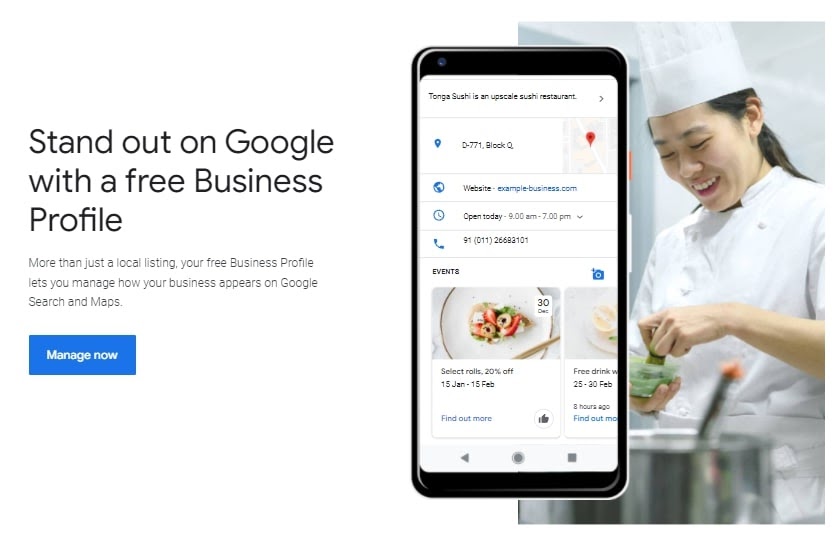 A Google Business Profile allows you to list the name and location of your company on Google Maps and Search. These listings can display further relevant information, such as your hours of operation, phone number, and your website's domain name. The top Business Profile listings appear when a user types a query into Google Search, Google Maps, or Google Shopping.
All businesses that have a physical location or come in contact with customers can create a listing. Unfortunately, online-only businesses don't currently qualify. However, if you meet the minimum requirements, it is completely free to create and maintain a listing. This makes it one of the great tools for small businesses with minimal marketing budgets.
After you sign up for your Business Profile, you can edit it to provide essential information and media in the knowledge panel. This is an automatically-generated information box that appears on Google when you conduct a search. A fully-optimized Google Business Profile will typically look similar to this: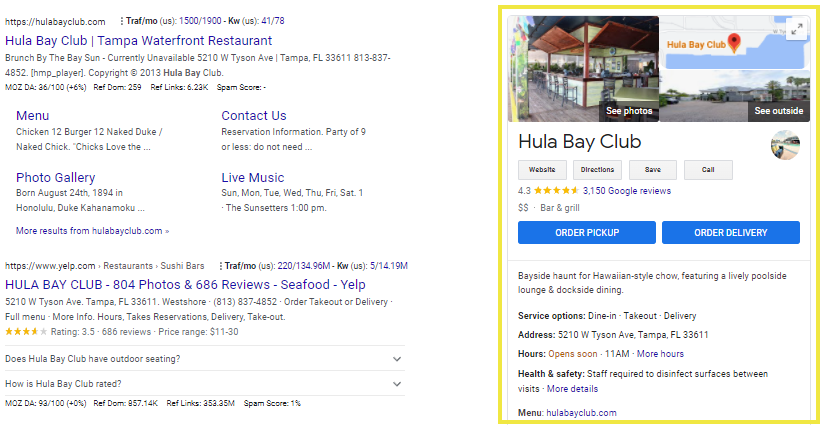 Google Business Profiles' extensive features help advertise your business and find more customers online. You can also save time and energy by providing important details ahead of time. For instance, if you post your business hours, you'll likely reduce customer questions about what hours you've available.
When creating your listing, it's wise to include as much information as possible. That way, you're answering customer questions before they arise.
We highly recommend including all the basics, plus anything else that makes your business stand out. You can also provide information for special attributes, such as accessibility, activities, and dining options:
Furthermore, you can upload photos and videos of your business's location, products, and services. There is also a feature that allows you to accept orders, quotes, and bookings directly from your listing.
Your profile is also a place to interact with potential customers. They can use the Ask a question button or leave reviews about their experiences. The instant messaging feature even lets you chat directly with users to quickly answer questions and assist with any concerns directly from your account. However, you will need to enable this feature before you can use it.
How a Google Business Profile Works
Generate More Leads with a Google Business Profile
A Google Business Profile improves local Search Engine Optimization (SEO) for your business. If your listing is fully-optimized, your business is more likely to appear when customers make a related search using Google Maps, Google Search, or Google Shopping. That alone can generate plenty of new leads.
Since Google holds most of the search engine market share, it's extremely likely that potential customers will see your Google Business Profile when they search for products and services. For listed businesses, Google's search rankings are determined by relevance, distance, and quality. Therefore, ensuring that your listing includes the correct business name, location, and phone number is critical. You might also want to encourage customer testimonials in the review section.
Of course, the COVID-19 pandemic changed the way people shop. Many consumers now plan ahead and conduct a Google search to ensure that products are available before leaving their houses. In fact, the number of "Available near me" searches has grown by more than 100% since 2020.
Google Business Profiles appear in the "3-pack" area of local search results. This is comprised of the three business listings Google displays when a user conducts a "near me" or "near [location]" search:
If your listing is optimized for your Google Business location and you have solid reviews, the 3-pack feature can send leads your way. In fact, customers are 70% more likely to visit a business and 50% more likely to consider purchasing from it if it has a complete Business Profile.
5 New Google Business Profile Listing Features for 2022
Along with general improvements, the updated Google Business Profile account offers several new features. Google should continue rolling out more developments over the coming year. In the meantime, let's take a closer look at some of the latest updates.
1. Simplified Profile Management
One of the most prominent characteristics of the new Google Business Profile is the way it is managed. Previously, most Google My Business listings had to be created and maintained through your account or the GMB mobile app.
The new Google Business Profile is designed with local businesses in mind. Now, you can verify, edit, and manage your business profile directly in Google Search and Google Maps. Simply search for your company's name, and you will see an option to claim and verify your Business Profile.
This new feature makes it easier to get your business on Google. Once your profile is verified, you will be able to edit your details by clicking on Edit your business information. From this page, you can list important information, such as your address and business hours. You will also see options for uploading photos and responding to customer reviews.
This simplified management option can also help you edit your profile faster. Since an updated profile signals to Google that your listing is more relevant, you can more easily improve your SEO and improve your chances of appearing in Google local 3-pack.
Moving forward, the website for Google My Business will be renamed Business Profile Manager, and its primary use will be for larger businesses with multiple profiles. Google My Business profile management will be available through Search and Maps. Google also plans to retire the Google My Business app in order to streamline account management.
2. Customer Engagement Options
The new Google Business Profile includes additional ways to engage with customers. Business owners have always had the ability to message customers and respond to reviews through GMB listings.
Now, Google has created a call history feature for businesses in the U.S. and Canada. This will allow you to see a list of calls you've initiated, answered, or missed, right from your Google account.
You will also be able to send and receive messages directly from Search (with read receipts). As a result, customers will have a more direct way to reach you. With this tool, you may be able to provide a better customer service experience and convert more prospective visitors into customers.
3. Opportunities to Display Your Inventory
If your business sells products, the new in-stock feature is a great way to display your inventory and advertise to potential customers. This filter allows shoppers to see specific items that are in stock at nearby stores. When users see that products are available, they'll be more likely to visit your store and make a purchase.
In order to take advantage of this new feature, you'll need to sign up for Pointy. This is a free tool that connects to your point of sale system and automatically updates your inventory. Pointy uploads a product's title, image, and description directly to Google, by simply scanning the barcode: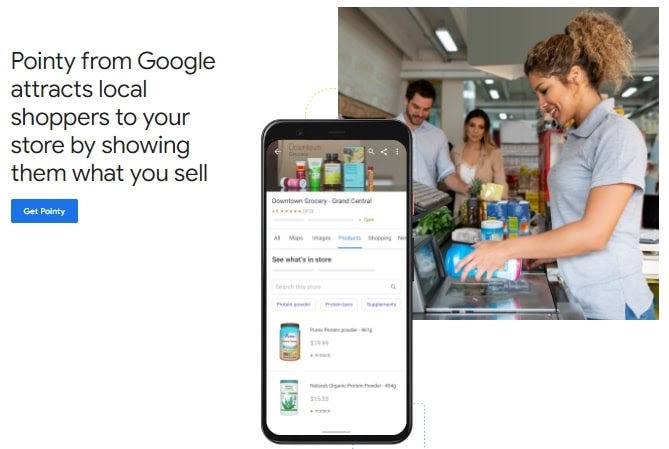 To do this, navigate to your Google Business Profile listing, click on Edit Profile, and then select Products from the drop-down menu. You can either add products with Pointy or upload products manually with Pointy's Product Editor:
Automatic product uploads work best with items that have standard barcodes. If you sell products with non-standard barcodes, adding them manually is likely the best option.
4. Promotional Opportunities with Performance Planner
You can also connect your Business Profile account with Google Ads to take advantage of the new Performance Planner. This tool enables you to create advertising plans and illustrates how campaigns affect your key metrics and performance.
Performance Planner analyzes billions of queries each day and simulates relevant ad auctions to collect data and create forecasts. You can manage your budget, see campaign forecasts, explore possible outcomes, and gauge seasonal opportunities directly from the Performance Planner:
Once you connect your Business Profile to your Google Ads account, you can use your inventory to create local search campaigns that display your ads in search results. These ads include images and product descriptions based on your inventory. This can help you easily generate leads by putting your relevant product ads in front of more prospective customers.
5. Expanded Attributes
When creating or updating your listing, you'll want to complete all applicable profile attributes to be sure potential customers understand your business. Attributes are personalized descriptors and identifiers that show what your company offers.
Attributes can vary depending on your Google Business categories. The most common attributes include Accessibility, Amenities, Payments, and Service Options. For example, if your business location is wheelchair-accessible, you can update your Accessibility attribute so customers will be aware.
The Health & Safety attribute is a relatively new option that was added due to the COVID-19 pandemic. This allows you to share important details, such as your mask guidelines and whether you have a temperature check policy in place.
There is also a category titled From The Business, which allows you to share more about your leadership. In this section, you can highlight additional unique details about your company. For instance, if your business is women-led, veteran-led, or black-owned, you might want to include that information here.
Customers can then conduct a Google Search for a specific attribute. For example, when a potential customer searches "black-owned restaurant near me," they will only see results with this attribute:
Adding all applicable attributes to your Google Business Profile can optimize your listing and influence your local SEO. It can also help potential customers narrow down their search results, making it easier for them to choose your business.
How to Get Started with a Google Business Profile
Getting started with Google Business is straightforward. However, Google has several guidelines you must follow to avoid getting suspended.
First, you'll want to sign in to the Google Business Profile Manager and search for your business on Google or in the Google Maps app. If you do not immediately see your company, you can select "Add Your Business" to Google.
You will then be prompted to verify your business using your real physical address. Physical businesses will receive a postcard by mail, while service-area businesses can verify their details through email. Once your business is approved, you can edit the listing to add your details and important information.
Like building a website, setting up a Google Business Profile can be somewhat challenging for beginners. Fortunately, you can hire industry experts to create and optimize your listing. Doing this will ensure that your profile is properly managed, so you can focus on running your business.
SEO Made (Really) Easy with Pro Services
We take the guesswork (and actual work) out of growing your website traffic with SEO.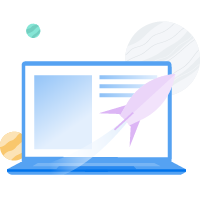 An Important Marketing Tool
Attracting leads to your brick-and-mortar location can be difficult. Therefore, maximizing your online presence should be critical to your overall marketing strategy.
The new Google Business Profile can organically promote your products or services. Let's recap the five newest features that can help you generate leads:
Streamlined profile management

: A new, simplified way to create and modify your profile directly in Google Search and Maps

Customer engagement:

 Enhanced user interaction with direct messaging through Search, read receipts, and a call history feature

Real-time inventory:

 An in-stock feature to display your local inventory

Performance Planner:

 To help you use Google Ads for enhanced ad campaigns

Expanded attributes:

 Further tell your business's story, and share its health and safety standards
Are you looking for additional ways to grow your online business? Learn more about DreamHost's SEO Pro Services and explore our extensive marketing and local business support solutions. If you need help setting up your Google Business Profile, you can always chat with an expert or schedule a free consultation for advice and guidance!
Now get out there, and get your business on Google!