DuckDuckGo Review: Is Privacy Still in Demand in 2022?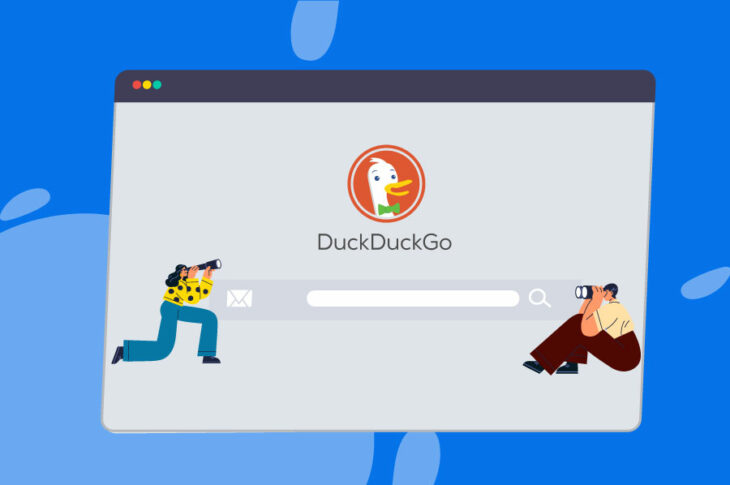 Currently, 46% of people feel unable to protect their personal data. Since Google's search engine often extracts and stores user information for advertising purposes, many people are turning to DuckDuckGo. However, you may be wondering if it is an effective alternative for finding information online.
Using DuckDuckGo, you can search for content without worrying about data tracking. The search engine uses Content Security Policy (CSP) reports, smarter encryption, and privacy grades to help you navigate safely online. However, Google can provide more accurate and relevant search results.
This post will explain what DuckDuckGo is and how it compares to Google. Then, we'll list the main privacy features and concerns with using DuckDuckGo so that you can decide if it's the right search engine for you. Let's get started!
What Is DuckDuckGo?
DuckDuckGo is a search engine that was developed specifically for private online browsing. Unlike other search engines, DuckDuckGo claims that it doesn't store users' personal information: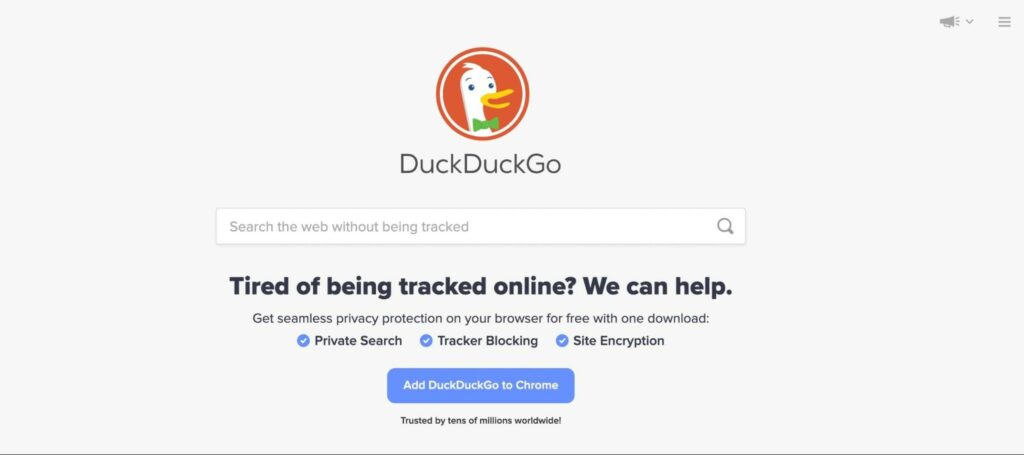 Many people don't realize that popular search engines (like Google) collect personal data from them. Depending on the privacy policy, you may be unable to protect your location information, IP address, cookies, and search history.
Although this lack of privacy might feel alarming for some, data collection is primarily used to enhance your online experience. Here are some stated reasons for data collection:
User profiling and personalization
Targeted advertising
More relevant search results
However, search engine data collection can also be highly intrusive, especially if you search for financial information, medical conditions, or other sensitive details. With targeted advertising, companies can exploit your personal data for their financial gain.
For this reason, many users are turning to DuckDuckGo. This private search engine had a slow rise in popularity because of convenient giants such as Google. Still, it now receives about 3 billion monthly searches.
From 2018 to 2020, DuckDuckGo doubled its search volume from 20 to 50 billion. During this time, 62% of Americans were worried about companies collecting data from them. Due to DuckDuckGo's firm stance against data collection, it was able to soothe many of these fears.
In recent years, lawmakers have moved to curb the power of large companies such as Google. Consumers have regained control over their data with new online privacy bills like the GDPR. However, if you still don't trust prominent search engines, DuckDuckGo can be an effective alternative.
How DuckDuckGo Compares to Google
As you're probably aware, Google is the most popular search engine. Globally, Google generates over 80% of desktop search traffic. If you want a more private search engine, you're probably wondering how DuckDuckGo compares to Google.
When you search for content on DuckDuckGo, you'll notice a similar layout to Google. Both search engines generate Search Engine Results Pages (SERPs) with ten organic results: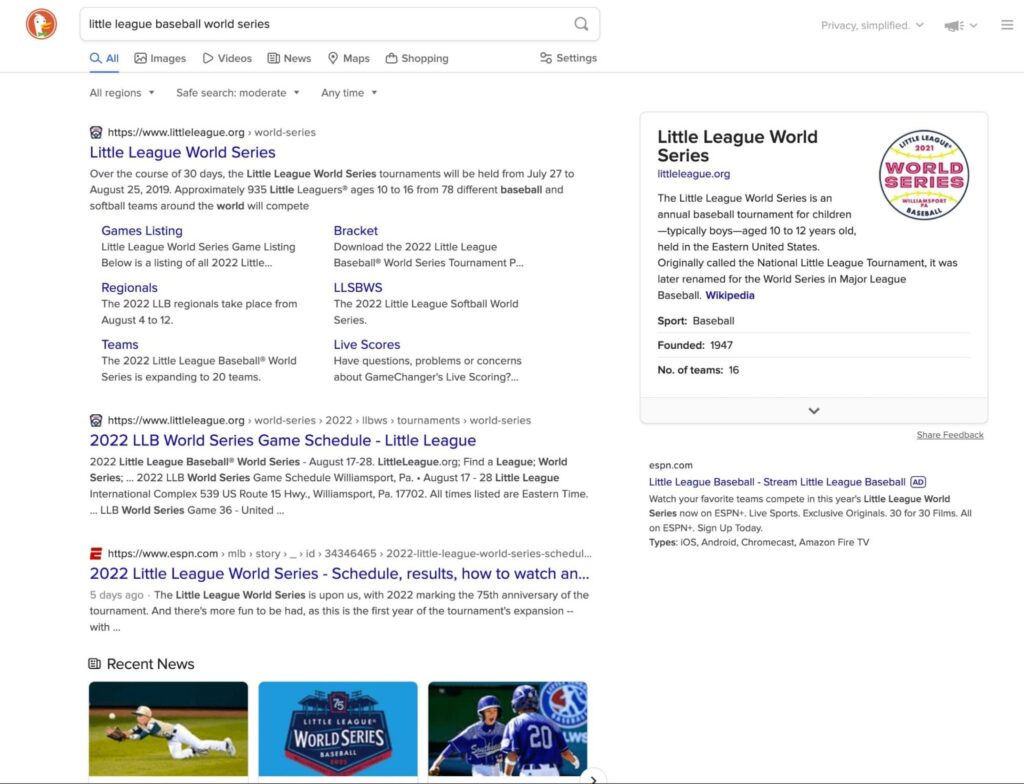 On the first page of results, you'll also typically see a knowledge panel. It provides basic information from a Wikipedia page: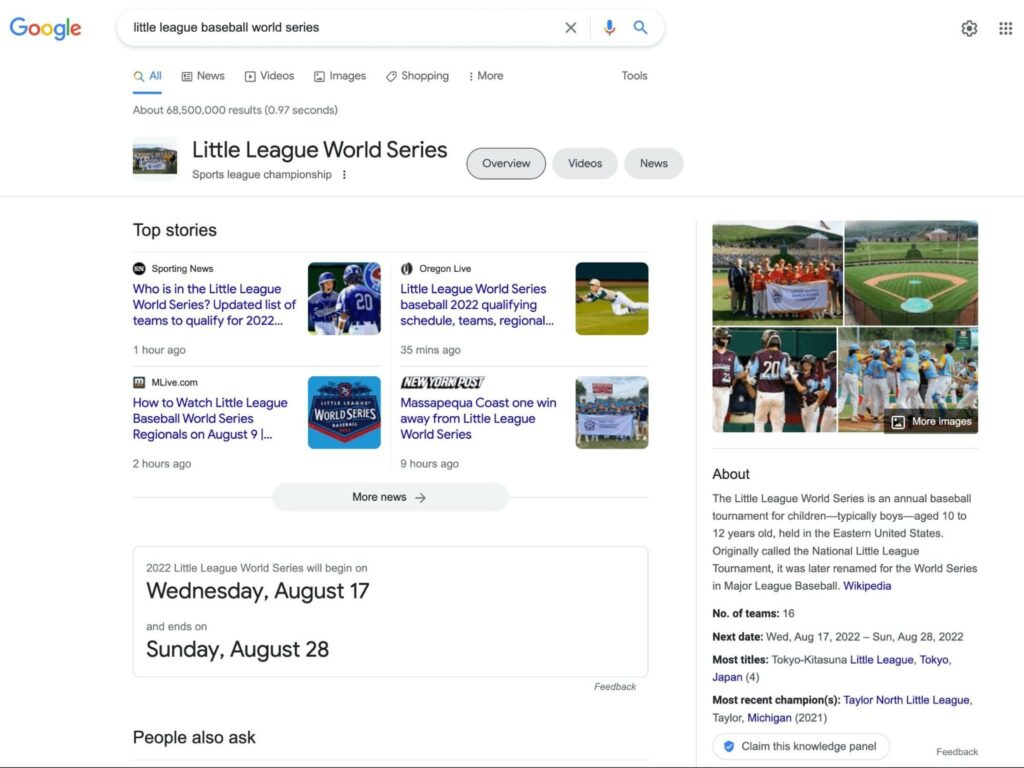 On both DuckDuckGo and Google, there are paid ads at the top of the page. However, DuckDuckGo won't use your browsing or purchase history to improve ad results. Basically, if you search for a particular product, you'll see ads for it: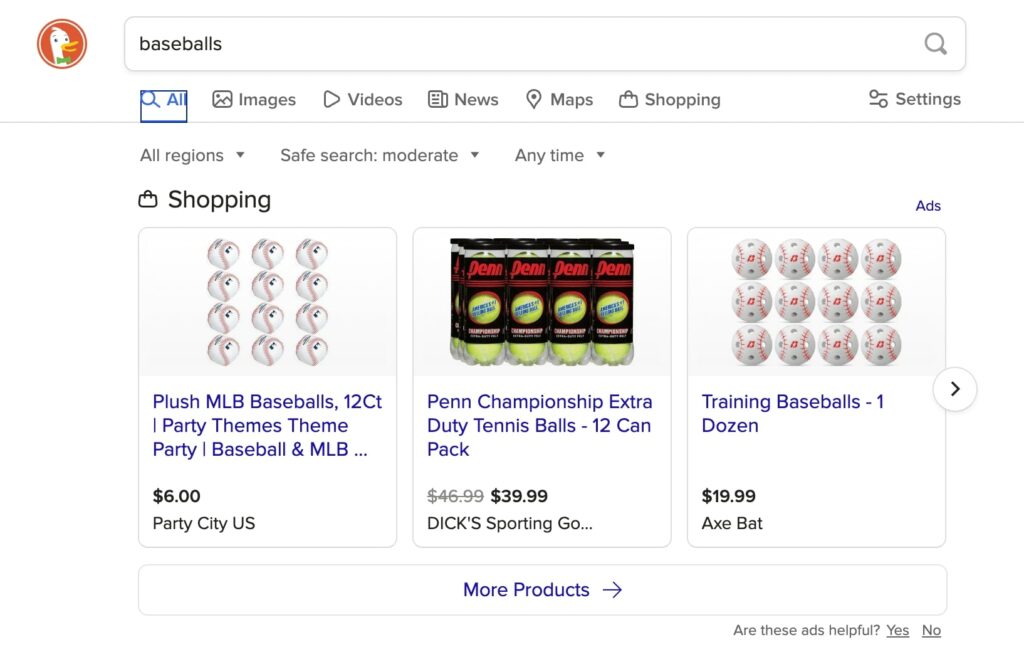 DuckDuckGo also provides Instant Answers, which are similar to Google's Featured Snippets. Without clicking on a specific result, you can immediately view the answer to a question: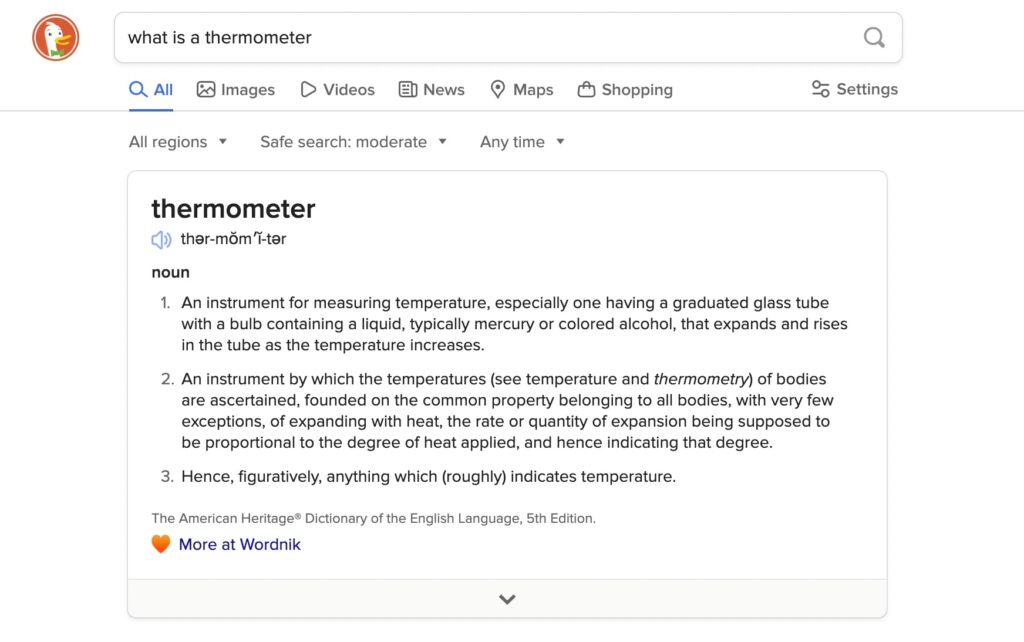 You can also use DuckDuckGo Bangs. These shortcuts immediately pull results from a specific source, such as Wikipedia or Amazon: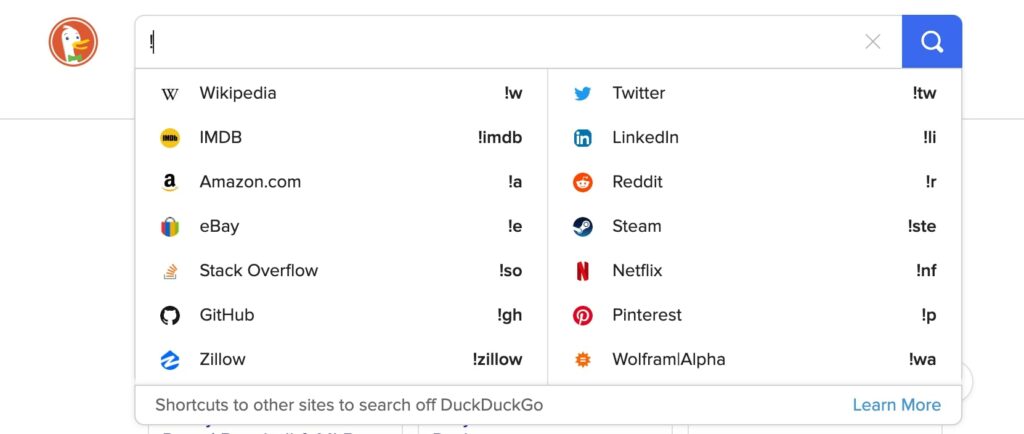 DuckDuckGo has an easy-to-use interface, but it doesn't yet have the same search power as Google. Since the Google search index is over 100 million gigabytes, it can provide more extensive search results.
Google can also be more convenient. It offers a free collection of workspace tools like Google Analytics, Google Docs, Search Console, and more. Plus, Google is continually updating its algorithms so that you can easily find relevant information:

To choose between the two search engines, you'll have to decide how important privacy is to you. Since Google extracts and stores user data to improve its services and advertising, you may want to consider using DuckDuckGo instead.
8 DuckDuckGo Privacy Features
DuckDuckGo stands out from other search engines due to its dedication to user privacy. To help you decide if DuckDuckGo is right for you, let's discuss the various ways that it protects your data!
1. No Tracking
When you visit a website, your browser sends data about your user agent and IP address to the site. This search information could potentially identify you and your location. Fortunately, DuckDuckGo doesn't collect this data or share it with websites.
DuckDuckGo Does Not Track:
User-agent
IP address
Query information
Search history
This data protection can prevent what DuckDuckGo calls "search leakage". Instead of sharing private information with the search engine and every site you click on, DuckDuckGo redirects the request. As a result, websites won't know your specific search terms.
Additionally, cookies aren't saved with the default version of DuckDuckGo. However, if you change any settings, a few non-identifiable cookies will store your preferences. Additionally, DuckDuckGo adds an affiliate code to certain eCommerce sites, but this only records product information.
2. Privacy Essentials Browser Extension
Along with the standard search engine, DuckDuckGo has a browser extension. The DuckDuckGo Privacy Essentials extension automatically adds tracking protection for Chrome, Firefox, and Safari users: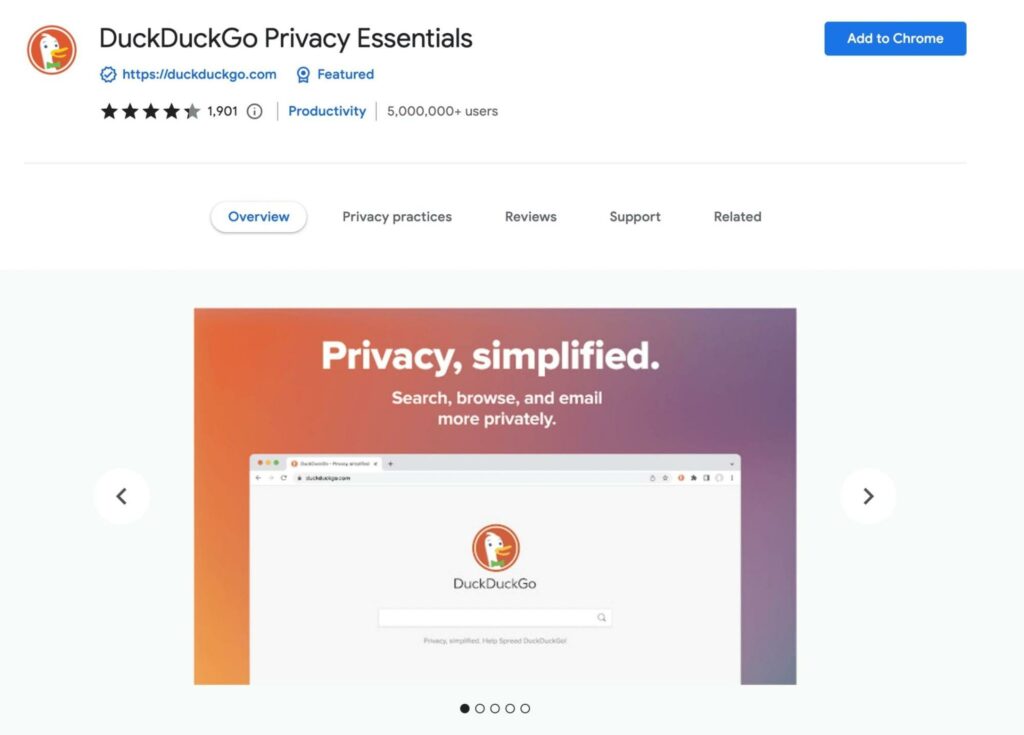 After you install the extension, it will set your default search engine to DuckDuckGo. Plus, it will block online tracking on any website you visit.
Here are some more privacy settings in the DuckDuckGo browser extension:
Encryption
Global Privacy Control (GPC)
This extension allows you to browse the Internet safely without unexpected tracking. Like the search engine, DuckDuckGo Privacy Essentials will protect your data against fingerprinting, social trackers, Google AMP, and third-party cookies.
3. Smarter Encryption
Whether you're using the DuckDuckGo extension or mobile app, you'll be able to access Smarter Encryption technology. Put simply, your device will prioritize encrypted connections.
DuckDuckGo continually updates a running list of all the websites that support encryption. Then, the search engine will automatically use the encrypted version of a site when you visit it.
This feature can ensure that you visit the HTTPS version of a website. Rather than using an unsecured HTTP connection, your internet activity will be encrypted against prying eyes. Overall, with Smarter Encryption, over 80% of the websites you visit will be encrypted and secure.
4. Protection Against Social Media Embedded Content
Social media companies often include tracking codes in their content. If you're visiting a website with social media embedded content, your IP address, web browser details, and browsing history can be recorded.
Furthermore, YouTube can collect your data even if you're simply watching an embedded YouTube video on a blog. This means that you can have data leaks on two fronts: the visited website and the original social media platform.
With DuckDuckGo, you can block social media embedded content. Since this is a relatively new feature, it currently only works on Facebook content. In the future, DuckDuckGo plans to stop tracking from other social media platforms.
5. Anonymous Localized Results
Although giving a search engine your location can be nerve-wracking, it can have some benefits. For instance, you may need to access localized results like weather or local businesses.
Fortunately, DuckDuckGo can be an effective tool for preventing the exposure of your personal information. After using a GEO::IP lookup to guess your current location, this search engine deletes your IP address and location from its records.
Sometimes, you'll want more accurate results. If DuckDuckGo needs more information about your location, it will prompt you to Enable Location: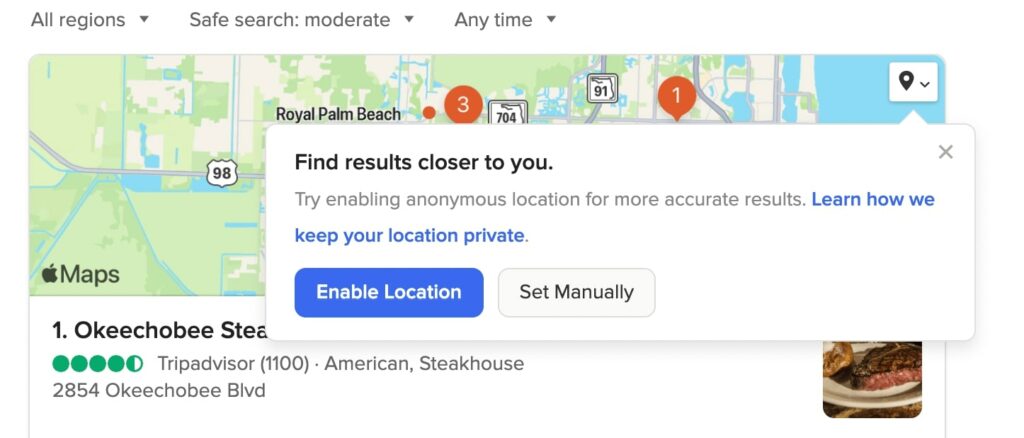 However, whenever DuckDuckGo gives location-based results, your IP information is never stored in its servers. Instead, it uses a random location near you and deletes the data after your search.
6. Content Security Policy (CSP) Reports
Furthermore, DuckDuckGo uses Content Security Policy (CSP) reports. This extra layer of protection detects and blocks third-party attacks.
Here are some cyberattacks that a CSP can prevent:
Cross-Site-Scripting (XSS) attacks: Injections of client-side scripts into your browser.
Code injection attacks: Injections of code into your browser or application, redirecting its actions.
Clickjacking: Malicious code that tricks you into clicking on something that will reveal personal information or give hackers access to your computer.
The CSP will scan for these issues using the DuckDuckGo search engine, extension, or app. Then it will tell your browser which resources are safe to fetch and execute.
7. Fire Button
Once you download the DuckDuckGo mobile app, you can start making secure searches on your mobile device. One of its unique features is the Burn Bar, which can delete your browsing history after each session.
To use this feature, click on the fire icon at the bottom of your screen. Then, select Close Tabs and Clear Data: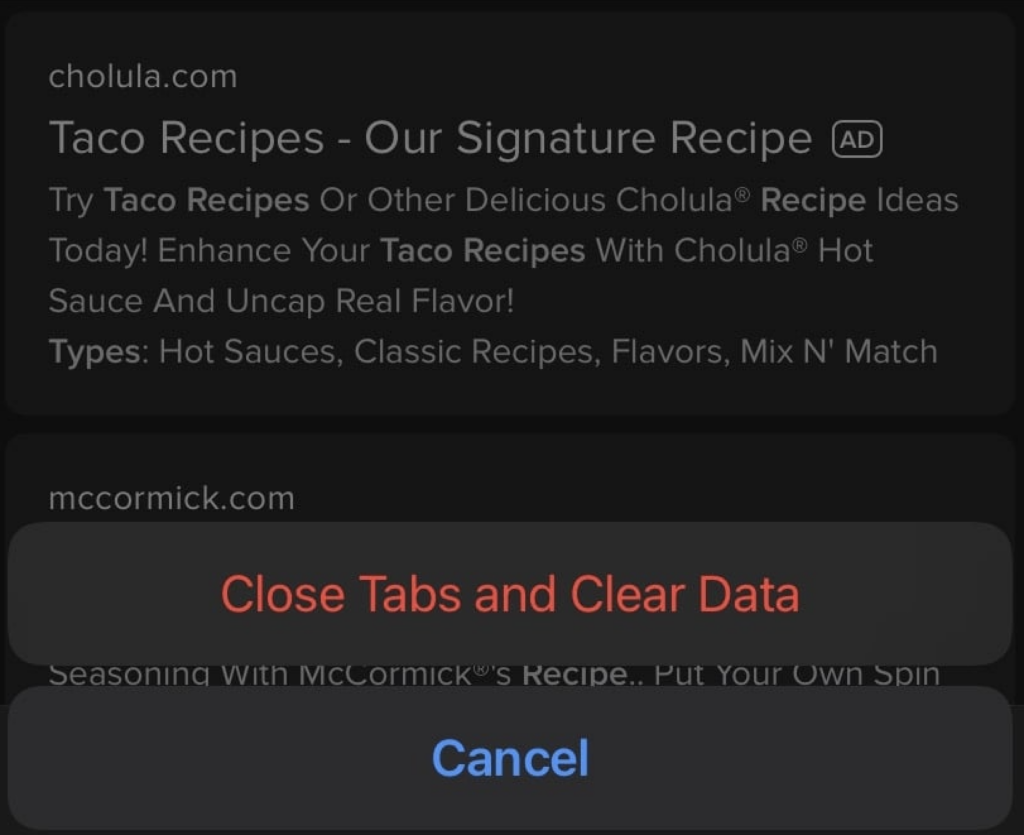 By deleting this information, DuckDuckGo won't store any of the data on your device. This extra security measure can protect your information and give you more control over it.
8. Privacy Grade
The DuckDuckGo app and browser extension can determine the security level of each website you visit. Once you click on a link, you can open the Privacy Grade, which rates the site's security: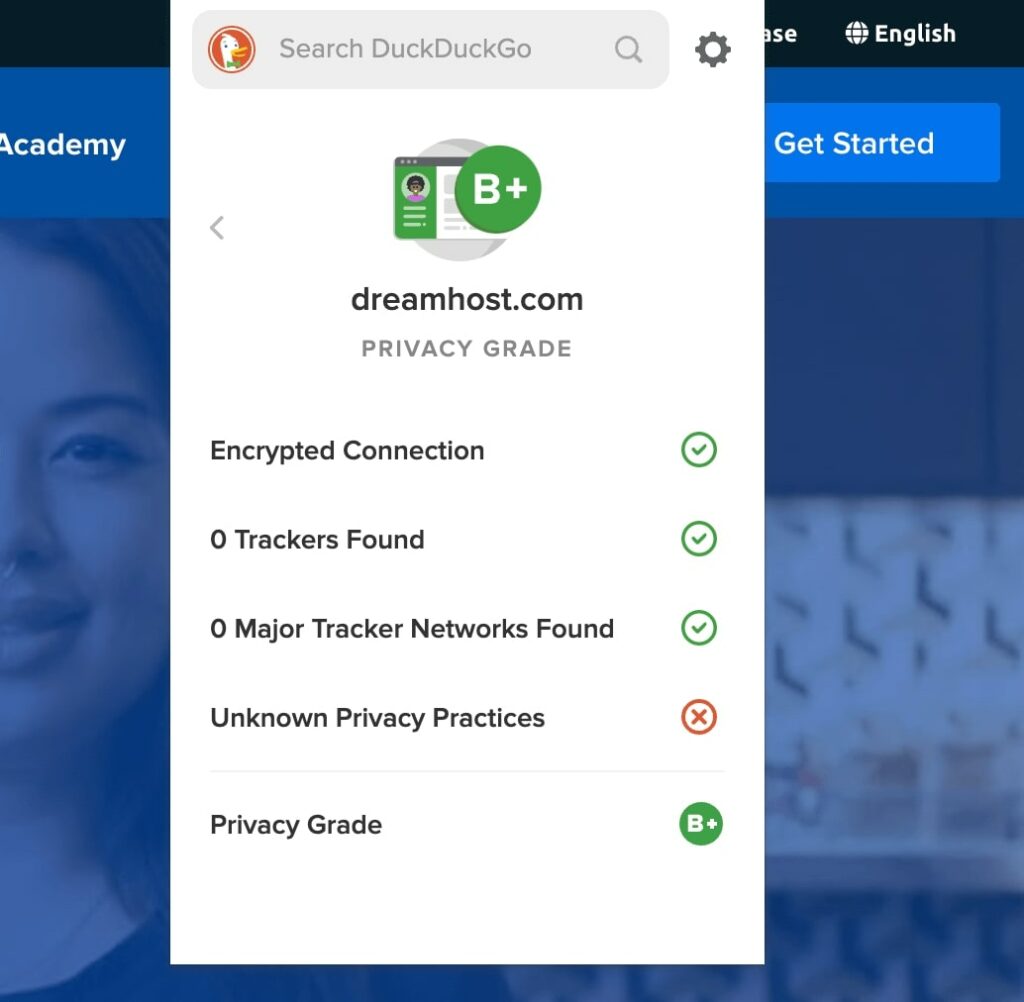 This letter grade is based on a few factors:
Connection: Safer websites have encrypted connections.
Trackers: DuckDuckGo will count the number of trackers blocked from the website.
Privacy practices: The website's terms of service agreement and privacy policy will be reviewed.
If DuckDuckGo blocks specific trackers or encrypts your connection on a particular website, it will show you how your privacy has been enhanced. Along with the current Privacy Grade, you'll see the original letter grade before using DuckDuckGo.
DuckDuckGo Privacy Concerns
DuckDuckGo can be a better alternative to Google if you want to increase your search privacy. However, there are a few concerns about its business practices.
Recently, a privacy researcher exposed some information about DuckDuckGo, revealing that it isn't as private as it claims. After testing the DuckDuckGo mobile browser, he discovered that it did not block data flows to LinkedIn and Bing advertisements on third-party websites: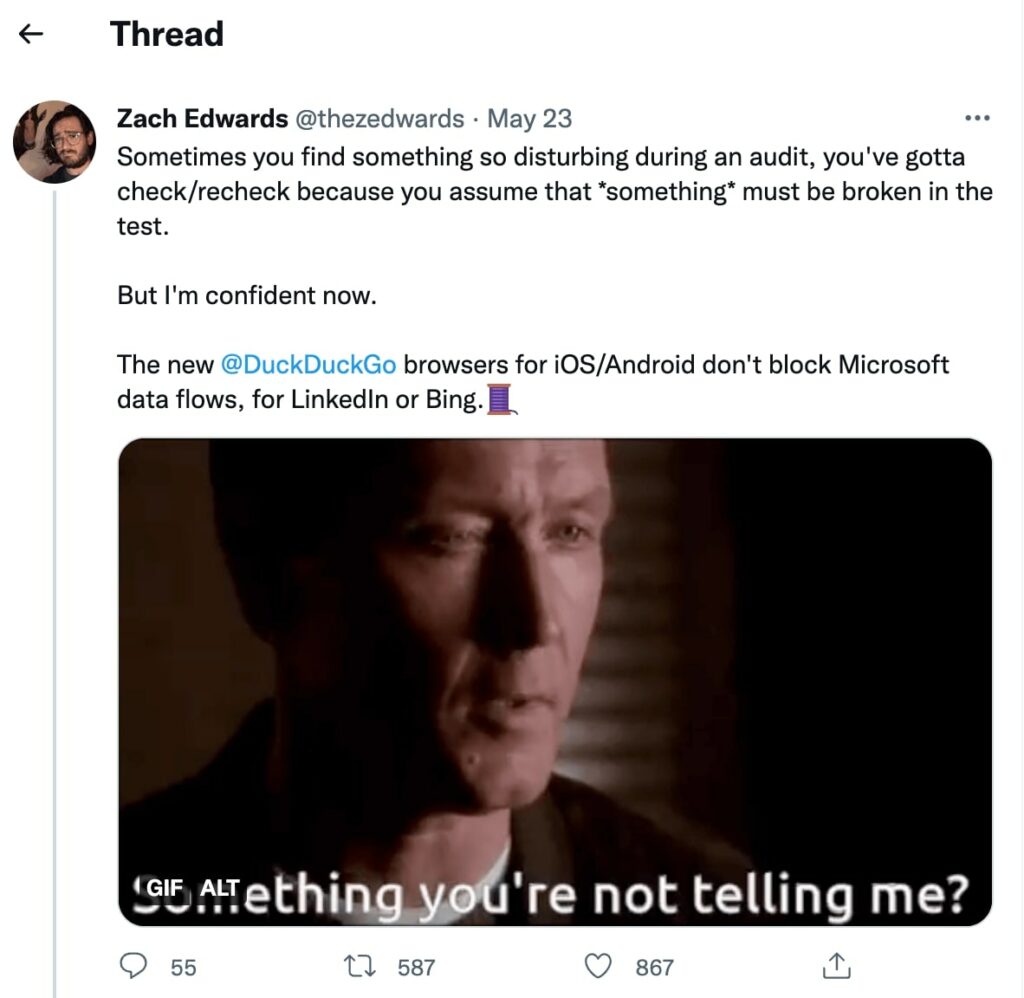 Essentially, DuckDuckGo created an exception for Microsoft data requests. Although it claims to block all tracking scripts, the company has a limited search syndication agreement with Microsoft. This agreement prevents DuckDuckGo from blocking trackers on Microsoft-owned platforms like LinkedIn and Bing.
Reportedly, DuckDuckGo is working to change this agreement to increase user privacy. However, this lack of transparency is concerning for a privacy-focused company.
Alternatives to DuckDuckGo
Due to these valid concerns, you may want to find an alternative to DuckDuckGo. Although you could look for a different and more private search engine, there are a few ways to secure your browser without it.
Optimize Browser Security
Google Chrome lets you update your settings to increase search privacy. For example, you can request that websites stop tracking your browsing data. To do this, go to Settings > Privacy and security > Cookies and other site data:
Then, find the Do Not Track setting. Turn this on and hit Confirm: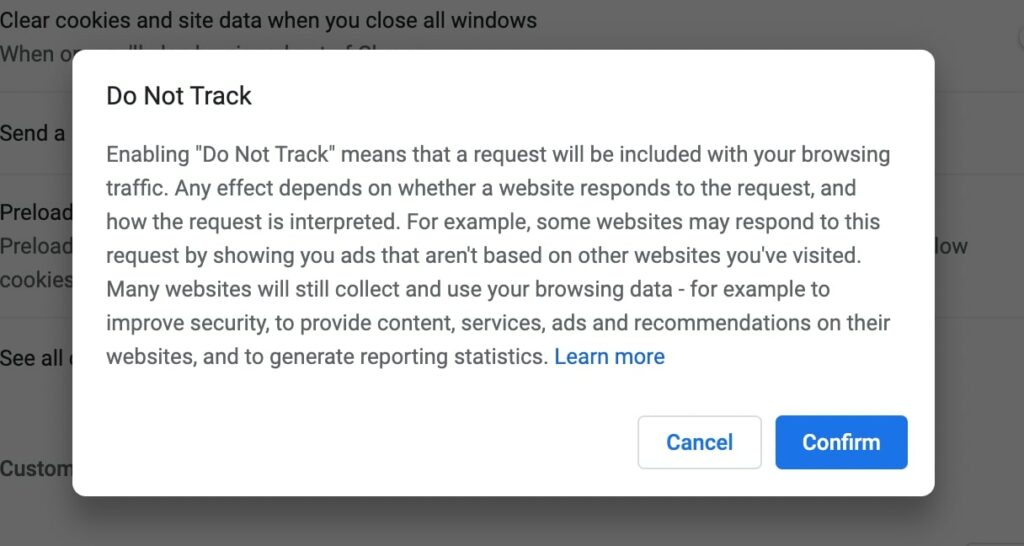 Now scroll back up to the General settings. To prevent sites from seeing your history or creating personalized ads, you can block third-party cookies: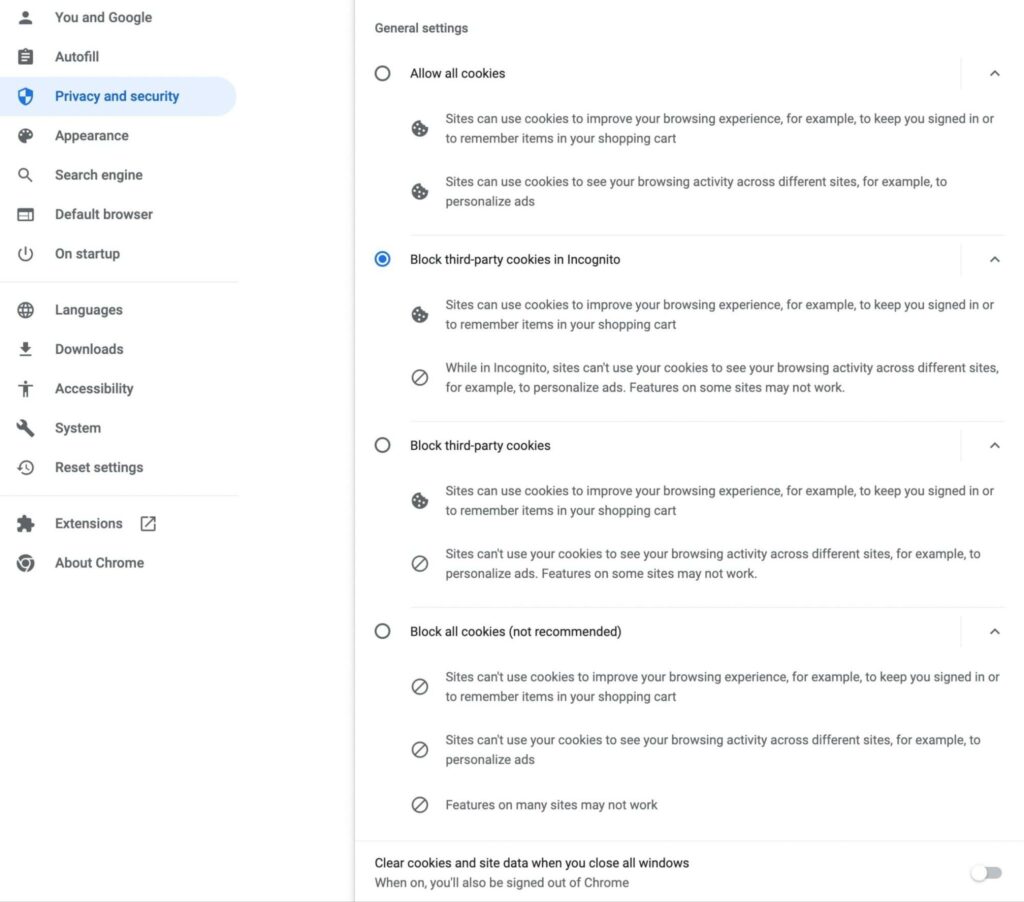 If needed, you can also clear your cookies and site data when you close a browser window. However, this setting will automatically sign you out of Chrome as well.
Use a Virtual Private Network (VPN)
Although you may believe that an incognito browser is private, it often doesn't hide your IP address. Therefore, using a Virtual Private Network (VPN) is beneficial when you want to be anonymous online.
A VPN connects your computer (or mobile device) to the internet with a private server. VPN software can mask your IP address and encrypt your data, providing more data security.
For example, ExpressVPN is a popular option with industry-leading security features. By encrypting the traffic between its servers and your computer, ExpressVPN can protect your data from third parties: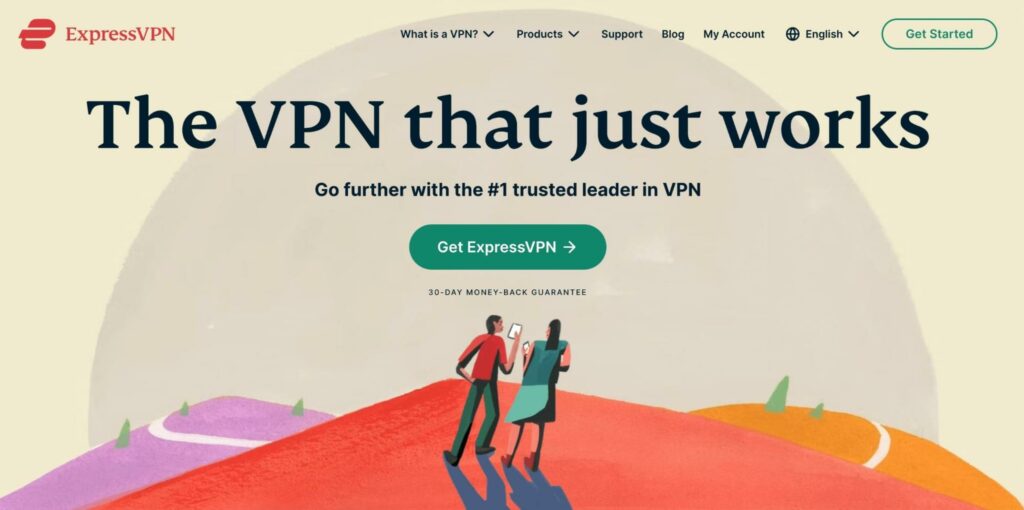 Similar to DuckDuckGo, ExpressVPN doesn't store activity or connection logs. As such, it can be effective when you want to keep using Google but worry about your privacy.
A Search Engine for the Privacy-Minded Searcher
If you want to enhance your online privacy, DuckDuckGo can be a great alternative to popular search engines such as Google. Whether utilizing the browser extension or mobile app, DuckDuckGo can return ad-free search results without sharing your browser data.
On the other hand, you can benefit from personalized search results on Google. Google will return unique content tailored to your browser history and personal preferences. Therefore, to choose between the two search engines, you'll have to prioritize either up-to-date, customized search results or increased data security.
Want more in-depth reviews and tutorials? Subscribe to the DreamHost blog and stay in the know.
Get Content Delivered Straight to Your Inbox
Subscribe to our blog and receive great content just like this delivered straight to your inbox.