An App Developer is an App Developer is an App Developer
What you call yourself may determine what resources (or jobs) open up to you
Software developers have now become app developers; who knew? I made this discovery as I was hunting down the best names for the users of our DreamCloud products, DreamCompute and DreamObjects. The products are built for developers and we want to keep on finding them and make sure they find us. As an exercise, I started playing around with Google Trends — here's what I found out.
Since the iPhone launched in 2007, the term application has become less popular, and the term app has taken over instead.
This popularity of the term isn't that surprising, given Apple's (somewhat rightful) claim that they "reinvented the phone." Next, I wanted to check how the term developer compared to its abbreviated counterpart dev.
Cloud Computing and DreamHost
When you partner with us, your website is in good hands! Our services pair friendly expertise with top-notch technology to give you all you need to succeed on the web.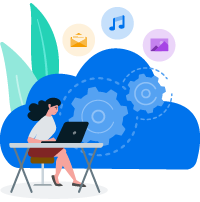 On this side, the naming battle is still heated: the two terms seem pretty much interchangeable, again according to Google Trends.
But what happens when application, app, dev and developer mix? Clearly application developer has been losing ground to app developer since the launch of the iPhone, while app dev has not gained much in popularity, except in some notable headlines.
The headlines that Google quotes for "Application Developer" seem to be job postings; In the Seattle Times and The Guardian, they don't seem to be in headlines at all. For App Developer there are more interesting headlines like "Android more profitable than iOS for app developer" or "Leading Enterprise App Developer Launches Mobile Sales and Marketing Platform."
Personally, the truncated version of the term annoys me, mainly for two reasons. My family circle consists of a journalist wife — a fierce disciplinarian of AP Style, which mandates that you spell out most terms and acronyms on first reference — and an infinite series of extended family members for whom tech terms seem so much like garbled alphabet soup.  I'm also an advocate of clear, meaningful language and the more shorthand and lingo you throw in, the less sense you make.