Emily Dennis was in denial about her plans to launch a business.
Even when Dennis started a blog and Instagram to share the modern quilts she crafted, carefully cultivating a following, she couldn't quite admit to herself that she was building the foundation of a small business.
"I have a habit of turning hobbies into businesses," Dennis says.
Her sewing and quilt hobby was just a few years old. She started with making a simple T-shirt quilt and soon became captivated by modern quilting, drawn in by bold colors coupled with designs rooted in tradition.
"I wanted to enjoy it as a hobby," Dennis says. "I was afraid I would lose my love of sewing if I made it a job."
Still, the tempting pull of building a business was tenacious — she's always loved the challenge of creating something from scratch.
In March of 2015, Dennis gave in, and her love for all things business and quilting is still going strong. Quilty Love has gained serious traction over the years on Instagram and Pinterest. The heart of her business is the Quilty Love blog, where Dennis offers free tutorials and business tips and sells quilting patterns she designed.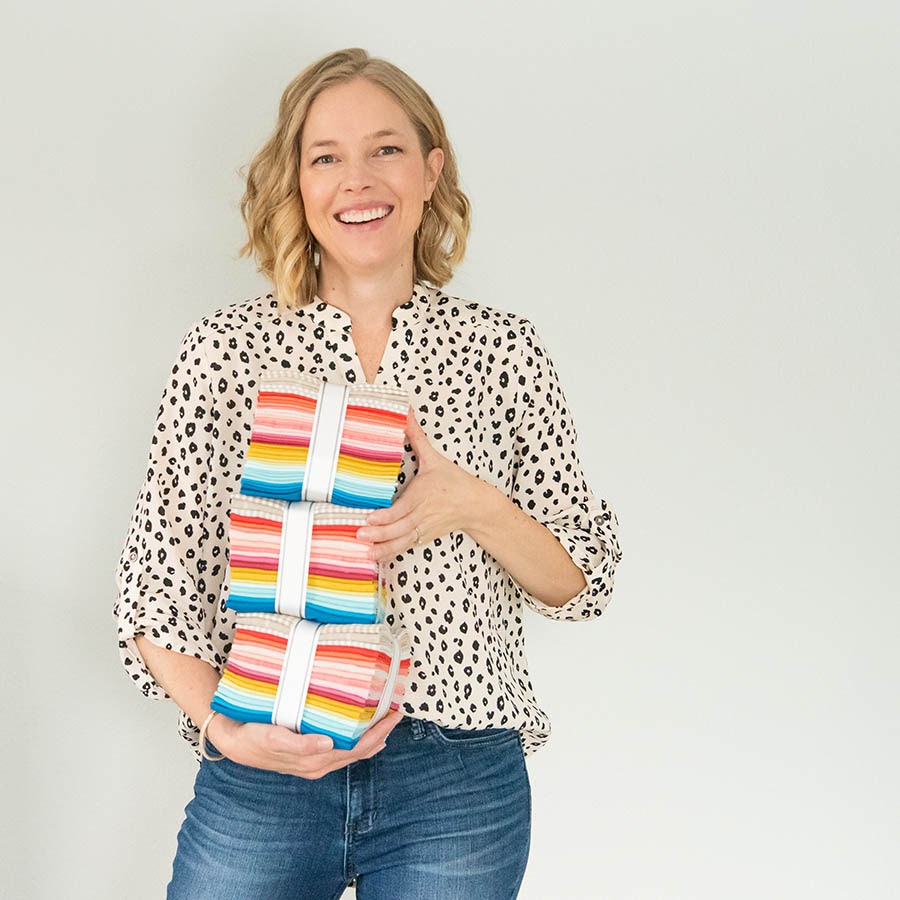 "Quilty Love is a modern quilting brand that offers quilt patterns, inspiration, and business advice for crafty creatives," Dennis says. She's published almost 40 quilt patterns — on sale both in her online shop and in quilt shops throughout the U.S. — which have been sewn by quilters worldwide.
Her blog and online shop are powered by DreamHost, and she's become a fan of the solid service she's enjoyed while building different projects with her host over the past decade.
Related: DreamHost's Ultimate Small Business Resource Guide
Business Patterns
Before Dennis became a quilter, she was a photographer.
"I was at a point in my life where I needed a new challenge, so I bought a camera and learned how to use it," Dennis says. "Learning photography was such a fulfilling thing for me. When I'm passionate about something, I'll spend hours and hours Googling everything you can imagine about it. I learned photography the same way I learned quilting — from Google!"
Soon enough, her love of photography grew into a business venture: a boutique photography studio specializing in weddings and high school senior portraits. Dennis started by taking prom pictures for her husband's students; soon more people requested portraits, and her business bloomed.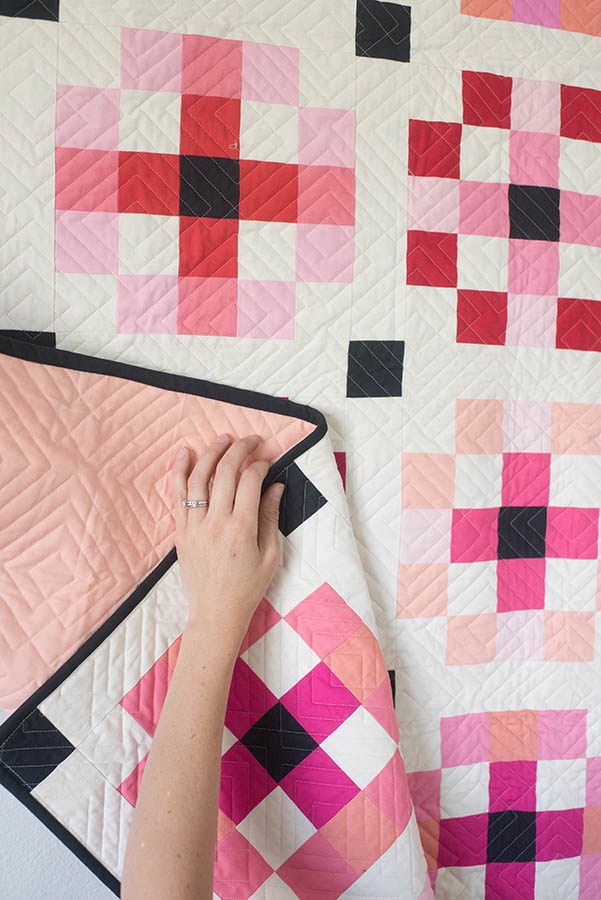 Her photography business is still up and running, and her experience running it provided a valuable training ground that she's built upon with Quilty Love.
"Those years taught me so much about running a business and provided skills that became invaluable when I started Quilty Love," Dennis says. "Quilty Love happened so easily and was so enjoyable to build because of the experience I gained from my photography business."
Before making her first quilt in 2012 — a request from a family member — Dennis owned a sewing machine but had never used it for traditional sewing. "I had only sewn paper with it," she says, as part of creating decorations for scrapbooks, another of her crafty hobbies turned business venture.
"I didn't love the process of making that first quilt, but I went on to make quilts for each of my kids over the next few years," Dennis says. "I started coming up with my own designs and sewing them up."
As she grew to love the creativity of quilting, the first thoughts of creating a quilting-related business started edging in. And she chose to ignore those thoughts at first, wanting to keep her new hobby a passion project.
But as the blog and Instagram she made for sharing her creations gained an audience, she started getting requests from followers to access the patterns she designed for her quilts.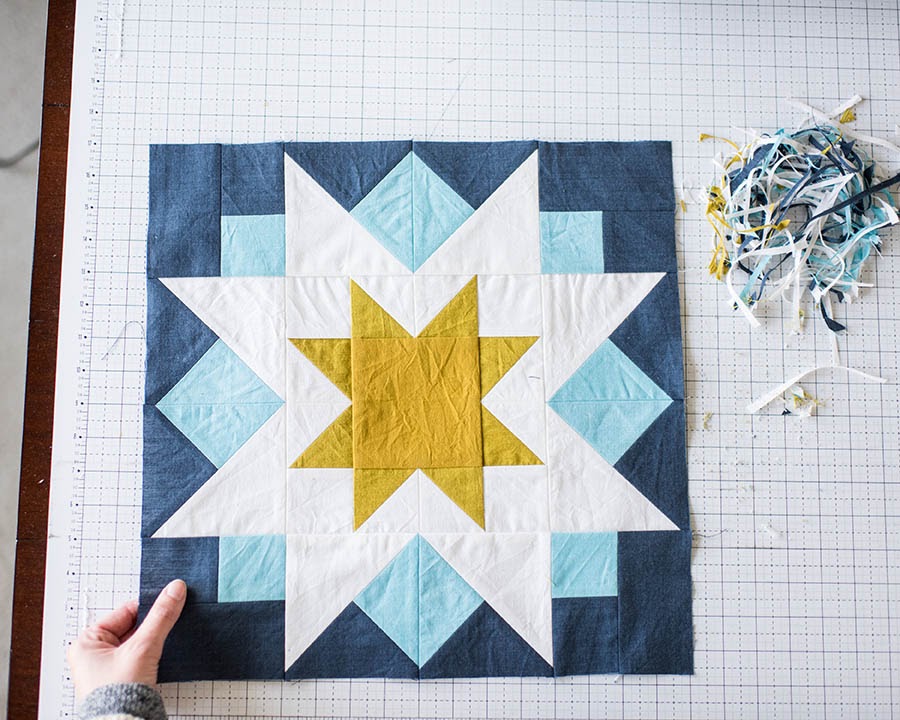 "After a few requests, I decided to jump in and give it a go," Dennis says, and she launched her first modern quilt pattern for sale. "[My quilts] started to create interest and an audience. That is when everything changed, and I became completely obsessed."
Fortunately, her fears about monetizing her hobby proved unfounded as Dennis discovered a love for sharing patterns, tutorials, and business tips.
"Quilty Love became the perfect combination of photography, creativity, and business building," she says. "All the things I am super passionate about."
Not Your Grandma's Quilts
When most people think of quilting, says Dennis, they might envision dark colors and traditional patterns. Modern quilting, she says, draws on these patterns and brings in colorful fabrics.
"I had no idea bright, modern quilts even existed," she says. "I was immediately drawn to the modern colors and couldn't wait to quilt."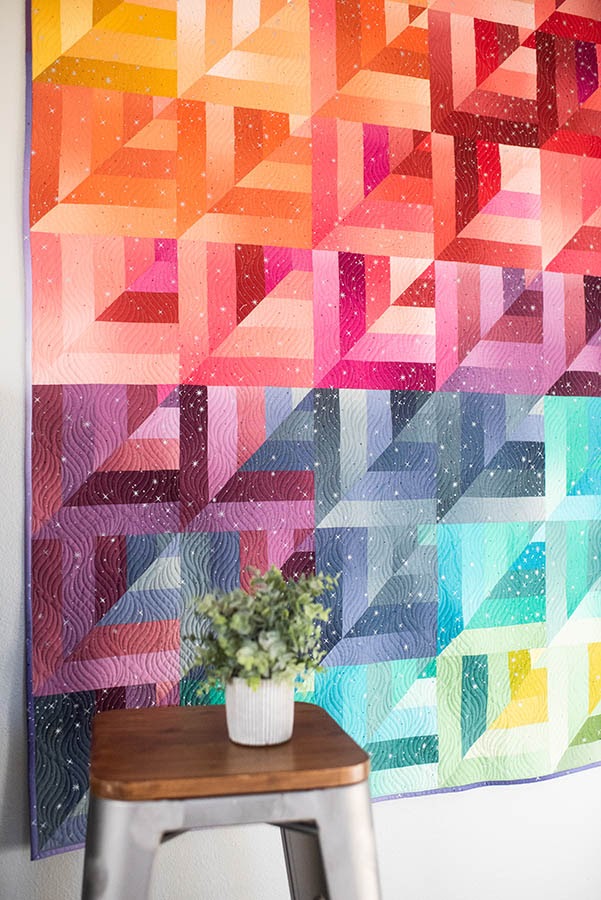 Dennis took up quilting while living in Michigan's Upper Peninsula, infamous for its long, snowy winters.
"I finally stopped dreading the winters because they meant more time for quilting," she says. "Quilting definitely helped get me through those long, brutal winters. There is so much to love about quilting. The process of cutting up fabric and putting them together to create something beautiful and useful is so satisfying."
In creating her own patterns, Dennis pays attention to shapes and patterns she sees in her daily life. Much of her inspiration comes from traditional quilting.
"I love putting a modern spin on traditional quilt designs and quilt blocks," she says. "I love finding new ways to use traditional shapes like stars or plus signs."
Quilty Love patterns also feature fun, modern shapes like trees, hearts, and triangles. One of her favorite patterns to design is a new take on the traditional log cabin block, recently released on her blog as Lucky Log Cabins. The modern spin on a traditional design resonates with her audience, she says — it has a fresh look, it's easy to make, and helps quilters sew their way through their built-up stash of favorite fabrics.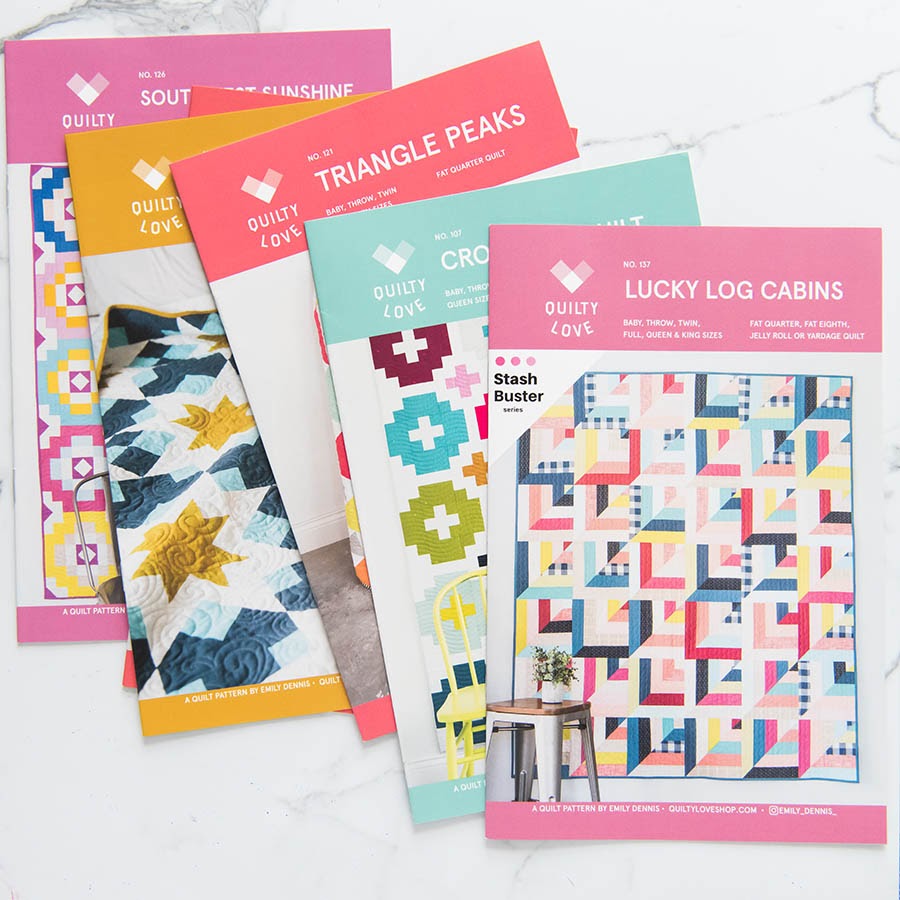 "The process of making that quilt was so enjoyable and so organic," she says. "I allowed myself to slow down and just create. The end result turned out to be a super versatile, super fun, and easy quilt to make. It has been a popular pattern with my audience and one that I myself want to keep making again and again. I love this quilt pattern so much, which made it so easy to share and promote."
Many Quilty Love patterns are beginner-friendly, and the blog is filled with free tutorials and tips and tricks. Dennis's biggest advice for new or aspiring quilters? Go small and simple.
"Something like a simple patchwork baby-sized quilt is a great place to start," she says.
Related: 10 Easy Social Media Tips for Your Hard-Working Small Business
Building Blocks
Along with quilting patterns and best practices, Quilty Love serves up tips on her blog and Instagram for other creatives looking to build and promote their businesses, like using SEO to boost blog posts and building a following on Pinterest.
With more than a decade of business-building under her belt — plus a passion for the process and challenge of building one — Dennis has a lot to say to help other creative small business owners. She's been self-employed her entire adult life, working as an independent contractor along with starting her crafty hustles.
A small business, she says, is one big experiment — you try new things to see if they work and make adjustments as you go along.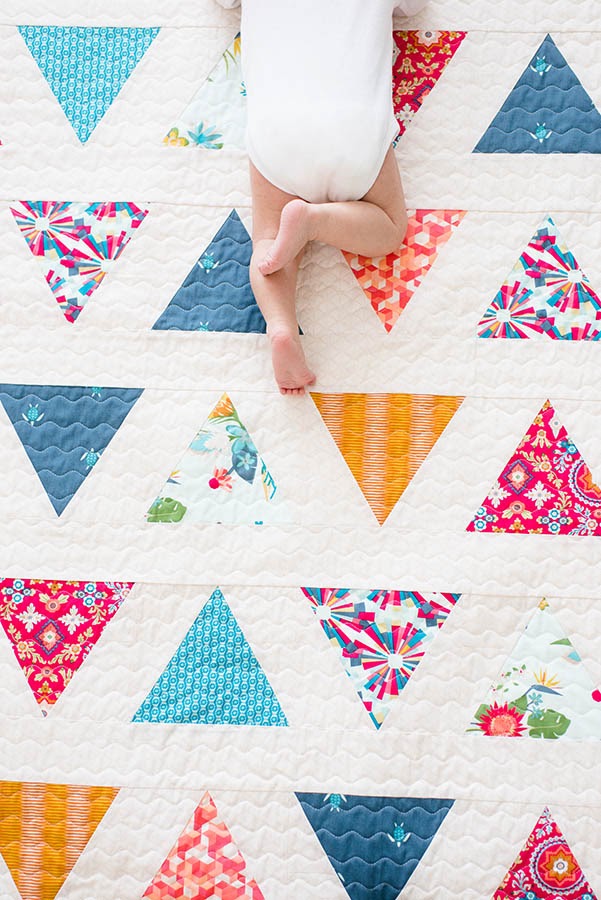 "One of the things I've learned over the years is to not force things," Dennis says. "Allow time for creativity to flow and trust that you are better off in the long run when you allow things to marinate properly. I've also learned over the years that small business building is promotion. When I look back at launches that were successful vs. ones that were just OK, it always comes back to how well I promoted that launch."
Dennis has found it helpful to think of "promotion" as "sharing." When she's launching a new product or post, she focuses on sharing something new that she's excited about with her followers.
"It's helped me do a better job promoting myself, my business, and my launches when I think of it as sharing," Dennis says. "Simply sharing what I'm working on, what is coming up, and what is available."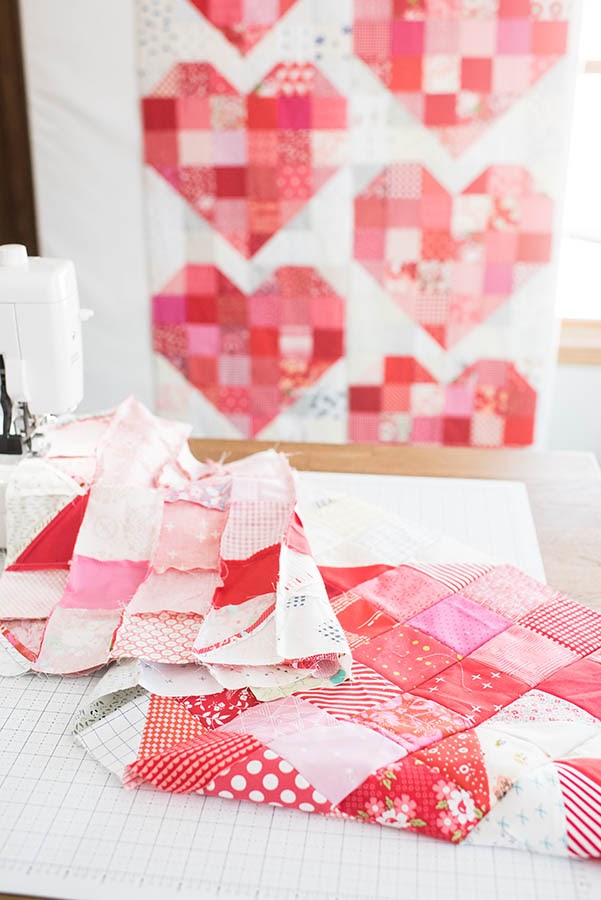 Dennis relies on Instagram to promote Quilty Love, using it to build her brand and connect with her audience. Her blog — proudly hosted by DreamHost — shares quilts she's made with her pattern designs and has proved a valuable tool for promoting products. Posting on her blog lets her circulate her work on Pinterest, which has also proved helpful in building an audience for her work.
"My blog is where I draw new people into my audience, and Instagram and my newsletter are where I continue to build a relationship with them," she says.
Building that relationship means Dennis can easily connect with the people who sew her quilts.
Related: Facebook, Twitter, or Pinterest? Choose the Best Social Media Platform for Your Business
"It's always the best when you hear from quilters who have made your quilt patterns," she says. "My favorite is when they share photos of the quilts they have made. I've gotten such great responses to my quilt patterns. Quilters love how easy to follow they are and they appreciate the modern designs."
One of Dennis's proudest accomplishments in building her business was, along with getting paper versions of her patterns sold in stores, is writing and publishing a book: Modern Quilts Block By Block.
"It's very surreal and pretty cool to see a book you created sold in bookstores."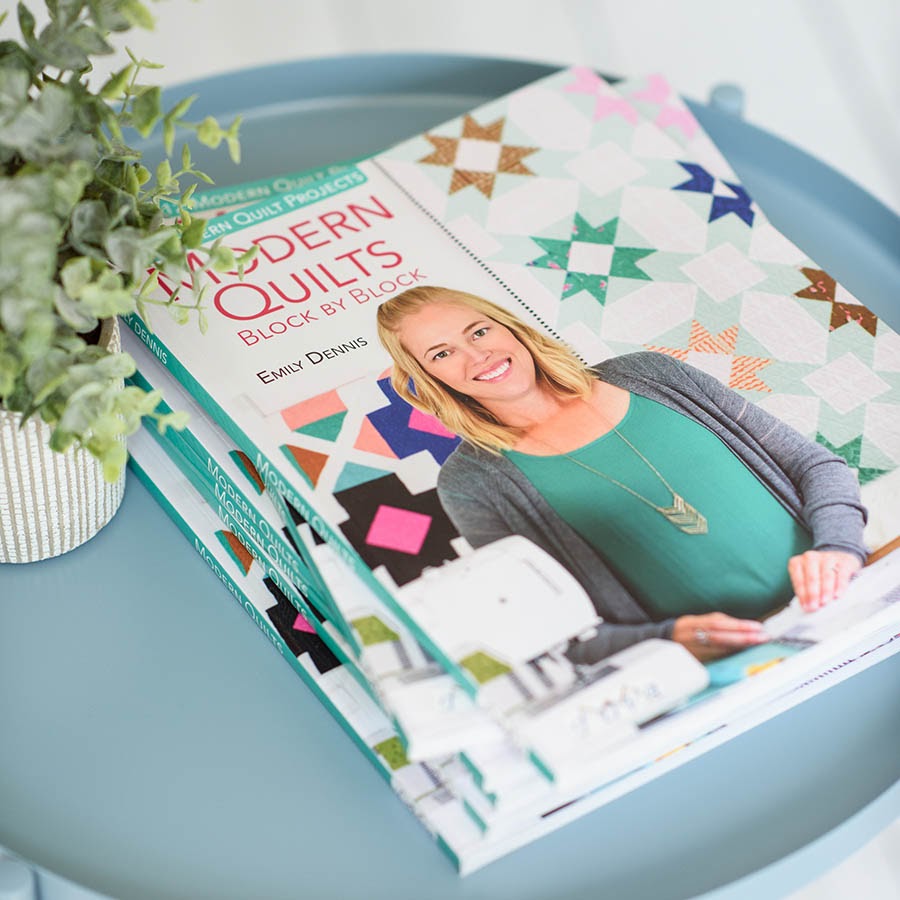 Business Partner
Through her decade-long journey of turning creative hobbies into small businesses, Dennis has trusted DreamHost to provide the online home for her ventures. She built and hosted her photography website with DreamHost — initially choosing it because it was a recommended WordPress host — and naturally continued the relationship into her Quilty Love blog and shop.
"I love how easy my website is to maintain and update, she says. "I try to keep it super simple and visually pleasing. My hope is that visitors are inspired by the quilts they see and click on through to my shop to find a quilt pattern for themselves."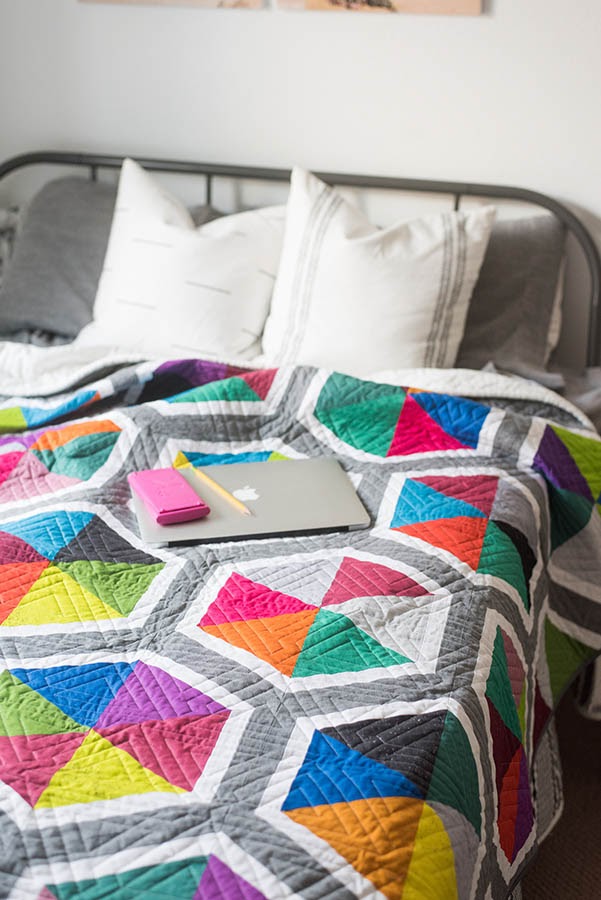 Because one project has never been enough for Dennis, she appreciates that she can easily run multiple websites from the same DreamHost account without paying more or upgrading to start another site. Along with Quilty Love and her photography site, Dennis has a website in the works to host her products and tools for creatives building their businesses.
"DreamHost has provided a solid service over the years," she says. "They have always been responsive to my customer support needs. I don't worry about my website not being available or being down. My website plays such an important role in my business so knowing that it's always online is important."

Shared Hosting
We'll Support Your Dream
Whatever your online goals, we'll be right there with you, making sure your site is fast, secure, and always up. Plans start at $2.59/mo.
Choose Your Plan
Seamless Fit
Along with quilting, Dennis has a lot going on. She and her husband are raising four kids — three teens, plus a 2-year-old who keeps them busy. They love to take road trips together, with the goal of visiting every MLB baseball stadium and all 50 states. Along with her business-building habit, Dennis also admits a pattern of moving and renovating.
"We seem to always have home improvement projects we are working on," she says. "Currently we are updating a ranch house from 1999."
Running a small business fits seamlessly into her life, jiving easily with her proclivity for good challenges and creative projects, plus the flexibility required in raising a family.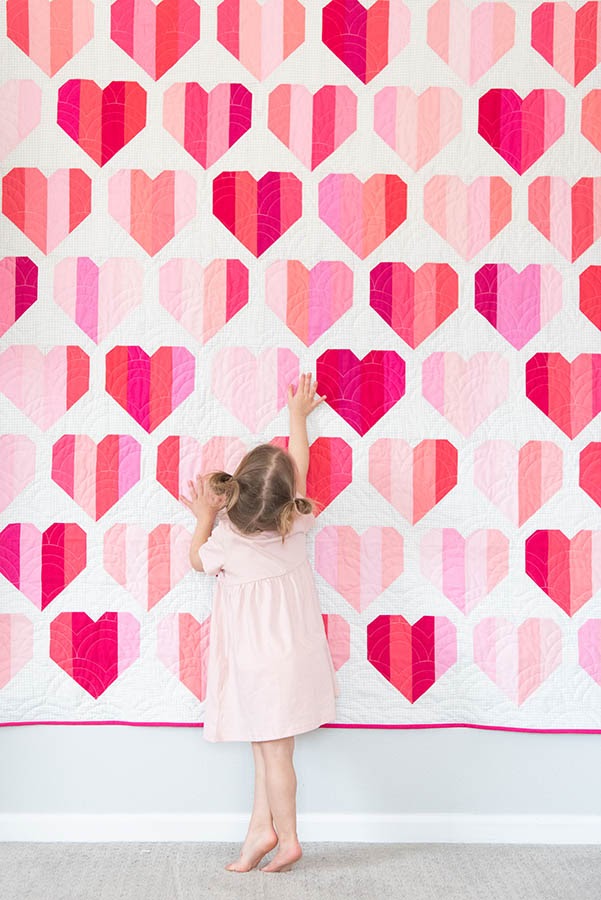 "I am so grateful for this business I have built that allows me to be creative every day," Dennis says. "It allows me to have complete control and flexibility in my schedule. I'm proud of the fact that I built this business and still enjoy it every single day."
Like most small business owners balancing life with work, she's learned her limits. Dennis spends a few hours on Quilty Love every day, limiting those hours as she needs to, and takes off December and one summer month every year.
Right now she's content with the progress Quilty Love has made, especially considering she balances it with raising a toddler. She's focused on beefing up the business resources side of Quilty Love, along with creating new patterns and growing an audience to share them with.
"I've realized that I am a lifelong learner," Dennis says. "I didn't go to college, but I consider Google my education. I'm a very motivated self-learner, and you will never run out of new things to learn when it comes to running a business. I get so much fulfillment out of learning new things, implementing them, and seeing results."