The Top 10 Tech Trends You Should Know About (Updated 2018)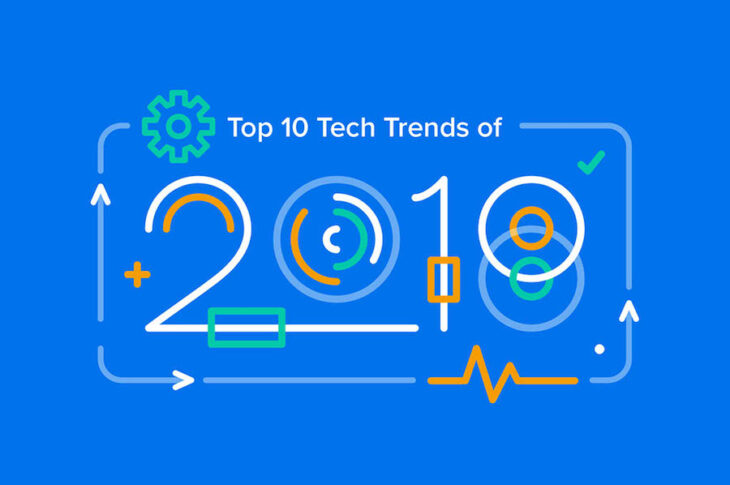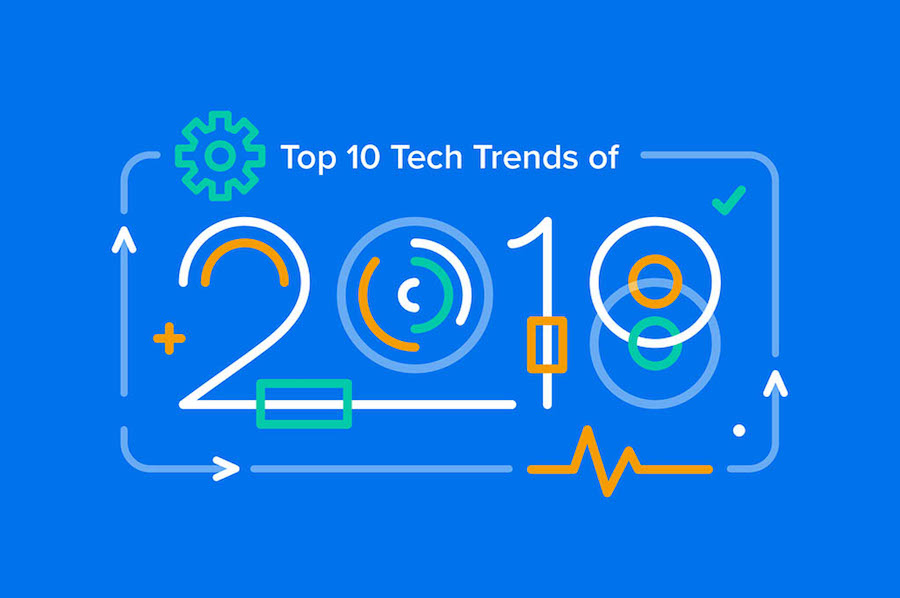 Before the ball even drops, people love to come up with top 10 lists for the new year and that includes tech. But just like New Year's resolutions, it's questionable whether these predictions have staying power.
"It's fairly easy to predict where certain technologies are going, as many of these trends don't appear overnight and take a while to really take off, as well as becoming adopted by consumers," says Jenny Winter, marketing manager at Degree 53. "Certain laws, such as the General Data Protection Regulation (GDPR), dictate the speed of this by setting deadlines, which helps to update certain technologies and practices quicker. Granted, we still don't have flying cars, haven't figured out space travel on a mass scale, and don't have C3P0 style robots walking among us."
Since 2018 is more than halfway through, let's take a look at the top 10 technology trends of 2018 and see how they're faring.
Do More with DreamHost
Our automatic updates and strong security defenses take server management off your hands so you can focus on the top technology trends.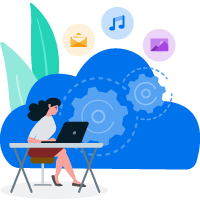 1. The Experience Economy
The age of the Experience Economy — the idea that businesses must orchestrate memorable encounters for their clients — is upon us.
Take, for example, the opening of a hot new restaurant. In the olden days of the early aughts, just getting in was enough to earn bragging rights for most patrons. That's not the case anymore.
"We no longer want just the experience of eating there, but an experience that is unique to us that we can boast about both on social media as well as to our friends and co-workers," says Marc Anderson, CEO and designer of Rainfall. "The tech kicker is that we'd rather be presented this opportunity — and pay for it — than go through the time-consuming trouble of actually speaking to people to make it happen."
And online companies are responding in kind. Google Local Guides began the process by allowing users to verify themselves as experts and connect individually with those seeking experiences. Airbnb's recent entry into the space has shown that large companies are now willing to explore how individuals can add value to their already booming experience economy ecosystem.
"I don't have to hunt antiquated websites looking for tour guides anymore or even wade through lengthy reviews," Anderson continues. "I can just jump onto the platform I already use to find affordable lodging and build an entire vacation in one place. Get ready to see care-share and restaurant reservation providers follow suit."
2. Modern Approach to Banking
The way banks are working now will soon be as outdated as writing checks. The traditional and dated approach to payments is in the process of being left in the dust.
"Over the past few years, there have been a few disruptors that decided to take on the financial industry," Winter says. "TransferWise challenged banks on international money transfer fees, offering a much cheaper, more secure, and quicker method via their own system. This year, they've rolled out a Borderless Account with a card for users to send and receive money from around the world with zero fees; you only need to pay for the exchange rate when making payments. Monzo has already been doing this by offering fully mobile banking for customers across the UK."
Users can easily track their spending, budget, put money aside, as well as quickly transfer funds to other Monzo users. They can use the card abroad with any currency and are only charged the MasterCard exchange rate.
"What's refreshing about both of them is a modern approach to banking, intuitive and fun user interface, and transparency," Winter notes.
3. Artificial Intelligence (AI)
"AI will change data analytics through learning from past analytic tasks; over time, the results will come faster with much more accuracy," says Marcel Shaw, Federal Systems Engineer at Ivanti. "With enormous amounts of data to pull from, along with analytic results from past queries, AI will be able to provide accurate future predictions based on current events. For example, one could argue that weather prediction models are a form of AI."
Machine learning is a core part of AI, and this year we have seen new product releases with machine learning components from the majority of technology vendors.
"Machine learning will power business analytics by identifying potential problems or issues that might not be detected by humans," Shaw says. "Organizations that do not deploy AI for data analytics will fall behind competitors that use AI."
4. Chatbots and Voice Assistants
Chatbots and voice assistants are becoming smarter, thanks, in part, to retaining information and learning from previous activities. Another reason they're only getting wiser is due to updating the software and enabling them to do even more.
"Amazon's Alexa is probably the leading voice assistant today, helping users manage calendar and daily tasks, book tickets, check weather, and more," Winter says. "They are also able to integrate with a number of third-party products and services, such as order Uber or Deliveroo, use Spotify playlists, and control automated devices around the house, such as lights or the doorbell."
As personal voice assistants grew in popularity, so did chatbots, particularly from organizations that provide IT Service Management (ITSM).
"Chatbots powered with Artificial Intelligence are also helping ITSM organizations meet increasing demands," Shaw says. "Chatbots driven by AI technology enable ITSM solutions to handle an enormous amount of front-line calls for technical support along with IT requests. Chatbots can now interpret questions correctly at a much higher rate than in the past, enabling service management solutions to quickly route callers to the correct backend process."
5. Data Privacy
How your information is stored and accessed online is becoming more and more critical.
"Early 2018 saw an uproar over data privacy with the Cambridge Analytica events and Zuckerberg's memorable testimony to Congress," Anderson says. "At the time we saw massive public uproar, and people realized just how insecure their data had previously been, and campaigns to delete Facebook made their rounds across all forms of social media. However, this peak in data privacy awareness was undercut by the passing of GDPR and a seemingly endless barrage of emails from service providers claiming to have updated their privacy policies."
Though some people will still choose convenience over privacy, companies around the globe were affected and needed to rethink their marketing and data retention strategy.
"In the past, some companies took the liberty of sharing customer data with third-parties without them realizing it. Now everyone needs to be clear about their intentions for asking for personal information," Winter says. "Many businesses are likely to miss out on extra revenue or traffic from email marketing if their customers haven't opted in to receive it. However, this has given the power to customers to reconsider who they share their information with and whether it's really necessary. Also, with the recent data leaks and cyber attacks across the globe, businesses are taking stricter measures to their cybersecurity."
Anderson predicts that the rest of 2018 and beyond will see more connected devices than ever before as we continue to trade in our privacy for convenience, whether that's turning on the lights with our voice or sitting back in our self-driving car.
6. Smart Home Technology
Forget about getting up to turn off the lights — now you can turn on your AC before you leave your office to ensure your home is cool by the time you get home. That kind of convenience is a huge reason why smart home technology is becoming more common in modern households.
"We've seen the market flooded with Internet of Things (IoT) solutions in 2018," Shaw says. "Home appliances, light bulbs, water filtration systems, air conditioners, furnaces, indoor/outdoor thermometers, and home security systems are just a few of the many examples of IoT in the home. IoT devices will be a key component to AI in the future. Much like fingers to a human, IoT will serve AI solutions in two key areas — one being that IoT provides sensors in the environment. Sensors are able to track changes, take temperatures, report movements, monitor operations, and report configurations. For example, an IoT-enabled thermostat would be able to provide AI technology with data that could be used to discover improved energy efficient methods for cooling or heating a home."
The second key area is that IoT provides the ability to execute a command. Lights can be turned on or off, thermostats can be adjusted, and vacuum cleaners can be operated — all without physically touching the device. Thanks to improving AI, humans will have less to do in the future, Shaw says.
"After defining an improved configuration setting for a thermostat, for example, an AI solution will be able to send that configuration change to the thermostat. The thermostat would then execute the change to its configuration without any human intervention."
7. Fitness and Health
Though digital nutrition, fitness, and health tools are not exactly a new tech trend for 2018, we've seen companies take the technology further to help customers.
"Fitness trackers have become smarter, utilizing data to tailor training programs based on previous activities and help users reach their goals more efficiently," Winter says. "The latest two Fitbit models are now smartwatches with added fitness features. Users are able to listen to music, send or read emails, make calls and payments, and add other apps. Fitbit smartwatch has retained its fitness features and now acts as a more complete wearable."
Apple has also enhanced its Health app, which allows you to track fitness activity in more detail along with sleep, nutrition, and other health stats. The Mindfulness app even tracks how much time the user spends on each app — we're looking at you, Candy Crush — and provides suggestions on how to reduce phone usage.
8. Big Data
"In 2018, big data technology evolved to be much more than just a buzzword, and it has become an important source of information that is essential for machine learning," Shaw explains. "For example, applying chatbots to big data can provide retailers — or virtually any customer-centric organization — with a broader range of data points that can be used to help improve the customer experience."
When customers use verbal requests to navigate websites or make purchases, chatbots will be able to capture audible reactions, improve conversation capabilities, and over time, provide analytics to the retailer that can be associated with the emotions and the mood of their customers while online.
As a result, analytics powered with AI technology will eventually provide retailers with enough data to predict customers' emotional responses. This will help retailers tailor and personalize the customer experience with a focus on making the customer happy, increasing the chances that the customer will return in the future.
9. Serverless Architecture
This is software that relies on third-party services; in other words, it's backend as a service.
"There's a trend to use serverless architecture and microservices to allow more dynamic provision of services, as well as a more modular approach to development," Winter says. "Typically, different parts of a system are loaded more than others. Microservices delivered on serverless architecture allow a system to be scaled, putting resources where needed. The approach also aids [the] ability of an organization to change by solving individual problems and choosing the best technology — and maybe the best team members for that part of the system — to approach a specific problem."
10. E-commerce Dominance
It's no secret that online shopping is steamrolling traditional brick-and-mortar stores (farewell Toys R Us, one of the many established retailers that had to shut its doors). Online retailers are innovating even more in 2018, driving customers to load up their virtual shopping carts.
"Retailers started to lose customers to e-commerce a while ago but have failed to innovate and draw them back to stores while their online stores continued to thrive," Winter says. "E-commerce has become accessible to everyone and retailers have improved their customer experience, particularly on tablet and mobile. Many businesses are utilizing AI, personalizations, a selection of payment options, order history for repeat purchases, and easy to access customer service, which facilitates the remote purchasing process. It's become much easier and more secure to shop online with many retailers housing a variety of brands under one roof for the benefit of the customer — think Asos and Amazon — so they don't even need to leave their home."
What are your thoughts on where tech is headed this year? Follow us on social and let's start the conversation!