How to Update Your Old WordPress Posts With the Block Editor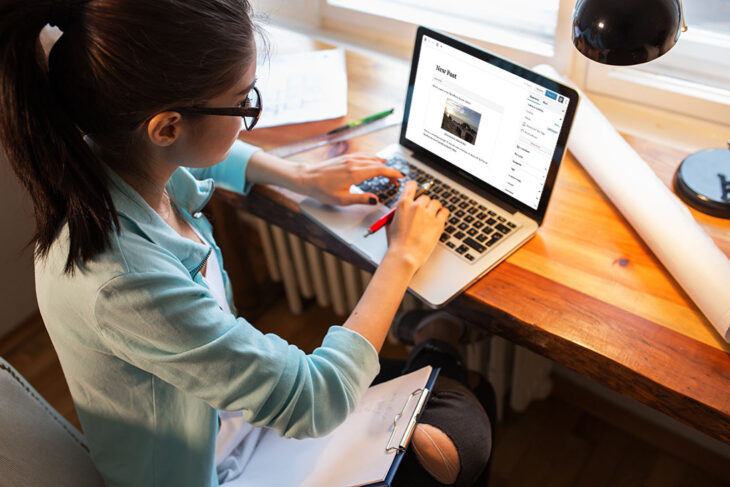 Since the Block Editor is now the default tool for creating new WordPress content, site owners are having to address the question of what will happen to their older posts and pages. This content will inevitably need updating since the Classic Editor plugin won't be around forever.
Fortunately, there are methods in place for handling this exact situation. If you need to make changes to an old post, you can easily do so without any help from the Classic Editor. This makes it much easier to bring your old and new content into alignment.
In this post, we'll discuss the Block Editor (you might know it by its nickname: Gutenberg) and then we'll show you two methods for updating your old blog posts using this new tool. Let's dive into the editing experience!
Understanding the Differences Between the Classic and Block Editors
For many years, WordPress users created new content for their websites in a visual editor, now known as the Classic Editor. It consisted primarily of one large field where you could add text, images, and other media.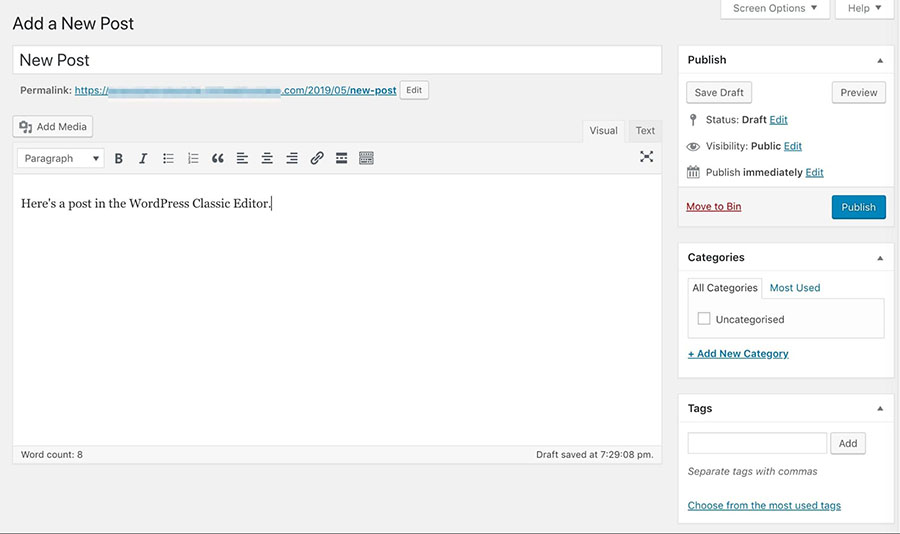 The main downside to the Classic Editor was that some elements — such as tables and content columns — required coding or extra plugins to implement. This arguably made the publishing process more complicated and time-consuming than it needed to be.
To address that issue, the Block Editor was created. It enables you to use a system of 'blocks' to create content in WordPress. Each block holds a specific type of content, such as a paragraph, an image, a table, a list, or just about any other element you might want to add to a post or page.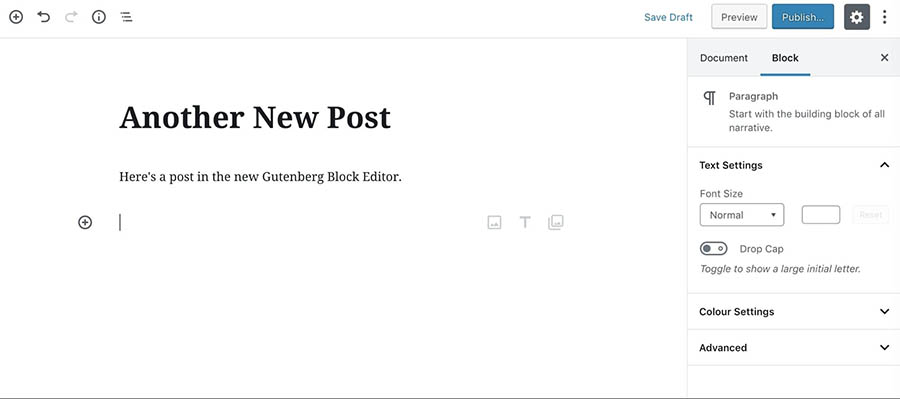 With blocks, WordPress users can create more complex content without the need for coding. Each block has individual settings so you can customize specific elements. Additionally, you can more easily move content around the page to create columns or other unique layouts.
Generally speaking, the Classic Editor is considered the 'simpler' of the two options because of its interface. There's just one field where all of your content goes, as opposed to many separate blocks. However, the Block Editor is built for ease-of-use and can be more user-friendly — especially for those new to WordPress.
WordPress + DreamHost
Our automatic updates and strong security defenses take server management off your hands so you can focus on creating a great website.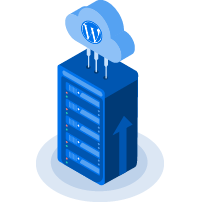 Switching Over from the Classic Editor to the Block Editor
The Block Editor has been 'live' since December 2018 and now serves as the default editor for anyone running WordPress 5.0 or later. However, some users have chosen to disable it in order to continue using the old – or Classic – editor.
If you've been using WordPress for some time and are familiar with the Classic Editor, using the Block Editor may not seem very appealing. After all, it still has compatibility issues with some plugins and themes, and learning a new interface isn't the most fun way to use your time.
However, there are a few reasons to embrace the change. To start with, the Block Editor should streamline your content creation. Once you get past the learning curve, adding blocks can be much faster than stopping to code a table or columns by hand. More importantly, you may want to make this transition for the sake of your site in the long term. While right now you can keep the Classic Editor in place using a plugin, WordPress plans to stop support for that system eventually.
For now, support is promised until 2022. However, once updates are no longer being released, having this plugin installed on your site could pose a security risk. At a certain point, moving over to the Block Editor will be in the best interests of your website.
What the Block Editor Means for Your Existing Content
Fortunately, old posts and pages created in the Classic Editor are preserved in their current format with the Block Editor. Each one features a single, large block called a Classic block. All of your text, images, and other content will be found inside this block, unchanged.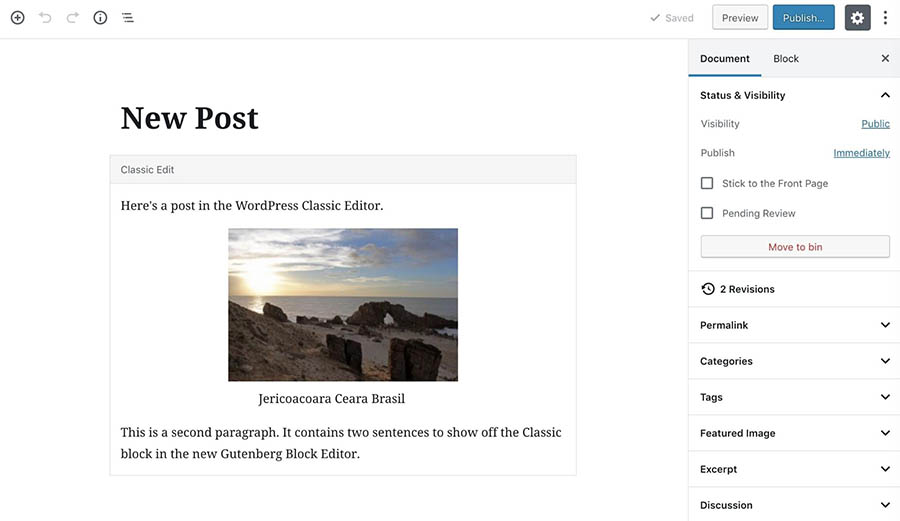 The Block Editor's effect on your WordPress theme and plugins is a little more complicated. There have been compatibility issues between the new editor and some themes and plugins, so it's possible that enabling it will cause problems on your site.
In particular, page builders and other plugins that affect the way the WordPress editor looks and functions tend to have trouble with the Block Editor. However, updates have been released for many of these plugins to fix these issues. It's a good idea to check each of your major plugins (especially any that affect the editor) to see if they are compatible.
The Block Editor should be useable with just about any theme. That said, it works better with some than with others. Ideally, you'll want to use a theme that has been updated for use with the Block Editor or a theme that was created after the new editor's release and built with compatibility in mind.
The best way to avoid any potential issues is to create a staging version of your site. Then you can thoroughly test for any problems before updating your live site.
How to Update Your Old WordPress Posts With the Block Editor (2 Methods)
Of course, you may not want to leave your old WordPress content as-is. Fortunately, you can update your old posts, pages, and other content types in the Block Editor. There are two primary methods you can use, and each has its pros and cons.
Before you can use either of them, you'll need to make sure you have the Block Editor enabled. For most sites, this is already the case.  In other words, if your site is up-to-date and you haven't done anything to disable the Block Editor, it should be currently active. Therefore, you won't need to do anything.
Otherwise, either deactivate the Classic Editor plugin or upgrade to WordPress 5.0 or above to automatically switch your site over to the new editor. Then, you can use one of the following two techniques to work on your existing content.
Method 1: Continue Editing Your Posts in a Classic Block
As we described earlier, existing posts and pages will be converted into Classic blocks. If you want, you can edit your content inside these blocks, just as you would in the Classic Editor.
All you have to do is open the post you wish to update, and click on the Classic block. When you do, you'll see the TinyMCE toolbar appear at the top of the block. It should look very familiar.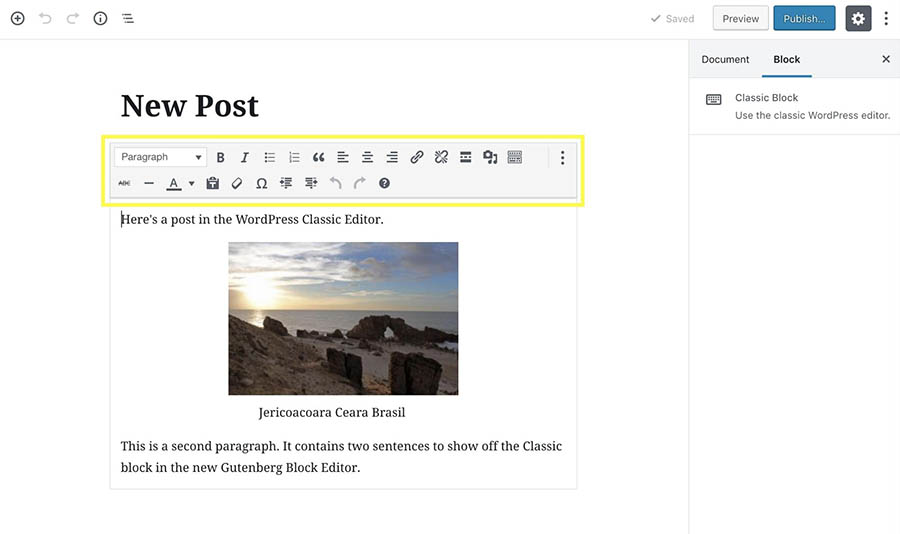 You can edit within this block exactly as you would in the Classic Editor. If you need to access the Text Editor, you can do so by clicking on the three-dot icon to the right of the toolbar, and selecting Edit as HTML.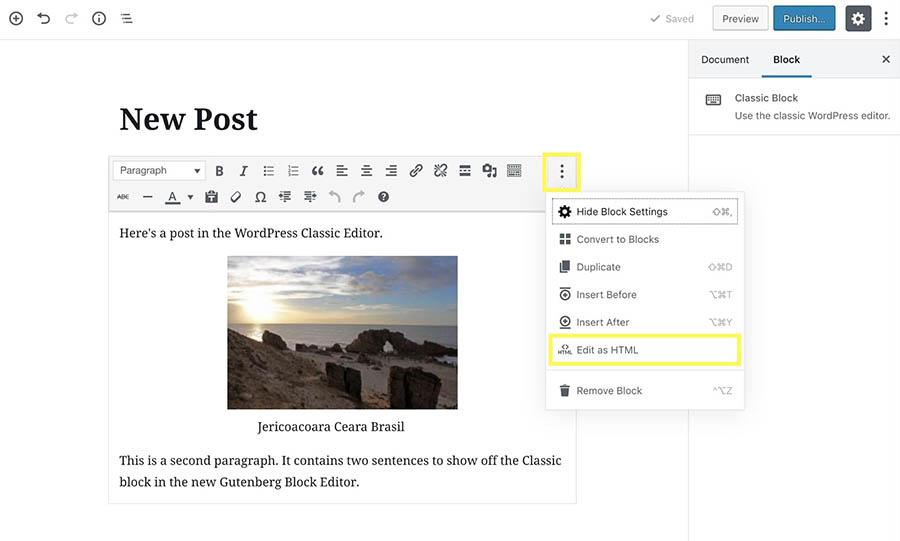 When you select this option, the block's content will be shown as code, and you can edit it as needed.

To return to the Visual Editor, simply click on the three-dot icon again and select Edit Visually. That should be all you need to update your old posts using the Classic block.
Method 2: Convert Your Old Content into Blocks
The other option you have available is to convert a post or page's Classic block into new blocks. This will divide up your content up into individual elements, just as if you had created it using the Block Editor.
To do this, click on the three-dot icon and select Convert to Blocks.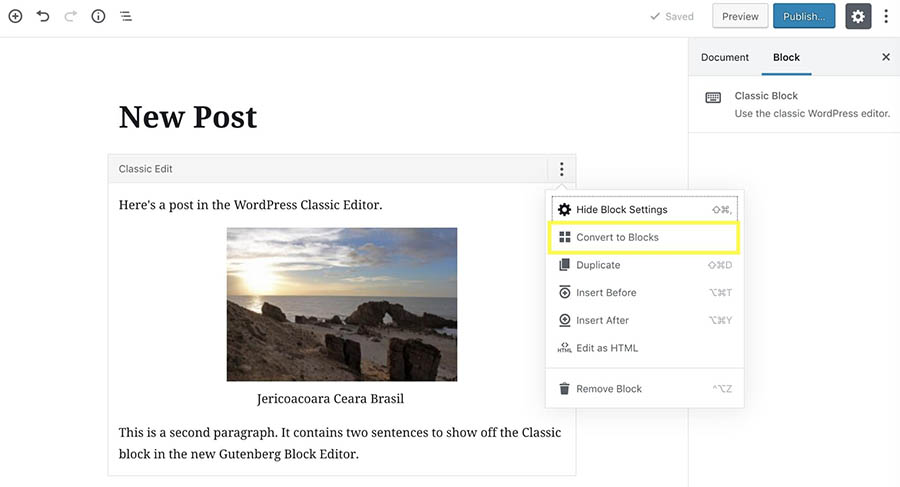 Your post should then split up into separate pieces. Each paragraph will become its own block, as will every heading, image, list, video, button, and element.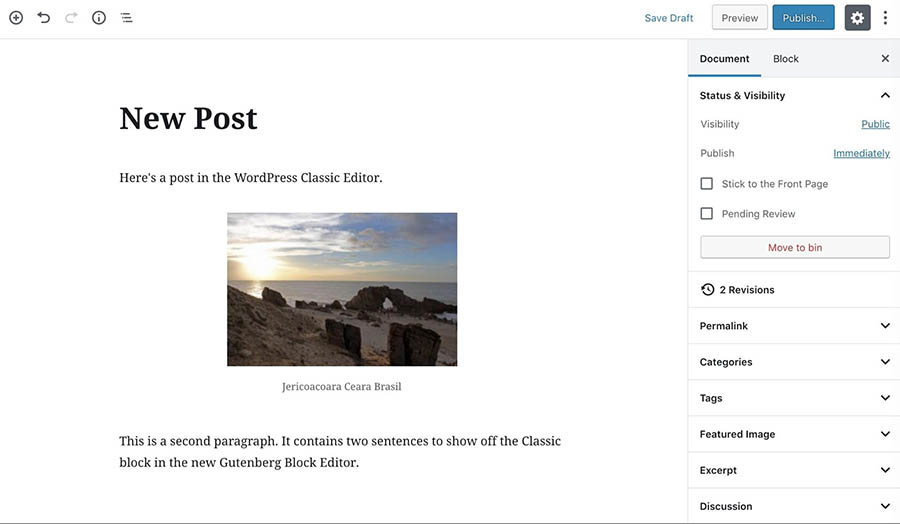 You can click on an individual block to edit the content within it. While this process usually goes off without a hitch, you'll want to make sure that each element of your post has converted to the correct type of block.
For example, if a pull quote from your old post has converted into a regular paragraph block, you can change it by clicking on the leftmost icon in the block toolbar.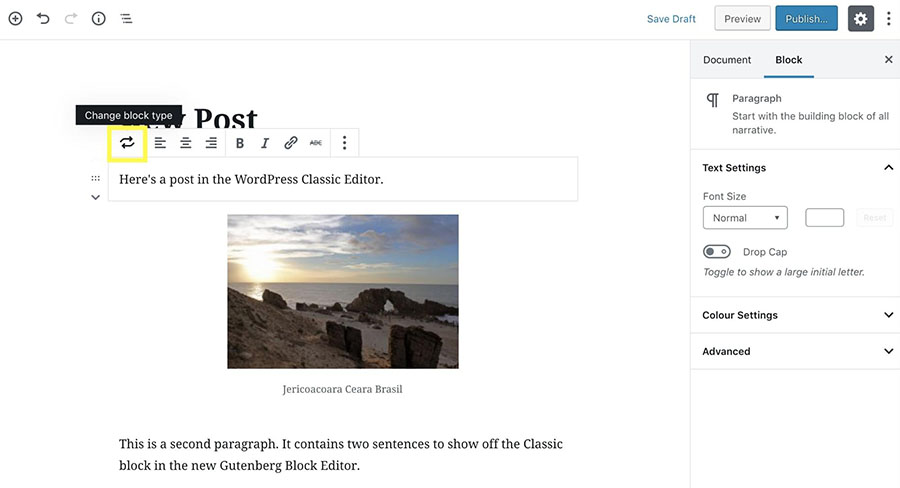 You can then select the correct block type from the options listed. Once all of your blocks are set to the correct types, you can use the toolbar at the top of each to make any specific changes related to alignment and placement within the post. You can also make edits related to each block's type, such as by altering text styling or image size. In other words, you can now use the Block Editor's full range of capabilities to work on your content.
Get Your Site Up to Date
Technology is constantly moving forward and keeping up can be a chore. We'll upgrade your outdated, insecure software to get you back on track.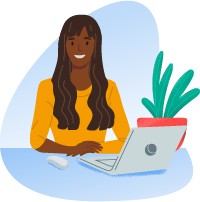 New Kid on the Block
Updating old blog posts is a smart way to freshen up your content and give your site a facelift. If you're worried about how your old posts will fare in the age of the Block Editor, however, never fear. You can easily make changes to your old posts and pages.
While you're updating your WordPress site, why not upgrade your hosting service too? Our DreamPress plans include 24/7 WordPress support to help with all your Block Editor questions.